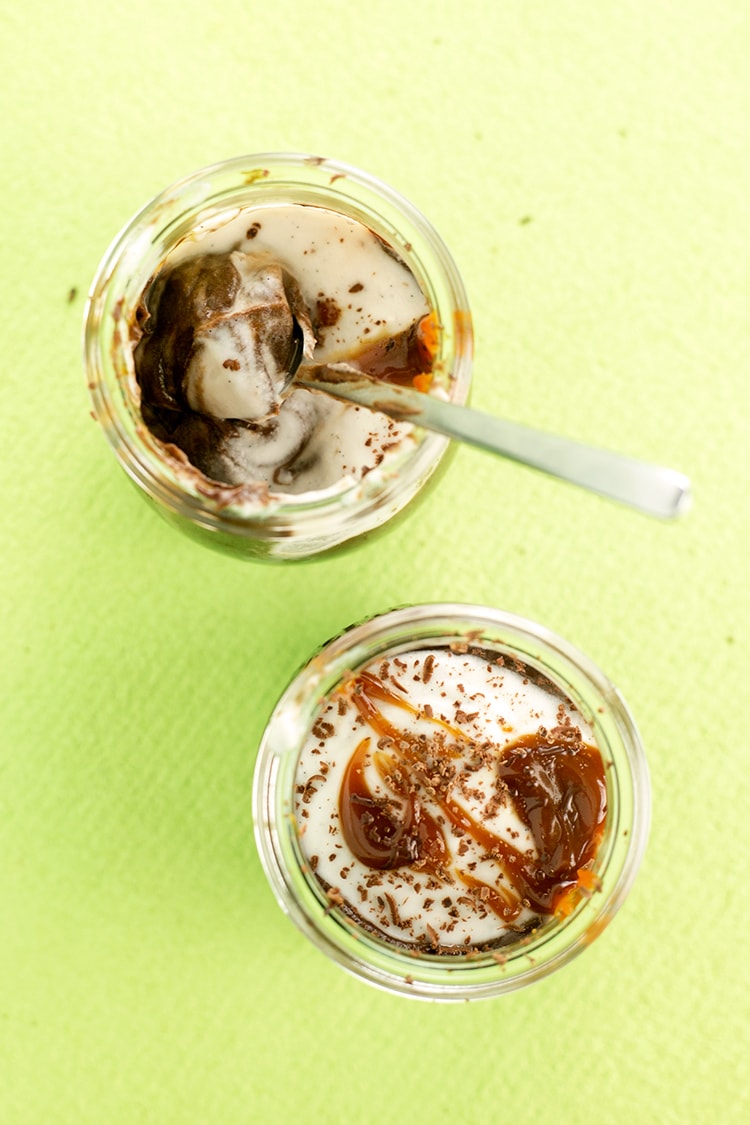 Avocados. Oh Avocados. A couple of months back I went through an Avocado phase. I added it to everything. Wraps, tofu scramble, sandwiches, water crackers, everything. I was blinking in love with Avocados. However, as of recent, in an explicable turn of events, the thought of an Avocado made me feel pretty damn f*cking sick to my stomach. How, why? I don't know. All I know was, I had a bunch of Avocados in the fridge and I really did not want to eat them. At the same time, I didn't want to throw them away, so in came this Avocado Chocolate Pudding for Two!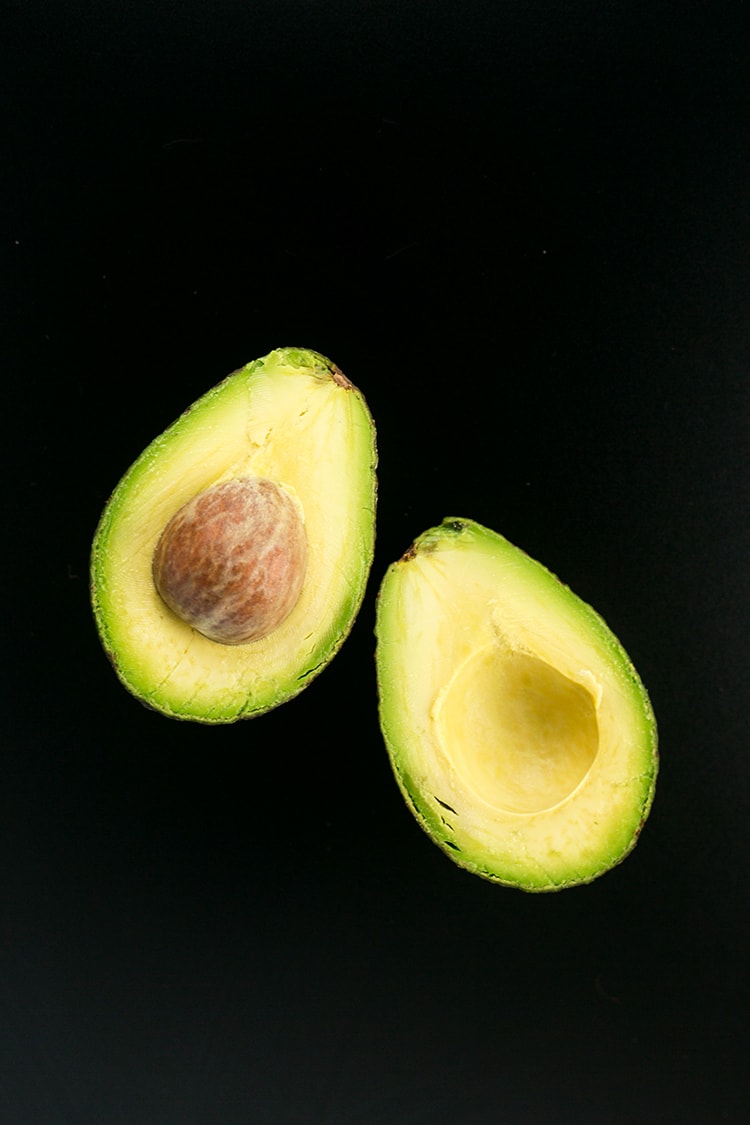 I love recipes that make just enough for 2 servings, and this Avocado Chocolate Pudding is just that. With that said however, if you are a complete loser who has no one in their lives except a cat to keep you company, this Avocado Chocolate Pudding probably just serves one. Just sayin'. Don't look at me with your judging eyes.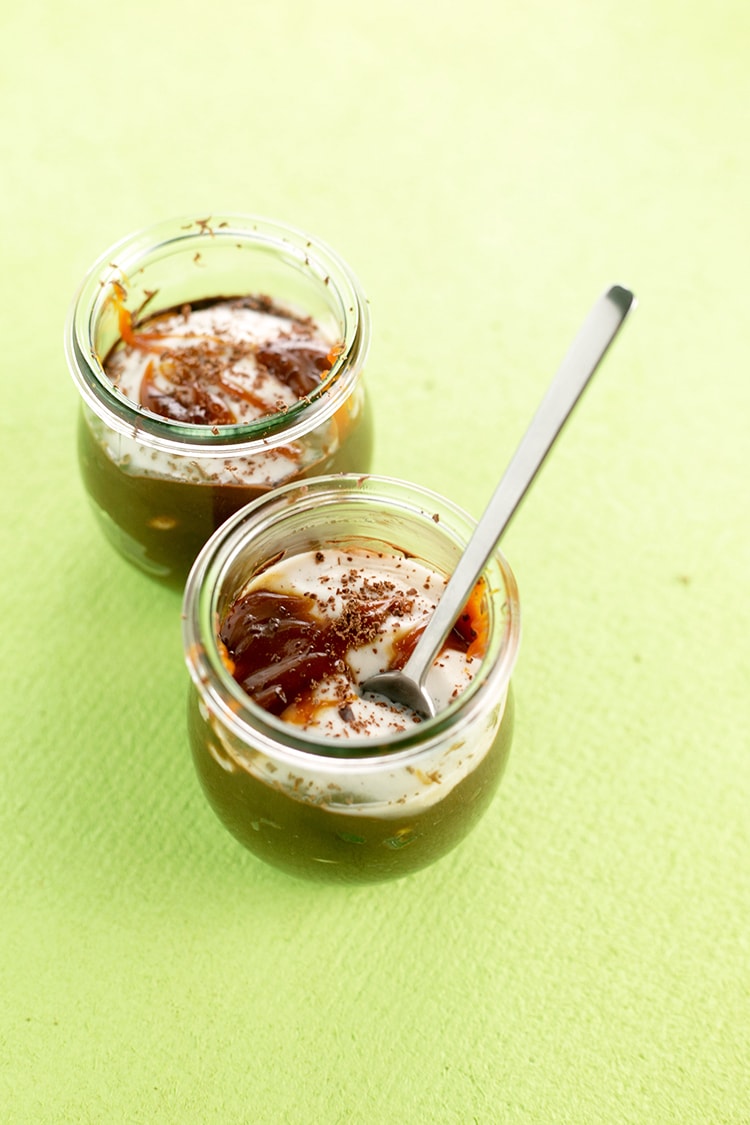 FREE EBOOK SERIES! 5 SECRETS FOR FOOLPROOF VEGAN DESERTS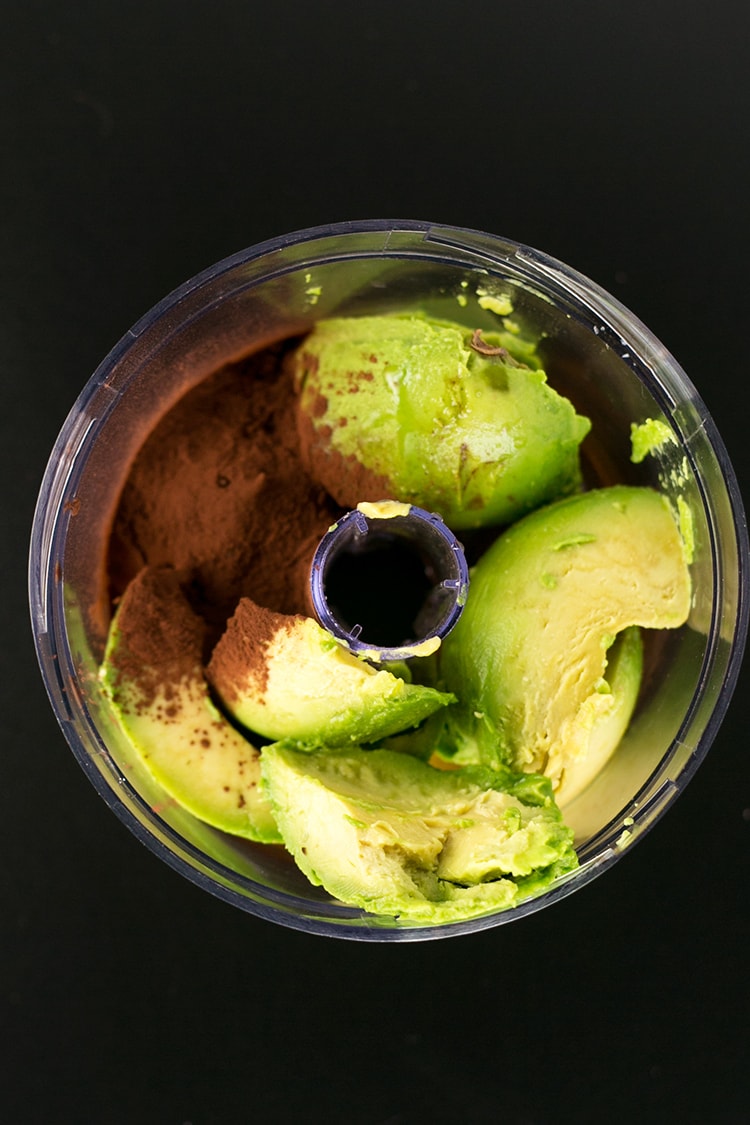 This Avocado Chocolate Pudding for Two is as basic as it gets. Just a few ingredients – Avocado, Cocoa, Maple Syrup, Vanilla, Salt, Instant Espresso and Coconut Cream – come together to create a very thick, delicious Chocolate Pudding. There are a ton of Avocado Chocolate Pudding recipes out there – I know. But somehow they always end up tasting like, well, frickin Avocado. My variation tells the Avocado to f*ck off, leaving you with pure chocolatey goodness.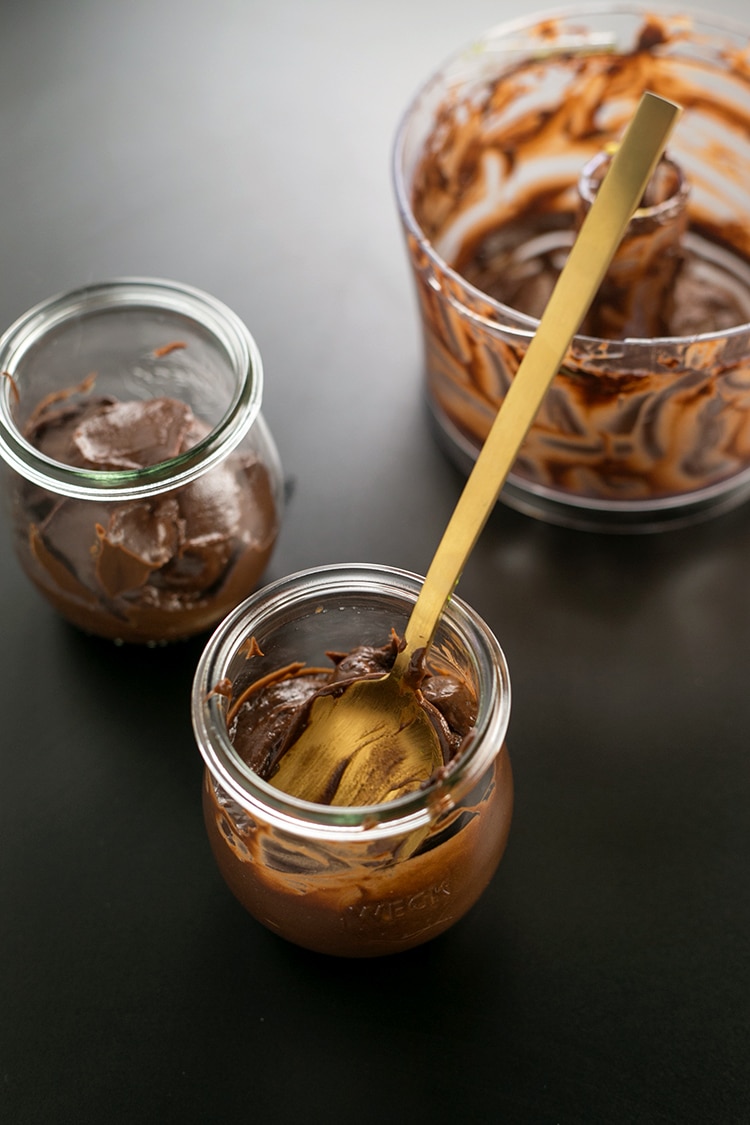 Making this pudding is child's play. You simply pop everything into a food processor and whiz away. Once smooth, you spoon into two little glasses and then chill whilst you're whipping up your Coconut Cream with a bit of Vanilla Bean and Maple Syrup. Deeeeelish. I also topped my Avocado Chocolate Pudding with some leftover Coconut Caramel I had and sprinkled some shaved chocolate over.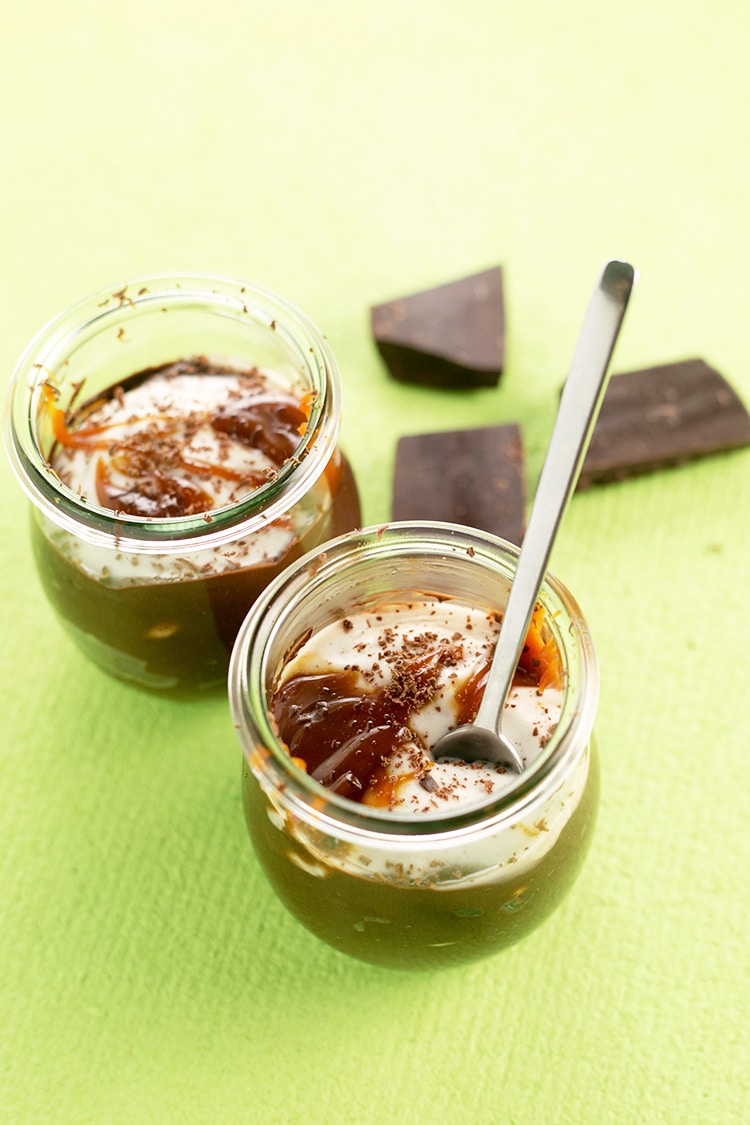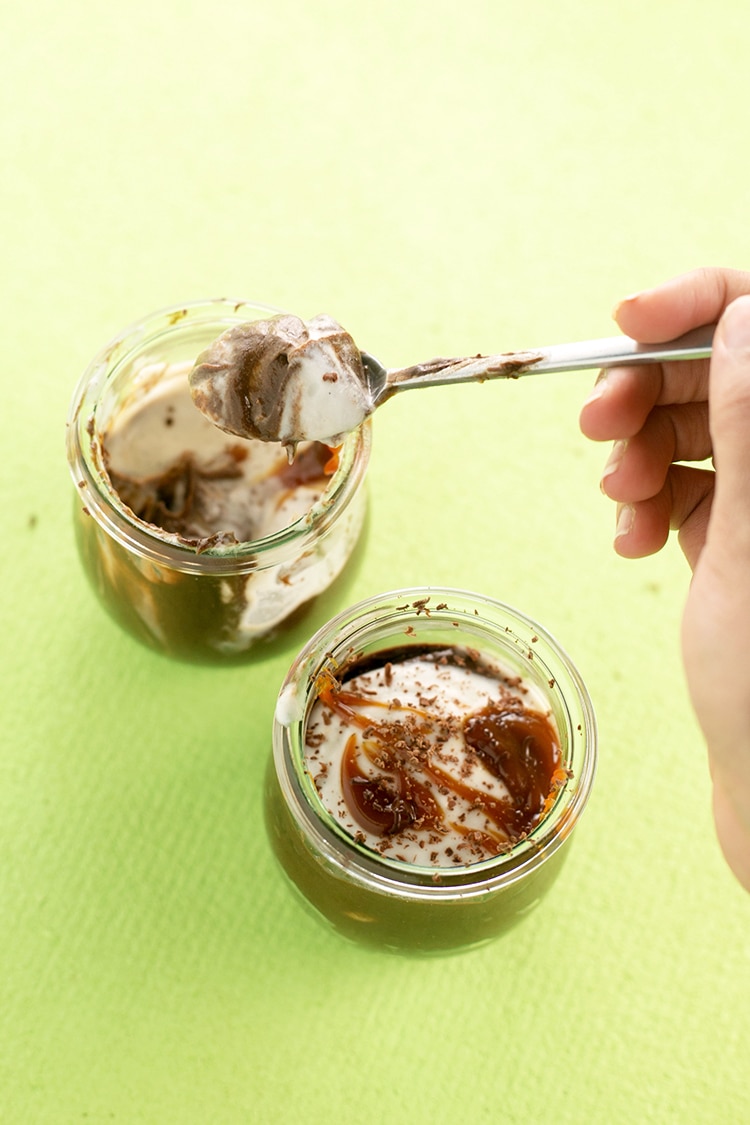 Yup, looks pretty good. With zero Avocado taste, this is the perfect post dinner binge, or since it's healthy, why not um, have it for breakfast? Completely Vegan, Gluten Free and full of heart healthy fat, this recipe is a winner. Even if you're a loser like me, you can make winner recipes. Scroll down for the full recipe for my Avocado Chocolate Pudding for Two. Enjoy!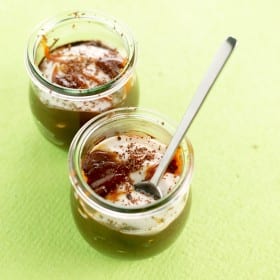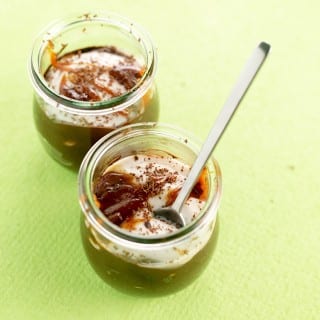 Avocado Chocolate Pudding for Two
Avocado Chocolate Pudding for Two - a creamy, rich chocolate pudding made from Avocados, Cocoa and Maple Syrup, topped with whipped Coconut Cream. Vegan & Gluten Free.
Ingredients
1

Avocado

3

tablespoons

Cocoa Powder

4

tablespoons

Maple Syrup

Seeds of 1/4 of a Vanilla Bean

1/4

teaspoon

Instant Espresso

Pinch

of Sea Salt

2

tablespoons

Chocolate Almond Milk

or plain

1/4

cup

Coconut Cream

skimmed off the top of a chilled can of Coconut Milk

1/2

tablespoon

Maple Syrup

Seeds of 1/4 of a Vanilla Bean

Optional:

PB Coconut Caramel

for drizzling (highly recommended)
Instructions
Combine Avocado, Cocoa Powder, Maple Syrup, Vanilla Bean seeds, Instant Espresso, Sea Salt and Chocolate Almond Milk. Once smooth, spoon into 2 glasses and chill for 15 minutes.

Whilst chilling, whip up Coconut Cream, Maple Syrup and Vanilla Bean seeds with an electric mixer till soft peaks form.

Top chilled puddings with Coconut Cream and chill for another 30 minutes before eating, if you can wait that is.