Here's a simple recipe for Vegan Banana Bread with Vegan 'Cream Cheese' icing! Tastes better than the non-vegan stuff! This Vegan Banana Bread recipe is Dairy Free, Egg Free, and Gluten Free, but you'll never be able to tell. Check out that fluffy vegan icing as well! The perfect finishing touch to this Vegan Banana Bread – YUM!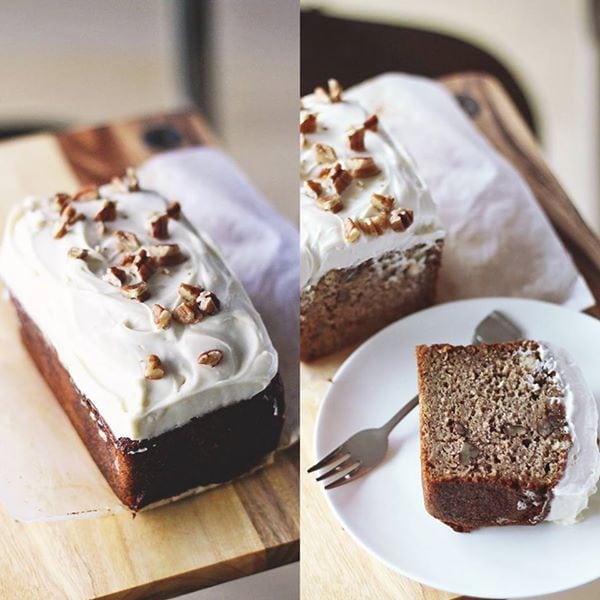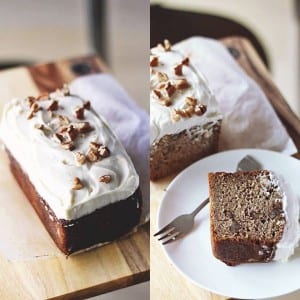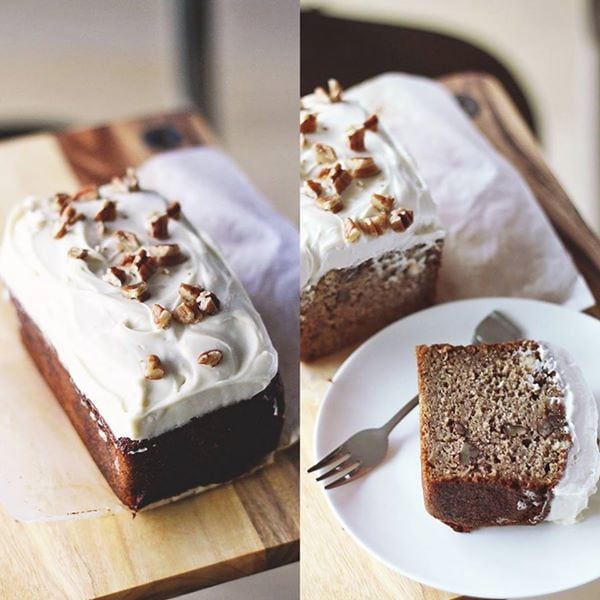 Vegan Maple Banana Bread with Vegan 'Cream Cheese' Icing!
Simple recipe for Vegan Banana Bread with Vegan 'Cream Cheese' Frosting
Ingredients
Wet Ingredients:

2

large Bananas

you want them SUPER SUPER ripe, almost black!

1/4

cup

+ 2 tbsp Maple Sugar

You can find this online or at a good supermarket/health store

1/4

tsp

fine Salt

1

Tbsp

Ground Flaxseed

3

TBSP

warm Water

50

grams

Oil

1

tsp

Vanilla Extract

1/2

tsp

Maple Extract

Dry Ingredients:

1/4

cup

Gluten Free All Purpose Flour

1/4

cup

Almond Meal

1/4

cup

Oat Flour

1/2

tsp

Baking Powder

1/2

tsp

Baking soda

1/2

cup

chopped Pecans

2

tablespoons

Maple Syrup

for after cake has cooked

Vegan 'Cream Cheese' Frosting:

50

grams

Nutellex Vegan spread

a lot of margarine still has milk solids in it, so look for a DAIRY free variety

150

grams

Tofutti Better than Cream Cheese

50

grams

Icing Sugar

1

tbsp

Maple Syrup
Instructions
Wet Ingredients Instructions: Combine Flax meal with warm water and let it sit for 10 minutes.

After it has thickened, add it to the remaining wet ingredients and blend with a hand held immersion blender till smooth.

Alternatively, you can mash everything by hand but I personally do not like chunks of mushy banana in the bread!

Set aside whilst preparing dry ingredients.

Wet Ingredient Instructions: Combine dry ingredients and sieve into a big bowl.

Make a well in dry ingredients and pour wet ingredients into it.

Combine well with a whisk and then pour into a greased and lined 7x4 inch loaf tin.

Bake at 175 degrees celsius for 45 minutes or till a skewer comes out clean.

Once it is taken out of the oven, immediately poke holes in the cake and drizzle with 2 tablespoons of maple syrup.

Leave cake to cool.

Vegan 'Cream Cheese' Frosting Instructions: Cream Tofutti and Nutellex together till smooth with an electric mixer.

Add icing sugar and maple syrup to the mixture and mix to combine.

At this point, the mixture will be a little sloppy, so leave it in the fridge for 10 minutes to firm up a little.

Finishing Touches: Once your bread has cooled, top with icing and sprinkle with chopped pecan nuts. Keep in the fridge, and let it sit at room temperature for 10 minutes before enjoying a slice!
Questions? Feel free to drop us your comments if you need any clarification on this delicious vegan banana bread recipe!