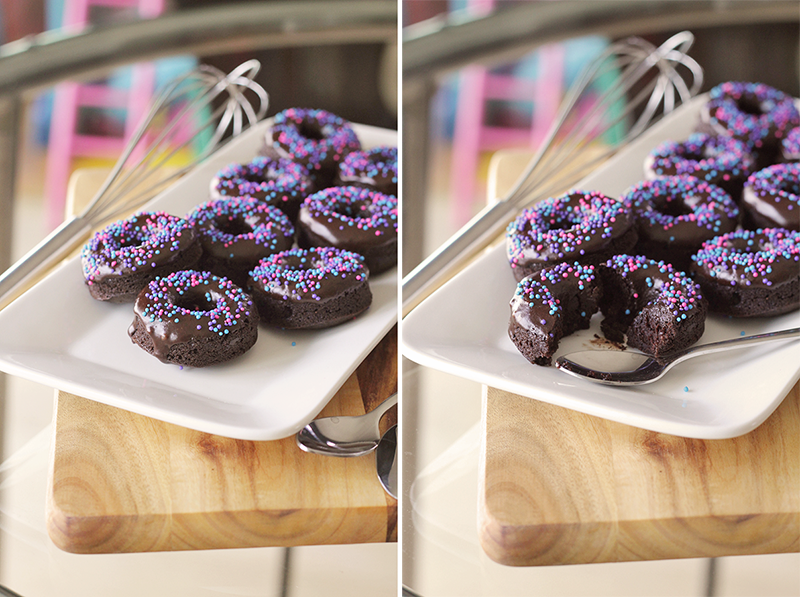 Question: is a donut really a donut if they're baked and not deep fried in molten yumminess? One could argue that the donut is actually a lie, and that it is a shady cake in donut clothing, but whatever the case, this vegan donut recipe is delicious and I can't stop eating them!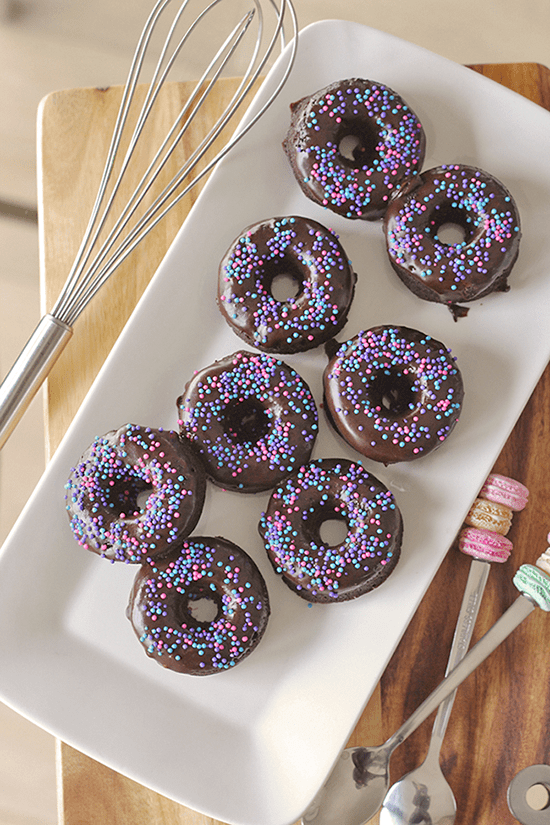 Have I mentioned this donut also happens to be vegan-friendly? Oh wait – I did! Silly me. Anyway, who knew that a baked good with no dairy, eggs or butter could taste so wonderful! To top it all off, you can make, bake and decorate these vegan donuts in less than 30 minutes. I was astounded at how quickly my wife whipped these up – they were both baked and decorated whilst I was still struggling to get out of bed. Obviously, I did get out of bed, and these vegan donuts could possibly have been the motivation I needed.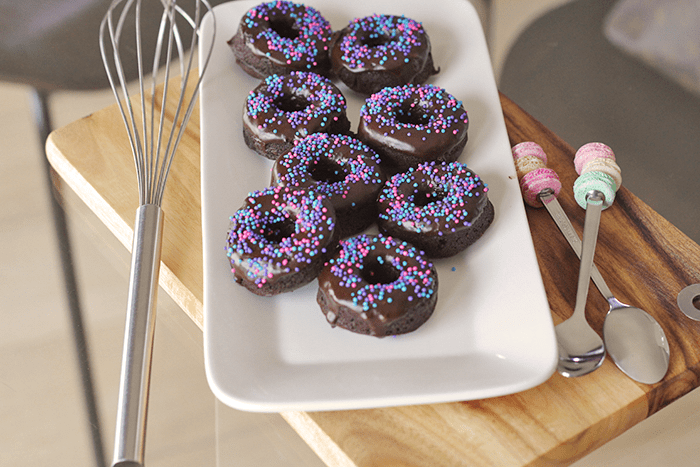 Even though the vegan donuts themselves are tender, moist and delicate, the frosting on them steals the show. It tastes similar to Betty Crocker chocolate frosting (hey hey, that stuff is amazing, no food snobbery here – admit it, you love it too) but without any unrecognizable ingredients or additives. With that said, I still love you, premade tub frosting.
FREE EBOOK SERIES! 5 SECRETS FOR FOOLPROOF VEGAN DESERTS
Try this recipe for vegan chocolate donuts out for yourself. Be sure to make a double batch cause they'll be snapped up by loved ones in no time. Trust me on this.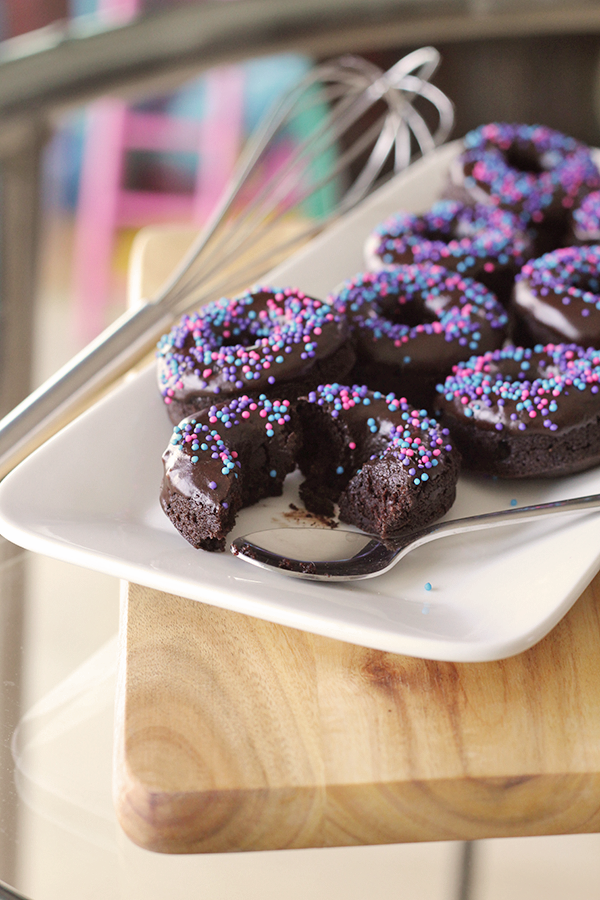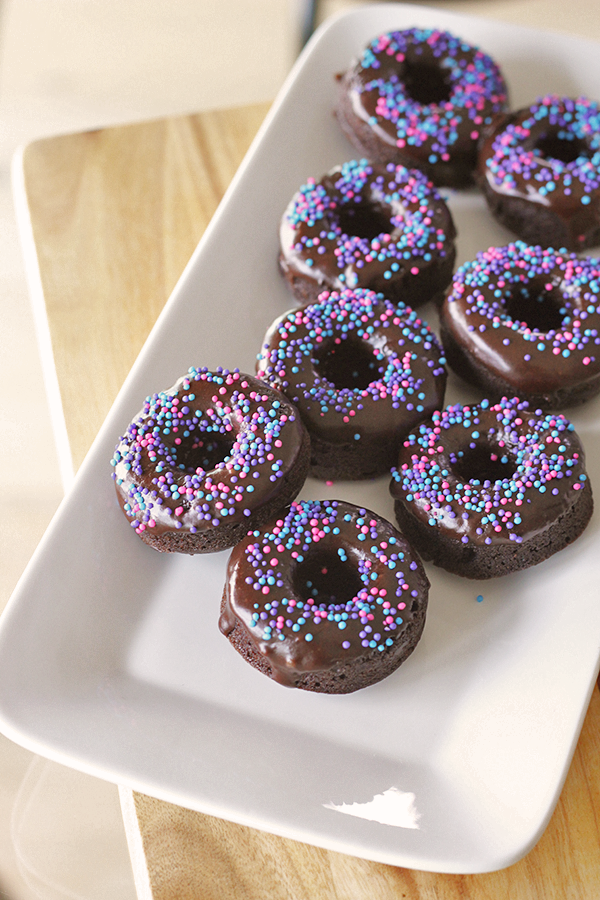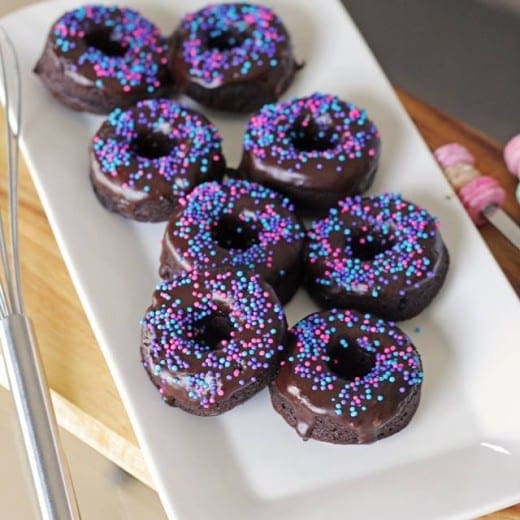 Mini Vegan Chocolate Donuts
Ingredients
Donuts:

1/4

cup

+ 2 Tbsp Pastry Flour

1/4

cup

Superfine Sugar

2

Tbsp

Cocoa Powder

1/4

teaspoon

baking soda

1/8

teaspoon

salt

1/4

teaspoon

Instant Coffee

2 1/2

tablespoons

Vegetable Oil

1/2

teaspoon

vanilla extract

1/4

cup

water

Frosting:

1/2

cup

Icing Sugar

1

Tbsp

Nuttelex

or other Vegan spread, melted

1

Tbsp

Water

2

Tbsp

Cocoa Powder

1/4

teaspoon

vanilla
Instructions
Preheat oven to 175 degrees celsius. Spray your mini donut pan with nonstick spray.

Sieve together flour, sugar, cocoa powder, baking soda, instant coffee and salt. Whisk to combine.

Add oil, vanilla and water and continue to whisk until smooth.

Pour into 8 mini donut pan cavities and place in the oven to bake.

Donuts take about 10-12 minutes to fully bake. Once done, remove from oven and let cool in pan for 10 minutes. After 10 minutes, release donuts onto a cooling rack and let cool completely.

Prepare frosting.

Whisk together icing sugar, water and melted Nuttelex. Whisk till smooth.

Add cocoa powder and vanilla and continue to whisk until creamy and well combined.

If donuts are not yet cool, cover icing with a damp tea towel to prevent it from drying out.

Once donuts are cool, dip them into the frosting to cover the tops. Sprinkle with anything you fancy!
Don't forget to wash your vegan chocolate donuts down with a tall glass of almond milk! Or water from a tap, if you're like our grumpy-faced cat Bingo!