This homemade pink lemonade is a classic and refreshing summer drink. Made with citrusy orange and lemon, it gets the signature pink lemonade color from the sweet and tart strawberries.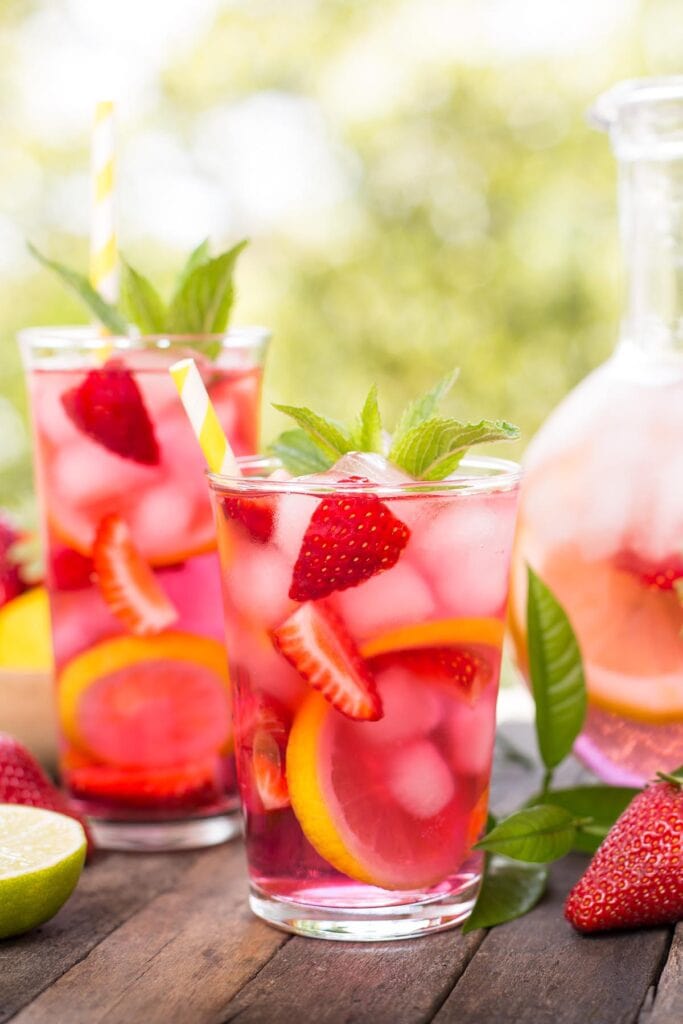 We love to have a good time with a drink in our hands, especially in summer. Whether you're craving a tropical smoothie, a pineapple juice or something a bit racier like a vodka soda, there's nothing better than an ice cold beverage by your side.
What is pink lemonade?
While commercial pink lemonades get their lovely color from food colorants, you can use any pink/red fruit of your choice to convert your classic lemonade into a pink one. 
FREE EBOOK SERIES! 5 SECRETS FOR FOOLPROOF VEGAN DESERTS
You'll find many bizarre origin stories of the pink lemonade online. Some believe a circus worker ran out of water to make lemonade in the 1800s and used water from a tub where a performer had just washed red tights. It is more likely, however; that people started to experiment with juices as additions to common lemonade.
Why you'll love this recipe
Uses only five ingredients.

This delicious drink requires only lemon, orange, strawberries, sugar, and water.

Customizable.

You can play with the sweet, fresh, fruity, tart flavors all you want to make it to your liking.

Crowd pleaser.

This drink is so versatile that you can serve it at birthday parties, bridal showers, or pool parties.

It is pink.

Not only is it fun to sip pink drinks, but when they taste so good, even macho men won't be able to resist them. And if you love pink beverages, you must try our favorite

pink drink

recipe.
Ingredients Needed
This refreshing drink calls for four simple ingredients and water. Here's what you'll need:
Sugar.

I have used sugarcane sugar in this recipe, but you can also use alternative sweeteners like honey or plant-based syrups. Also, you can adjust the sugar quantity to your preference.

Lemon.

We love making our lemonade with fresh lemons. Pick out yellow-skinned firm lemons for the best results.

Orange.

We love to double down on citrus with lemon and orange. It complements the strawberry and brings out the tartness.

Strawberries.

Not only do they complement the tart flavor beautifully, but they also give pink lemonade its signature color.

Water.

For making the syrup and then for diluting the lemonade.

Ice.

Cocktail or mocktail, no summer drink is complete without ice.
How to make the best pink lemonade
You can make this vibrant lemonade in under 30 minutes following four simple steps.
Step 1- Prep the fruits
Rinse, clean, and slice strawberries, lemon, and orange into small pieces.
Step 2- Make the syrup
To a large saucepan, add sliced fruits and sugar. Top it off with water and bring it to a boil. Stir the mixture constantly to prevent ingredients from sticking to the base. Once the sugar is dissolved, and the fruits are muddled, let the syrup cool down in the pan.
Step 3- Sieve the syrup
For a smooth concoction, strain the cooled syrup through a sieve. Using a spoon to press, extract the maximum juice from the pulp. Once you have the fine puree, let it cool completely.
Step 4- Dilute and serve
This pink lemonade is best enjoyed chilled. So, dilute one part of pink fruit syrup with three parts water or carbonated water, add ice, and serve cold.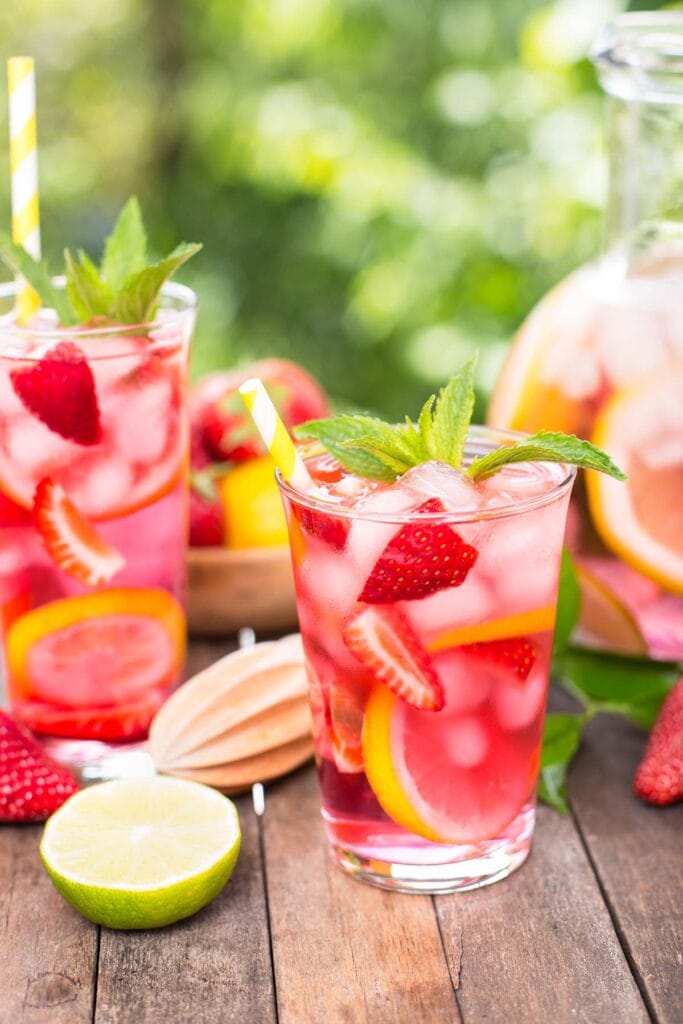 Tips to make the best recipe
Adjust the sweetness to your taste.

If you prefer less sweet lemonade, you can reduce the sugar in the syrup. Or you can swap out sugar for

maple syrup

or

keto simple syrup

.

Put lemon circles.

For an aesthetic look, thinly slice lemon and orange cross sections and add them to the serving glass.

Use sparkling water.

For a little fizz, dilute the lemonade syrup in chilled sparkling water or soda instead of still water.

Prep in advance.

You can prepare a large batch and store it in the refrigerator to have it ready to go. Also, dilute a big batch of lemonade in a glass dispenser just before a party. It's easy to self-serve and looks really pretty.

Turn it into a cocktail.

When in a boozy mood, mix this syrup with your preferred alcohol (gin, vodka, and tequila taste great!) to turn this innocent pink drink into a fun cocktail.
Flavor variations
Use other fruits for the pink color.

You can make this pink lemonade with grapefruit, watermelon, or pink guava. Just adjust the sugar according to the sweetness of the fruit. They all result in excellent cold drinks, perfect for summer.

Garnish with herbs.

If you love fresh herbs, garnish your drink with crushed mint or basil leaves before serving.

Make it savory.

Add a pinch of rock or pink salt for a sweet-salty lemonade. And if you fancy a little spice, shake it up by adding a couple of drops of tabasco or a pinch of paprika.
Storage instructions
To store: Refrigerate the pink syrup concentrate in an airtight jar for one week.
To freeze: You can freeze the syrup in ice cube trays and use them later in lemonades, iced teas, or popsicles.
Recommended tools to make this recipe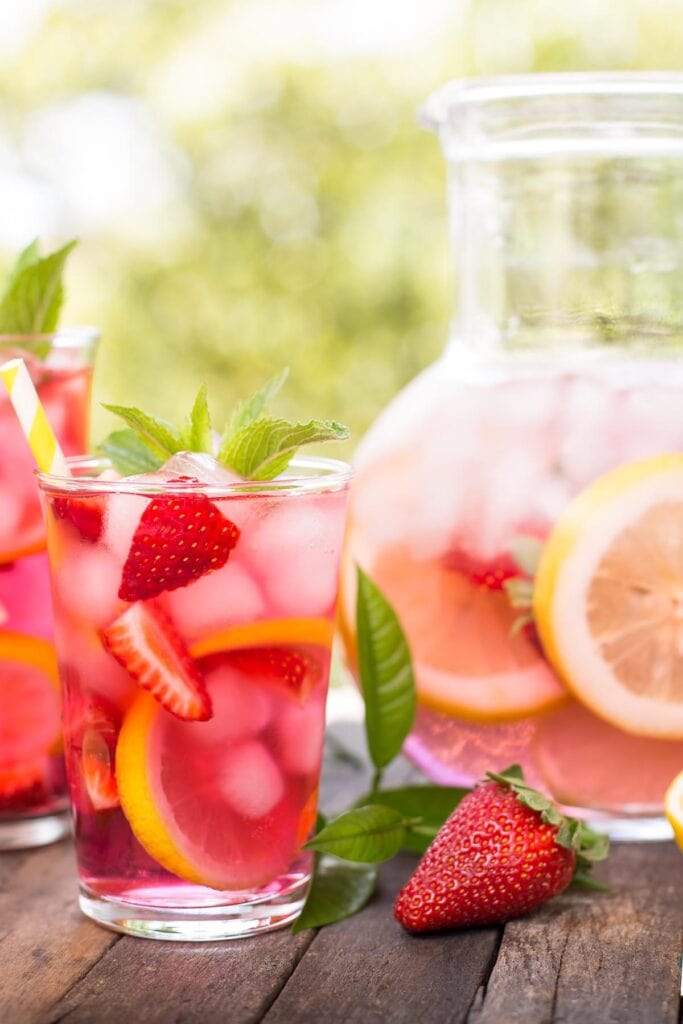 More wonderful drinks to enjoy
Frequently asked questions
Can I use frozen strawberries?
Yes, you can. Because we end up boiling the fruits to marry the flavors, frozen strawberries work just as well.
Can I make it sugar-free?
Yes, definitely. You can use stevia or other sugar-free alternatives to make the sugar syrup. I have a great keto simple syrup recipe for your sugar-free needs.
Can I use pink lemons to make pink lemonade?
Unfortunately, the juice of pink lemons is colorless and won't make your lemonade pink. But you can always garnish the lemonade with a few Eureka/pink lemon wedges.
What is the difference between regular and pink lemonade?
Pink lemonade is regular lemonade in pink color. You can make your lemonade pink using food dye or pink/red fruits like this recipe.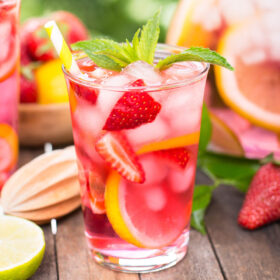 Pink Lemonade
This homemade pink lemonade is a refreshing summer drink. Made with citrusy orange and lemon, it gets the signature pink color from the sweet and tart strawberries.
Ingredients
1 1/2

cups

sugar

1

large

lemon

sliced

1

large

orange

sliced

3 3/4

cups

strawberries

trimmed

1 1/2

cups

water

cold
Instructions
In a large saucepan add all ingredients and then add the cold water. Bring this to boil, stirring regularly until the sugar has dissolved and then leave to cool slightly.

Pour the syrup mixture through a sieve. Use a spoon to press the pulp to extract all the juices. Let the syrup cool completely.

To serve, combine one part syrup to three parts water or carbonated water. Add ice and drink immediately.
Notes
TO STORE: Refrigerate the pink syrup concentrate in an airtight jar for one week.
TO FREEZE: You can freeze the syrup in ice cube trays and use them later in lemonades, iced teas, or popsicles.
Nutrition
Serving:
1
serving
Calories:
120
kcal
Carbohydrates:
31
g
Protein:
1
g
Fat:
0.3
g
Saturated Fat:
0.01
g
Polyunsaturated Fat:
0.1
g
Monounsaturated Fat:
0.02
g
Sodium:
2
mg
Potassium:
110
mg
Fiber:
2
g
Sugar:
29
g
Vitamin A:
42
IU
Vitamin C:
39
mg
Calcium:
17
mg
Iron:
0.3
mg