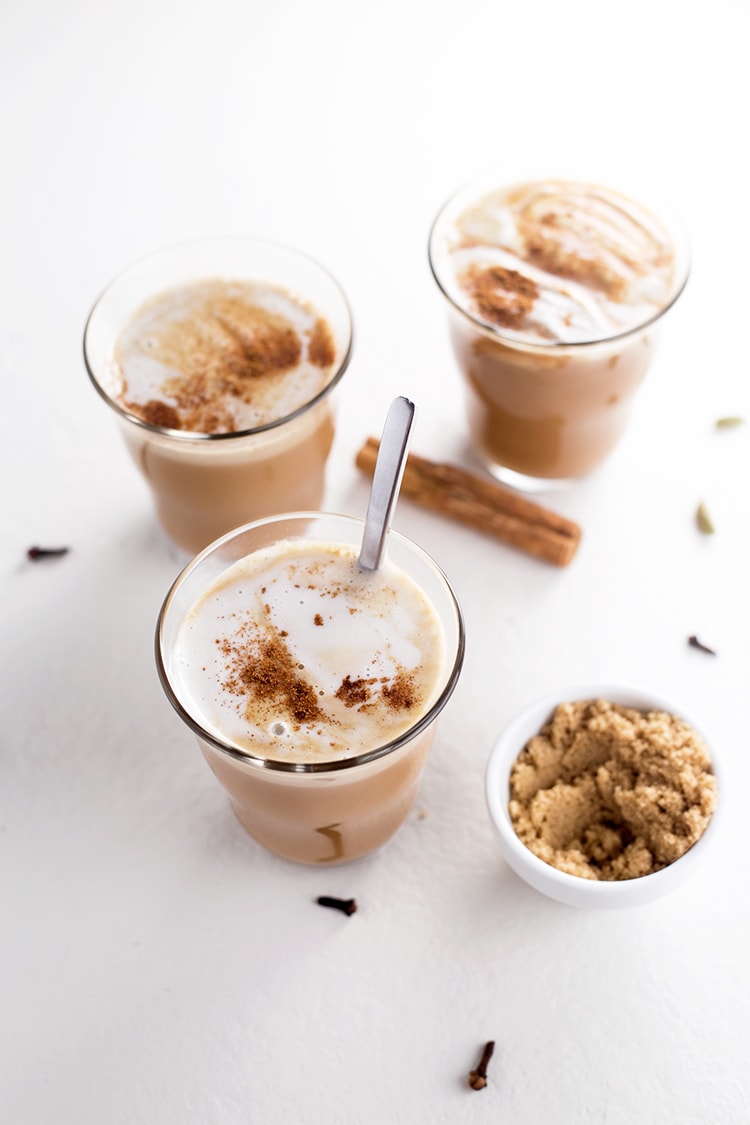 What's up homies! Today I have a simple, natural, no BS Chai Tea Latte recipe to share with you. There are tons of Chai Tea Latte recipes on the Internet. Some instruct you to buy syrups/powders and add it to milk – or even worst, use pre-ground spices (GASP). Others show you how to make a Chai Tea infusion that you can store in the refrigerator and add milk to whenever you feel like a cuppa.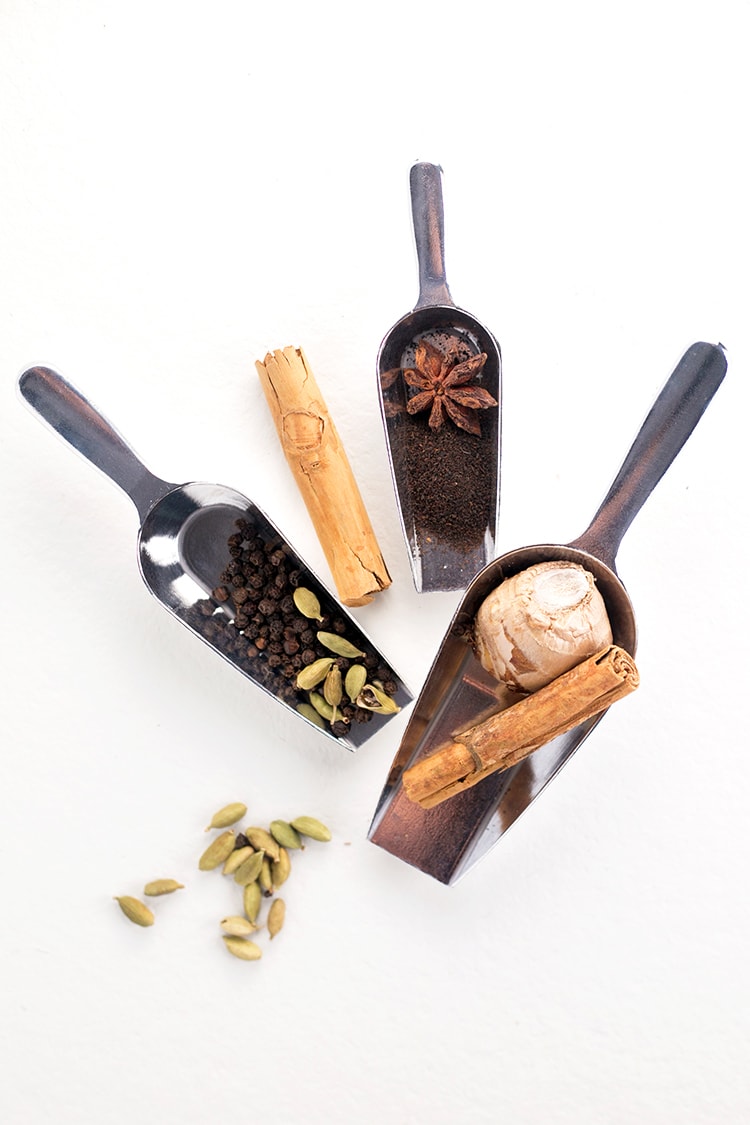 Regardless if you're making a concentrate or a normal pot of chai, I noticed that a lot of recipes simply instruct you to drop spices into water and simmer for a short period of time before adding a sweetener of your choice. In my opinion, that is a complete, utter waste of your spices because you never will never get the most out of them using that method. This is why in my Chai Tea Latte recipe, I roast my spices (cardamom, black pepper, cloves, star anise, cinnamon) and grind them in a small coffee grinder before adding it to water with a hefty amount of ginger to top it all off.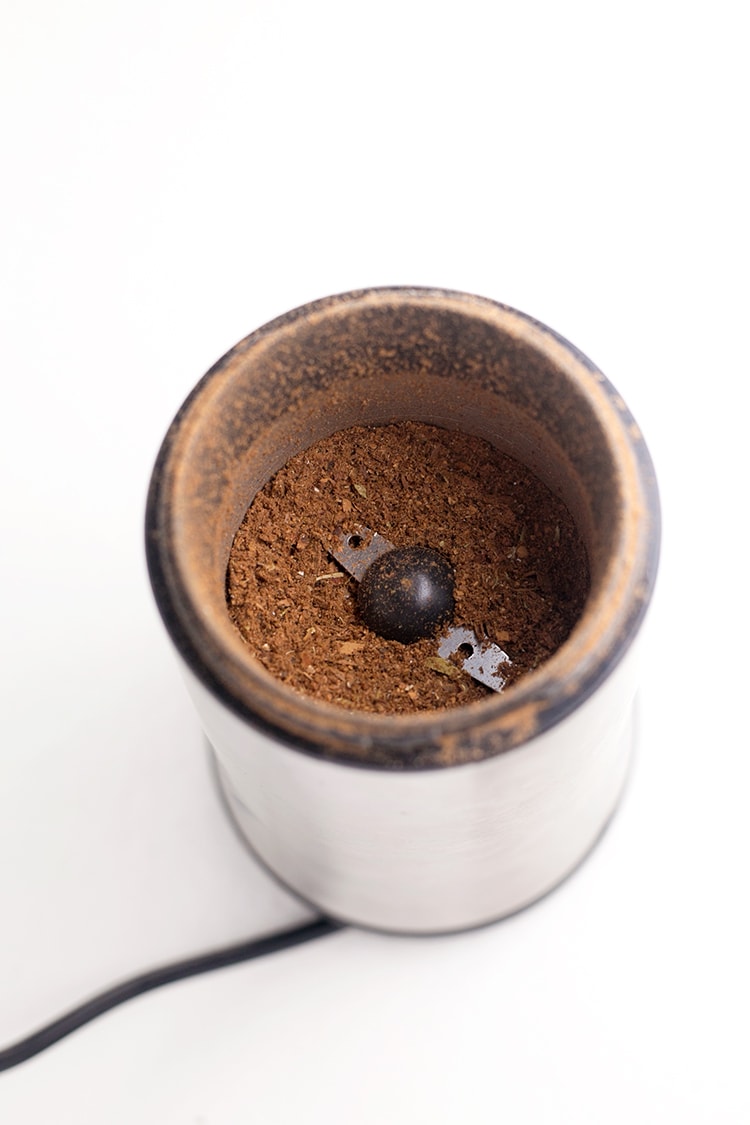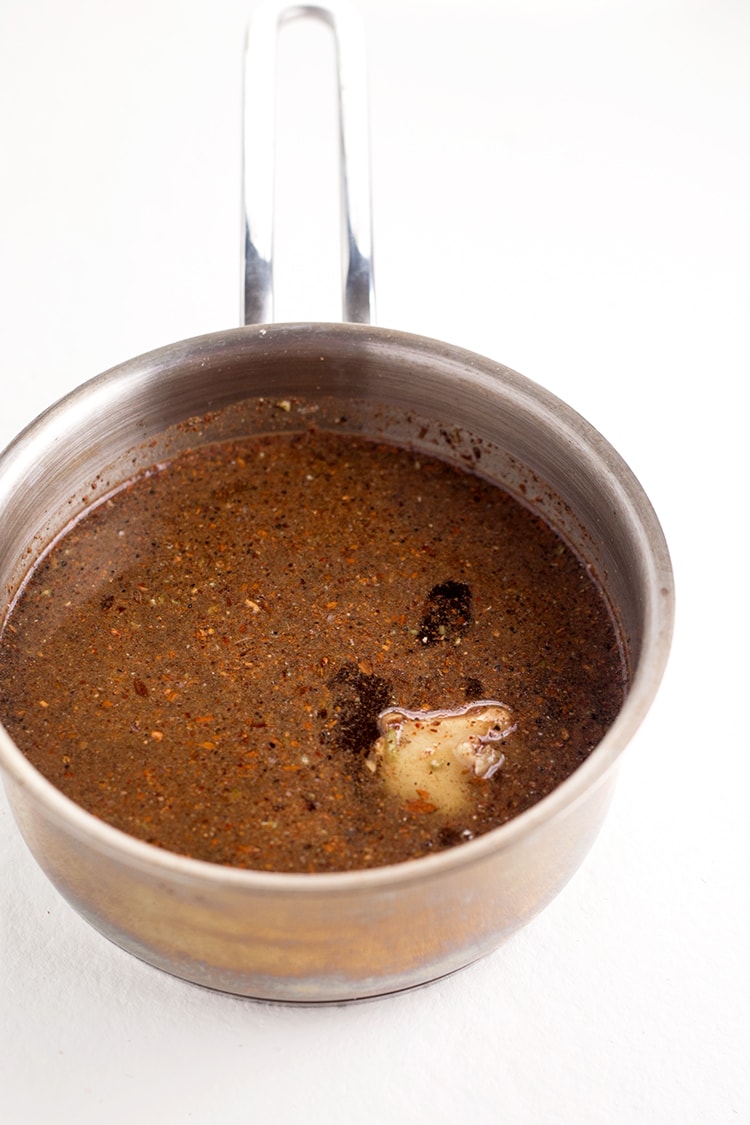 Trust me, the roasting and grinding is ESSENTIAL if you want to make a real, traditional cup of Chai. These extra steps literally make flavor bleed out of your spices like a murder victim. I promise, you will never go back to any of those trendy hipster shi*ty syrups once you've tried making your homemade Chai Tea Latte this way. Word.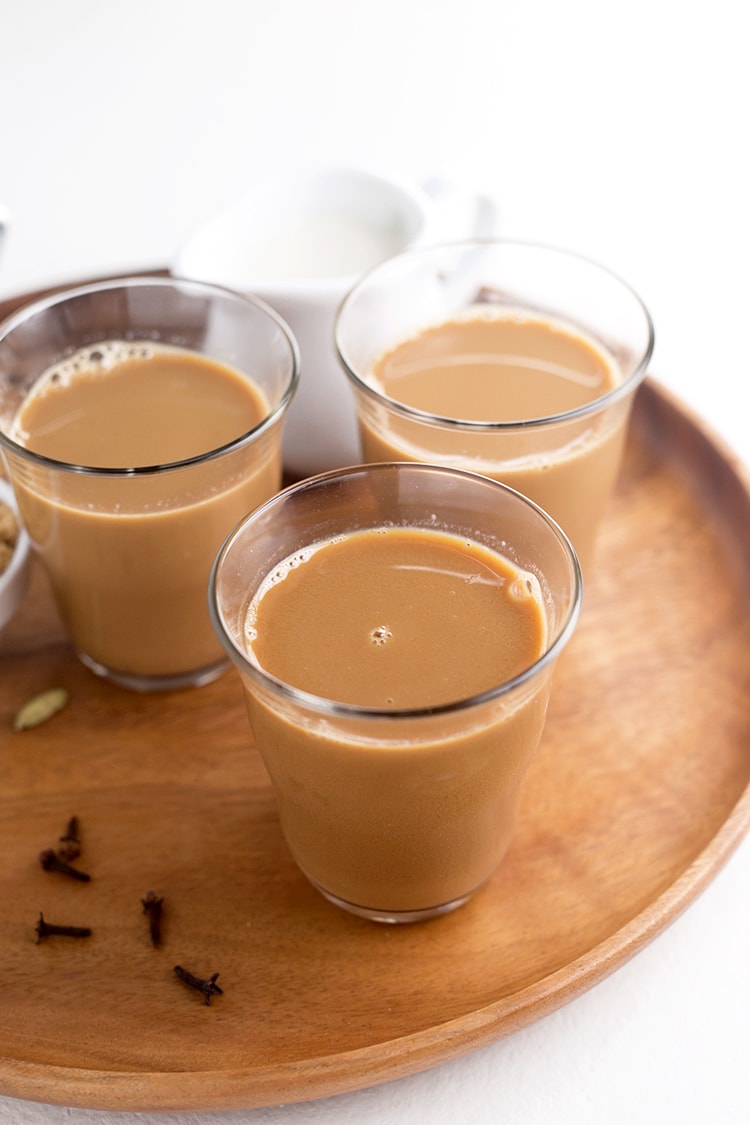 I enjoy Chai Lattes both cold and warm, and sometimes I even top it off with Coconut Whipped Cream (pictured). With or without whipped cream, this homemade Chai recipe is awesome. The freshly ground black pepper really adds a real kick to your Chai  and reminds you that you're not drinking no pu$$y a$$ cafe sh!t from the mall. Made with Almond Milk and sweetened with Cane Sugar, this Chai Tea Latte recipe is also Vegan, Gluten Free and Refined Sugar Free. Winner winner faux chicken dinner.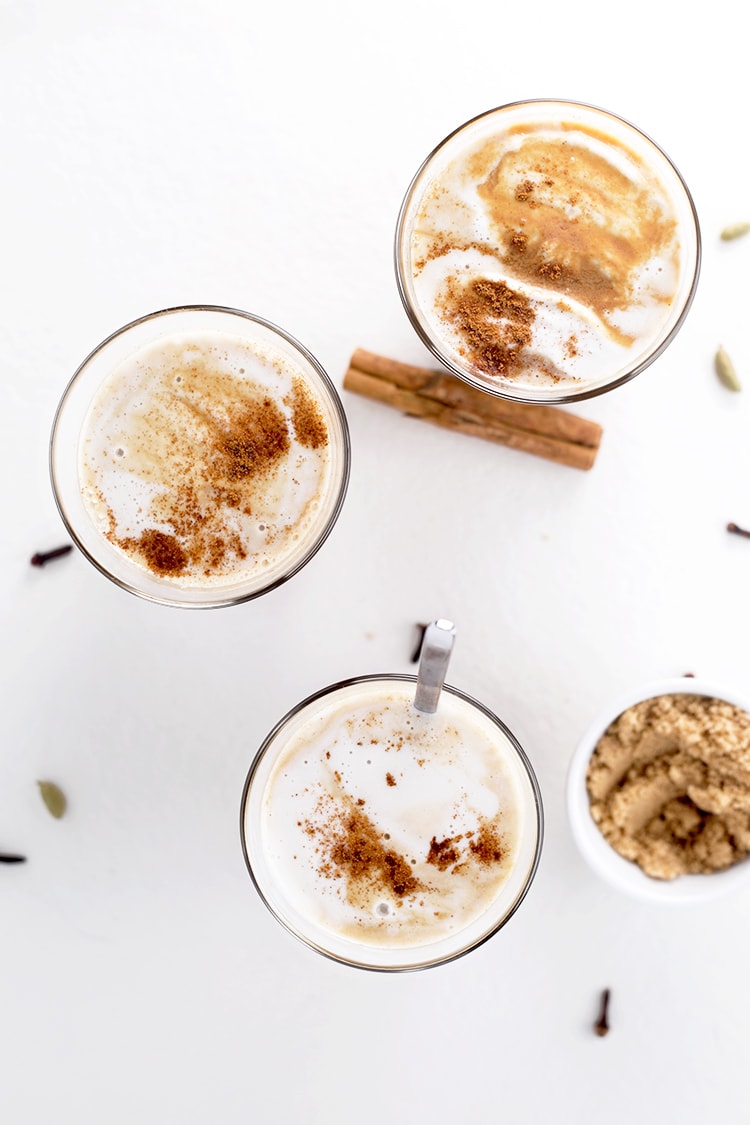 I'll leave you guys with my Chai Tea Latte recipe. Let me know if you try it out (why wouldn't you?). It's inexpensive, natural, and pretty damn good. Trust me, I'm Indian so I would know… I literally have chai running through my veins. Duh. P.S.: Don't be afraid of the crazy amount of spices in the recipe – the entire recipe makes almost 1 liter of Chai syrup. Feel free to halve the recipe if you don't fancy a Chai Latte 3 times a day, everyday. Cheers!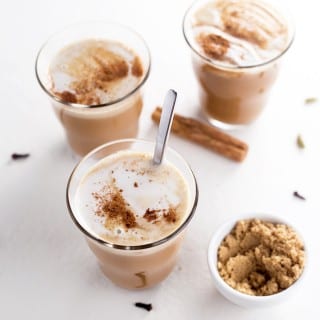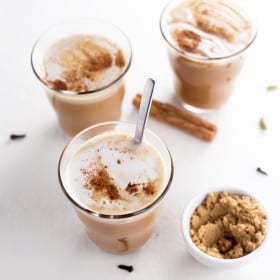 How To Make Chai Tea Latte from Scratch
Homemade Chai Syrup made with freshly ground Ginger, Cardamom, Black Pepper, Cloves, Star Anise and Cane Sugar. Topped off with creamy Almond Milk for the perfect Chai Tea Latte.
Ingredients
Chai Tea Syrup:

40

Black Peppercorns

10

Cloves

10

Green Cardamom Pods

2

Cinnamon Sticks

1

Star Anise

5

cups

Filtered Water

5

tablespoons

Loose Black Tea

1 1/4

cup

Cane Sugar

4

Inches

Ginger

bashed

To Serve - Per Latte:

1

part Chai Syrup

2

parts Unsweetened Almond Milk
Instructions
In a large saucepan, roast black peppercorns, cloves, cardamom, cinnamon, star anise over a very low heat for 1-2 minutes or until fragrant. Remove spices from saucepan and leave them to cool.

Once cool, grind the roasted spices in a coffee or spice grinder till a coarse powder is achieved (it doesn't need to be perfectly ground).

In a large saucepan, combine water, ground spices and ginger. Stir well and bring to a very gentle simmer. Cover the saucepan with a lid and let the ingredients continue to simmer for another 20 minutes. Make sure that the water never comes to a boil - you want gentle heat so that the spices don't go bitter.

After 20 minutes, remove the lid and add your loose black tea into the pot. Turn heat off, stir and allow the tea to sit for 10 minutes to infuse. Once infused, strain the warm liquid into another saucepan. Use a fine meshed sieve so that none of the spices filter through.

Add sugar to strained liquid and then put on the heat and bring to a simmer. Let simmer, uncovered, for 5-10 minutes or until the syrup has thickened ever so slightly. Immediately pour into sterilized bottles to cool. Once cool, keep in the refrigerator for up to 1 week.

To make Chai Latte: For a warm Chai Latte, combine 1 part syrup to 2 parts almond milk and heat on the stove till warm. If drinking cold, simply pour 1 part cold syrup into 2 parts chilled almond milk. Stir and enjoy.