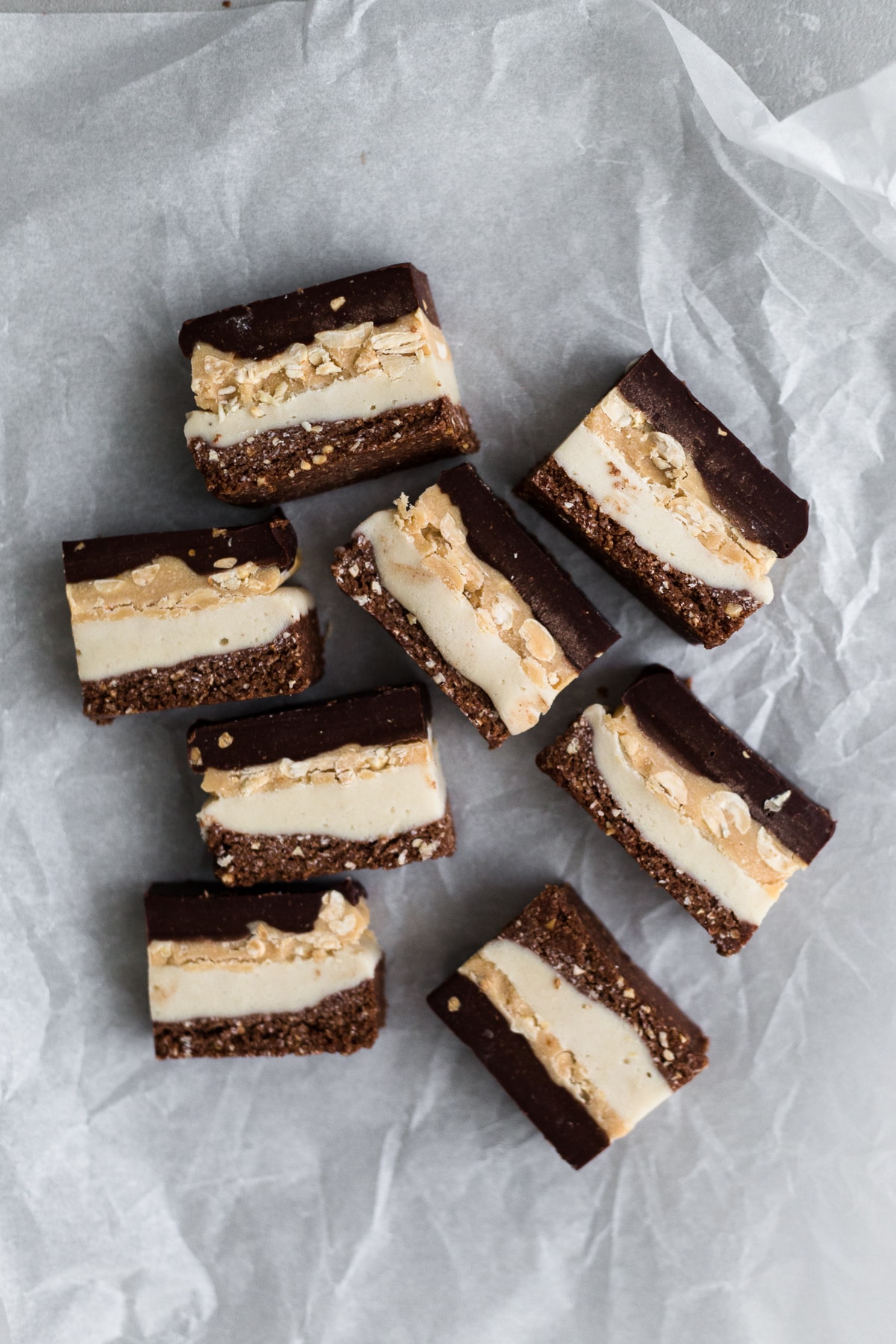 Snickers was by far my favourite chocolate bar growing up. I mean, pretty obvious since I've posted multiple Snickers-esque recipes in the past including my Snickers Chia Pudding and homemade raw Snickers Bars. Chocolate, caramel and peanut butter is amazing, but so is the word SNICKERS. WHAT A NAME! LOOK AT ME LOSING CONCENTRATION 2 SENTENCES in! ANYWAY! Today I bring to you my Vegan Snickers Ice Cream Bars. Simply put – a Chocolate Oat base, Vanilla Cashew Ice Cream base, Peanut Butter Caramel and the icing on the ice cream cake is a delicious Chocolate Glaze.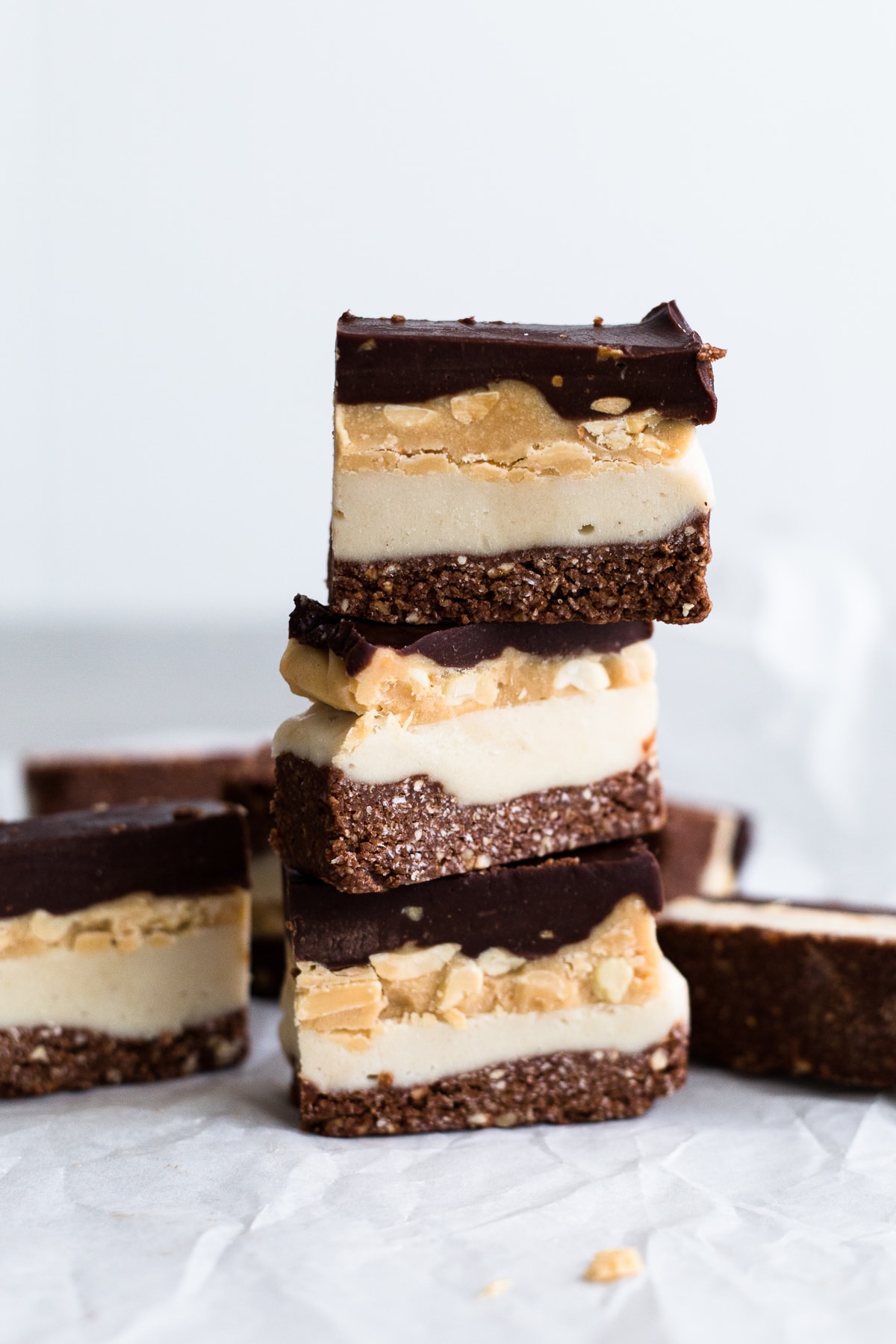 I haven't much else to say besides these little bastards are fkn delicious – Vegan Snickers anything is fkn delicious in my opinion, you can't really go wrong. These Vegan Snickers Ice Cream Bars come together in under a couple of hours (sans the overnight freezing, so sue me), and are perfectly portioned out once you slice them into bars….that is if portion control is something you're accustomed to. I certainly am not. To be honest I think I ended up eating these Snickers Ice Cream Bars for breakfast, lunch, dinner over a couple of days. I don't recommend anyone following my atrocious diet, so take that as a PSA. My body is a trash can.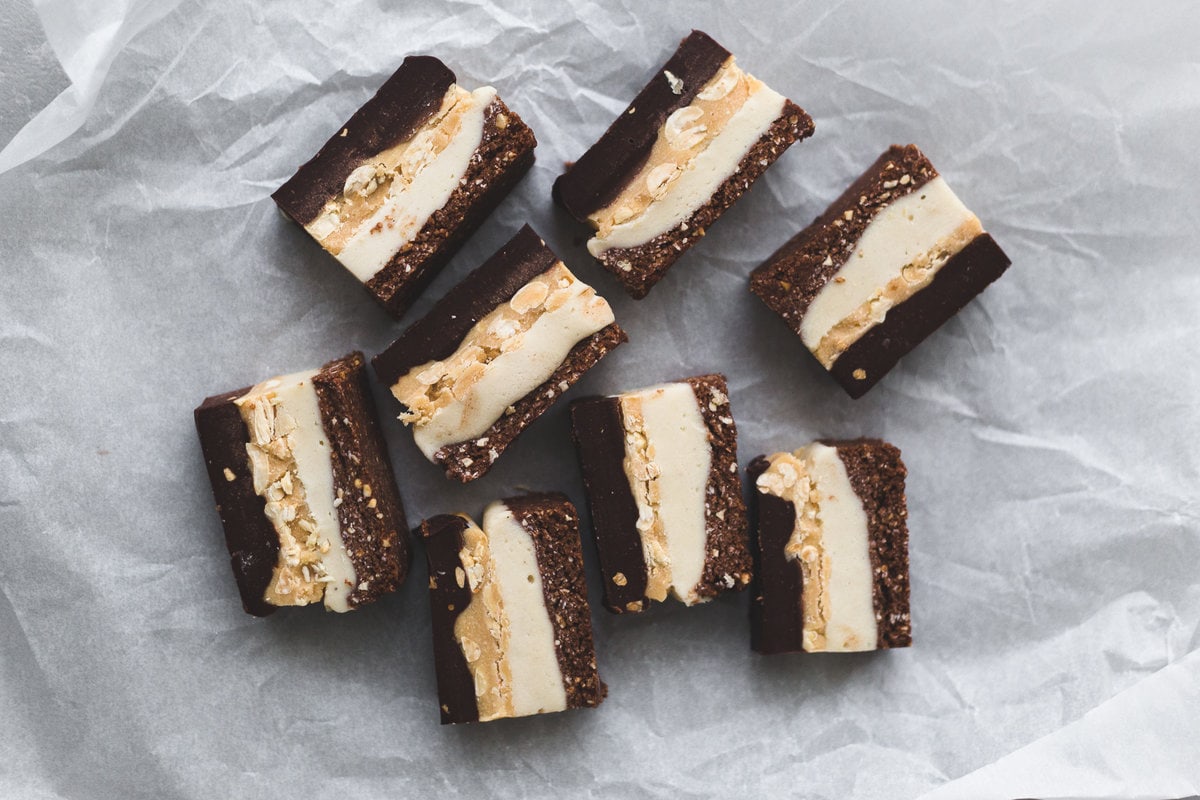 Everything comes together in a food processor aside from the Cashew Ice Cream Filling which you'll ideally make in a high speed blender so that it's creamy dreamy and void of graininess, but if you don't have a blender, feel free to sort it all out in your food processor. By some divine miracle, these Snickers Ice Cream Bars are refined sugar free, gluten free and obviously entirely dairy free. Trust me though, you won't be able to tell. Even my omni boyfriend loves them (yes I have a boyfriend now, bless his cotton socks for putting up with my stream of endless mood swings and bullshit).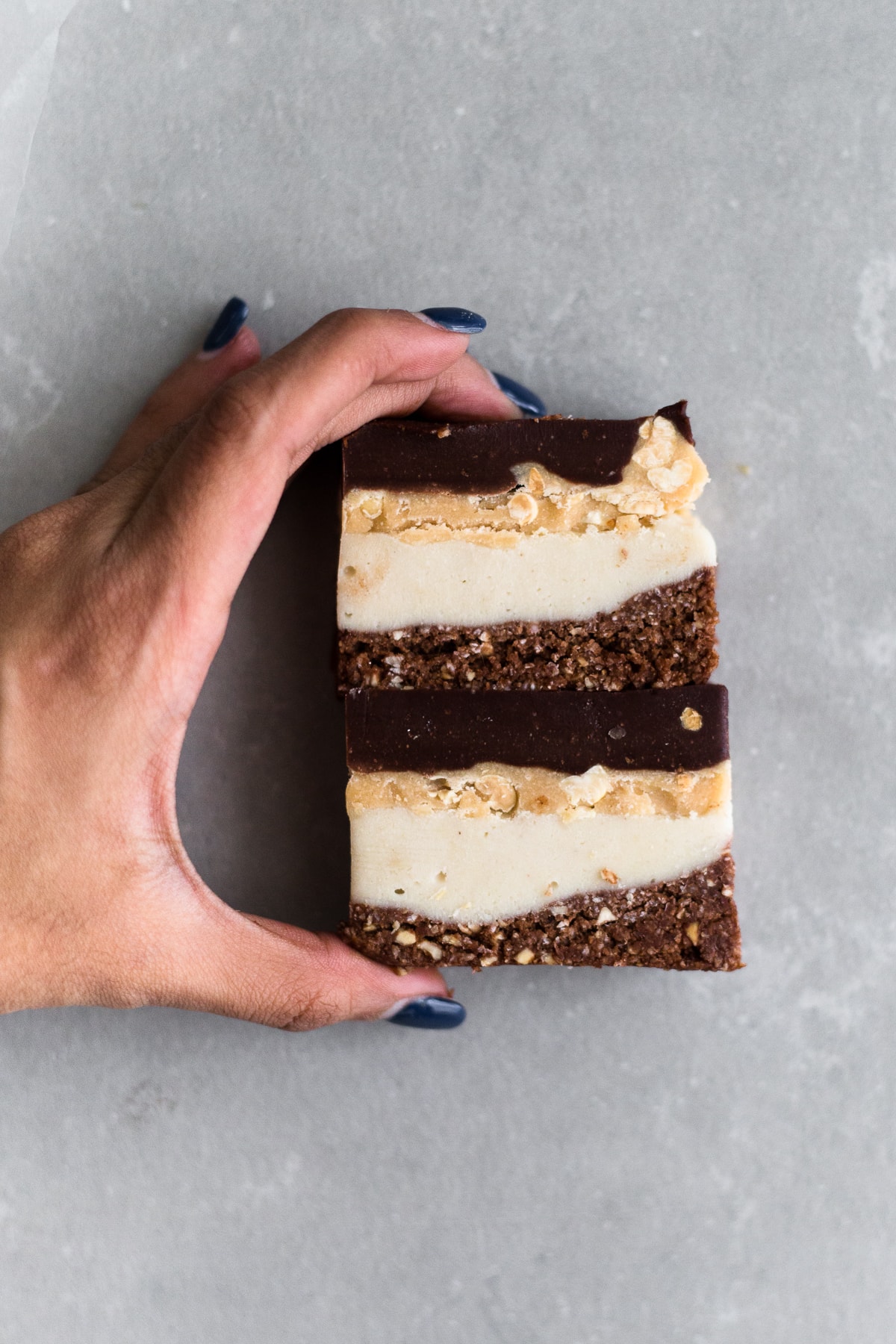 Anyhoo, I shan't bore you with more verbal diarrhoea, so scroll down to grab the full recipe for these delicious frozen Snickers Bars. As always, don't hesitate to drop a comment if you try this or any other recipes out, and feel free to tag me on Instagram too! Adios for now!
Crazy Vegan Kitchen
Serves 8 Bars
Vegan Snickers Ice Cream Cake
A delicious Vegan Snickers Ice Cream Cake. Vanilla Coconut Ice Cream base, Caramel Peanut Layer and a lush Chocolate Ganache topping. Dairy Free/Gluten Free and Refined Sugar Free.
4 hrPrep Time
4 hrTotal Time
Ingredients
For Base:
1 1/4 cups Desiccated Coconut
1/3 cup Smooth Peanut Butter
1/3 cup Peanuts
1/4 cup Raw Cacao Powder
1/4 teaspoons Sea Salt
4 tablespoons Agave Nectar
1 tablespoon Water

For Ice Cream Layer:

1 cup Raw Cashews
1/2 cup Coconut Cream
1/3 cup Agave Nectar
1/3 cup Melted Coconut Oil

For Peanut Caramel Layer:

1/4 cup Peanut Butter
3 tablespoons Agave Nectar
3 tablespoons Melted Coconut Oil
Pinch of Sea Salt
1/2 teaspoon Vanilla Extract
1/3 cup Roasted Peanuts

For Chocolate Layer:

7 Tablespoons Coconut Oil
5 Tablespoons Raw Cacao Powder
5 Tablespoons Agave Nectar
1 tablespoon Smooth Peanut Butter
Small pinch of Sea Salt
Instructions
Prepare a 6 or 7 inch tin with baking paper on the bottom and sides and set aside.
To prepare base, combine all ingredients in a food processor. Process until you get a mixture that is fine and sticky. If it is to dry, add a touch more Agave Nectar. If too wet, a touch more Desiccated Coconut.
Press mixture firmly into the base of your tin and set aside.
To prepare Ice Cream Layer, combine all ingredients in a high-speed blender. Blend till smooth.
Pour mixture over the base layer in your tin. Shake to flatten and then place in the freezer for 2 hours.
To prepare the Peanut Caramel, combine all ingredients in a bowl and mix well.
Pour Peanut Caramel Layer over your frozen Base and Ice Cream layers. Spread to level out and return tin to freezer for 1 hour. Proceed to make chocolate layer after 1 hour.
Prepare the Chocolate Topping by combining all ingredients together quickly and then pour over your frozen cake. Shake to flatten and return to freezer for 6-8 hours or overnight, ideally.
Once frozen overnight, cut into squares.
Store in an air tight box in the freezer. Let thaw for 5 minutes before enjoying!
7.8.1.2
163
https://www.crazyvegankitchen.com/vegan-snickers-ice-cream-cake/