These delicious raw snickers ice cream bars are made by layering ice cream, peanut caramel, and chocolate on a chewy coconut base. These indulgent frozen treats are dairy-free and free from gluten, grains, processed sugars, and baking.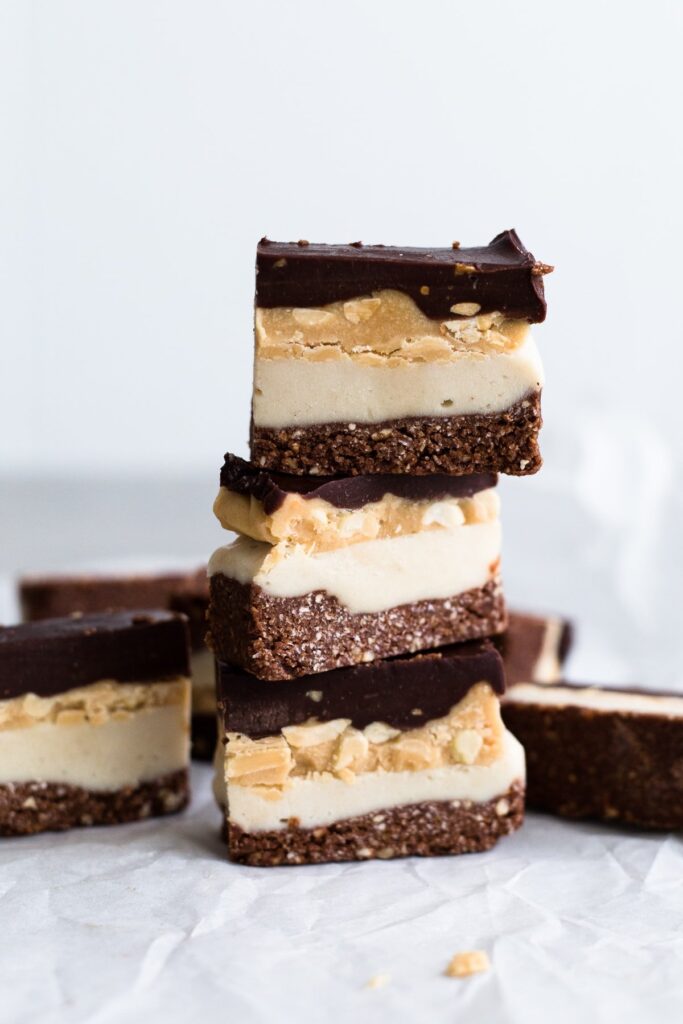 If you think homemade dairy-free ice cream is a Herculean task, check out our two-ingredient vanilla ice cream or our creamiest chocolate ice cream recipe.
We love creating elevated vegan desserts that are healthier and tastier than their inspirations. When we want to win people over to the vegan side, we whip up our all-time favorites like tiramisu, black forest trifle, or these yummy mini peanut butter cheesecakes.
FREE EBOOK SERIES! 5 SECRETS FOR FOOLPROOF VEGAN DESERTS
WHAT ARE SNICKERS ICE CREAM BARS?
If you are a snickers fan, you already know how crunchy and soft these chocolate-peanut-caramel flavored candy bars are. Add ice cream to that, and you have a perfect frozen dessert – snickers ice cream bars!
Let's face it. A store-bought snickers ice cream bar is far from being vegan. And so you don't have to give up on your favorite ice cream bar, we have created this delight with only natural plant-based ingredients.
If we break down the layers of this peanutty chocolatey goodness, you have a smooth cashew ice cream sandwiched between a chewy coconut base and gooey peanut caramel. These layers are then topped or coated with a quintessential chocolate layer.
WHY YOU'LL LOVE THIS RECIPE
Indulgent. These little treats are so indulgent that you'll keep going for second helpings.
Raw recipe. You don't have to cook even a single ingredient for this recipe. You can easily make this no-bake frozen dessert with raw ingredients, a food processor, a blender, and a little patience.
Make ahead. Want to enjoy a bite-size bar every day or want to prep for an upcoming party? You can make a large batch in advance and store it in the freezer.
Crowd pleaser. These ice cream bars are always a hit with people. Whether you host a birthday party, barbeque, picnic, or pool party, you can serve them up without batting an eye.
Authentic taste. There's no way you'll be able to distinguish this vegan copycat ice cream bar from one made with dairy or a store-bought bar. And if you share my love for snickers, you'll also love my snicker bar and snickers-chia pudding.
What I love the most about this recipe is how effortless it is and how perfect the textures turn out.
You'll have ample crunch from the peanuts, rich gooeyness from the caramel, beautiful smoothness from cashew ice cream, a salty, chewy base, and decadent chocolate that brings this irresistible recipe together.
INGREDIENTS NEEDED
Vegan or not, you'll likely find most of these ingredients in your kitchen. Don't be overwhelmed by a layerwise listing of ingredients. Most of them are used multiple times in the recipe.
For the base:
Desiccated Coconut. Use finely desiccated coconut and not coconut flour. You need the fats in the coconut to help bind the base together.
Peanut Butter. I prefer smooth peanut butter for the base, but you can use a crunchy one for the texture.
Peanuts. They have a unique flavor compared to the roasted ones used in the caramel. Use raw peanuts here.
Cacao Powder. You'll love its intense flavor. We always have raw cacao powder for these kinds of raw desserts.
Sea Salt. For taste.
Agave Nectar. To sweeten the base.
Water. Use water to bind the mixture.
For the Ice Cream Layer:
Raw Cashews. Use any available peeled raw cashews for this recipe. They make the creamy base of your vegan ice cream. You could also use other blanched nuts for this recipe.
Coconut Cream. You could either buy coconut cream, if available. Or cool full-fat coconut milk can and skim the thick creamy layer on the top.
Coconut cream works well with the desiccated coconut base of the recipe. But if you're not a fan of this flavor, you can substitute it with a neutral vegan cream cheese.
Agave Nectar. This syrup is my go-to plant-based sweetener. You can also use maple syrup or date syrup as a substitute.
Coconut Oil. Use melted coconut oil that makes ice cream smooth and creamy and keeps it soft.
For Peanut Caramel Layer:
Peanut Butter. Use an organic sugar-free version of smooth or crunchy peanut butter.
Agave Nectar. Sweetener.
Coconut Oil. Use melted coconut oil to make a silky-smooth caramel.
Salt. Just a pinch to bring forward the natural sweetness of the caramel.
Vanilla Extract. Although I highly recommend you use concentrated vanilla extract, if you only have vanilla essence at hand, use it. But don't skip the vanilla.
Roasted Peanuts. They are the heart of these snickers bars. Go for roasted, non-slated peanuts. And if you use salted peanuts, don't add the extra salt mentioned earlier.
For Chocolate Layer:
Coconut Oil. Use melted coconut oil for easy mixing and obtaining a pourable consistency.
Raw Cacao Powder. Use unsweetened raw cacao and not cocoa powder. Raw cacao powder has fantastic health benefits that processed cocoa powder lacks.
Agave Nectar. Excellent plant-based natural sugar alternative.
Peanut Butter. Use smooth butter to reinforce the peanut flavor.
Sea Salt. It comes as a surprise when you enjoy the ice cream bar. Use flaky sea salt to fold in the chocolate.
HOW TO MAKE THE BEST SNICKERS ICE CREAM BARS
This no-bake, no-cook recipe is perfect for beginners. You are only a few simple steps and some freezing time away from these mouthwateringly tasty delicacies.
Step 1- Prep the tray
Line a clean, dry 6-7 inch tin with a baking sheet. Ensure you cover the base and the sides properly.
Step 2- Make the coconutty base
Combine all the ingredients for the base layer in a food processor and process till you get a sticky mixture. Adjust the consistency by adding more agave syrup or desiccated coconut.
Transfer the mixture to the tin and press firmly to form an even layer.
Step 3- Make a vegan ice cream layer
For creamy and smooth ice cream, combine all the ingredients in a high-speed blender and blend until a silky texture is achieved.
Step 4- Freeze the ice cream
Pour the ice cream layer on the prepped base and shake to flatten. Then move the tin to a freezer for two hours to solidify the ice cream.
Step 5- Prep peanut caramel
Mix all the ingredients for peanut caramel in a large bowl and fold until everything is well combined.
Step 6- Layer peanut caramel
Once the ice cream layer is frozen, spread peanut caramel evenly over it. Return the tin to the freezer to help set this layer.
Step 7- Make the chocolate layer
After the previous layers are well-set, proceed to make the chocolate topping. Stir all the ingredients in a mixing bowl and pour the smooth fudgy chocolate over the frozen cake. Shake the tin to flatten the final layer and return it to the freezer.
Step 8- Freeze and serve chilled
I suggest you set the cake in the freezer for at least 6-8 hours and, if possible, overnight. The next day, portion it into uniform squares.
You can enjoy it right away or store it in the freezer for later use.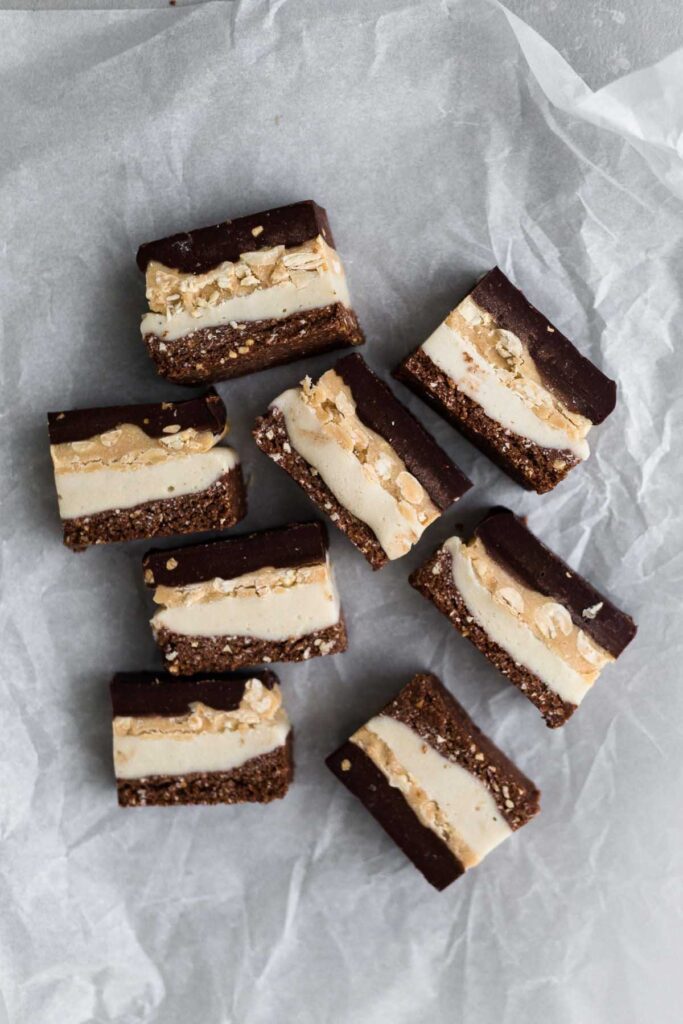 TIPS TO MAKE THE BEST RECIPE
Use readymade ice cream. You can use store-bought vegan ice cream for this recipe to save time. Soften it before use, so it spreads easily over the base layer.
Use readymade chocolate. If you cannot find raw cacao, simply use a bar of vegan chocolate. Melt it with coconut oil in the microwave. Cool, and use it in the chocolate layer.
Use silicon molds. To prevent the hassle of cutting and portioning later, you can make the bars directly in rectangular/square molds.
Coat the entire bar with chocolate. You can cut up the bars after the caramel layer, and the cake is set. Then dip each bar individually in the chocolate mixture and return it to the freezer for the final set.
Soak cashews before blending. While optional, this does help speed up the blending process. You can soak them overnight or in hot water for a couple of hours.
FLAVOR VARIATIONS
Use a different flavor of ice cream. Double down on chocolate by making the chocolate ice cream layer, or use a peanut butter salted caramel flavored ice cream to enhance the caramel flavors.
Use white chocolate. Instead of topping with an intense dark chocolate mixture, you can use vegan white chocolate for the chocolate layer.
Add chocolate chips. Add a couple of tablespoons of vegan chocolate chips to the chocolate layer if you like a crunchy top layer.
STORAGE INSTRUCTIONS
To freeze: Transfer the leftover ice cream bars into freeze-safe containers or bags and store them for up to a couple of months.
Before you eat, thaw them out for 5-10 minutes to soften the ice cream.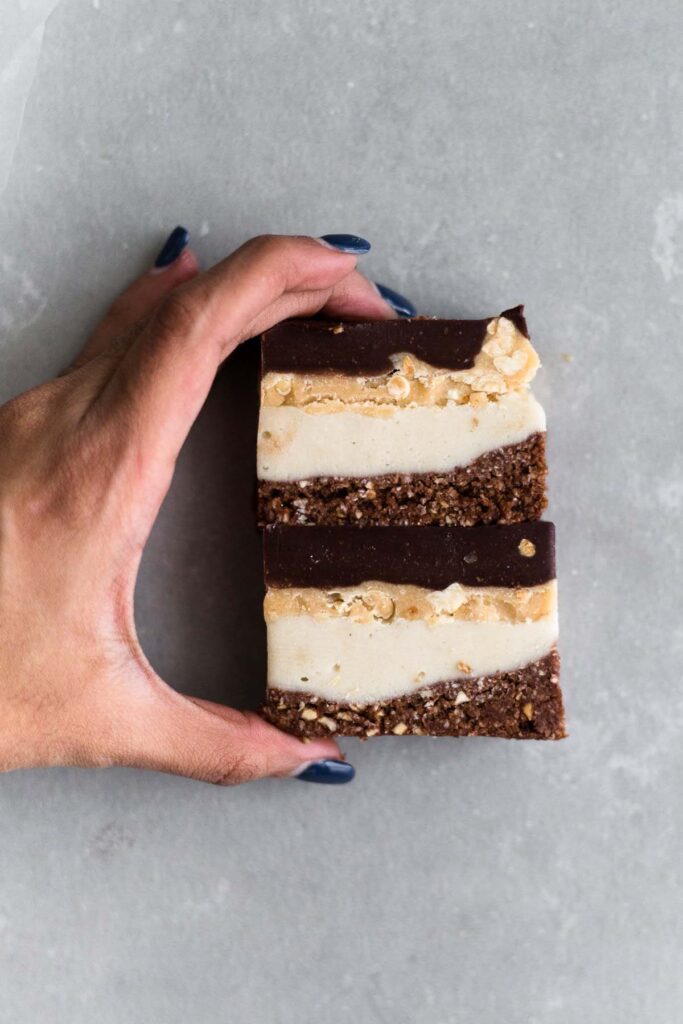 MORE VEGAN DESSERT BARS TO ENJOY
FREQUENTLY ASKED QUESTIONS
Are homemade vegan ice cream bars healthy?
Despite relatively high fat and sugar content, these bars are healthier than their store-bought counterparts. These bars are gluten- and dairy-free and contain no refined sugar, automatically improving their health score.
Can I make them sugar-free?
I haven't made a sugar-free version of this recipe. But you can make it using stevia and other sugar-free alternatives.
I'm allergic to peanuts. Can I still make ice cream bars?
Omitting peanuts might not mimic Snickers flavors completely. But you can substitute whole peanuts and peanut butter with almond or cashew butter. You can add a nutty flavor using tahini instead of peanut butter.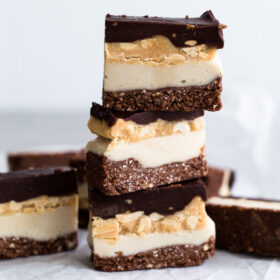 Snickers Ice Cream Bars
These delicious raw snickers ice cream bars are made by layering ice cream, peanut caramel, and chocolate on a chewy coconut base. These indulgent frozen treats are dairy-free and free from gluten, grains, processed sugars, and baking.
Ingredients
Instructions
Prepare a 6 or 7 inch tin with baking paper on the bottom and sides and set aside.

To prepare base, combine all ingredients in a food processor. Process until you get a mixture that is fine and sticky. If it is to dry, add a touch more Agave Nectar. If too wet, a touch more Desiccated Coconut.

Press mixture firmly into the base of your tin and set aside.

To prepare Ice Cream Layer, combine all ingredients in a high-speed blender. Blend till smooth.

Pour mixture over the base layer in your tin. Shake to flatten and then place in the freezer for 2 hours.

To prepare the Peanut Caramel, combine all ingredients in a bowl and mix well.

Pour Peanut Caramel Layer over your frozen Base and Ice Cream layers. Spread to level out and return tin to freezer for 1 hour. Proceed to make chocolate layer after 1 hour.

Prepare the Chocolate Topping by combining all ingredients together quickly and then pour over your frozen cake. Shake to flatten and return to freezer for 6-8 hours or overnight, ideally.

Once frozen overnight, cut into squares.

Store in an air tight box in the freezer. Let thaw for 5 minutes before enjoying!
Notes
TO STORE:

Leftovers can be stored in the refrigerator, covered, for up to 2 weeks.
TO FREEZE
: Place leftovers in a ziplock bag and store them in the freezer for up to 6 months. 
Nutrition
Serving:
1
serving
Calories:
234
kcal
Carbohydrates:
20
g
Protein:
3
g
Fat:
17
g
Saturated Fat:
13
g
Sodium:
371
mg
Potassium:
167
mg
Fiber:
3
g
Sugar:
14
g
Vitamin C:
1
mg
Calcium:
12
mg
Iron:
1
mg