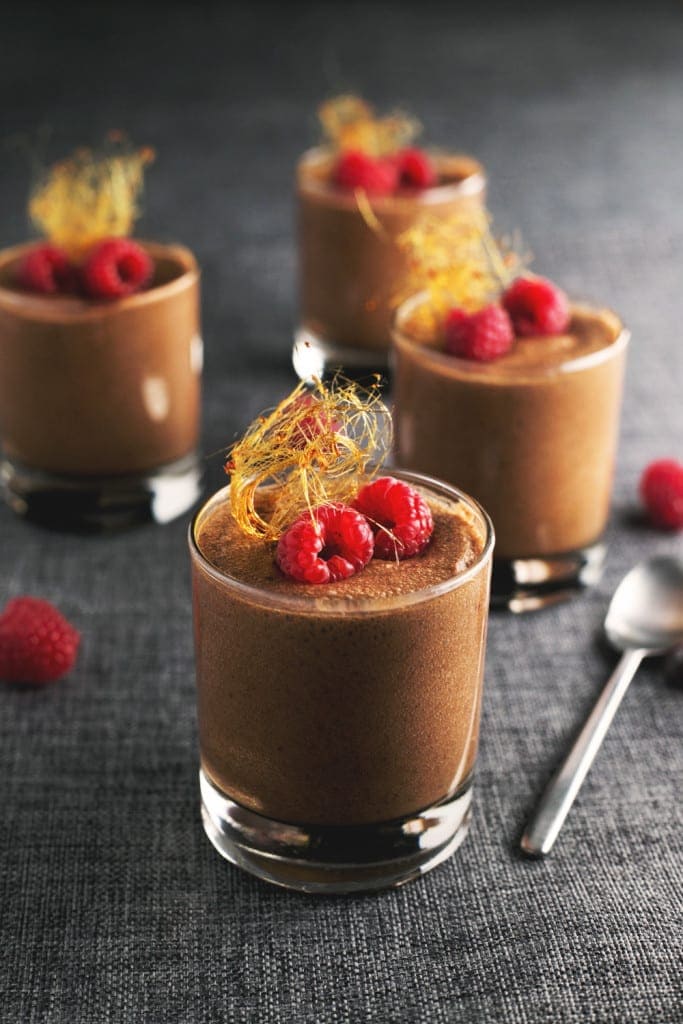 Unless you've been living under a rock, you've probably already heard about the amazing Aquafaba. Aquafaba, or as most regular mortals refer to as "liquid stuff that chickpeas and beans are canned in", is the latest egg-replacement discovery that a bunch of folks on Facebook somehow came up with.  You can make meringue, macarons, and all sorts of other fluffy sh!t with it. I used some to make this Vegan Chocolate Mousse.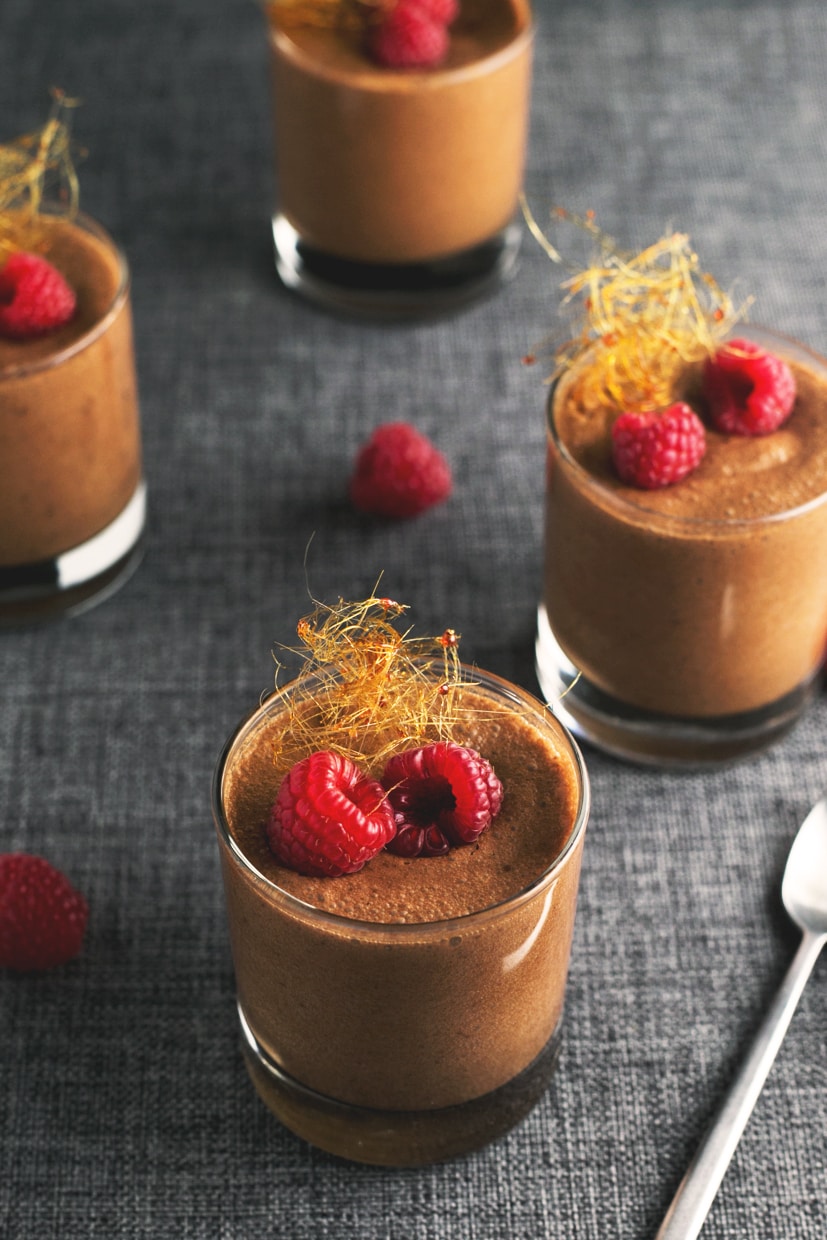 To be honest, it's been a while since I've wanted to experiment with Aquafaba (simply because everyone makes it seem so magical). After finally remembering to save some chickpea brine, I figured the best way to test it was with a fool-proof Vegan Chocolate Mousse to avert any potential disasters. Initially, as I stared into my bowl of murky chickpea water, I wasn't entirely convinced that the Aquafaba would turn into fluffy meringue – but I soldiered on. To my surprise, after whisking the living sh!t out of the Aquafaba, it really did resemble meringue. (Don't try tasting it on it's own though… it's gross).
But of course, me being me, I somehow ended f*cking things up by trying to use the traditional method of slackening chocolate with a small amount of meringue before folding it in. Doing that just made my melted chocolate seize up into a ball that resembled a turd. Beautiful. I guess traditional methods don't work with un-traditional ingredients.
FREE EBOOK SERIES! 5 SECRETS FOR FOOLPROOF VEGAN DESERTS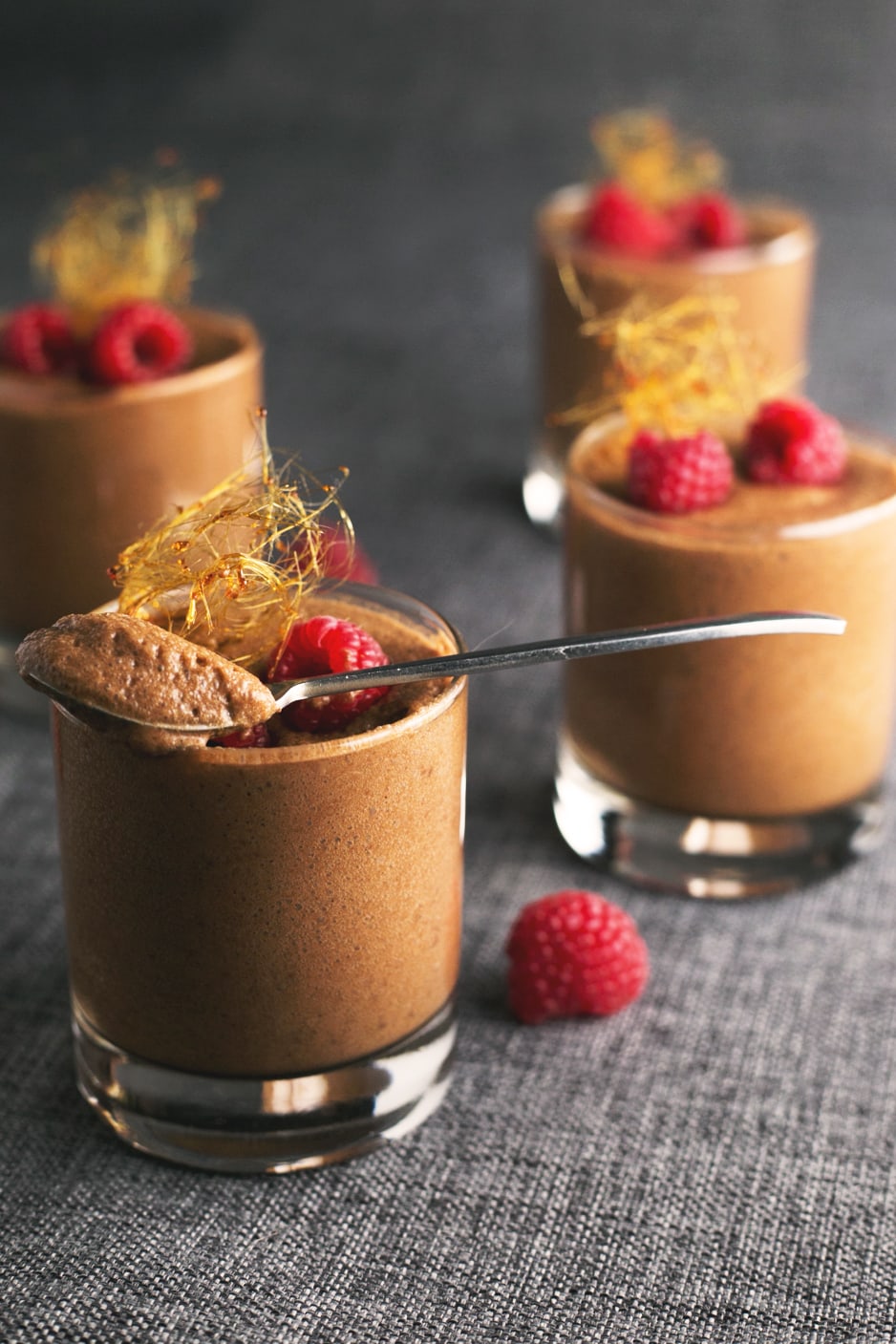 I tried making it again the next day, sans initial error, and it turned out pretty awesome. Super airy and creamy, you'd never believe no egg whites, cream, gelatin, nuts, oil or avocado went into this Vegan Chocolate Mousse. Oh, and don't worry, you won't be able to taste any beans or chickpeas either. Be sure to buy the best quality chocolate when making this recipe, because there are so few ingredients used in the recipe – you want them all to be top notch stuff! (As it always should be, duh!).
I'll leave you with the recipe for my adaptation of Miriam's Vegan Chocolate Mousse. (In my version, I add a few other ingredients and use a little less chocolate to make a softer, more traditional mousse. I also top mine with raspberries and spun sugar, just because I can!). I hope you try it out because it is deeeeee-licious. P.S.: I'm going to continue experimenting with Aquafaba in the coming weeks – so feel free to share your experiences with it in our comment box. Adios!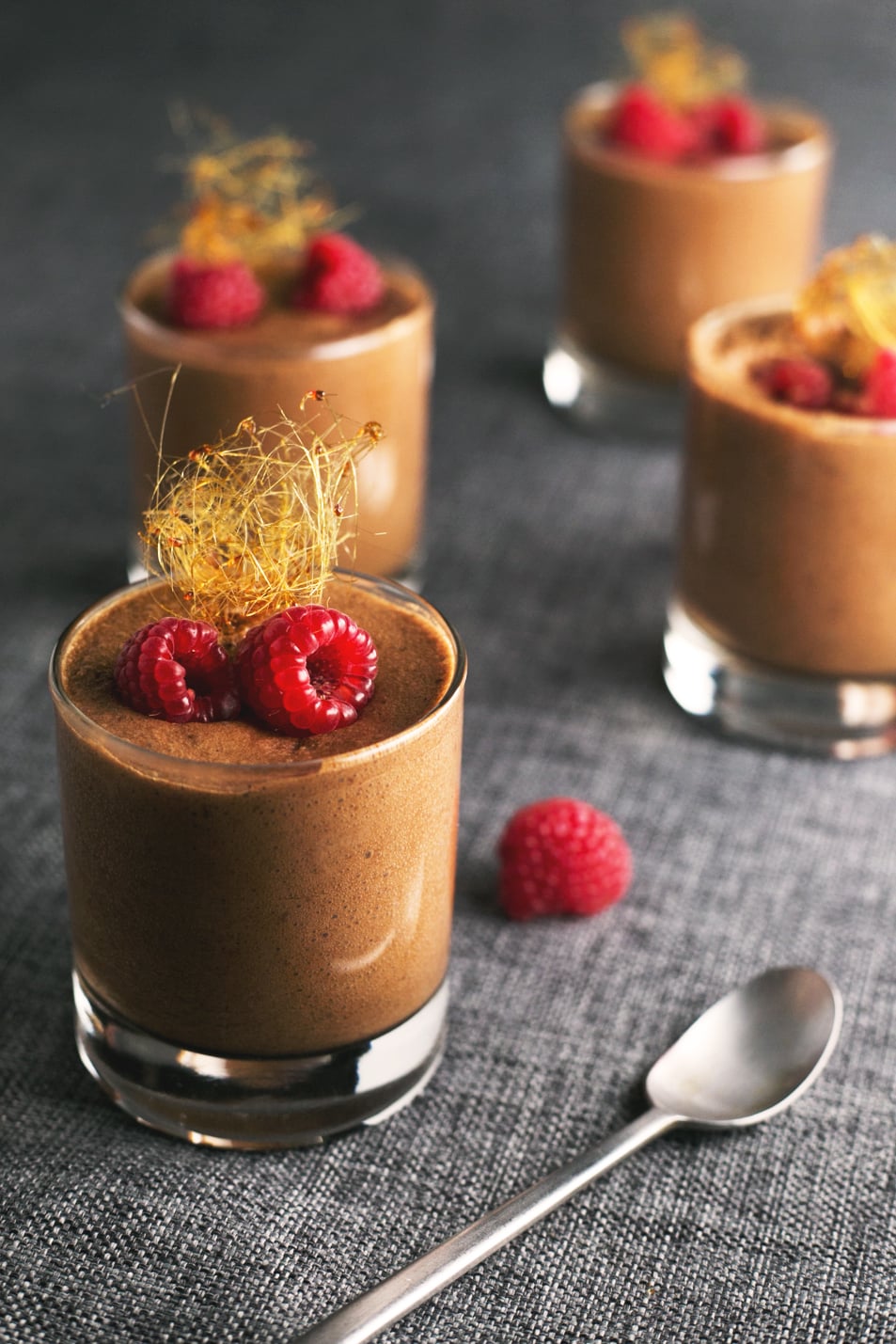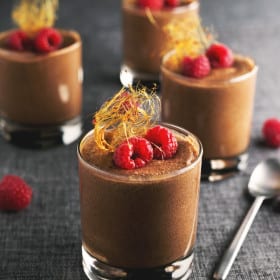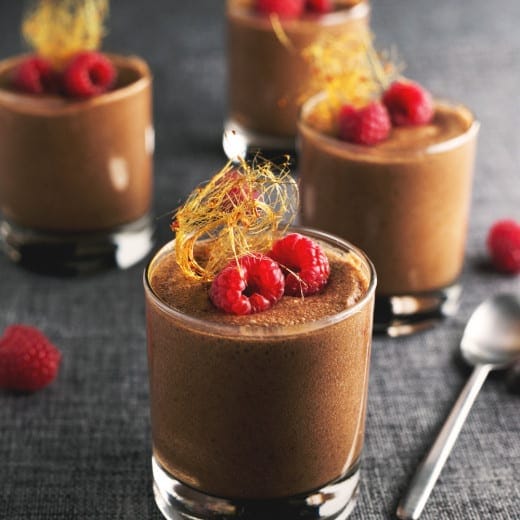 Vegan Chocolate Mousse made with Aquafaba (Chickpea Brine)
A creamy Chocolate Mousse made with Aquafaba (chickpea brine). GF | V and free from Coconut, Nuts and Avocado.
Ingredients
1

cup

Aquafaba

room temperature

1/8

tsp

Cream of Tartar

1

tablespoon

Cane Sugar

use Coconut Sugar for an even healthier version

Seeds from 1 Vanilla Bean Pod

6

oz

Dark Chocolate

melted (make sure it is dairy-free)

Raspberries

to decorate
Instructions
Melt your dark chocolate over a bain marie or in the microwave - be careful and keep an eye on it so it doesn't burn. Once melted, leave to cool whilst preparing meringue.

In a bowl of a stand mixer, combine Aquafaba and cream of tartar. Whisk until soft peaks form - this will take anywhere between 5-15 minutes. Once you've achieved soft peaks, add coconut sugar and vanilla bean seeds in. Continue whisking for another 1 minute.

Drizzle your chocolate into the meringue and gently fold it in with a spatula. Fold until all the chocolate has evenly incorporated into the meringue.

Pour into glasses and chill for at least 4 hours. Decorate your set mousses with raspberries and enjoy!
Looking for more chickpea brine / aquafaba recipes? Check out these delicious creations from some of our blogging friends!
Homemade Vegan Wagon Wheels | Love Me, Feed Me
Vegan Marshmallow Fluff | Gluten Free Vegan Pantry
Lavender Gin Strawberry Shortcake | Healthy Slow Cooking
Vegan Egg Free Meringues | A Travelling Cook
Perfect Brownies | Fried Dandelions