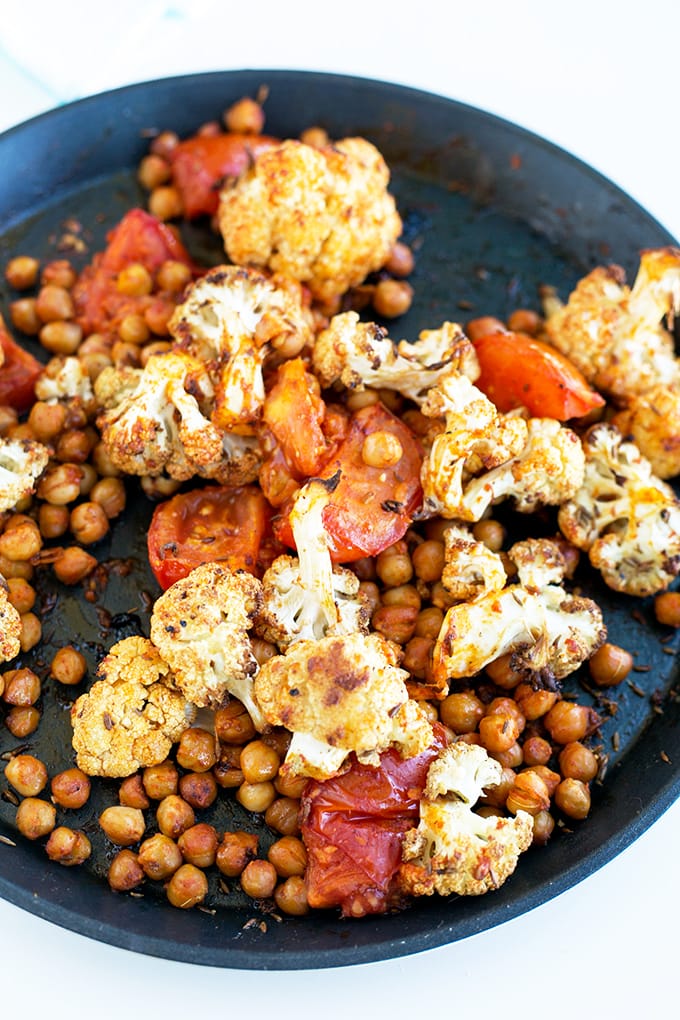 Happy New Year, fellow Crazy Vegans! It's that time of the year where we embark on our already doomed "Detox" diets. Ha ha ha, actually, I have already shoved a donut down my fat gob a few days ago. Oh well. A girl can choose to live in delusion, especially when she's spend the afternoon making a Spiced Cauliflower and Harissa Chickpea Salad.
Now, this Spiced Cauliflower and Harissa Chickpea Salad is easy as to make. All you need is one bowl (less wash up, f*ck yeah), a couple of simple ingredients, a functioning pair of hands and you're set to go. I can't really take any damn credit for this recipe because I initially came across it whilst watching an episode of Simply Nigella –  I've adapted her recipe slightly to suit my personal taste.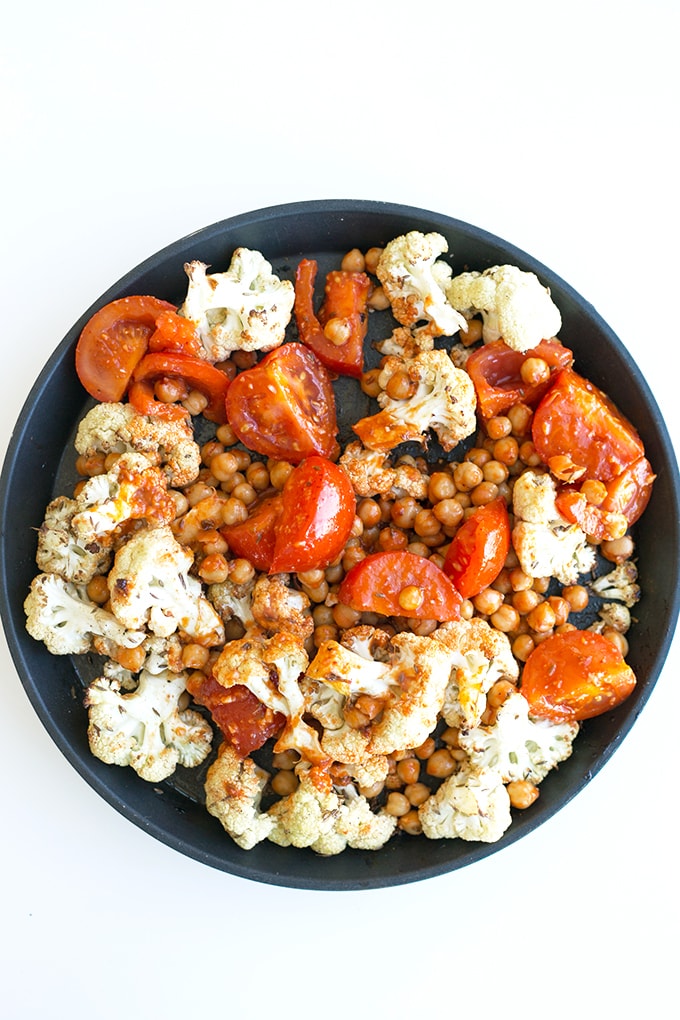 We start off roasting Cauliflower that is lightly bathed in a mixture of Olive Oil, Ground Cinnamon and Cumin Seeds. Whilst that is roasting, in the same bowl (told you, one bowl!), we chuck in a drained tin of Chickpeas, Harissa Paste, Quartered Roma Tomatoes, Salt, Pepper, Brown Sugar and a spritz of Lemon. Bake all that sh*t up together and hey presto, you've got quite a lovely, warm, salad type thing in your belly in under an hour.
FREE EBOOK SERIES! 5 SECRETS FOR FOOLPROOF VEGAN DESERTS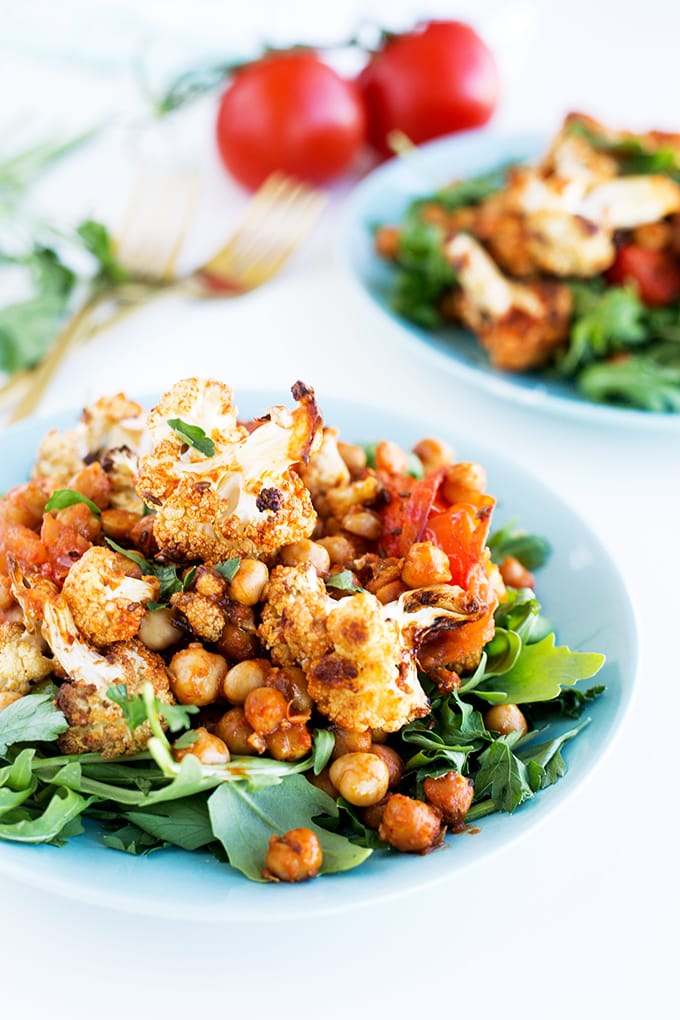 Nigella scatters Pomegranate Seeds all over her Spiced Cauliflower and Harissa Chickpea Salad, but I don't because I didn't have them and I couldn't give enough of a f*ck to go out to the store and get some. If you're keen, feel free to use them in your version of this recipe. Scroll down for the entire recipe! Ciao, and good luck with your futile diets!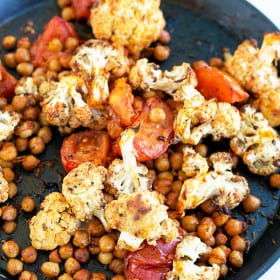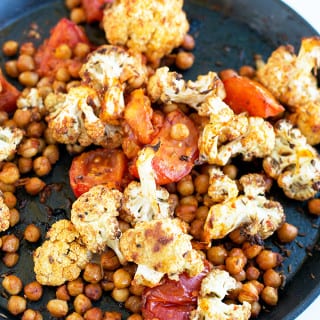 Spiced Cauliflower Chickpea Salad
Simple, healthy Roasted Cauliflower and Harissa Chickpea Salad.
Ingredients
1

small

Cauliflower

separated into florets

2

tablespoons

Olive Oil

2

teaspoons

Cumin Seeds

1/2

teaspoon

Cinnamon

1/2

teaspoon

Sea Salt

1

can

Chickpeas

drained

2

tablespoons

Harissa Paste

4

small

Tomatoes

quartered

1

teaspoon

Brown Sugar

1

teaspoon

Lemon Juice

1

teaspoon

salt

to taste

1 1/2

cups

Parsley Leaves

1

cup

Rocket

1/4

cup

Pomegranate Seeds

optional
Instructions
Preheat the oven to 220ºC.

Pour Olive Oil into a large bowl, add the Ground Cinnamon and Cumin seeds, and stir or whisk to help the spices disperse. Tip in Cauliflower and toss to coat. Pour the contents of the bowl into a small baking tray and roast in the oven for 15 minutes. Don't wash out the bowl you've been using just yet.

Add the Drained Chickpeas to this bowl, and add the Harissa, then toss to coat. Add quartered Tomatoes to the bowl and stir to mix.

When the cauliflower has had its 15 minutes, remove the tray from the oven and quickly tip the chickpeas and tomatoes over the cauliflower. Toss to combine before returning to the oven for a further 15-20 minutes until the cauliflower is tender.

When ready, remove from the oven and serve over Parsley and Rocket leaves. Scatter Pomegranate seeds over salad if you are using them. Enjoy!
Nutrition
Serving:
1
serving
Calories:
129
kcal
Carbohydrates:
14
g
Protein:
3
g
Fat:
8
g
Saturated Fat:
1
g
Sodium:
1013
mg
Potassium:
631
mg
Fiber:
4
g
Sugar:
7
g
Vitamin A:
2837
IU
Vitamin C:
78
mg
Calcium:
79
mg
Iron:
3
mg