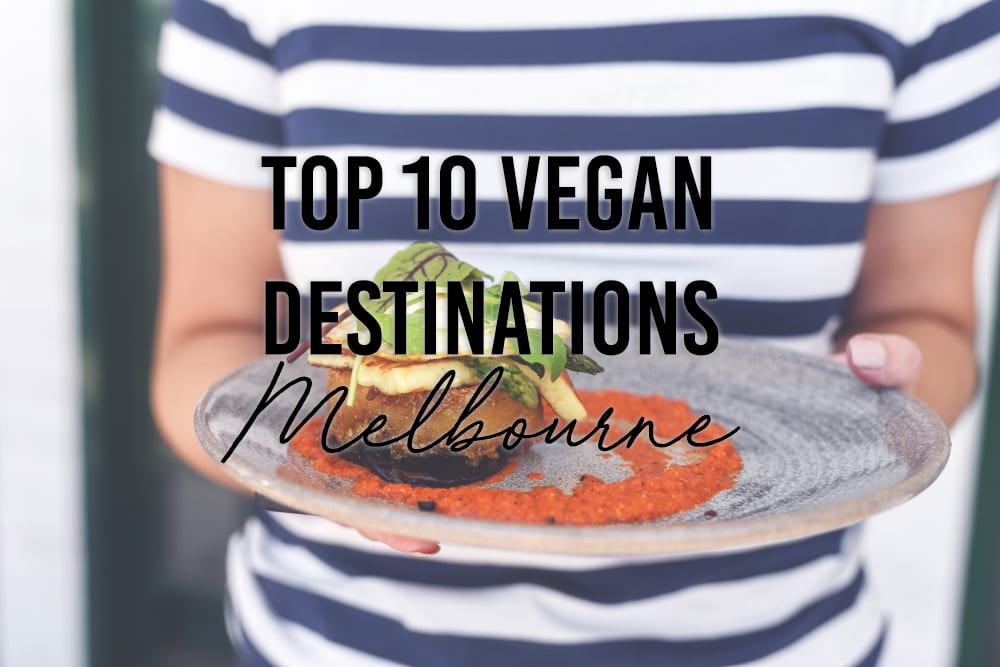 Some of the most frequent messages I get on Instagram (aside from creeps requesting outlandish sexual services) have to be the ones pertaining to what a vegan traveller should hit up when they're in Melbourne. Due to the constant slew of questions, I thought it'd be best I just write a little article on the Top 10 Vegan Destinations In Melbourne, because hey, this beats dealing with Instagram DMs. So, if you're someone from anywhere in the world who is planning a trip to good ol' Victoria, this is the article for you. If you're like any of the food obsessed vegans I know, you'll probably be focusing on places to eat before even booking an apartment in Melbourne, and I really don't blame you considering how far along this city has come in recent years when it comes to Vegan or plant based options. Just a little note, I'm someone who will only recommend places I've actually gone to and enjoyed, so if you don't see some of the more "famous" or popular spots on here, you know why! My motto is simply: just because something is popular, doesn't mean it's good. Anyhoo, scroll down and have a gander – these 10 spots are ones that you definitely do not want to miss on your trip to Melbourne!
Prahran Convenience
Alright, I know what you're thinking. You didn't come here for convenience store recommendations. But hey guess what? Prahran Convenience isn't just any convenience store. PC is open 24/7 and has one of the widest and most diverse range of international Vegan products in the city. Looking for Ben and Jerry's Non-Dairy? Check. Daiya Pizzas and Cheesecakes? Check. Chao Mac & Cheese? Check. Anything you can think of, check. Whilst Prahran Convenience is not a vegan convenience store, it sure does stock an amazing range of Vegan products, ranging from local non-dairy cheeses to American snacks. Located on Commercial Road, it's easily accessible by tram, so you won't have to go exploring for too long in order to get your Vegan Magnum fix. This place is dangerous, your bank account and bathroom scale will not forgive you.

Sister Of Soul – St Kilda
Sister Of Soul is another one of my favourites. Located in St Kilda (with their newest outlet in Richmond), this place is home to everything instagrammable. Now, the grub here doesn't just look good – it tastes mighty fine too. A few of my favourite dishes are the Bibimbap Nutrition Bowl, Rainbow Buddha Bowl (very pretty to look at), and their Jack Black Burger, even though I honestly detest the guy. Sister Of Soul is right in the heart of St Kilda, and the perfect spot for lunch or dinner after a nice beach walk, hopefully with someone other than yourself. Do note that you may have to make a reservation for a bigger group, as the last time me and a couple of my friends went there, there was just no room for us (always a good indicator when it comes to the quality of food, I suppose!). Image – Medium
FREE EBOOK SERIES! 5 SECRETS FOR FOOLPROOF VEGAN DESERTS
Enlightened Cuisine
Now, Enlightened Cuisine is one place that may not look trendy, have the coolest decor or the biggest social media following (don't think they even have much of a social media presence, to be honest), but it's a place that's truly stood the test of time. Just a road away from my apartment building, this place serves up some of the BEST Vegan Asian fare that I've tried outside of Asia itself. Though some of the dishes contain egg, all you have to do is let staff know that you'd like all your dishes prepared Vegan, and they're happy to accomodate. The Vegan Roasted Duck, Vegan Satay Chicken Skewers and Vegan Sweet Sour Pork will leave you obsessed with this place. Enlightened Cuisine is one of those places that proves you don't need to follow trends or follow the crowd – all you need to do is serve some good bloody food, and that they do.
Smith and Daughters
Smith and Daughters is one of those Vegan Meccas that everyone has been to, and will continue going to. Run by Shannon Martinez, and Mo Wyse, this trendy little place on Brunswick Street is where you go to see the hipsters and chow down on some delicious grub. Whilst the menu used to be Spanish inspired (their Tortilla Espanola was to fu*cking die for), they've recently switched things up and are serving their version of veganized Italian fare, ranging from Cacio e Pepe to Vegan Carpaccio to Tiramisu. Don't forget to make a reservation, you'll need it. Oh, they also have a really cool and widely stocked bar, so don't bother driving!
Girls and Boys
If you're a sugar fiend like me, you're gonna drop dead for Girls and Boys. This goddamn place has everything from Donuts, Gelato, Thick Shakes, Cakes, Cookies, and anything the inner fat kid in you desires, but 100% Vegan. Yes, you heard that right. Looking for a badass vegan Cookie Sandwich? These guys have you covered. Girls and Boys is run by the same people who own Vegie Bar right next door, so it's the perfect place to go for an after dinner sweet treat if you're in the area. (PS: The Caramel Sundae is my favourite!).
Lord of The Fries
If you're looking for Vegan Junk, Lord of The Fries is the go to. Now, don't expect any high end haute cuisine at this place, but instead, be prepared to stuff yourself stilly with greasy Chips, Burgers, Hot Dogs and Milkshakes. Lord Of The Fries is no Michelin star fare, but it sure as hell hits the spot at 3 am when you're post pub crawl and gagging for something cheap and satisfying to fill your belly with. They've recently introduced the Beyond Meat Burger as well, which I'm pretty sure has fooled dozens of intoxicated meat eaters in the middle of the night. My favourite options at LOTF are their Sweet Potato Chips, the Nuggets Munch Box and the Melbourne Hot Dog. Image: LiveKindly

Trippy Taco
Yup. Tacos. Trippy ones! Trippy is the place to go when you're looking for a good ol' Burrito, loaded Nachos or Tacos to satisfy your craving for Mexican. Their Tofu Asada Burrito is bomb, and will fill you the fu*ck up! They also have Taco Seasoned Fries and Elotes (a rare find when it comes to most Australian Mexican places), which are absolutely delicious. There's a Trippy Taco in Gertrude Street, and one on Acland Street, so you'll always have a taco fix regardless of your location. Don't forget to give the Tamales and Quesadillas a try too, you won't be disappointed!
The Cornish Arms
Vegan Fish and Chips. Yup. If that's not the one and only reason to head to the Cornish Arms, perhaps their Vegan Chicken Burger, Vegan Pizzas and Cheesecakes will tantalise your tastebuds. Gone are the days of sitting at a pub and wanting to gnaw on your fists whilst you're non-vegan friends chow down. Now you can stuff yourself silly with both food and copious amounts of alcohol too! Hoorah! Whilst I don't often indulge in deep fried food, this place is one exception when it comes to heading out for a good night, so book book book a table as soon as you get to Melbourne!
Shu Restaurant
Shu is a restaurant I was lucky enough to be invited to a couple of months ago, and I'm damn glad I got out of bed to try their Sichuan inspired dishes. Owned by Shu Liu, this place has a 10 course Vegan Degustation menu that will leave you busting your belt buckles by the end of the night. Some of my favourite options served up were the Mushroom and Sweetpea Wontons, Mung Bean Noodle Salad and the Raw/Chilled Garden which knocked my socks off. The food at Shu is authentic – meaning no sticky, sweet anglicised interpretations of what Asian food is. Honestly this place is one of my top recommendations – aside from amazing food, they have some groovy decor too. Winner winner tofu dinner!
Red Sparrow Pizza
Last but not least, Pizza lovers rejoice, for Red Sparrow has all your plant based pizza needs covered! Nestled in easily accessible Collingwood, you'll be able to get a delicious, piping hot Vegan Pizza Margherita right out of a wood-fired oven at Red Sparrow. And guess what? They manage to make Vegan Cheese taste delicious. Let's be brutally honest here, most Vegan cheeses taste like ass. Not sure what sorcery these wizards are up to, but the cheese on their pizza is top notch. All pizzas are made with a San Marzano tomato base, which, if you're not a tomato connoisseur, is some of the best tomatoes you can get in the world. THIS IS WHERE IT'S AT.
___________
I'm sure there are a ton of other places I've missed, but these are my personal favourites when it comes to Vegan grub in Melbourne. Leave a comment and let me know what other places are a must try!