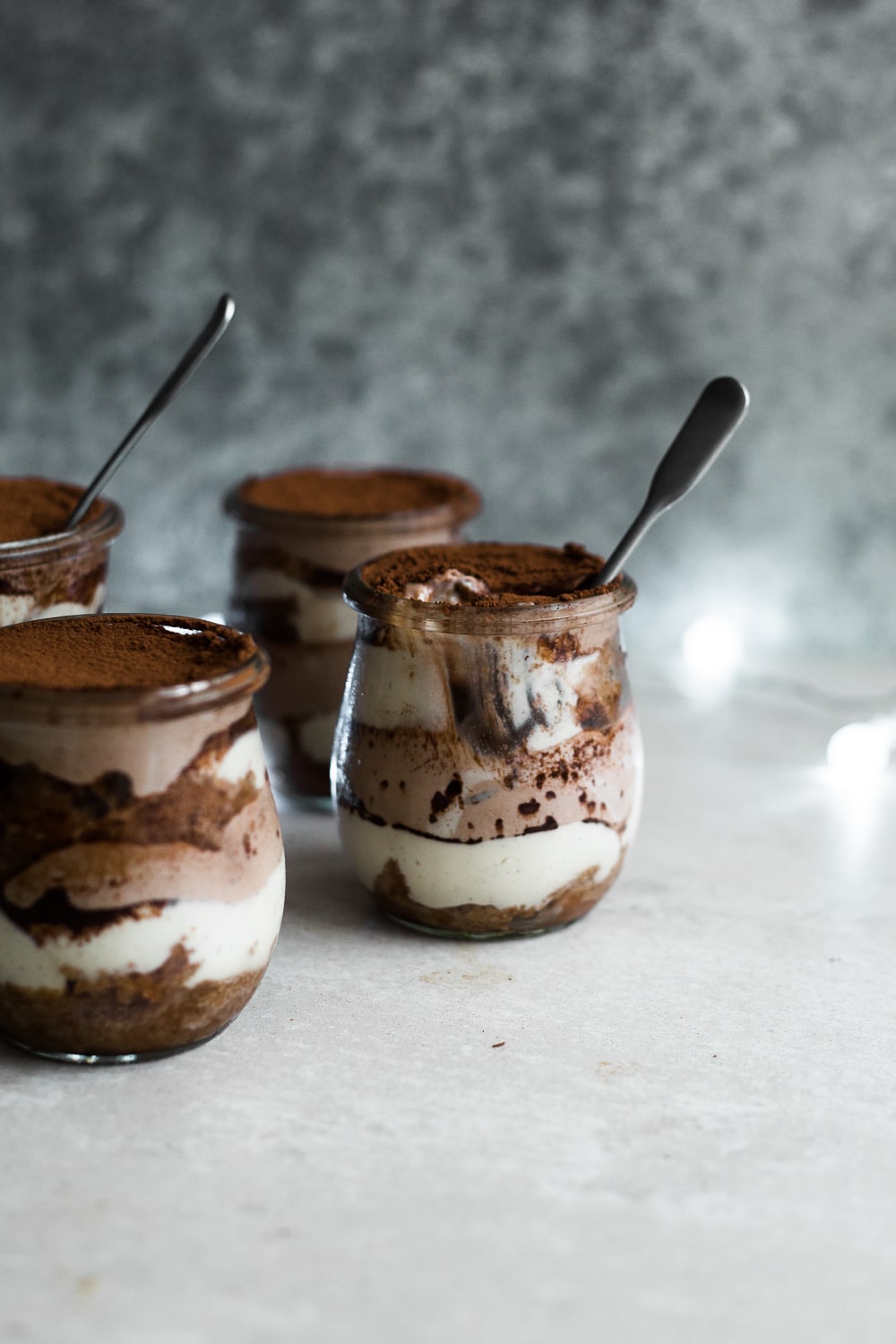 CHRISTMAS IS COMING! CHRISTMAS IS COMING! CHRISTMAS IS COMING! If you've been reading this blog for a while now, you'll know how much I rave about my Vegan Tiramisu recipe. It's truly one of my favourite recipes ever, and hundreds of people have shared the same sentiments with me! The recipe has been published in a number of Vegan magazines as well, Thrive being one of them! Not tooting my own horn, but it's a recipe that is LIT AF. Since Christmas/the Holidays are round the corner, I decided to remix this up and create a Vegan Christmas Tiramisu recipe that is spiked with Rum, Dried Fruit and Mixed Spice to really bring some warmth and flavour to this dessert. Think of a Christmas Cake fornicating with a Tiramisu and producing a lovechild – that's what this Vegan Tiramisu is all about!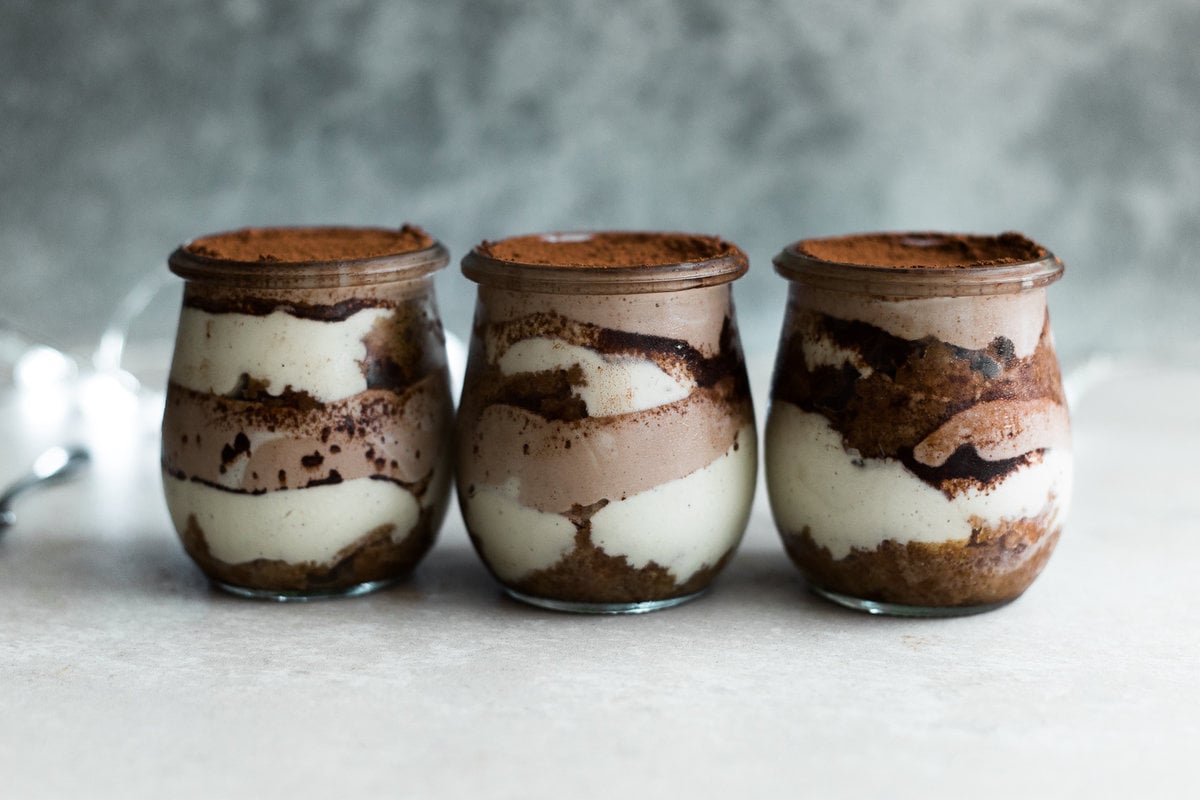 This Vegan Christmas Tiramisu consists of a spiced cake that is studded with dried fruit/mixed peel, a Rum soaking syrup and Vanilla Bean and Chocolate Mascarpone Cream. Just like the original recipe, I used a vanilla cake base and added a bunch of different toasty spices to the batter, along with a nice amount of dried fruit because, well, Christmas! The Vanilla Mascarpone Cream is very similar to its original counterpart, except this time we haven't added any Espresso to the mix.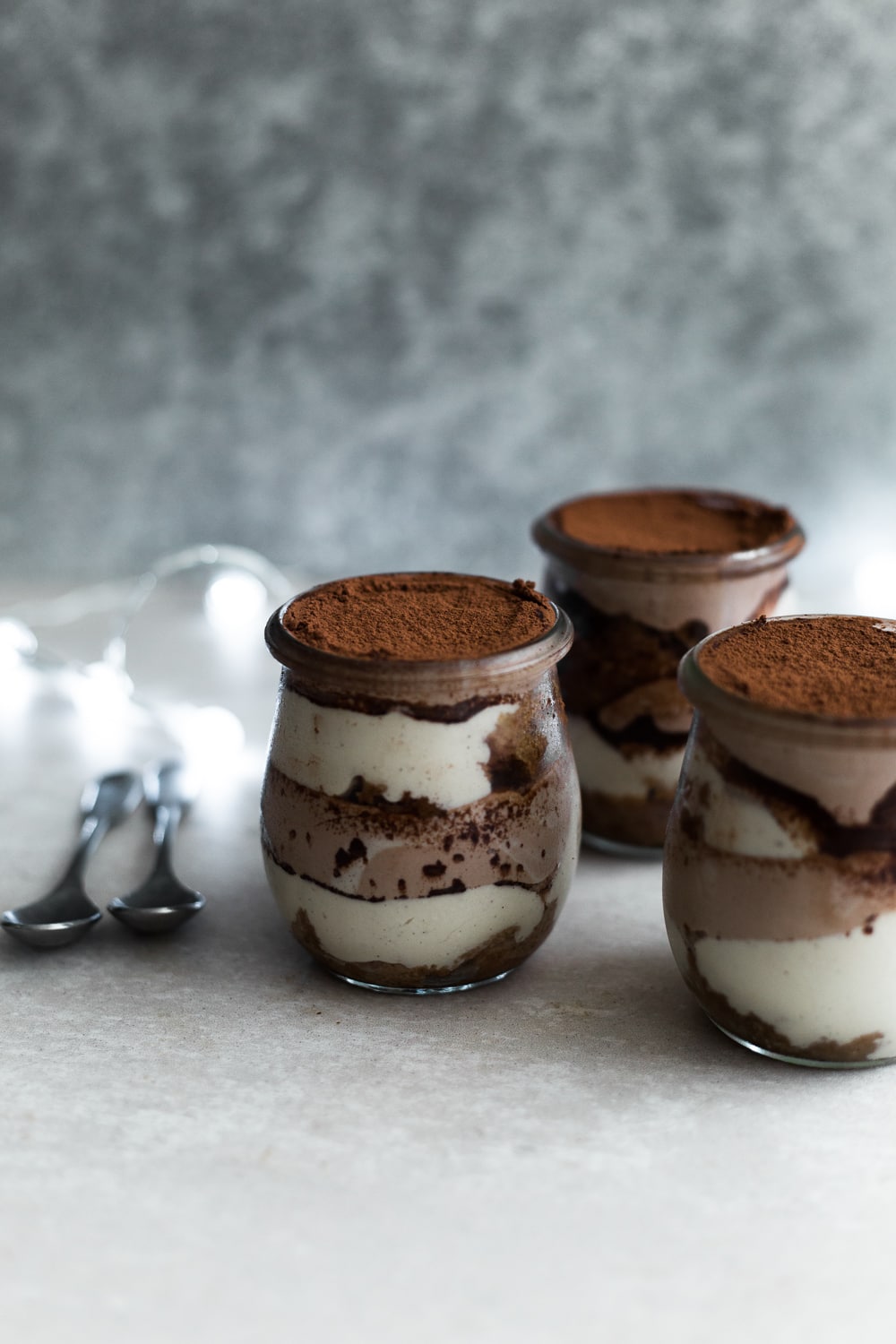 The end result here is a freakin' delicious, spicy, warm, sexy, sweet and creamy Vegan Christmas Tiramisu that even fruitcake haters will love! I'm a bloody fruitcake and people still love me, so there's hope for all of us! I haven't gone into much detail in this post simply because I've touched on Vegan Tiramisu in the original recipe and in my Matcha variation, so head to those posts if you want to read a little more. All I have to say, is make this damn Vegan Christmas Tiramisu for your holiday party, because I guarantee you everyone is gonna be'a thankin' you, and you'll probably get two presents under the tree instead of one!
FREE EBOOK SERIES! 5 SECRETS FOR FOOLPROOF VEGAN DESERTS
Head to my Instagram page if you've not already followed me, and tag me in any of your creations because I love having a look at what you guys get up to! Scroll down to grab the full recipe for my Christmas Tiramisu, and I'll see ya next week for yet another holiday recipe! Toodles!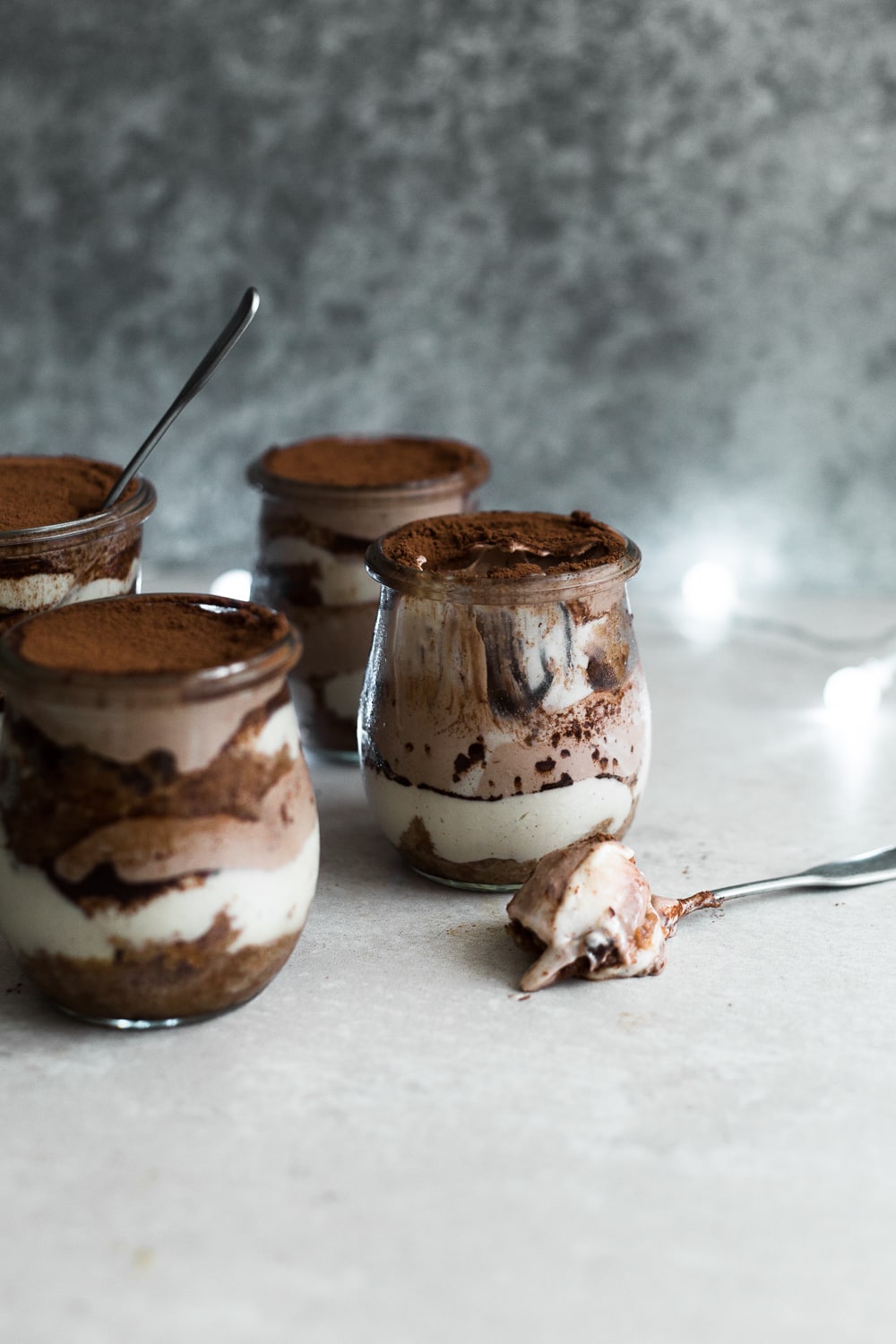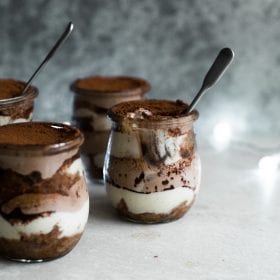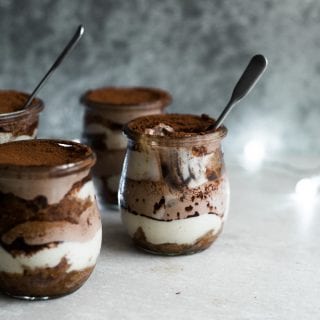 Vegan Christmas Tiramisu
A spiced Vegan Christmas Tiramisu - Fruit Studded Sponge, Rum Soaking Syrup and Vanilla Bean Mascarpone Cream. Perfect for the holidays!
Ingredients
Spiced Fruit Sheet Cake:
1/2

cup

Soy Milk

1

teaspoon

Apple Cider Vinegar

4

tablespoons

Vegan Butter

1/8

teaspoon

Salt

6

tablespoons

Sugar

1

teaspoon

Vanilla Extract

1/2

cup

+ 2 Tablespoons Pastry Flour

1/2

teaspoon

Baking Powder

1/4

teaspoon

Baking Soda

1

teaspoon

Ground Cinnamon

1/2

teaspoon

Ground Ginger

1/4

teaspoon

each of Ground Cloves

Allspice, Nutmeg

3/4

cup

Dried Fruit Mixture

with Mixed Peel and Glace Cherries
Rum Soaking Syrup
3/4

cup

Hot Water

3

tablespoons

Sugar

3

tablespoons

Rum

Optional but recommended!
Vegan Mascarpone Filling:
1 3/4

cup

Raw Cashews

no need to soak

1/3

cup

Agave Nectar

1/3

cup

Melted Coconut Oil

1/4

teaspoon

Salt

Seeds of 1 Vanilla Bean Pod

1

cup

Soy Milk
For Chocolate Filling:
Half of Vegan Mascarpone

1

tablespoon

Cocoa Powder
Instructions
Preheat oven to 175 degrees Celsius. Grease and line a 8x6 inch cookie sheet with baking paper. Set aside.

Whisk Soy Milk and Apple Cider Vinegar in a bowl set aside for 5 minutes to curdle. Sieve the Pastry Flour, Baking Powder, Baking Soda and Spices into a bowl. Set aside.

In another bowl, whisk Vegan Butter, Sugar and Salt till light and fluffy, about a minute. Whisk in the Vanilla Extract.

Alternate whisking in the Soy Milk mixture and dry ingredients, starting with 1/3 of the dry and ending with the last third of the dry mixture.

Add dried fruit and mix thoroughly.

Spread mixture out onto prepared cookie sheet and bake for 20 minutes, or until cooked through. It's okay if you over bake it slightly, it doesn't make a difference.

Meanwhile, prepare Soaking Syrup. Mix Matcha Powder, Hot Water and Sugar together till the sugar has dissolved. Set aside.

To prepare the Vegan Mascarpone Filling, in a high speed blender, combine Cashews, Agave, Coconut Oil, Salt, Vanilla and Soy Milk. Blend thoroughly until smooth and silky.

Divide mixture into half. For Chocolate Cream, blend half of Mascarpone mixture with Cocoa Powder till smooth.

To assemble, have ready a tiramisu dish or individual ramekins/glasses. Cut a piece of sheet cake to fit the bottom of your ramekin or glass. Dip in Soaking Syrup for just a second or two and place into the bottom of your vessel.

Top with a layer of Vanilla Cream and dust with Cocoa Powder. At this point, freeze for 10 minutes.

Once out of the freezer, top with a layer of Chocolate Cream. Freeze for 10 minutes.

Repeat process once more - Soaked Cake, Vanilla Cream and Chocolate Cream - freezing cream layers for 10 minutes before continuing.

Once complete, dust the tops of you Tiramisu with Cocoa Powder and leave in the fridge for at least 4-6 hours to firm up before eating.