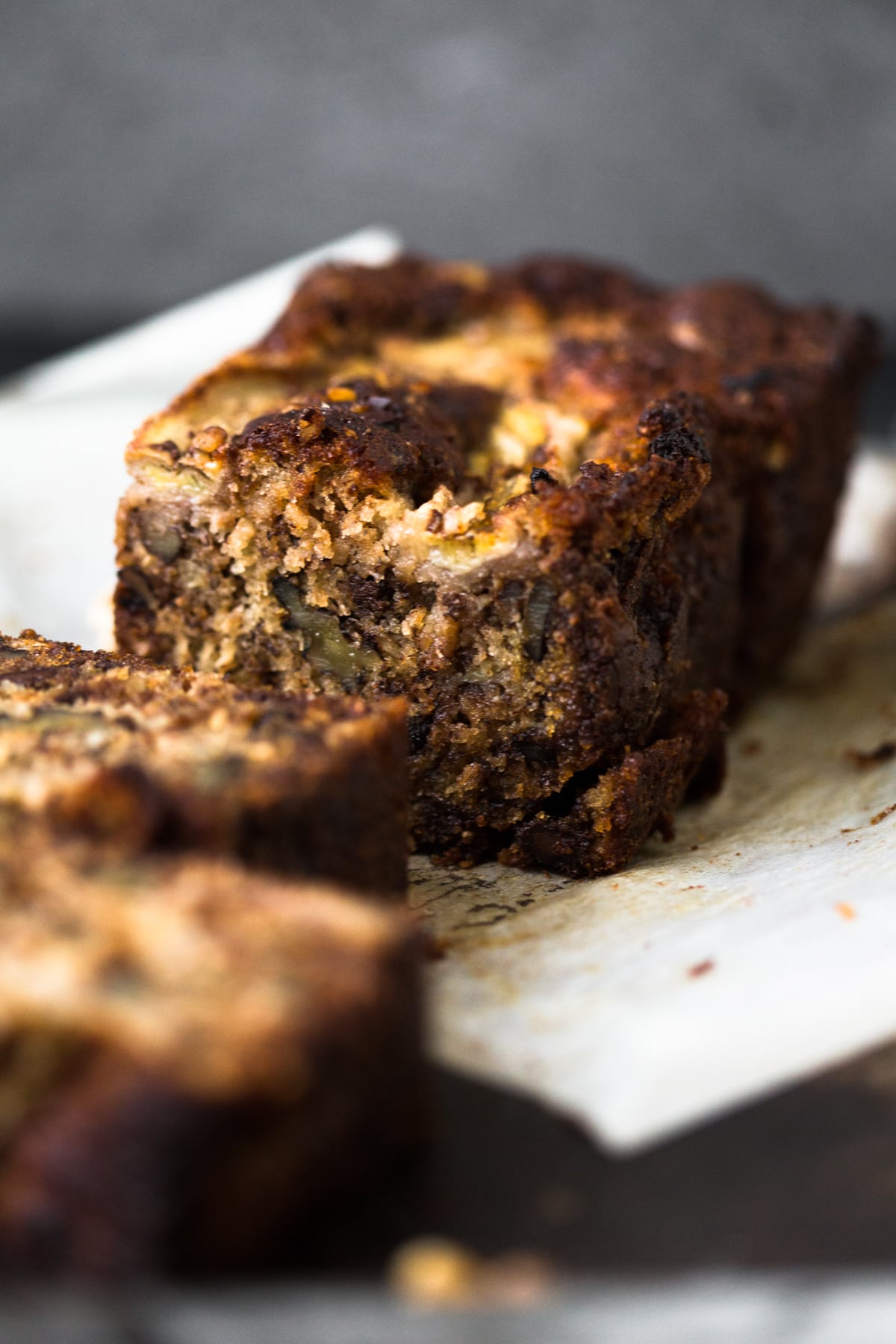 Seems like everyone's been making Banana Bread during this self isolation period. Why is that? I don't know, but I'm joining the Vegan Banana Bread Club today. This recipe is one that I've been using for almost 14 years – it used to contain Eggs back in the day but I've adapted it over the years to make it 100% vegan without compromising on flavor. I'm really picky about Banana Bread recipes…so many are just too dry, don't have enough Banana, have a poor crumb and so on. Yeap, Banana Bread snob I am! Sue me.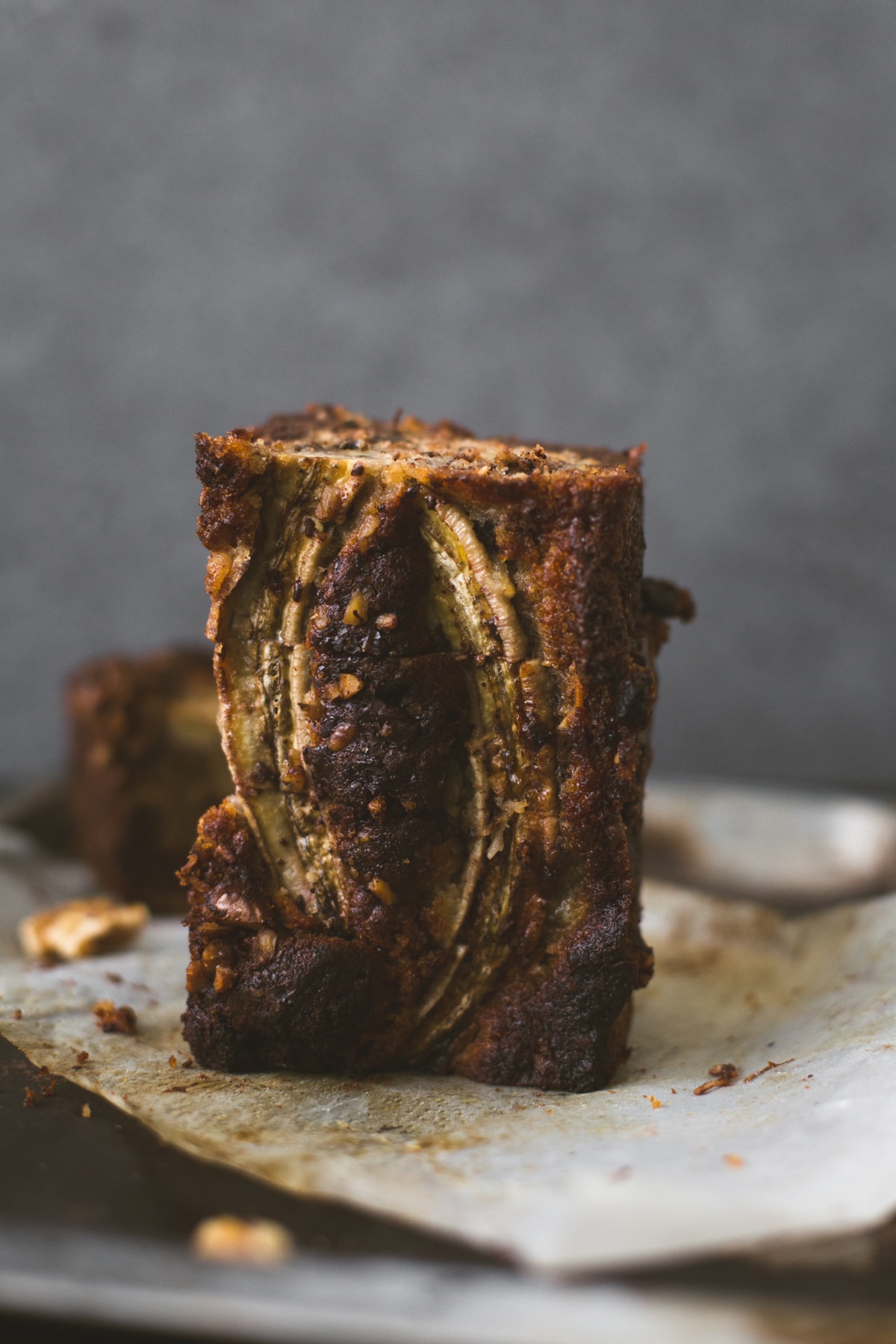 This is such a simple recipe that you can add anything into (hence the on steroids title), and for today's adaptation of my favourite Vegan Banana Bread recipe, I've gone with a Cinnamon Swirl, Dark Chocolate Chunks and Walnuts. Can't go wrong with any of those bad boys, I say! This simple recipe consists of Plain Flour, Sugar, Ripened Bananas, 1 singular Flax Egg, Vanilla, Sea Salt, Baking Powder, Baking Soda, Vegetable Oil, a splash of Vegan Coconut Yoghurt and some Almond Meal to really pack some moisture into this soft and fluffy Banana Bread.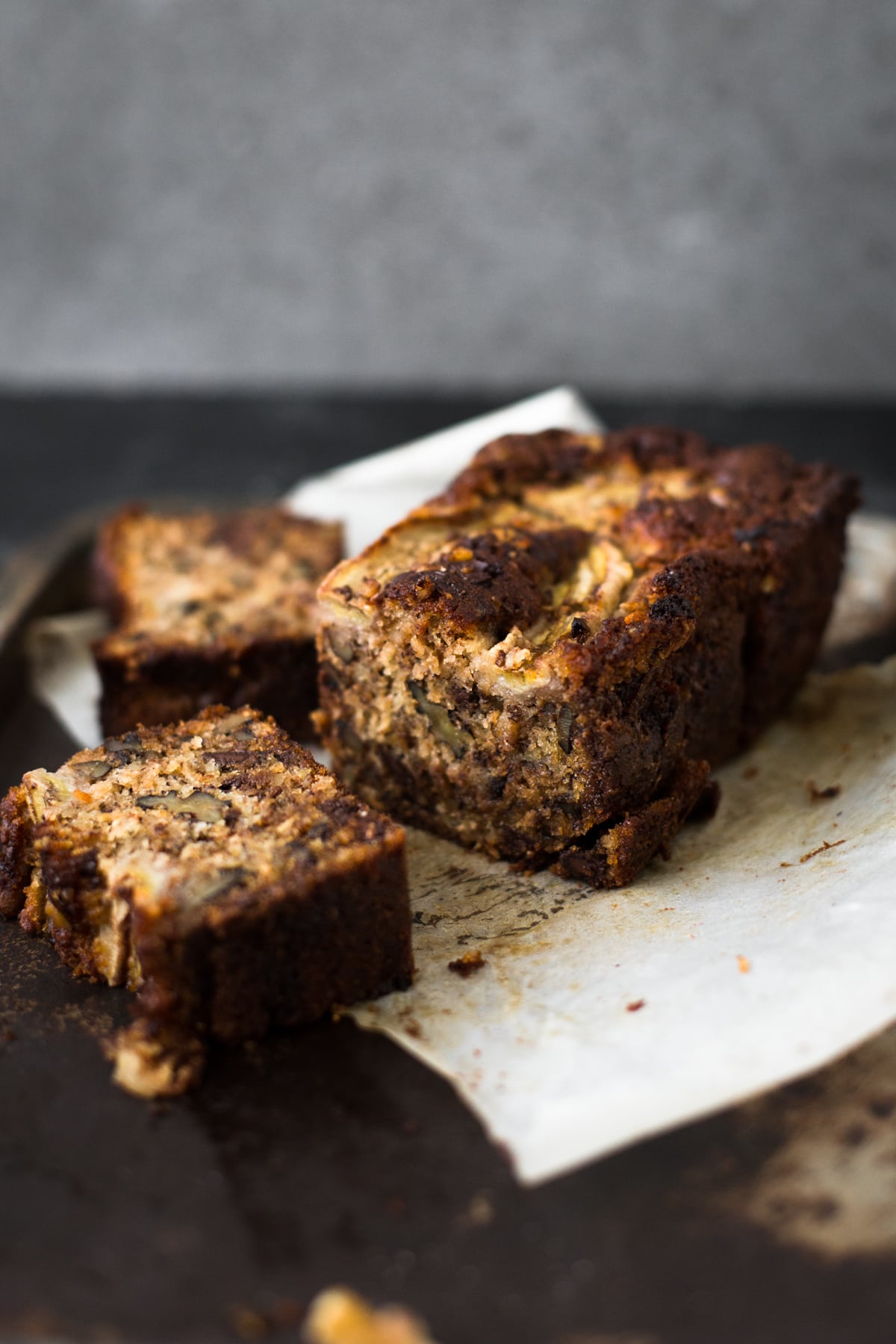 Now, what turns this Banana Bread recipe into quick bread royalty are the Chopped Walnuts, Chocolate Chips and Toasted Coconut. Let's not forget the Cinnamon Swirl, made up of a simple concoction of Melted Vegan Butter, Brown Sugar and a hefty amount of Cinnamon into a paste and then swirl it throughout your Banana Bread batter before popping into the oven. The result is a delicious pop of Cinnamon Sugar in each bite – THERE AIN'T NOTHING BETTER THAN THAT, FAM!
FREE EBOOK SERIES! 5 SECRETS FOR FOOLPROOF VEGAN DESERTS
Yes, this Banana Bread isn't the prettiest, or the most "insta-worthy" – but F*CK THAT! Sometimes the ugliest things turn out to be the most precious gems (such as myself), hence the title, UGLY BANANA BREAD!
Can I Use Other Flours?
You can use Gluten Free Flour for this recipe, I've tested it before and it works perfectly.
You may also omit the Almond Meal if you don't have any on hand. I love adding Almond Meal into recipes as it lends a nice flavor and a touch of moistness to most muffin/quick bread recipes.
How Long Does This Vegan Banana Bread Last?
Kept in an air-tight box, this Banana Bread will last for up to 1 week. I prefer keeping my Banana Bread in the fridge, simply because Bananas contain a lot of moisture which can end up in mould growing if not stored properly.
You can also freeze individual slices that have been securely wrapped in a thick layer of cling-film. Just pop out an hour or two before you plan on eating it and Bob's your uncle!
Ideas For Some Other Add Ins:
The world is your oyster when it comes to Banana Bread recipes, and some of my favourite add-ins include:
Vegan White Chocolate Chunks
Pecans
Frozen Raspberries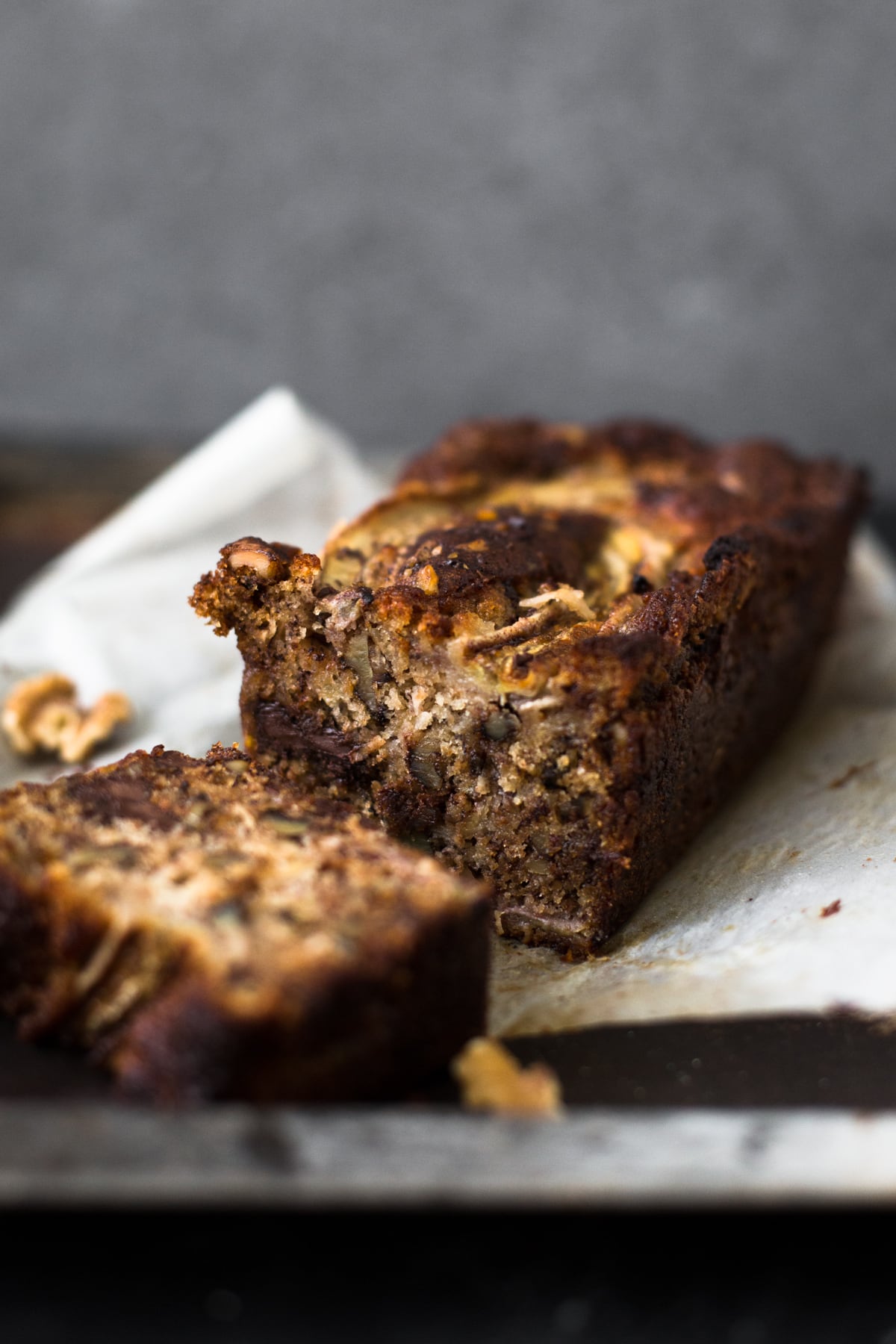 Scroll down for the full recipe for my Vegan Banana Bread, and don't forget to leave a comment or tag me on Instagram if you make this recipe or any other recipe on my website! I love seeing what you guys create, it's a small source of happiness in my otherwise bleak and miserable life. Enjoy!
Similar Recipes You May Enjoy:
Loaded Vegan Blueberry Muffins
Vegan Carrot Cake with Orange Cream Cheese Frosting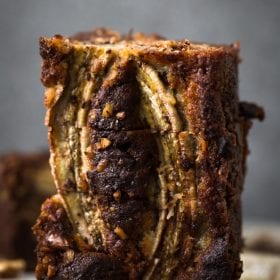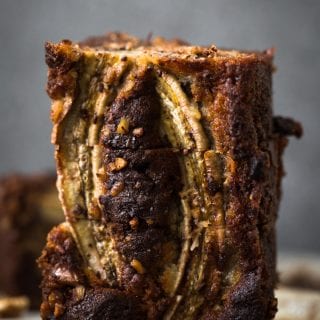 Vegan Cinnamon Swirl Banana Bread
A delicious Vegan Banana Bread recipe loaded with Walnuts, Dark Chocolate and a Brown Sugar Cinnamon Swirl in the middle. Ready in under 1 hour.
Ingredients
2

Large Bananas

super-ripe

1/4

cup + 2 tablespoons

Sugar

75g

1

teaspoon

Vanilla Extract

1

flax egg

left to sit for 10 minutes

1/3

cup

Vegetable Oil

80g

1

tbsp

Vegan Yogurt

3/4

cup

All Purpose Flour

95g

2

tbsp

almond meal

1/2

teaspoon

Baking Powder

1/2

tsp

Baking Soda

1/4

tsp

Salt
Add Ins:
1/2

cup

Walnuts

chopped

1/4

cup

Dark Chocolate Chips

1/3

cup

coconut flakes

1

large

Banana

sliced in half lengthways (optional)
Cinnamon Swirl:
1 1/2

tbsp

Vegan Butter

melted

4

tbsp

Brown Sugar

1

tbsp

Ground Cinnamon
Instructions
Pre-heat your oven to 175C/350F. Line a loaf tin with non-stick parchment and set aside.

Prepare Cinnamon Swirl by combining Melted Vegan Butter, Brown Sugar and Cinnamon. Mix well and set aside.

In a bowl, mash your 2 ripe bananas. Add Vanilla, Flax Egg, Vegetable Oil, Vegan Yogurt and whisk to combine.

In another bowl, sieve All Purpose Flour, Ground Almonds, Baking Powder, Baking Soda and Salt. Whisk to combine.

Make a well in your dry ingredients and pour your wet ingredients in. Gently fold until a batter forms. Be careful to not over-mix or your Banana Bread will end up tough and dry.

Fold in chopped Walnut, Dark Chocolate Chips and Toasted Coconut Flakes.

Pour 1/3 of your batter into your prepared loaf tin and then dollop half of the cinnamon sugar mixture over the batter in the pan.

Using a knife, swirl the Cinnamon mixture into your Banana Bread Batter. Add another 1/3 of your Banana Bread batter to the pan and repeat the process with your remaining Cinnamon mixture. Finally, top with your final 1/3 of the Banana Bread batter.

Before baking, slice your extra Banana lengthways and gently place on top of the batter (optional).

Bake for 45-55 minutes, or until a skewer inserted into the middle of your Banana Bread comes out clean.

Leave to cool in tin for 20 minutes and then turn out onto a cooling rack and allow to cool further.
Notes
TO STORE
: Leftovers can be stored in the refrigerator, covered, for up to 2 weeks.
TO FREEZE
: Place leftovers in a ziplock bag and store them in the freezer for up to 6 months. 
Nutrition
Serving:
1
slice
Calories:
226
kcal
Carbohydrates:
24
g
Protein:
3
g
Fat:
14
g
Saturated Fat:
8
g
Trans Fat:
1
g
Cholesterol:
1
mg
Sodium:
130
mg
Potassium:
123
mg
Fiber:
2
g
Sugar:
14
g
Vitamin A:
77
IU
Vitamin C:
1
mg
Calcium:
43
mg
Iron:
1
mg