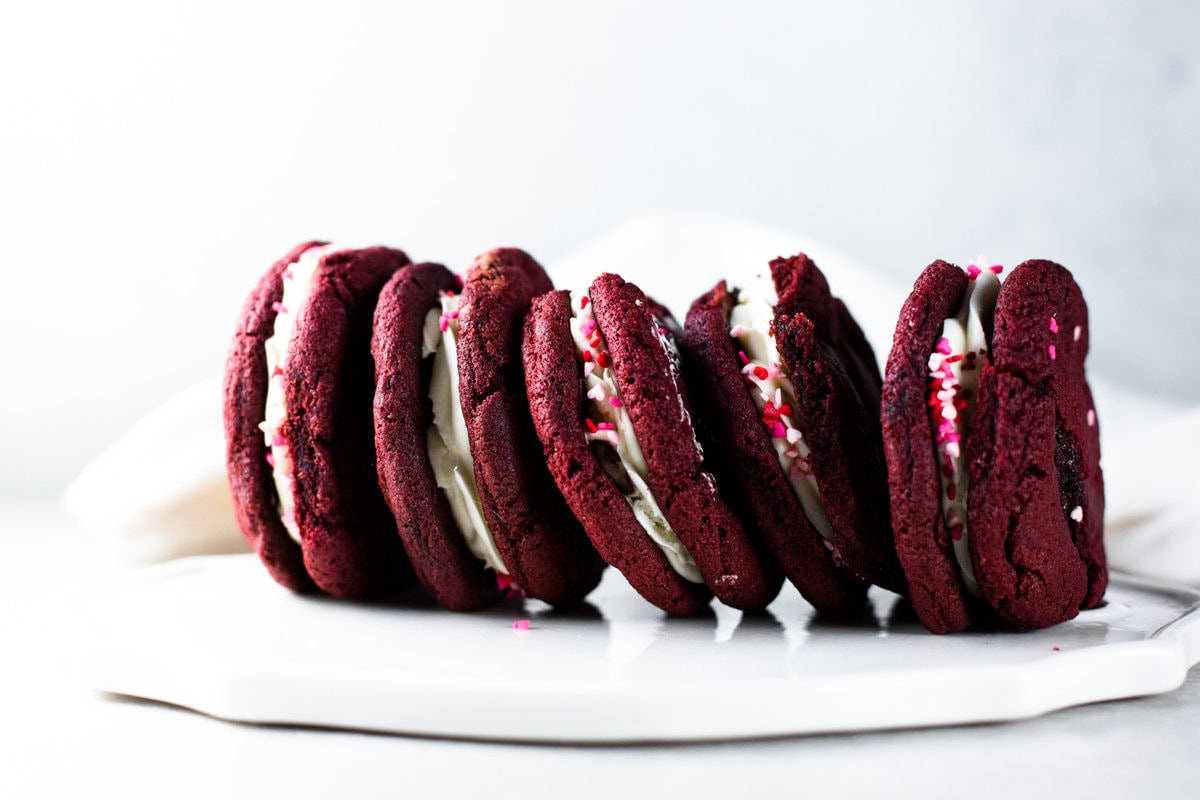 Red Velvet is probably one of my favourite cakes. Actually, I lie. All cake is my favourite kind of cake. I M CAKE MONSTER. Some days I don't even eat meals, I just eat dessert. Yeah, I kind sorta maybe kinda idk have a sugar addiction! Anyhoo, time for me to stop rambling. Today, I'm here to bless your life with a recipe for my Vegan Red Velvet Cookies with Cream Cheese Frosting. Think Chocolate Chip Cookies with a hint of Cocoa Powder, sandwiched with delicious Vegan Cream Cheese Frosting. Delicious, if I must say so myself.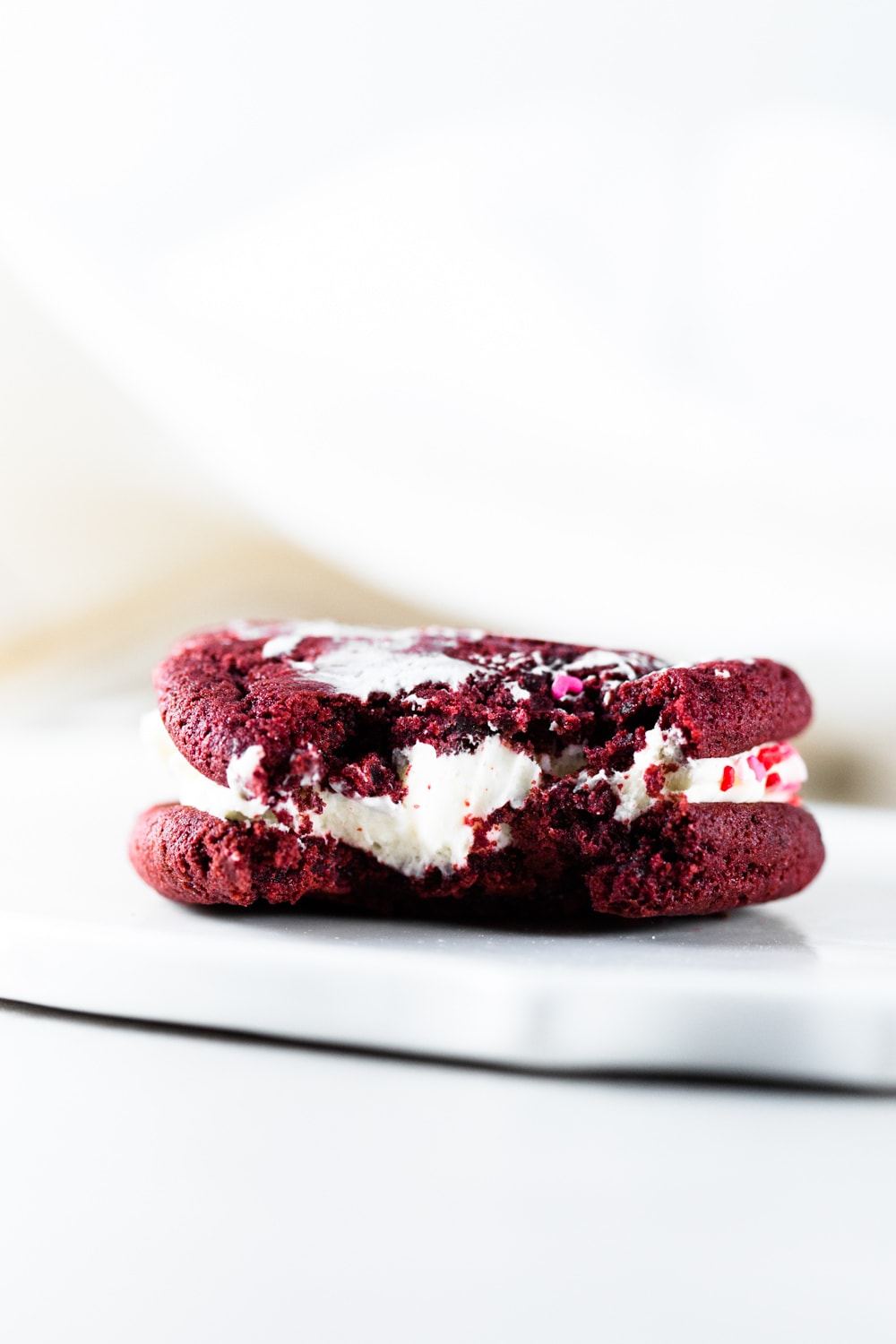 For this recipe I make a simple Vegan Chocolate Chip Cookie base and add a dash of Cocoa Powder and an incredible amount of Red Food Coloring (make sure you use a vegan food coloring – some red coloring is made from the cochineal bug..ew). To make your cookie base, you'll simply cream some Vegan Butter, White Sugar, Brown Sugar, Non-Dairy Milk and Vanilla Extract until light and fluffy. To this, I use a mixture of Cornstarch and Water in lieu of 1 singular Egg, mix it altogether and then dump in a bunch of All Purpose Flour, Cocoa Powder and Baking Soda. Easy peasy lemon squeezy!
FREE EBOOK SERIES! 5 SECRETS FOR FOOLPROOF VEGAN DESERTS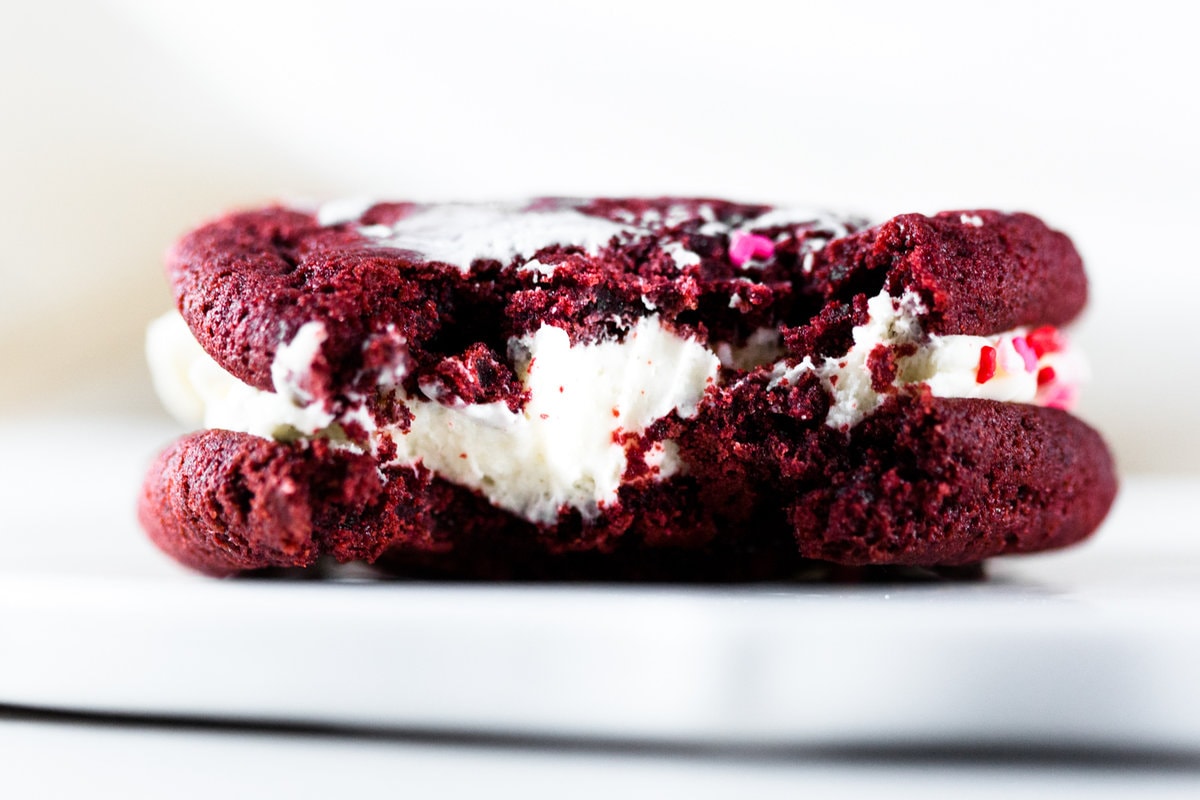 Now – the most important but. You're going to have to chill your Red Velvet Cookie dough for at least an hour. No arguments, no compromises, JUST DO IT! Unless you want really flat and gross cookies, that is. Then you can skip the chilling bit. It's up to you really! Once your dough is chilled, all you have to do is scoop 1.5 Tablespoons worth of dough into balls on a lined baking sheet and bake for 10-12 minutes.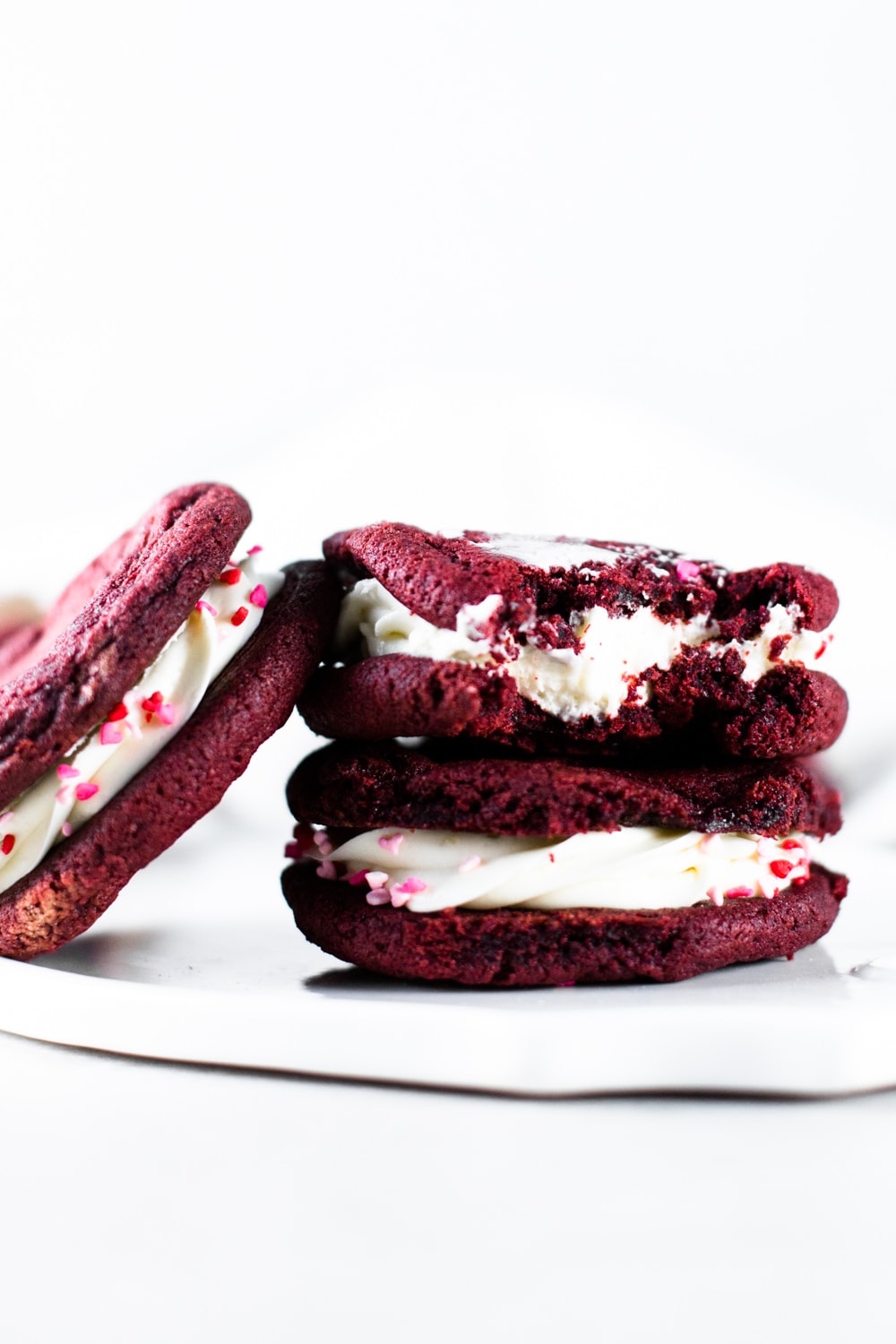 As soon as your Vegan Red Velvet Cookies come out of the oven, use a spoon to press down on your dough. This serves 2 purposes – it flattens your cookies slightly and also creates a crackly top. Allow your Vegan Red Velvet Cookies to cool on your cookie sheet for 5 minutes before transferring to a wire rack to cool completely. You can use this time to prepare your Cream Cheese Icing!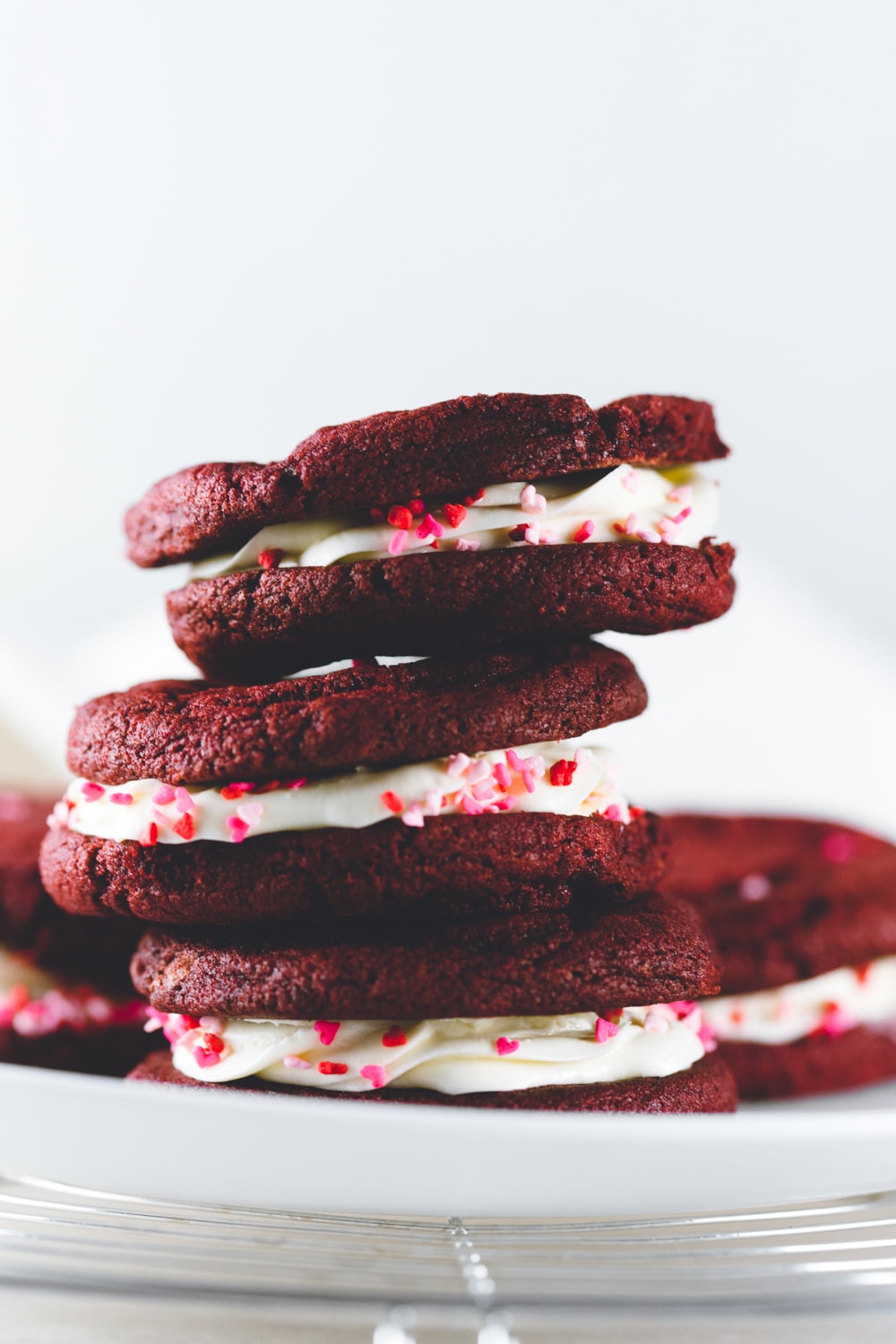 Once your Vegan Red Velvet Cookies have cooled, you simply sandwich them with a luscious Vegan Cream Cheese Frosting made out of Tofutti Cream Cheese, Vegan Butter, Icing Sugar, Vanilla Extract and a touch of Cornstarch. Adding Cornstarch to your Cream Cheese Frosting allows you to thicken it without having to add an obscene amount of sugar into the recipe. Everyday you learn something new! Anyway, I'm just going to get straight to the recipe and stop rambling now, so scroll down and enjoy!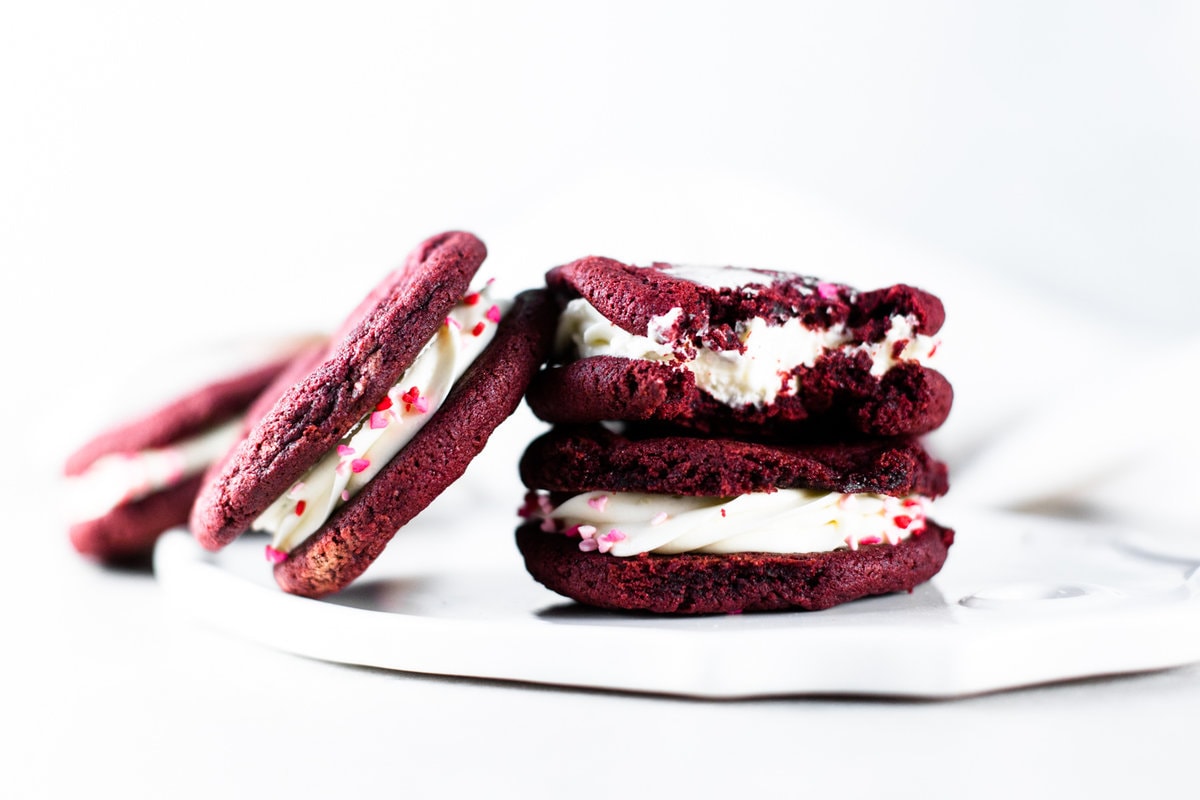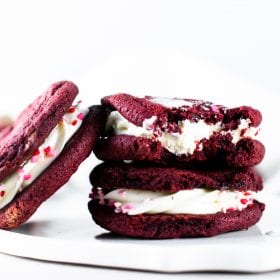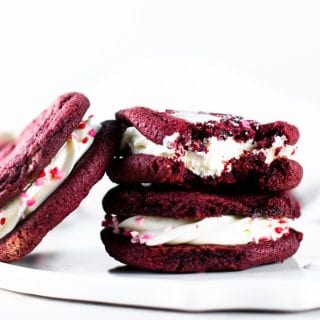 Vegan Red Velvet Cookies with Cream Cheese Frosting
Delicious and chewy Vegan Red Velvet Cookies sandwiched with a yummy Cream Cheese Frosting. Think Red Velvet Cake, but in a convenient cookie form!
Ingredients
1 1/2

Cups

All Purpose Flour

200g

3

tbsp

Cocoa Powder

16g

1

tsp

Baking Soda

1/4

tspd

Salt

1/2

cup

Vegan Butter

ideally stick variety (125g)

1/4

cup

Caster Sugar

50g

3/4

cup

Brown Sugar

140g

1

tbsp

Cornstarch

4

tbsp

Non-Dairy Milk

1 1/2

tsp

Vanilla Bean Paste

1 1/2

tbsp

Vegan Red Food Coloring

you can use less, but your cookies will look more brown than red
For Cream Cheese Filling:
1

tub

Cream Cheese

220g

1/4

cup

Vegan Butter

55g

1

cup

Icing Sugar

sieved (125g)

1

tbsp

Cornstarch

1

tsp

Vanilla Bean Paste
Instructions
In a large bowl, combine Flour, Cocoa Powder, Baking Soda and Salt. Whisk to combine.

In another bowl, combine Butter, Sugar and Brown Sugar. Using an electric hand mixer or stand mixer, cream until light and fluffy - about 2-3 minutes.

In a small bowl, combine Cornstarch and Non-Dairy Milk. Mix well. Add to your butter/sugar mixture and mix to combine.

Beat in Vanilla Bean Paste and Red Food Coloring. Mix well.

Add dry ingredients to your wet ingredients and mix on slow till combined. Dough will be sticky.

Transfer dough to a bowl and cover tightly in plastic wrap. Chill for at least 2 hours, or overnight if time permits.

When ready to bake, line a cookie sheet with baking/parchment paper. Pre-heat your oven to 350F/175C.

Scoop 1 tablespoon portions of your dough into your hands and roll into balls. (Each dough ball should be about 30grams in weight)

Place on prepared baking tray, being careful to not over crowd. Bake for 10-12 minutes.

Remove tray from the oven and immediately use a spoon to flatten your warm cookies. Allow to cool on baking sheet for 5 minutes and then transfer to a wire rack to cool completely.

Repeat process with your remaining cookie dough until you have used it all up.

Meanwhile, make your Cream Cheese Frosting. In the bowl of a stand mixer, combine Vegan Butter, Vegan Cream Cheese and Vanilla Bean Paste. Whip until light and fluffy.

Sieve Icing Sugar with Cornstarch into a bowl and gradually add this mixture to your Butter/Cream Cheese whilst whipping on low. Once all the Icing Sugar and Cornstarch has been added, whip on high for about 1 minute until light and fluffy.

Transfer icing into a piping bag and sandwich your Red Velvet Cookies with a generous amount of icing.

Alternatively, you can simply spread the icing on.

I like leaving these cookies to "ripen" in an air-tight box overnight. This allows the process of osmosis to soften the cookies as it absorbs moisture from the icing.

Cookies should be kept in an air-tight box in the refrigerator for up to 1 week.
Notes
Do not over bake these cookies - they should be soft baked, and the cream cheese icing will further soften the cookies to create a delicious, gooey, ooey treat!
TO STORE
: Leftovers can be stored in the refrigerator, covered, for up to 2 weeks.
TO FREEZE
: Place leftovers in a ziplock bag and store them in the freezer for up to 6 months. 
Nutrition
Serving:
1
Serving
Calories:
244
kcal
Carbohydrates:
57
g
Protein:
3
g
Fat:
1
g
Saturated Fat:
1
g
Sodium:
220
mg
Potassium:
92
mg
Fiber:
1
g
Sugar:
36
g
Vitamin A:
29
IU
Vitamin C:
1
mg
Calcium:
34
mg
Iron:
2
mg