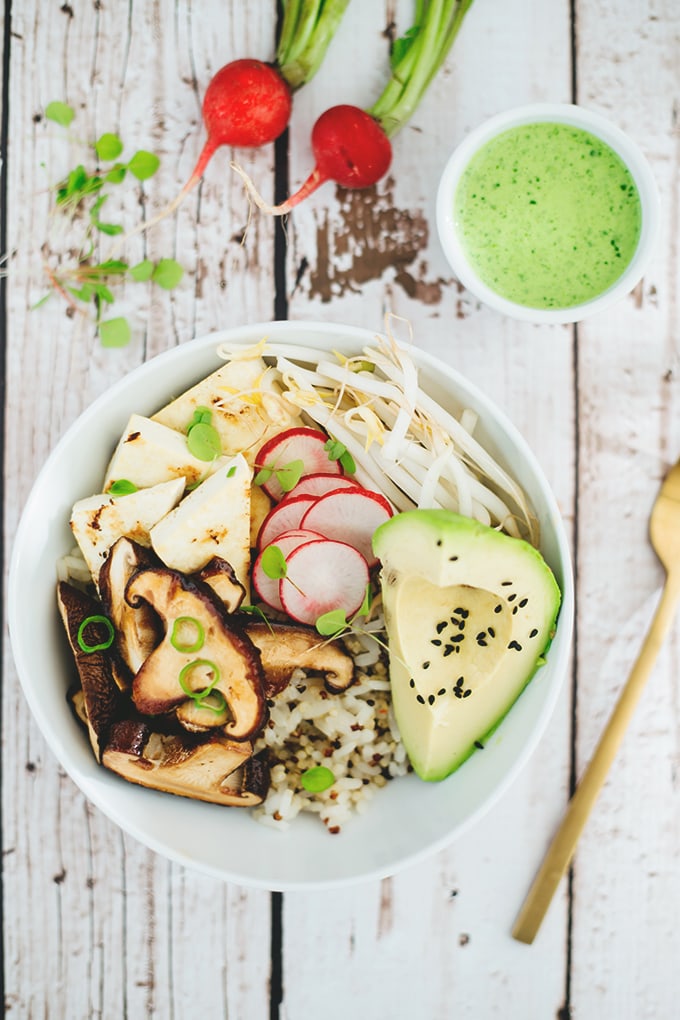 Hey hey, welcome back to another episode of Crazy Vegan Kitchen. This episode's star is my Healthy Vegan Buddha Bowl With Shiitake Mushrooms And Cilantro Tahini Dressing. If you haven't already seen my Spicy Vegan Buddha Bowl recipe from the dark ages, go check that out too. This time round, I've decided to make a lighter version of a Vegan Buddha Bowl, but still packed with just as much flavor as its predecessor. I use minimal oils and fat in this recipe, and half of the ingredients that top the bowl are raw. Everyone likes it raw 🙂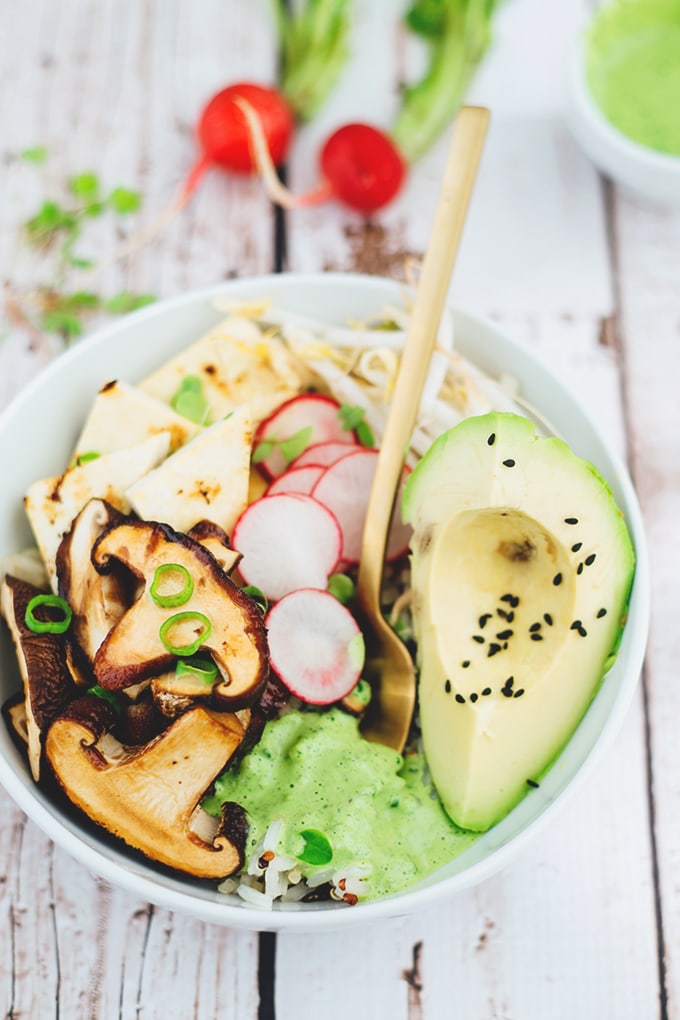 If you don't already for some reason know what a Buddha Bowl is, let me explain. My recipe is called a Buddha Bowl not because it "is packed so full that it has a rounded "belly" appearance on the top much like the belly of a buddha" – thanks Urban Dictionary – but because I look about 7 months pregnant these days and have made food that goes into a bowl. Oh, and I'm vegan. There you have it, Vegan Buddha Bowl. Sorted. I can't wait for someone to misread this and congratulate me on my little bundle of joy.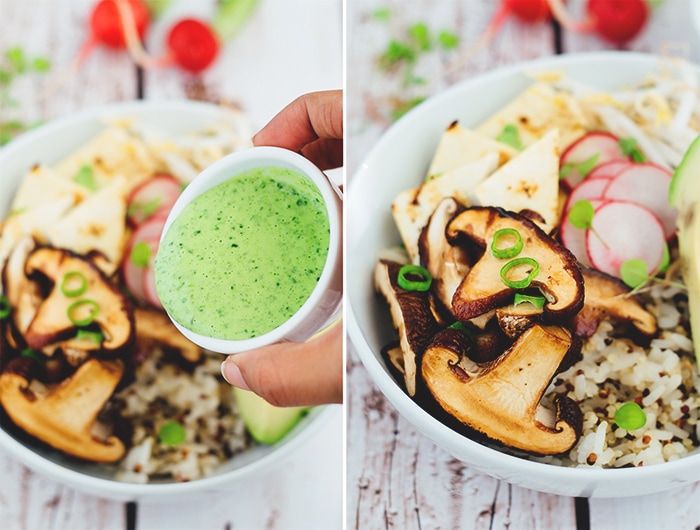 We obviously start off with a grain of some sort, and for this Buddha Bowl recipe I've cooked a mixture of Quinoa and Short Grained Rice in the same pot with water. What you end up with is a great mixed grain which looks fancy schmancy too so no complaints! Now, onto the toppings. Aside from fresh Bean Sprouts, Avocado, Slivered Radish and Black Sesame Seeds, I make my favourite Teriyaki Shiitake Mushrooms to crown my Healthy Buddha Bowl. Teriyaki Mushrooms are simply made by cooking Shiitake Mushrooms with Tamari, Mirin, Maple Syrup and Sesame Oil. Easy. I also dry fry some Extra Firm Tofu in a hot non stick pan and add it to the Buddha Bowl for a boost of protein.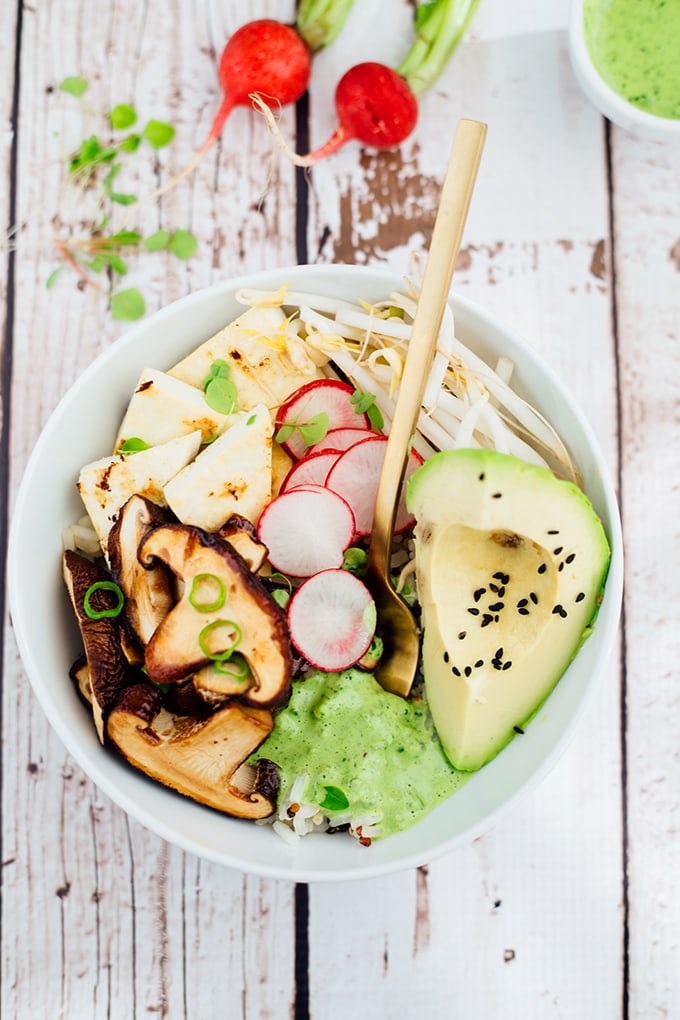 Like most Buddha Bowls, the final touch is a dressing or sauce of some sort. This time I've opted for a simple Vegan Cilantro Tahini Dressing, made with Tahini, Fresh Cilantro, Lime Juice, Water, Agave, Salt and Pepper. I won't ramble on anymore, so scroll down if you're keen on checking out my full recipe for this Vegan Buddha Bowl With Shiitake Mushrooms And Cilantro Tahini Dressing. Oh, and if you make it, don't forget to bloody tag me on Instagram, folks! Ciao!
FREE EBOOK SERIES! 5 SECRETS FOR FOOLPROOF VEGAN DESERTS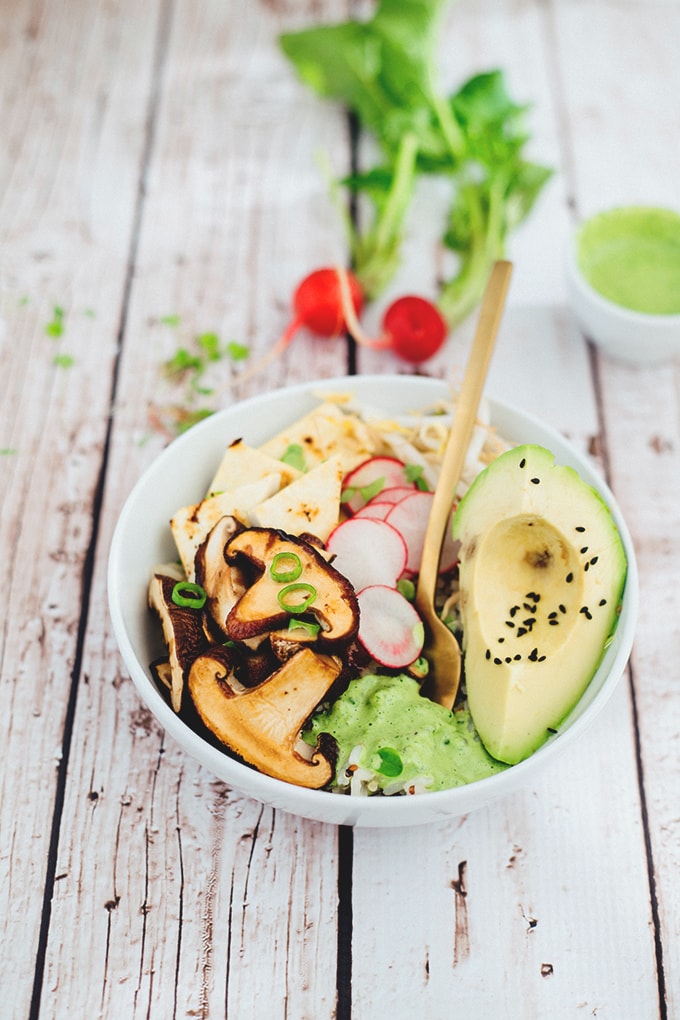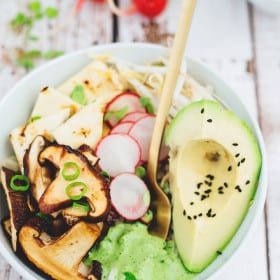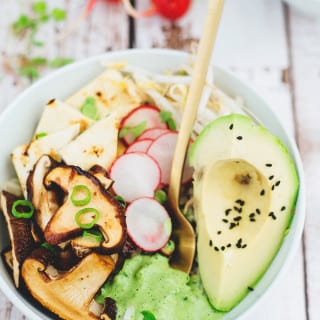 Vegan Budha Bowl
Delicious Healthy Vegan Buddha Bowl With Quinoa, Rice, Teriyaki Shiitake Mushrooms, Veggies And A Cilantro Tahini Dressing.
Ingredients
1/2

cup

Rice

1/2

cup

Quinoa

1 1/2

cups

Water

1

Pinch

salt
For the shitake mushrooms
1

cup

Shiitake Mushrooms

sliced

2

tablespoons

Tamari

1

tablespoon

Mirin

2

teaspoons

Maple Syrup

1

teaspoon

Sesame Oil

2

oz

Extra Firm Tofu

sliced

1/2

teaspoon

salt

1/2

large

Avocado

1/2

cup

Bean Sprouts

1/4

cup

Radish

thinly sliced

2

tablespoons

Green Onion

sliced

1

teaspoon

Black Sesame Seeds

to garnish
For the cilantro sauce
1/3

cup

chopped Cilantro

1 1/2

tablespoons

Tahini

1

teaspoon

Lime Juice

3

tablespoons

Water

1

teaspoon

Agave Nectar

1

teaspoon

salt

to taste
Instructions
Prepare Rice and Quinoa by combining both grains in a small non stick pot. Add water to grains, bring to a boil, reduce to a simmer and cover with a lid. Cook on very low heat for 20 minutes. Once cooked, keep warm.

Prepare Shiitake Mushrooms by combining Mushrooms, Tamari, Mirin, Maple Syrup and Sesame Oil in a pan. Cook on low heat, until mushrooms have absorbed the seasonings and softened, about 5 minutes. Set aside and keep warm.

To prepare Tofu, season Tofu slices with salt and pepper on both sides. In a clean, dry and non stick frying pan, sear Tofu slices on medium heat until lightly browned. Flip, and allow to brown on the other side as well.

Prepare Cilantro Tahini Dressing by blending all ingredients together and then seasoning according to taste.

Place warm cooked grains in the bottom of a bowl, top with warm Shiitake Mushrooms, Tofu, Avocado, Bean Sprouts and Baby Radish. Garnish with sliced Green Onion, Black Sesame Seeds and drizzle with a hefty amount of Cilantro Tahini Dressing.
Nutrition
Serving:
1
serving
Calories:
310
kcal
Carbohydrates:
48
g
Protein:
10
g
Fat:
10
g
Saturated Fat:
1
g
Sodium:
1447
mg
Potassium:
563
mg
Fiber:
6
g
Sugar:
7
g
Vitamin A:
77
IU
Vitamin C:
6
mg
Calcium:
53
mg
Iron:
2
mg