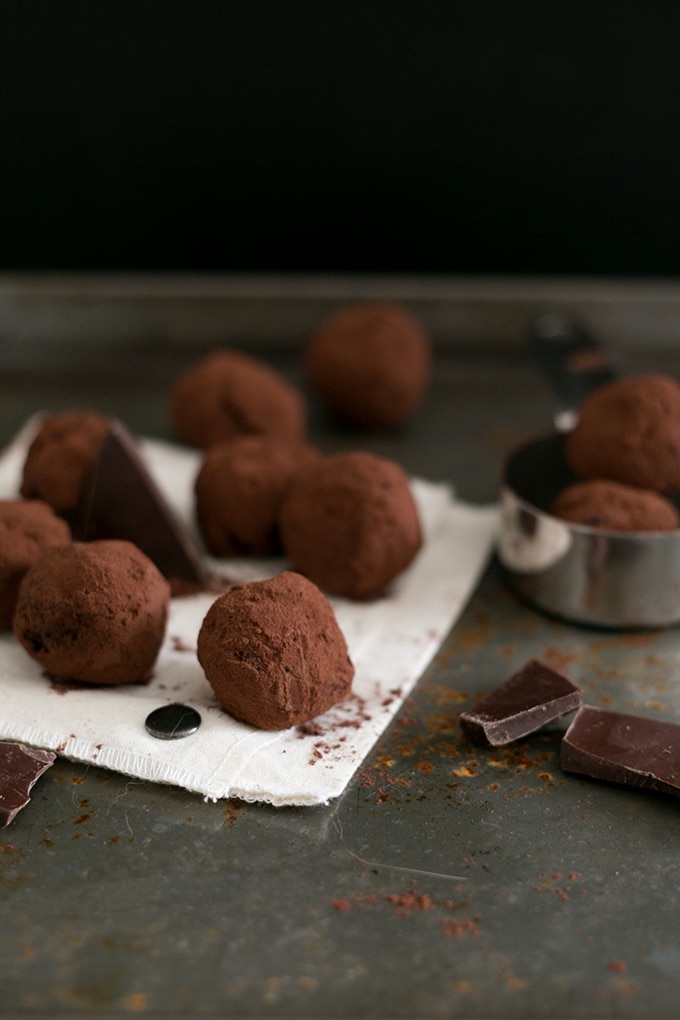 Simple Vegan Chocolate Truffles -this one's for the chocoholics out there. Today's recipe is a simple, fool proof Chocolate Truffle Recipe that you can make in a jiffy, with minimal clean up and maximum pleasure. Ha ha, if only minimal effort resulted in maximum pleasure in real life…. time to get my head out of the gutter 🙂 Back to these Vegan Chocolate Truffles!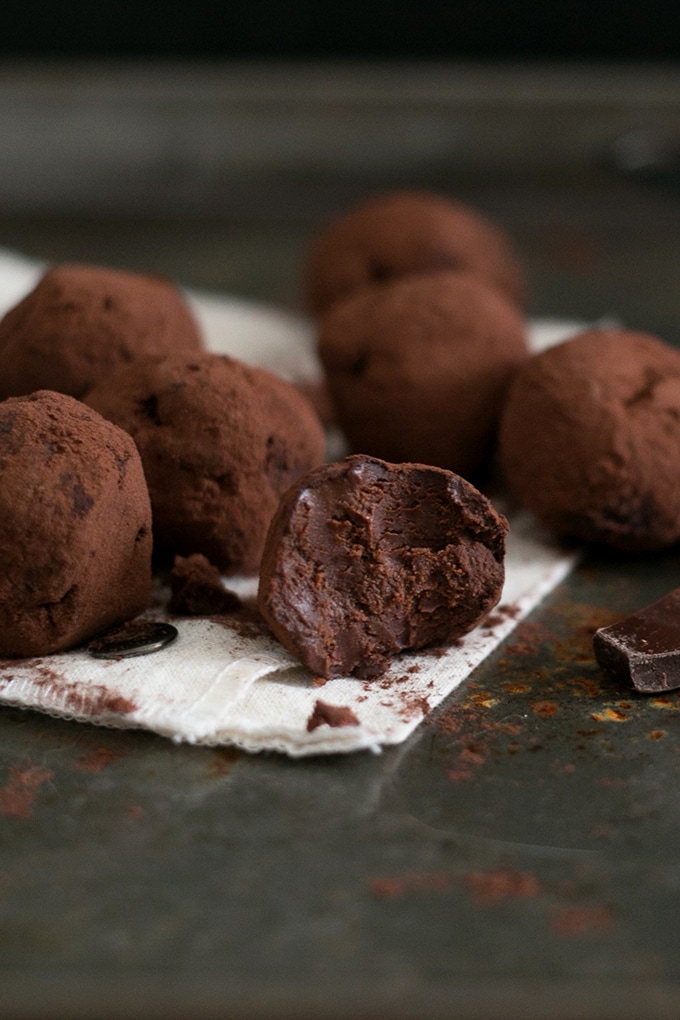 Regular Chocolate Truffles, if you don't already know, are basically just chilled Chocolate Ganache that is scooped, rolled, and then coated with either Cocoa Powder, Nuts, Coconut, or anything you fancy really. My Simple Vegan Chocolate Truffles go back to the basics – chilled Vegan Chocolate Ganache rolled in Cocoa Powder. No fluff! I've seen a couple of 2 ingredient Chocolate Truffle recipes on the net, but this one is slightly different, with a touch of Maple Syrup, Sea Salt and Espresso Powder on top of Coconut Milk and High Quality Vegan Dark Chocolate. Chocolate always needs a little help to bring out its full flavor IMO. These little touches set these Vegan Chocolate Truffles apart from the others.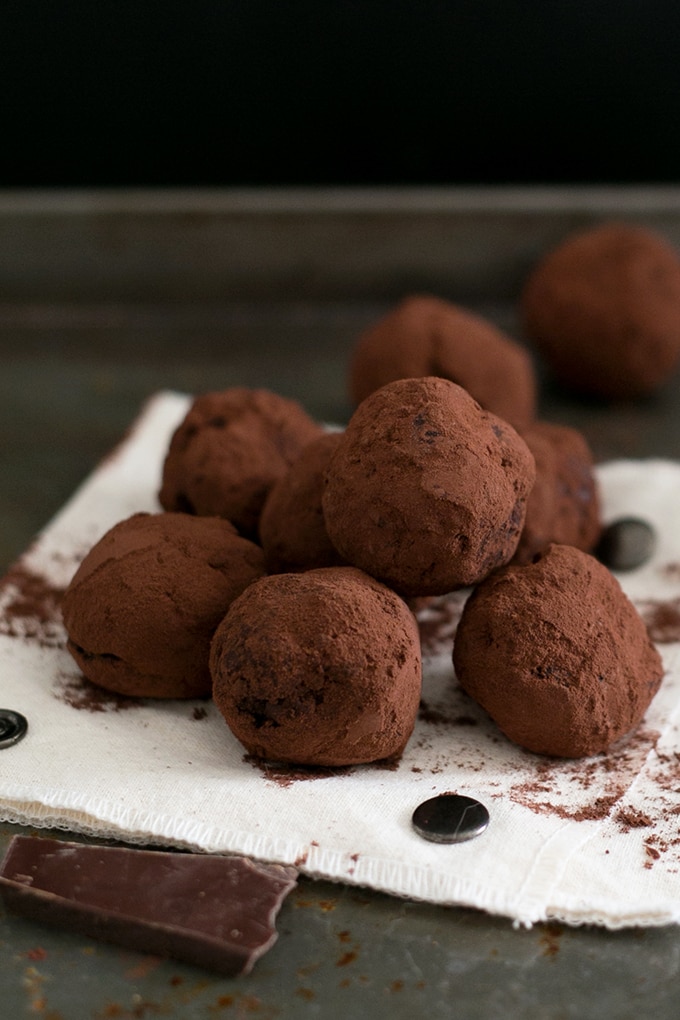 The Chocolate Ganache mixture comes together in a mere 5 minutes, and then is chilled for about an hour in the fridge or until firm and scoop-able. Once scooped and shaped, you simply roll your balls in Cocoa Powder. Whoop, instant Chocolate Truffles! I just love balls that are rolled in chocolate. They're so nice to nibble on. Scroll down for my Simple Vegan Chocolate Truffle recipe, and treat yoself to some ball munching after dinner this week!
FREE EBOOK SERIES! 5 SECRETS FOR FOOLPROOF VEGAN DESERTS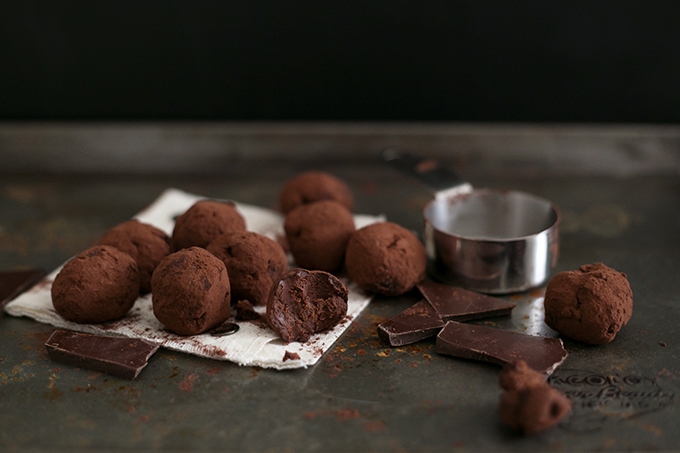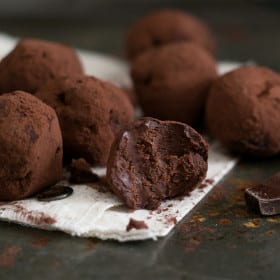 Vegan Chocolate Truffles
Simple Vegan Chocolate Truffles made with Dark Chocolate, Coconut Milk, Maple Syrup Sea Salt, Espresso and Vanilla Bean. Easy to make, decadent, yum.
Ingredients
125

grams

Dark Chocolate

4 ounces

95

grams

Coconut Milk

3 ounces

1

teaspoon

Vanilla Extract

1/4

teaspoon

Espresso Powder

2

teaspoons

Maple Syrup

1

Pinch

Sea Salt

1/4

cup

Cocoa Powder

for coating
Instructions
Break Chocolate into pieces and place chocolate in a bowl. In a small saucepan, heat Coconut Milk on low heat until it comes to a full simmer. Do not let it boil.

Take off the heat and pour hot Coconut Milk over broken chocolate. Let sit for a minute or two.

After sitting, stir with a spatula until all the Chocolate has melted and you have a smooth Chocolate Ganache.

Add Vanilla, Espresso Powder, Maple Syrup, Sea Salt and Liquor (if using), to ganache. Stir well.

Chill your bowl of Ganache in the refrigerator until Ganache has thickened, firm and is scoopable, about 2-3 hours. Stir every 30 minutes or so to ensure it chills evenly.

Once firm, using a teaspoon, scoop out portions of ganache and roll into balls with clean, cool hands.

If your palms start to get warm and messy, wash your hands before continuing. Roll truffles in Cocoa Powder to coat.

Store in refrigerator, and let thaw for 5-10 minutes before enjoying.
Nutrition
Serving:
1
serving
Calories:
86
kcal
Carbohydrates:
7
g
Protein:
1
g
Fat:
6
g
Saturated Fat:
4
g
Trans Fat:
1
g
Cholesterol:
1
mg
Sodium:
7
mg
Potassium:
123
mg
Fiber:
2
g
Sugar:
3
g
Vitamin A:
4
IU
Vitamin C:
1
mg
Calcium:
13
mg
Iron:
2
mg
Like these Vegan Chocolate Truffles? Don't forget to follow me on Instagram, Pinterest and Facebook!