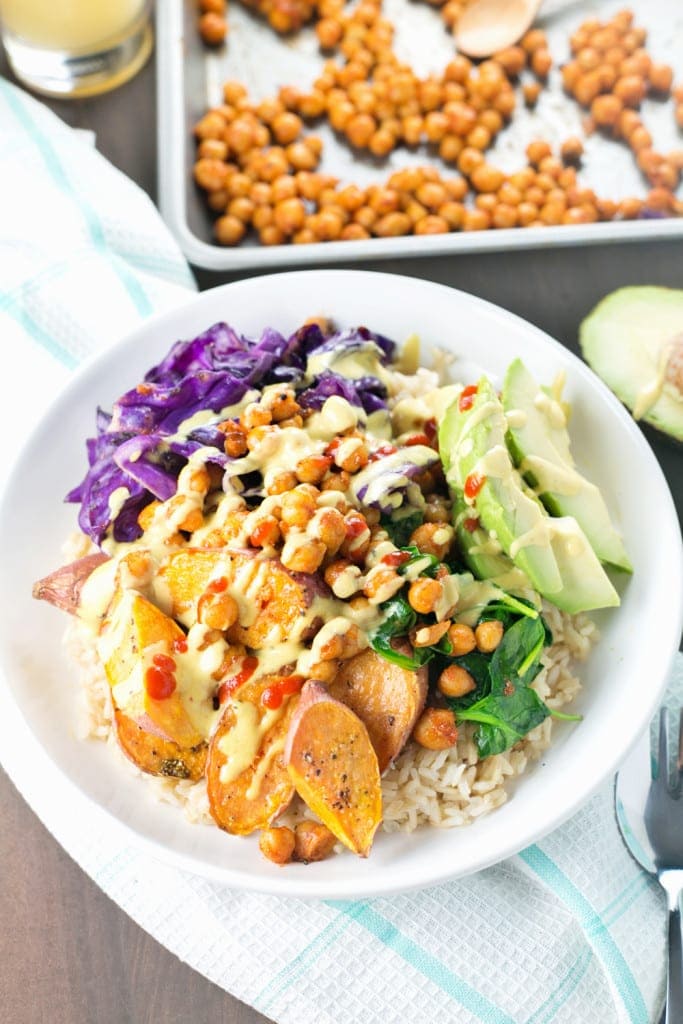 Buddha Bowls are awesome. Not only do they taste flipping great, but they also make me picture a fat, giggly laughing Buddha bouncing in and out of random bowls and enlightening each bowl as his fat bottom nestles in them one by one. I have a vivid imagination. Of course, we all know that Buddha Bowls have absolutely nothing to do with enlightenment, Buddhism, Buddha, or even bowls. Okay, maybe not the last one, who knows. (Buddha plate, anyone?)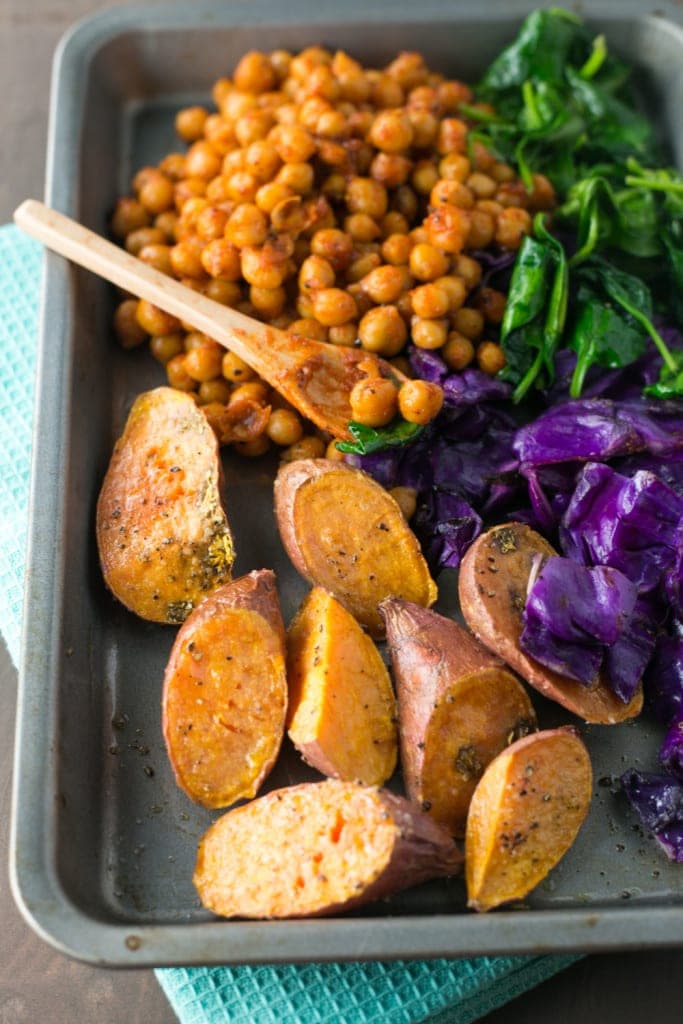 I personally think that Buddha Bowls are a Western interpretation of a cross between Japanese Donburi and Korean Bibimbap. But a Vegan version, of course. Duh. Tons of Buddha Bowl recipes are available online, by my personal favorite version is the the Spicy Buddha Bowl I whip up once every few weeks. Loaded with Roasted Sweet Potato, Spicy Maple Sriracha Chickpeas, Sauteed Spinach and Red Cabbage & Avacado, this bowl oozes sex appeal. Oh, and did I mention the creamy dreamy Turmeric Tahini Dressing that you're supposed to liberally splash all over your Spicy Buddha Bowl? Might as well just call it Sex Cream.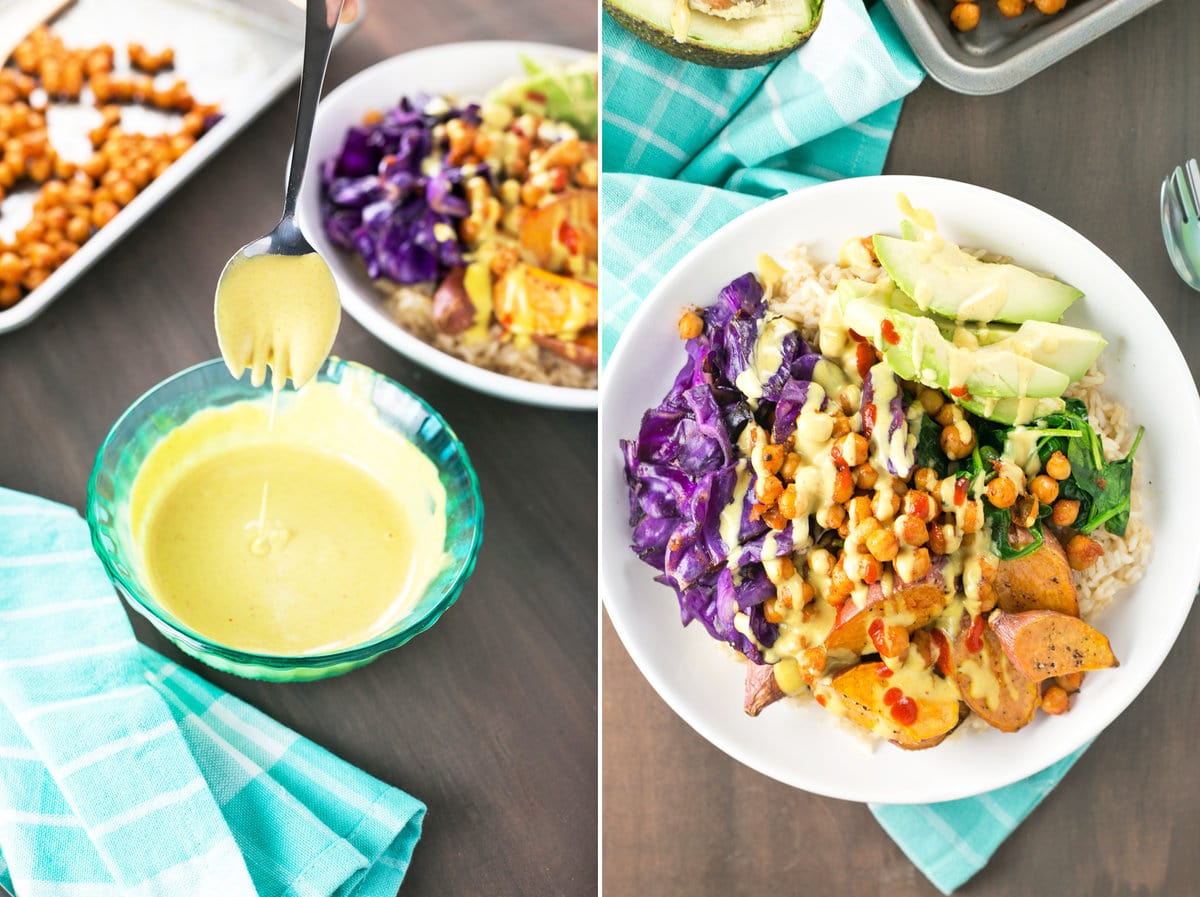 The whole idea of a Buddha Bowl is for it to be packed to the f*cking brim, resembling the rounded belly of Buddha – specifially: Laughing Buddha, and not Gautama Buddha (he was a skinny fellow). Don't get them confused!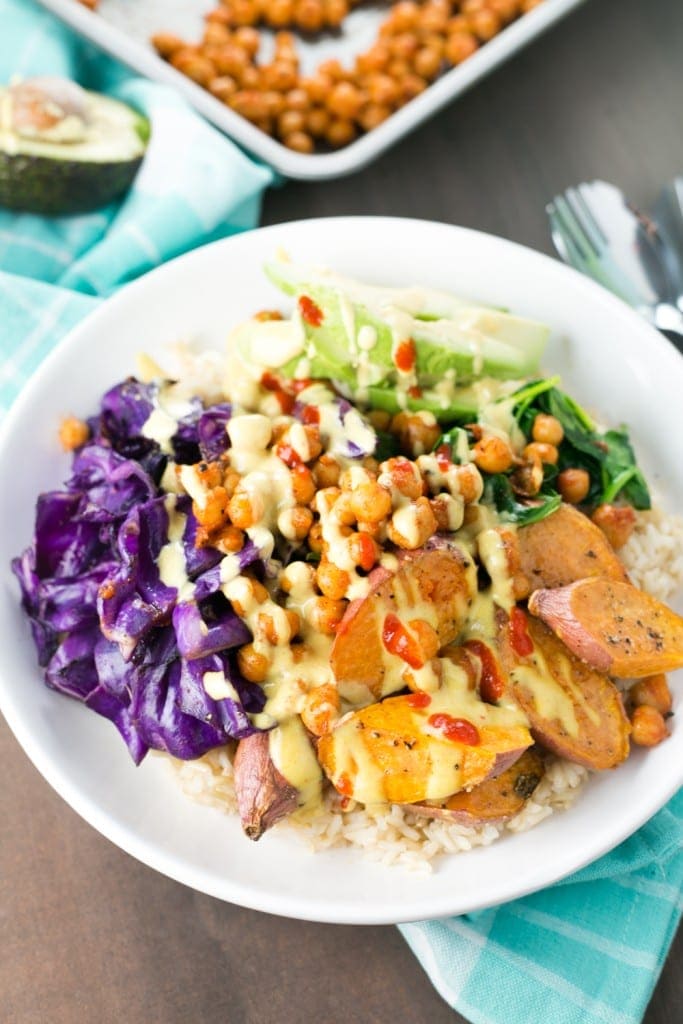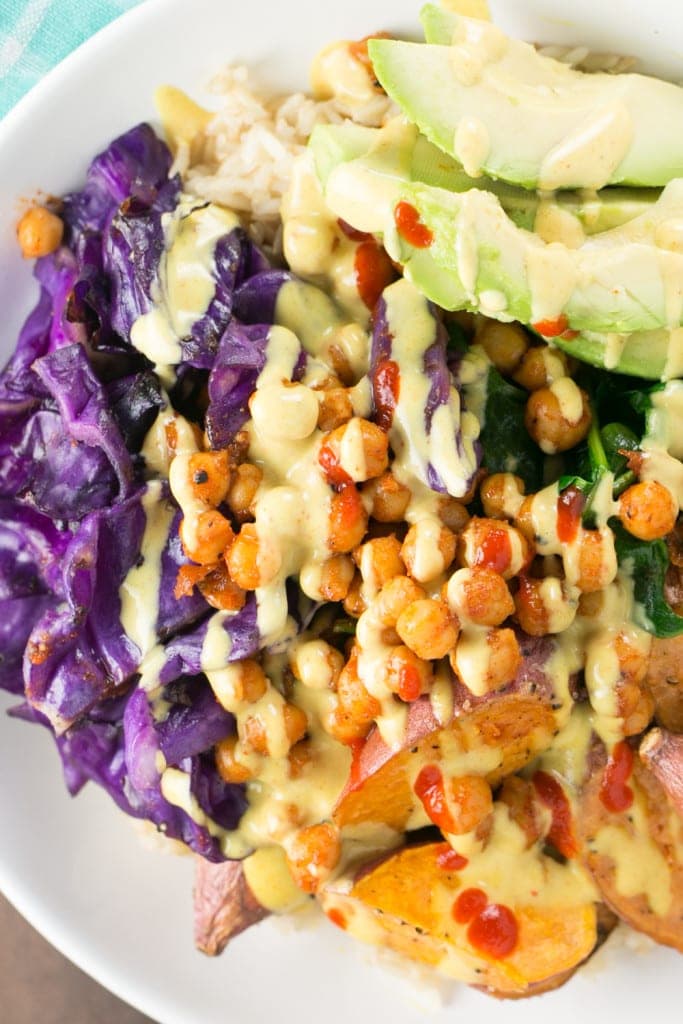 You really want to load your Spicy Buddha Bowl up with enough food to last you till and through the Zombie apocalypse and then some more. Eat until you feel sick, eat until you feel like your belly button is going to pop off you and walk off into the f*cking sunset. Don't forget the water, you'll be needing it to wash down that addictive burn of the Sriracha in the chickpeas.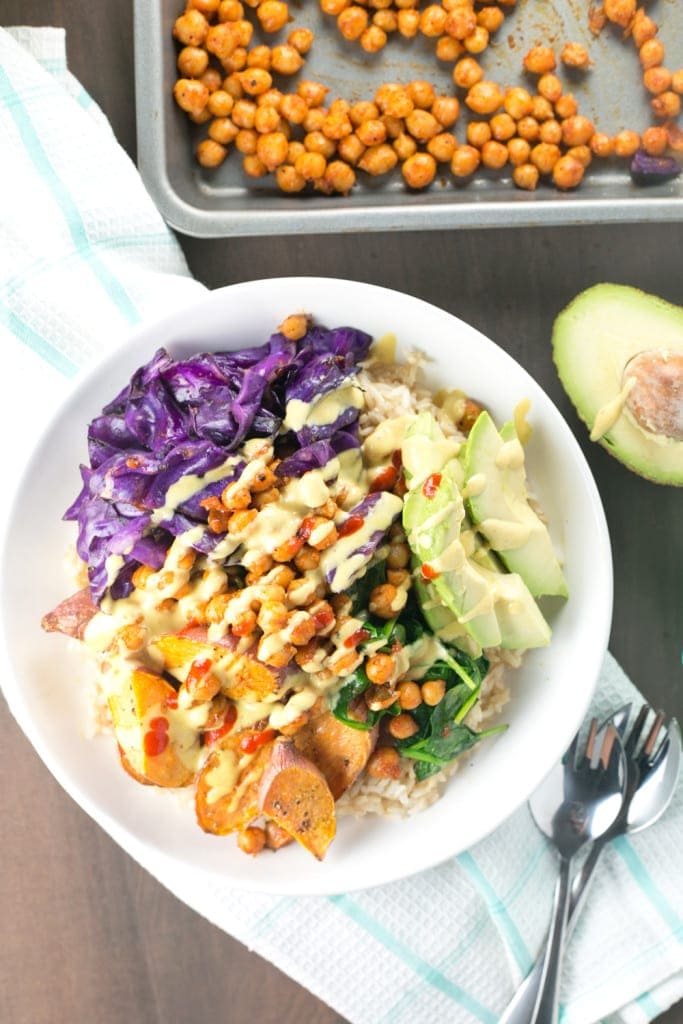 So, my dearest friends, enemies and frenemies – try the recipe for my Spicy Buddha Bowl at home. Vegan and Gluten Free, it takes but a mere 45 minutes to whip up (a lot faster than the amount of time loads of women take to doll themselves up) and it tastes like a pot of gold in your mouth. Much more satisfying than a dolled up woman. The recipe for the Turmeric Tahini Dressing may make a little too much for two servings…but you'll thank me when you creep into the kitchen in the middle of the night and drink the leftovers with a straw. Remember, don't make a wimpy bowl… make a Buddha Bowl.
(Don't forget to Like my Facebook page. Remember to scroll over the Like button a second time and select 'See First' so that my new recipes will always appear at the top of your feed!)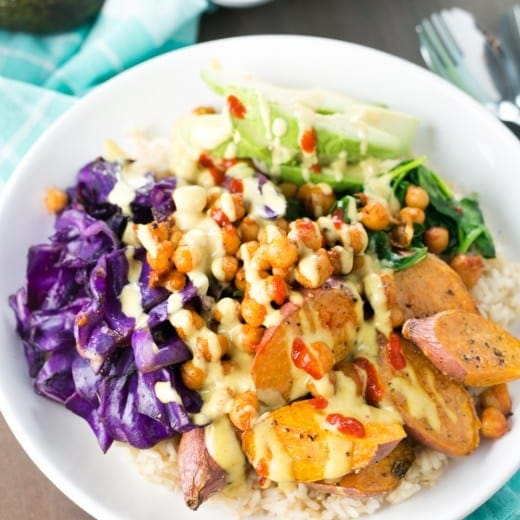 Spicy Buddha Bowl
Spicy Buddha Bowl loaded with Brown Rice, Maple Sriracha Chickpeas, Roasted Sweet Potato, Veggies and a creamy Turmeric Tahini Dressing. Vegan | Gluten Free
Ingredients
1

cup

Cooked Brown Rice

1

Sweet Potato

cut into large chunks

1

teaspoon

Olive Oil

Salt/Pepper

1

can Organic Chickpeas

drained

1 1/2

tablespoons

Sriracha

2

teaspoons

Maple Syrup

1/2

teaspoon

Paprika

1/2

teaspoon

Garlic Powder

Salt/Pepper

1

cup

chopped Red Cabbage

1

cup

Baby Spinach

1

Avocado

sliced

Turmeric Tahini Dressing:

4

Tablespoons

Tahini

4

Tablespoons

Warm Water

1

teaspoon

Maple Syrup

1/4

teaspoon

Cayenne Pepper

1/2

teaspoon

Turmeric

1/2

teaspoon

Sriracha

Salt to taste
Instructions
Preheat oven to 180 degrees Celsius. Coat sweet potato in 1 tsp oil and season with salt and pepper. Place on baking tray and pop into the oven to roast for 35 minutes, turning once halfway through the cooking time.

Whilst sweet potato is cooking, prepare chickpeas.

In a bowl, combine chickpeas, sriracha, maple syrup, paprika, garlic powder, salt and pepper. Mix to combine. Heat a saucepan and transfer chickpea mixture into saucepan to cook for 5-10 minutes. Make sure to keep the chickpeas moving so they don't burn. Cook until chickpeas are slightly sticky and no longer watery. Keep aside.

In a clean saucepan, wilt spinach slightly and season. Transfer to a bowl and repeat the wilting and seasoning process with the cabbage.

Once sweet potato is cooked through, prepare your Buddha Bowl by placing your rice in the bottom of a bowl and then topping with the sweet potato, chickpeas, spinach, red cabbage and avocado.

To make dressing, whisk all ingredients together. Liberally splash on Buddha Bowl and enjoy!!!