This homemade buddha bowl recipe is delicious! Fluffy rice topped with crispy aromatic chickpeas, fresh vegetables, and the most delicious spicy and sweet dressing!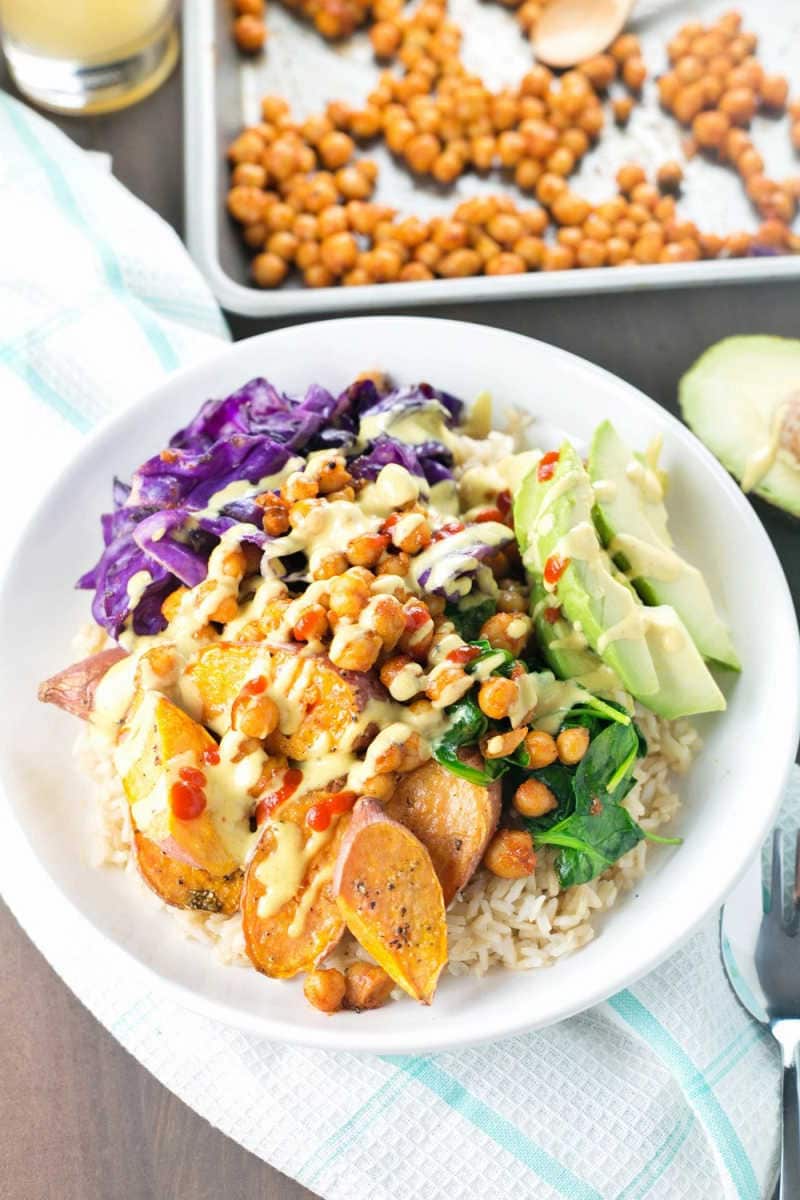 When it comes to bowl ideas, my favorite recipes to make are burrito bowls, barbecue bowls, and this homemade buddha bowl.
What is a buddha bowl?
Buddha bowls are a one-bowl vegetarian meal, typically starting with a base of rice. They are topped with various proteins, legumes, and veggies, and usually involve a wonderfully flavorful sauce or dressing.
FREE EBOOK SERIES! 5 SECRETS FOR FOOLPROOF VEGAN DESERTS
Why this buddha bowl recipe will be a dinner favorite:
It's fast. Everything comes together in under 10 minutes.
Easy to customize. You can change up the toppings, protein, and even the grain base.
Perfect use of leftovers. We love to use up leftovers by adding them on top.
Healthy. Packed with fiber, protein, and healthy fats, this is the ultimate comfort meal.
My version is a little bit different. It's full of delicious textures and flavors. The buddha bowl dressing is on another level!
Ingredients needed
For the bowls
Rice– The base of any good bowl. Use any rice you like, like white, whole-grain, black, or jasmine. Quinoa can also be used as a base. If you're watching your carbs, you could also use cauliflower rice.
Roast sweet potatoes– Lightly baked with salt and olive oil. This adds a fabulous sweet element to the buddha bowl, while also making it that much more satisfying.
Red cabbage– Adds color and some much-needed crunch.
Baby spinach– Any salad leaves work, but baby spinach is the best tasting with this mix.
Avocado– Adds creaminess and extra satisfying healthy fats!
For the seasoned chickpeas
Chickpeas– Canned chickpeas with no added salt. Use the leftover chickpea water to make meringues.
Sriracha– A spicy kick (without being too spicy!). You can omit it or use ketchup instead!
Maple syrup– A natural sweetener to balance out the spicy and salty elements.
Smoked paprika– A fabulous spice that gives the chickpeas a lovely smokey flavor.
Garlic powder– Adds some garlic flavor without actually needing any garlic.
Salt and pepper– To taste.
Buddha bowl sauce
Tahini– Smooth tahini sauce. You can also use a peanut sauce, peanut butter or almond butter.
Warm water– To thin the dressing out.
Maple syrup– Again, adds a hint of sweetness.
Cayenne pepper– A spicy kick to give the overall buddha bowl some heat. This is completely optional!
Turmeric– Adds color and extra nutrients!
Sriracha– Optional, but for sriracha lovers… this one is a given!
Salt– To taste!
How do you make a buddha bowl
Step 1 – Prepare the sweet potato. Preheat oven to 180C/350F. On a lined baking tray or dish, start by baking the sweet potato (seasoned and oiled) for 30-25mins.
Step 2 – Prepare the chickpeas. While the sweet potato is cooking, prepare chickpeas. In a bowl, combine chickpeas, sriracha, maple syrup, paprika, garlic powder, salt and pepper. Mix to combine. Heat a saucepan and transfer chickpea mixture into saucepan to cook for 5-10 minutes.
Step 3 – Prepare the sauce. While the sweet potato and chickpeas are cooling, prepare the buddha bowl sauce by whisking together all the ingredients until smooth. In a clean saucepan, wilt the spinach and cabbage.
Step 4 – Assemble. Now, assemble the buddha bowl. Add a layer of rice, followed by sweet potato, baby spinach, purple cabbage, and avocado. Sprinkle over the chickpeas then drizzle the sauce over the top.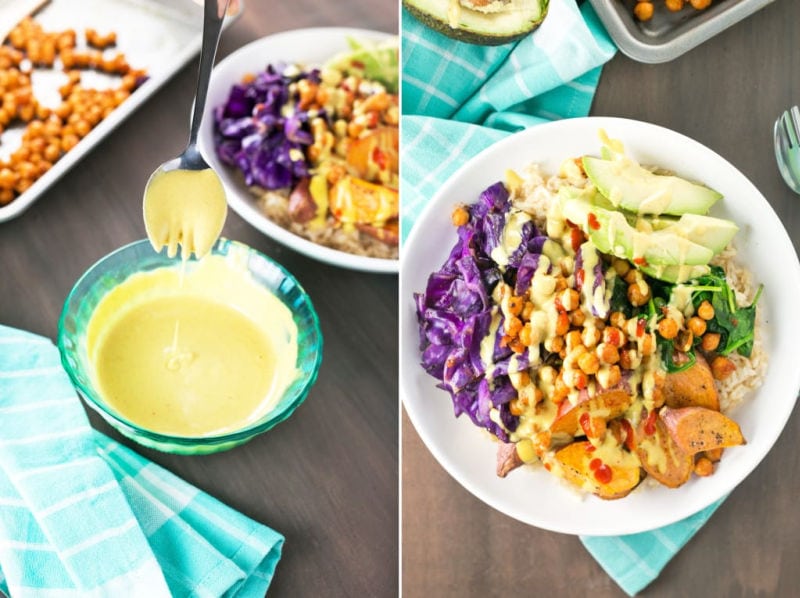 Flavor variations
The beauty of vegan buddha bowl recipes is just how easy they are to customize. It really is a blank canvas, so here are some ideas:
Vegetables– Add some broccoli, brussels sprouts, green onion, kale, beets, or even some Hasselback potatoes.
Protein– Give the bowl an added boost of protein by adding some sliced tofu, tempeh, or seitan.
Legumes– Switch out the chickpeas for butter beans, black beans, or even kidney beans.
Nuts and seeds– Add some extra crunch by adding chopped peanuts, cashews, sunflower seeds, almonds, walnuts or pepitas.
Storage instructions
To store: Fully prepared buddha bowls can be stored for up to 3 days in the fridge, provided the dressing hasn't been drizzled on top.
To make ahead: These are great to meal prep! You can make ahead each part of the buddha bowl up to 3 days in advance. Simply assemble when ready to enjoy.
More vegan dinner recipes to try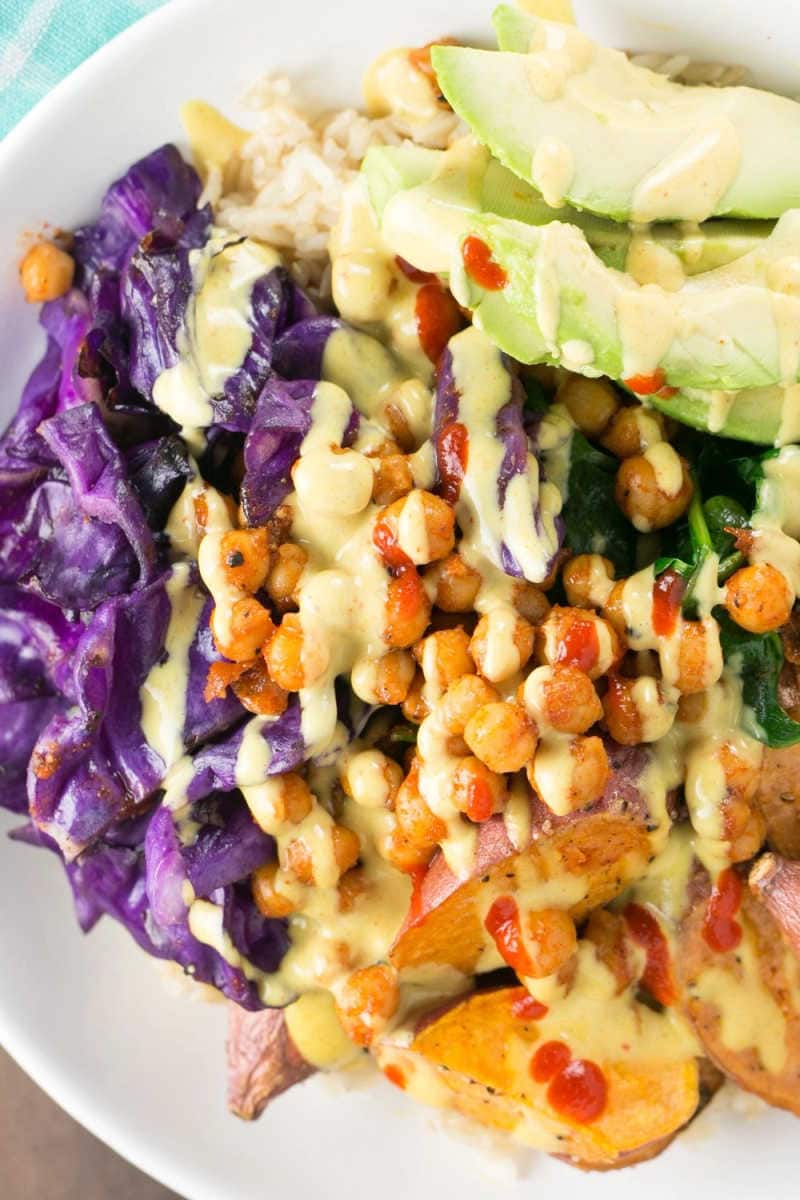 Tools used to make this buddha bowl
Baking sheet– Non-stick but also cooks the food evenly!
Serving bowls– Big bowls to fit everything in!
Whisk– A good whisk to make a perfectly smooth dressing.
Frequently asked questions
What are the 5 key components of a buddha bowl?
A buddha bowl should contain a grain, a vegetable, a fat, a protein, and a sauce.
What is the difference between a buddha bowl and a salad?
Salads don't typically contain grains (unless they are specialty salad) whereas buddha bowls always have a grain base.
Are buddha bowls healthy?
Yes, buddha bowls are one of the healthiest meals that meet all the macronutrients. Using calorie-dense and creamy sauces can increase the calories and saturated fat.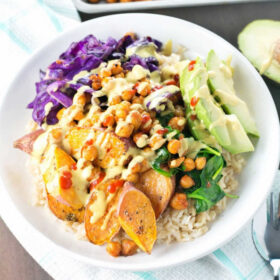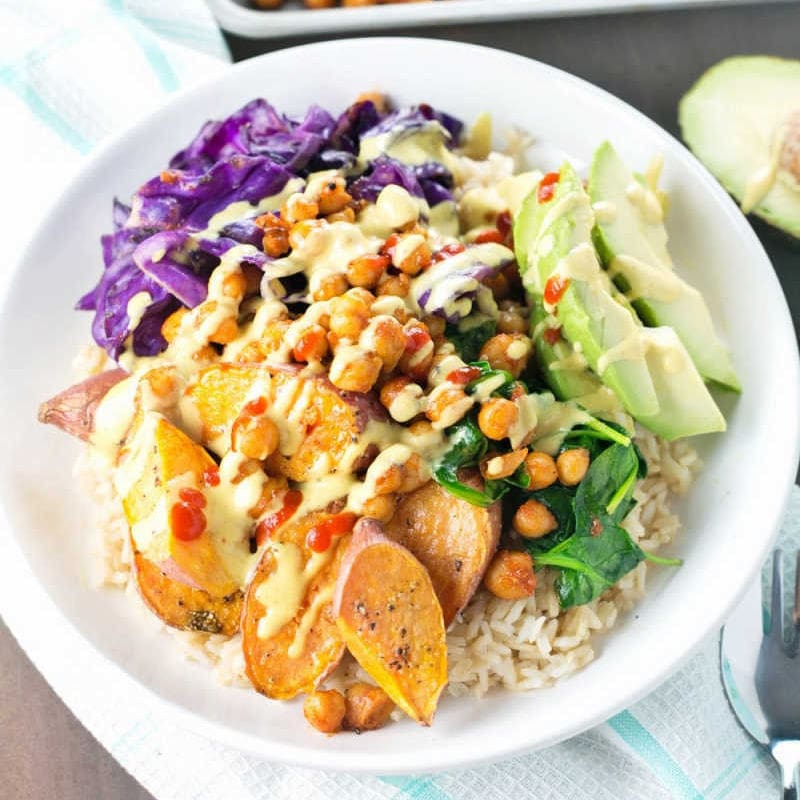 Buddha Bowl
This vegan buddha bowl is filled with spicy and crispy roasted chickpeas, sweet potatoes, and the most incredible dressing!
Ingredients
For the bowls
1

cup

Cooked Brown Rice

1

cup

Red Cabbage

chopped

1

cup

Baby Spinach

1

Avocado

sliced
For the roasted sweet potato
1

large

Sweet Potato

cut into chunks

1

teaspoon

Olive Oil

1

teaspoon

Salt
For the chickpeas
1

can

Chickpeas

drained

1 1/2

tablespoons

Sriracha

2

teaspoons

Maple Syrup

1/2

teaspoon

Paprika

1/2

teaspoon

Garlic Powder

1

tsp

Salt
For the dressing
1/2

cup

Tahini

1/4

cup

Warm Water

1

teaspoon

Maple Syrup

1/4

teaspoon

Cayenne Pepper

1/2

teaspoon

Turmeric

1/2

teaspoon

Sriracha

1

teaspoon

Salt
Instructions
Preheat oven to 180C/350F. Coat sweet potato in 1 tsp oil and season with salt and pepper. Place on baking tray and pop into the oven to roast for 35 minutes, turning once halfway through the cooking time.

Whilst sweet potato is cooking, prepare chickpeas. In a bowl, combine chickpeas, sriracha, maple syrup, paprika, garlic powder, salt and pepper. Mix to combine. Heat a saucepan and transfer chickpea mixture into saucepan to cook for 5-10 minutes. Make sure to keep the chickpeas moving so they don't burn. Cook until chickpeas are slightly sticky and no longer watery. Keep aside.

In a clean saucepan, wilt spinach slightly and season. Transfer to a bowl and repeat the wilting and seasoning process with the cabbage.

Once sweet potato is cooked through, prepare your Buddha Bowl by placing your rice in the bottom of a bowl and then topping with the sweet potato, chickpeas, spinach, red cabbage and avocado.

To make dressing, whisk all ingredients together. Drizzle over the buddha bowl.
Nutrition
Serving:
1
serving
Calories:
421
kcal
Carbohydrates:
45
g
Protein:
9
g
Fat:
25
g
Saturated Fat:
4
g
Polyunsaturated Fat:
8
g
Monounsaturated Fat:
12
g
Sodium:
1961
mg
Potassium:
838
mg
Fiber:
9
g
Sugar:
8
g
Vitamin A:
13184
IU
Vitamin C:
28
mg
Calcium:
105
mg
Iron:
3
mg