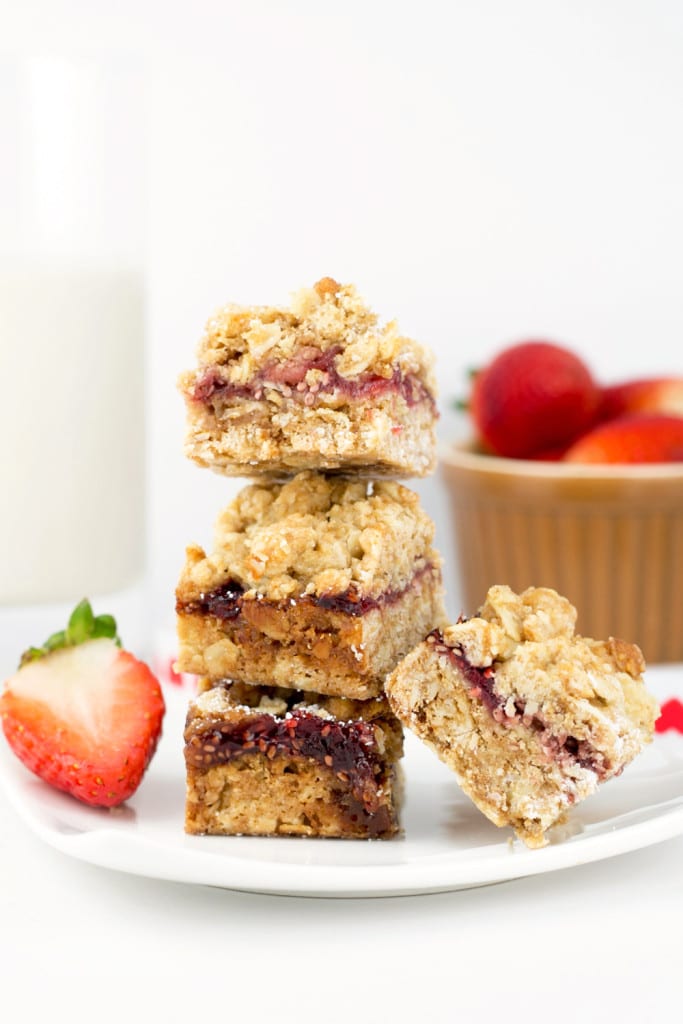 I have a confession: I hate cookies. But being the contradictory punk I am, if cookies are baked into a bar, all of a sudden I absolutely love them. I like to think that this is because I much prefer squares to circles. That's the only logical explanation I can come up with! One of my favorite cookie bar recipes has to be these Vegan Oatmeal Cookie Bars with Homemade Strawberry Chia Seed Jam. I used to make a non-vegan version of these bars with butter and eggs like, 90 years ago when I was a youngster, but never did try veganizing them till yesterday. Thank heavens I did (since I'm probably going to die soon), because this version of my Vegan Oatmeal Cookie Bars with Homemade Strawberry Chia Seed Jam turned out even better than the original!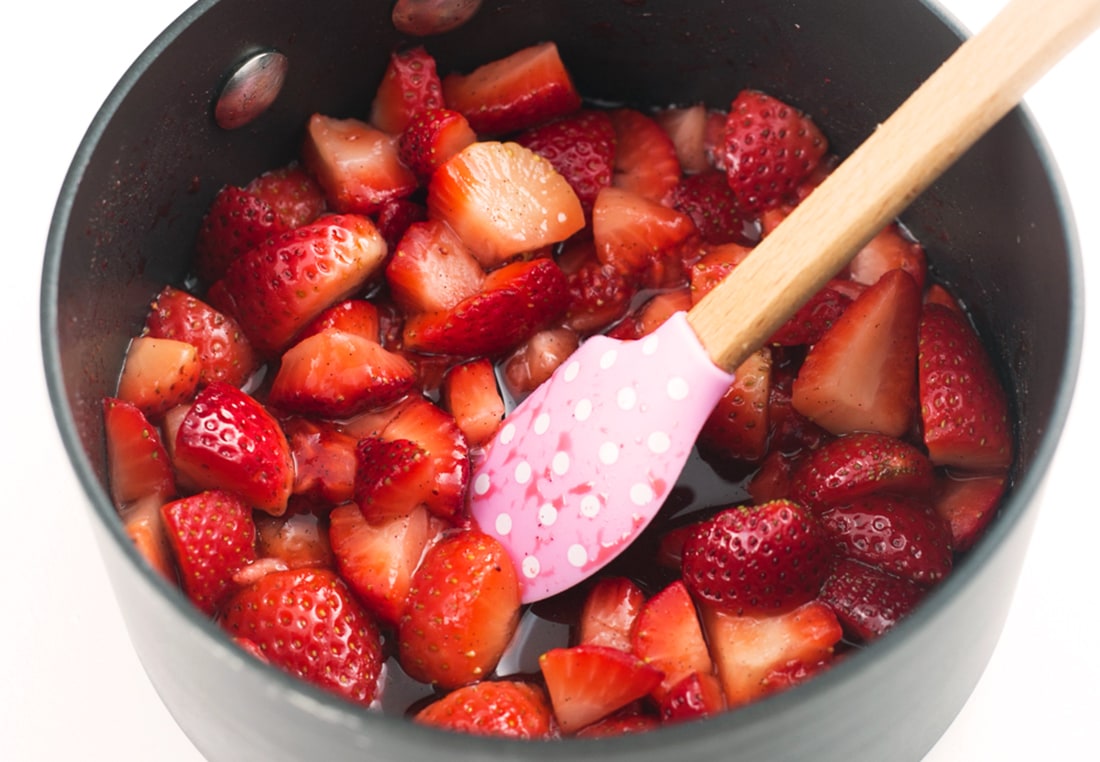 One of the main reasons I like this recipe so much is because it incorporates homemade Strawberry Chia Seed Jam instead of regular store bought, teeth shatteringly sweet jam. Don't get me wrong, I love the jarred stuff… but sometimes I hear the hundred fillings in my mouth telling me to give them a break. My simple Strawberry Chia Seed Jam also takes less than 10 minutes to make because it relies on Chia Seeds to thicken it up, which eliminates the entire process of simmering till it reaches thread stage on a sugar thermometer. Yippee. All you need to make the Strawberry Chia Seed Jam is a punnet of strawberries, a vanilla bean pod, chia seeds, and a couple tablespoons of cane sugar.
Obviously, a cookie bar ain't a cookie bar till you make some sort of cookie dough to penetrate your warm, crimson jam into. The base of these Vegan Oatmeal Cookie Bars with Homemade Strawberry Chia Seed Jam is an idiot-proof crumble mixture of Coconut Oil, Spelt Flour, Brown Sugar, Vanilla Bean and Rolled Oats. I swear, it's so f*cking  easy to prepare that even a hamster could make it without any hiccups.
FREE EBOOK SERIES! 5 SECRETS FOR FOOLPROOF VEGAN DESERTS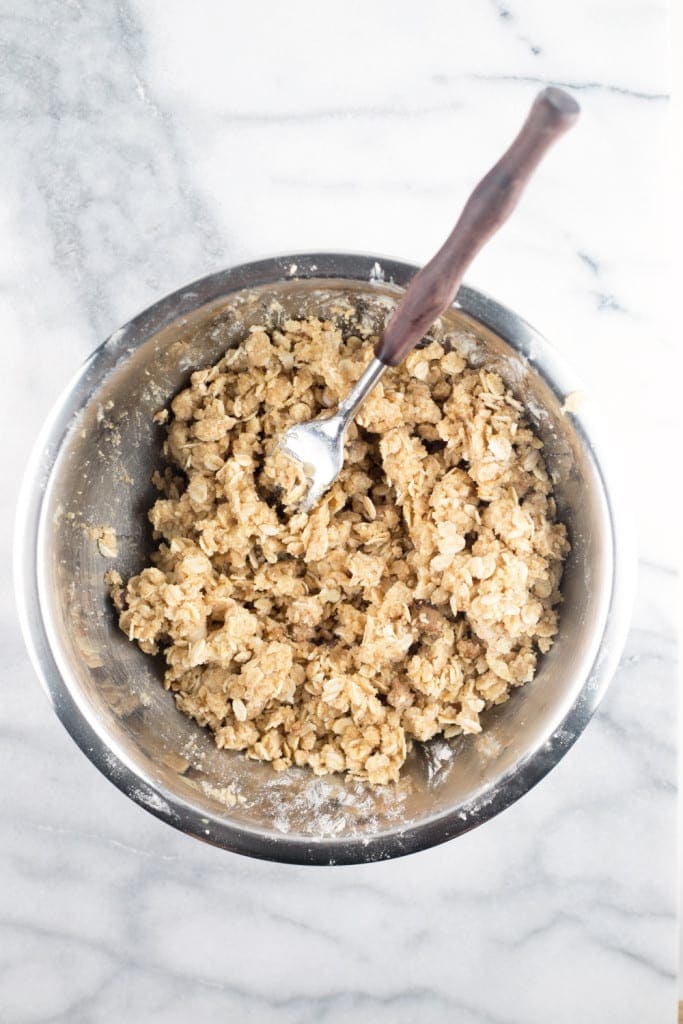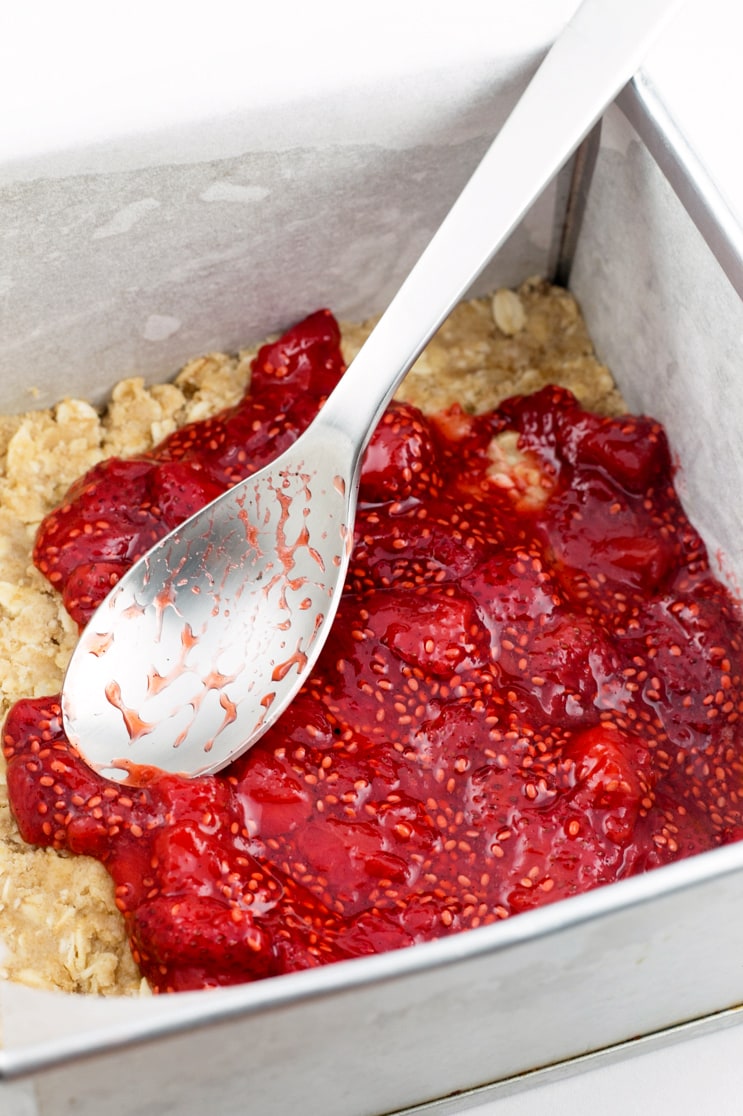 All you have to do is rub all the cookie dough ingredients for your Vegan Oatmeal Cookie Bars with Homemade Strawberry Chia Seed Jam between your fingers till it forms a moist, crumble-like texture and then pat 2/3 of the mixture down into a baking tray. Top off with your jam and then scatter the remaining cookie dough mixture on top of your jam layer. Then comes the hard part – pop your tray into the oven, and anxiously wait for impending deliciousness.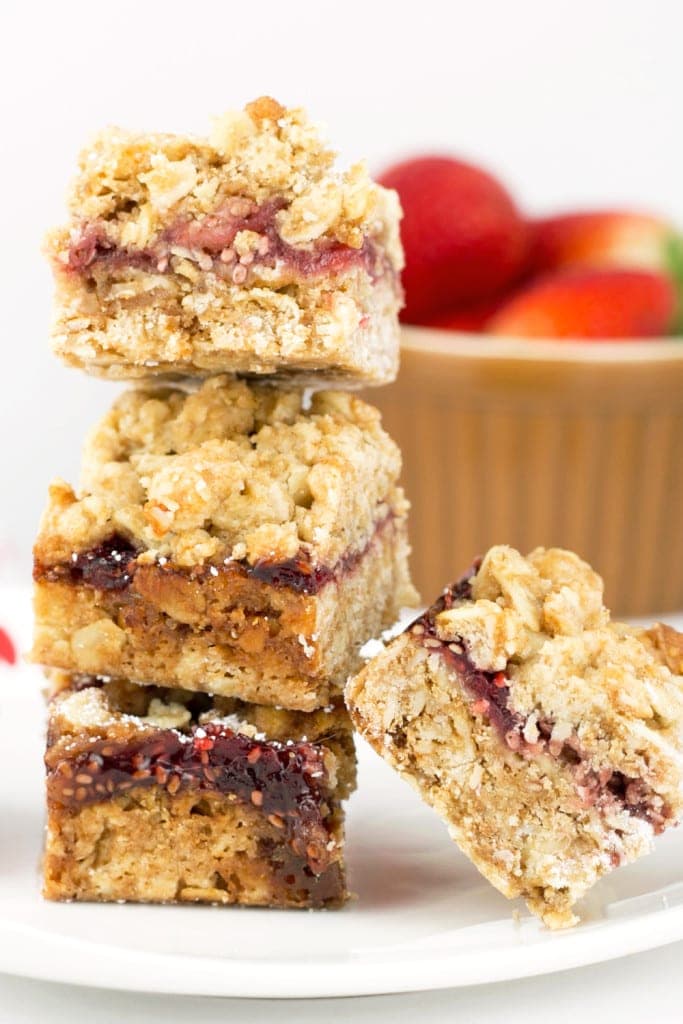 Come on – if you dare say these babies don't look yummy, I'll have to come down to your house and spank your a$$ with a ping pong paddle. Well, I'll leave you with the recipe for my Vegan Oatmeal Cookie Bars with Homemade Strawberry Chia Seed Jam. If you have half an hour to spare this week, I urge you to try them out. They travel really well and are so much better for you than store bought muesli or granola bars.  And as always, if you do try our recipes out, don't forget to hashtag your photos with #mywifemakes so that we don't miss out on them.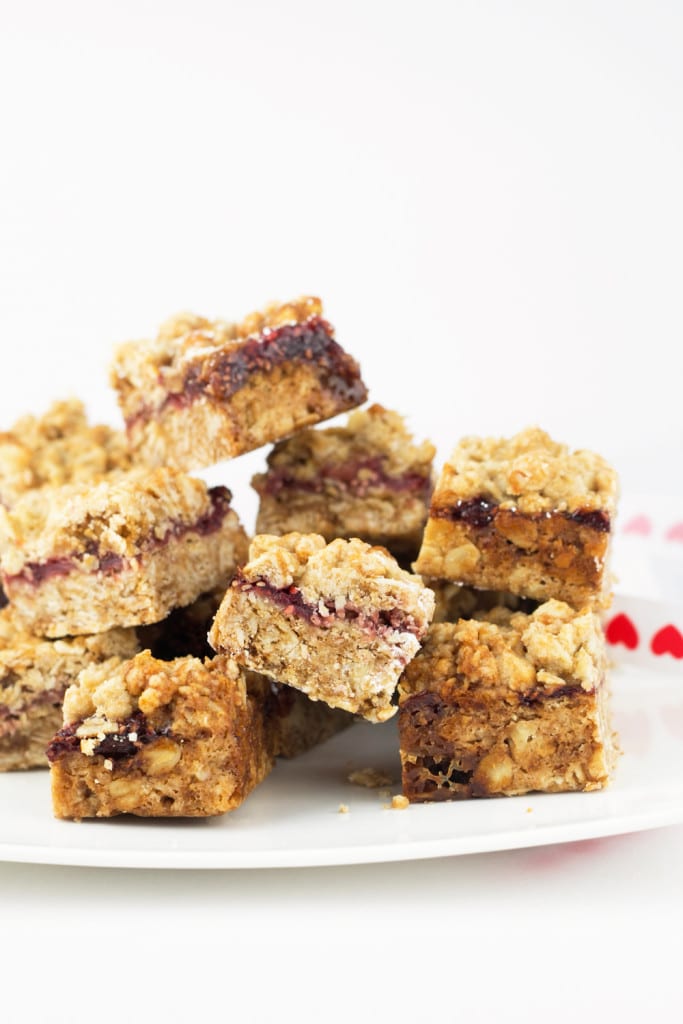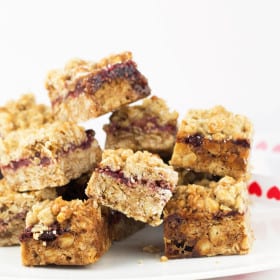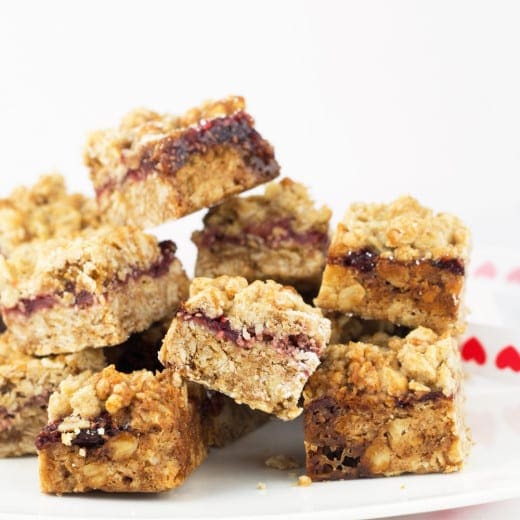 Vegan Oatmeal Cookie Bars with Homemade Strawberry Chia Seed Jam
Moist Vegan Oatmeal Cookie Bars sandwiched with homemade, refined sugar free Strawberry Chia Seed Jam.
Ingredients
Strawberry Chia Seed Jam:

3/4

cup

Chopped Strawberries

3-4

tablespoons

Cane Sugar

depending on your personal preference

Seeds of 1/2 a Vanilla Pod

1

tablespoon

Chia Seeds

Vegan Oatmeal Cookie Dough:

1

cup

Rolled Oats

1

cup

Spelt Flour

1/4

teaspoon

Sea Salt

1/4

teaspoons

Baking Soda

1/2

cup

Brown Sugar*

Seeds of 1/2 a Vanilla Pod

Scant 1/2 cup Coconut Oil

softened but not melted

1

tablespoon

Maple Syrup

1

batch Strawberry Chia Seed Jam
Instructions
Strawberry Chia Seed Jam: In a small pot, combine strawberries, sugar and vanilla beans over a low heat. Using a heat proof spatula, stir the mixture whilst pressing down slightly on the strawberries to break them down. Cook for 5-10 minutes, or until the strawberries have released their juice.

Add chia seeds into the pot and stir well. Continue cooking over low heat, whilst stirring, for another 2-3 minutes or until the jam has thickened. Transfer to a bowl to cool.

Oatmeal Cookie Dough:Preheat oven to 175 degrees Celsius. Line a 6 inch baking tin with silicone or baking paper.

In a bowl, combine Rolled Oats, Spelt Flour, Sea Salt, Baking Soda and Brown Sugar. Whisk to combine. Add softened coconut oil and vanilla pod into the mixture and start rubbing with your fingertips until you end up with a moist crumble-like mixture. Make sure to work with just your finger tips!

Add Maple Syrup to your mixture and stir to combine. The maple syrup helps act as a binding agent so that the cookie doesn't bake up crumbly.

Press 2/3 of your cookie dough into the prepared baking tin with a spoon so that it forms a nice, flat surface. Spread prepared Jam on the surface of your cookie base. Crumble the remaining third of the cookie dough over the surface of the jam and pop tin into the oven for 35-40 minutes or until the top is slightly golden.

Remove from oven and let cool thoroughly before cutting into pieces to enjoy 🙂
Notes
* You can replace the brown sugar in the cookie dough for Cane Sugar if you want a completely refined-sugar free dessert. Your cookie dough may be a little drier, but you can just add a teaspoon of water into the mixture to compensate for the moisture in regular brown sugar.