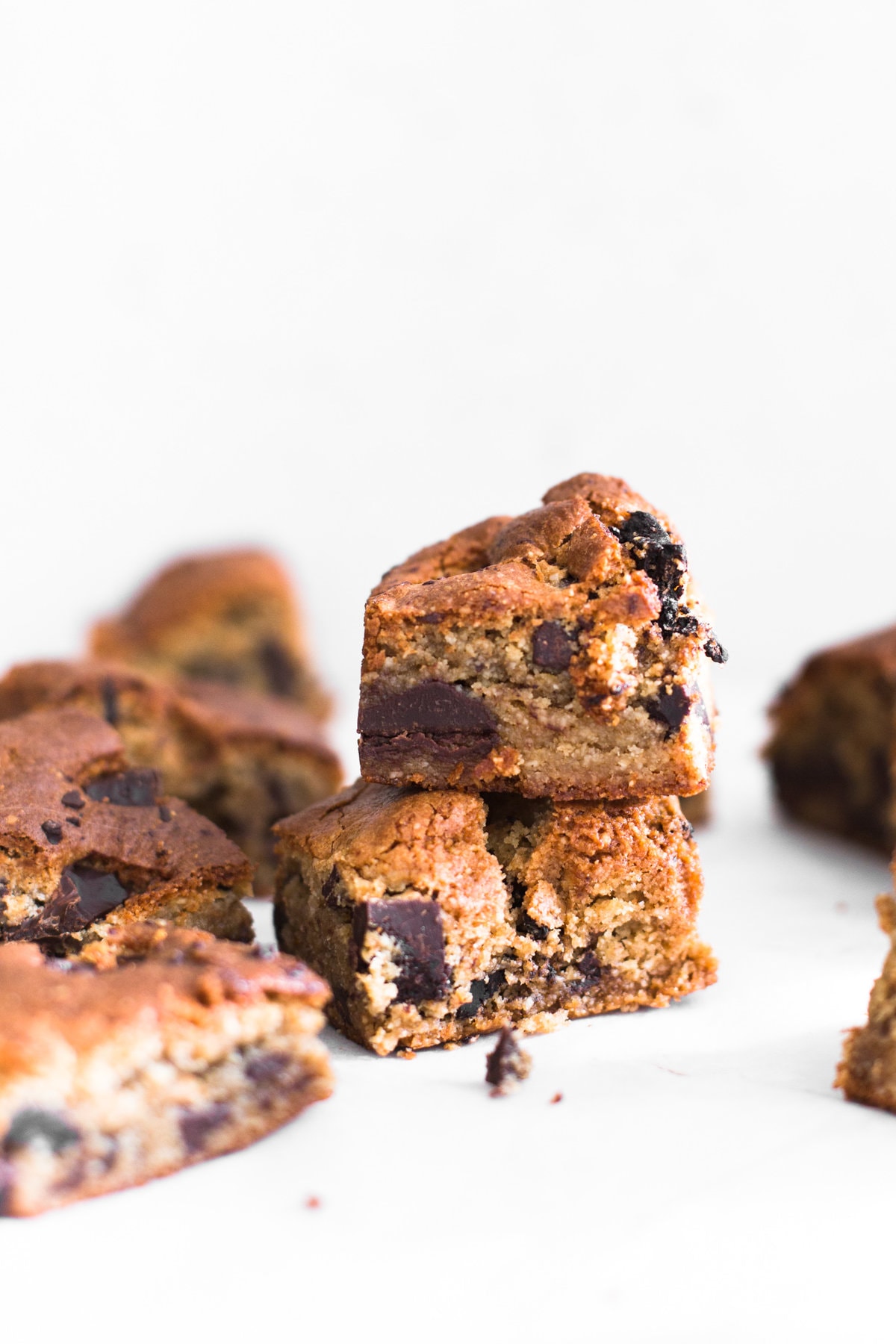 So recently I've realized that I have been baking heaps, and I'm not sure if that is the direction this blog is heading but I sure as hell know that baking is one of my fortes. Don't get me wrong, cooking is groovy as well but I don't derive as much pleasure from it for some reason. Baking is a science, cooking is…well, cooking. This week's bake are these Vegan Miso Chocolate Chip Cookie Bars. Don't knock it till you try it, bishes.
I love a good Blondie, Brownie, Bar Cookie, whatever you want to call it. I also love experimenting with different flavors, recipes and add-ins. Miso may sound like an incredibly odd addition to a dessert, but bare with me. In Japan, miso is often added to wagashi and sweets for both preservation and flavoring purposes. There's Salted Caramel, Salt in Chocolate, so why not Miso in freakin' Chocolate Chip Cookie Bars?!
WHY MISO, THOUGH?
Miso actually tastes amazing in caramels and other deeply flavored sweets. It pairs perfectly with Brown Sugar and adds a slight touch of Umami to dessert recipes. You don't actually taste the Miso in these Vegan Miso Chocolate Chip Cookie Bars, so don't worry. You're not going to end up with Miso Soup Blondies, I promise. (That's a cool idea, though).
FREE EBOOK SERIES! 5 SECRETS FOR FOOLPROOF VEGAN DESERTS
What Goes Into These Sweet n Salty Bars?
The ingredients for this cookie bar recipe are pretty healthy, which will give you an excuse to eat the ENTIRE TRAY like I did. I clearly have problems 🙂
The ingredients I use include – Almond Flour, Brown Rice Flour, White Miso, Brown Sugar, Flax Seeds and Refined Coconut Oil. 
Can I Use Dark Miso?
Ummmmm, I'd probably stick to White Miso for this recipe, but if you're crazy and totally out there, I would love to know how this recipe turns out with different varieties of Miso!
Are These Miso Chocolate Chip Cookie Bars Gluten Free?
YES YES AND YES. These Cookie Bars are 100% Gluten Free as they only require Almond Flour and Brown Rice Flour. You could even substitute the Brown Sugar for some Coconut Sugar if you're a health obsessed weird person.
Tips For Success:
Use Refined Coconut Oil so that this cookie bar recipe doesn't turn out tasting like Coconut. You don't HAVE TO, but I really love using Refined Coconut Oil because it's so versatile and neutral in flavor.
Allow your Miso Chocolate Chip Cookie Bars to cool for at least a few hours – this helps them set up and allows for neat slices.
Mix It Up – you can add some chopped Macadamias, Walnuts, Vegan White Chocolate or anything you fancy into the recipe. I used Vegan Dark Chocolate Chunks.
Freeze EM – These bars freeze really well in an air-tight box for up to a few months.
Don't Overbake – I always steer towards slightly under-baking all my bar cookies and brownies because I just love them a little fudgy in the center.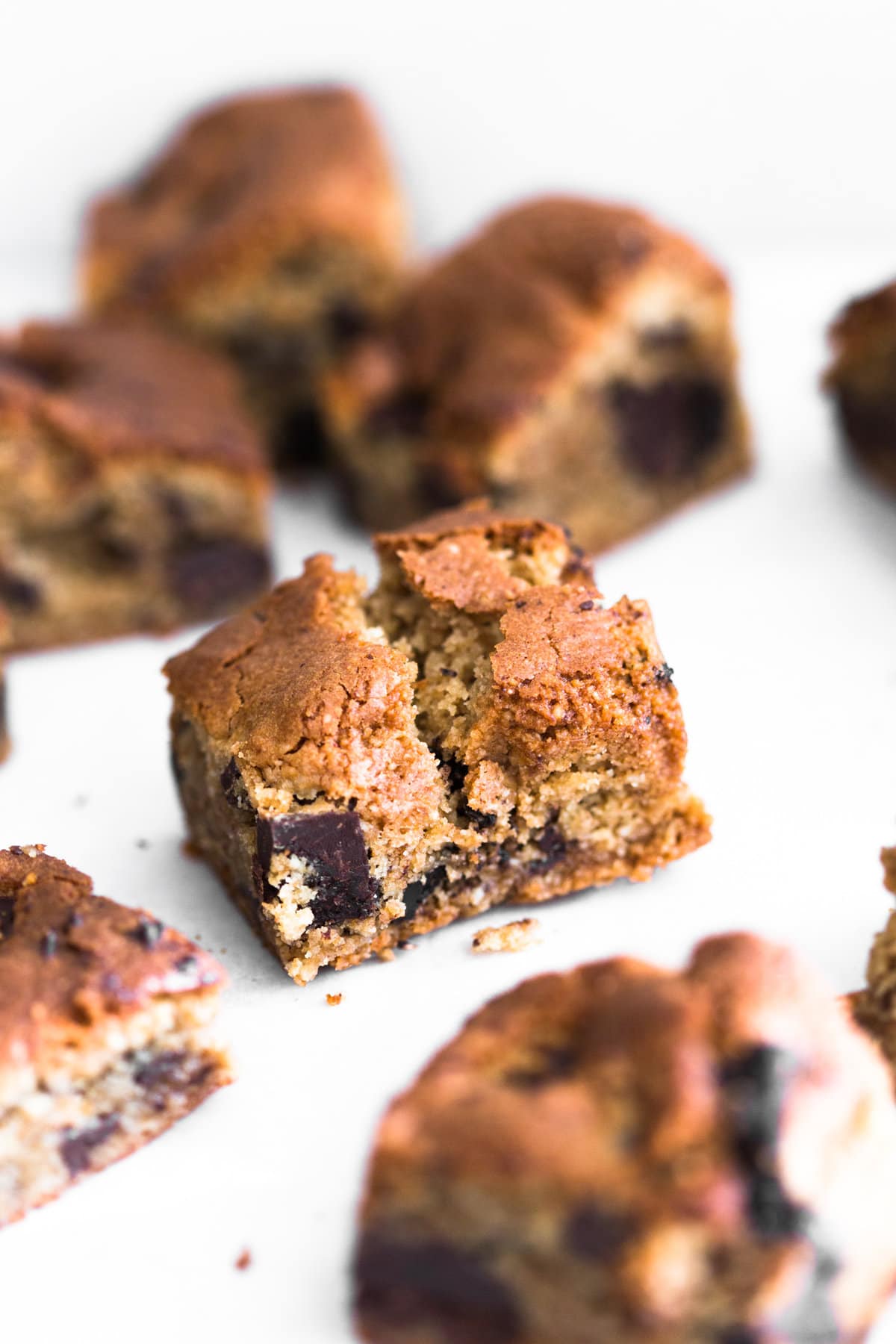 Well, I leave you with the full recipe for my Vegan Miso Chocolate Chip Cookie Bars. Don't forget to tag me on Instagram if you try this or any of my other recipes out. Please don't send me dick pics, I'll block you 🙂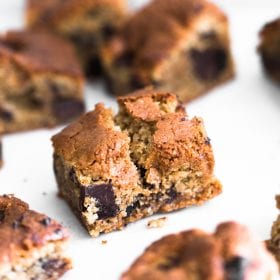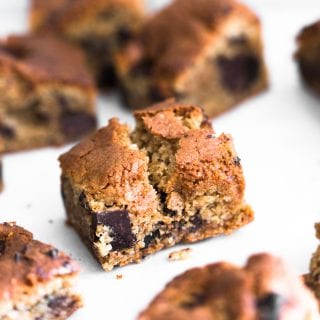 Vegan Chocolate Chip Cookie Bars
Sweet meets salty in these Vegan Miso Chocolate Chip Cookie Bars. Don't knock it till you try it! Ready in under an hour and 100% Gluten Free.
Ingredients
1

Tbsp

ground flaxseed

3

Tbsp

Non-Dairy Milk

45g

1 1/2

Tbsp

White Miso

40g

3/4

Cup

Brown Sugar

packed (160g)

1/2

Cup

Coconut Oil

melted (115g)

2

tsp

Vanilla Extract

2

Cups

almond flour

170g

1/2

Cup

brown rice flour

55g

4

tsp

Cornstarch

1

tsp

Baking Powder

1/2

tsp

Baking Soda

1

Cup

Vegan chocolate chips
Instructions
Preheat your oven to 180C/350F. Line an 8 inch square baking tin with parchment and set aside.

In a bowl, combine Flax Seed and Non-Dairy milk. Whisk and leave for 10 minutes to thicken.

Into the same bowl add your Miso, Brown Sugar, Coconut Oil and Vanilla Extract. Whisk till smooth, it may take a while to get rid of all the Miso lumps.

Sieve in your Almond Flour, Brown Rice Flour, Cornstarch, Baking Powder and Baking Soda into the wet mixture.

Using a spatula, mix until well combined. Since this recipe is Gluten Free, you don't have to worry about over-mixing.

Fold in your Vegan Chocolate Chunks.

Spread your dough into your prepared 8 inch pan and bake for 30 minutes.

Leave to cool for at least 1-2 hours before slicing.

Bars will store at room temperature in an air-tight box for up to 1 week, or in the freezer till the end of time.
Notes
TO STORE
: Leftovers can be stored in the refrigerator, covered, for up to 2 weeks.
TO FREEZE
: Place leftovers in a ziplock bag and store them in the freezer for up to 6 months. 
Nutrition
Serving:
1
serving
Calories:
274
kcal
Carbohydrates:
24
g
Protein:
5
g
Fat:
19
g
Saturated Fat:
9
g
Sodium:
167
mg
Potassium:
53
mg
Fiber:
3
g
Sugar:
14
g
Vitamin A:
17
IU
Vitamin C:
1
mg
Calcium:
79
mg
Iron:
1
mg