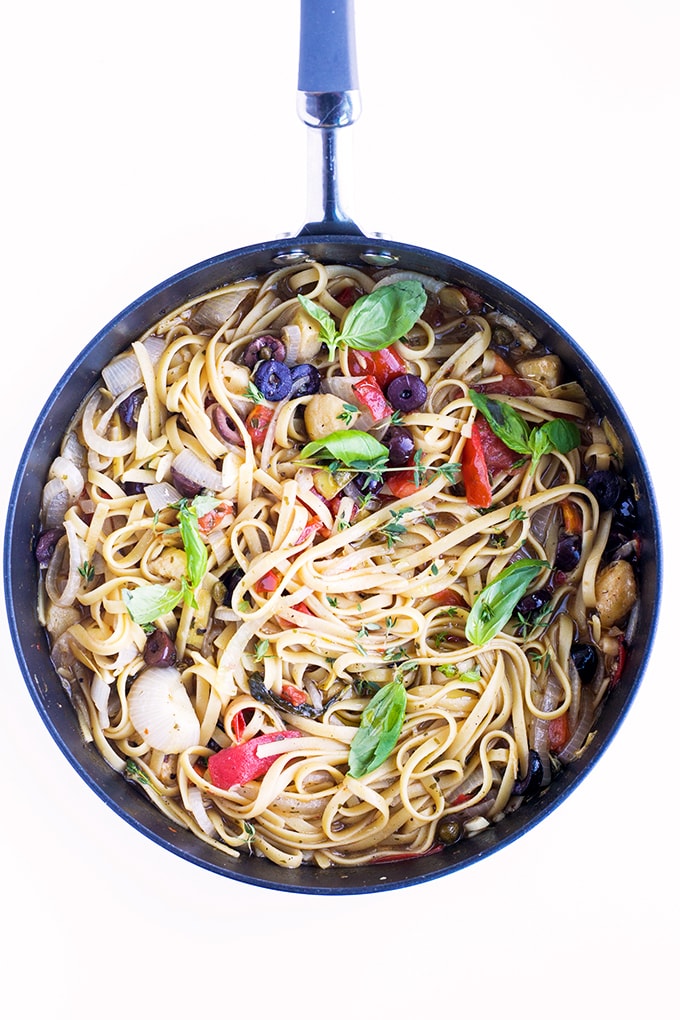 So, from what I've seen on the wonderful interweb, everyone seems to go crazy over One Pot Dishes. I mean, who doesn't fancy the idea of chucking a whole bunch of sh!t into a pot and leaving it to cook, without having to worry about washing a ton of dishes and stuff? If you're a lazy piece of crap like me, you'll love my Vegan One Pot Pasta recipe.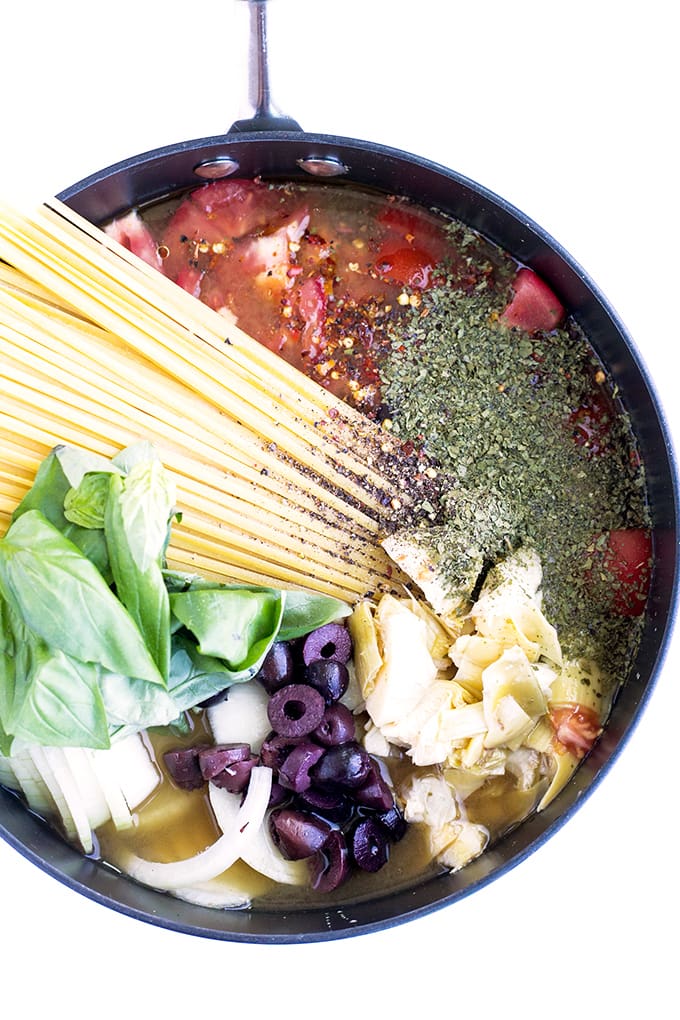 It's simple – chuck some dry pasta into a pot with whatever is lying around the kitchen or in the fridge, cover in broth, bring to a simmer and allow to cook for between 12-15 minutes or until your pasta is al dente and most of the broth has evaporated. For today's version, I have incorporated some elements of Pasta Alla Puttanesca into the recipe. Did you know Puttanesca means whore/prostitute sauce? My life really, got to keep up with my reputation.
FREE EBOOK SERIES! 5 SECRETS FOR FOOLPROOF VEGAN DESERTS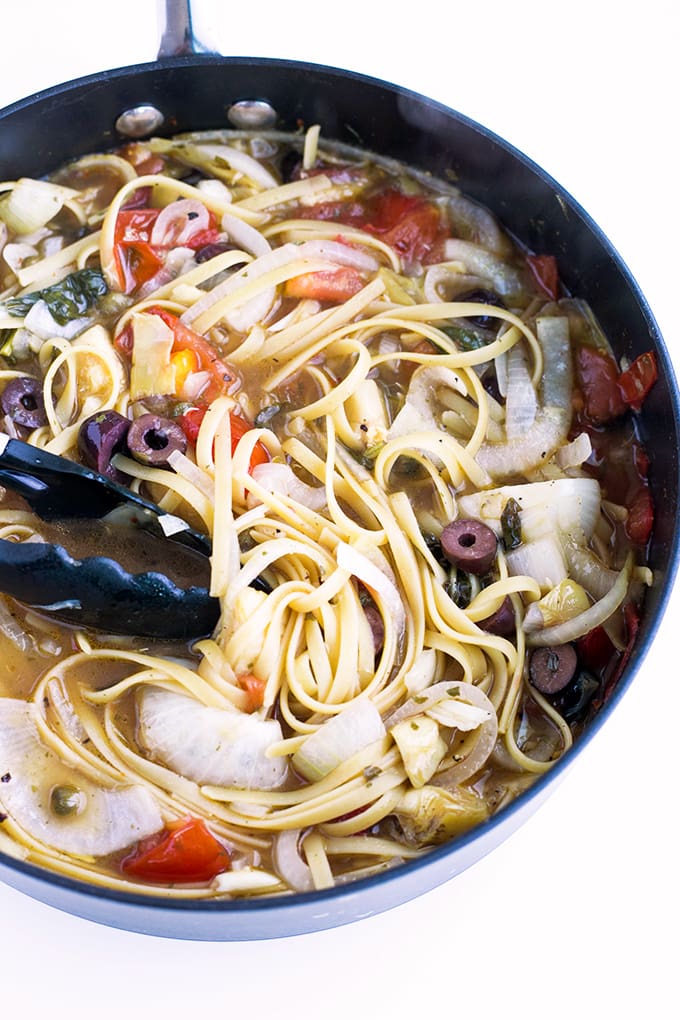 Olives, Artichokes, Capers, Onion, Garlic, Dried Parsley, Basil, Thyme, Olive Oil and Tomatoes are cooked with Linguine to create the perfect Vegan One Pot Pasta Puttanesca for lazy Kents. What is a Kent? I don't know, you tell me. It could mean a person from Kent in England or it could be…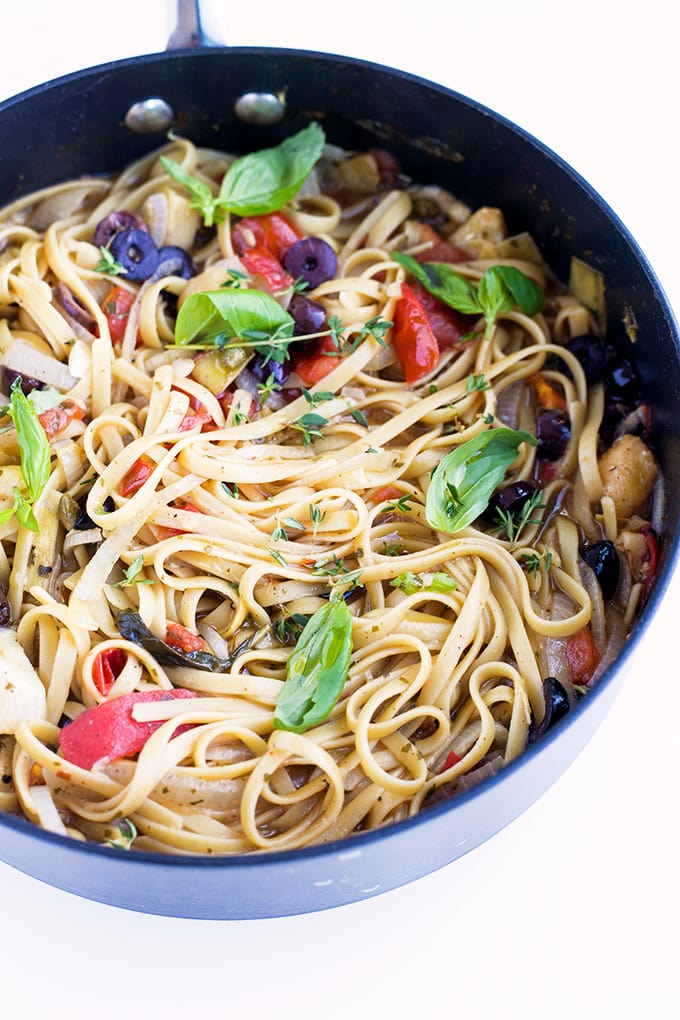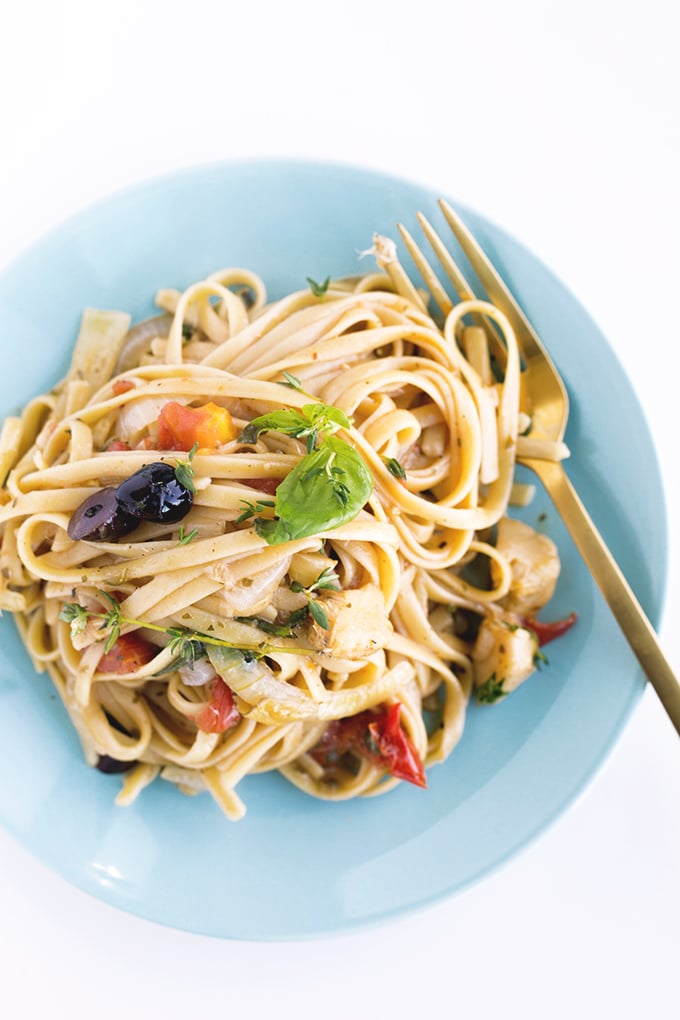 I've made this recipe with regular ol' dried pasta, but feel free to use Wholewheat, Gluten Free, or whatever the hell kind of freaking pasta you want. Cooking times may differ, but honestly this recipe is really difficult to screw up so you'll be fine. You can also throw in any ingredients you have lying around the house, since this is essentially Kitchen Sink Pasta recipe. So yeah, blah blah blah, scroll down for my Vegan One Pot Pasta Recipe. Cheeeeeeers.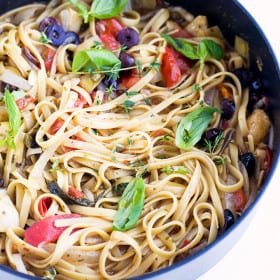 Vegan One Pot Pasta
Quick, simple and versatile Vegan One Pot Pasta - all made in one pot and ready in under 20 minutes.
Ingredients
6

oz

spaghetti

2

large

Tomatoes

diced

1

large

White Onion

sliced

2

cloves

Garlic

minced

1

tablespoon

Capers

1

tablespoon

Parsley

Dried

1

teaspoon

Red Pepper Flakes

3

sprigs

Basil

torn

4

sprigs

Thyme

de-stemmed

1/2

cup

Artichoke Hearts

chopped

1/4

cup

Black Olives

more or less, up to you

2 1/2

cups

Vegetable Broth

2

tablespoons

Olive Oil

1

teaspoon

Sugar

1

teaspoon

Salt

to taste
Instructions
Combine Linguine, Diced Tomatoes, Sliced Onion, Minced Garlic, Capers, Dried Parsley, Red-Pepper Flakes, Basil, Thyme, Artichoke and Black Olives in a pot.

Pour Vegetable Broth over ingredients and add Olive Oil and Sugar to the pot.

Bring pot to a boil over high heat. Do not cover with a lid. Reduce to a medium simmer and let cook, stirring and turning pasta frequently with tongs, until pasta is al dente and broth has nearly evaporated, about 12-14 minutes.

Season to taste with Salt and Pepper, and serve immediately.
Nutrition
Serving:
1
serving
Calories:
296
kcal
Carbohydrates:
46
g
Protein:
8
g
Fat:
9
g
Saturated Fat:
1
g
Sodium:
1618
mg
Potassium:
402
mg
Fiber:
5
g
Sugar:
8
g
Vitamin A:
1467
IU
Vitamin C:
19
mg
Calcium:
45
mg
Iron:
1
mg