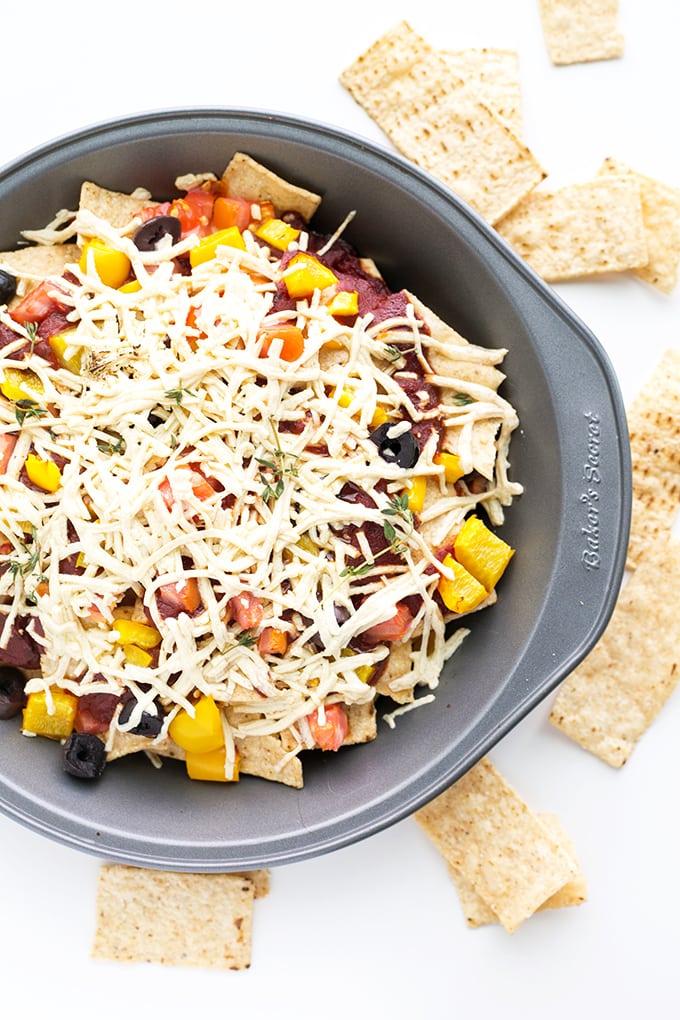 I love Pizza and Nachos more than I love most things or people in life. They are my soul mates. If it were legal, I would most definitely elope with either a Pizza or a basket of Nachos. But hey, I'm a loose and fickle minded girl – why settle for just one lover when you can have two…or three…or four? In come these Vegan Pizza Nachos.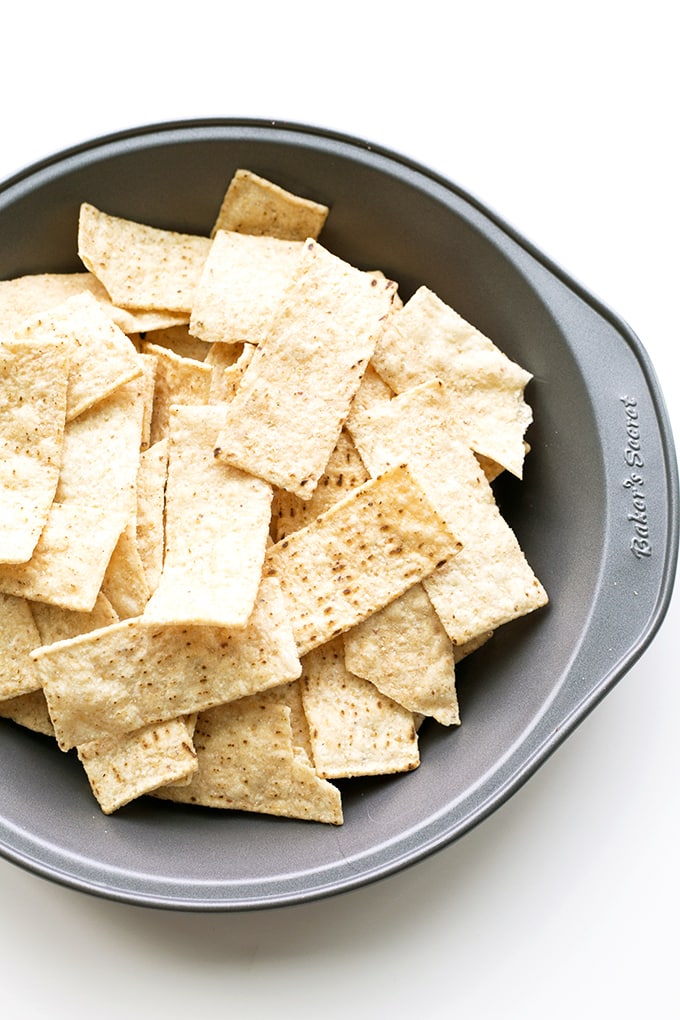 Now keeping in theme with being cheap and easy (something I personally pride myself on being too), these Pizza Nachos or Nacho Pizza, whatever you want to call it, takes barely any time and is as cheap as chips to make. Ah, chips, another fatty treat I love. But lest I digress.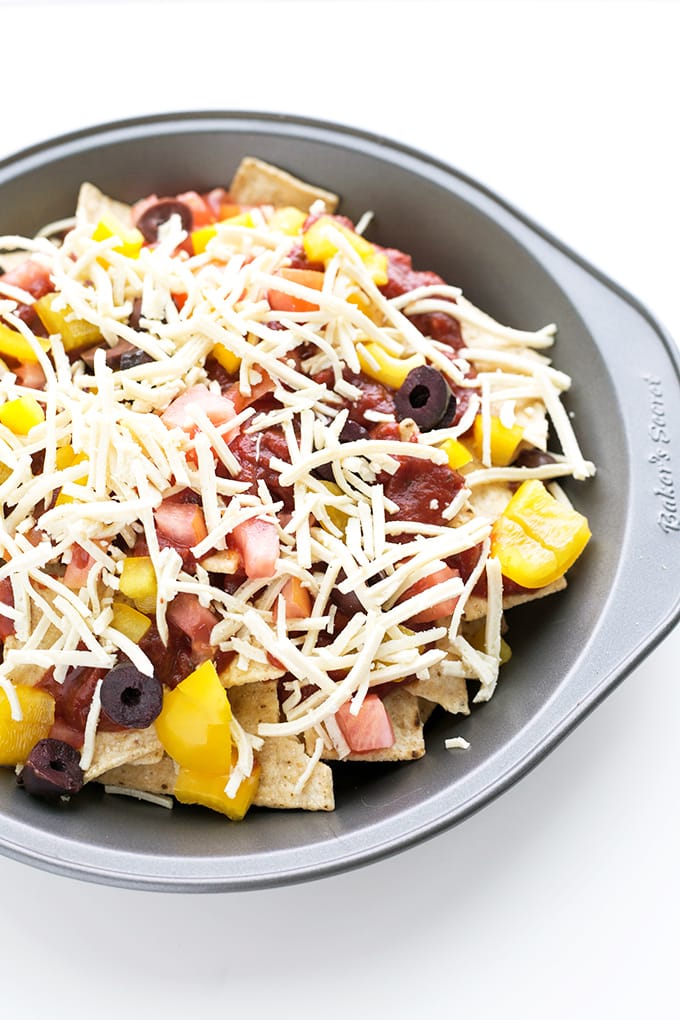 We start off with some good quality Tortilla Chips (NO DORITOS FOR FK SAKE), top it off with my homemade Pizza Sauce, scatter with Olives, Chopped Tomato, Yellow Bell Pepper and finally we scatter this bitch with some Daiya Mozzarella Shreds. Obviously you are not limited to using just these ingredients, so feel free to add any of your favourite Pizza toppings on these Vegan Nachos as well. I'm all minimalist and sh!t so I've stuck to just a few ingredients… also, I am a lazy pig. So it all works out for me.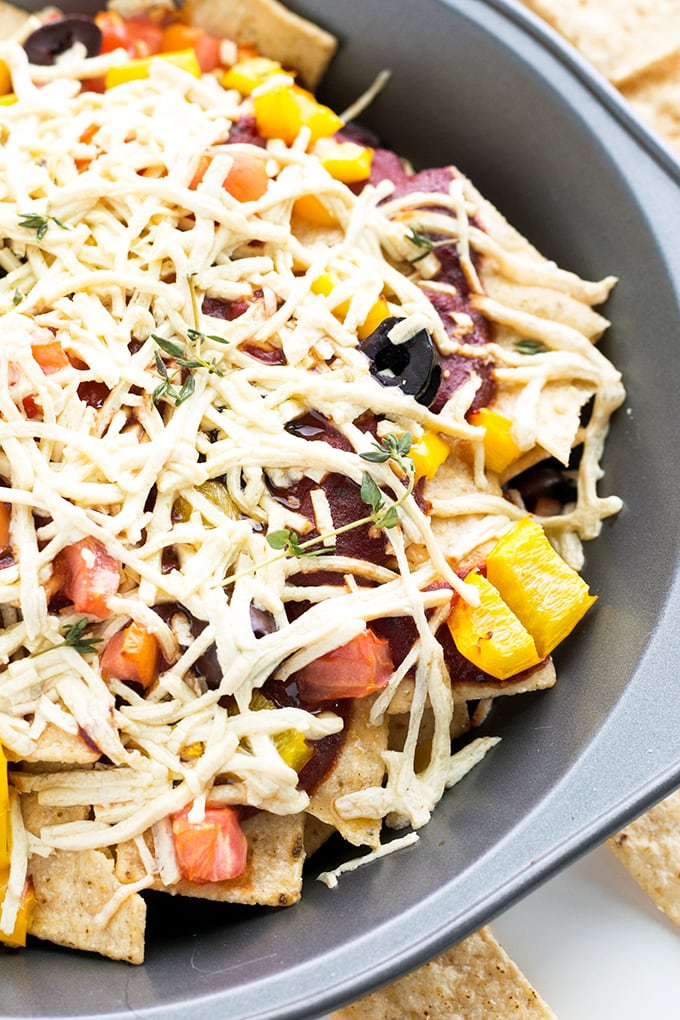 Once this little confused Nacho Pizza bitch is baked in the oven for about 20 minutes, you're rewarded with a warm, gooey, delicious appetizer (or dinner) that you can but should not share with your friends and family. As I have mentioned, I use Daiya Mozzarella Shreds for this recipe because I just freaking love Daiya (no, they did not pay me to say this), but you're more than welcome to use any sort of Vegan Mozzarella you can get your hands on. (Psst: If you're in Melbourne, you can find Daiya at Prahran Convenience Store on Commercial Road). So, yadda yadda blah blah bala blah as usual, scroll down to get my Vegan Pizza Nachos recipe! Cheers.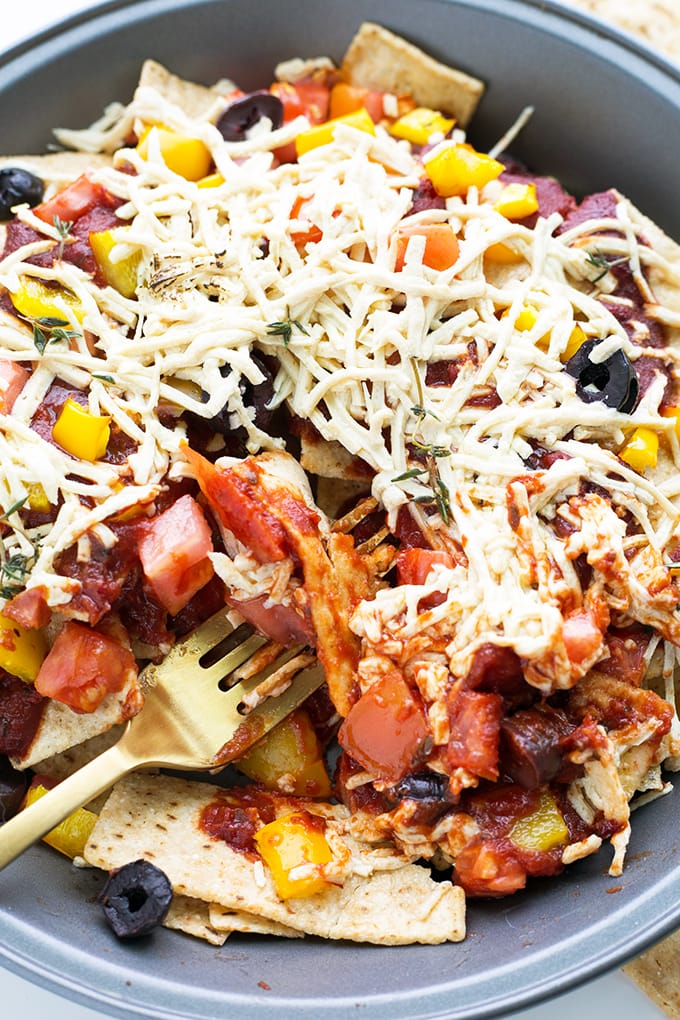 Crazy Vegan Kitchen
Serves 2
Vegan Pizza Nachos
Pizza Toppings and Tortilla Crisps, baked to perfection.
30 minPrep Time
15 minCook Time
45 minTotal Time
Ingredients
7 oz Bag of White Tortilla Chips (200 grams)
1/2 recipe of Simple Tomato Sauce


1/2 cup Black Olives, chopped
1 Yellow Bell Pepper, diced
1 medium Roma Tomato, diced
4 oz Vegan Mozzarella Shreds (100 - 120 grams)


1 Tablespoon Olive Oil
A few sprigs of Thyme, to garnish
Instructions
Preheat oven to 180 degrees Celsius. In a Pie Tin or any rimmed baking dish, scatter Tortilla Chips in a single layer on the bottom of the baking vessel.
Drizzle Simple Tomato Sauce all over the top of the Tortilla Chips. Once chips are covered, top with Black Olives, Bell Pepper, Tomato and then finally sprinkle the entire surface with Vegan Mozzarella Shreds. It's just like making a pizza, mates. Simple as hell.
Pop dish into preheated oven for 15-25 minutes, or until cheese is melted and nachos are toasty and warm.
Remove from oven and drizzle with 1 Tablespoon Olive Oil. Sprinkle with a few thyme leaves and ENJOY.
7.8.1.2
85
https://www.crazyvegankitchen.com/vegan-pizza-nachos/