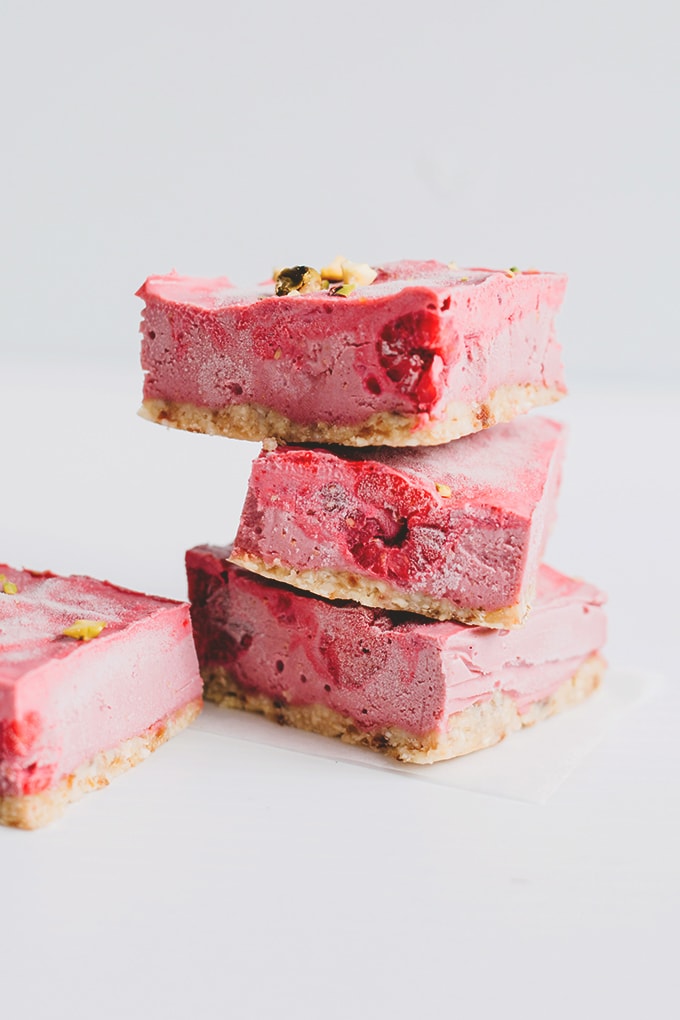 Aloha everyone, I'm back with yet another nommy Vegan recipe for you guys. This time round, I'm sharing my recipe for these kick ass Vegan Raspberry Cheesecake Bars that'll blow your mind and other bits of your body too. Since these delicious Vegan Raspberry Cheesecake Bars are all pink and shyt, they are conveniently just in time for Valentine's Day as well. If you have a partner, you should definitely make this recipe for them. If you don't have a partner, let this recipe be your Valentine. Food > Love.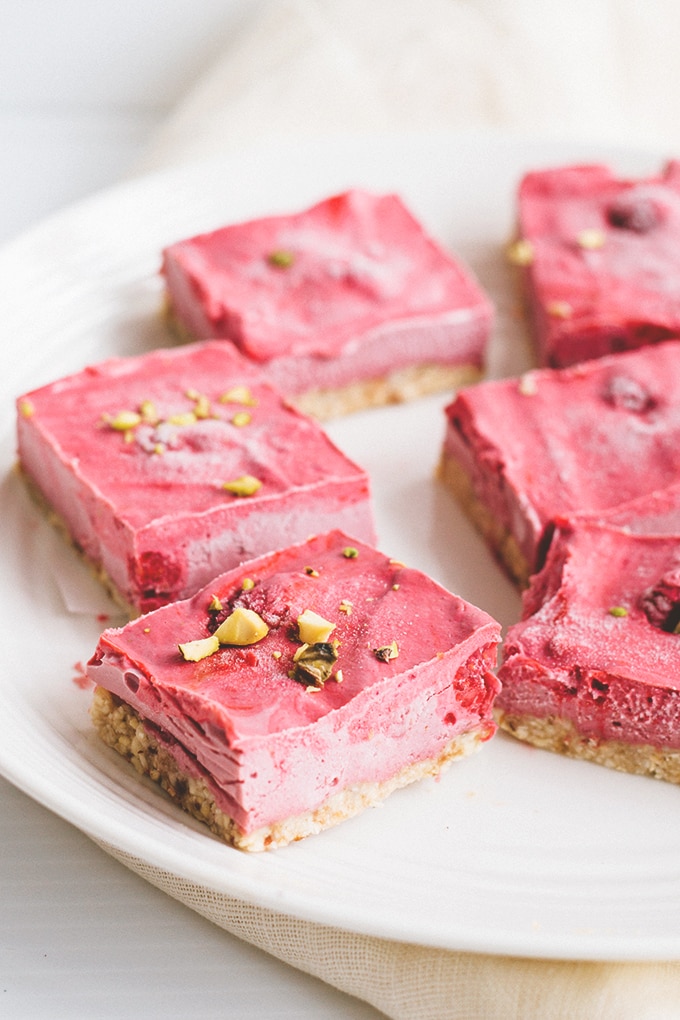 These Vegan Raspberry Cheesecake Bars are Raw, Vegan and come together in under 20 minutes, similar to how long most men take in the bedroom. Jajaja. Anyway, onto how I made them. The base is a simple mixture of Raw Cashews, Dates, Maple Syrup and Coconut Oil. Everything goes into a food processor until you end up with a nice crumb base, and is then patted down into a regular 9×5 inch loaf tin that has been pre-lined with cling wrap. The Raspberry filling is just as easy, comprising of Raw Cashews, Maple Syrup, Coconut Oil, Lemon Juice, Sea Salt and Raspberries. Once everything is blended in a high powered blender, I pour 2/3 of the filling onto the prepared crust, and then blend the remaining cheesecake mixture with an extra 1/4 cup of Raspberries to create an extra fruity marble swirl throughout these Vegan Raspberry Cheesecake Bars.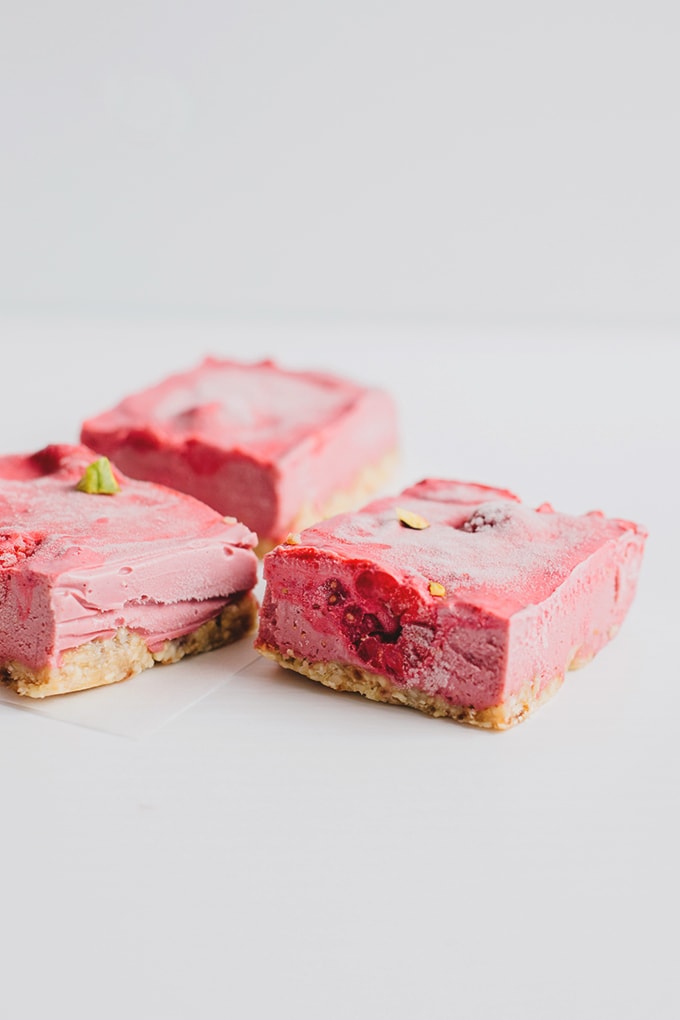 Once all of that is done, into the freezer goes your tin and all that's left to do is wait. After 5-7 hours, once the bars have gotten hard (haha giggle), all you've gotta do is slice them up and serve them with a sprinkling of jade green Pistachio nuts. These delicious Vegan Raspberry Cheesecake Bars store so well in an air tight box in the freezer, and can be enjoyed just after a quick 10 minute thaw on the counter. Scroll down for the full recipe and please your belly this Valentine's Day!
FREE EBOOK SERIES! 5 SECRETS FOR FOOLPROOF VEGAN DESERTS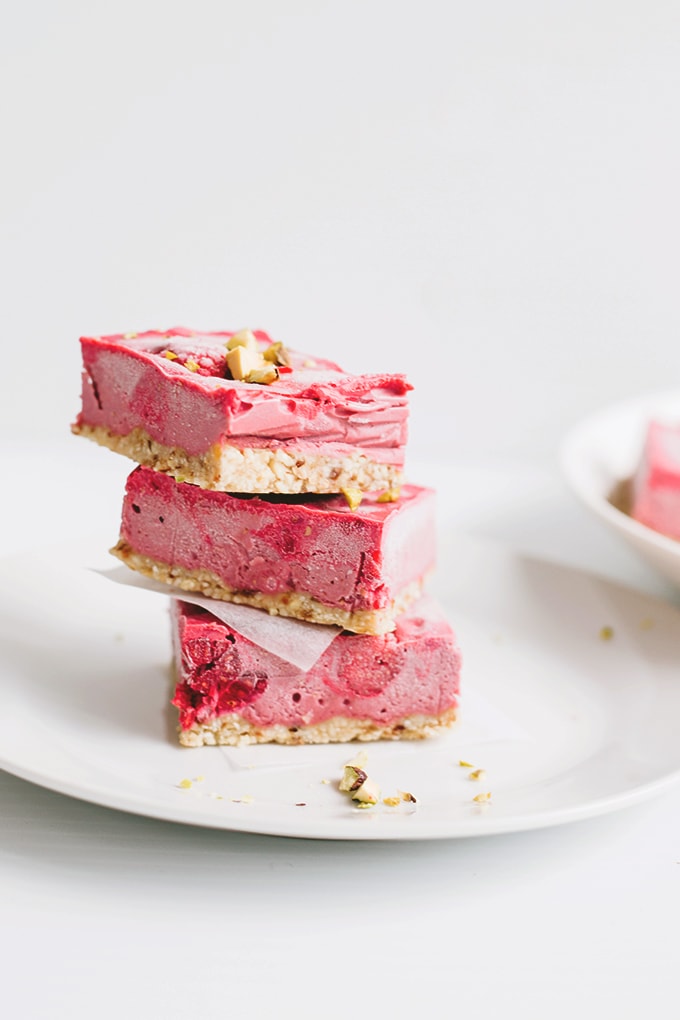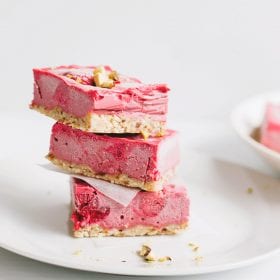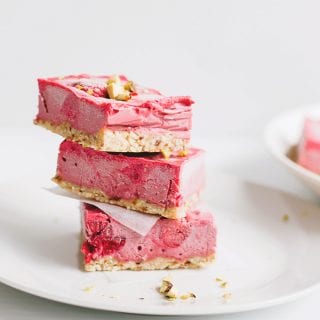 Vegan Raspberry Cheesecake Bars
Delicious Raw Vegan Raspberry Cheesecake Bars. Healthy, Delicious and Simple To Make.
Ingredients
For The Cheesecake Filling:
1

cup

Cashews

Raw

5

tablespoons

Maple Syrup

3

tablespoons

Coconut Oil

1/2

Lemon

juiced

1

teaspoon

Sea Salt

1/2

cup

Raspberries

1

tablespoon

Water
For Marble Swirl:
1/4

cup

Raspberries

1/2

tablespoon

Coconut Oil
Instructions
To prepare the crust, line a 9x5 inch loaf tin with cling wrap and set aside. In a food processor, process Cashews, Oats, Salt and Dates until they resemble fine biscuit crumbs.

Add the Maple Syrup to the mixture and pulse until you achieve a moist crumb. Pat mixture evenly into the base of your prepared tin and set aside.

To prepare cheesecake filling, combine all ingredients in a high powered blender and blend till smooth.

Pour 2/3 of the cheesecake mixture evenly onto the prepared base.

To make marble swirl, blend the remaining 1/3 of the cheesecake mixture with the 1/4 cup raspberries and 1/2 a tablespoon of Coconut Oil.

Once blended, marble into cheesecake mixture and then leave the tin in the freezer for 5-8 hours or until frozen solid.

To serve, pop cheesecake out of the tin by pulling at the cling wrap, and slice whilst still solid/frozen.

Let pieces thaw for 10 minutes before serving.

Leftovers can be stored in an air tight box in the freezer for up to 3 months.
Nutrition
Serving:
1
serving
Calories:
171
kcal
Carbohydrates:
17
g
Protein:
3
g
Fat:
11
g
Saturated Fat:
5
g
Sodium:
391
mg
Potassium:
178
mg
Fiber:
2
g
Sugar:
10
g
Vitamin A:
9
IU
Vitamin C:
4
mg
Calcium:
23
mg
Iron:
1
mg