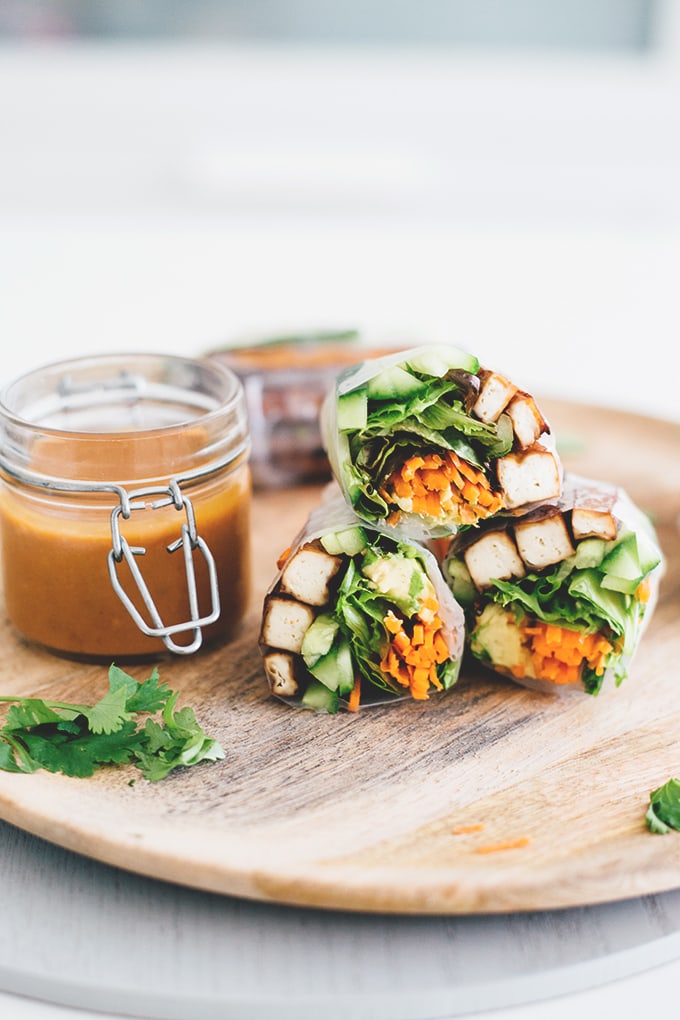 Whilst the rest of the world is heating up, in Australia, we are soaking up the last bit of Sunshine as our Summer comes to an end. Now, Melbourne has had a pretty fkn bullsh!t Summer this year, with most days seeing a Bipolar change in temperature from day to night. Those of you in the rest of the world, consider yourself lucky – I'll be freezing my jiggly ass off over the next six months. Thankfully, the last few days of Summer here have been absolutely blazing, and a perfect time for me to make these Vegan Teriyaki Tofu Summer Rolls with Spicy Peanut Dipping Sauce.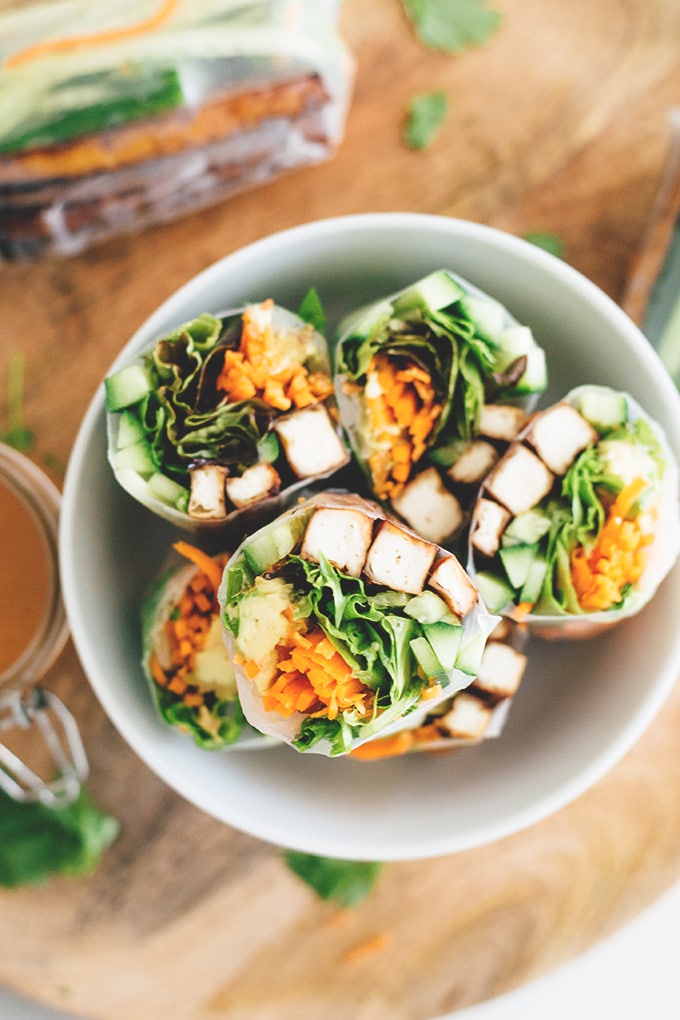 Now, let's be real here. I enjoy making Summer Rolls/Spring Rolls/Rice Paper Rolls – whatever you may call it – any time of the year. Why? Because I'm a lazy ass that's why! Most Asian Summer Roll recipes require minimal amounts of cooking – if any at all. These Vegan Teriyaki Tofu Summer Rolls do require you to turn the oven on for a bit – but it's totally worth it! Extra Firm Tofu Slices are marinated in a mixture of Tamari, Maple Syrup, Sesame Oil, Garlic, Cornstarch and Rice Vinegar. Once your Tofu has soaked all these punchy flavours up, into the oven it goes to crisp up – and there you have it…Teriyaki Tofu. (Use this sh!t for Salads, Sushi or Buddha Bowls too!).
If you haven't worked with Rice Paper before, don't worry. It's so easy – almost as easy as it is to rile Donald Trump up and send him on a Twitter attack. All you have to do is soften purchased Rice Paper in water for a few seconds and hey presto, it's ready to use! Aside from Teriyaki Tofu, I fill these Vegan Summer Rolls with a simple mixture of fresh veggies – Carrot, Cucumber, Cilantro, Avocado and Mixed Salad Leaves.
FREE EBOOK SERIES! 5 SECRETS FOR FOOLPROOF VEGAN DESERTS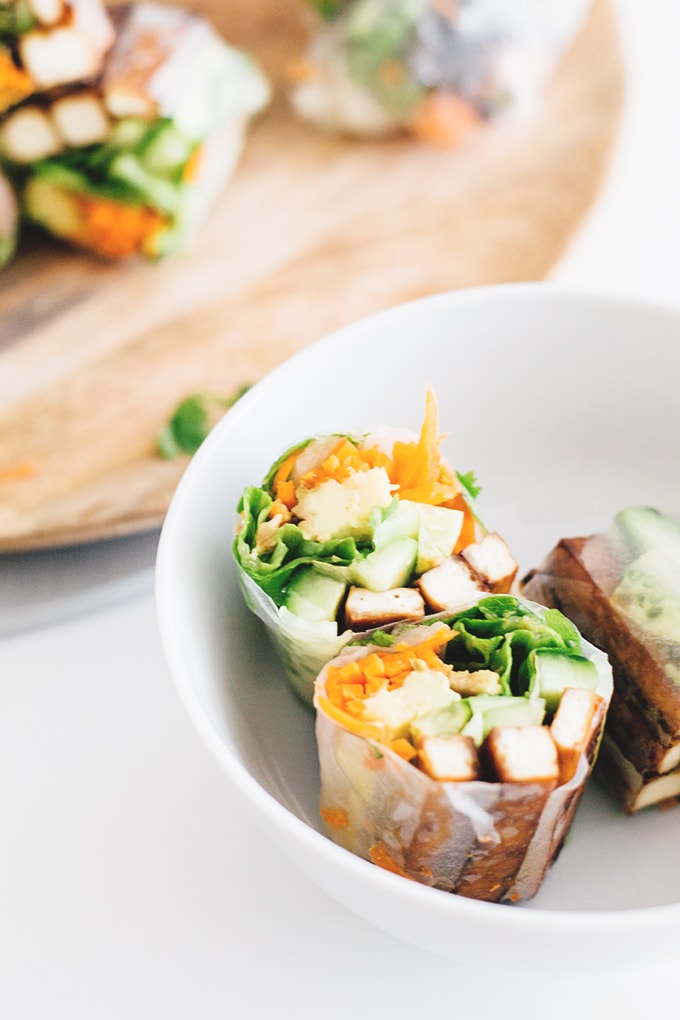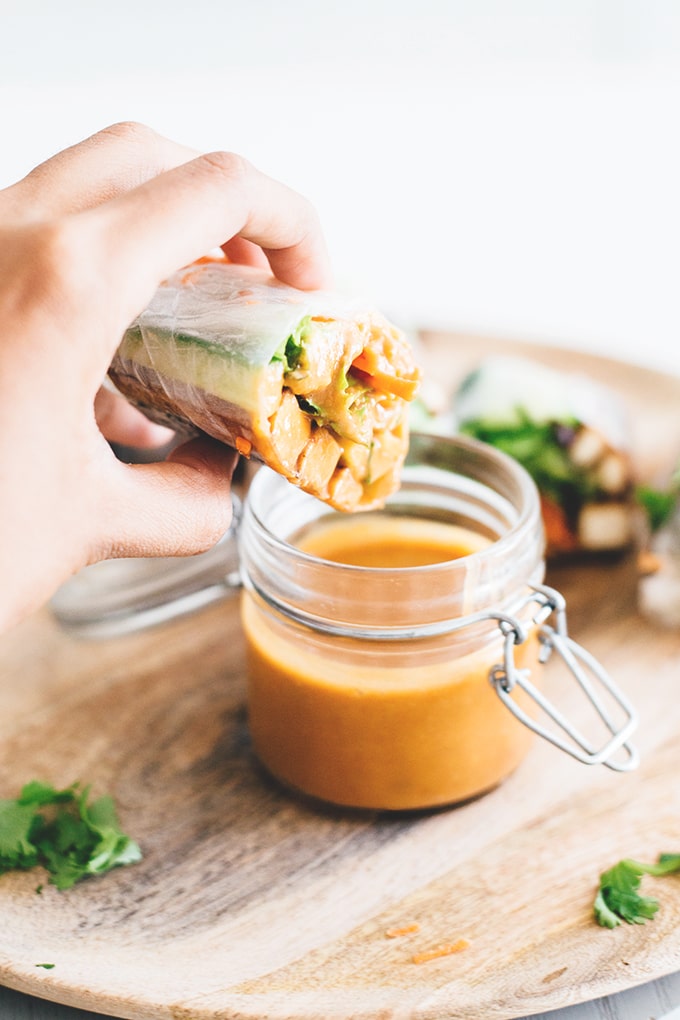 And now, last but not least, the Spicy Peanut Dipping Sauce. This is yet another fool-proof recipe – Peanut Butter, Sriracha, Brown Sugar, Sesame Oil and Tamari go into a bowl. Whisk the bastards together and there you have it – the perfect accompaniment to your Teriyaki Tofu Summer Rolls. Need I say more? These Summer Rolls are Low In Fat, Gluten Free, Vegan, Easy To Make, Low Carb, Stodge-Free and Hell Delicious! Scroll down to grab the full recipe and seeya next time!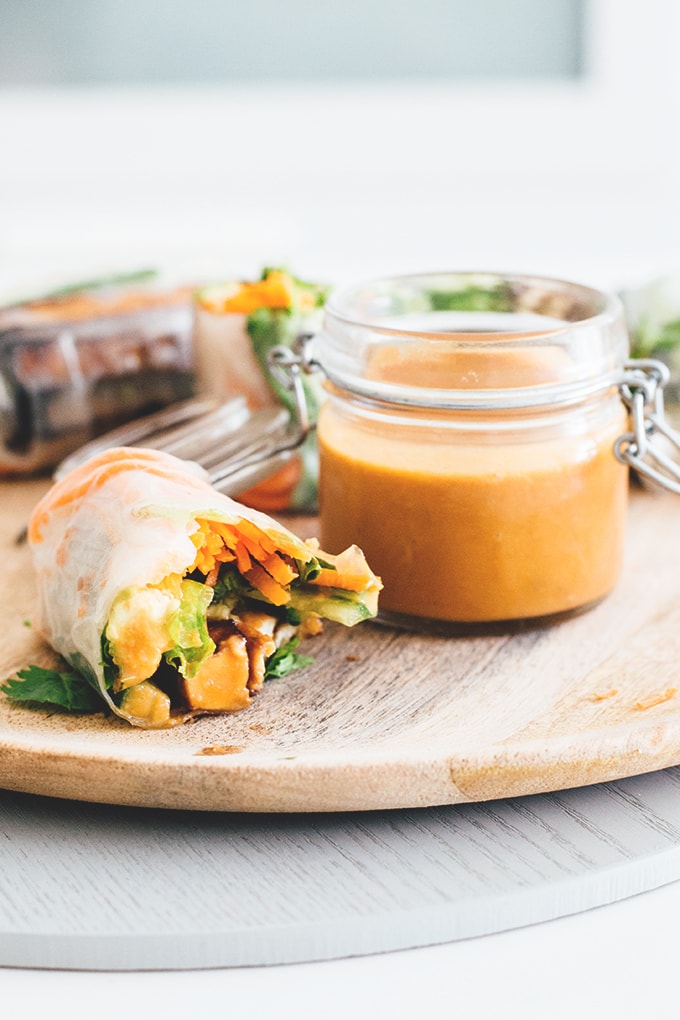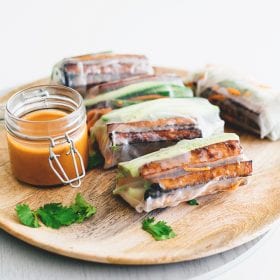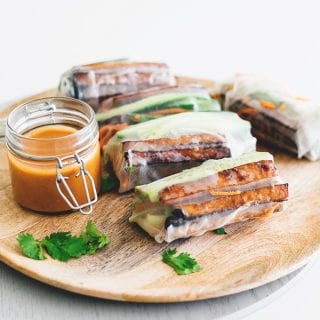 Vegan Summer Rolls
Vegan Teriyaki Tofu Summer Rolls - a healthy, light and low carb Asian inspired dish. Rice Paper Rolls with Teriyaki Baked Tofu, Fresh Veggies and a Spicy Peanut Dipping Sauce.
Ingredients
For Rolls:
5

sheets

Rice Paper

1/2

Cucumber

cut into strips

1

small

Carrot

Julienned

1/2

Avocado

cut into strips

1

cup

Mixed Salad Leaves

1

handful

Cilantro

torn into small pieces
For Spicy Peanut Dipping Sauce:
1 1/2

tablespoons

Peanut Butter

2 1/2

teaspoons

Tamari

1

teaspoon

Sriracha

1/2

teaspoon

Sesame Oil

1 1/2

teaspoons

Brown Sugar

2 1/2

tablespoons

Hot Water
Instructions
Preheat oven to 175 degrees celsius and line with non-stick baking paper. In a shallow dish, combine all ingredients for Tofu marinade - Tamari, Sesame Oil, Maple Syrup, Garlic , Rice Vinegar and Cornstarch. Whisk to combine.

Place Tofu slices in marinade and make sure to cover all sides of the Tofu with the marinade. Leave to sit and soak for 15 minutes or up to an hour if you have time. The longer it sits, the more flavorful the Tofu will be.

Once marinated, drain Tofu of excess marinade and place Tofu strips on prepared baking sheet.

Bake for 15-25 minutes, or until Tofu has crisped up.

Once your Teriyaki Tofu is ready, remove from oven and leave to one side to cool.

To prepare your Summer Rolls, soften a piece of Rice Paper in warm to hot water until softened.

Lay a few pieces of Tofu onto the middl of the roll, followed by Cucumber, Carrot, Avocado, Cilantro and Mixed Salad Leaves. Roll, spring roll style and then repeat with remaining sheets of Rice Paper.

Once all your rolls are prepared, prepare Spicy Peanut Dipping Sauce by combining all ingredients in a bowl and whisking till smooth.

Rice Paper Rolls are best served fresh - I don't advice refrigerating them for too long as the Rice Paper can go hard in the fridge.
Nutrition
Serving:
1
serving
Calories:
147
kcal
Carbohydrates:
16
g
Protein:
6
g
Fat:
7
g
Saturated Fat:
1
g
Cholesterol:
1
mg
Sodium:
770
mg
Potassium:
270
mg
Fiber:
2
g
Sugar:
6
g
Vitamin A:
1482
IU
Vitamin C:
4
mg
Calcium:
35
mg
Iron:
1
mg