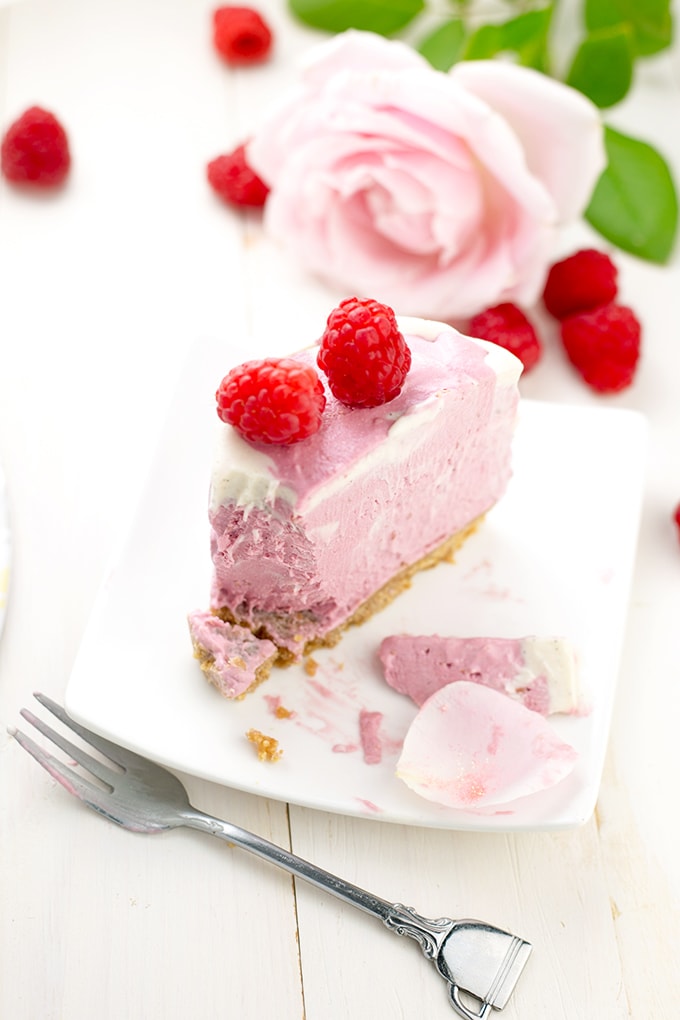 Valentine's Day is right 'round the corner, yadda yadda yadda. To those of you who are sane enough to have a date this year, you'll know how daunting it can be to look for a nice gift for your loved one. I'm personally a complete cheapskate, so I usually stick to baking cakes and such on Valentine's Day. With that said, I have never ever had a Valentine, so I usually just sit at the table with my cake and weep myself to sleep. That's what will be happening with this year with my Vegan Raspberry White Chocolate Cake.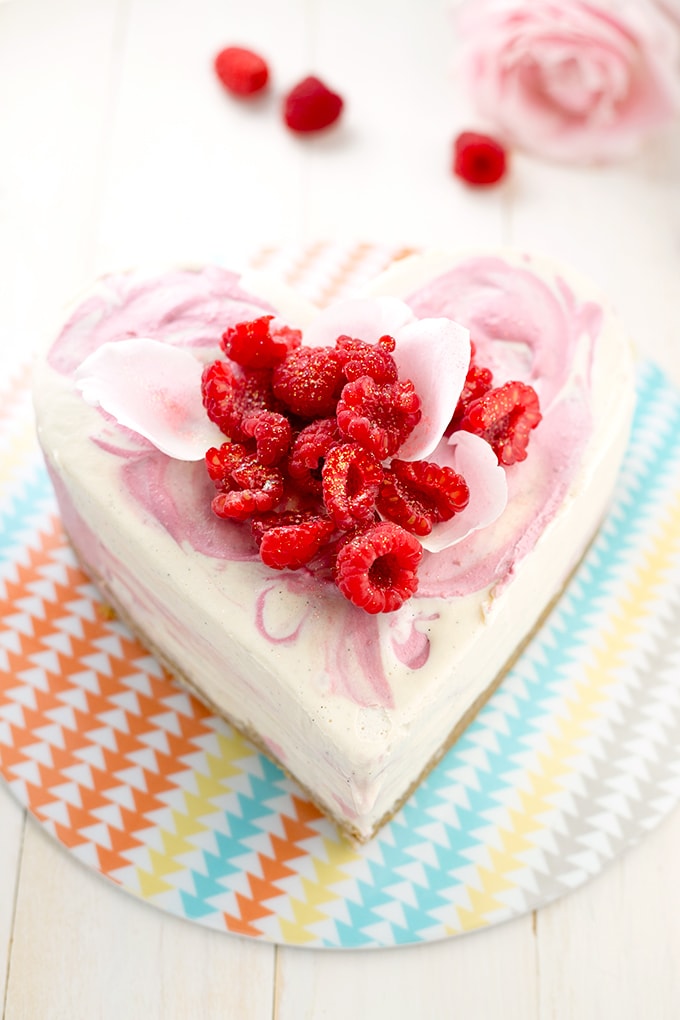 This Vegan Raspberry White Chocolate Cake is a cross between Ice Cream, a Cheesecake and a tummy full of joy. I don't know what it is really, similar to how I don't know what life is all about either. I'll try to explain it as best as I can. It starts off with a simply Digestive Biscuit/Vegan Butter Crust, and the filling is a cheesecake-type mixture of Cashews, Vegan Cream Cheese, Raspberries, Vanilla Bean, Maple Syrup, Coconut Oil and Cacao Butter. Half of a base mixture for this Vegan Raspberry White Chocolate Cake is blended with Raspberries, whilst the other half gets some Cacao Butter and Vanilla Bean stirred in.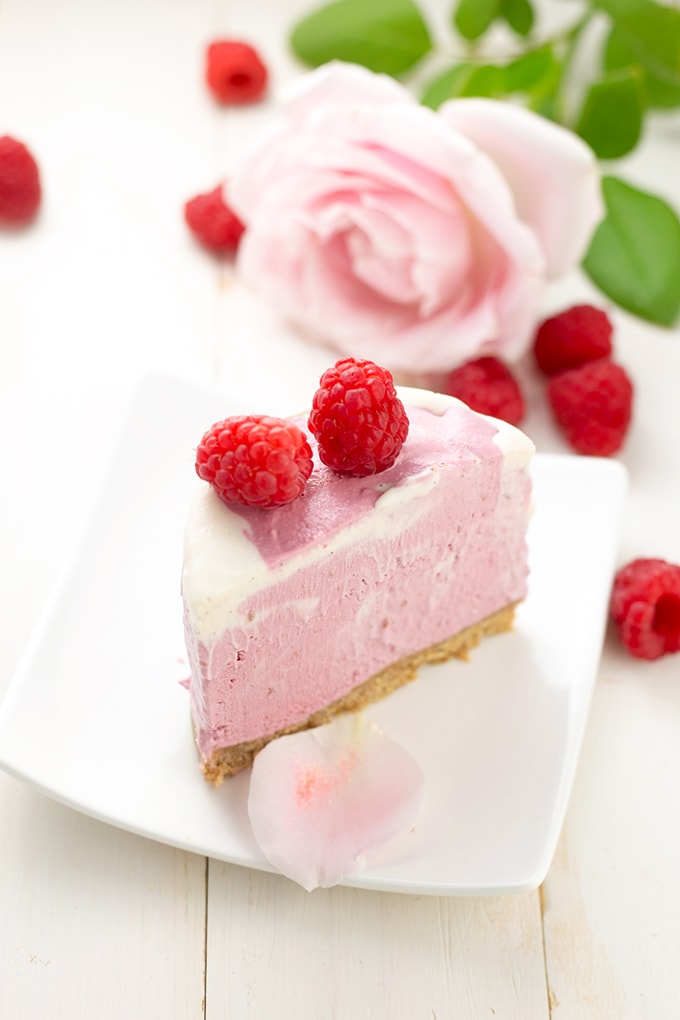 Once set, you'll have your very own Raspberry White Chocolate Cake to call your own. It won't spoon you in the middle of the night but you're more than welcome to spoon it in the middle of the night. Have a great Valentine's Day, but don't tell me or Facebook about it. Cheers!
FREE EBOOK SERIES! 5 SECRETS FOR FOOLPROOF VEGAN DESERTS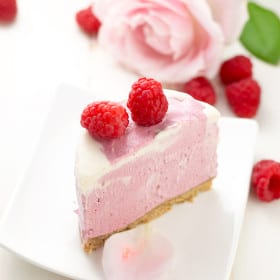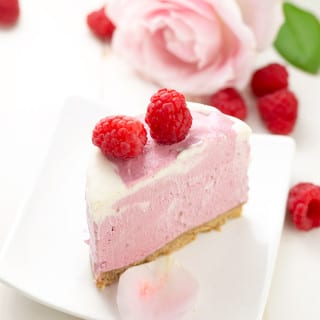 Vegan White chocolate raspberry cake
Cool and creamy Vegan Raspberry White Chocolate Cheesecake on a Digestive Biscuit base.
Ingredients
2

oz

Vegan Butter

melted

5

oz

Plain Digestive Biscuits

3

oz

Vegan Cream Cheese

1

cup

Cashews

soaked overnight in water and then drained

1/2

cup

Maple Syrup

1/2

cup

almond milk

1/8

teaspoon

Pink Salt

3/4

cup

Raspberries

6

tablespoons

melted Extra Virgin Coconut Oil

Melted

1

seed

Vanilla Pod

1 1/2

tablespoons

Cacao Butter

Melted

1 1/2

tablespoons

Coconut oil

Melted

1

cup

Raspberries

to serve
Instructions
Process biscuits in a food processor till you end up with a sand like crumb, then add melted Vegan Butter and process till biscuits are moistened.

Firmly press into the base of an 8 inch springform tin or cake ring. Place in the freezer whilst making filling.

Make the filling. In a high powered blender, blend Vegan Cream Cheese, Soaked Cashews, Maple Syrup, Almond/Soy Milk and salt. Blend on high till completely smooth.

Once smooth, divide mixture into half. Blend one half of the mixture with the melted Cacao Butter, 1 1/2 tablespoons of coconut oil and vanilla pod seeds. Blend the other half with the raspberries.

Alternate pouring both mixtures onto chilled crust, and use a skewer or chopstick to marble the mixture.

Set in freezer for at least 6 hours. When ready to eat, let cake thaw for 10 minutes, or eat frozen for a more "Ice Cream Cake" type experience.
Nutrition
Serving:
1
serving
Calories:
254
kcal
Carbohydrates:
23
g
Protein:
4
g
Fat:
18
g
Saturated Fat:
6
g
Trans Fat:
1
g
Sodium:
148
mg
Potassium:
193
mg
Fiber:
3
g
Sugar:
15
g
Vitamin A:
279
IU
Vitamin C:
7
mg
Calcium:
60
mg
Iron:
1
mg