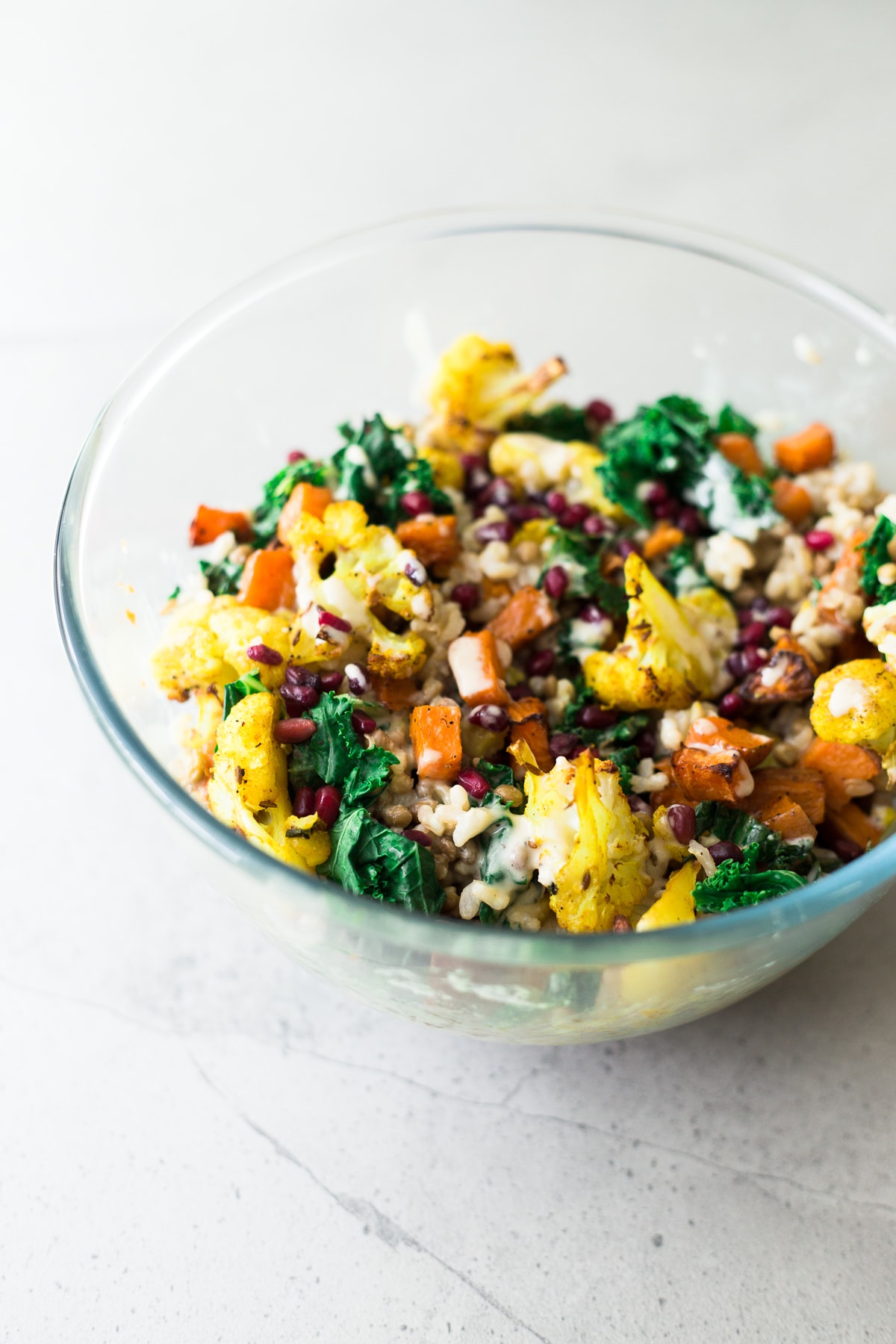 If you've been following this blog for a while, you'll know of my never ending war with my waistline. Honestly, in the last month or so, my eating habits have been out of this world bad (think surviving solely on sugar and Diet Soda), and so I've decided that I'm going to have to really kick my own arse from this point on to GET WITH THE PROGRAM! So, expect to be seeing more healthy recipes over the next few months…hopefully anyway. Let's kick this whole thing off with this Vegan Roasted Cauliflower and Brown Rice Salad, shall we?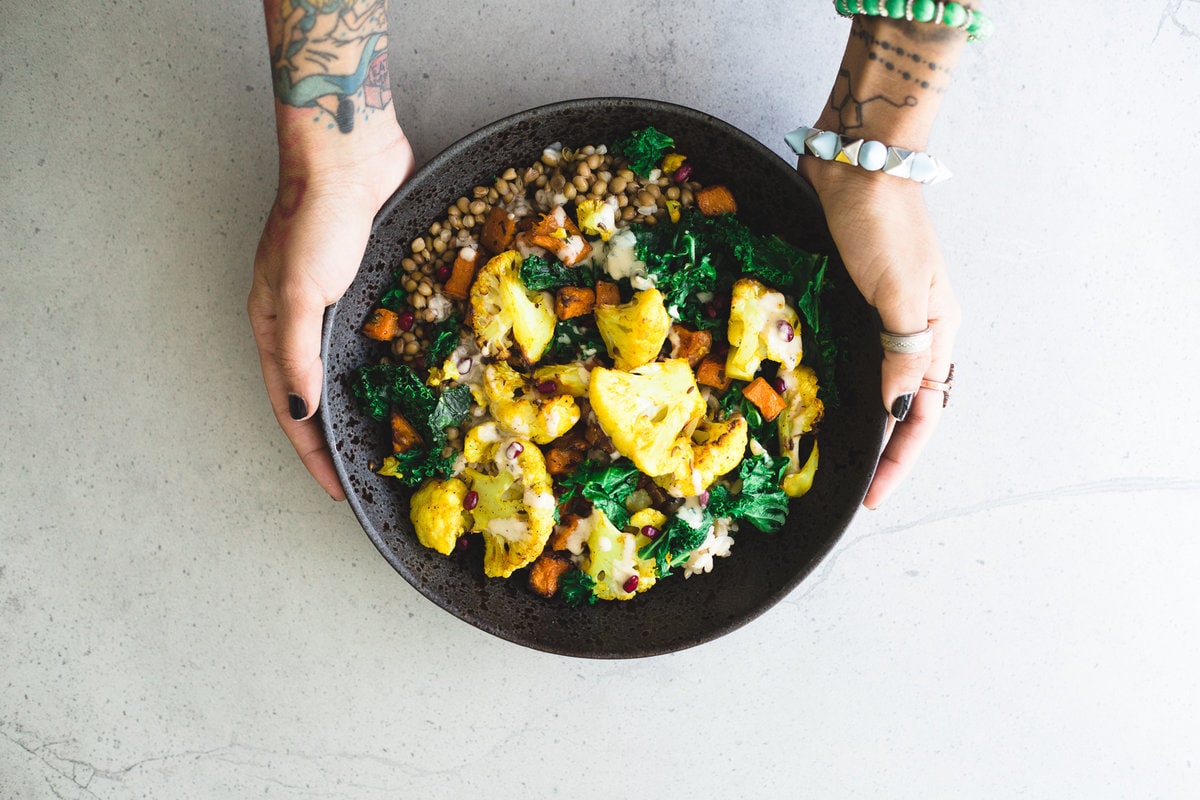 Brown Rice is one of my favourite grains, possibly even more so than its white counterpart.  I've posted a Brown Rice Salad recipe ages ago, so check that out too if you're a fan. This time round, this Brown Rice Salad recipe is loaded with Turmeric Roasted Cauliflower, Sweet Potato, Kale, Pomegranate and Lentils to add some goddamn protein into the mix. Everything is then topped off with a delicious Tahini Garlic Dressing which you can make with ingredients you already have in your pantry. Ain't nobody got time to go out and buy fancy schmancy ingredients.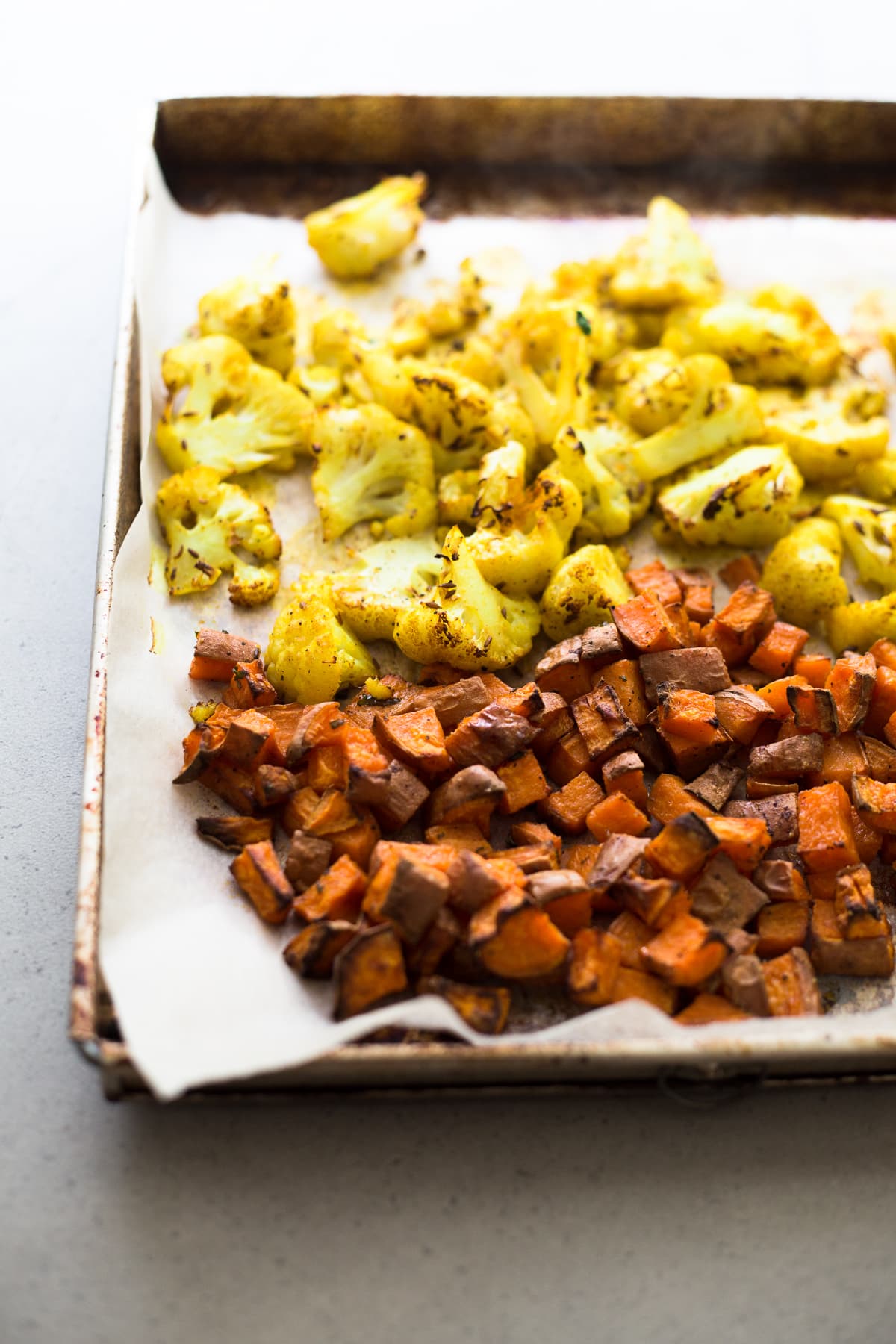 FREE EBOOK SERIES! 5 SECRETS FOR FOOLPROOF VEGAN DESERTS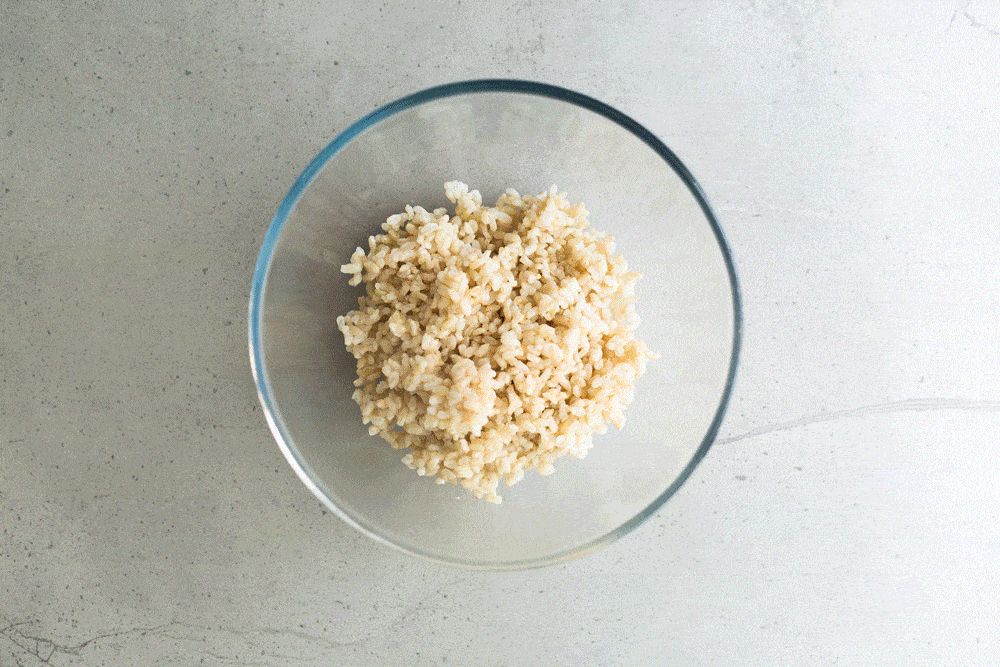 Everything comes together real easy in this Vegan Roasted Cauliflower and Brown Rice Salad recipe. Whilst the rice is cooking, you'll be roasting your Sweet Potato and Cauliflower, and then right before assembling, you'll want to wilt your Kale down in a touch of Olive Oil to soften the little buggers up. I use tinned Lentils to keep things easy, but feel free to cook your own up if you are that kind of person. That kind of person being someone who isn't a lazy like me.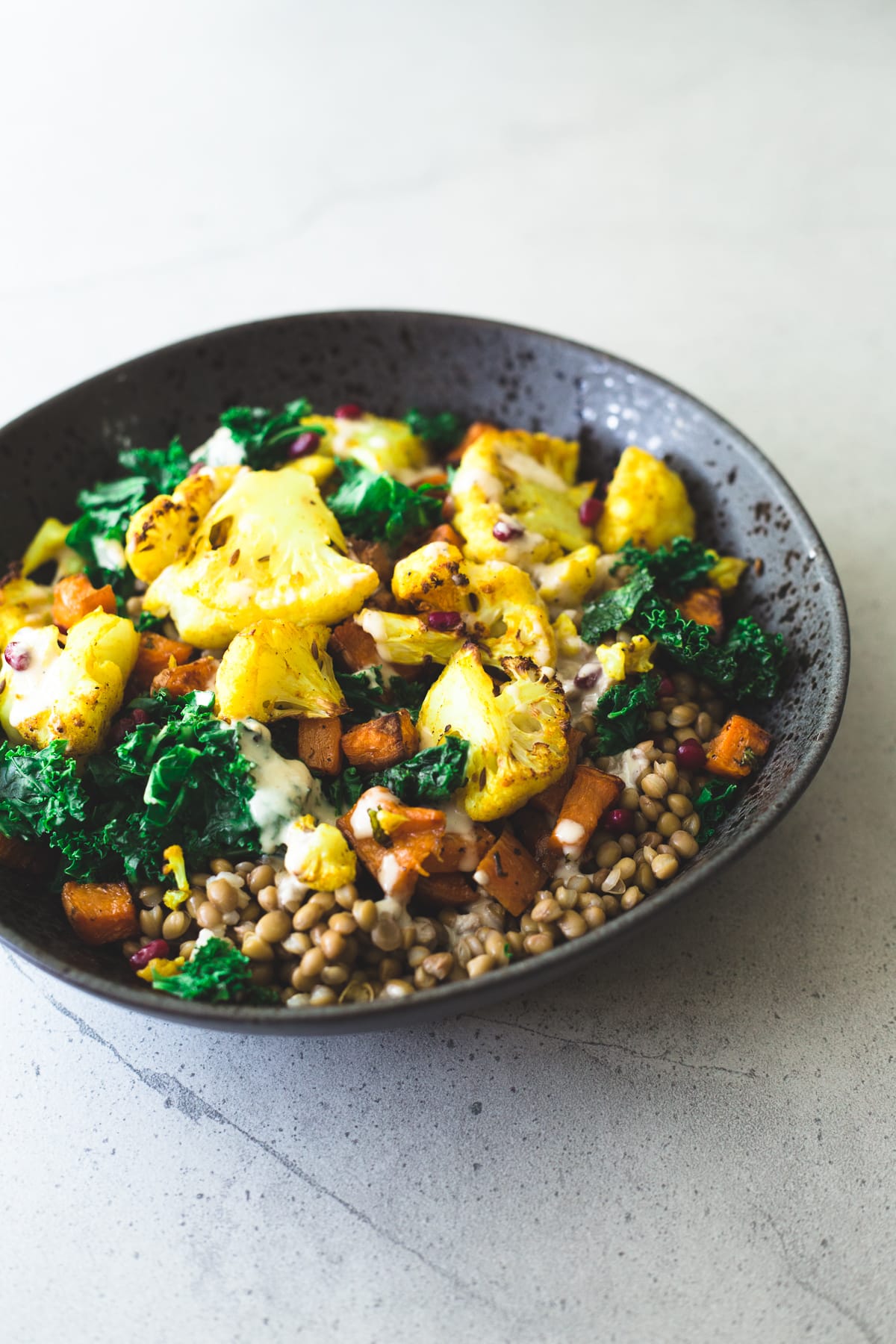 Finally, the dressing! Tahini, Apple Cider Vinegar, Maple Syrup, Garlic, Nooch, Warm Water, bish bash bosh, there you have it. You can drench the Black Rice Salad in it and mix it all up, or mix half of it in and drizzle the rest on top like I have. Do whatever you want, okay? You have free will, don't listen to rules, don't let anyone tell you what you can or cannot do. As always, don't forget to leave a comment or tag me on Instagram if you make this (or any other) recipe, I always love seeing what you guys get up to!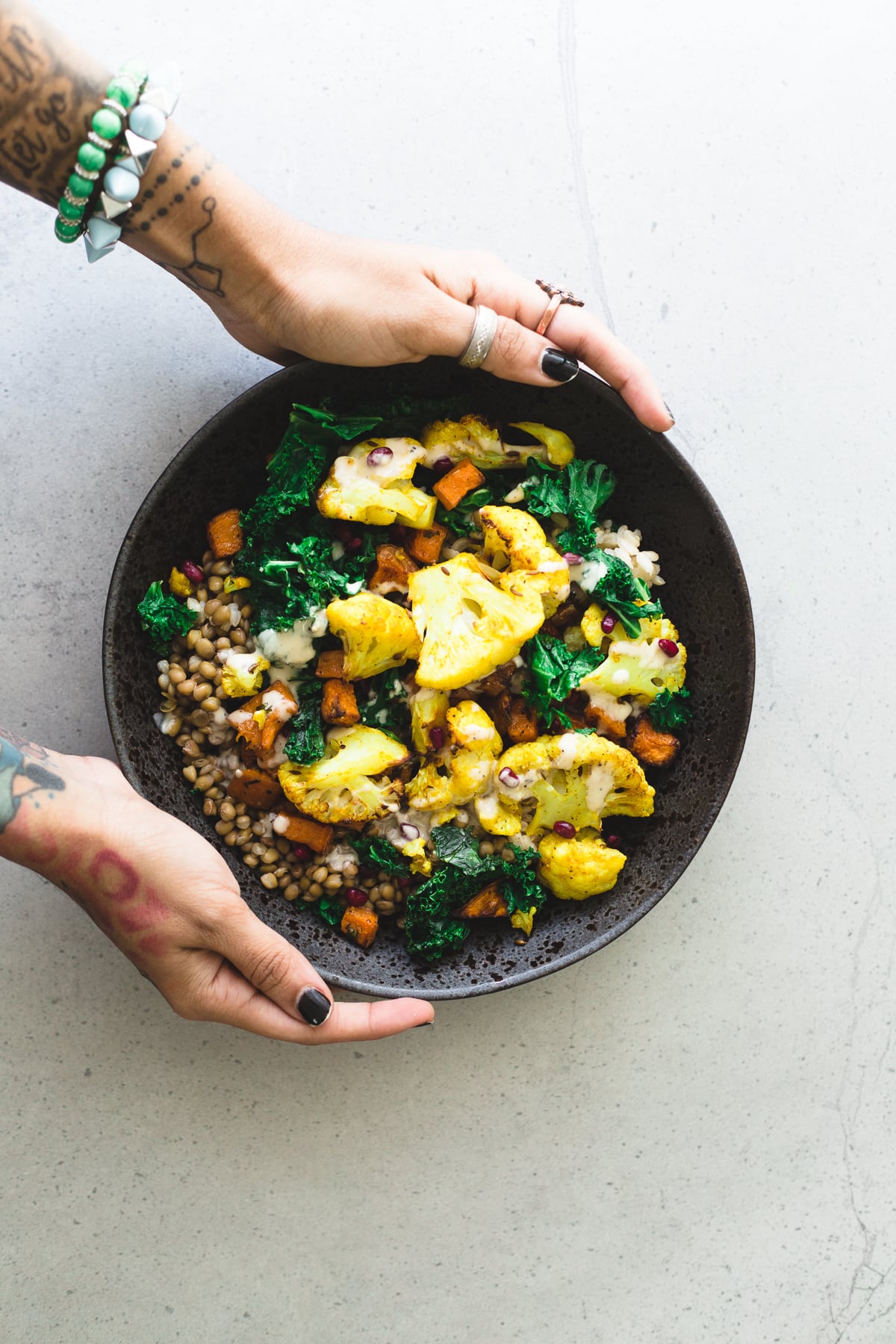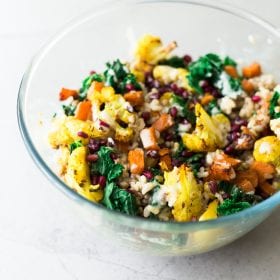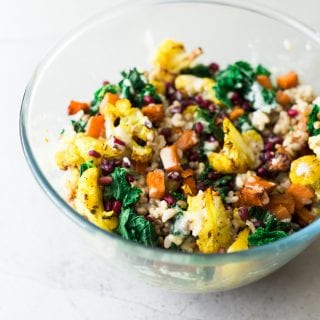 Vegan Brown Rice Salad
A delicious, protein packed Vegan Roasted Cauliflower and Brown Rice Salad with a creamy Tahini Garlic Dressing. Gluten Free, Fuss Free, YUM!
Ingredients
1

cup

Brown Rice

dry, cooked according to package directions

1

tin

Lentils

drained and rinsed

1 1/2

tablespoons

Olive Oil

1

large

Sweet Potato

cubed

1

small

Cauliflower

separated into small florets

1

teaspoon

Turmeric

1/2

teaspoon

Cumin Seeds

1

teaspoon

Salt

2

cups

Kale

chopped

1

teaspoon

Olive Oil

1/4

cup

Pomegranate Seeds
For Dressing:
5

tablespoons

Tahini

5

tablespoons

Hot Water

a little extra if dressing is still too thick

1 1/2

teaspoons

Maple Syrup

1

tablespoon

Nutritional Yeast

1

small

Garlic

crushed

1/4

teaspoon

Onion Powder

1

tablespoon

Apple Cider Vinegar

1

teaspoon

Pepper

to taste
Instructions
Preheat the oven to 180C / 350F. Cook Brown Rice according to package directions.

Meanwhile, toss cubed Sweet Potato with 1 1/2 tablespoons Olive Oil and roast for 10 minutes. After 10 minutes, add Cauliflower florets to tray along with Turmeric and Cumin Seeds. Season liberally with Salt and Pepper.

Toss to coat well and return to oven to roast for a further 20 minutes or so.

Once veggies are done roasting, combine with Brown Rice and drained Lentils in a large salad bowl.

In a large pan, heat 1 teaspoon of Olive Oil and sauté Kale with some Salt/Pepper until wilted. Add to salad bowl.

Add Pomegranate Seeds and toss to disperse all ingredients.

To prepare the dressing, combine all ingredients and whisk till smooth. Dress salad with prepared dressing.

You can use all of the dressing at once, or dress the salad with half of it and drizzle the remainder on top.

This salad is best served warm, but can be kept in the fridge for your lunchbox as well! Microwave for 30-40 seconds before enjoying.
Nutrition
Serving:
1
serving
Calories:
290
kcal
Carbohydrates:
48
g
Protein:
8
g
Fat:
8
g
Saturated Fat:
1
g
Sodium:
618
mg
Potassium:
591
mg
Fiber:
4
g
Sugar:
4
g
Vitamin A:
3353
IU
Vitamin C:
74
mg
Calcium:
93
mg
Iron:
2
mg