As a child, running to 7 Eleven with my aunty to grab an Orange Creamsicle was one of my favourite late night Saturday activities. I'd savour it for as long as I possibly could, biting the orange bits off before I finally had a fully white cream center to lick on. And so the tone was set for the rest of my life…giggle. Aside from the sticky mess that resulted, it's got to be one of my most vivid memories from my rather bleak childhood. Now, I haven't seen Vegan Orange Creamsicle Popsicles around before, so in a bout of fuzzy nostalgia, I thought to myself why not make a Vegan Orange Creamsicle Chia Seed Pudding! Close enough!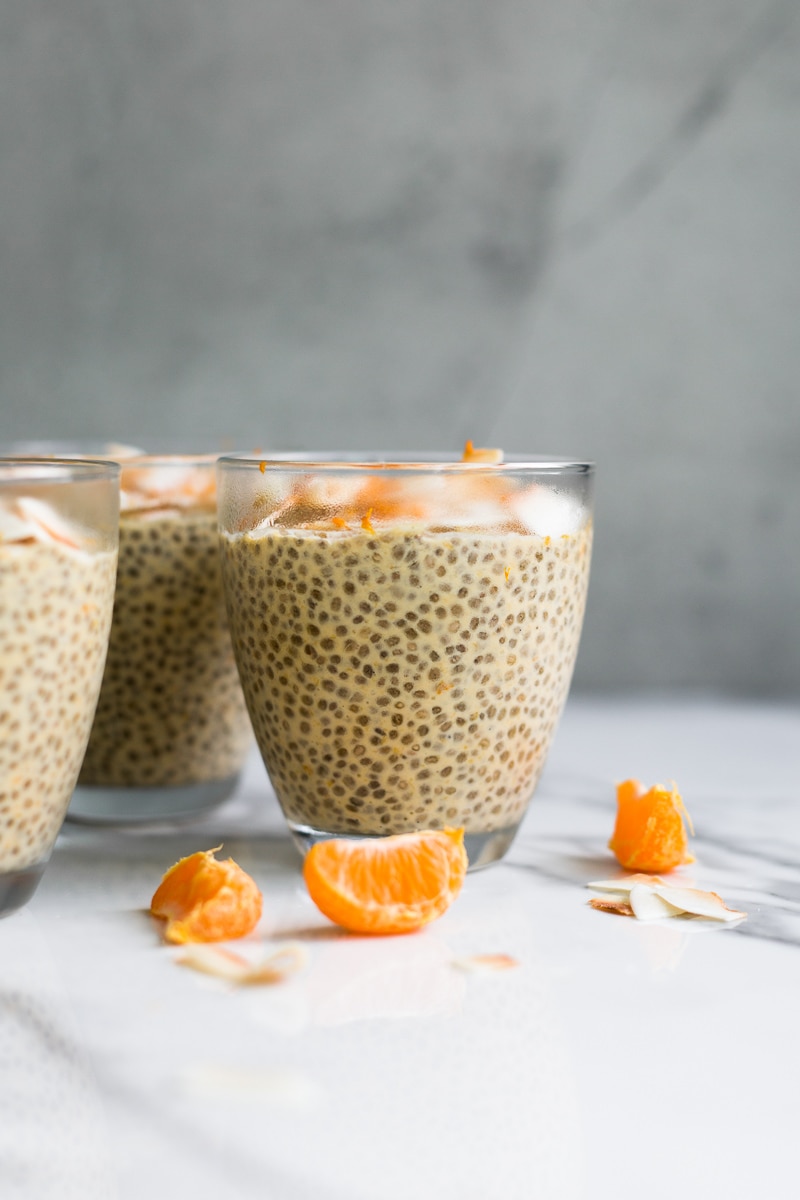 Vegan Chia Seed Puddings are something that really took me a while to love, simply because I'd just encountered such rotten ones at the supermarket. Homemade is best when it comes to Chia Pudding, in my humble opinion! If you're a Chia lover, I already have a few Chia Seed Pudding recipes on the blog (check them out if you haven't already). For this Vegan Orange Creamsicle Chia Seed Pudding, all you need is Chia Seeds, Oranges (I used little Mandarins), Coconut Cream, Almond Milk, Agave Nectar and a touch of Vanilla Bean.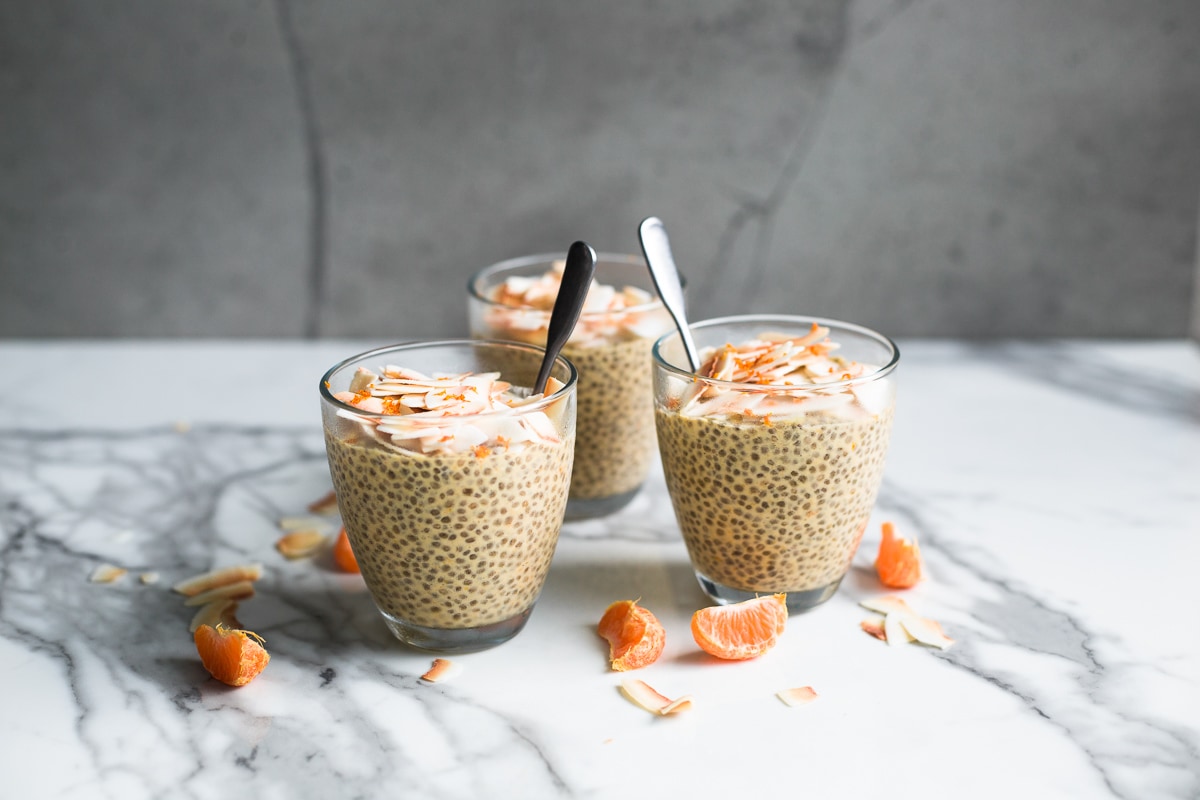 The entire process really couldn't be any easier – you juice your Oranges, combine the Juice and Zest with the rest of your ingredients and leave to set for 4-6 hours or until thickened (I usually let it set overnight). Once it's all gloopy, cold and delicious, you can serve it with more Mandarin Orange segments and a touch of Toasted Coconut Flakes. IT'S BASICALLY A SUMMER BEACH VACATION IN YOUR MOUTH!
FREE EBOOK SERIES! 5 SECRETS FOR FOOLPROOF VEGAN DESERTS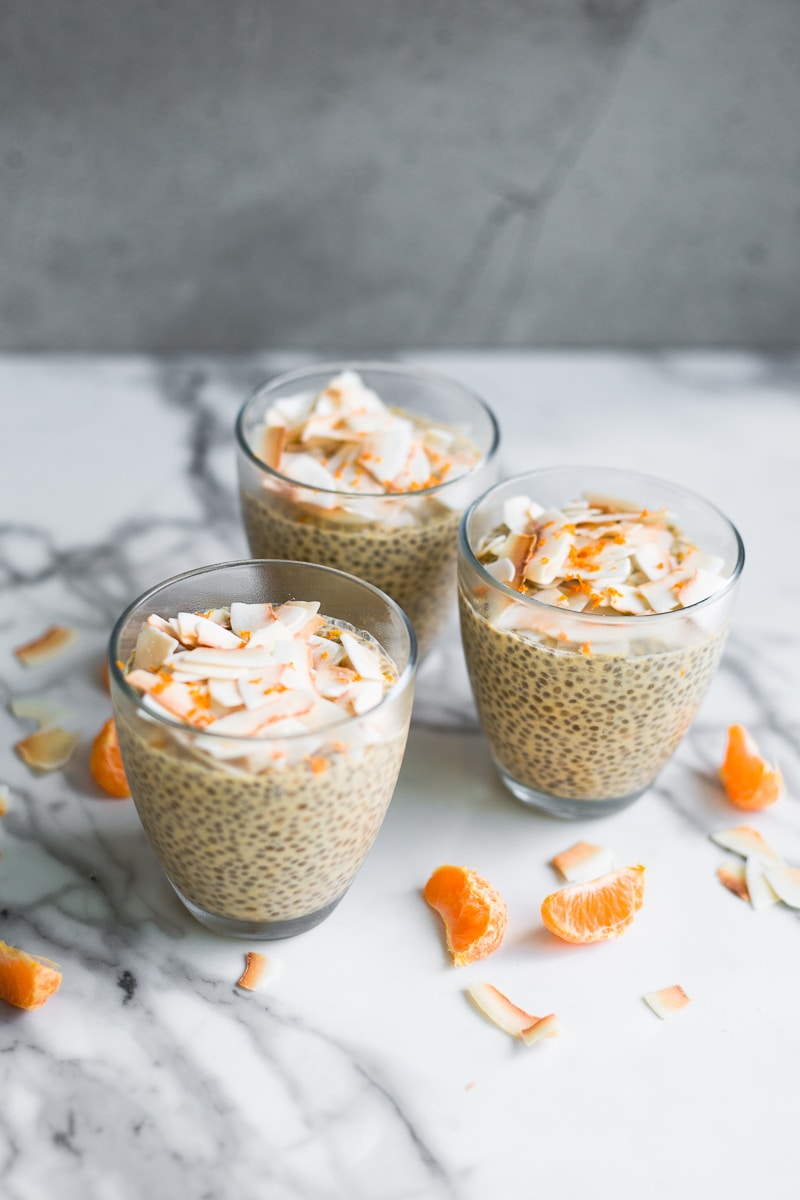 If you're keen on some Creamsicle in your gob, because who isn't, scroll down to grab the full recipe! Once again, tag me on Instagram if you try any of the recipes on this humble little blog, or follow me if you haven't already, because I'm a shameless self promoter! Until next time mah dudes!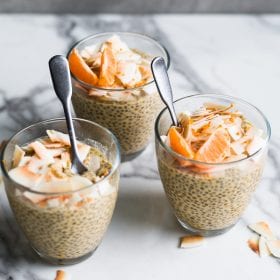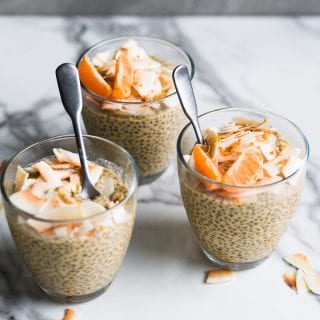 Orange Creamsicle Chia Seed Pudding
These Vegan Orange Creamsicle Chia Seed Puddings are a little taste of heaven - 6 Ingredients, Dairy Free, Easy To Make and much easier to eat!
Ingredients
1/2

cup

Orange Juice

Freshly Squeeze

1/4

teaspoon

Orange Zest

1

cup

Unsweetened Almond Milk

1/4

cup

Coconut Cream

1/2

teaspoon

Vanilla Bean Paste

1

Pinch

Salt

2

tablespoons

Agave Nectar

5 1/2

tablespoons

Chia Seeds
To Garnish:
1

large

Orange segments

1

tbsp

Toasted Coconut
Instructions
In a large measuring jug or bowl, combine freshly squeezed Mandarin Orange Juice (I just blend the Mandarins and sieve out the pulp), Zest, Almond Milk, Coconut Cream, Vanilla Bean Paste, Salt and Agave Nectar.

Whisk to combine.

Add Chia Seeds to your liquid mixture and whisk well. Allow to sit in the fridge, covered in plastic wrap, for 4-6 hours or overnight for best results. You may have to stir the mixture once or twice after 20 minutes just to further disperse the Chia Seeds.

Once thickened, spoon into glasses and serve with Mandarin Orange segments and Toasted Coconut Flakes!
Nutrition
Serving:
1
serving
Calories:
180
kcal
Carbohydrates:
20
g
Protein:
4
g
Fat:
10
g
Saturated Fat:
5
g
Trans Fat:
1
g
Sodium:
14
mg
Potassium:
184
mg
Fiber:
6
g
Sugar:
10
g
Vitamin A:
79
IU
Vitamin C:
18
mg
Calcium:
111
mg
Iron:
2
mg