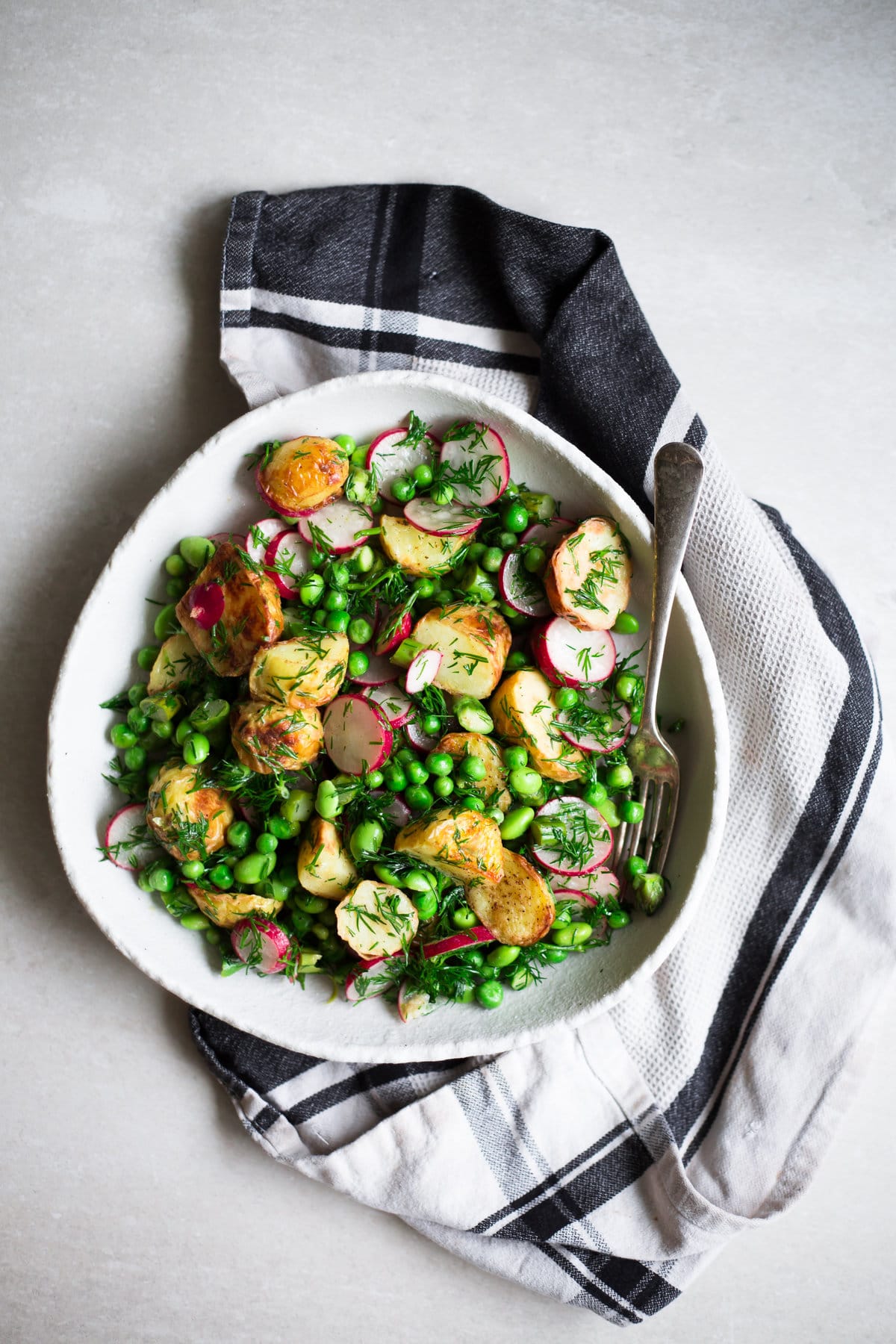 I know what you devils are thinking…Vegan Spring Potato Salad? It's almost Winter! Well, no, I am in Australia (also known as the Upside Down of the world..ha ha, Stranger Things), where it is currently Spring and so I'm going to make a Spring Potato Salad, okay? Shoot me. I'll probably enjoy it. I have posted a Herbed Potato Salad recipe in the past which everyone should try, but this time round, I've made this Spring Potato Salad recipe even healthier.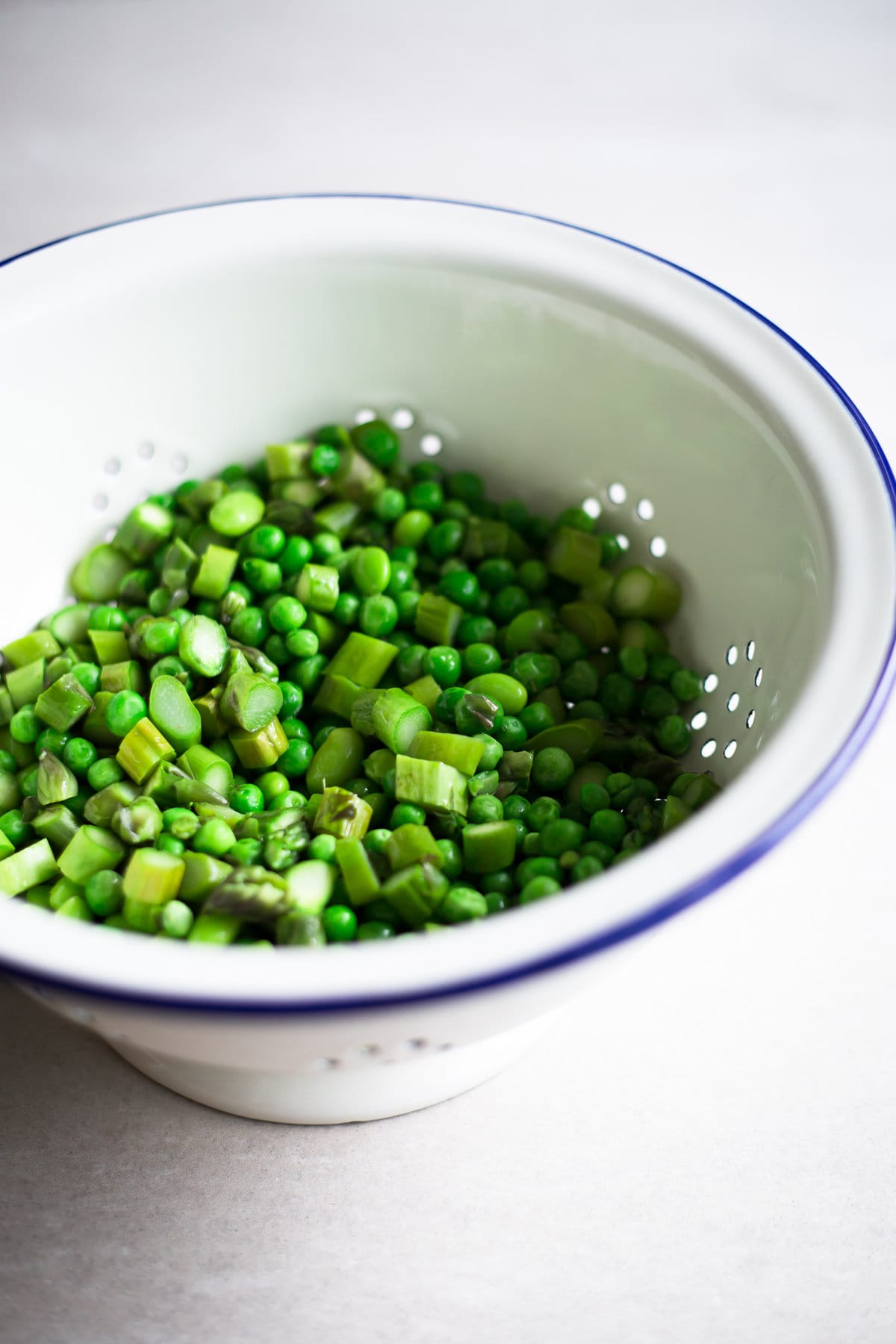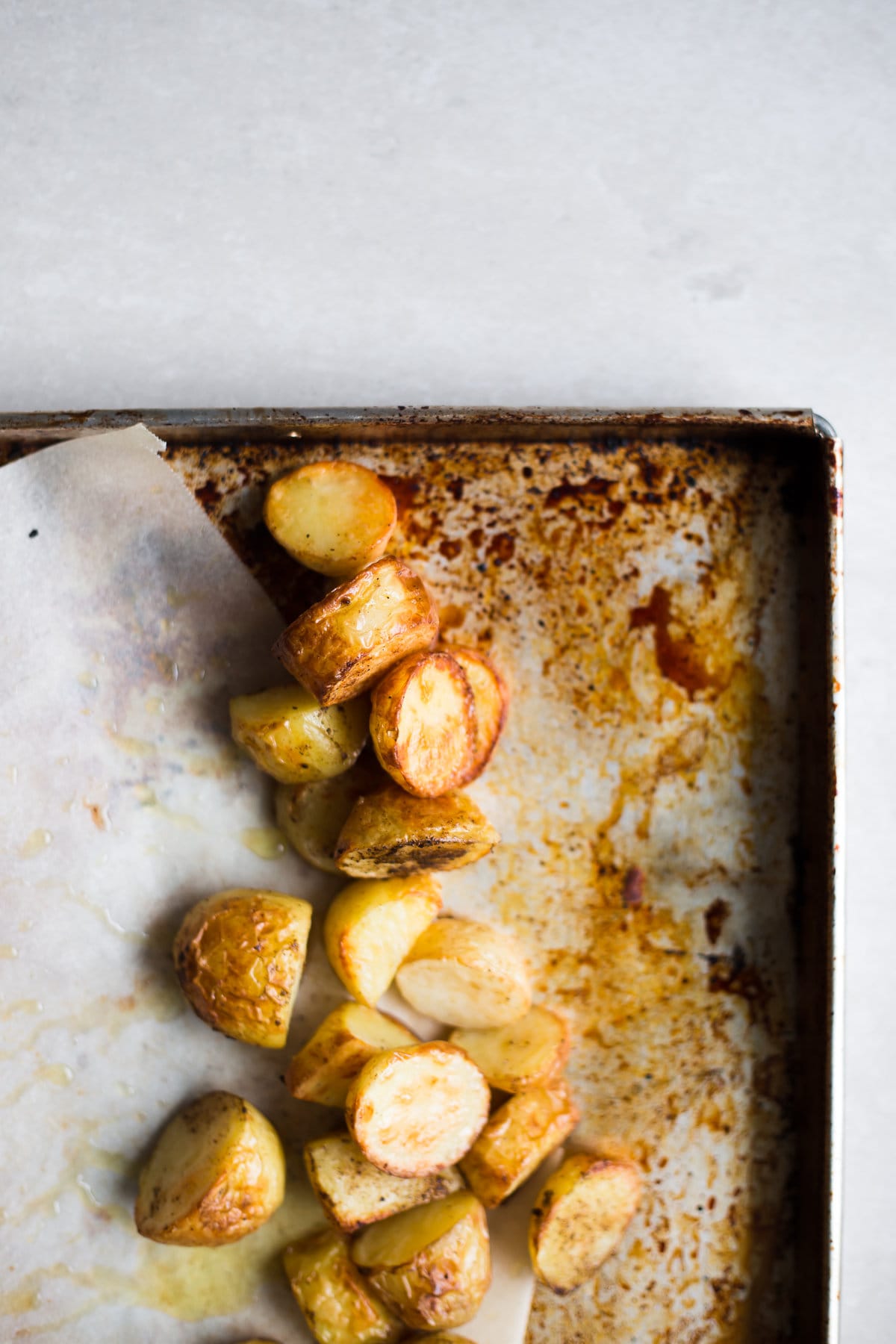 My Vegan Spring Potato Salad recipe couldn't get any simpler to make. First off, the main component – small round Salad/New Potatoes that are roasted in an oven till they are crispy and golden. Whilst your taters are blistering in the oven, you'll blanche off some Asparagus, Green Peas and Edamame Pods. This takes about 5 minutes, so don't bother doing it till your Potatoes have almost finished roasting. Yay, now it's assembly time!
FREE EBOOK SERIES! 5 SECRETS FOR FOOLPROOF VEGAN DESERTS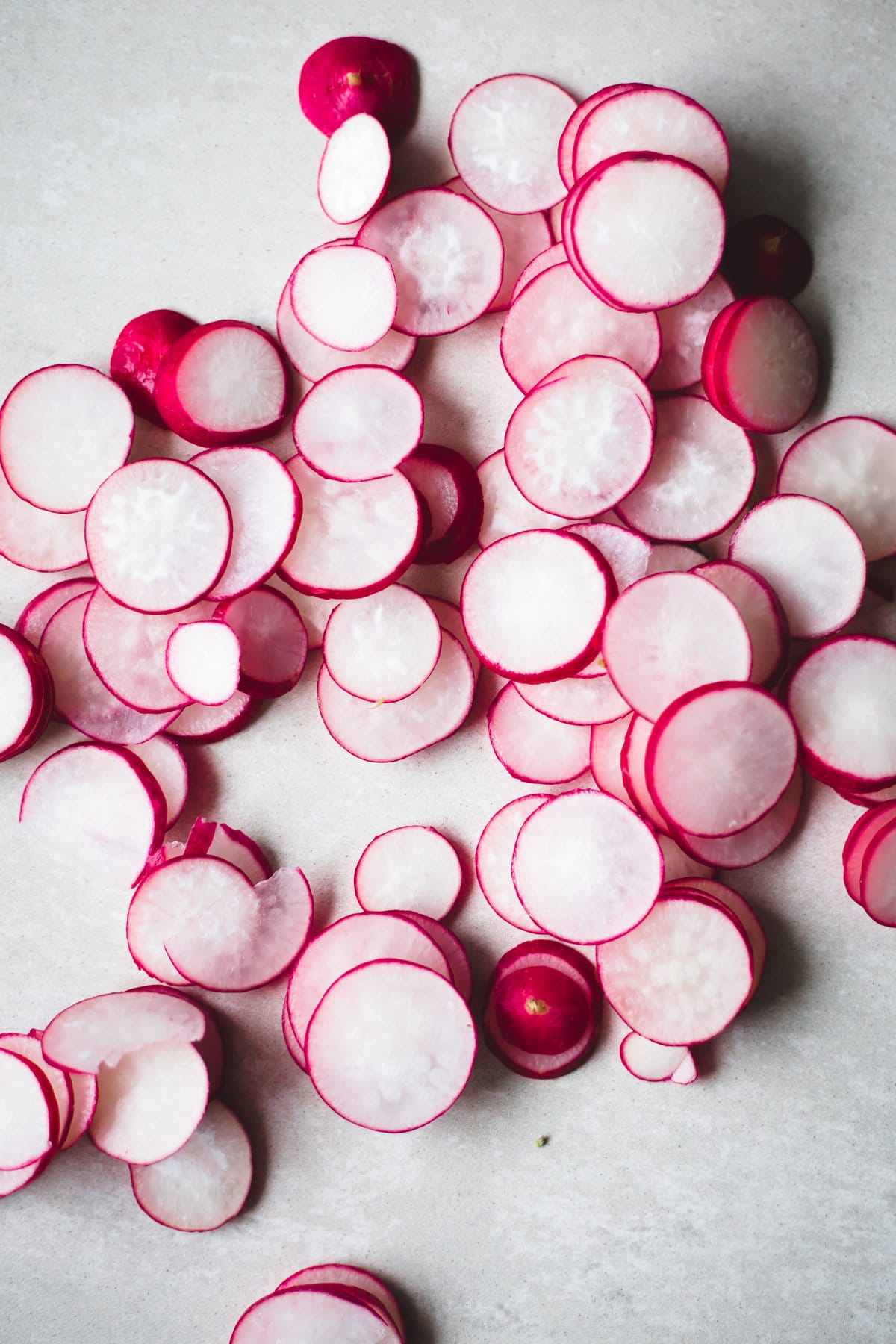 In a large bowl, you'll combine your Roast Potatoes, Asparagus, Green Peas and Edamame. So green, so healthy, I feel so Zen right now. Now, anyone who knows me knows that I really don't like single-colored food (because I am still a child), so I've decided to add some gorgeous sliced Pink Radish into the mix. After all, Pink and Green go really well together, hashtag fashion tip. Now, to dress, we have a simple dressing made up of Lemon Juice, White Wine Vinegar, Dijon Mustard, Olive Oil, a touch of Maple Syrup, Chopped Mint and Dill.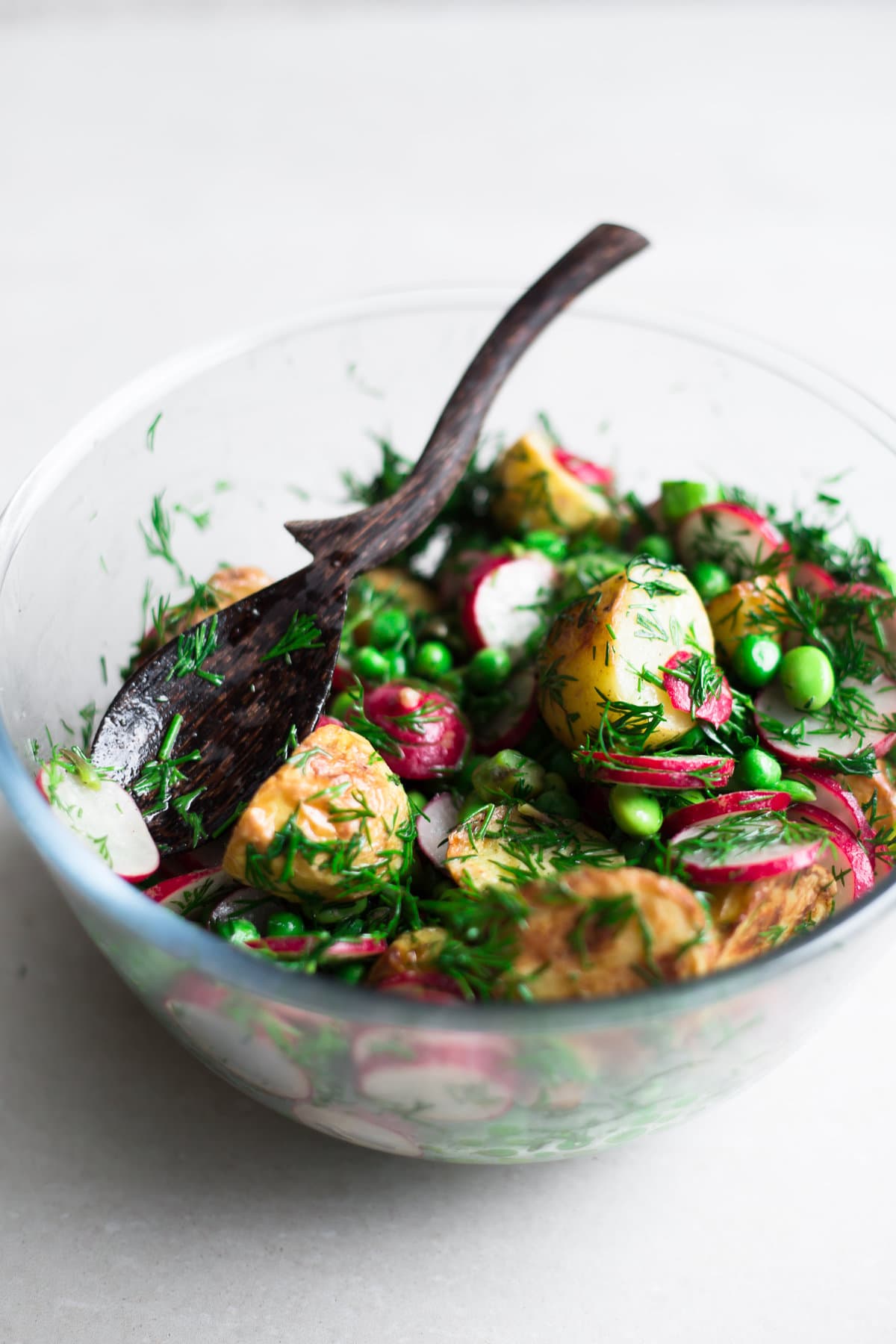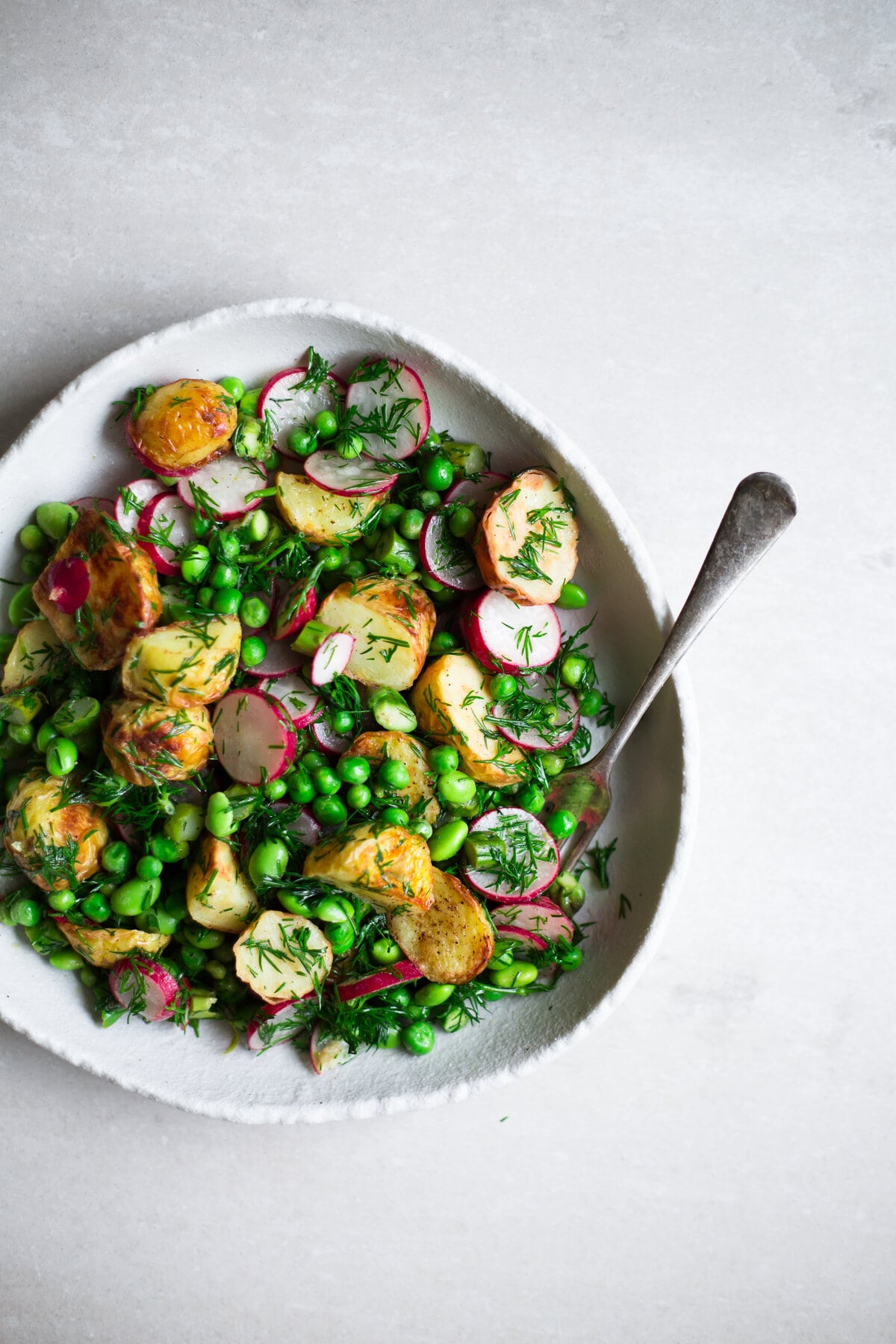 Once everything is combined, y0u're rewarded with some healthy carby goodness that you don't have to cry about eating once you've inhaled the entire bowl. I'm not saying you must inhale the entire bowl, but there is a high chance of it happening and I won't be held accountable – disclaimer. So, you ready to kill some Potatoes? Scroll down to grab the recipe for my Vegan Spring Potato Salad.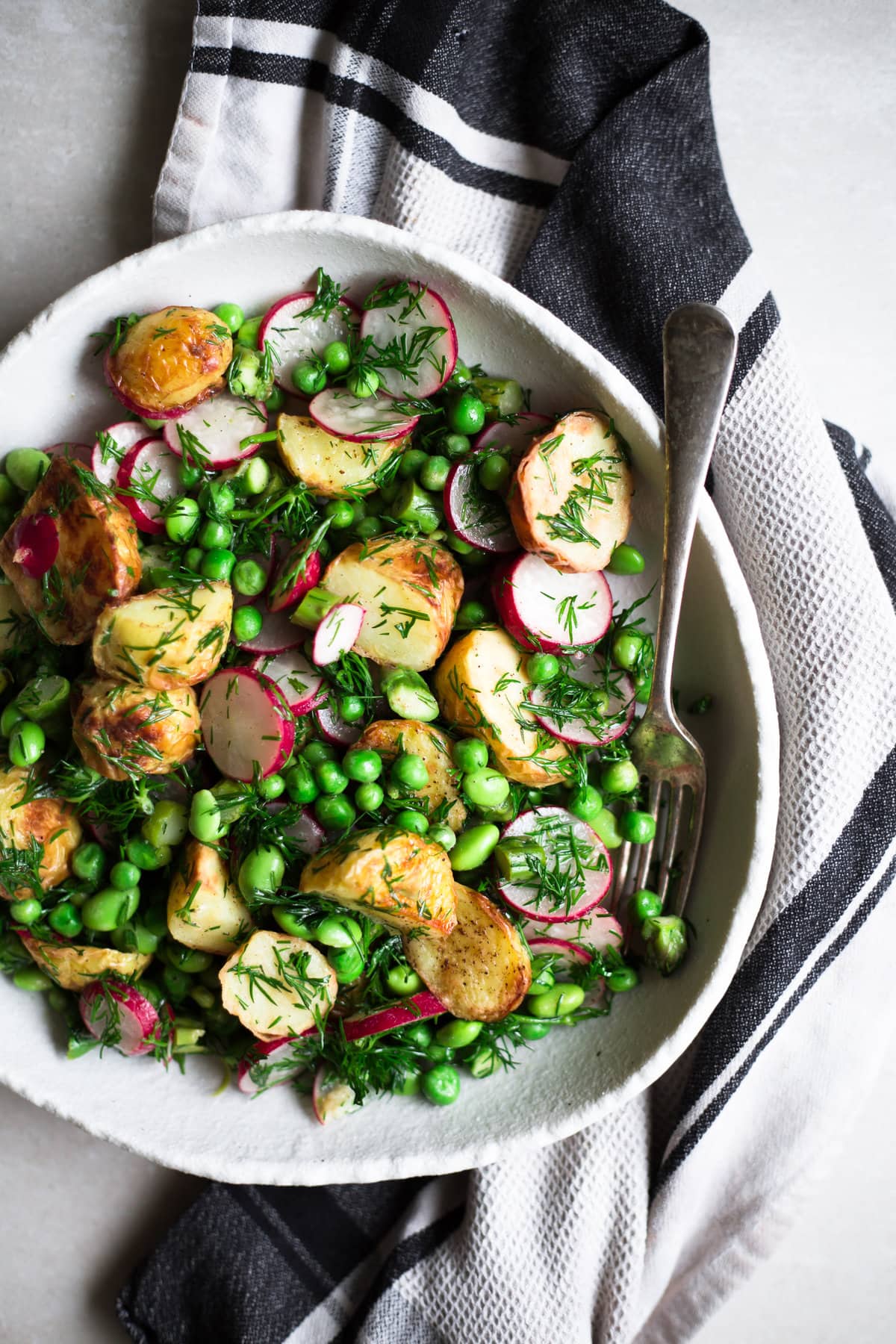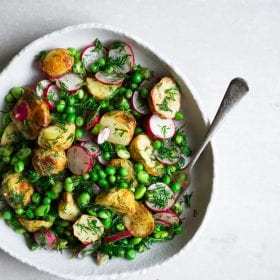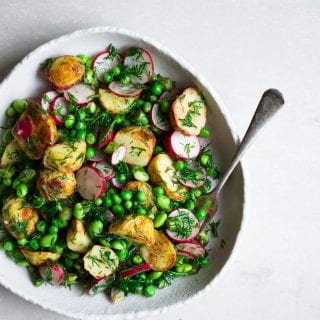 Vegan Potato Salad
Roasted Potatoes, Asparagus, Peas, Edamame and Radish in a sharp Mint and Dill Dressing. Gluten Free and ready in under 30 minutes.
Ingredients
16

oz

Potatoes

halved (500grams)

1 1/2

tablespoons

Olive Oil

4

oz

Asparagus

sliced into 1 inch pieces (125 grams)

4

oz

Green Peas

120 grams

4

oz

Edamame

120 grams

1

bunch

Radishes

sliced thinly into rounds
For The Dressing:
1/4

cup

Lemon Juice

1

tablespoon

White Wine Vinegar

1

tablespoon

Extra Virgin Olive Oil

1

teaspoon

Maple Syrup

1

teaspoon

Dijon Mustard

1

small bunch

Mint

chopped

1

bunch

Dill

chopped

1

teaspoon

salt

to taste

1

teaspoon

pepper
Instructions
Preheat oven to 190 Celcius, or 400 Fahrenheit. Line a baking tray with non-stick baking paper. In a large bowl, combined your halved Potatoes with 1/2 tablespoons Olive Oil. Season with Salt and Pepper. Transfer Potatoes to prepared baking tray and roast in the oven for 25-30 minutes, or until golden and tender.

Meanwhile, bring a pot of water to the boil. Blanche your Asparagus pieces, Peas and Edamame for 5 minutes. Once cooked, drain and immediately plunge vegetables into ice water to prevent them from over-cooking. Drain and set aside.

Once your Potatoes are cooked, remove them from the oven and let them cool for 10 minutes.

In a large bowl, combine Roasted Potatoes, Asparagus, Peas and Edamame. Toss in Sliced Radishes.

In a small measuring jug, combine all the ingredients for the dressing and whisk well. Pour over vegetables and toss to coat.

Check and adjust for seasoning and then serve immediately. Yum!
Nutrition
Serving:
1
serving
Calories:
242
kcal
Carbohydrates:
31
g
Protein:
8
g
Fat:
11
g
Saturated Fat:
1
g
Trans Fat:
1
g
Sodium:
612
mg
Potassium:
794
mg
Fiber:
7
g
Sugar:
5
g
Vitamin A:
501
IU
Vitamin C:
45
mg
Calcium:
58
mg
Iron:
3
mg