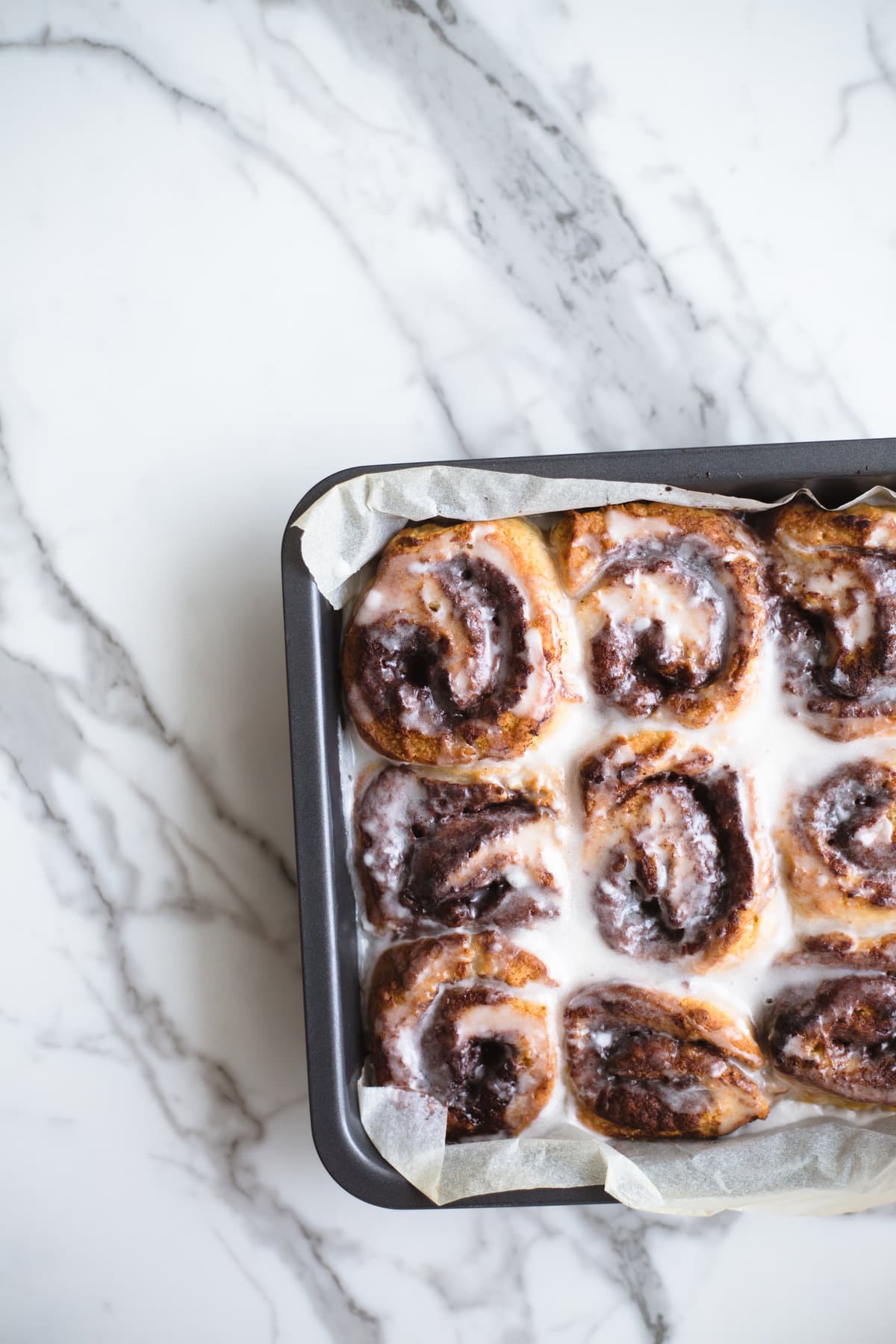 Cinnamon Rolls, oh Cinnamon Rolls, my arch nemesis, the good ol' Cinnamon Roll. Cinnamon Rolls are freakin' dangerous. They are the real Pringles, because I can never stop at one. That is why I limit any Cinnamon Roll making to once a year, MAX. Although I love baking with Yeast, there are some instances where I just want instant gratification. In come these 30 Minute Easy Vegan Cinnamon Rolls. This is a recipe I've once shared before, but because I was absolutely sh*t at blogging back then, I've decided to create a brand new, vajazzled version of the original.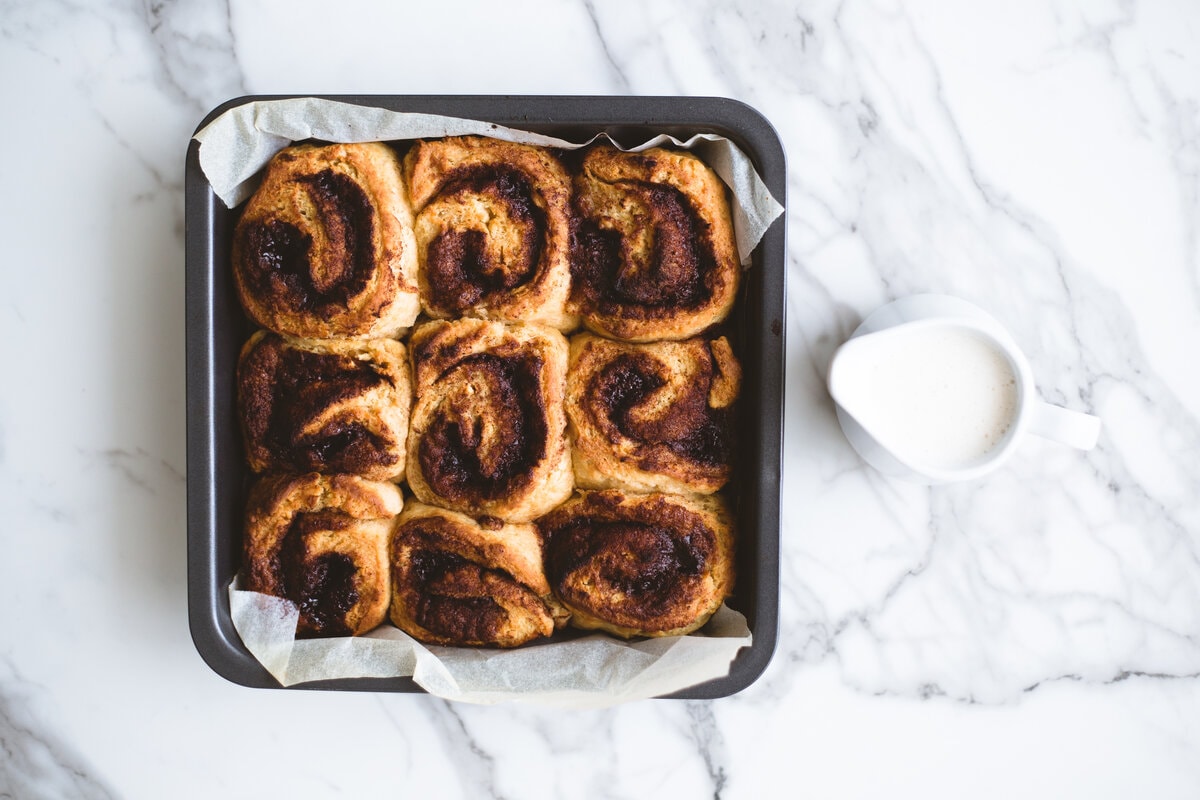 As you can see, they were once titled Vegan Cinnamon Scones. Mainly because I was an idiot, but also because this Vegan Cinnamon Roll recipe is not Yeast based, but rather, relies on a Baking Powder based Scone/Biscuit type dough that comes together in a Jiffy. I like to think that this means they are healthier as well, right? Okay, maybe not!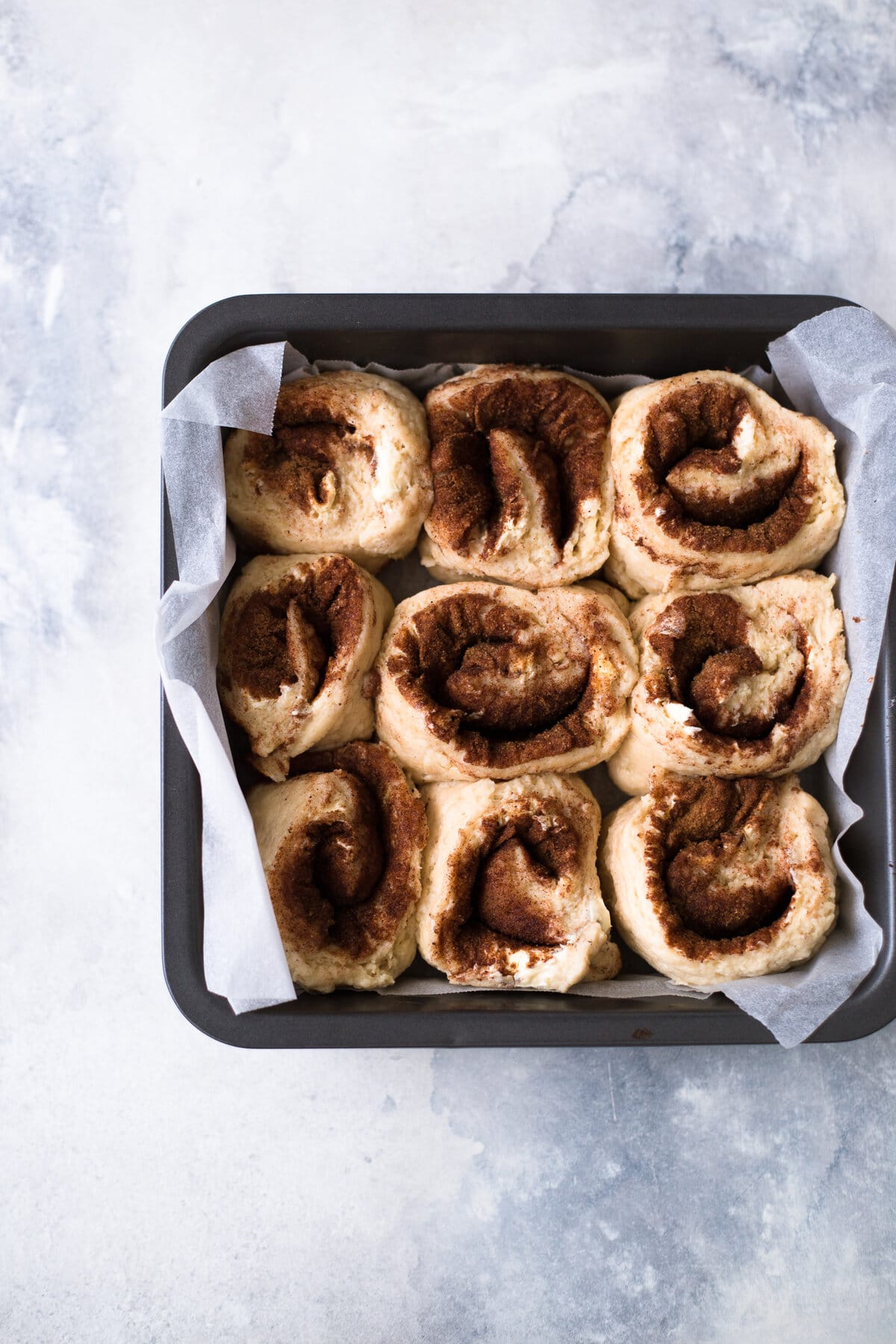 So, what goes into these 30 minute Vegan Cinnamon Rolls? We have Pastry Flour, Soy Milk, Vegetable Oil, a touch of Sugar, Baking Powder, Baking Soda, Vegan Butter and a Cinnamon Sugar Filling, of course. Once everything has been baked, we slather on a simple Vegan Icing Sugar Glaze to tie everything together and bring you to Cinnamon Jizz Heaven. A head's up – you can use All Purpose Flour or this brown rice flour if you do not have Pastry Flour, but I highly recommending sourcing some as the lower Protein content results in a much more tender and fluffy dough once baked. Science, yo.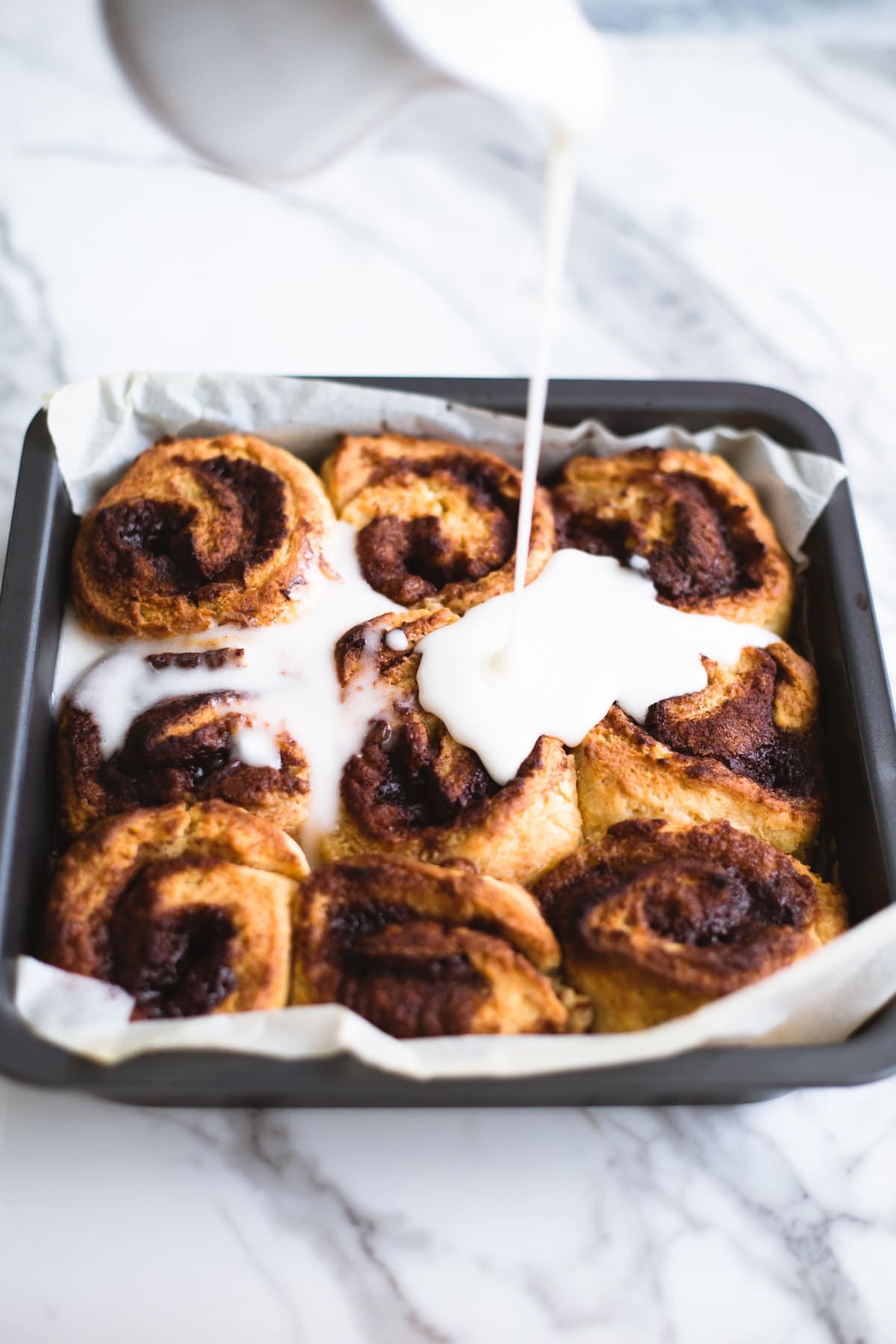 So if you're looking for a really quick, easy 30 Minute No Yeast Vegan Cinnamon Roll recipe, this is the one for you. 15 minutes of prep, 15 minutes in the oven, and f*ck me dead I suddenly realise I've already eaten three in the span of an hour. Ah, bliss. Scroll down for the full recipe and don't forget to follow me on Instagram/Facebook slash tag me if you have made any of my recipes!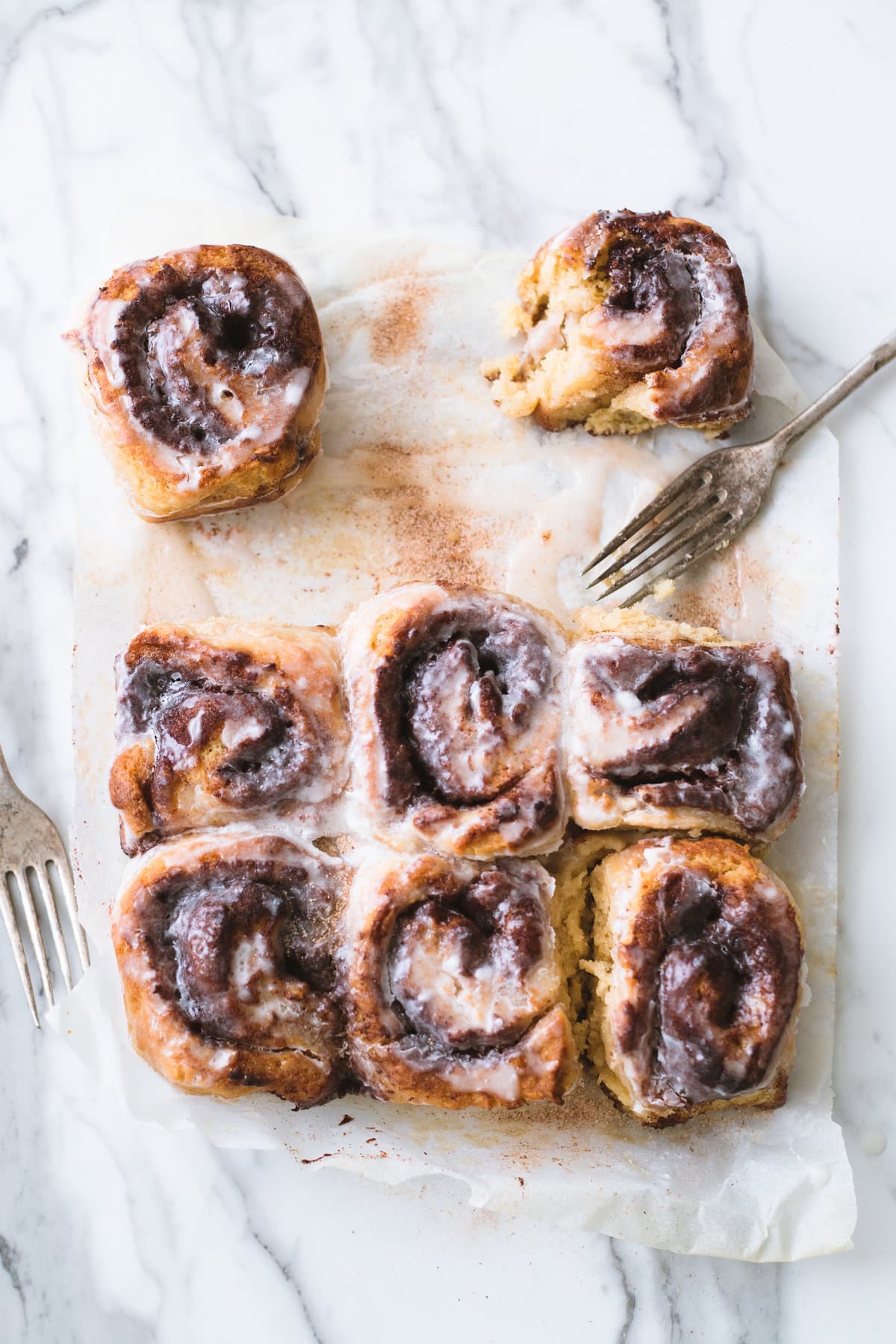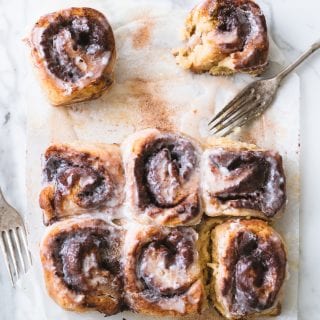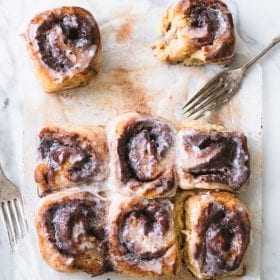 Vegan Cinnamon Rolls
30 Minute Easy Vegan Cinnamon Roll recipe that require no Yeast. Topped with an Icing Sugar Glaze, these are a plant based crowd pleaser.
Ingredients
1

cup

Unsweetened Soy Milk

2

teaspoons

Apple Cider Vinegar

2

teaspoons

Vanilla Extract

6

tablespoons

Vegetable Oil

2 3/4

cups

Pastry Flour

3

tablespoons

Sugar

1/2

teaspoon

Baking Soda

1 1/2

teaspoons

Baking Powder

1/2

teaspoon

Salt
For Cinnamon Sugar Filling:
1/3

cup + 2 tablespoons

Sugar

mixed together

1

teaspoon

cinnamon

1/3

cup

Vegan Butter

softened
For Vegan Icing Sugar Glaze:
1

cup

Icing Sugar

1/2

teaspoon

Vanilla Extract

1-2

tablespoons

Water

enough to form a Glaze consistency
Instructions
Preheat oven to 205 Celsius or 400 Fahrenheit and line a baking tray with non-stick parchment paper.

In a measuring jug, combine the Soy Milk and Apple Cider.Whisk and leave to sit for 15 minutes. It will look curdled at this point, but don't worry.

After 15 minutes, whisk in Vanilla Extract and Oil, then set aside.

In a large bowl, sieve Pastry Flour, Sugar, Baking Soda, Baking Powder and Salt. Create a well in the middle and pour in wet mixture. Combine gently to form a soft dough.

Use a little more Pastry Flour if if the dough is too wet (this is highly dependant on the quality of your flour and the humidity in the air). What you're looking for is a soft Biscuit Dough consistency.

Flour your counter and place your dough onto it.

Roll into a rectangle measuring 10x10 inches,and spread softened Vegan Butter all over the surface of the dough. Sprinkle liberally with your Cinnamon Sugar mixture.

Roll your dough jelly roll style, and then seal the ends. Cut into 8 pieces to form 8 Cinnamon Rolls. Don't worry if some of the cinnamon sugar falls out whilst cutting.

Place rolls about an inch apart on your prepared baking tray. Bake for 15-18 minutes or until golden.

Whilst baking, prepare Vegan Icing Sugar Glaze by whisking all ingredients together with enough water to make a glaze. You don't want it to be too runny.

Once you remove your rolls from the oven, immediately drizzle with your icing sugar glaze. Let cool for 15 minutes before enjoying.
Notes
Leftovers can be stored in an air-tight container for up to 2 days and reheated in the microwave for 15 seconds before enjoying.
Nutrition
Serving:
1
serving
Calories:
263
kcal
Carbohydrates:
35
g
Protein:
6
g
Fat:
12
g
Saturated Fat:
9
g
Sodium:
306
mg
Potassium:
190
mg
Fiber:
5
g
Sugar:
5
g
Vitamin A:
67
IU
Vitamin C:
1
mg
Calcium:
99
mg
Iron:
2
mg