Unless you've been living under a rock, you've probably seen Trader Joe's Pancake Bread making the rounds on the internet. Of course, I'm not in the YOO ES AYE, but I do use Instagram, and I do scroll through endless recipe posts on my feed to feed the void in the abyss of my soul. Trader Joe's Pancake Bread is quoted as "a twist on a buttermilk short stack" according to Joe the Trader himself. Hah. Of course, I decided that it was my life purpose to Veganize the infamous Pancake Bread, and here we are.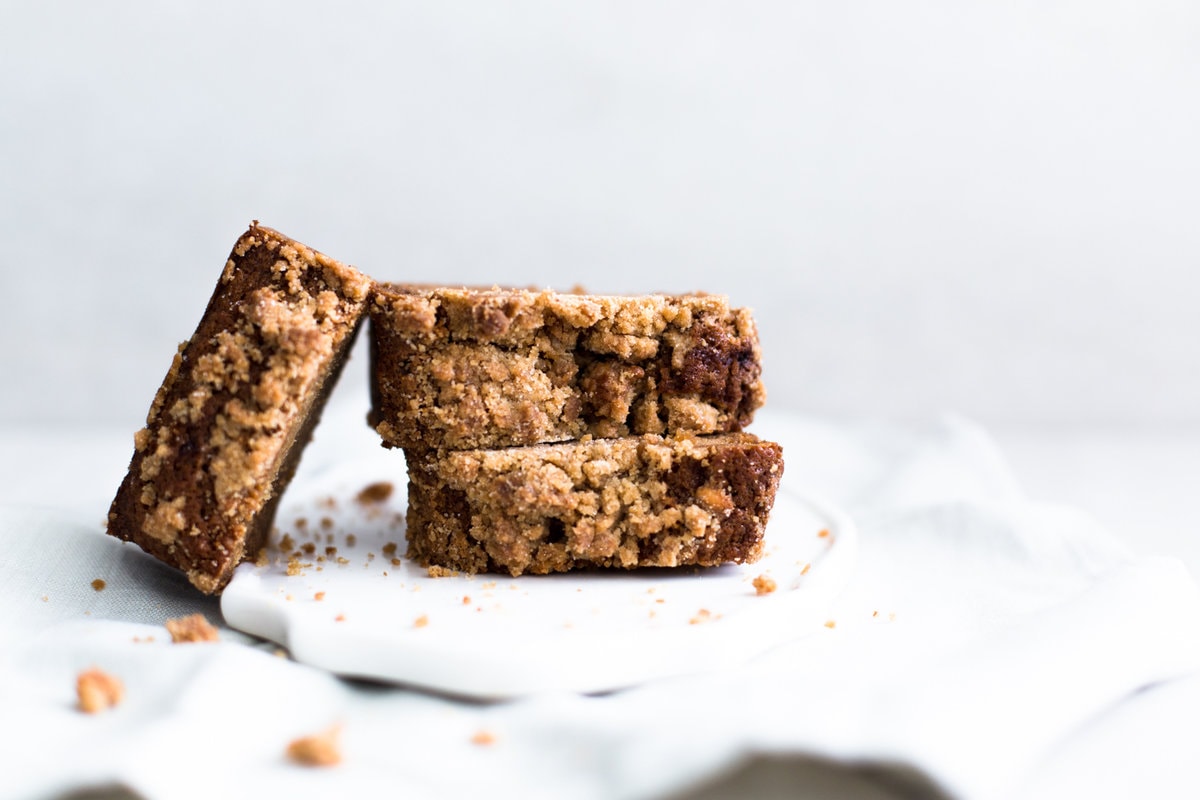 Since I don't actually know what Pancake Bread tastes like, I did my fair share of research and I think I've nailed the recipe (the Vegan version anyway). This Vegan Pancake Bread recipe baked up like a chewy, denser pancake loaf, perfumed with some real ass Maple Extract that I bought on E-bay (cla$$Y) and crowned with a delicious Cinnamon Crumble topping. The topping itself is like crack, not that I've ever tried crack.
What Ingredients Go Into Vegan Pancake Bread?
The ingredients in this Vegan Trader Joe's copycat include basics such as: Flour, Cornstarch, Non-Dairy Milk, Apple Cider Vinegar, Vanilla Extract, Maple Extract, Maple Syrup, Vegan Butter and Coconut Cream. Probably shit you already have in the pantry.
In order to replicate the lift and structure that Eggs give a quick bread recipe, I add a little extra leavening in the form of Baking Soda and a touch of Baking Powder, along with Cornstarch to help the entire cake bind together and not end up a sloppy disgusting mess.
Does This Taste Like Trader Joe's Pancake Bread?
Honestly, I wouldn't bloody know. I'm not in America, and the last time I was in the states Trader Joe's hadn't come up with their Pancake Bread. Based on extensive research that I've done though, I think my version of Trader Joe's Pancake Bread is as close as possible to what people describe this luscious loaf to be. If you've tried the Original Pancake Bread from TJ's, I'd love to know what you think about this recipe!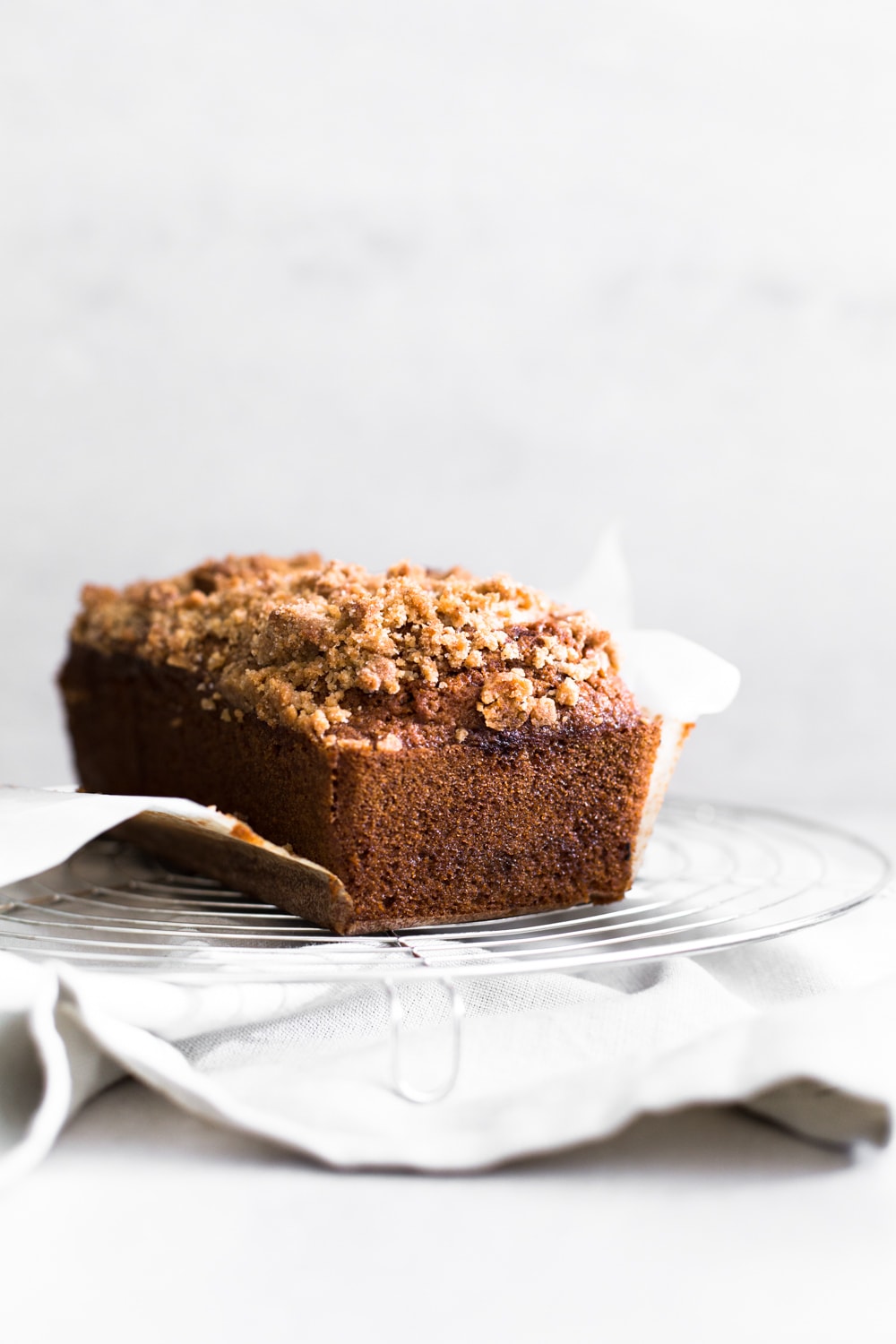 PS: This loaf tastes even better THE NEXT DAY, so if your stomach and patience can restrain themselves, I highly recommend making it at night and then leaving it to cool whilst you have you nightly wet dreams. PANCAKE BREAD FOR BREAKFAST!!!! Anyway, I shan't blabber on anymore – on to the recipe! If you try this recipe or any of my other recipes, feel free to tag me on Instagram or drop a comment! Enjooooooy!
Similar Recipes You May Like:
Ugly Vegan Banana Bread
Simple Vegan Pancakes
Oatmeal Cookie Bars with Strawberry Chia Jam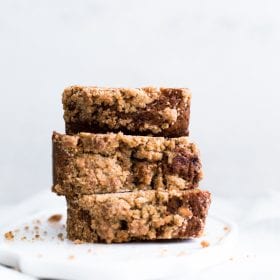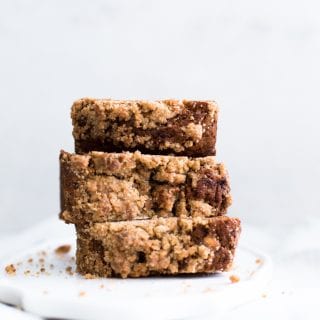 Vegan Copycat Trader Joe's Pancake Bread
Vegan Trader Joe's Pancake Bread . If you're a fan of the famous Pancake Bread, you'll love this Buttery Loaf with a delicious Cinnamon Crumble Topping.
Ingredients
1

cup

Sugar

200g

1/2

cup

Melted Vegan Butter

115g

2

tablespoons

Maple Syrup

1

teaspoon

Vanilla Extract

1

teaspoon

Maple Extract

1

cup

Soy Milk

240g

1

teaspoon

Apple Cider Vinegar

1/2

cup

Coconut Cream (100g_

1 1/2

cups

All Purpose Flour

2

tablespoons

Cornstarch

1

teaspoon

Baking Soda

1/4

teaspoon

Baking Powder

1

teaspoon

Himalayan Salt
For Crumble Topping:
1/4

cup

All Purpose Flour

35g

2

softened Melted Vegan Butter

30g

2

tablespoons

Brown Sugar

2

tablespoons

White Sugar

1

teaspoon

Ground Cinnamon
Optional:
Extra Maple Syrup

for drizzling
Instructions
Preheat the oven to 325°F/160c. Lightly grease a 9X5 inch loaf pan and line with baking paper.

In a large bowl, combine, Sugar, Melted Vegan Butter, Maple Syrup, Vanilla, Maple Extract, Soy Milk, Apple Cider Vinegar and Coconut Cream. Whisk and leave for 10 minutes.

In another bowl, sieve Flour, Cornstarch, Baking Soda, Baking Powder and Salt.

Make a well in the dry ingredients and pour wet ingredients in.

Gently fold just enough to combine, don't overmix.

Pour into prepared pan and bake for 20 minutes. Meanwhile, make the crumble topping.

Whisk together the Flour, Brown Sugar, White Sugar and Cinnamon. Work in the softened butter with your fingertips until a coarse crumble forms.

Sprinkle crumble topping evenly over the bread after 20 minutes. Continue to bake for another 55-70 minutes (depending on your oven), until a skewer inserted into the middle comes out clean. I start checking at the 50 minute mark. Don't worry if the top is a dark brown, it's meant to be that way!

Remove the bread from the oven and let it cool for 20 minutes before taking it out of the pan. Cool completely before slicing.

Serve with an extra drizzle of Maple Syrup if you're cray cray.
Nutrition
Serving:
1
serving
Calories:
171
kcal
Carbohydrates:
39
g
Protein:
2
g
Fat:
1
g
Saturated Fat:
1
g
Sodium:
305
mg
Potassium:
59
mg
Fiber:
1
g
Sugar:
23
g
Vitamin A:
78
IU
Vitamin C:
1
mg
Calcium:
43
mg
Iron:
1
mg