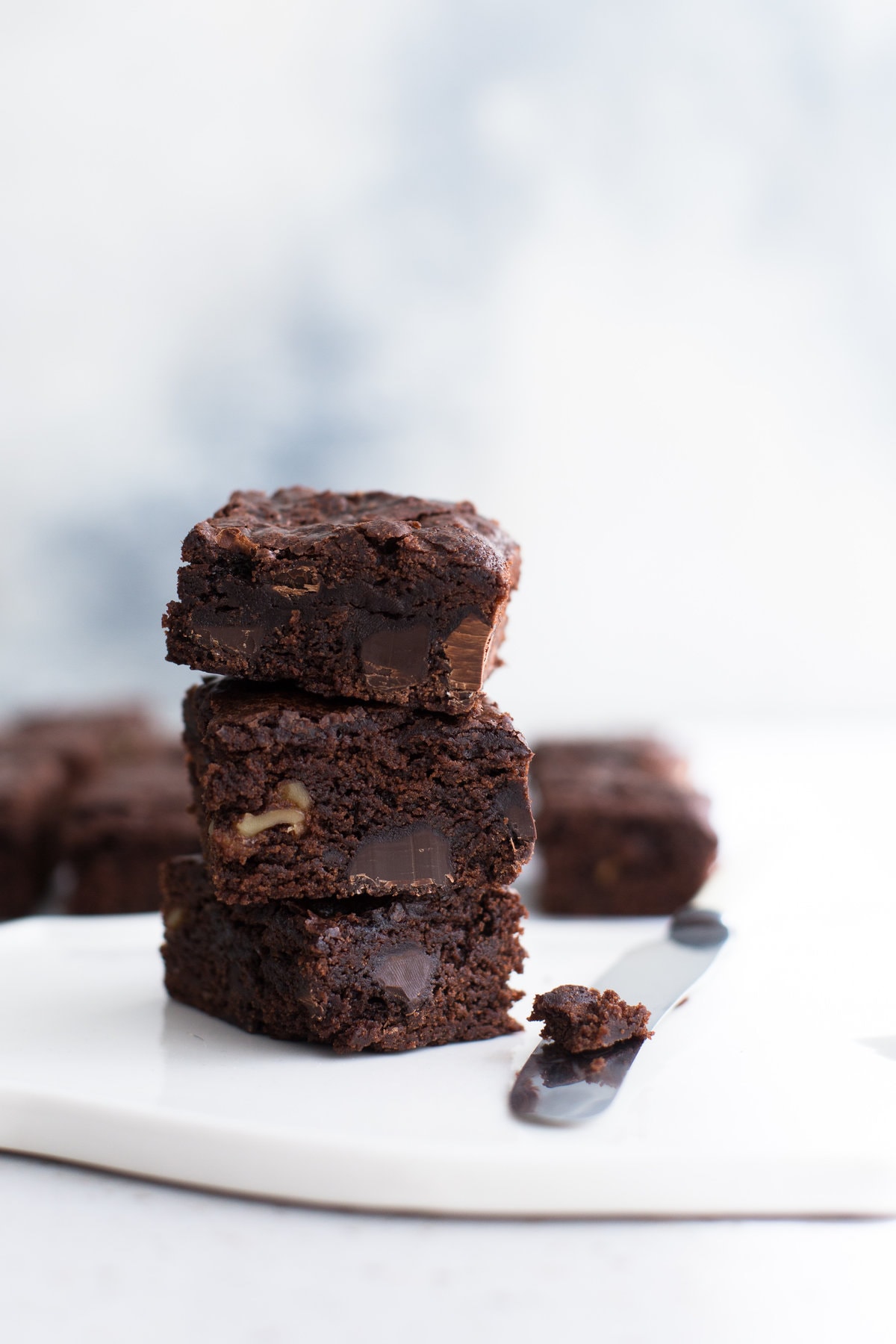 I'm a sucker for a good Fudge Brownie. In high school, I used to almost religiously stop by Mrs. Field's to buy a Fudge Brownie that would then accompany me on my short walk home. Brownies are God, Brownies are life. Enter my Vegan Fudge Brownies. If you look through the vast world of the interwebz, you'll find hundreds of Vegan Brownie recipes. Sadly, many of these recipes are made "healthy", or involve the addition of Bananas, Applesauce, Protein Powder and all sorts of other healthy hippie stuff. Don't get me wrong, I'm all for being healthy…but when I want my Fudge Brownies, I want them untouched and untainted. Unadulterated, big fu*k off pieces of chunky chocolatey sin that go straight to my ever growing hips, please and thank you. Take your Banana, Applesauce, Protein Powder, Dates, Peanut Butter and everything else disgusting and throw it down the bin chute because I don't have time for that nonsense.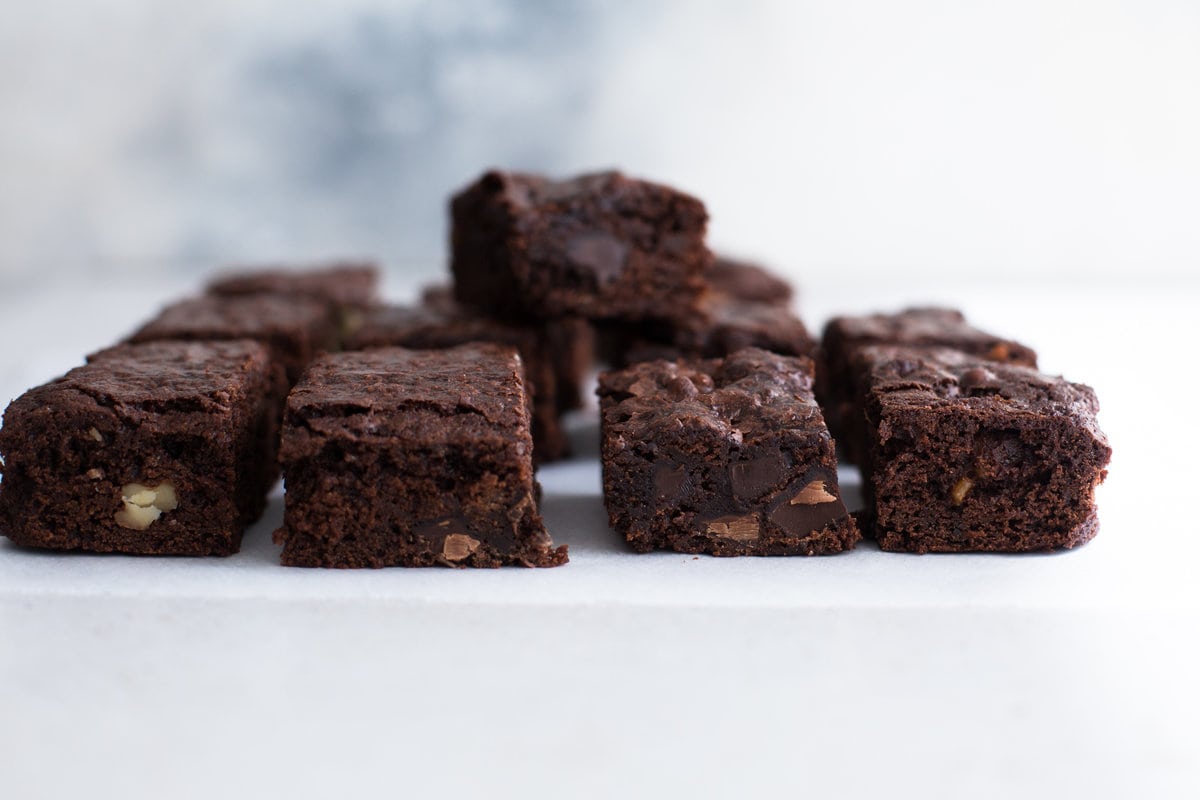 This recipe for Vegan Fudge Brownies trumps them all. Big call, I know. But they're god damn freaking amazing, and so simple to make. No Hocus Pocus ingredients in sight, just the way I like it. We start off by melting Cocoa Powder, Sea Salt, Instant Espresso (vital to to enhance chocolate flavour, your brownie will NOT taste of Coffee) and Unsweetened Chocolate in a bowl with Boiling Water. Why boiling water? Well, hot water brings out the complex flavours in Cocoa Powder, adding an extra dimension to an otherwise simple recipe. To this molten chocolate mixture, we will then add Sugar, Melted Refined Coconut Oil (only use refined, as it doesn't have any coconut after-taste) and a hefty dose of Vanilla Extract.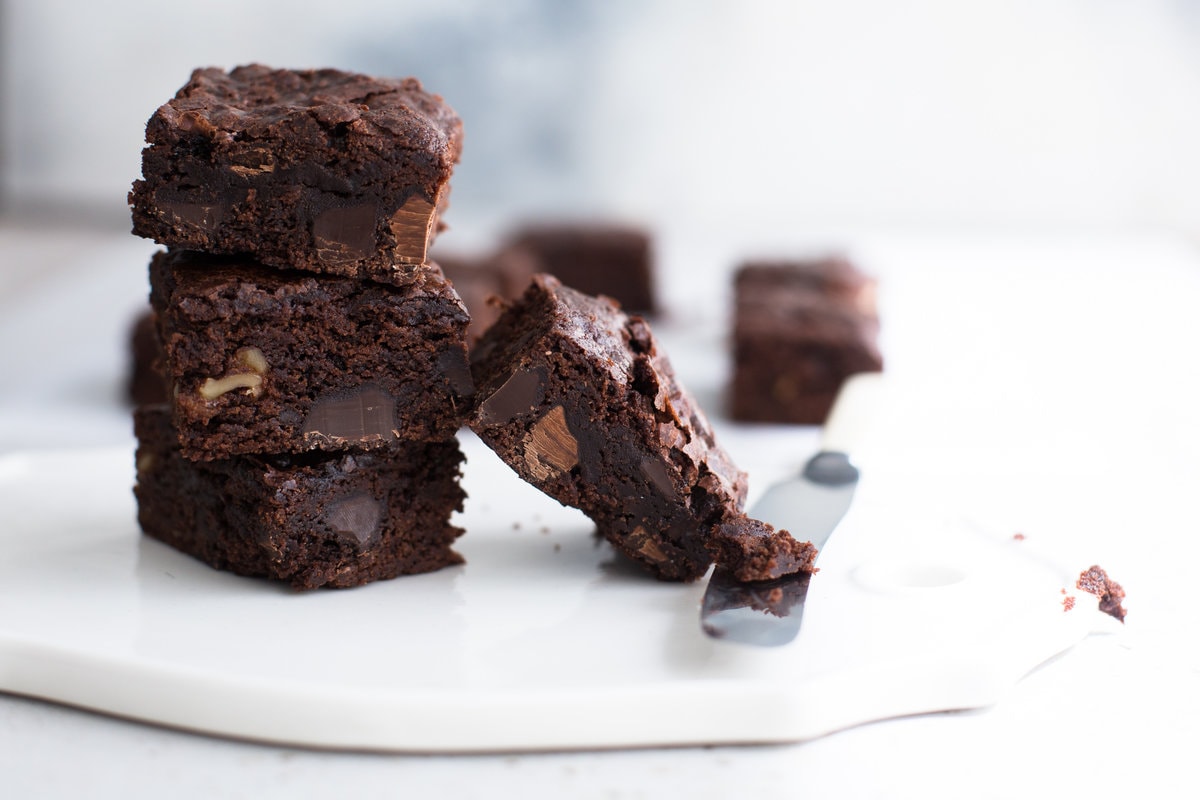 That's the liquid component of your Vegan Fudge Brownie recipe done. Onto the dry! All you need is some Flour, Baking Powder (I wouldn't usually use Baking Powder in a Brownie recipe but baking powder gifts these Brownies the slight lift that Eggs would in a non-vegan recipe), Dark Chocolate Chunks and Chopped Walnuts. Nuts are totally optional of course, but who doesn't like a few nuts in their mouth! Into a lined tin this Brownie mixture goes (yes, you should lick the bowl and spoon), and it's now time to bake! 22 minutes later, your bad ass Brownies are done. Remember, never over-bake your brownies. If anything, you're better off under-baking them.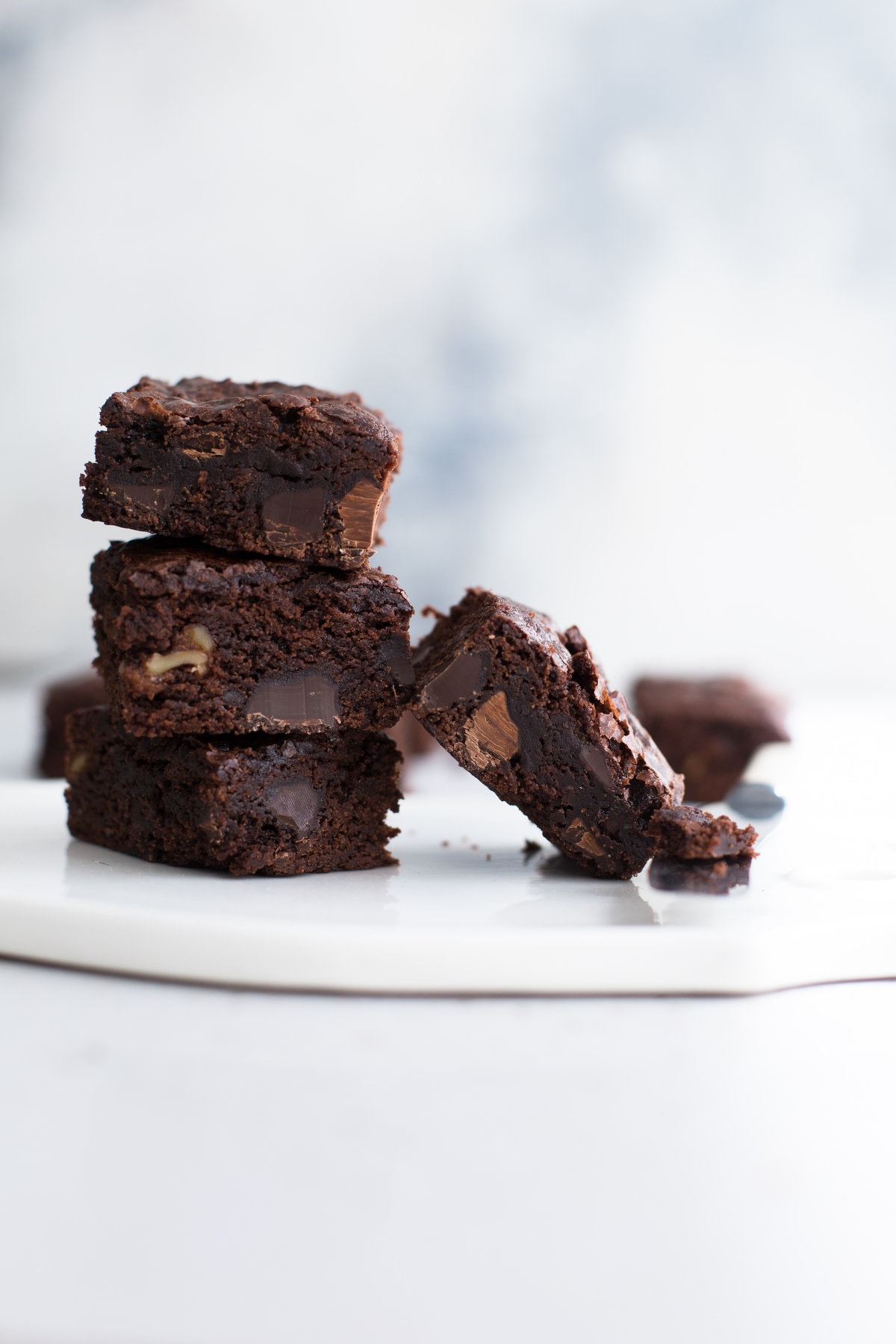 One thing you must take note of is that these Vegan Fudge Brownies have to cool down entirely before you attempt to even cut them. As the Brownie cools, it firms up, giving it that fudgy texture that I have orgasmic convulsions for. So be patient, and you will be rewarded. I usually make these the night before, let it cool in the tin for an hour, and then chuck it into the fridge so that it is ready to be cut into pieces the next morning. Vegan Fudge Brownies for breakfast, anyone? Umm, fu*k yes. Crackly top, fudgy center, my life is goddamn complete. Do yourself a favour and whip a batch of these up pronto (but please don't blame me for the pounds it may add to your frame). Scroll down to grab the full recipe! 😀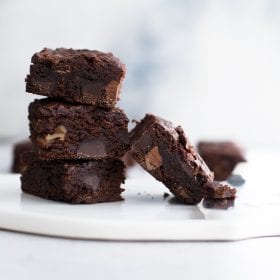 Vegan Fudge Brownies
The ultimate, unadulterated Vegan Fudge Brownies. Crackly top, fudgy center and pure chocolatey goodness without a single crazy ingredient in sight.
Ingredients
1 1/2

oz

vegan Chocolate

45 grams, I used 90%

6

tablespoons

Unsweetened Cocoa Powder

3/4

teaspoon

Instant Espresso Powder

1/2

teaspoon

Sea Salt

1/2

cup

Boiling Water

125 grams

1/3

cup

Coconut Oil

80 grams, melted

1 1/4

cups

Sugar

250 grams

1

teaspoon

Vanilla Extract

1

cup

All Purpose Flour

1/8

teaspoon

Baking Powder

3

oz

Dark Chocolate

90 grams, chopped into chunks

1/2

cup

Walnuts

chopped
Instructions
Line a 8x8 inch baking tray with baking paper, and preheat your oven to 350F/175C.

In a bowl, combine Cocoa Powder, Unsweetened Chocolate, Espresso Powder and Sea Salt. Pour boiling water over and whisk until you achieve a smooth chocolate lava.

Add Coconut Oil, Sugar and Vanilla to the mixture and whisk to combine. Leave to cool for 10 minutes.

Once cooled, add Flour and Baking Powder to the mixture and whisk till smooth. Fold in Dark Chocolate Chunks and Walnuts.

Pour batter into prepared tin and bake for 22 minutes. Remove from oven and leave to cool for 2 hours or until completely cool before cutting. I prefer to let the Brownies cool and then chill the entire pan in the fridge for 2 hours or so before cutting. This ensures that you get nice, clean and neat slices.

Enjoy!
Nutrition
Serving:
1
serving
Calories:
227
kcal
Carbohydrates:
33
g
Protein:
3
g
Fat:
11
g
Saturated Fat:
6
g
Sodium:
102
mg
Potassium:
74
mg
Fiber:
2
g
Sugar:
23
g
Vitamin A:
1
IU
Vitamin C:
1
mg
Calcium:
17
mg
Iron:
1
mg