You'll find tropical flavors and a refreshing mix of fruit and vegetables in this delicious Green Smoothie! It's a 5-minute breakfast or snack that's sure to make you feel great.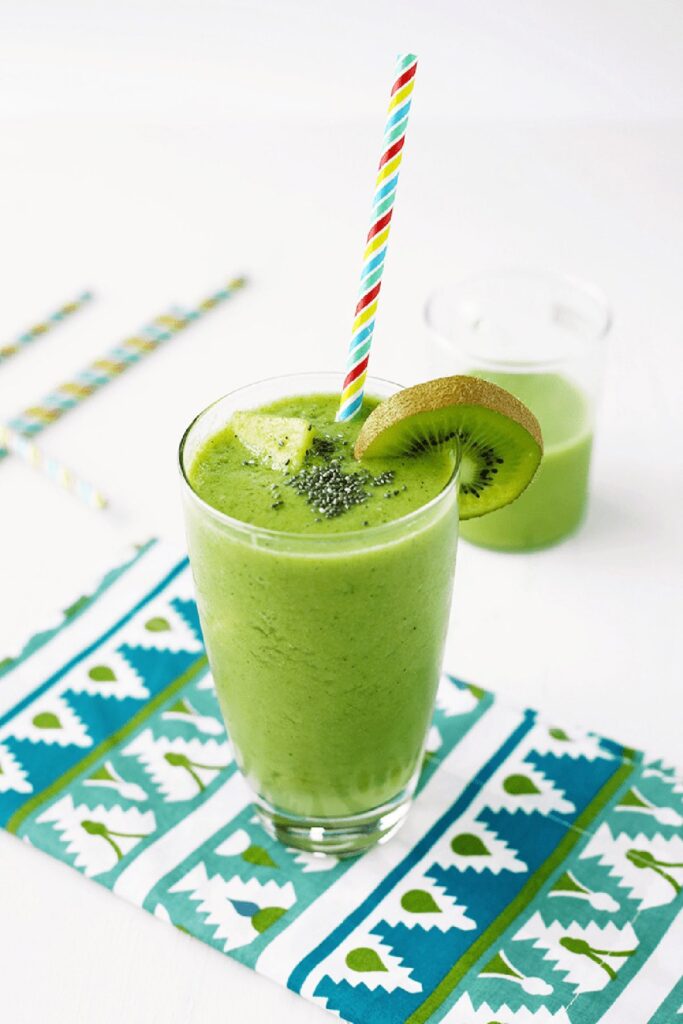 Jumpstart your day with even more healthy smoothie recipes, like my Kale Smoothie, Tie-Dye Fruit Smoothie or my classic tropical smoothie.
Green smoothies often come with a bad rap. They either taste like salad or the flavors are unbalanced. Thankfully, with this delicious vegan green smoothie recipe in your back pocket, you won't ever have to suffer through bad smoothies again!
FREE EBOOK SERIES! 5 SECRETS FOR FOOLPROOF VEGAN DESERTS
In it, you'll find a vibrant blend of tropical fruits and refreshing coconut water. Every sip is tart, sweet, and rejuvenating thanks to grapes, pineapple, spinach, banana, and kiwi. Fresh fruit is great or you can pop the ingredients in the freezer overnight for an extra slushy consistency.
Have fun with this grape and pineapple green smoothie. The ingredients, toppings, and flavor boosters are all a joy to play with – I'll teach you how!
Why you'll love this recipe
An easy 5-minute breakfast. Just throw everything in a blender, blend, and you're done! Sip on it for a quick breakfast or take it on the go.
Light, vibrant, and delicious. Many green smoothie recipes are made with dairy free milk for a creamy consistency and flavor. Coconut water plays better with the tropical fruits here while making each sip feel light and vibrant.
It's healthy, but doesn't taste like it. The smoothie gets its green color from the spinach, kiwi, and grapes. While this makes it look healthy (and it is… see the health benefits of the fruits and veggies in the Ingredients section), it tastes more like a fun drink you'd find in the Caribbean.
Ingredients needed
Coconut water – This is the clear liquid inside of a coconut. Don't worry – you can buy bottles or cartons of coconut water at most major grocery stores. It's a seriously refreshing beverage on its own and early stages of research have shown that it may be a great source of antioxidants, potassium, and heart and blood-healthy properties.
Green grapes – They'll add a tart sweetness to the smoothie and give the green color a boost.
Pineapple – Fresh or frozen pineapple is sweet and tart. You could even add a splash of my Cold Pressed Pineapple Juice if you love the flavor.
Green kiwi – It pairs perfectly with banana and pineapple!
Banana – Fresh or frozen bananas can be used.
Baby spinach – Spinach is one of the best greens for smoothies because it's packed with plenty of health benefits, like antioxidants, stress-reducing compounds, and brain-healthy anti-inflammatories. Also, its mellow, almost sweet flavor is easy to hide behind the tropical fruits, helping you reap the nutritional benefits without making your smoothie taste like salad.
Ice – Only use ice if you're making the smoothie with fresh (not frozen) fruit.
How to make a green smoothie
It's easy! Just place all of the ingredients into a high-speed blender and blend until it's smooth and creamy (1 to 1 ½ minutes).
Pour the creamy, vibrant drink into a glass and enjoy.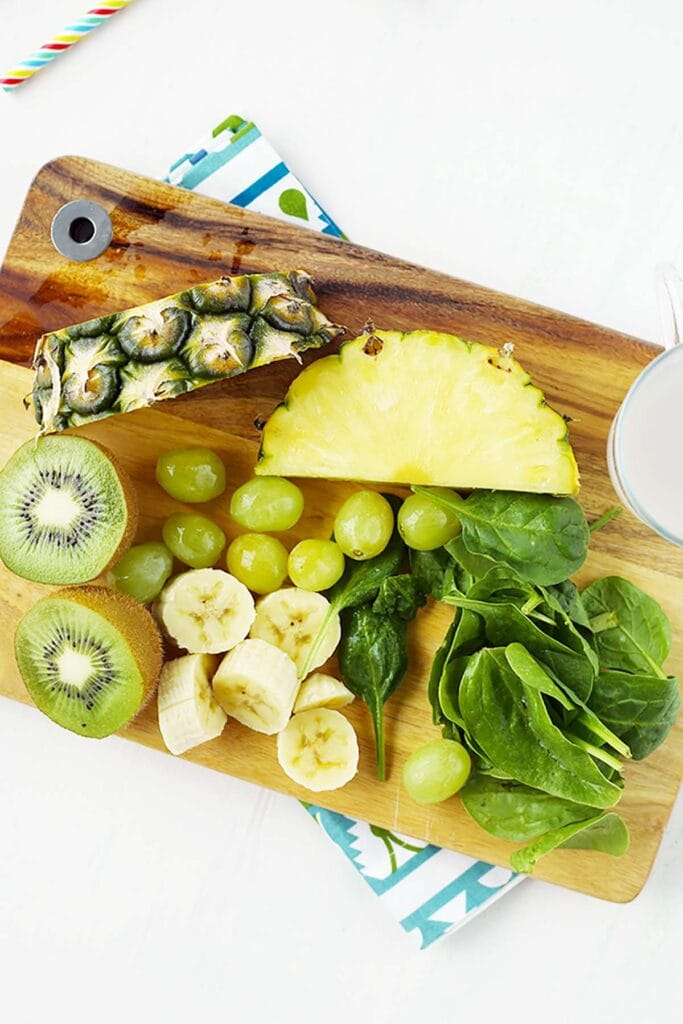 Tips and variations
Use frozen fruit instead of ice. Blending frozen bananas, grapes, and pineapple gives the smoothie a creamy and slushy consistency rather than being icy.
For a creamier consistency. Swap the coconut water for coconut milk or the dairy free milk of your choice, like almond milk, oat milk, or cashew milk.
Healthy greens for smoothies. Spinach is a very healthy green that doesn't come with a strong flavor. However, if you don't have any at home, you can use kale, collard greens, or Swiss chard instead.
Green protein smoothie. Add a scoop of your favorite vegan-friendly flavorless protein powder to make it extra filling.
Change up the fruit. Mix up the ingredients as you like or add even more fruits and veggies to the recipe. Mango chunks, avocado, kale, oranges, and dates would all be healthy and delicious additions.
Make it a meal
Green smoothies are fantastic on their own but are also very welcome next to a healthy breakfast. Pair a glass with vegan cinnamon rolls, mango raspberry chia pudding, or grain free granola to start your day off right.
Did you know you can also bulk it up with toppings? It's one of the best ways to make a meal out of a smoothie. Once it's poured into a glass or bowl, sprinkle these fun flavor boosters on top:
Hemp seeds
Fresh blueberries, raspberries, or strawberries
Chia seeds
Diced kiwi and pineapple
Coconut flakes
Chopped nuts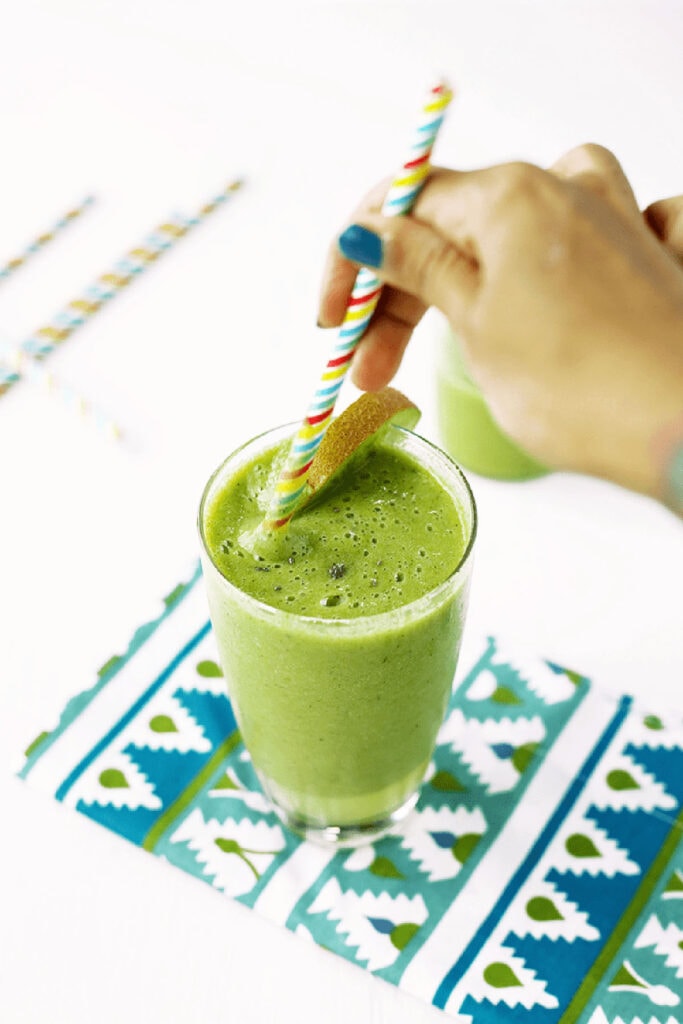 Can you make it ahead of time?
The texture and consistency will be best right after the ingredients are blended. But if you're low on time, blend the smoothie a few hours ahead of time and keep it in a sealed jar in the fridge for later. Some separation may occur, but you can fix that with a good shake or by blending it quickly once again.
Frozen green smoothie cubes
Another great way to prepare your vegan breakfast smoothies ahead of time is freezing the blended mixture in ice cube trays! Here's how it's done:
Blend the smoothie as normal and pour it into an ice cube tray or silicone molds.
Freeze until solid.
Transfer the smoothie cubes to a ziploc bag. Freeze for up to 3 months.
Anytime you're in the mood for a healthy breakfast, drop 2 or 3 cubes into a blender with a splash of coconut water or plant milk, and blend until smooth.
More refreshing and healthy drinks to try
Each of these light and colorful drinks are sure to leave you feeling refreshed, hydrated, and energized: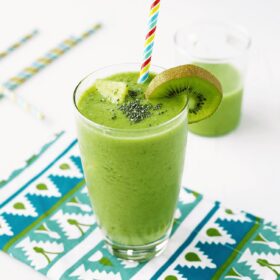 Green Smoothie
You'll find tropical flavors and a refreshing mix of fruit and vegetables in this delicious Green Smoothie! It's a 5-minute breakfast or snack that's sure to make you feel great.
Ingredients
3/4

cup

coconut water

unsweetened

10

green grapes

1/3

cup

fresh pineapple

diced

1/2

medium

kiwi fruit

green

1

small

banana

1

cup

baby spinach

1

cup

ice
Instructions
Place everything in a blender and blend till smooth.

Don't over-blend your smoothie as you don't want the banana to oxidize too much.

Enjoy!
Nutrition
Calories:
110
kcal
Carbohydrates:
27
g
Protein:
2
g
Fat:
1
g
Saturated Fat:
0.2
g
Polyunsaturated Fat:
0.1
g
Monounsaturated Fat:
0.04
g
Sodium:
115
mg
Potassium:
612
mg
Fiber:
4
g
Sugar:
17
g
Vitamin A:
1491
IU
Vitamin C:
42
mg
Calcium:
57
mg
Iron:
1
mg