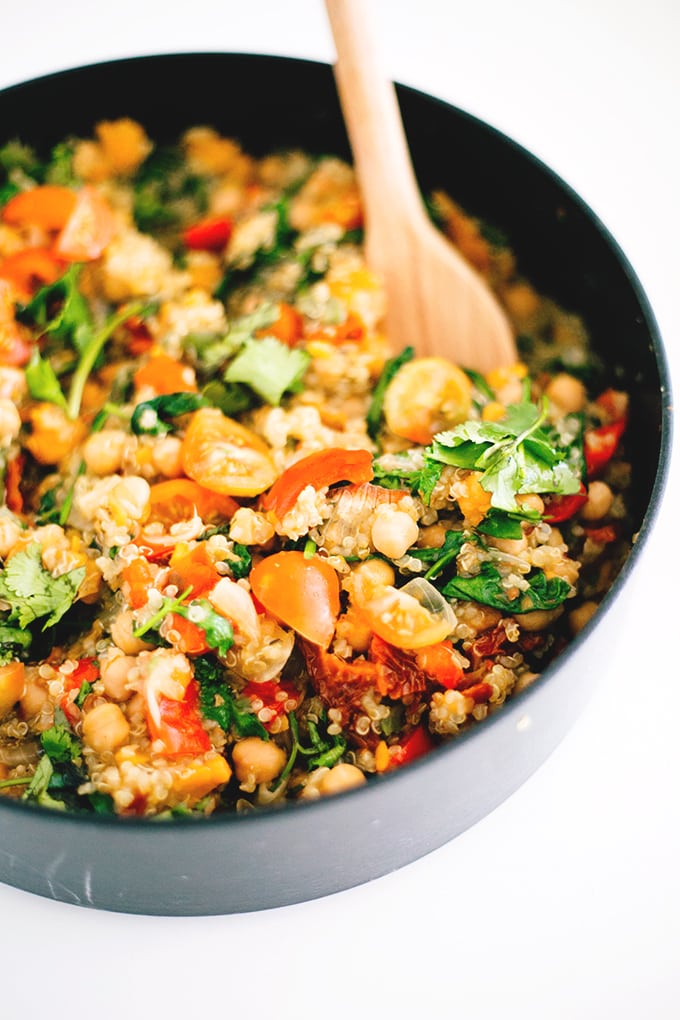 Greetings. One may have concluded that I had died with my two month absence from blogging, but I am here to disappoint by letting you know that I am, unfortunately, alive! Amongst all the crazy of my life I couldn't find any time to cook let alone blog (I was also hella lazy), but I'm finally back! To kick the post-mortem blogging into gear, I have a One Pot Vegan Quinoa recipe to share with you guys. If you're a frequent reader, you'll know how lazy I am – so One Pot Dishes are the way to go in my household of one. I hate washing up and I hate having a million things happening at once, so this Vegan One Pot Quinoa dish is a godsend.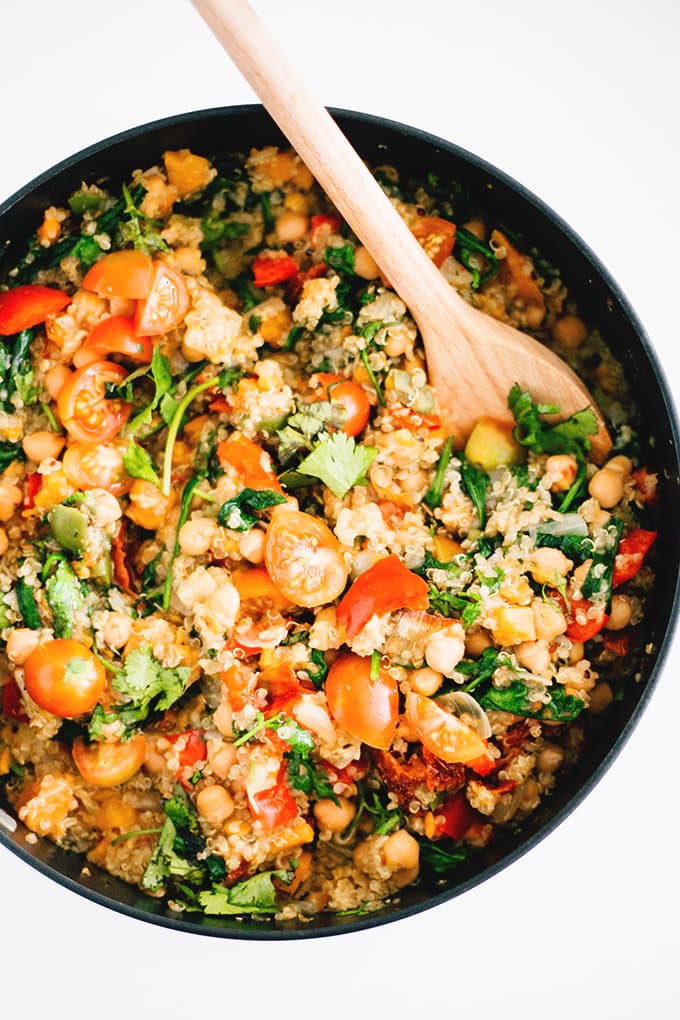 FREE EBOOK SERIES! 5 SECRETS FOR FOOLPROOF VEGAN DESERTS
What's great about this Vegan One Pot Quinoa is that it comes together in under 30 minutes, and makes enough for 4 meals – leftovers for days! It's very hearty and filling, and packs a mean protein punch. I start off by lightly frying off some White Onion, Sweet Potato and Red Bell Pepper until soft. I then add in drained Chickpeas, Sun Dried Tomato, sliced Green Olives, Vegetable Broth, White Quinoa and Water to the pot. Everything is left to simmer gently until the liquids have been absorbed, and this nommy Vegan Quinoa is finally crowned with some Cherry Tomatoes, Baby Spinach and chopped Cilantro. Couldn't be simpler than that my bruhs.
I don't really need to say anymore because I'll just let the recipe (and the final product) do the talking, but this Vegan One Pot Quinoa is definitely one to add to the weekly recipe repetoire. It is super easy to make, heart healthy, gluten free, super stick to your ribs  (TRUST ME, I'M STUFFED after even half a portion) and just an overall healthy meal that everyone can enjoy – carnivores included. Scroll down for the full recipe and here's to hoping I start regularly blogging again! Cheeeeeeers!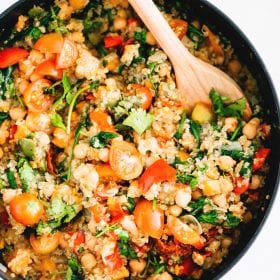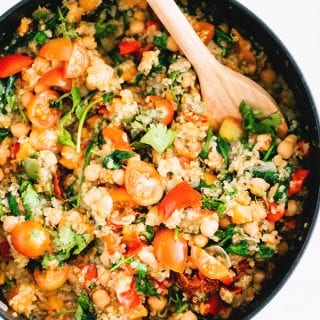 One Pot Quinoa
This one pot quinoa is a delicious quick and easy vegan recipe perfect to feed a crowd!
Ingredients
1

tablespoon

Olive Oil

2

Garlic Cloves

minced

1

White Onion

Diced

1

small

Sweet Potato

diced

1

Red Bell Pepper

diced

1

teaspoon

Red Chilli Flakes

1

tablespoon

Dried Mixed Herbs

1 14

oz can

Chickpeas

drained (420 gram can)

1

cup

Green Olives

sliced

1/2

cup

Sun Dried Tomatoes

chopped

1

cup

White Quinoa

uncooked

2

cups

Vegetable Broth

1

teaspoon

Sugar

3

cups

Baby Spinach

loosely packed

1

cup

Cilantro

chopped

1

teaspoon

Salt

to taste
Instructions
Heat Olive Oil in a saucepan over medium heat. Add Garlic, White Onion, Sweet Potato, Red Bell Pepper, Red Chilli Flakes and Dried Herbs. Sauté until fragrant and vegetables have softened, about 5 minutes.

To the saucepan, add Olives, Sun Dried Tomatoes and drained Chickpeas. Stir to combine.

Add uncooked White Quinoa to the pot and stir to combine. Pour in Vegetable broth and sugar and stir for 10 seconds. Bring to a boil, then cover and reduce to simmer for 20 - 25 minutes until liquid has been absorbed.

Once cooked, leave covered for another 10 minutes. After 10 minutes, remove lid and stir in Baby Spinach and Coriander. Let sit for a few minutes to allow Spinach time to wilt.

Season with Salt and Pepper as necessary and serve warm.
Nutrition
Serving:
1
serving
Calories:
357
kcal
Carbohydrates:
53
g
Protein:
14
g
Fat:
12
g
Saturated Fat:
2
g
Sodium:
1666
mg
Potassium:
1170
mg
Fiber:
14
g
Sugar:
16
g
Vitamin A:
8603
IU
Vitamin C:
55
mg
Calcium:
133
mg
Iron:
6
mg