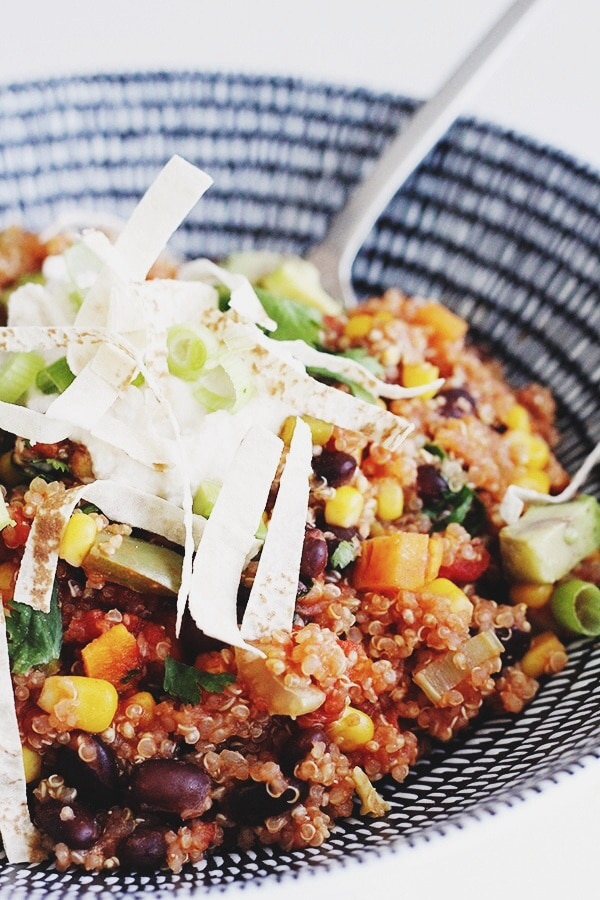 Hey everyone! I'm not sure if I'm the only one, but when it comes to cooking, I like making things that require a maximum of 2 pots, preferably just one or two silicone spatulas and a single chopping board to wash. I absolutely cannot stand having a huge pile of wash up to do (especially when you have cats running around and rushing to the sink to drink straight from the tap!). Insert the Gluten Free, Vegan One Pan Mexican Quinoa recipe that Levan and I have seen all over Pinterest.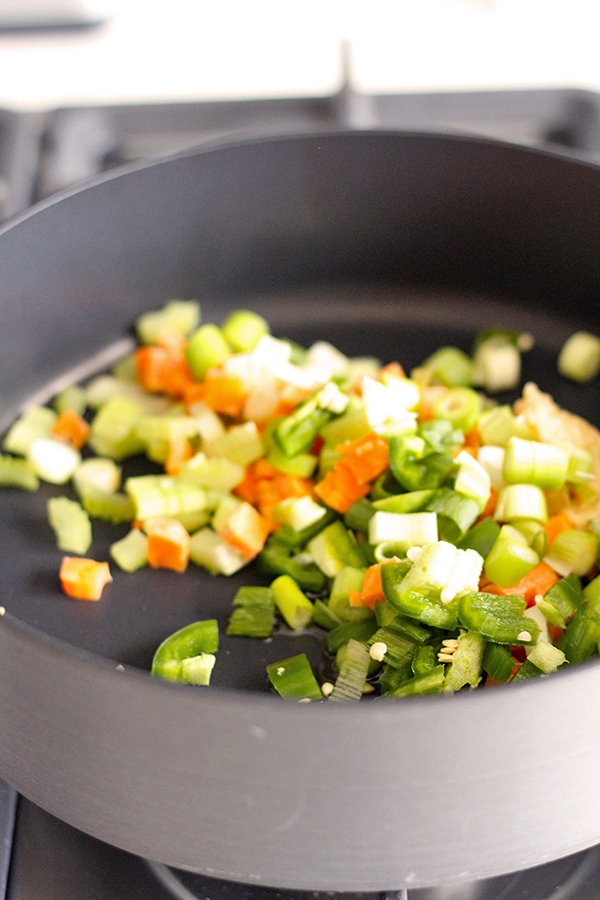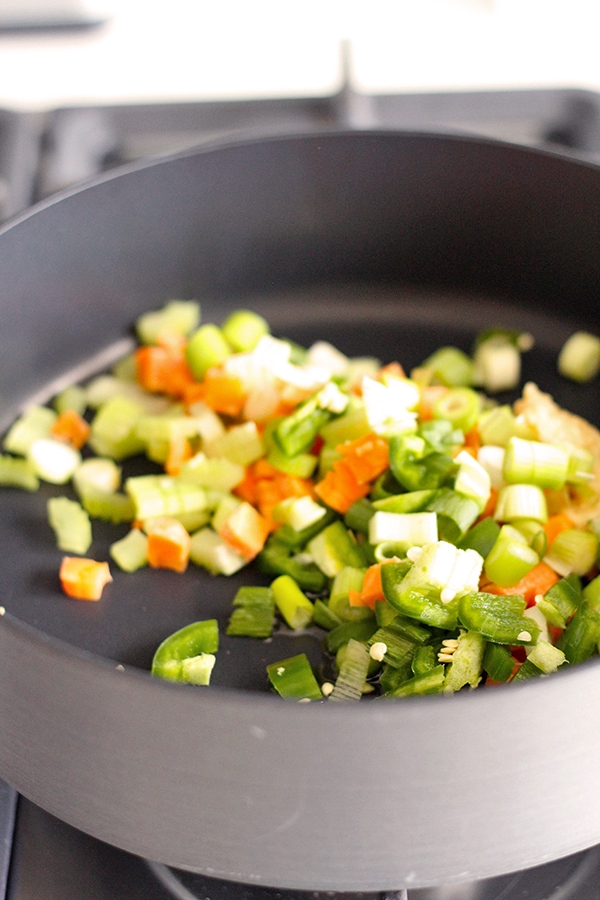 Nothing could be easier than whipping something up in one pot, all in under 30 minutes. Even the quinoa cooks in the same pot! Dare I say, even Levan could probably successfully make this quinoa recipe 😀 The original recipe comes from Cook Like a Champion, and I have tweaked it to our own taste. I added simple mirepoux to the base recipe, a handful of spinach into the mix, more cayenne and cumin for an intense spicy kick, and then finally topped it all off with a homemade Cashew Sour Cream and crispy oven baked Mountain Bread. Mountain Bread is a vegan/gluten free/yeast free flatbread that we get in Australia, but feel free to replace it with oven baked tortilla strips!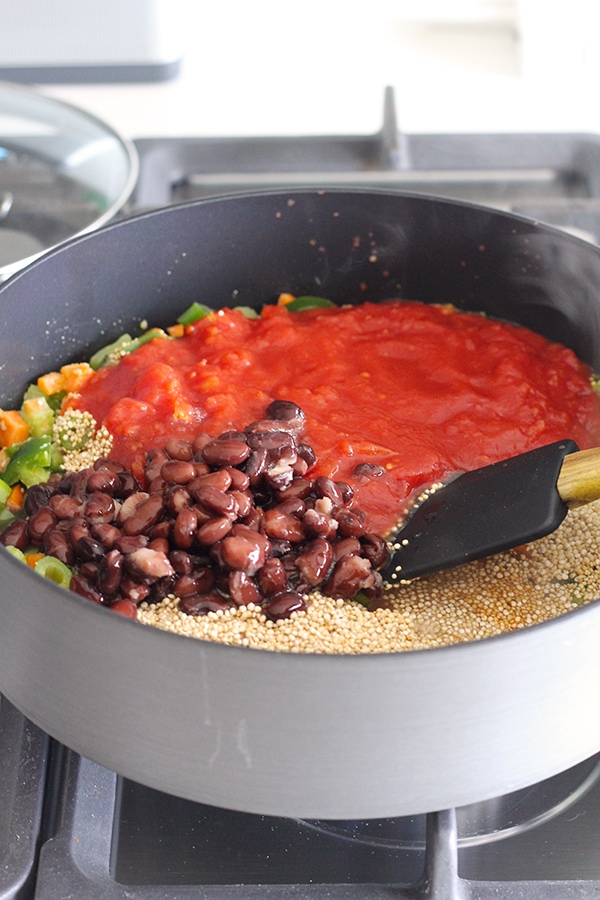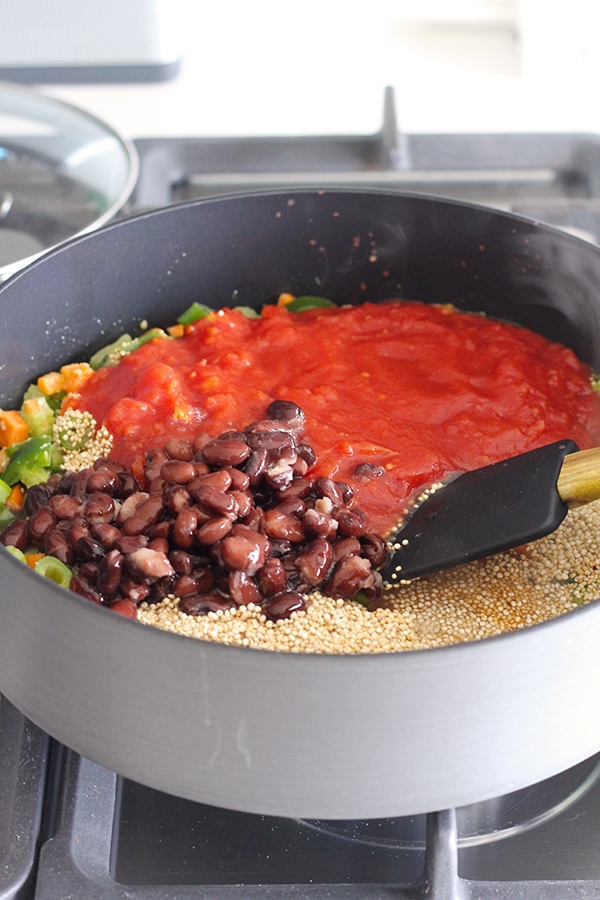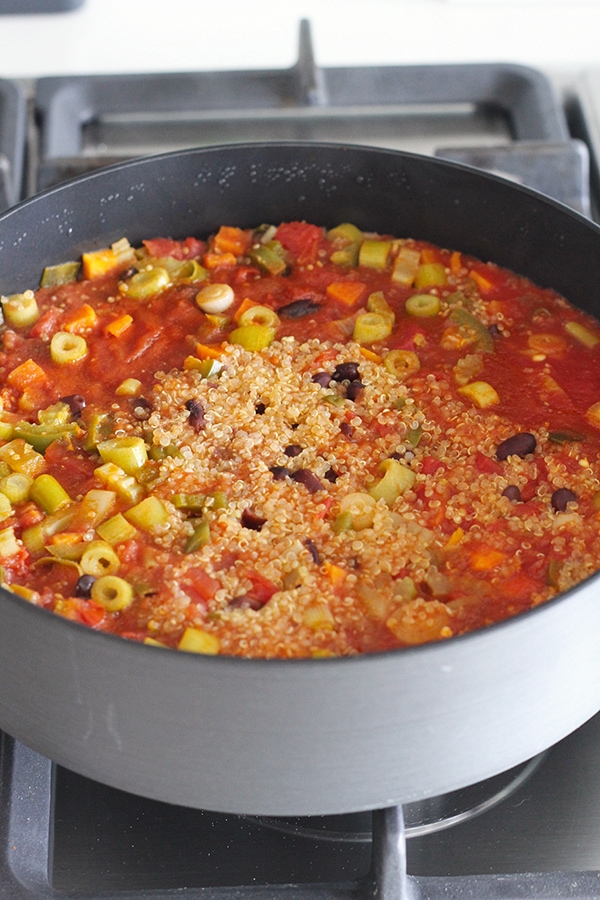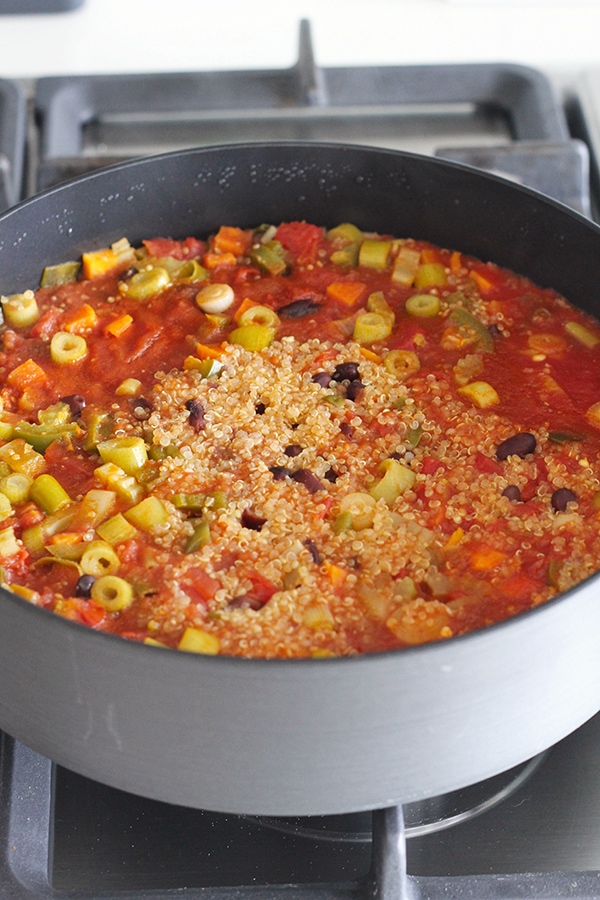 Let me tell you this: once you try cashew sour cream, you'll most definitely NOT miss the dairy stuff. I was astonished at how similar it tasted to dairy sour cream, even though it only required a handful of ingredients to make. I can imagine using it in vegan stroganoff, potato salad, and a whole load of other vegan dishes. It only keeps for a week in the refrigerator, but I can assure you that the entire batch will probably be wolfed down in less than a day. Using a Vitamix also ensures an incredibly smooth texture, but do remember to make the FULL BATCH instead of a half batch. Initially I tried making a half-recipe but then soon came to the realization that it wasn't blending smoothly because there just wasn't enough of it in the blender!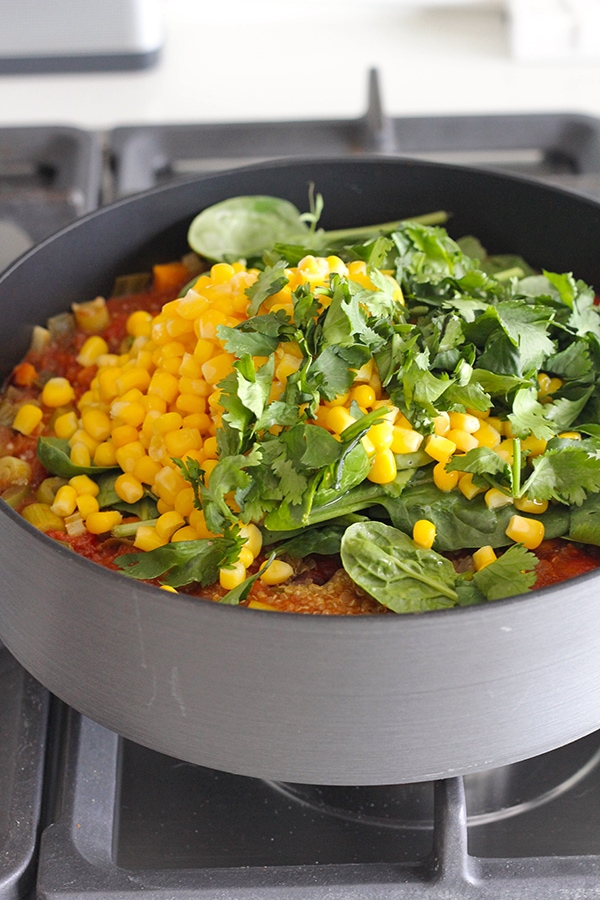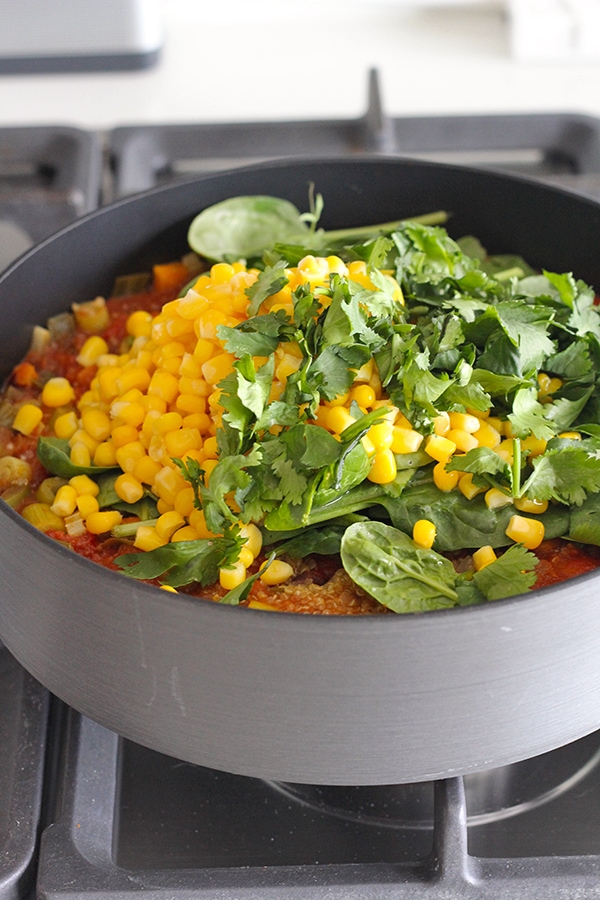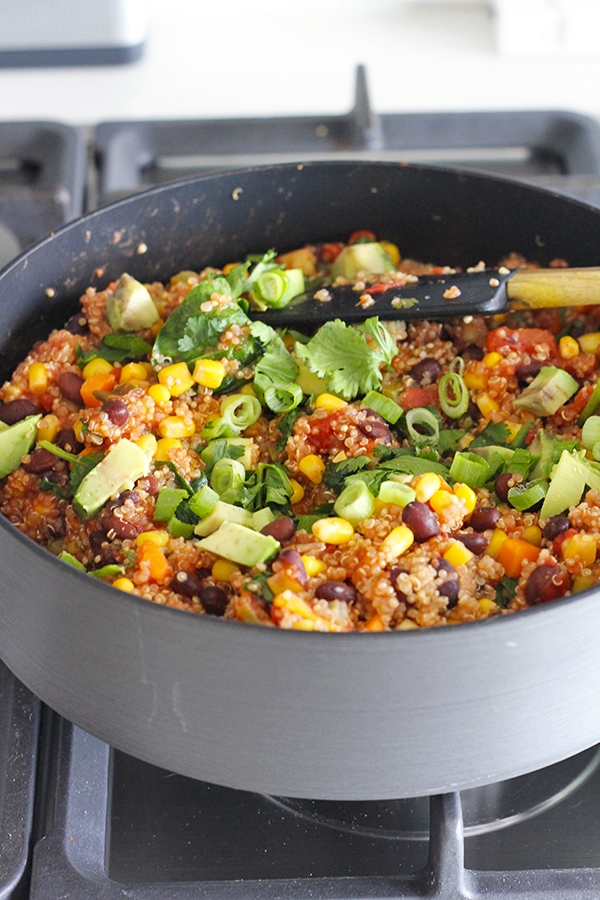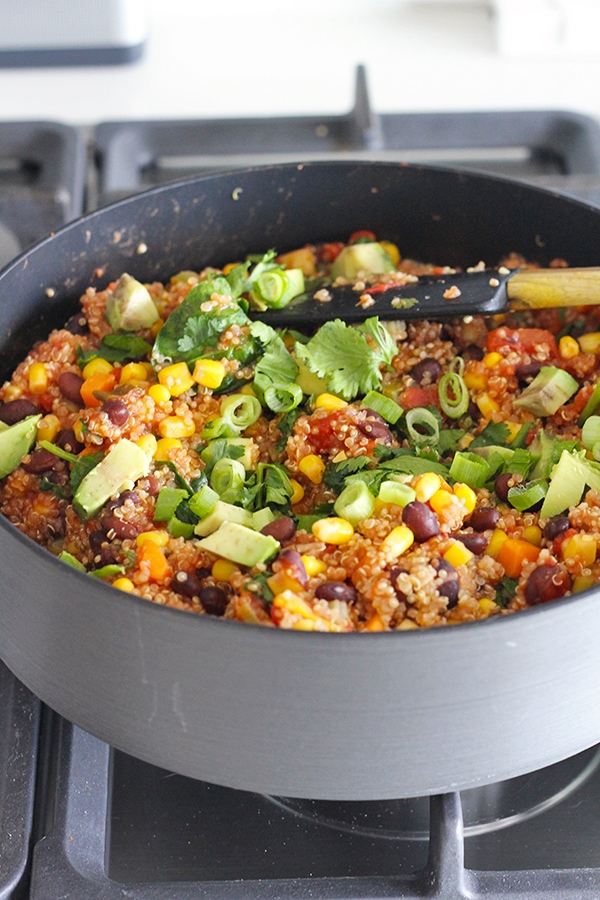 As for the quinoa recipe – well, a trillion re-pins can't be wrong now can it? It was really really delicious and thoroughly perfumed with the taste of mexico. When combined with crispy mountain bread strips and cool cashew sour cream, it was like eating the lightest, healthiest taco you've ever had. I reckon someone should rename the quinoa recipe to Taco Quinoa! Do give it a go, you most probably already have all the ingredients you need in your pantry. One Pan Mexican Quinoa – Inexpensive, delicious, healthy and something I'll definitely be keeping in my repertoire from now on.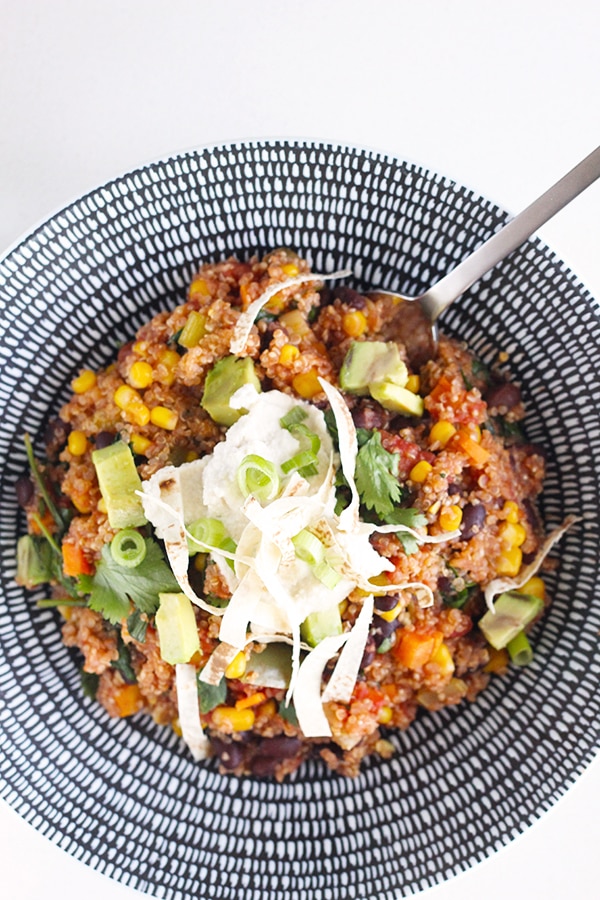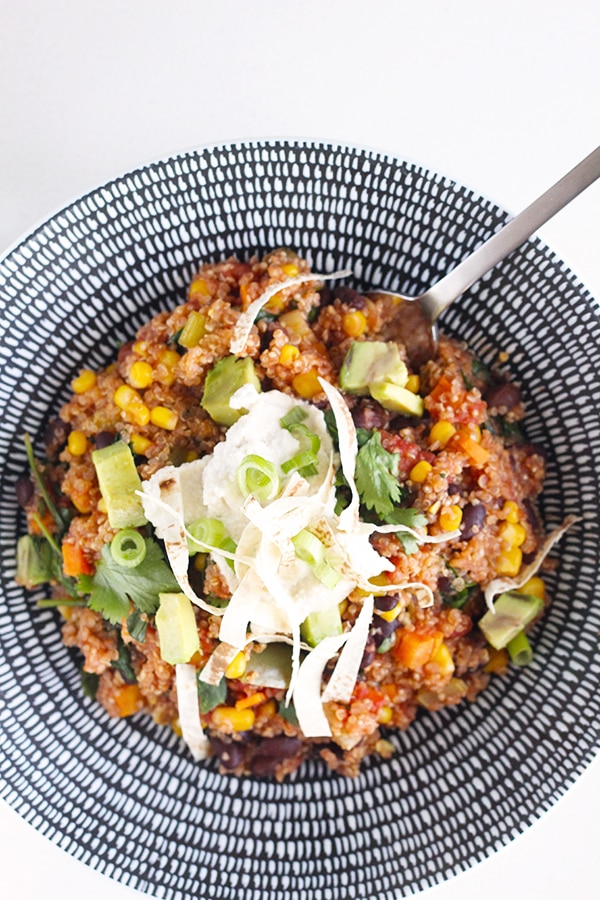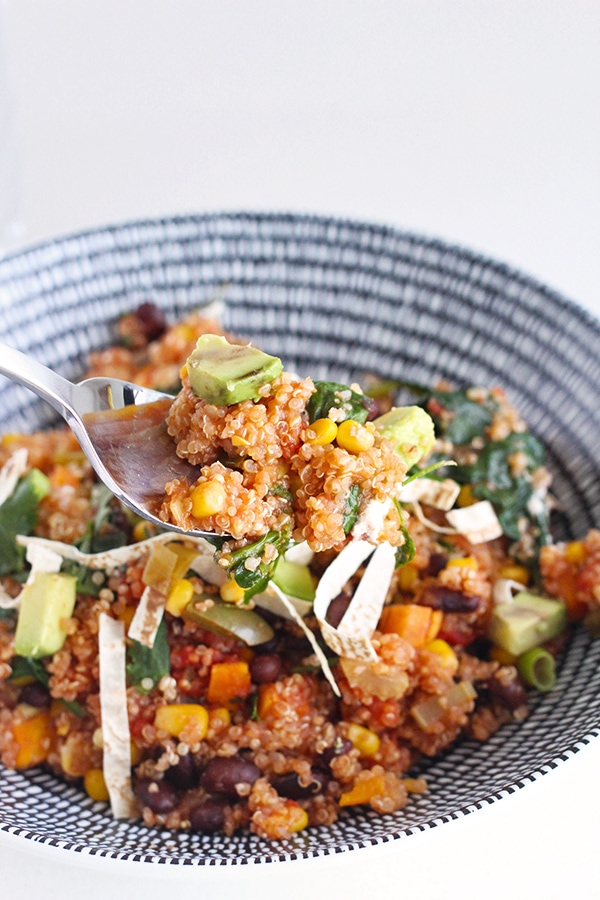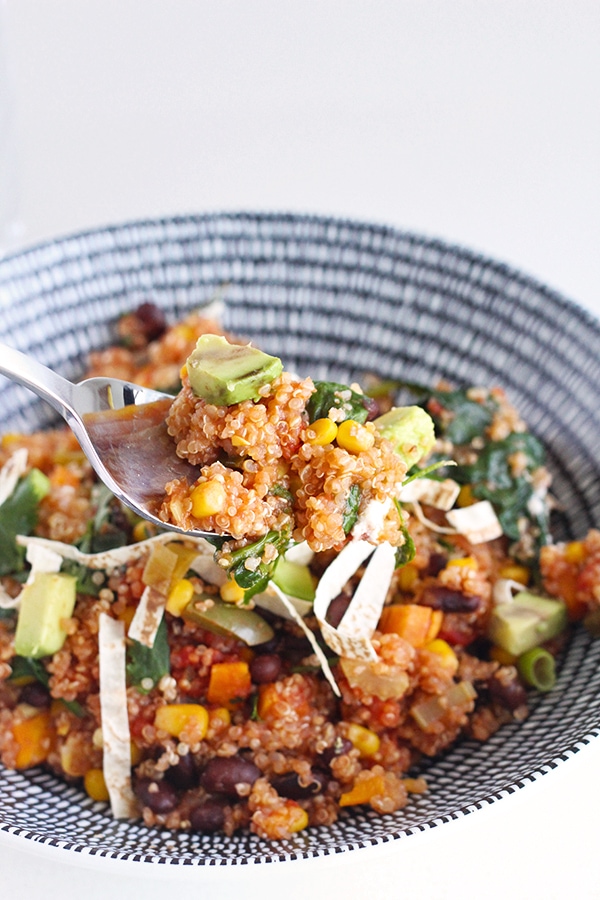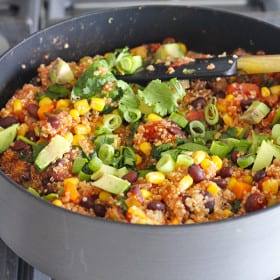 One Pan Mexican Quinoa + Cashew Sour Cream
Ingredients
For the Quinoa:

1

teaspoon

Olive Oil

2

cloves

Garlic

minced

1

stalk Celery

diced

1

small Carrot

diced

2

Spring Onions

chopped

4

Jalapeños

seeded and finely chopped

1 1/4

cup

Uncooked Quinoa

rinsed well and drained

11/4

cups

vegetable broth

1

15 ounce can Black Beans, drained and rinsed

1

14.5 oz can Diced Tomatoes, with juice

1

cup

Frozen Corn

1

teaspoon

Cumin

1

teaspoon

Cayenne

2

teaspoons

Sugar

1/2

teaspoon

kosher salt

1/3

cup

chopped fresh cilantro

1

Avocado

peeled and cubed

1

cup

Baby Spinach

Juice of 1 Lime

For Homemade Cashew Sour Cream:

1

cup

Raw Cashews

soaked overnight in water and then drained

1

tablespoon

Apple Cider Vinegar

Juice of 1 Lemon

1/4

teaspoon

Salt

1/2

teaspoon

Nutritional Yeast

1/3 - 1/2

cup

Water

depending on how thick you want it to be
Instructions
For Quinoa: Heat the oil in a medium saucepan over medium-high heat. Add the garlic, celery, carrot, spring onoin and jalapeños and sauté for about 1 minute, until fragrant.

Stir in the quinoa, broth, beans, tomatoes, corn, cumin, cayenne, sugar and salt. Bring to a boil, then reduce heat to a simmer.

Cover and let cook for 20-25 minutes, until the liquid is fully absorbed. Remove from heat, stir in cilantro, avocado, spinach and lime juice. Season to taste. Top with cashew sour cream and oven-crisped tortilla strips.

For Cashew Sour Cream: Combine ingredients in a blender and blend till very smooth. Keep in air tight container in the fridge for up to 1 week.