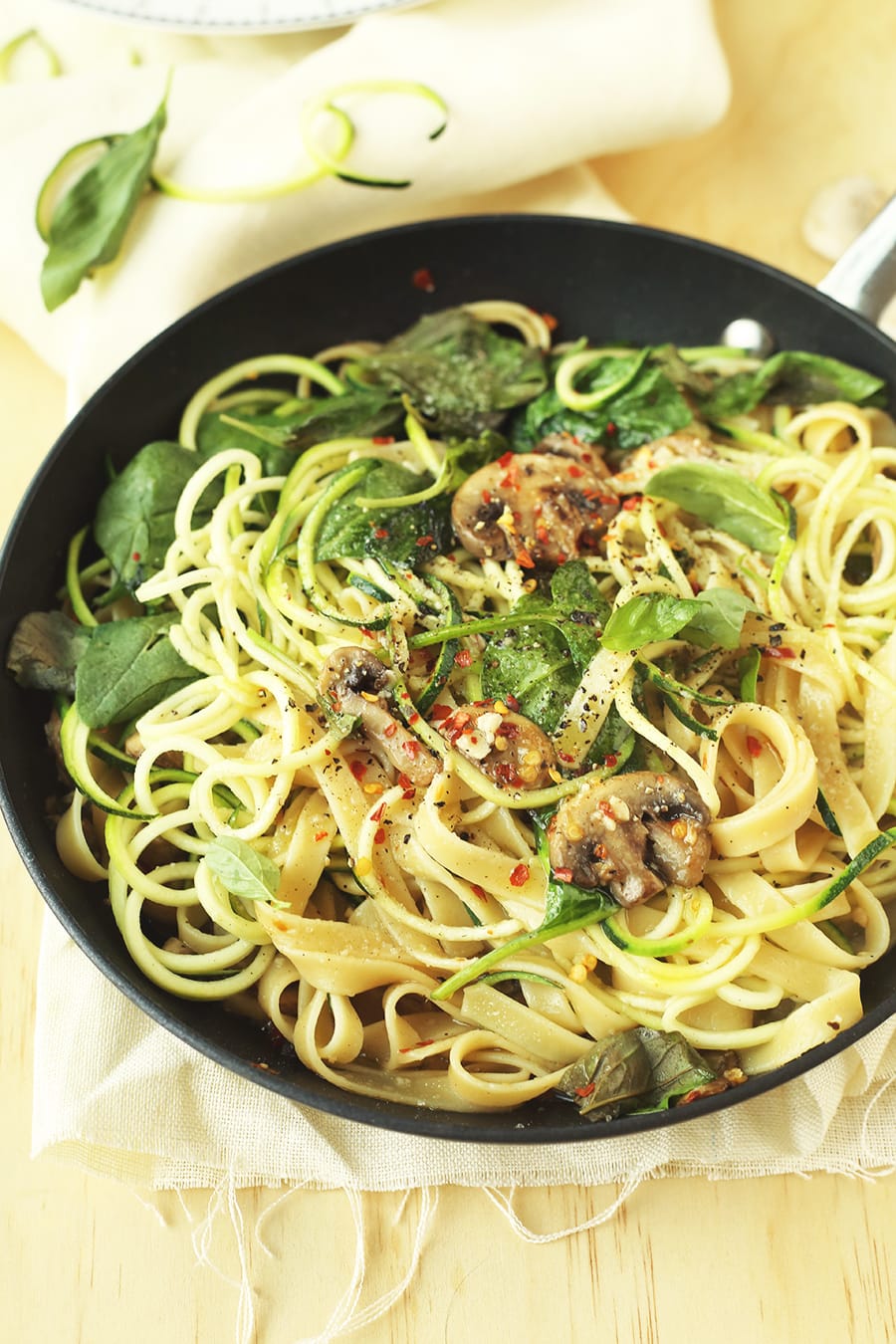 This post begins with a lame story involving video games, zucchinis, and lack of sleep. Let me elaborate. It was 3:30 am, and I had just finished up my Tomb Raider game on Xbox One. Levan then decided to purchase a new game which I couldn't resist playing, and before I knew it, it was 7:30am in the morning. This proved to be a BIG problem because on one hand I had planned on making my Zucchini Aglio E Olio with Mushrooms recipe in the afternoon, but on the other, I needed my 18+++ hours of sleep. Now, in Summer this wouldn't have been a problem since the sun never seems to go away, but entering winter, it's a whole different story (winter sucks for food photography!)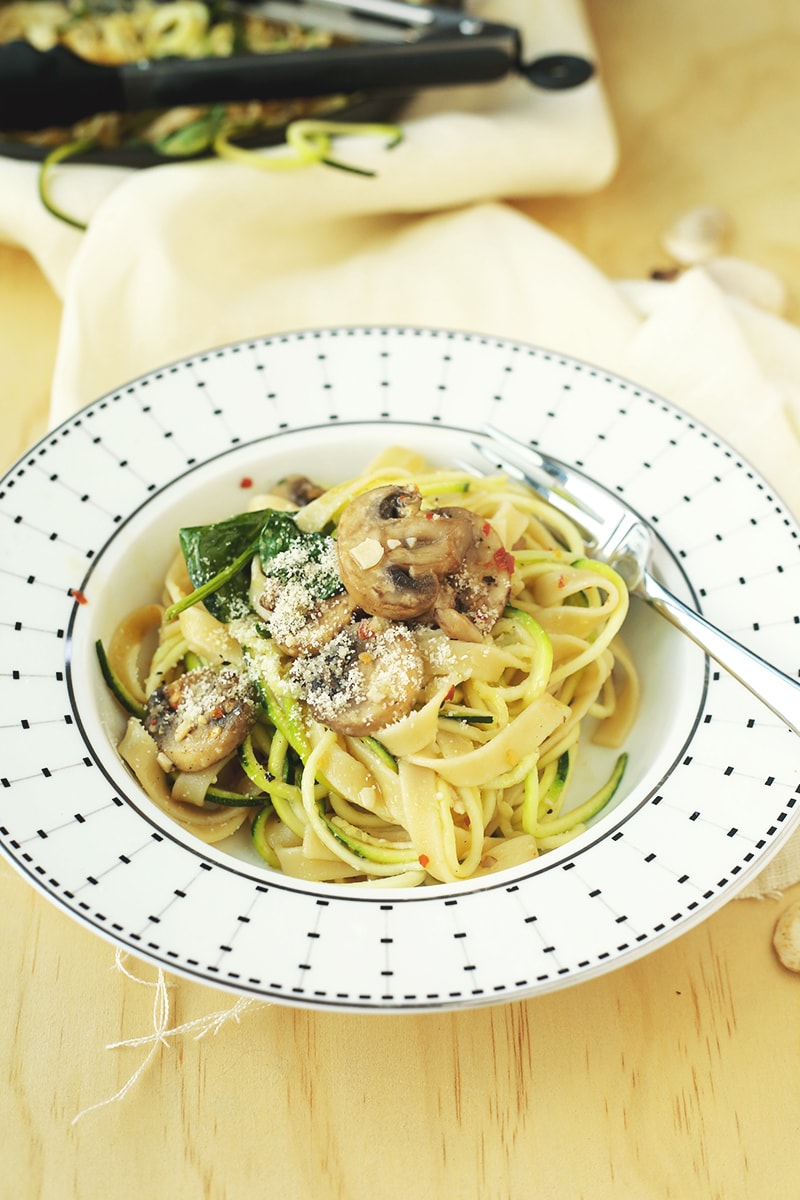 In the end, I decided to just stay up a little longer and make our healthy Zucchini Aglio E Olio recipe, photograph it, chuck it in a Tupperware container and THEN go to sleep. That way, all I had to do was wake up (I woke up at 6:30pm), nuke it in the microwave, and relax for the rest of the day, hoping, praying, to fix my sleep pattern.
Now with that story out of the way, lets talk about today's recipe – Zucchini Aglio E Olio with Mushrooms!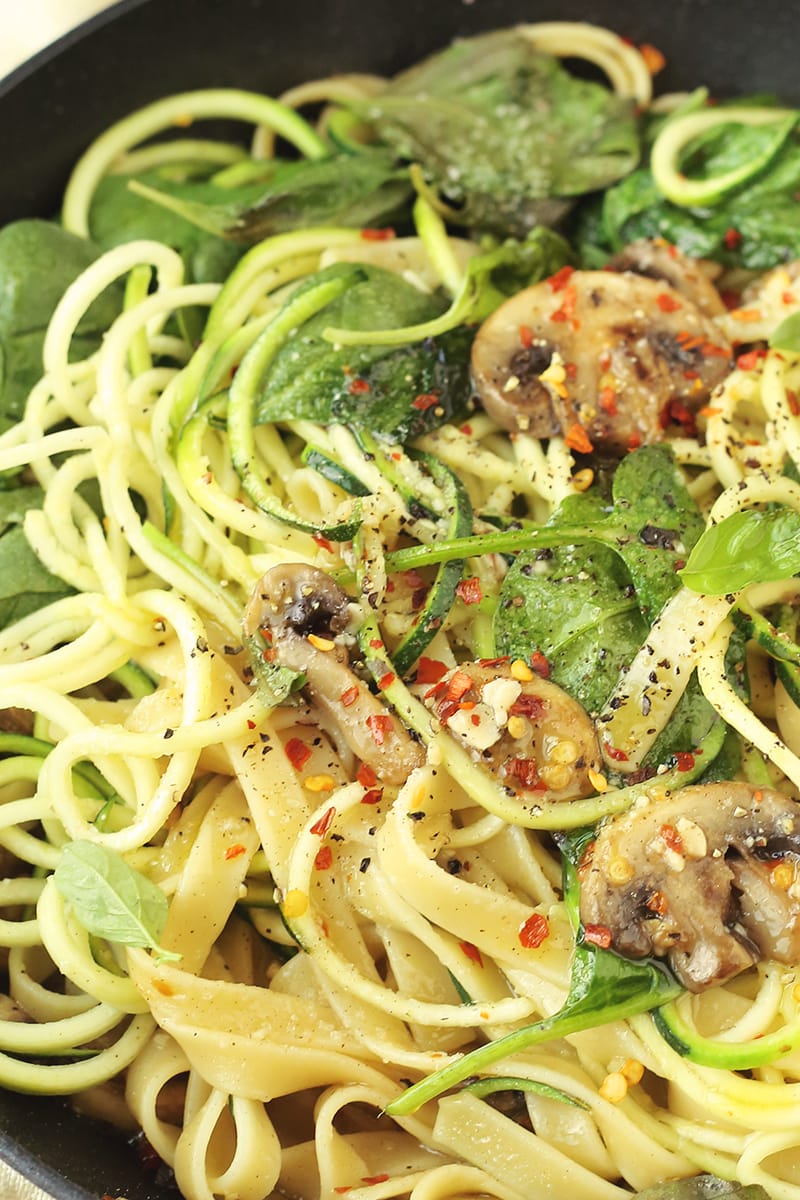 This Aglio E Olio recipe is something I actually make fairly often. It's a mix up of all the different things he likes – mushrooms, zucchini, basil, garlic, chilli flakes and fettuccine. The zucchini significantly lightens the dish up and doesn't make you feel like going to sleep like a dead rock straight after eating it.
Instead of regular olive oil, I usually use an orange infused olive oil in my pasta dishes. It lends a somewhat floral, fairy-ish, pretentious upper class flavor to the whole dish. But hey, if you don't have any orange infused olive oil, just use regular olive oil and chuck in the zest of half an orange into the dish whilst cooking your Zucchini Aglio E Olio. If you don't happen to have an orange hanging around, then you might as well just give up and mope in a corner.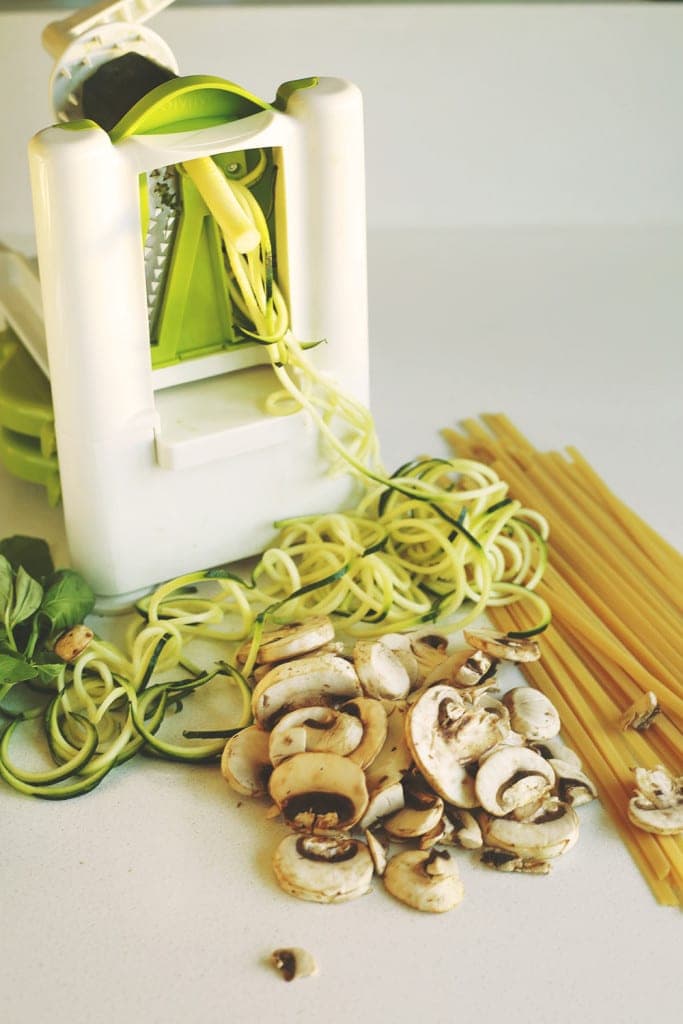 Useful Prep Tip!
I use a Paderno Spiralizer
to make my zucchini noodles, but if you don't have one you can buy one through our Amazon affiliate link below… or you can use a julienne peeler. 😀 I highly recommend having a Paderno Spiralizer in your kitchen arsenal because it saves a LOT of time and is very easy to use (seriously, even Levan knows how to use it, and he's hopeless in the kitchen). It's also great value for money (check out the customer reviews!) and looks pretty on the counter. As of this time, the Paderno Spiralizer is an Amazon #1 Bestseller.
I earn a tiny commission if you purchase anything through the above link, at

no extra cost to you

. We only recommend products we personally own and love.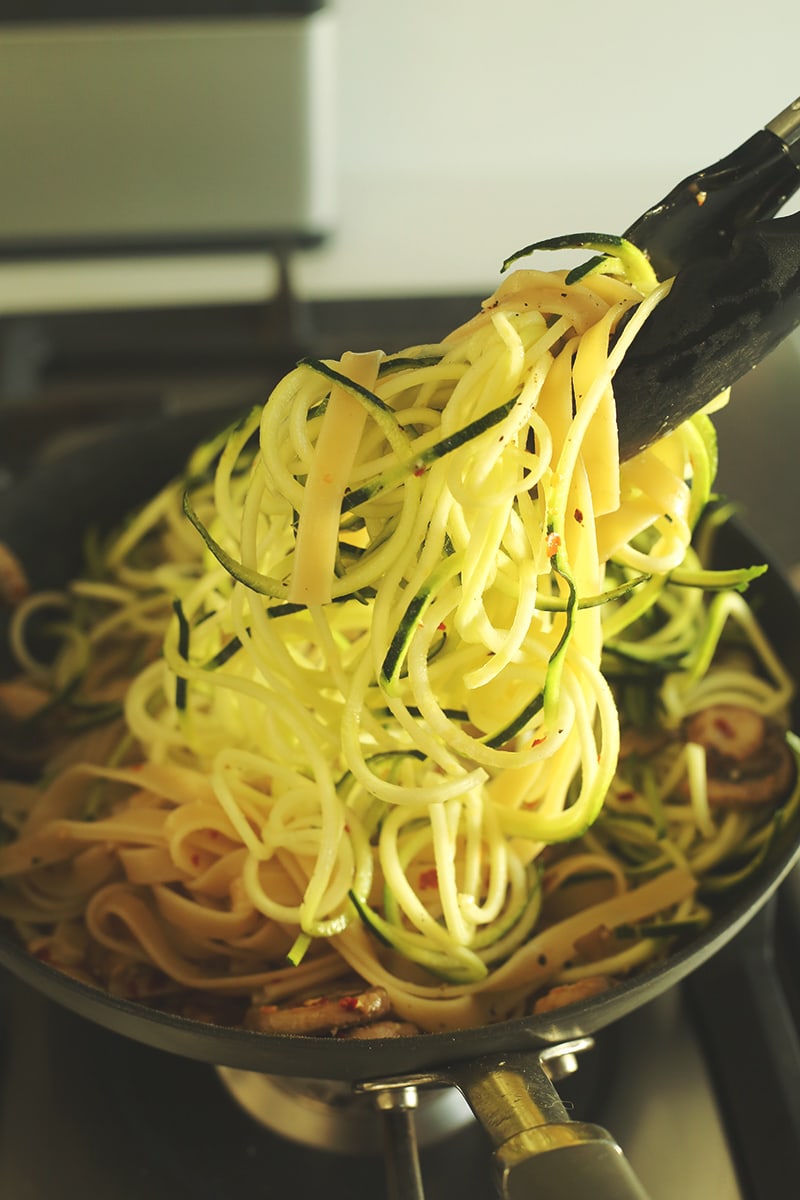 Another thing to note with the zucchini is that you should add it in 1 minute before you're done cooking, so that it doesn't weep like a soggy sad baby into your happy pasta. No wet blankets allowed. I mean, who on earth likes a pool of water at the bottom of their food? No thanks.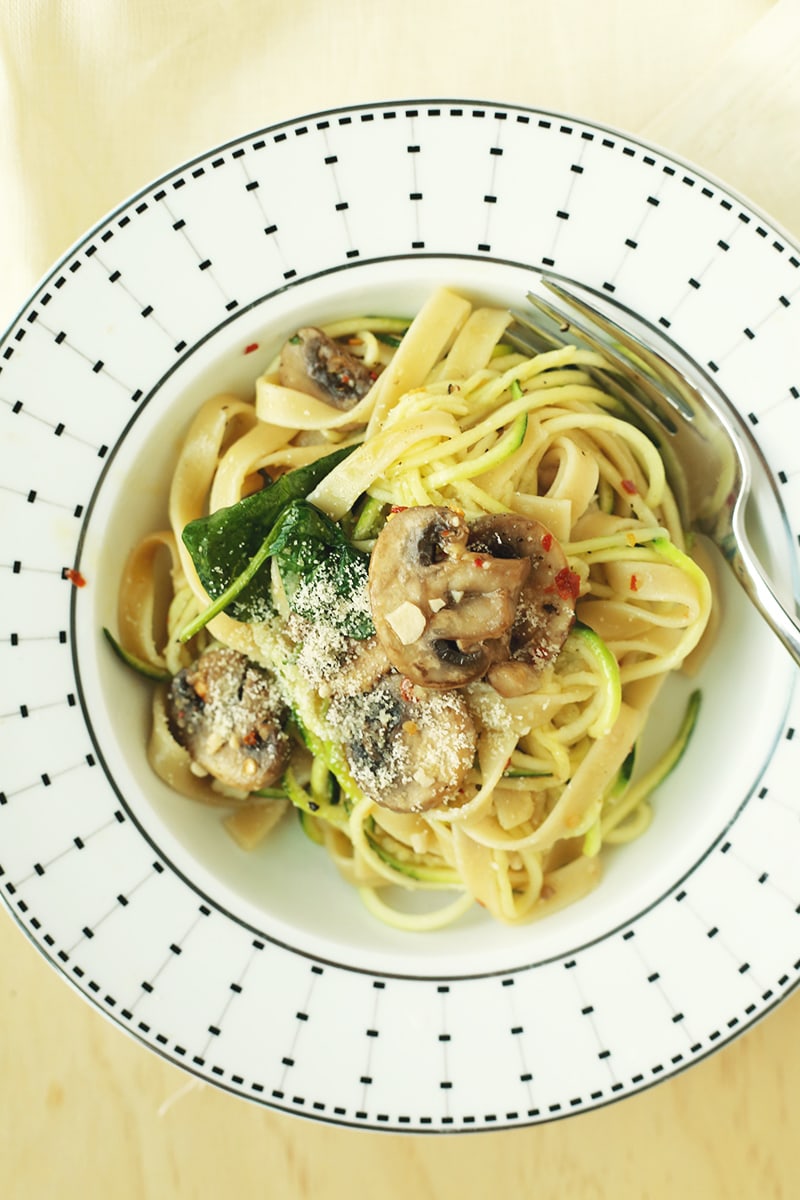 Anyway, it's time for video games again, so I'll leave you with our recipe for Zucchini Aglio E Olio with Mushrooms. Cross your fingers and hope I don't end up playing games till F*ck O Clock again.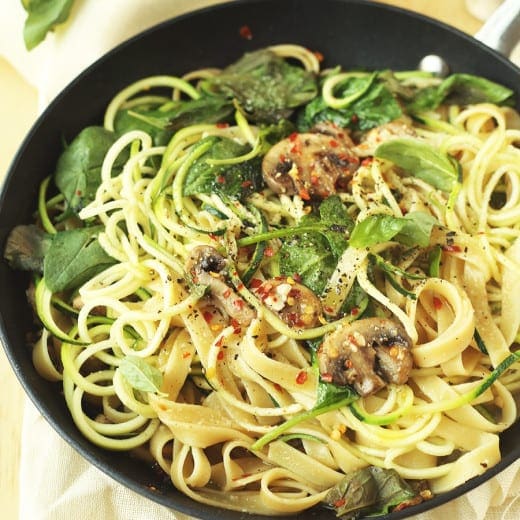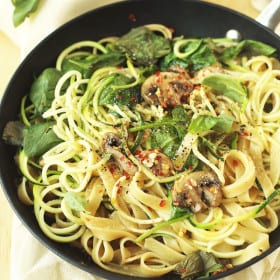 Zucchini Aglio Olio with Mushrooms
Zucchini Aglio E Olio with Mushrooms: A simple, healthy, and sublimely tasty lunch / dinner dish made with mushrooms, zucchini, basil, garlic, chilli flakes, orange infused olive oil, and fettuccine pasta.
Ingredients
100

grams

Fettuccine Pasta

1

Zucchini

Spiralized

3

tablespoons

Orange Infused Olive Oil

1

cup

sliced Mushrooms

1

tablespoon

freshly minced Garlic

2

teaspoons

Dried Chilli Flakes

1

bunch Basil

de-stemmed

1

cup

Baby Spinach

1

tablespoon

Extra Virgin Olive Oil

Salt/Pepper to taste

Vegan Parmesan

to serve
Instructions
In a large pot, combine lots of water and salt and bring it to a boil. Once it comes to a boil, throw fettuccine in and let cook till al dente. Once cooked, drain pasta and reserve about 1 cup of its cooking water aside.

In a large frying pan or skillet, combine olive oil and garlic together before turning the heat on (this is to prevent the garlic from burning). Turn heat on and let garlic cook gently for about 30 seconds. Add mushrooms and chilli flakes into the pan and cook till mushrooms have softened.

Add pasta and about 1/2 cup of its cooking water to the skillet and toss in the olive oil/mushroom mixture. Once pasta has heated through, add your spiralized zucchini in. Toss to heat through, and add a little more reserved cooking water if too dry. Season liberally with salt and freshly cracked black pepper.

Turn heat off and add basil, baby spinach and 1 Tbsp Extra Virgin olive oil in. Toss to coat in sauce and dish out to serve. This dish goes perfect with vegan parmesan.