I've been all about making no-bake treats recently, not because it's Summer or anything (if anything we're dead in the middle of Winter here in the land down under), but simply because I am a lazy shit. No other excuses necessary. Today I bring with me in my little box of treats, this Healthy Vegan Peanut Butter Slice recipe. I have a recipe for another no-bake Peanut Butter slice here, one that is a little less healthy but equally as delicious. Check that one out if you're not about dat healthy life.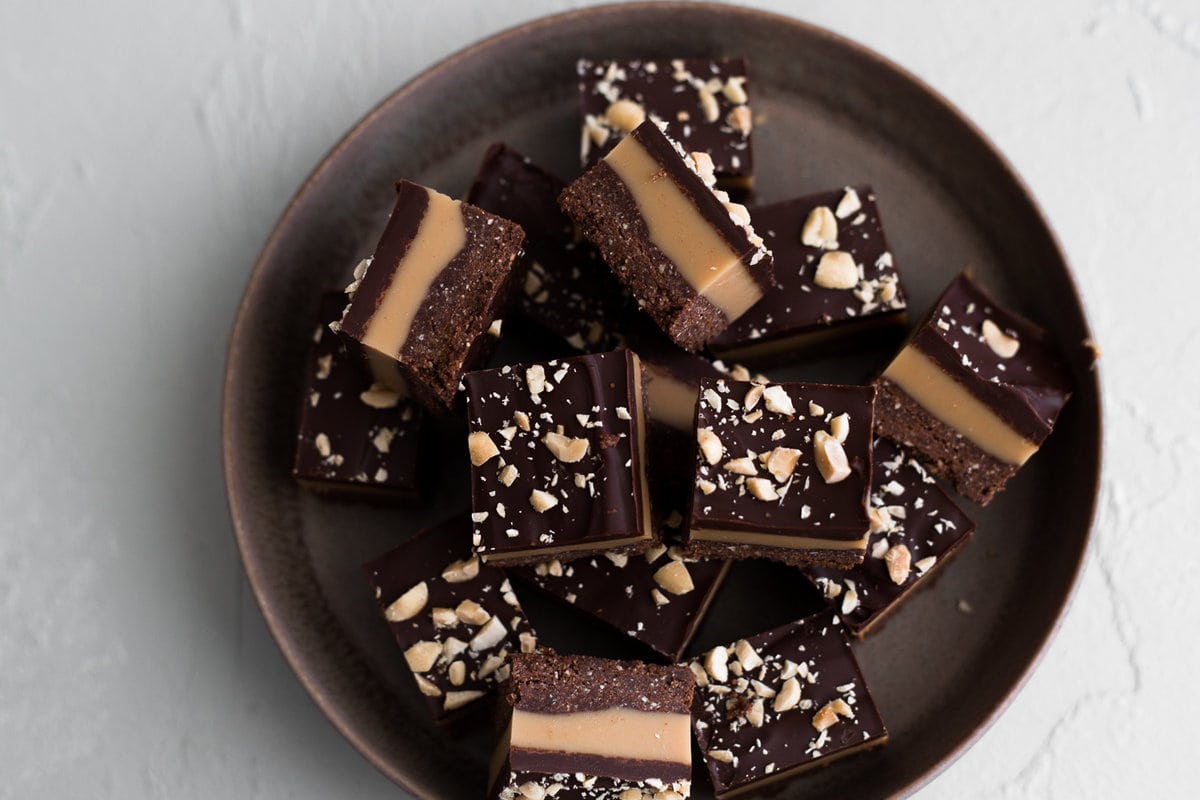 Today's recipe for this Vegan Peanut Butter Slice is just as easy as its predecessor, except we aren't using Digestive Biscuits and all that jazz. I make the base for this slice with some Desiccated Coconut, Agave Nectar, Cacao Powder, Peanuts and Peanut Butter. You simply whizz everything up in a food processor and then press into the bottom of a lined 6 inch square tin. Easy!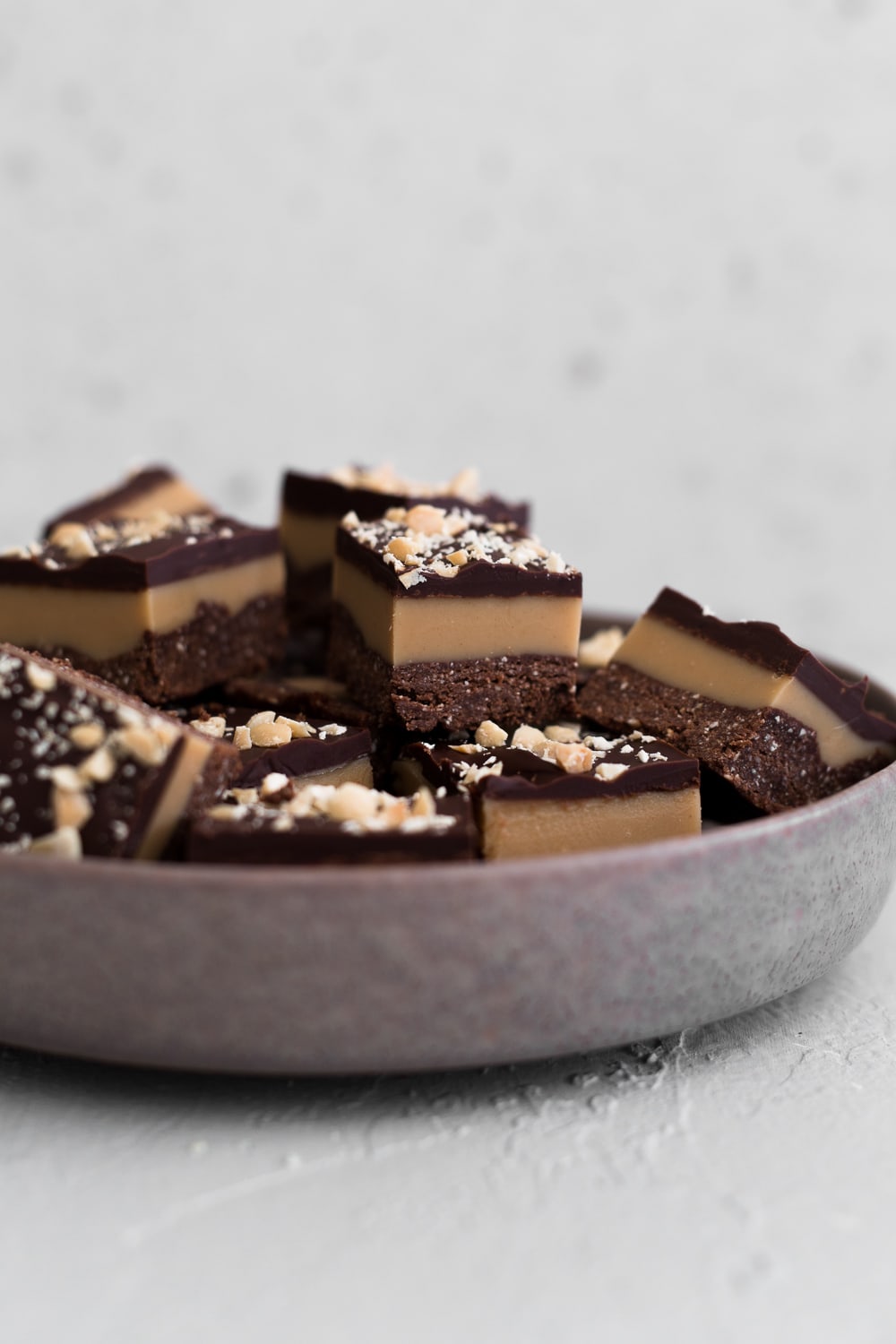 Next up, the Peanut Butter Slice filling. This one's just as easy as the base – melt up some Peanut Butter, Coconut Oil, Agave Nectar, Sea Salt and there you have it, an instant peanut butter filling that is rather reminiscent of a Reese's Peanut Butter Cup. Once you layer that onto the base, chill for an hour or two before preparing the Chocolate Topping. All that you have to do to prepare the luscious crowning to this Vegan Peanut Butter Slice is melt up some Dark Chocolate with a touch of Agave, Sea Salt, Instant Espresso, Coconut Oil and a dash of Peanut Butter because why the heck not!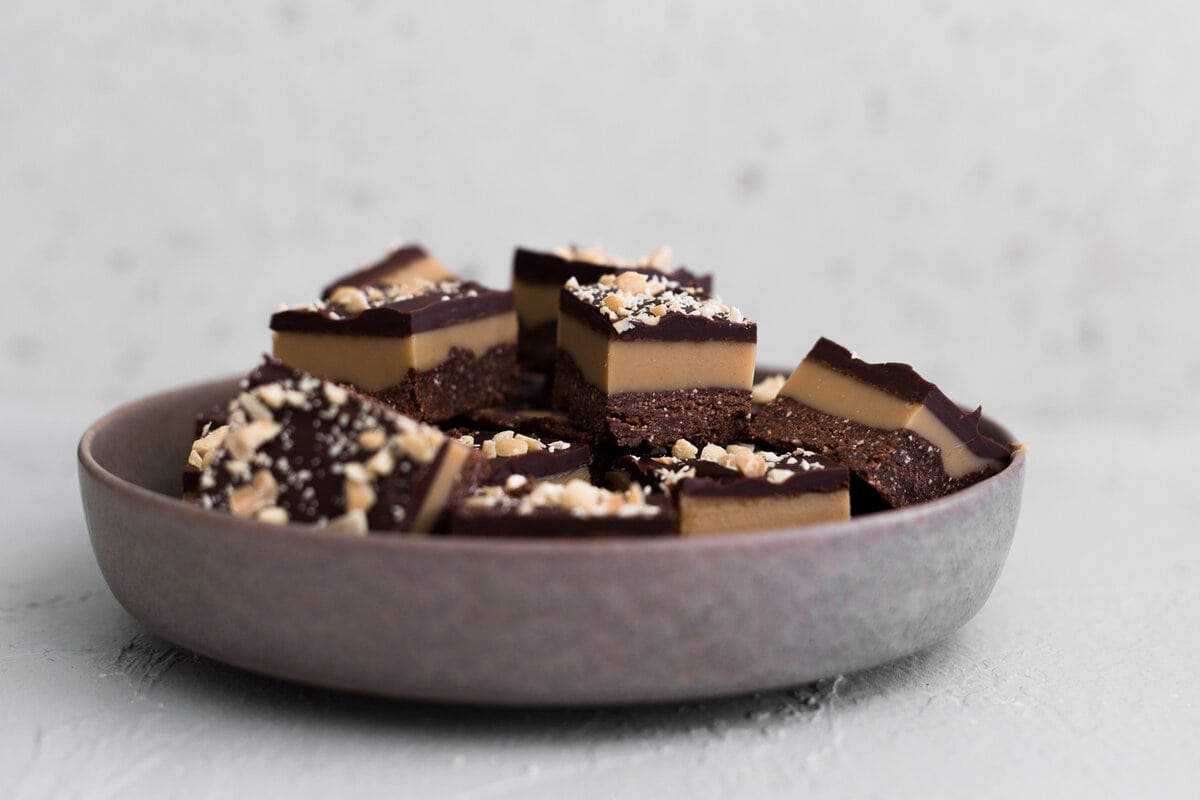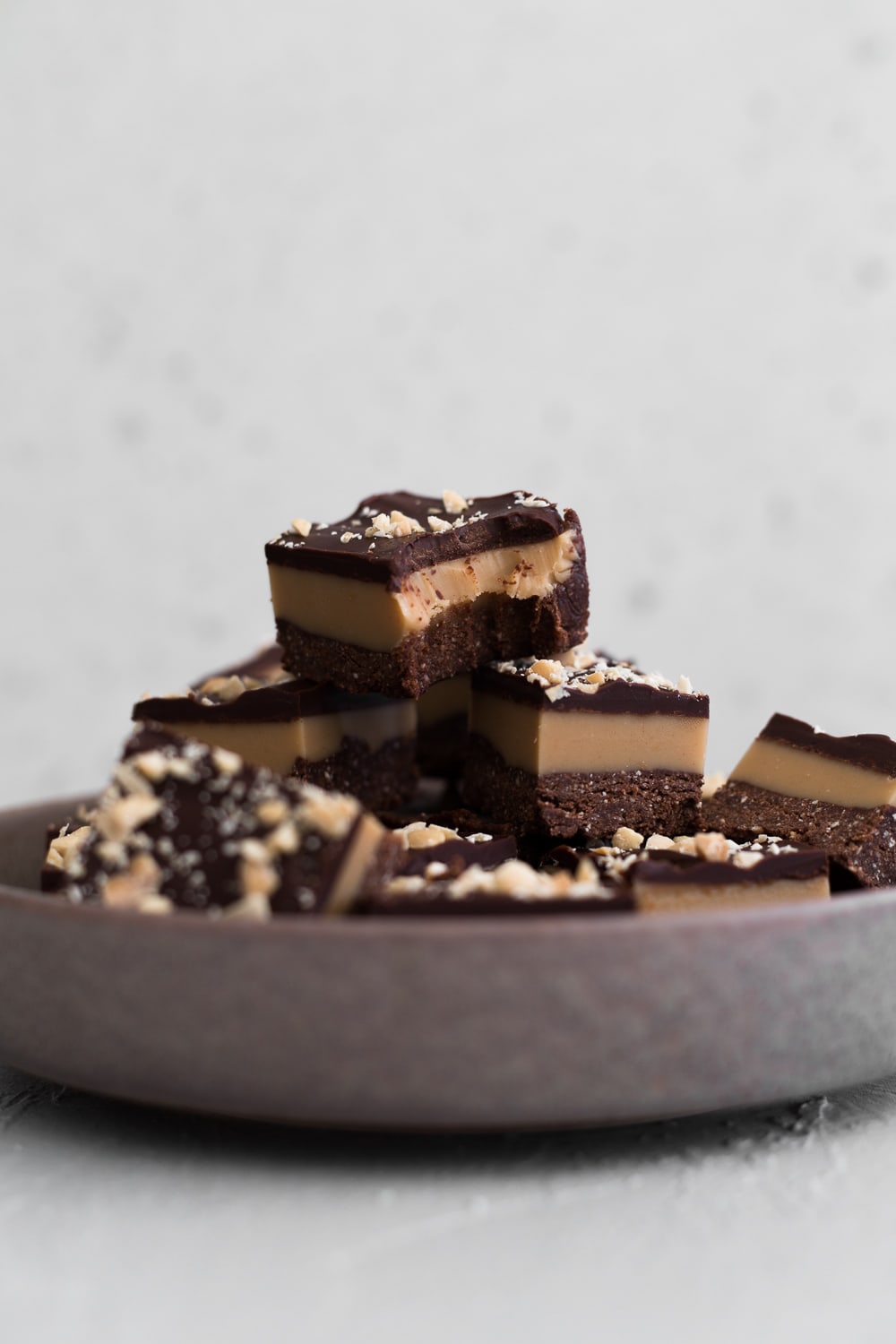 Pour your Chocolate Topping onto your slice and then refrigerate everything for a good 4-6 hours until everything is nicely solidified, after which you can slice this bad boy into however many pieces your heart desires. And heyyyyy presto, Healthy Vegan Peanut Butter Slice that doesn't come with a long ass story about how my boyfriend loves walking in the park holding my hands and listening to the birds scream at 7 in the morning. Just kidding, I'd rather die than do that. Scroll down to grab the full recipe, you'll thank me later! As always, tag me on Instagram if you try any of my recipes out!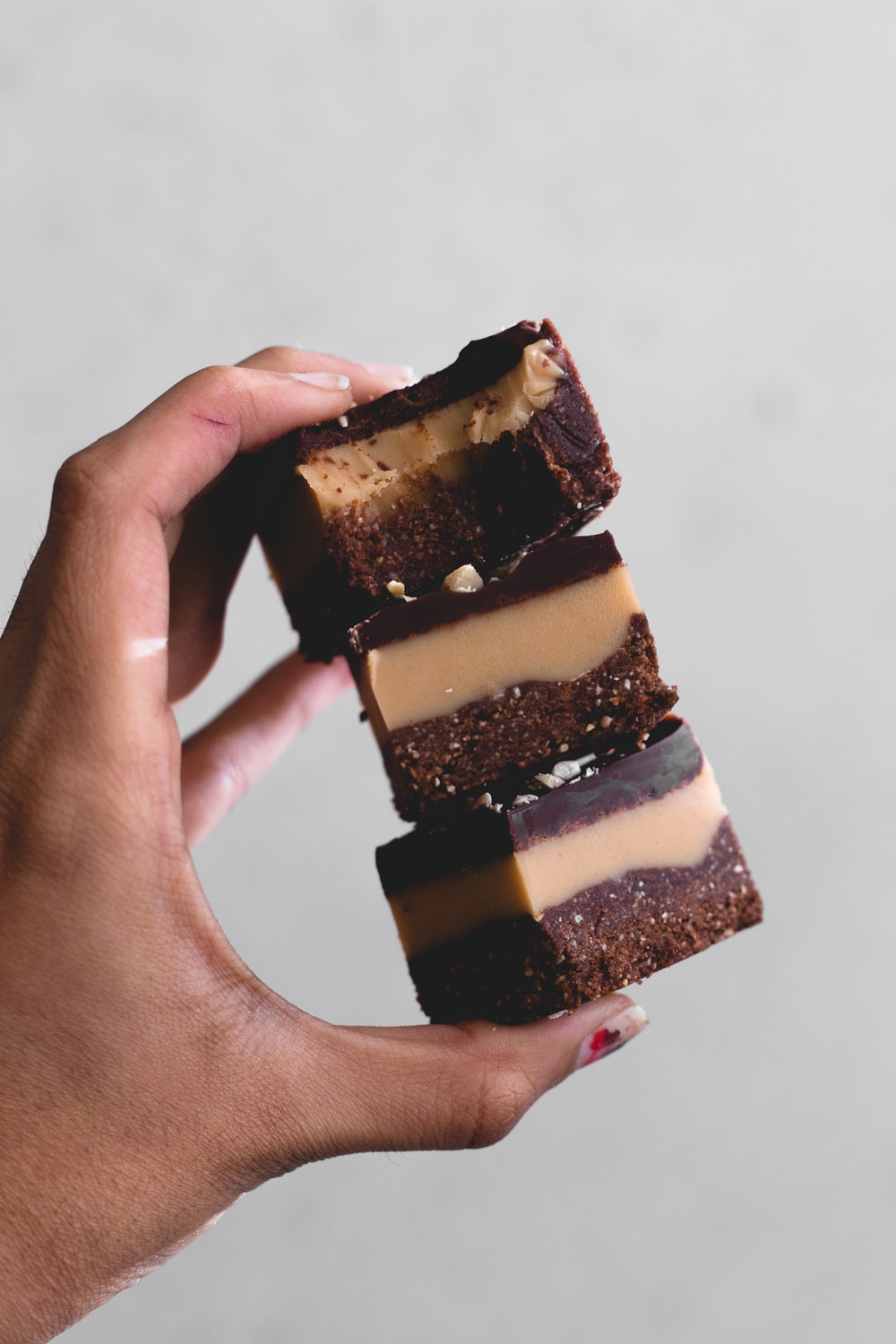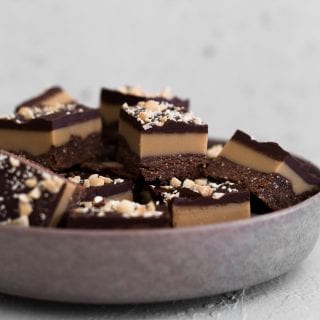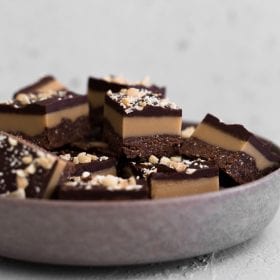 Vegan Peanut Butter Bars
A delicious no-bake Vegan Peanut Butter Bars made with Desiccated Coconut, Peanut Butter, Dark Chocolate and other good-for-you ingredients!
Ingredients
For Base:
1 1/4

cups

Desiccated Coconut

1/3

cup

Peanut Butter

Smooth

1/3

cup

Peanuts

1/4

cup

Raw Cacao Powder

1/4

teaspoons

Sea Salt

4

tablespoons

Agave Nectar

1

tablespoon

Water
For Peanut Butter Filling
3/4

cup

Peanut Butter

Smooth

1/4

cup

Coconut Oil

Melted

1/4

cup

Agave Nectar

1/8

tsp

Sea Salt
For Chocolate Topping:
3

ounces

Vegan Dark Chocolate

1

tablespoon

Peanut Butter

1/4

teaspoon

Instant Espresso

1

tablespoon

Agave Nectar

1/2

tablespoon

Coconut Oil

Melted
Instructions
Prepare a 6 or 7 inch tin with baking paper and set aside.

To prepare base, combine all ingredients in a food processor. Process until you get a mixture that is fine and sticky. If it is to dry, add a touch more Agave Nectar. If too wet, a touch more Desiccated Coconut.

Press mixture firmly into the base of your tin and set aside.

To prepare Peanut Butter Filling, combine all ingredients in a microwave safe bowl.

Microwave in 20 second intervals , stirring after each time. Continue this process until you get a smooth peanut butter mixture.

Let cool in the refrigerator for 15 minutes or until slightly thickened and no longer hot.

Pour mixture over base and shake to even the mixture out. Chill for 1 hour.

After 1 hour, prepare the Chocolate Topping.

Combine all ingredients in a microwave safe bowl and microwave in 20 second intervals, stirring after each time.

Continue until you have a shiny and smooth chocolate mixture.

Pour over your set peanut butter filling, and then shake tin to distribute the topping evenly.

Refrigerate for 4-6 hours, and then remove from the fridge and cut into squares.

Slices will keep in the fridge in an air tight box for up to 1 week, or up to 1 month in the freezer.
Notes
You may use Maple Syrup or any other liquid sweetener in place of Agave Nectar.
TO STORE
: Leftovers can be stored in the refrigerator, covered, for up to 2 weeks.
TO FREEZE
: Place leftovers in a ziplock bag and store them in the freezer for up to 6 months. 
Nutrition
Serving:
1
serving
Calories:
253
kcal
Carbohydrates:
16
g
Protein:
7
g
Fat:
20
g
Saturated Fat:
7
g
Sodium:
187
mg
Potassium:
191
mg
Fiber:
2
g
Sugar:
11
g
Calcium:
15
mg
Iron:
1
mg