This banana milkshake recipe creates a simple vegan dessert that needs just 3 ingredients! No dairy and full of creamy vegan ice cream! The best shake you can make! 
Why you'll love banana milkshakes
During the warmer months, banana shakes are one of my favorite desserts to make. As someone who loves a traditional Banana Smoothie it was a no brainer to give it a dessert makeover. This involves swapping out the oats for ice cream and instead of having it for breakfast… it becomes one of your favorite treats! My goal was to get it to taste just like a banana pudding milkshake.
Bananas are also a nutritious fruit known for their rich content of vitamins, minerals, and dietary fiber. They provide energy, promote heart health through potassium and antioxidants and they aid digestion! They are a healthy addition to a balanced diet.
FREE EBOOK SERIES! 5 SECRETS FOR FOOLPROOF VEGAN DESERTS
No dairy is needed, making it perfect for a plant-based and gluten free diet. The range of plant-based ice creams is very impressive, and the flavor options are endless! You only need 3 ingredients and less than 2 minutes to whip it up!
How do you make a banana milkshake?
The Ingredients
Banana. The riper the banana is, the sweeter the milkshake. Over ripe bananas also work. If you'd prefer an extra thick milkshake, use frozen bananas.
Vegan ice cream. Any dairy free ice cream of choice, as long as it's vanilla. Aim to use one that is coconut based (as opposed to soy based) as it yields a super creamy texture. If you feel like making your own, use my vegan ice cream recipe.
Milk of choice. I used unsweetened almond milk, but soy milk, oat milk, coconut milk, or any plant-based milk will work.
The Instructions
In a high speed blender, add all your ingredients and blend until thick and creamy. Pour into two glasses and garnish with some banana slices and cinnamon. Enjoy immediately.
If you don't have access to a blender, the pulse setting on a food processor can also be used.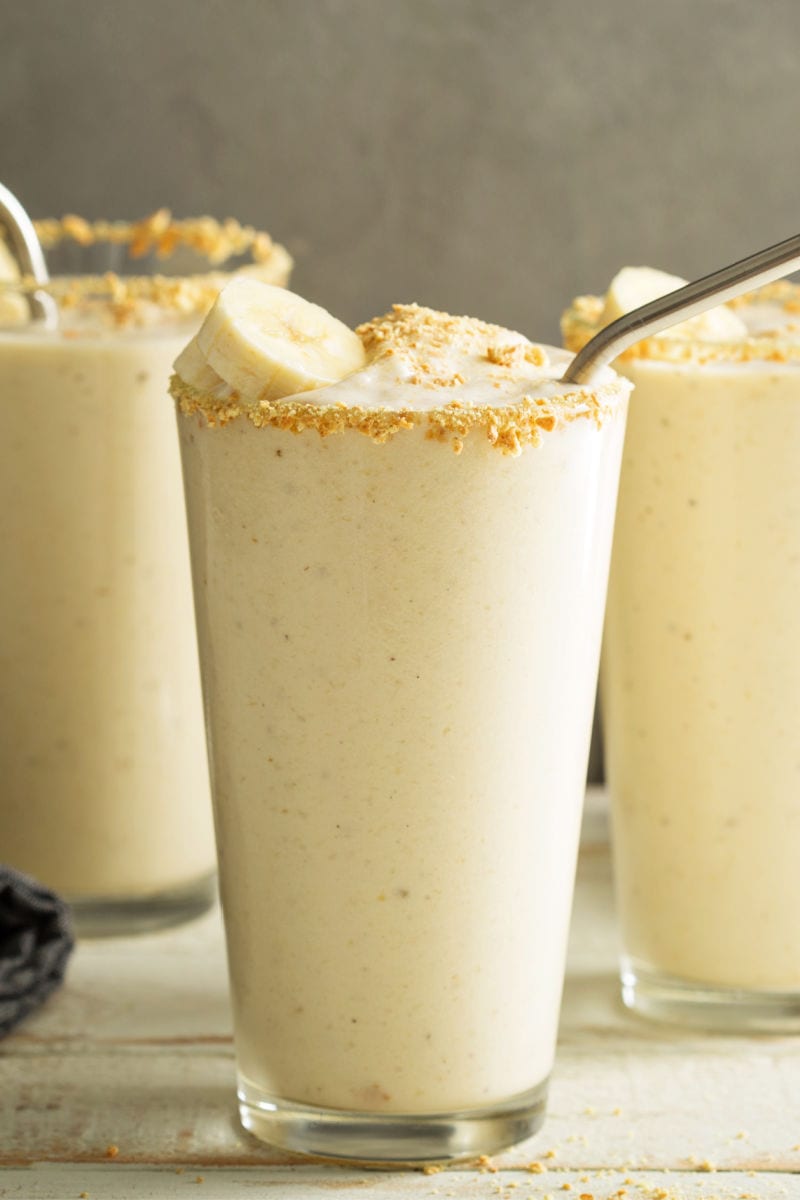 Tips to make the best vegan banana milkshake
Use a good quality ice cream, as it makes all the difference in terms of taste and texture.
If you want a more pronounced banana sweetness, feel free to add more than the suggested amount. You may need to add a little extra milk to compensate.
For a thicker milkshake without adding extra calories, feel free to add 1/4 cup of ice.
For a sweeter and more complex banana flavor, you can also add some vanilla extract.
Garnish with ground cinnamon and banana slices.
Flavor variations
The beauty of this plant-based shake is just how versatile and adaptable it is. Here are some fun flavor variations to try:
Strawberry banana shake. Add 1/2 cup of frozen strawberries.
Chocolate banana shake. Use chocolate ice cream and add 2 tablespoons of cocoa powder OR chocolate syrup. Drizzle chocolate syrup on top.
Peanut butter banana shake. Add 2 tablespoons of peanut butter.
Banana oreo shake. Blend 2-3 Oreos (naturally vegan!) or homemade Oreos.
Banana pudding shake. Replace the milk with 1/2 cup of vanilla yogurt and garnish with vegan whipped cream and caramel sauce.
Storage tips
To store: You can store the milkshake in the refrigerator for up to 3 days. Be sure to stir it vigorously before drinking, in case of any separation.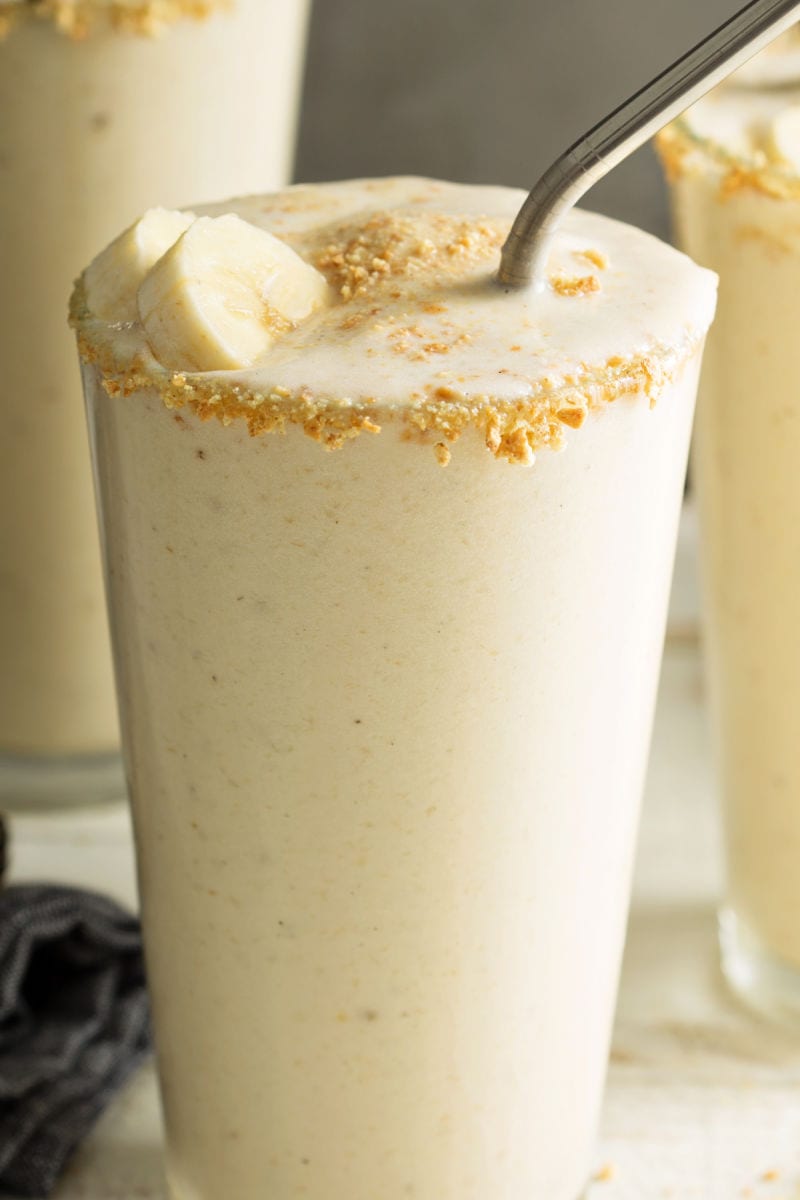 More plant-based dessert recipes to try
Frequently asked questions
Is a banana milkshake good for you?
A banana milkshake can be a nutritious and healthy choice when prepared with wholesome ingredients like ripe bananas and low-fat milk or dairy alternatives.
What is a banana milkshake made of?
Banana milkshakes can be made using milk and ice cream products (or vegan alternatives) and ripe bananas. They can also be made using banana syrup or flavoring.
Does banana milkshake give you protein?
Not a substantial amount, no. Banana milkshakes can provide some protein, primarily from the milk or dairy alternatives used in the recipe.
Are frozen bananas good for milkshakes?
Yes, frozen bananas are excellent for making milkshakes. They not only add a creamy and thick texture to the shake, but also natural sweetess.
Watch How To Make It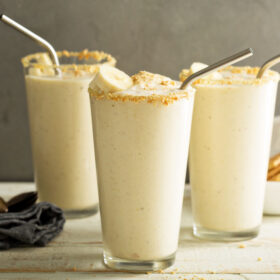 Banana Milkshake (No dairy!)
This banana milkshake is thick, creamy, and made with 3 ingredients! No dairy needed, it's the best vegan milkshake!
Ingredients
1

large

banana

1/2

cup

vegan ice cream

vanilla

1

cup

almond milk

unsweetend
Instructions
In a high speed blender, add all your ingredients and blend until smooth and creamy.

Pour into two classes and serve immediately.
Notes
TO STORE: You can store the milkshake in the refrigerator for up to 3 days. Be sure to stir it vigorously before drinking, in case of any separation.
Nutrition
Serving:
1
serving
Calories:
146
kcal
Carbohydrates:
27
g
Protein:
3
g
Fat:
4
g
Saturated Fat:
1
g
Cholesterol:
10
mg
Sodium:
191
mg
Potassium:
322
mg
Fiber:
2
g
Sugar:
17
g
Vitamin A:
214
IU
Vitamin C:
6
mg
Calcium:
215
mg
Iron:
1
mg