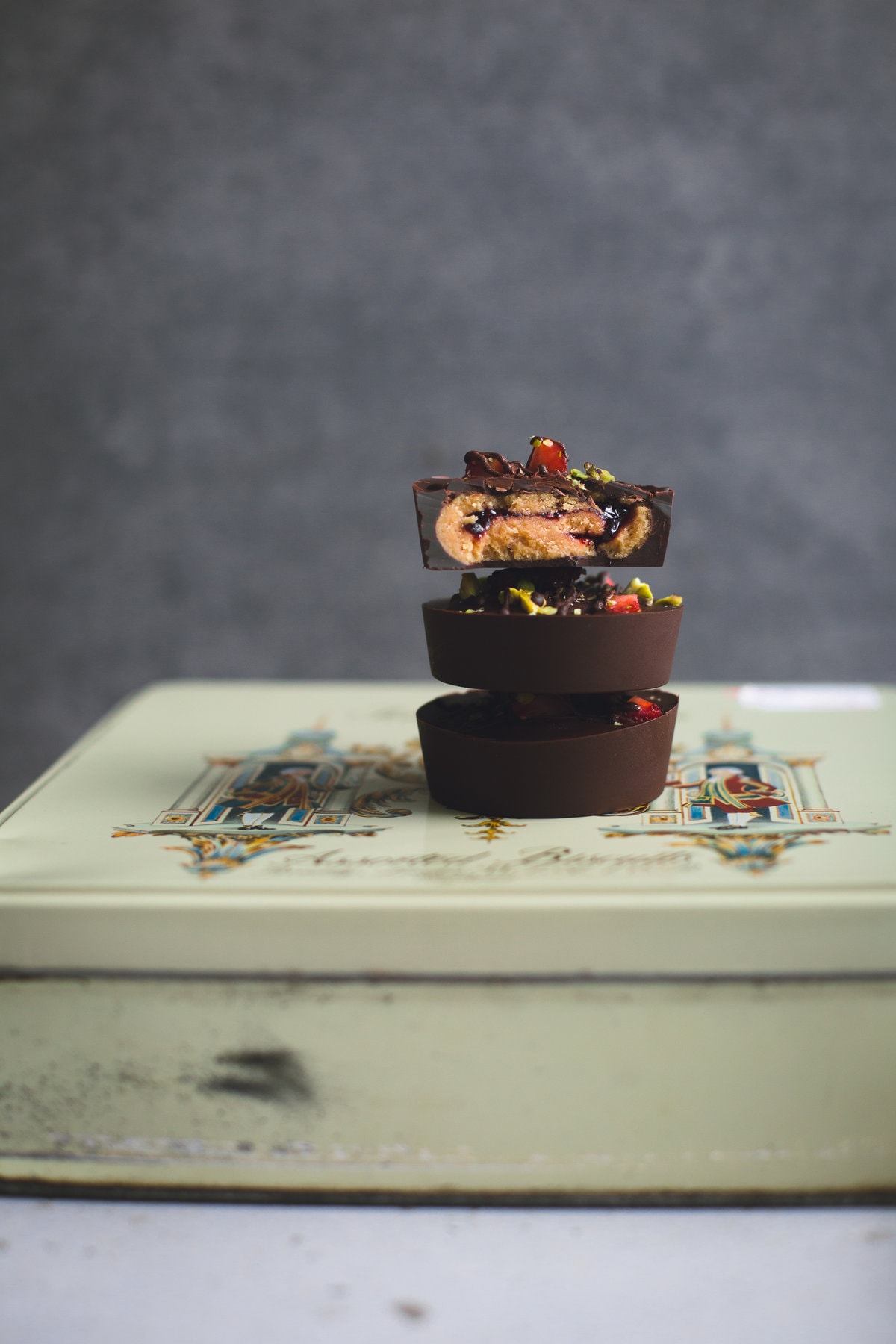 I'm a Peanut Butter fiend. I go through jars and jars of the stuff, which the 3 kilos that have creeped onto my body recently can fully attest to. Ask them if you don't believe me. Staying true to my new year's resolution to gain 500lbs this year, I decided to make these Vegan Peanut Butter and Jelly Cups. Yum! Peanut Butter and Chocolate is one of my favourite combinations, and so is the marriage of Peanut Butter and Jelly. These Vegan Peanut Butter Cups? Well, it's a god damn ménage à trois! Why have two when you can have three? 😉 PS: did anyone watch PB&J Otter when you were younger? It used to be my favourite show to watch whilst playing with my Lego!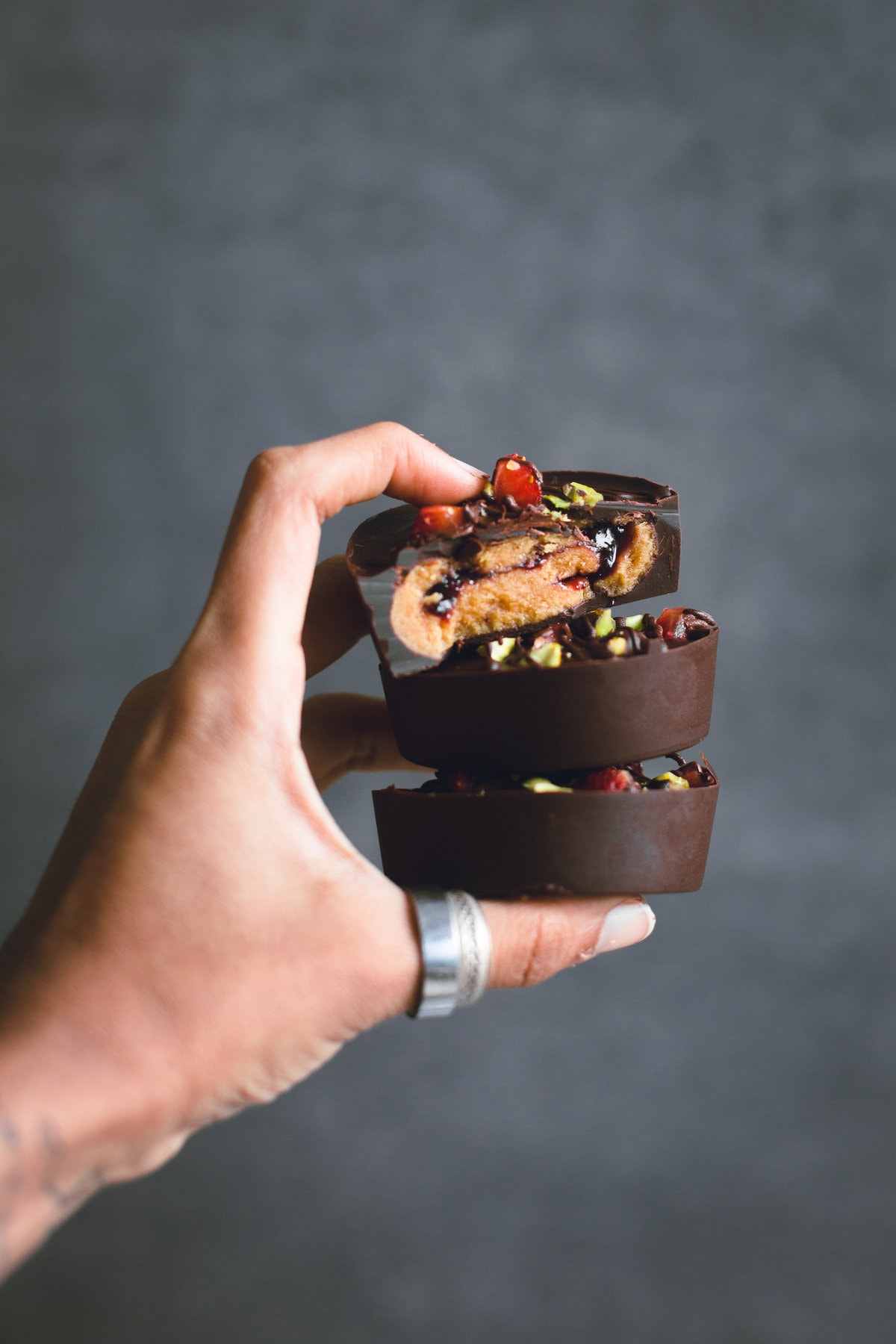 The recipe for these Vegan Peanut Butter and Jelly Cups couldn't get any simpler. All you need is some Vegan Dark Chocolate, Natural Peanut Butter, Vanilla Extract, Maple Syrup, Sea Salt and some Homemade Jam. I used a recent batch of Triple Berry Jam that I made, but the Raspberry Jam recipe in this post works a treat as well. If you don't want to use homemade jam, feel free to use store-bought Raspberry or Grape Jam/Jelly. Once you have all your ingredients, you're ready to roll.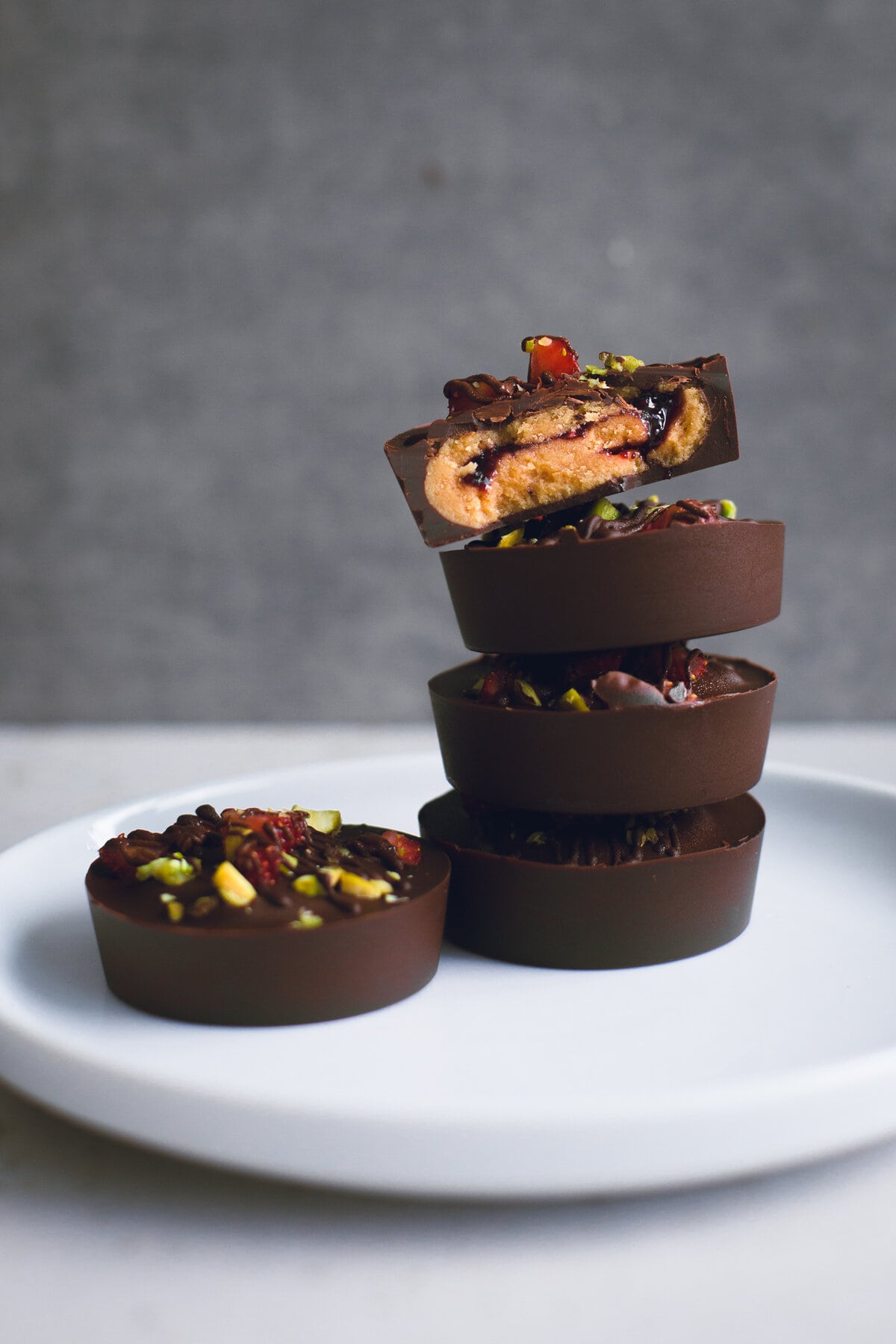 Like most Peanut Butter Cup recipes, you start off by melting some chocolate and spooning it into silicone or paper lined muffin tins. Chill in the fridge whilst you make you Vegan Peanut Butter filling by simply mixing Natural Peanut Butter, Vanilla, Maple Syrup and Sea Salt till you end up with filling that is very similar in texture to that of a Reese's cup. Divide your peanut butter filling into portions, flatten each portion out and fill with  a teaspoon or so of your Jam/Jelly of choice. Wrap to seal, form into a patty and place the Peanut Butter and Jelly filling onto your prepared chocolate bases. Now, all you have to do is top the moulds or cups with more chocolate and leave your Vegan Peanut Butter and Jelly Cups to set in the fridge for 15 minutes.
FREE EBOOK SERIES! 5 SECRETS FOR FOOLPROOF VEGAN DESERTS
Hoorah! Ready to eat! It can't get any simpler than that, really. From start to finish, the entire process will take you less than 15 minutes because I'm all about that instant gratification. If you want to try your hands out at making these Vegan Peanut Butter and Jelly Cups, scroll down to grab the recipe! PS: Don't forget to tag me on Instagram if you try this recipe or any of my other recipes out!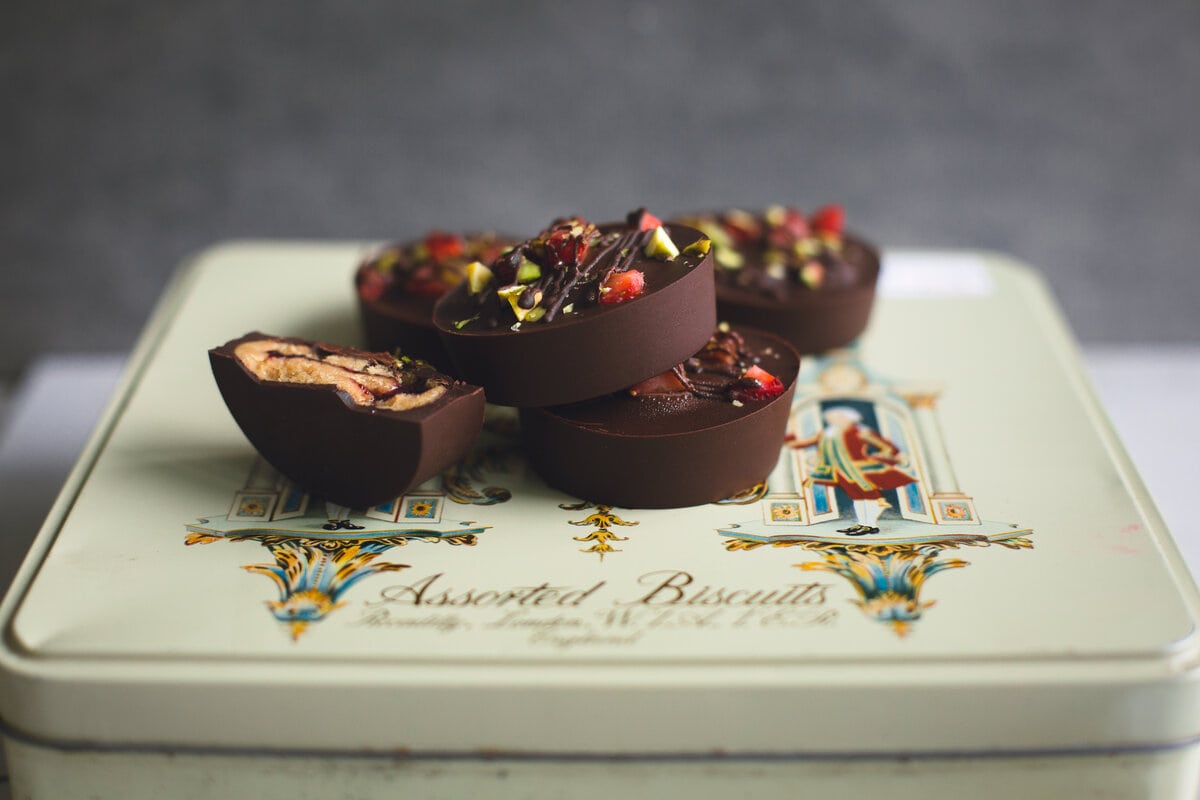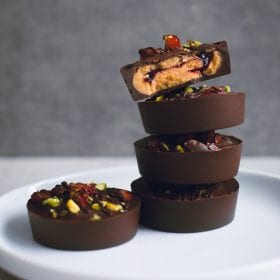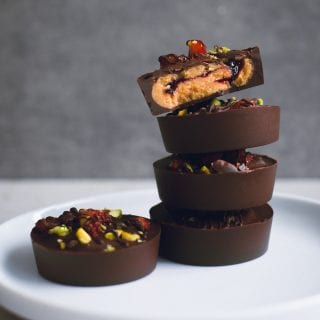 Vegan Peanut Butter Cups
Vegan Peanut Butter and Jelly Cups. A fun variation to the traditional Peanut Butter Cup. 6 Ingredients, 15 minutes to make and all too easy to eat!
Ingredients
200

grams

Dark Chocolate

you can use Raw

5

tablespoons

Peanut Butter

1

Pinch

Sea Salt

2 1/2

tablespoons

Maple Syrup

1

teaspoon

Vanilla Extract

1/2

cup

jelly of choice

raspberry or strawberry
Instructions
Line 12 muffin cups with paper liners, or use Silicone Muffin Cups if you want to avoid using paper liners.

Melt your Vegan Dark Chocolate in a bowl in the microwave or over a double boiler.

Spoon about a tablespoon or so of melted chocolate into the base of your prepared muffin cavities. Shake to flatten and leave to set in the fridge for 5 minutes.

Meanwhile, prepare Peanut Butter filling by mixing Natural Peanut Butter, Sea Salt, Maple Syrup and Vanilla Extract until you end up with a thick paste.

Divide Peanut Butter filling into 12 equal portions. Flatten each portion in your palm and spoon about half a teaspoon of your Jam of choice in the middle. Wrap the jam up so that it is enclosed in your Peanut Butter Filling.

Flatten filling sightly and repeat with the remaining 5 potions.

Remove your chocolate bases from the fridge and place Peanut Butter and Jelly filling into muffin cavities, then top off with your remaining Dark Chocolate. Decorate with fresh berries and nuts, if using.

Place in the fridge to set for at least 30 minutes, and then remove from mold to enjoy.
Nutrition
Serving:
1
cup
Calories:
151
kcal
Carbohydrates:
12
g
Protein:
3
g
Fat:
10
g
Saturated Fat:
5
g
Trans Fat:
1
g
Cholesterol:
1
mg
Sodium:
38
mg
Potassium:
172
mg
Fiber:
2
g
Sugar:
7
g
Vitamin A:
7
IU
Calcium:
20
mg
Iron:
2
mg