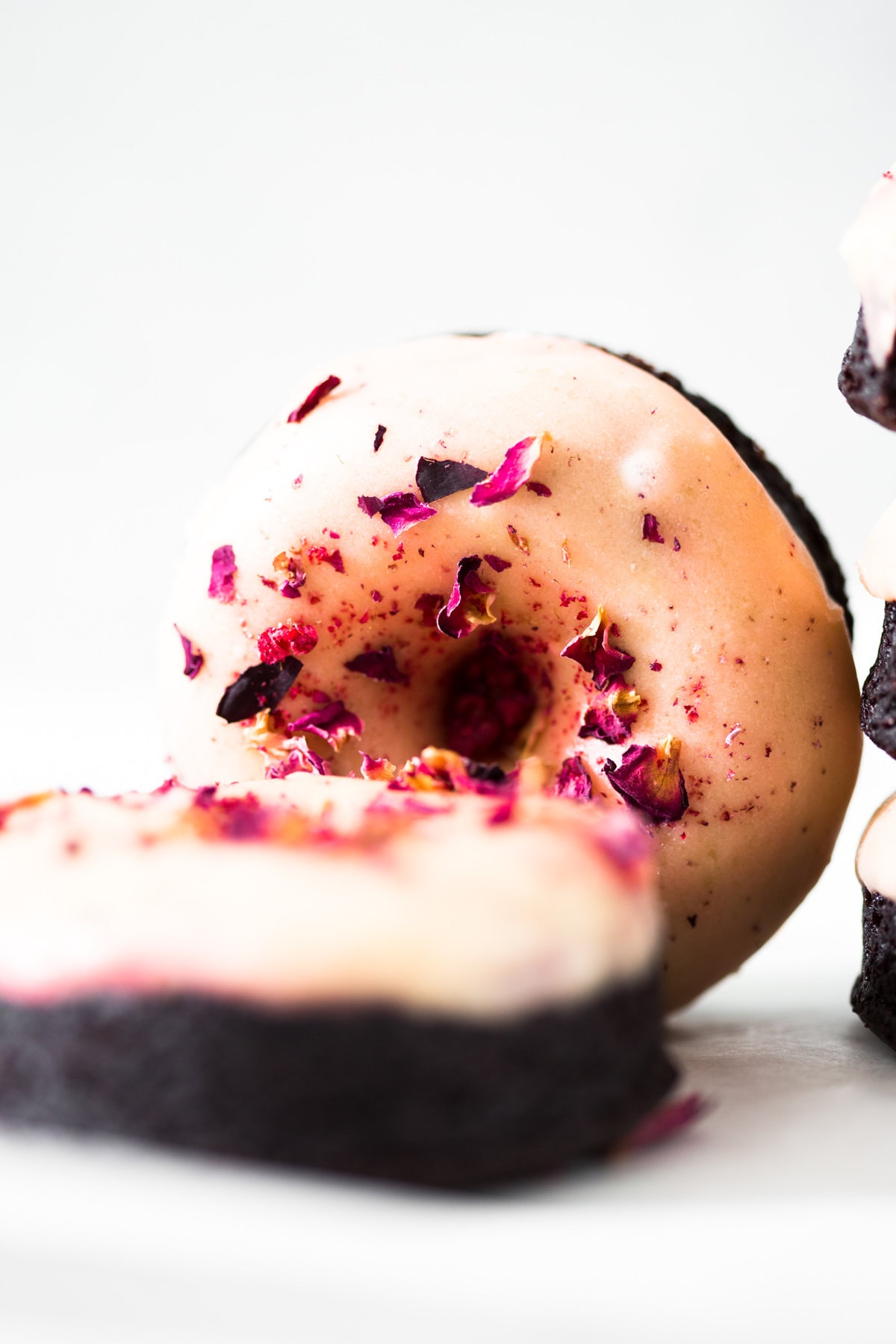 I do love a good Doughnut/Donut. However, one thing I definitely do not like is dealing with a whole vat of oil for deep frying. Thank heavens for Baked Donuts, though. Whilst I will always prefer their yeasted counterpart, I do enjoy a delicious Vegan Baked Chocolate Donut once every so often. They're easy to make, ready in under an hour and make me feel a little less guilty about eating 3 donuts in 5 minutes. (I like to delude myself, leave me alone).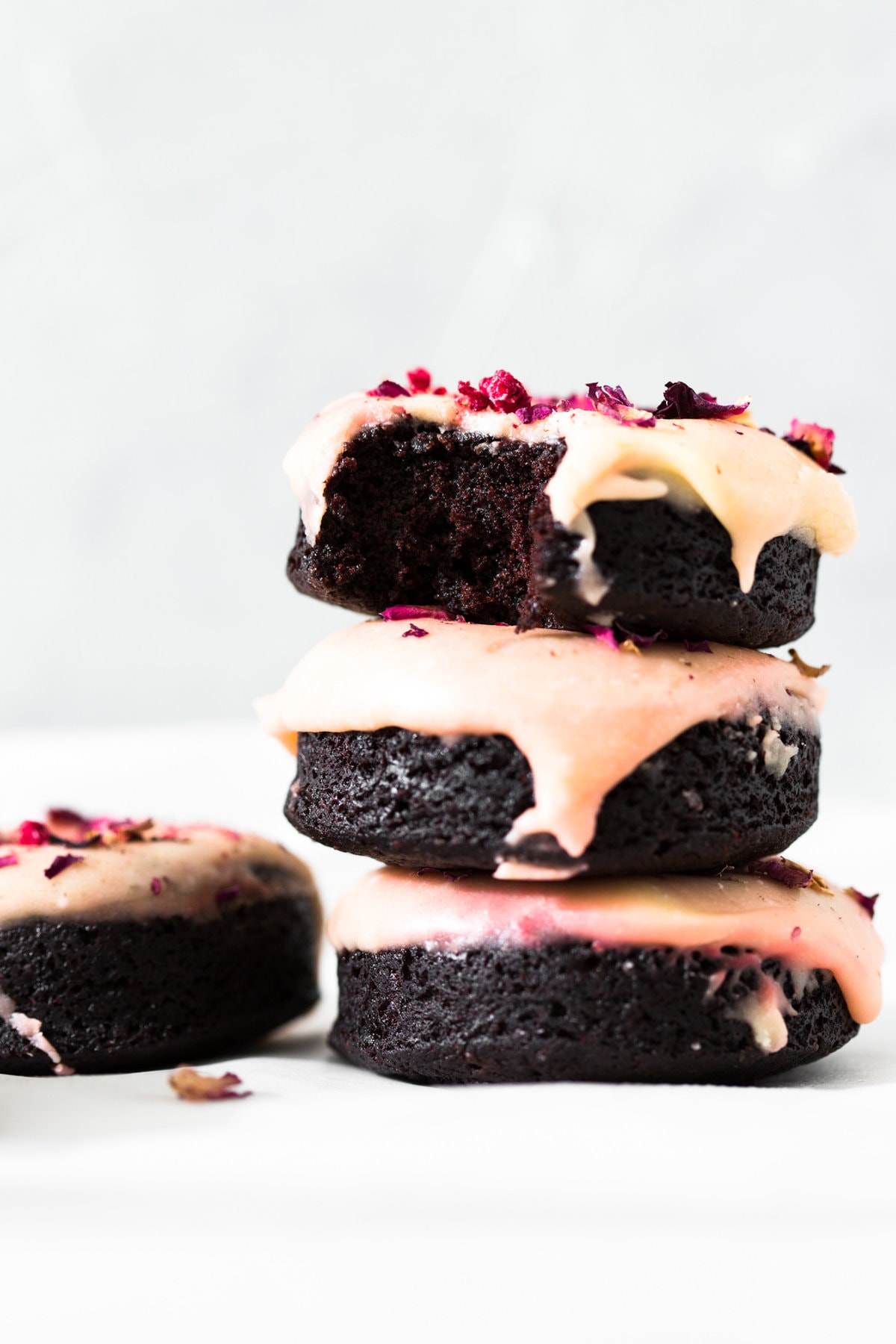 These Vegan Baked Chocolate Donuts that I am sharing with you today are topped with a floral and delicious Rose Glaze. I love Rose anything, and I thought why not combine Rose and Chocolate and create a Baked Donut recipe that paid homage to my grandma's all time favourite chocolate – Fry's Turkish Delight. Now of course, if Rose flavouring reminds you of YOUR grandma's underwear drawer, feel free to omit it or replace it with some other extract. You could even just coat your Vegan Baked Chocolate Donuts in a Chocolate Icing which I will also provide the recipe for – simply because I'm a f*cking legend.
What Ingredients Do I Need?
Since this is such a simple recipe, you'll only need a handful of ingredients that include All Purpose Flour, Cocoa Powder, Sugar, Vegetable Oil, Instant Espresso, Salt and Icing Sugar. See, I told you – easy peasy!
FREE EBOOK SERIES! 5 SECRETS FOR FOOLPROOF VEGAN DESERTS
I've not tried this recipe with Gluten Free Flour, so experiment at your own risk! Don't see why it wouldn't work though!
What Other Icings Can I Use?
If you're not into all things Rose, you can go ahead and flavour your glaze with a myriad of options, some of which may include:
Matcha Powder
Orange Zest
Mint Extract
Chocolate Glaze (recipe included at the end of this post)
What Kind Of Pan Do I Bake This In?
I use a Silicone Donut pan that I got for $2 at Daiso, but feel free to use any non-stick donut tray that you have.
Alternatively, if you don't have any donut pans, you can always bake these Vegan Baked Chocolate Donuts in a muffin tin. They'll look a little different but they will taste the same!
Some Tips For Making Vegan Baked Donuts:
If you're using a Silicone Donut Tray, I highly recommend that you still grease your donut cavities so that they don't stick. A little tip of mine is to freeze your donuts for 30 minutes after they cool down so that they pop out from your silicone mould easily.
If you're using a regular donut pan, also liberally grease.
Vegan Baked Donuts are best enjoyed fresh on the day of baking, but will last in an air-tight box for up to 2 days.
You can freeze your Donuts if you wish to, just remember to freeze them prior to glazing. Store them in a single layer in an air-tight box.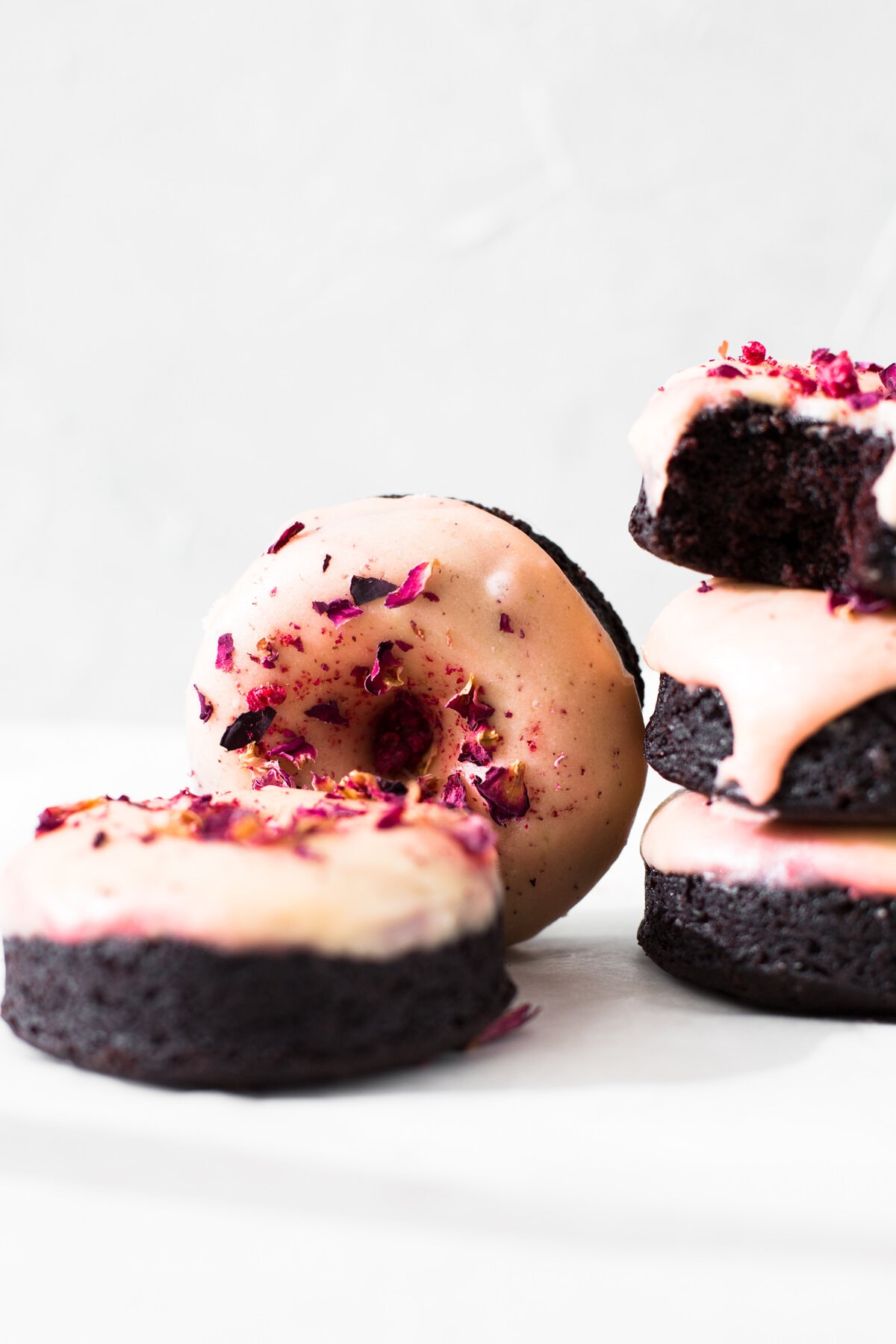 Now, onto my super simple, super delicious recipe for these Vegan Baked Chocolate Donuts with a delicious Rose Glaze. Don't forget to tag me on Intstagram if you make these, or why not even leave a comment. I swear I don't bite on most days 😉 Scroll down for the full recipe!
Similar Recipes You May Enjoy:
Vegan Raspberry Rose Macarons
Ultimate Vegan Chocolate Cupcakes
Best Vegan Vanilla Cupcakes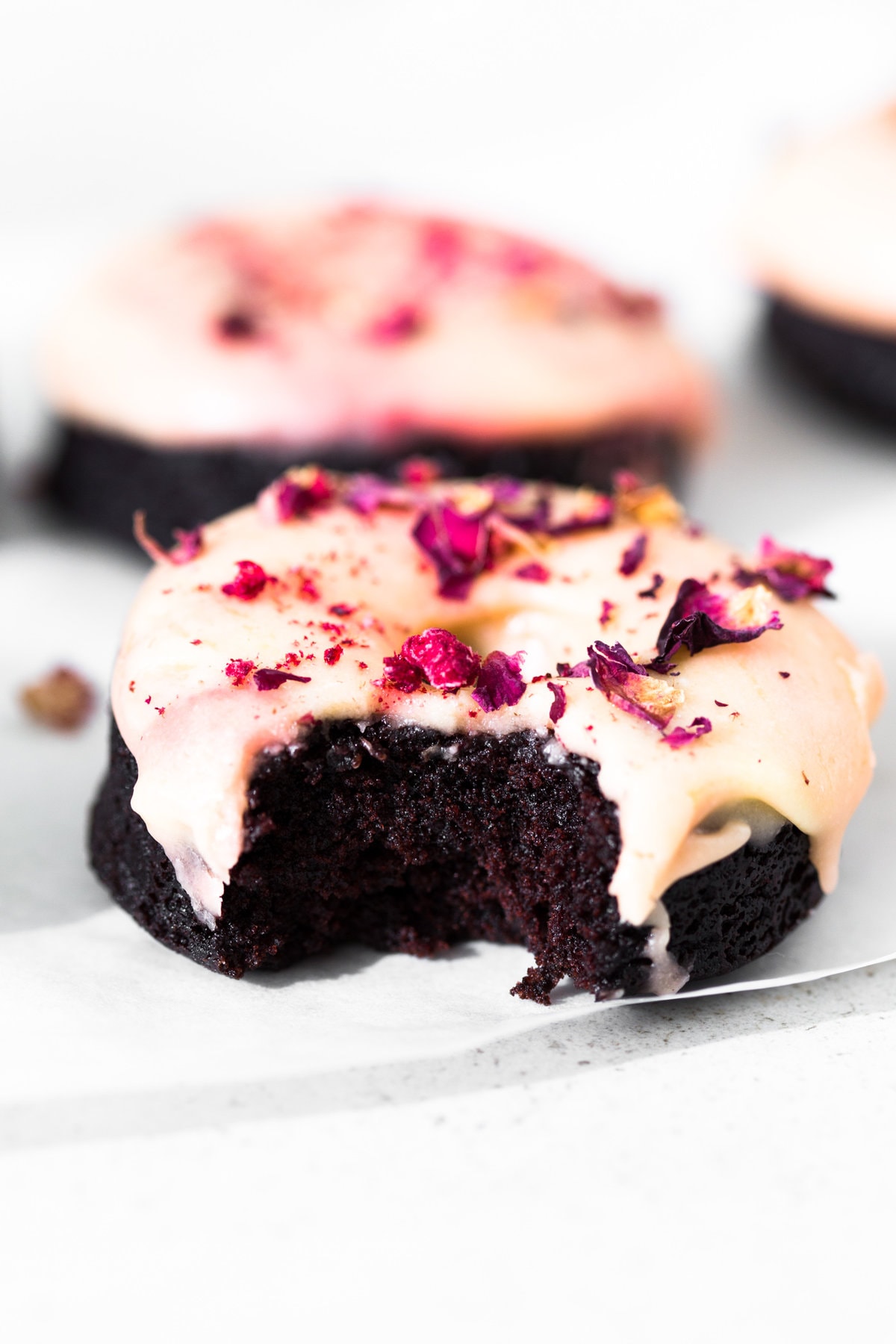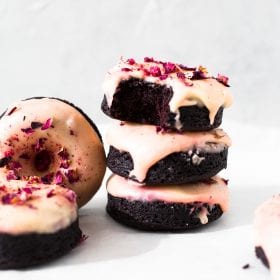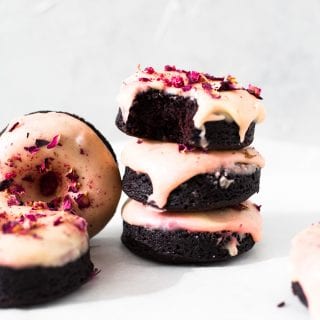 Vegan Chocolate Donuts
Moist and delicious Vegan Baked Chocolate Donuts topped with a floral Rose Glaze. Easy to make and ready in under 30 minutes.
Ingredients
Chocolate Donuts:
1

cup

pastry flour

130g (All Purpose is fine too)

3/4

tsp

Baking Soda

4

tbsp

Cocoa Powder

20g

½

tsp

Instant Espresso

¼

tsp

Salt

½

cup

Sugar

100g

½

cup

water

120g

1

tsp

Vanilla Extract

6

tbsp

Vegetable Oil

90g
For Rose Glaze:
1 ¼

cups

Powdered Sugar

160

1/4

tsp

Salt

4

tbsp

Vegan Butter

60g, melted

1

tbsp

Water

30g

1/2

tsp

Rose Extract
For Chocolate Icing:
1

cup

Powdered Sugar

!25g

2

Tbsp

vegan butter

or other Vegan Butter, melted (25g)

2

Tbsp

Water

20g

4

Tbsp

Cocoa Powder

20g

1/2

tsp

vanilla
Instructions
Preheat your oven to 175C/350F. Lightly spray a 6 cavity regular sized donut tray with cooking spray. Set aside.

Sieve Pastry Flour, Baking Soda, Cocoa Powder, Espresso, Salt and Sugar into a mixing bowl.

Add water, Vanilla Extract and Vegetable Oil.

Whisk until combined - you should have a thick chocolate batter.

Dispense batter equally into your donut tray - you can use a piping bag to make it faster and easier.

Bake for 15-18 minutes or until Donuts are springy to the touch and a skewer inserted into the middle comes out clean.

Remove from the oven and leave donuts in the tray for 10-15 minutes. Once slightly cooled, tip them out of the donut tray. Let cool thoroughly.

To prepare icing, mix Icing sugar, Salt and Rose Extract in a bowl with melted Vegan Butter and water. Whisk till smooth. If it is too thick, add a touch more water. If it is too watery, add a little bit more icing sugar.

Dip your donuts in to ice them. You can double dip for a thicker coating of glaze. Allow to set on a cooling tray.

Alternatively, use recipe for Chocolate Glaze by combining all ingredients and whisking till smooth.

Enjoy donuts immediately. Leftovers can be stored in an air-tight container in room temperature for up to 2 days.
Notes
TO STORE
: Leftovers can be stored in the refrigerator, covered, for up to 2 weeks.
TO FREEZE
: Place leftovers in a ziplock bag and store them in the freezer for up to 6 months. 
Nutrition
Serving:
1
Donut
Calories:
151
kcal
Carbohydrates:
35
g
Protein:
4
g
Fat:
1
g
Saturated Fat:
1
g
Sodium:
334
mg
Potassium:
179
mg
Fiber:
4
g
Sugar:
17
g
Vitamin A:
2
IU
Calcium:
17
mg
Iron:
2
mg