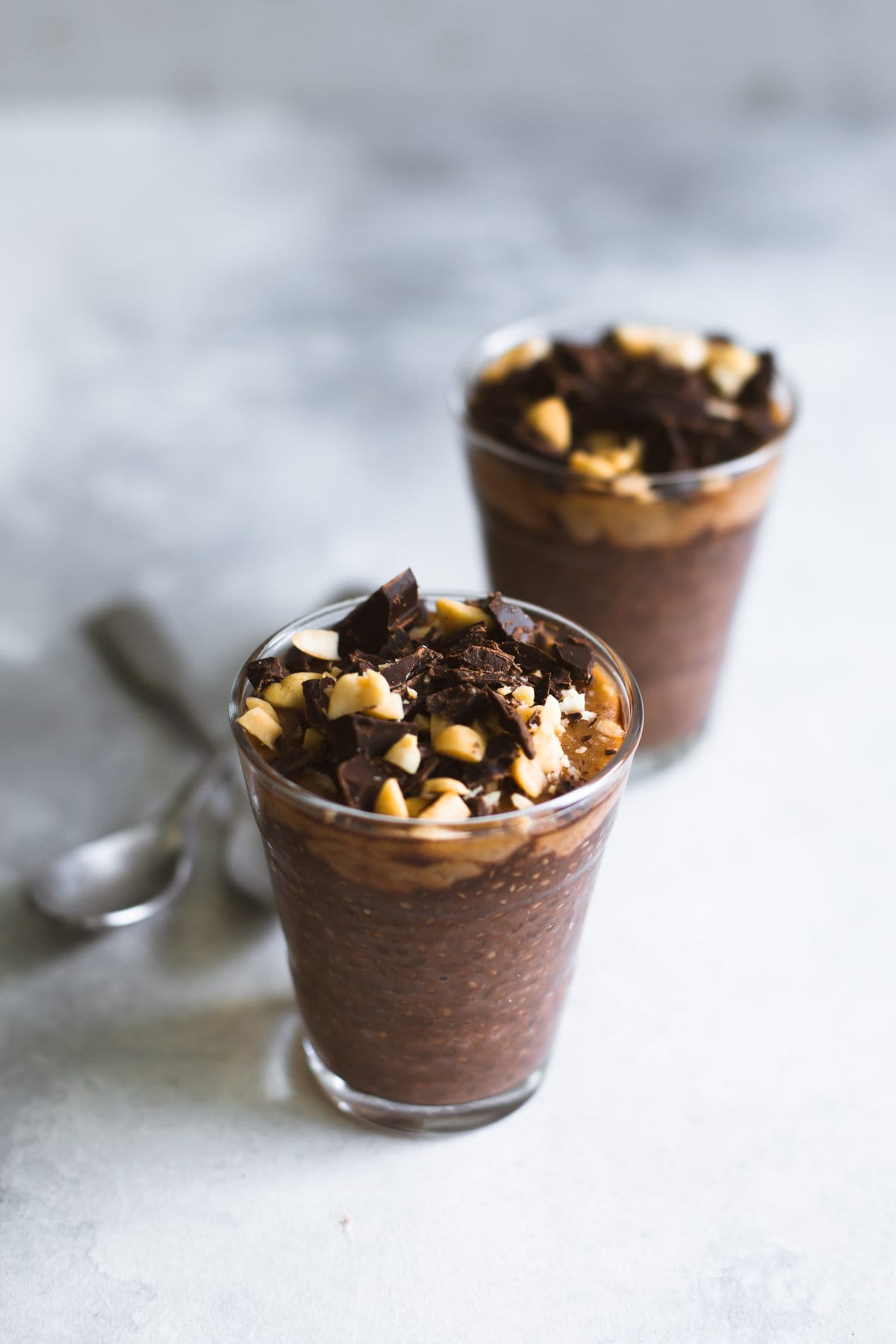 Yes, you heard it right. A Vegan Snickers Chia Pudding recipe. Snickers used to be, by far, my favourite candy bar. Chocolate, Peanut Butter, Caramel…what is not to love? In fact, I'm pretty sure I survived on 3 Snickers a day when I was 17. No other food was needed, not that I advise anyone to follow my  imbalanced, teenage hormone filled diet. No wonder my ass was the size of Mexico. Anyway, a couple of years ago, I posted a recipe for my Raw Vegan Snickers Bar (must try!), and today I'll be sharing with you another Healthy Snickers recipe, this time in the form of a delicious Vegan Chia Pudding. (Why healthy? Simply because I'm no longer 17 and my metabolism needs a good dose of Viagra…or liposuction, if anyone wants to sponsor me).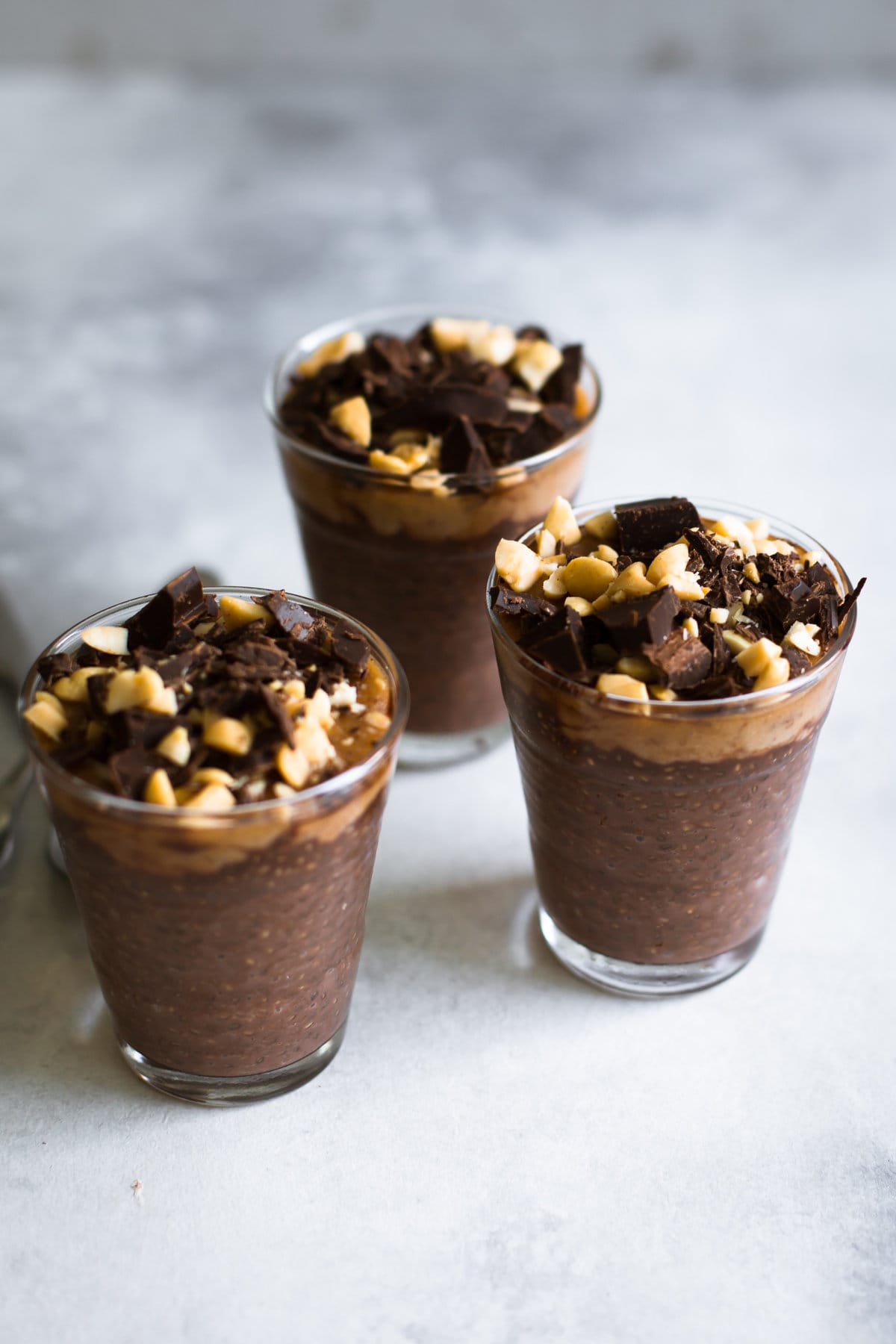 Chia Puddings have been my recent obsession. I've made Vanilla, Mango, Chocolate, and well, it was only natural that I came up with a Snickers Chia Pudding recipe. It couldn't get any simpler than combining some Chia Seeds, Cocoa Powder, Maple Syrup, Soy Milk, Vanilla and Sea Salt. I always add Salt to dessert recipes, because I'm awesome. So that's the chocolate component done, and ready to go into the refrigerator for a couple of hours to gel/set. Next up, we'll be making a Peanut Butter Caramel which is what really transforms this delicious goop into a Vegan Snickers Pudding.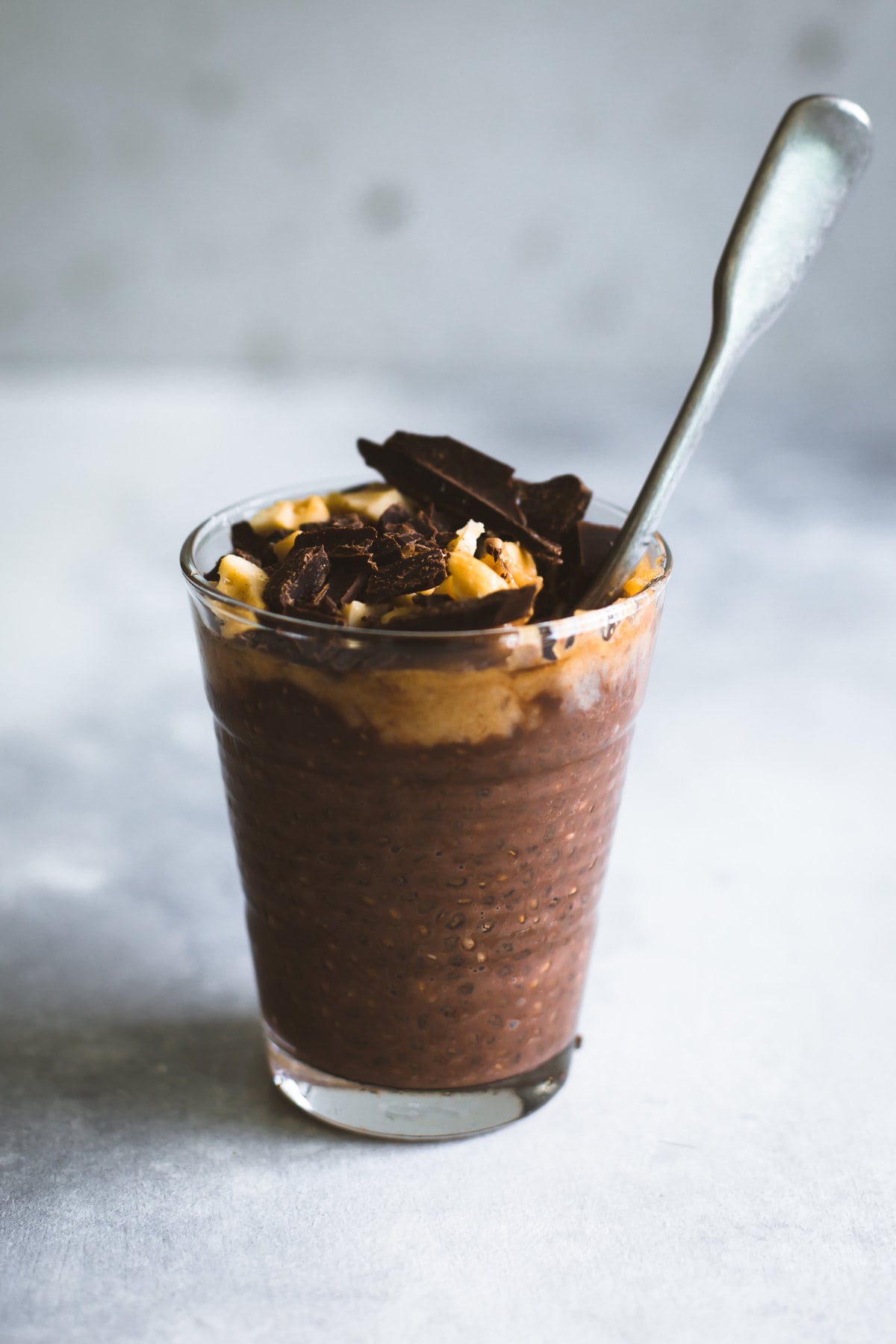 For the Peanut Butter Caramel Layer, I use the same recipe that I use in my easy Vegan Snickers recipe. Into a food processor goes some Medjool Dates, Sea Salt, Vanilla, Peanut Butter, Soy Milk, Maple Syrup and Peanuts. Blend away, and you have a simple, healthy Peanut Butter Caramel, ready to place its very own crowning glory on your Chocolate Chia Puddings.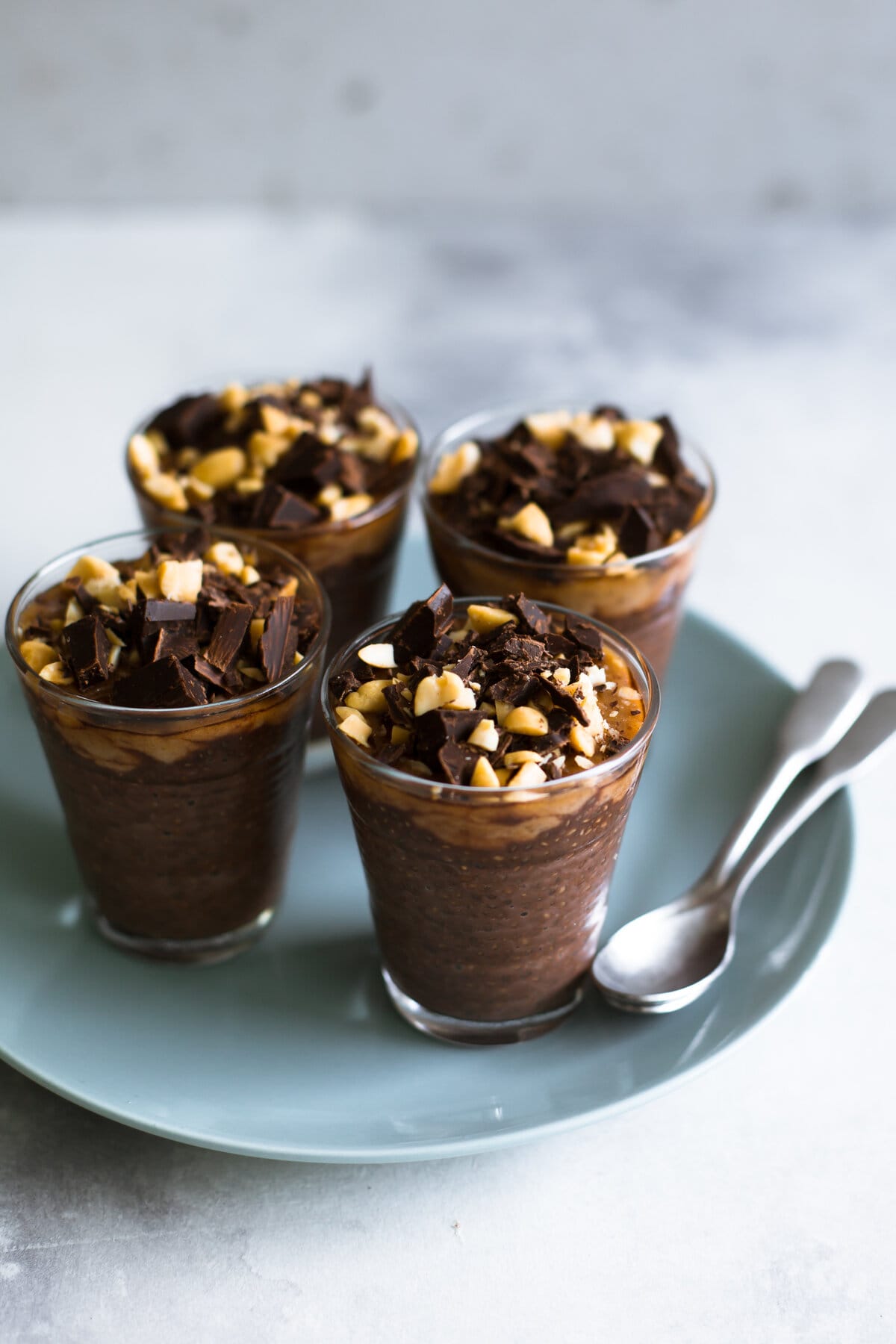 Once your Chia Seed Puddings have set, all ya'll gotta do is spoon some of your delicious Snickers Caramel mixture on top and you're ready to start spooning your Vegan Snickers Chia Pudding into your mouth, spoonful after spoonful after spoonful. Wanna be a little fancy? Top the puddings off with some crushed Salted Peanuts and Dark Chocolate shavings…live a little, spoil yourself, we're all going to die anyway. Scroll down for the full recipe – these Vegan Snickers Chia Seed Puddings are Gluten Free, Refined Sugar Free and full of healthy Fat (a term I like to refer to myself to as well).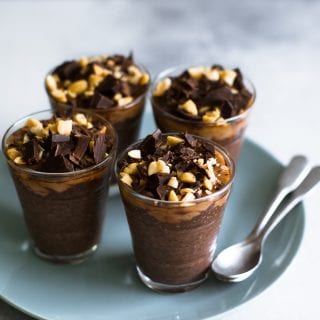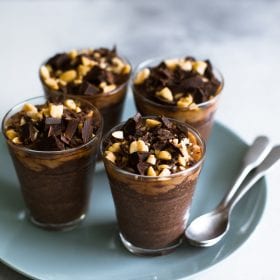 Peanut Butter Chia Pudding
Peanut Butter Chia Pudding - Chocolate Chia Seed Pudding topped with a Peanut Butter Date Caramel. Dairy Free/Gluten Free/Refined Sugar Free.
Ingredients
6

tablespoons

Chia Seeds

1

teaspoon

salt

3

tablespoons

Unsweetened Cocoa Powder

1/4

teaspoon

Instant Espresso

1 1/2

cups

Soy Milk

3

tablespoons

Maple Syrup

1

teaspoon

Vanilla Extract
For Date Peanut Butter Caramel:
6

Medjool Dates

pitted

1

Pinch

Sea Salt

1

teaspoon

Vanilla Extract

2

tablespoons

Peanut Butter

5

tablespoons

Soy Milk

1

teaspoon

Maple Syrup

1/4

cup

Peanuts

chopped
Instructions
In a bowl, combine Chia Seeds, Sea Salt, Cocoa Powder, Instant Espresso, Soy Milk, Maple Syrup and Vanilla Extract. Whisk very well, until all the Cocoa Powder has dissolved and your mixture looks like Chocolate Milk.

Spoon mixture into 3 or 4 glasses and place into the refrigerator to set for a minimum of 3 hours, or ideally overnight.

Once your Chia Pudding has set, it's time to make the Date Peanut Butter Caramel.

In a food processor, combine Dates, Sea Salt, Vanilla, Peanut Butter, Soy Milk and Maple Syrup. Process till you get an almost smooth, thick "caramel". Scrape down sides in-between if dates stick to the side of the processor bowl.

Once ready, stir in chopped Peanuts.

To serve, top your Chia Puddings with the Caramel mixture and garnish with additional chopped Peanuts and Dark Chocolate Shavings.

These Chia Puddings can be kept in the fridge for up to 3 days, but remember to store them wrapped in cling film!
Nutrition
Serving:
1
serving
Calories:
342
kcal
Carbohydrates:
54
g
Protein:
10
g
Fat:
12
g
Saturated Fat:
2
g
Trans Fat:
1
g
Sodium:
687
mg
Potassium:
627
mg
Fiber:
11
g
Sugar:
38
g
Vitamin A:
485
IU
Vitamin C:
8
mg
Calcium:
314
mg
Iron:
3
mg