This vegan tiramisu is a dairy free and egg free take on the classic Italian dessert! Simple ingredients and a fabulous vegan mascarpone that tastes just like the original!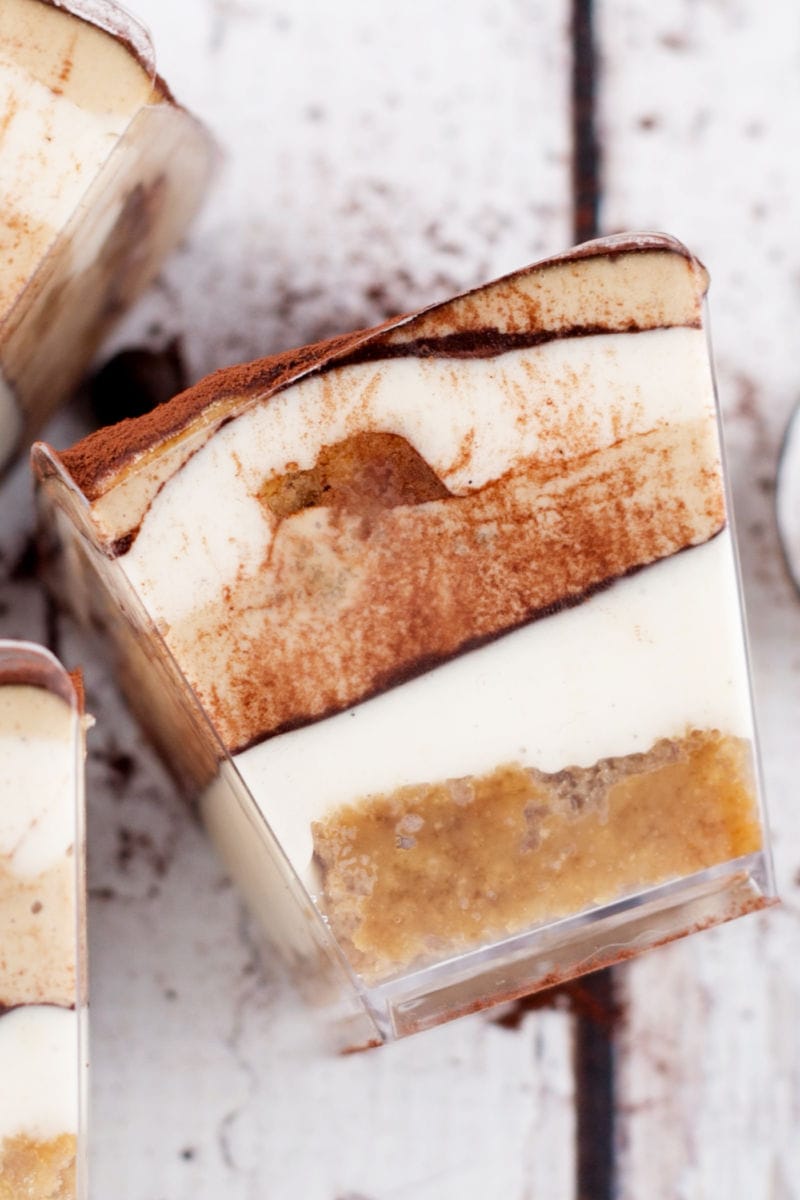 Vegan Tiramisu
Whenever I want to make a vegan dessert to impress, my favorite recipes to make are macarons, black forest trifle, and this easy vegan tiramisu.
FREE EBOOK SERIES! 5 SECRETS FOR FOOLPROOF VEGAN DESERTS
Growing up, I was the odd kid who'd be drinking coffee while everyone else had hot chocolate or sodas. In my household, coffee was the drink of choice and my parents never had the mentality that coffee was reserved only for adults. From a young age, I acquired a love for the flavor, and this went beyond a simple mug of joe. 
Whenever my family would take us out for ice cream, I'd always choose the coffee flavor. Whenever there was a box of mixed chocolate, I'd choose the coffee cream-filled ones. When my birthday rolled around, I'd always choose a coffee or mocha cake. However, nothing came close to my all time favorite coffee dessert- tiramisu.
There is something magical about a tiramisu, and I understand why coffee lovers are obsessed. The combination of espresso, coffee syrup, and coffee liqueur all balanced out with sweet mascarpone and sponge fingers. Since going vegan, it's been years since I've had what they would consider a 'traditional tiramisu' but luckily, I gave it a dairy free makeover! 
I've been meaning to share a vegan tiramisu recipe for quite some time. I was always intimated by the thought of making a mascarpone without any cheese or dairy, but it's actually ridiculously easy. You only need simple ingredients and the hard part is waiting for the actual dessert to set!
No dairy and no eggs are needed, but you'd never tell. The texture is light, airy, and has alternating smooth and creamy layers. The tiramisu is pleasantly sweet and has a lovely coffee flavor, without being overpowering.  
I had some friends over for dinner the other night and served them this for dessert and NO ONE believed me when I said that it was vegan- They thought it HAD to have dairy in it! 
Ingredients to make a vegan tiramisu
For the cake
Pastry flour

– Also known as cake flour, this gives the cake a lovely soft and fluffy texture. You can use all purpose flour, but the cake layer will be a little more dense. 

Baking powder and baking soda

– Both leavening agents are used for some rise and depth. 

Salt

– Brings out the sweetness of all the other ingredients. 

Milk of choice

– I used soy milk, but any plant based milk can be used. 

Apple cider vinegar

– Mixed with the milk to curdle and replace any need for eggs. 

Vegan butter

– Softened and unsalted. Vegan margarine can also be used. 

Sugar

– I used white sugar, but unrefined, brown, and coconut sugar all can be used. 

Vanilla extract

– A must for any good cake.
For the coffee syrup
Coffee

– Freshly brewed coffee or instant espresso. Your coffee must be chilled, or else it will break into the cake layer.

Sugar

– Gives the syrup the sticky sweetness. 

Kahlua

– Optional, but highly recommended. 
For the vegan mascarpone
Cashews

– Unsalted and raw. There is no need to soak them beforehand. 

Agave nectar

– Gives the mascarpone extra sweetness, without being overpowering. Maple syrup can also be used. 

Coconut oil

– Melted and refined (unrefined has a strong coconut flavor).

Vanilla bean

– Optional, but gives it a lovely vanilla flavor. 

Milk of choice

– I used soy milk, but unsweetened almond or coconut milk also works. 
For the vanilla and coffee cream
Milk of choice

– This will only be used for the vanilla cream layer. 

Coconut oil

– Melted. Like the milk, it will only be needed for the vanilla layer. 

Kahlua and espresso-

Strong coffee AND a coffee liqueur for the coffee cream. 

Cocoa powder

– To dust between and on top of the layers. 
How do you make a tiramisu?
It's best to make the tiramisu in sections so that when it comes time to assemble it together, it will be very easy! 
Start by preparing the cake layer by mixing the dry ingredients together in a large mixing bowl. Next, whisk together the milk and vinegar, so it has time to curdle. In a separate bowl, whisk together the butter and the sugar until smooth and fluffy. Slowly add in the milk mixture and whisk until it is incorporated. Fold through the dry ingredients and mix well, until combined. 
Now, transfer the cake batter onto a lined baking sheet and spread out in a thin, even layer. Bake for 20 minutes, or until a skewer comes out mostly clean. Let the cake cool completely. 
While the cake is cooling, prepare the rest of the layers. Whisk together the chilled coffee, sugar, and Kahlua until combined. Set it aside and prepare the mascarpone. In a high-speed blender or food processor, combine all your ingredients and blend until smooth and creamy. Next, divide the batter evenly into two mixing bowls. In the first one, whisk in the milk and melted coconut oil. This will be the vanilla cream. In the next one, add in the Kahlua and espresso, which will form the coffee cream. 
Finally, assemble the tiramisu. Lightly grease a deep casserole dish or individual serving glasses. Cut pieces of the sheet cake and dip in the coffee syrup, before placing it into the dish. Top with a layer of vanilla cream, followed by a light dusting of cocoa powder. Place the dish in the freezer for 10 minutes. After 10 minutes, remove from the freezer and add a layer of the coffee cream, and dust with cocoa powder, before placing back into the freezer. Repeat this process until all the cake and cream are used up. Dust with cocoa powder on top, before refrigerating the tiramisu for at least 6 hours, or overnight.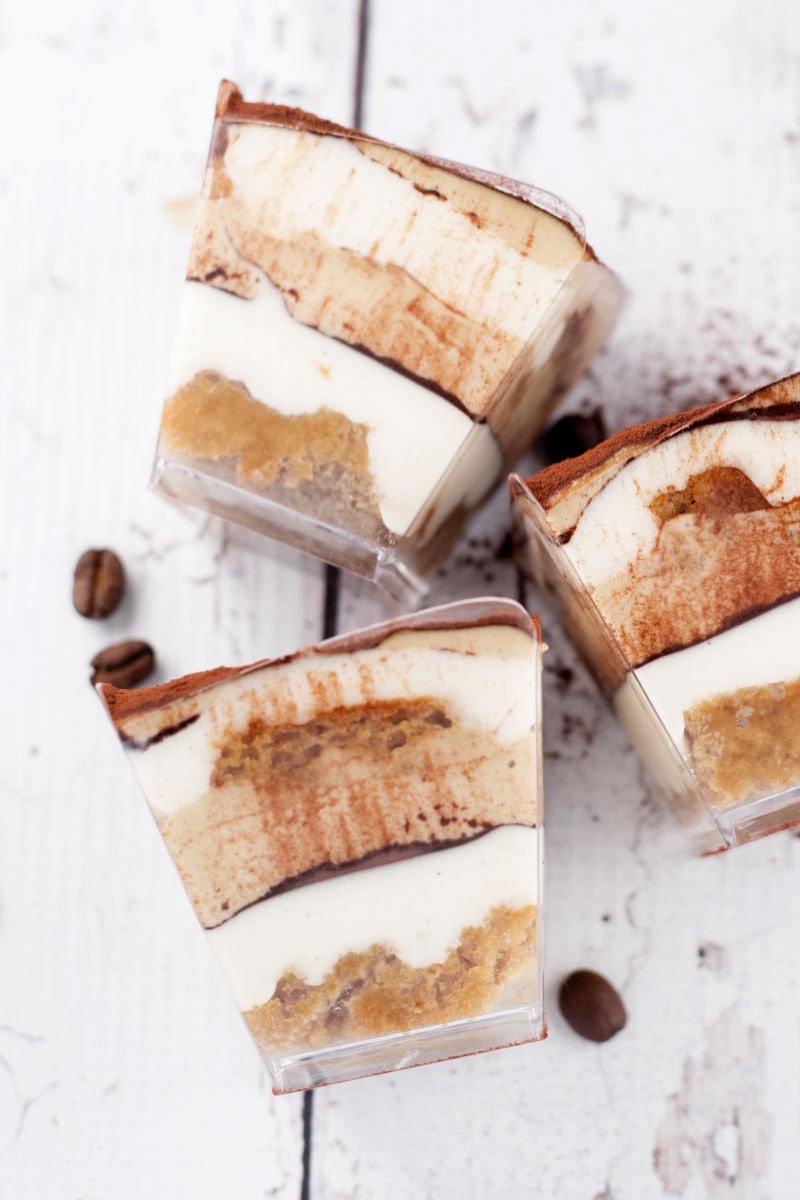 Tips to make the best tiramisu
Don't worry too much about the cake layer, as it will eventually be soaked in syrup and cream. If you don't want to make a sheet cake, you can make a simple

vanilla cake

instead, and cut it up into squares or thin slices. 

If you'd like to make this without alcohol, replace the Kahlua with extra milk. Do not use extra coffee or the flavor will be too intense.

Feel free to use decaffeinated coffee if you cannot tolerate caffeine. 

Please do not omit or alter any of the ingredients in the mascarpone layer, or it will likely not come out as intended. If you can't use cashews, the only other alternative I have tried is Marcona almonds. 
 Storing and freezing tiramisu
To store

: Tiramisu should always be stored in the refrigerator, completely covered. It will keep well for at least a week.

To freeze

: Place leftover tiramisu into a sealable container and store in the freezer for up to 6 months. 

More vegan dessert recipes you'll enjoy
Watch how to make it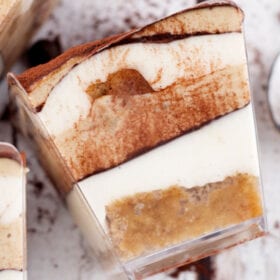 Vegan Tiramisu
This vegan tiramisu is an egg free and dairy free take on the classic Italian dessert! The vegan mascarpone tastes even BETTER than the original!
Ingredients
For the vanilla sheet cake
1/2

cup

Soy Milk

1

teaspoon

Apple Cider Vinegar

4

tablespoons

Vegan Butter

1/8

teaspoon

Salt

6

tablespoons

Sugar

1

teaspoon

Vanilla Extract

1/2

cup + 2 Tablespoons

Pastry Flour

1/2

teaspoon

Baking Powder

1/4

teaspoon

Baking Soda
For the soaking syrup
3/4

cup

Freshly Brewed Coffee

cooled

3

tablespoons

Sugar

3

tablespoons

Kahlua
For the vegan mascarpone
1 3/4

cup

Raw Cashews

no need to soak

1/3

cup

Agave Nectar

1/3

cup

Coconut Oil

Melted

1/4

teaspoon

Salt

1

seed

Vanilla Bean Pod

3/4

cup

Soy Milk
For the vanilla cream
1/4

cup

Soy Milk

1

tablespoon

Coconut Oil

Melted
For the coffee cream
1

tablespoon

Kahlua

1/3

cup

Espresso

cooled
Instructions
For the sheet cake
Preheat oven to 175 degrees celsius. Grease and line a 8x6 inch cookie sheet with baking paper. Set aside.

Whisk Soy Milk and Apple Cider Vinegar in a bowl set aside for 5 minutes to curdle. Sieve the Pastry Flour, Baking Powder and Baking Soda into a bowl. Set aside.

In another bowl, whisk Vegan Butter, Sugar and Salt till light and fluffy, about a minute. Whisk in the Vanilla Extract.

Alternate whisking in the Soy Milk mixture and dry ingredients, starting with 1/3 of the dry and ending with the last third of the dry mixture.

Spread mixture out onto prepared cookie sheet and bake for 20 minutes, or until cooked through. It's okay if you over bake it slightly, it doesn't make a difference.
Soaking Syrup
Mix Coffee, Kahlua and Sugar together till the sugar has dissolved. Set aside.
Vegan Mascarpone Filling
In a high speed blender, combine Cashews, Agave, Coconut Oil, Salt, Vanilla and Soy Milk. Blend thoroughly until smooth and silky.

Divide mixture into half. For Vanilla, use first half of mixture and thoroughly whisk in extra 1/4 cup Soy Milk and 1 tablespoon Coconut Oil. Set aside.

For Coffee Cream, blend second half of Mascarpone mixture with Kahlua and Espresso.
To assemble
:To assemble, have ready a tiramisu dish or individual ramekins/glasses. Cut a piece of sheet cake to fit the bottom of your ramekin or glass. Dip in Soaking Syrup for just a second or two and place into the bottom of your vessel.

Top with a layer of Vanilla Cream and dust with Cocoa Powder. At this point, freeze for 10 minutes.

Once out of the freezer, top with a layer of Coffee Cream. Freeze for 10 minutes.

Repeat process once more - soaked cake, vanilla cream and coffee cream - freezing cream layers for 10 minutes before continuing.

Once complete, dust the tops of you Tiramisu with cocoa powder and leave in the fridge for at least 4-6 hours to firm up before eating.
Notes
TO STORE:

Tiramisu should always be stored in the refrigerator, completely covered. It will keep well for at least a week.
TO FREEZE:

Place leftover tiramisu into a sealable container and store in the freezer for up to 6 months. 
Nutrition
Serving:
1
serving
Calories:
248
kcal
Carbohydrates:
31
g
Protein:
6
g
Fat:
12
g
Saturated Fat:
2
g
Trans Fat:
1
g
Sodium:
154
mg
Potassium:
192
mg
Fiber:
2
g
Sugar:
16
g
Vitamin A:
237
IU
Vitamin C:
1
mg
Calcium:
42
mg
Iron:
2
mg