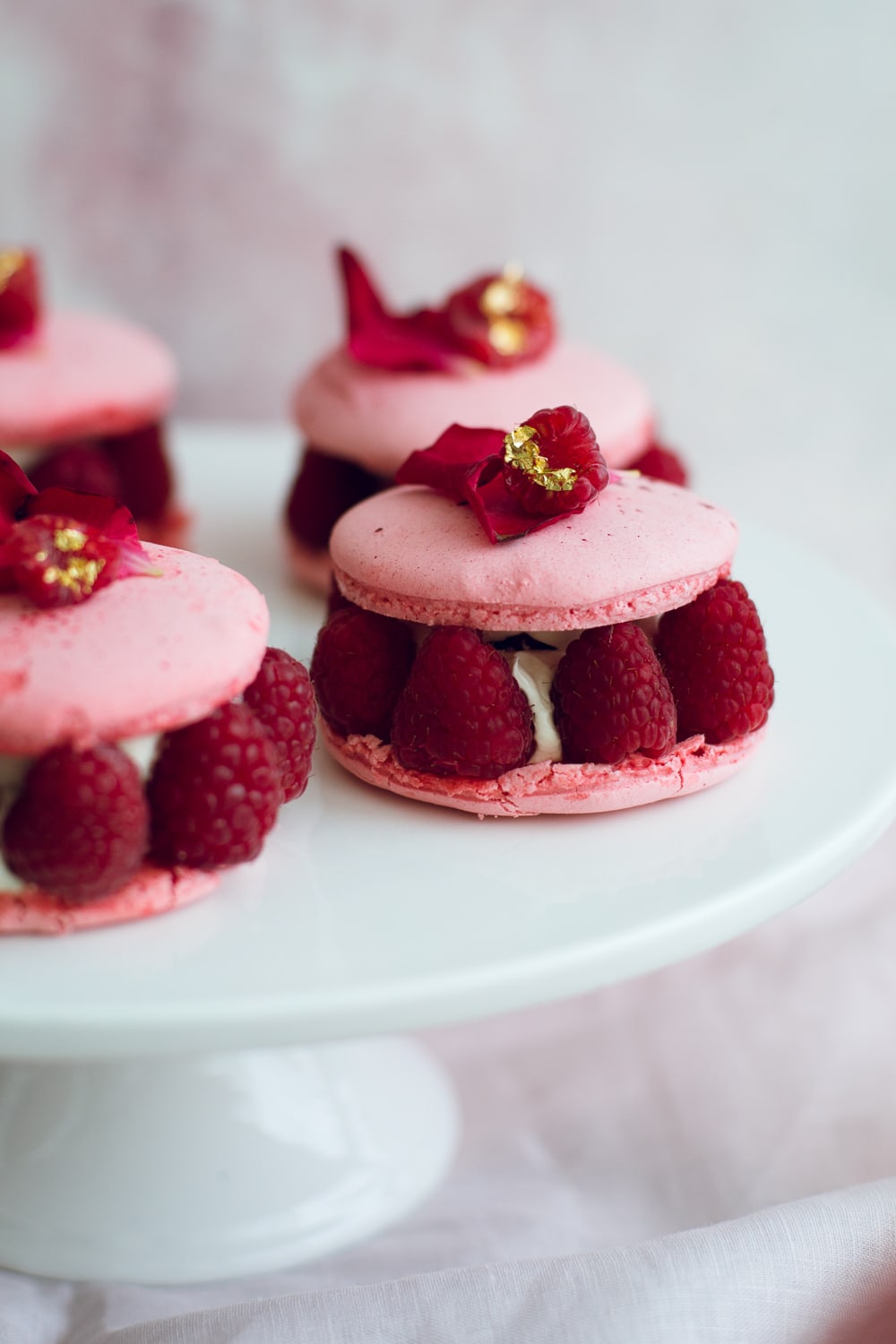 If you ever were a die hard pastry addict like I was years ago, you probably would have heard of the Ispahan. The Ispahan is a world renowned macaron created by the one and only Pierre Herme, comprising of a Rose Macaron Shell, Rose Cream and Lychee pieces in the middle, finished off with a kumbaya circle of Raspberries around the edge of the Macaron. Now whilst I do not claim to be Pierre Herme in any way (I don't have a penis and I'm of different ethnicity and size to begin with), I did set out to create a completely Vegan version of the Ispahan. And so I present to you, the Vegan Ispahan made with Italian Meringue Vegan Macarons!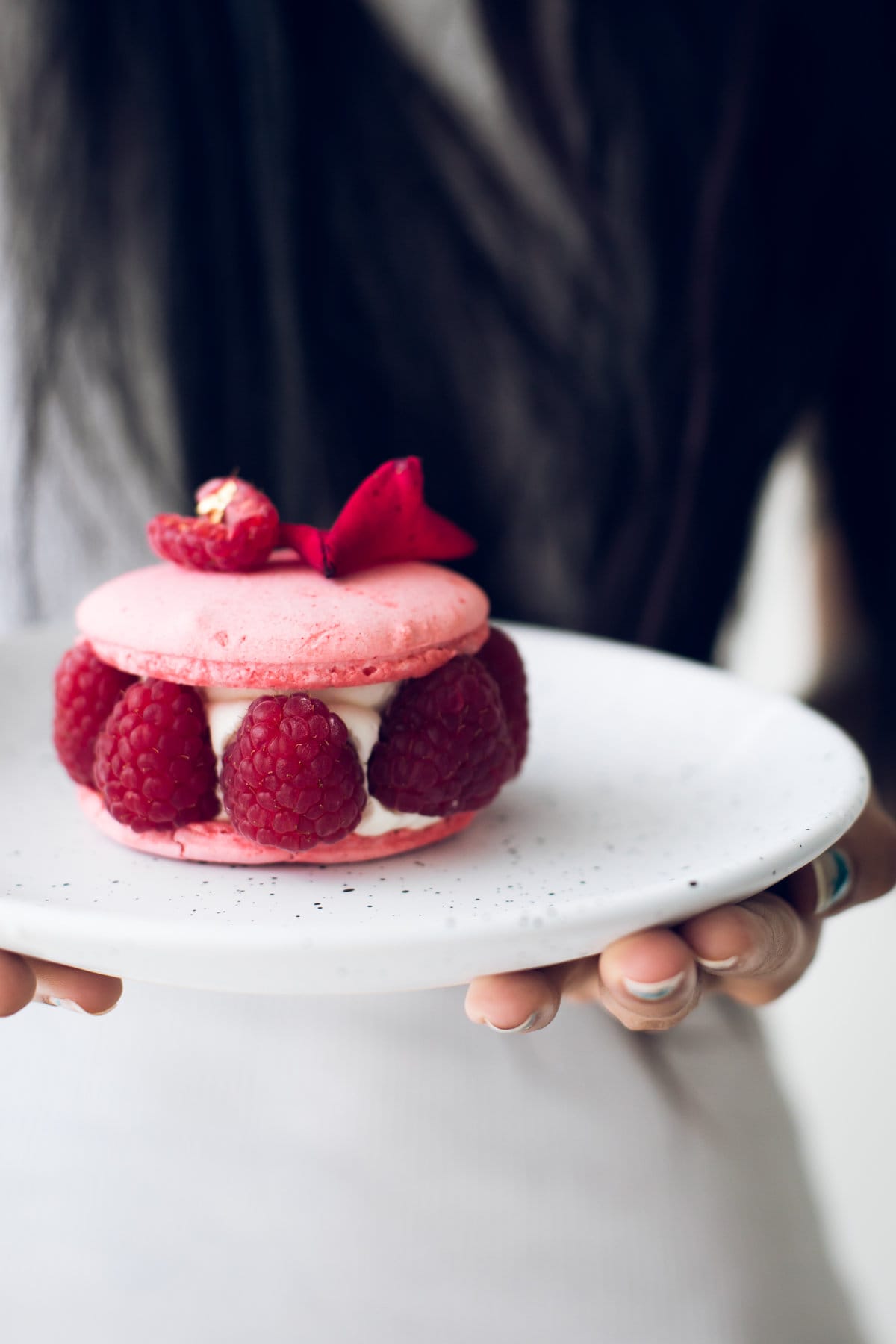 Unlike my previous two Vegan Macaron recipes which utilise the French Meringue method, I decided to play around with Italian Meringue Vegan Macarons this time round. I won't go too much into the technical details about Vegan Macaron making as I have already covered all of that in my previous posts and I'm really too god damn lazy to go over it all over again, but here is a little information on Italian Meringue. Italian Meringue is a meringue that is stabilised with a hot sugar syrup (118 degrees Celsius), producing a much more stable meringue than the French method does. I simply replaced the Egg Whites in my original Italian Meringue Macaron recipe with Aquafaba (Chickpea Brine), and voila,  Italian Meringue Vegan Macarons!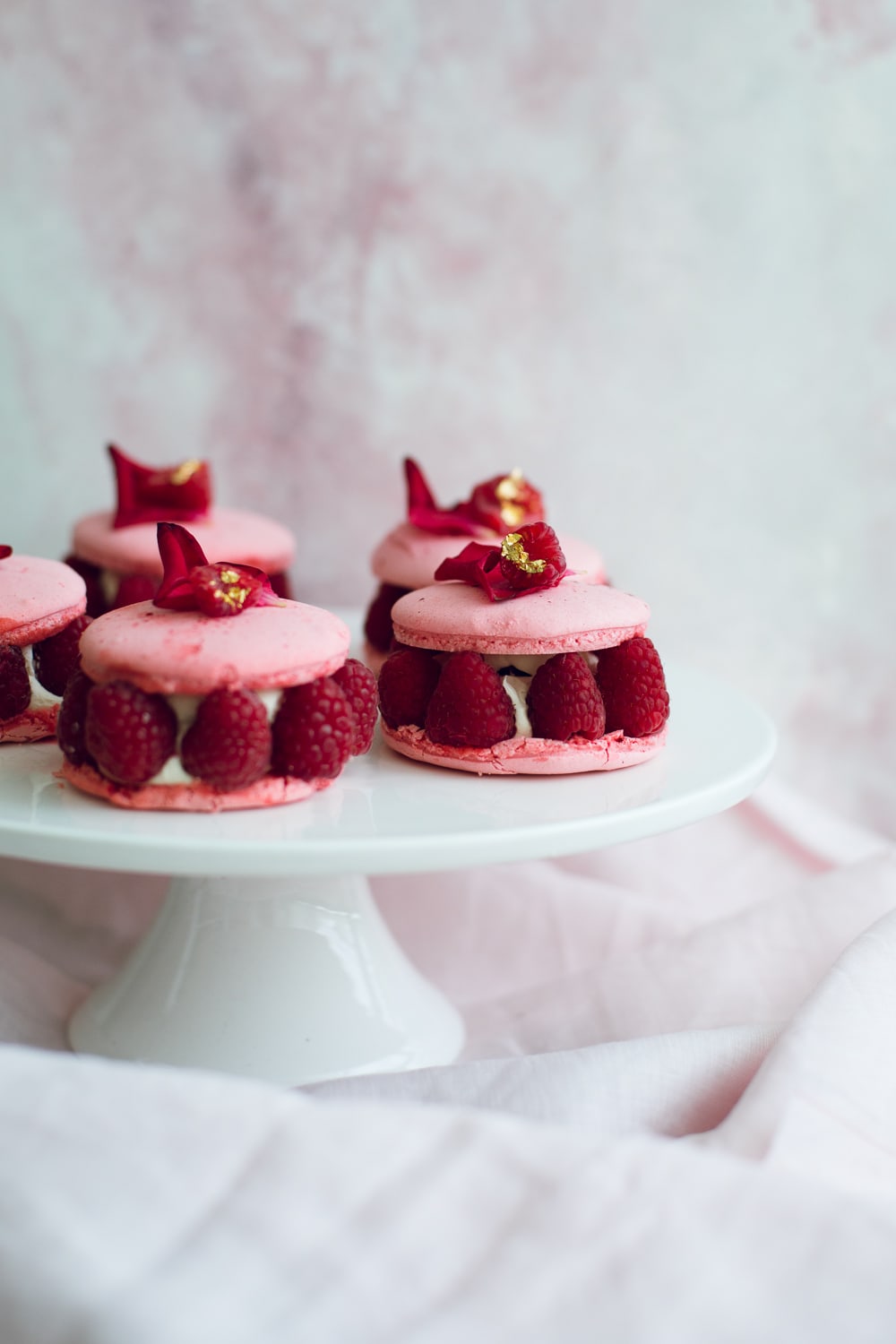 This recipe stays true to its inspiration, with a Rose Italian Meringue Vegan Macaron Shell, Vegan White Chocolate and Rose Cream, Lychees and Raspberries. For my Vegan White Chocolate and Rose Cream, I make a ganache with some Vegan Whipping Cream, Vegan White Chocolate and then combine this Ganache with more Vegan Whipped Cream and Rose Extract for a light and floral cream. A perfect pairing with tart Raspberries and Lychees!
FREE EBOOK SERIES! 5 SECRETS FOR FOOLPROOF VEGAN DESERTS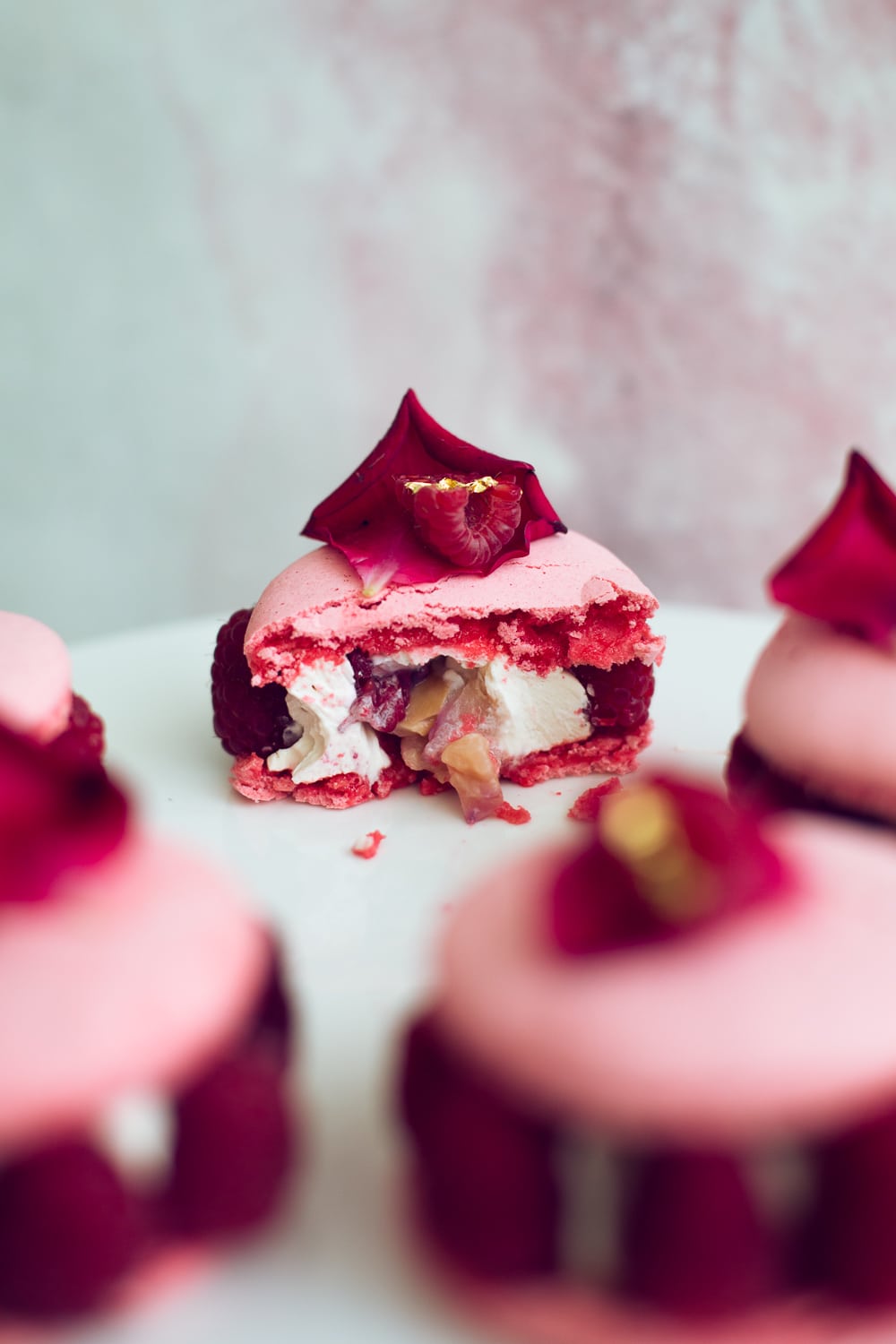 Now, a few things about this recipe that you must must must pay attention to (seriously, I had trays and trays fail in order to learn these things the hard way, people!). Once you have piped your macaron shells out, you NEED to let them rest for at least 2 hours, in a room that is not humid (ideally, an air-conditioned room). Also, use Fan Force on the oven – trust me, I learnt the hard way. You also have to ensure that you bake these at 125 degrees Celsius – any hotter and they will crack/not have any feet. Seriously, okay? I have a whole box of failed shells if you need more reason to listen to these instructions! Also, I use Rich's Whipped Topping for the cream component of this recipe – it is already sweetened. If you can't find this, use any Non-Dairy whipping cream. If you cannot find a sweetened variety, you will have to add Icing Sugar to taste when whipping your cream. But of course, if you don't like being told what to do, then good luck! 😀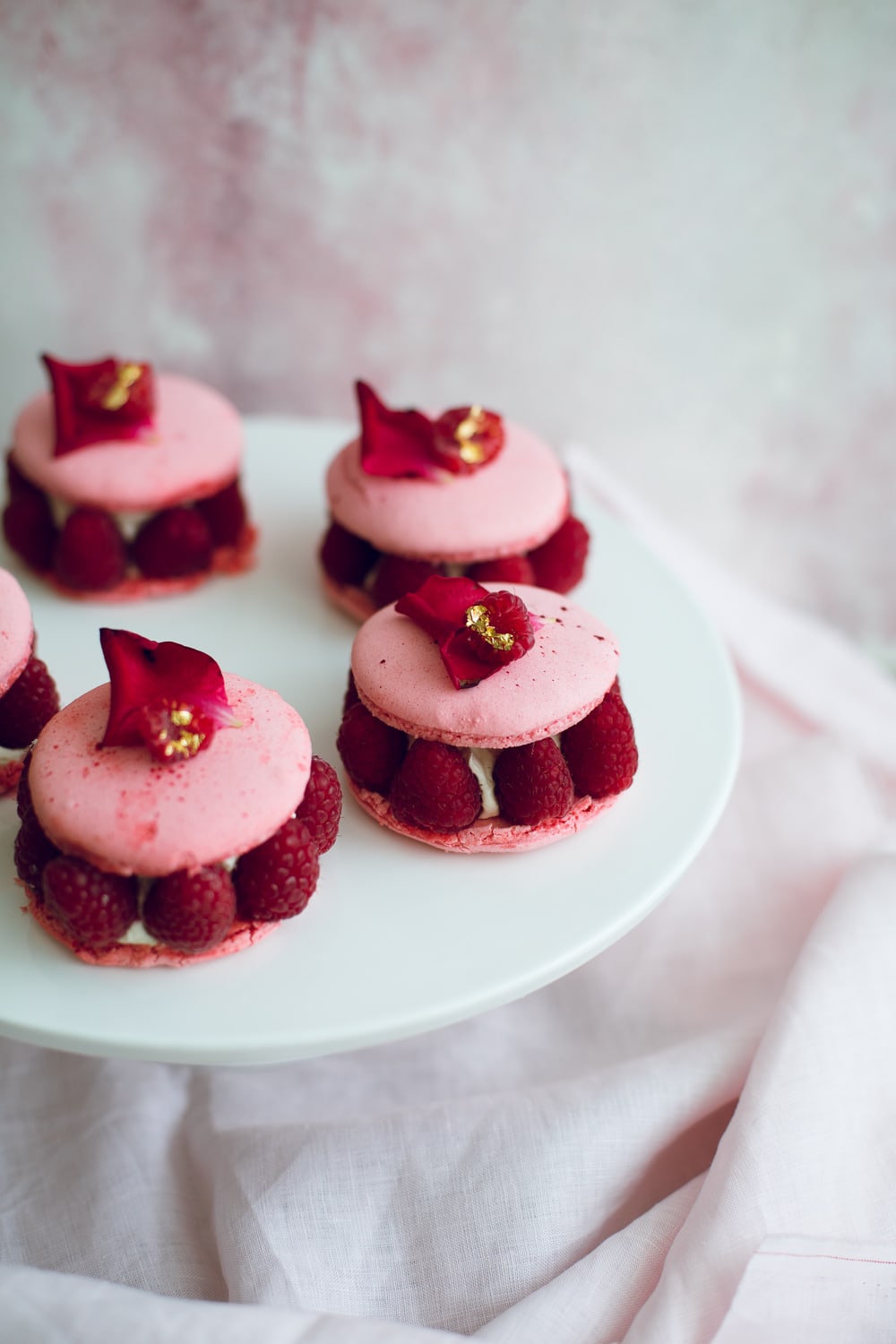 Soooooo, if you're craving a technical but very rewarding baking adventure, then scroll down to grab the recipe for my Vegan Italian Meringue Macarons, you won't regret it! Or maybe you will, but if so, I don't wanna hear about it! Happy Vegan Ispahan making! Promise you it tastes just like the real thing, even if I have to say to myself! Till next time!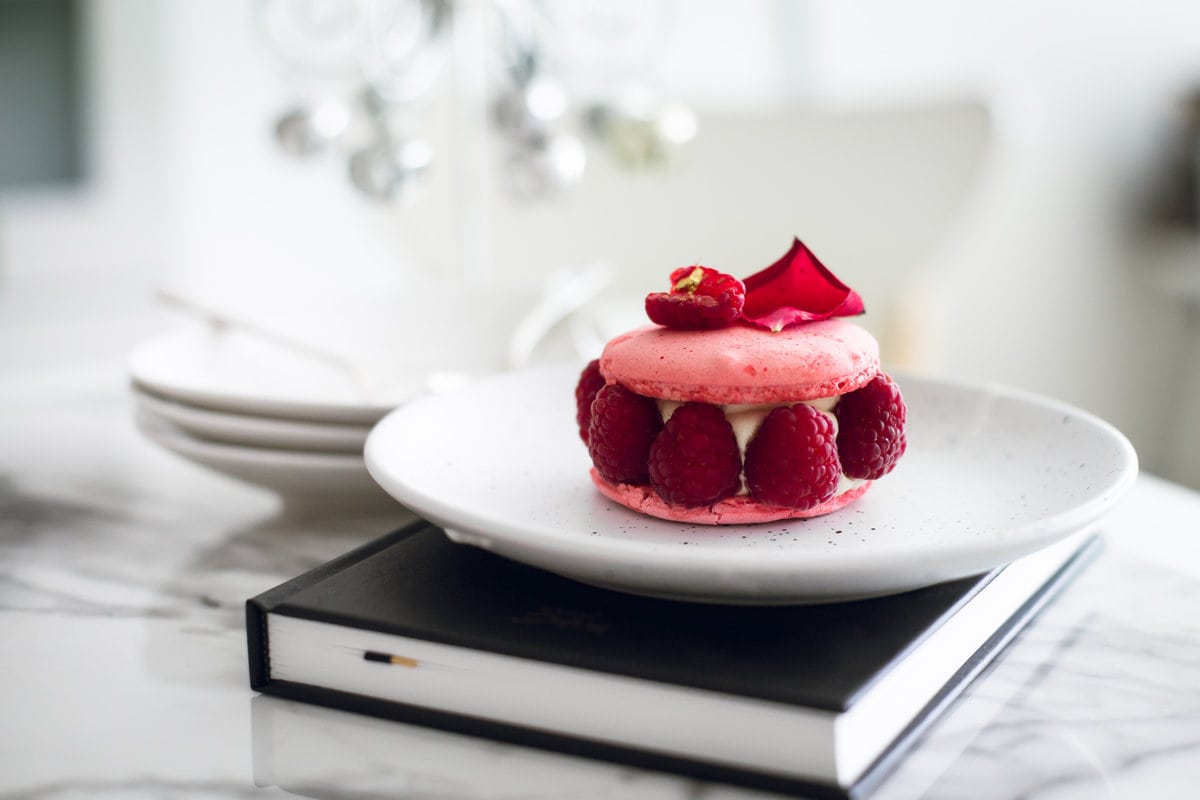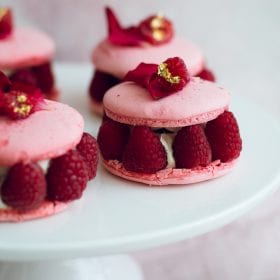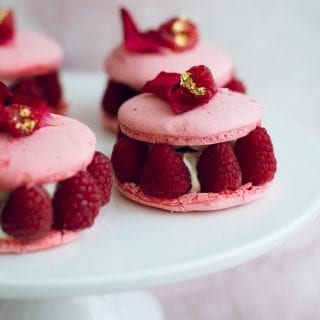 Ispahan Macarons
The Vegan Ispahan, made with Italian Meringue Aquafaba Macarons. Rose Shell, White Chocolate Rose Cream, Lychees and Raspberries.
Ingredients
Italian Meringue Vegan Macaron Shells:
350

grams

Aquafaba

1/8

teaspoon

Cream of Tartar

1

Pinch

Salt

125

grams

Ground Almonds

125

gram

Powdered Sugar

1

drop

Red Food Coloring

125

grams

Superfine sugar

40

grams

Water

1

drop

Rose Extract
Vegan White Chocolate and Rose Cream:
90

grams

Vegan White Chocolate

90

grams

Vegan Whipping Cream

for Ganache

150

grams

Vegan Whipping Cream

4

drops

Rose Extract
Instructions
The night before you want to make your Macarons, prepare your Aquafaba. In a small saucepan, bring 350 grams of Aquafaba to a simmer. Let this simmer away until it has reduced to 150 grams of Aquafaba. (I pour it out and weigh it on a kitchen scale a few times in-between to check).

Once it has reached 150 grams, pour it into a bowl to cool and then refrigerate overnight (you won't use all of it, but it's better to have too much rather than too little).

Next day, process Ground Almonds and Icing Sugar in a food processor and then sieve into a bowl, making sure there are no lumps in your mixture. To your Almond/Icing Sugar mixture, add 50 grams of your chilled Aquafaba, food colouring and Rose Extract.

Mix well until you have a fairly stiff Almond Paste. Set aside..

With a stand mixer fitted with a clean bowl and with clean beaters, whisk Aquafaba, Cream of Tartar and Salt on high till it turns stiff and foamy (about 8 minutes).

Meanwhile, in a small saucepan, combine your Caster Sugar and Water. Boil, with a candy thermometer attached, until your syrup reaches 118 degrees Celsius.

With the stand mixer still whipping the Aquafaba, immediately drizzle your hot syrup in until all of it has been incorporated into the meringue. Continue whisking on high until Italian Meringue is cold to the touch. You should end up with a thick, glossy meringue.

Add your prepared Almond Paste to this meringue and fold gently with spatula until it has incorporated with the meringue. You don't have to be too gentle with this, but you don't want to go crazy either.

Once your mixture has been incorporated, continue folding until you end up with a mixture that resembles thick lava. Do not over-mix or your batter will be too runny and you will end up with macaron UFOs. You will know that you have reached the right consistency when you dollop a tablespoon of batter onto a flat surface and it gradually smoothens out into a nice round shape, without any "nipples" forming on top.

Fill a piping bag fitted with a round nozzle with Vegan Macaron mixture and pipe into 4 inch rounds on a Silpat or Silicone Baking Paper lined mat. These Ispahan Macarons are significantly larger than normal Macarons, so you will end up with 20 shells, making 10 Macarons in total.

Once piped, slam the tray down on your kitchen counter to eliminate any air bubbles in your piped macaron mixture. Dust some cocoa on the shells. Leave your trays to rest in a cool area for 2-3 hours. They are ready to bake when they have turned matt and you are able to gently touch the surface of the shells without anything sticking to your finger.

Preheat oven to 125 degrees Celsius, fan-forced. Bake each tray of macarons individually for 30-32 minutes, without opening the oven door in-between. Remove tray from oven and leave to cool thoroughly before peeling Macaron shells off from Silpat/Silicone paper.

Repeat baking process with remaining trays of macarons.

To prepare filling, combine 90 grams Vegan White Chocolate and 90 grams Vegan Whipping Cream in a bowl. Microwave for 20-30 seconds, or until melted and stir to form a smooth Ganache. Leave to cool to room temperature.

Once cooled, in another bowl, whip your 150 grams of Vegan Whipped Cream and Rose Extract until soft peaks form. Add cooled Ganache to this cream and continue whipping on high until you have a thick White Chocolate Rose Cream.

To assemble, pipe a thick circle of White Chocolate and Rose Cream on a Macaron shell, and fill the cavity with pieces of Lychee. Cover the Lychee with more cream, and place Raspberries all around the ring of White Chocolate Rose Cream. Sandwich with another Macaron shell.

Place macarons into a box and leave in the fridge overnight, or ideally for 2 nights so that they have time to mature and form the right texture.

Macarons are best served at room temperature or 10 minutes out of the refrigerator, not straight out from the fridge.
Notes
** I use Rich's Whipped Topping for this recipe - it is already sweetened. If you can't find this, use any Non-Dairy whipping cream. If you cannot find a sweetened variety, you will have to add Icing Sugar to taste when whipping your cream.
Nutrition
Serving:
1
serving
Calories:
168
kcal
Carbohydrates:
28
g
Protein:
3
g
Fat:
6
g
Saturated Fat:
1
g
Sodium:
4
mg
Potassium:
7
mg
Fiber:
1
g
Sugar:
25
g
Calcium:
27
mg
Iron:
1
mg