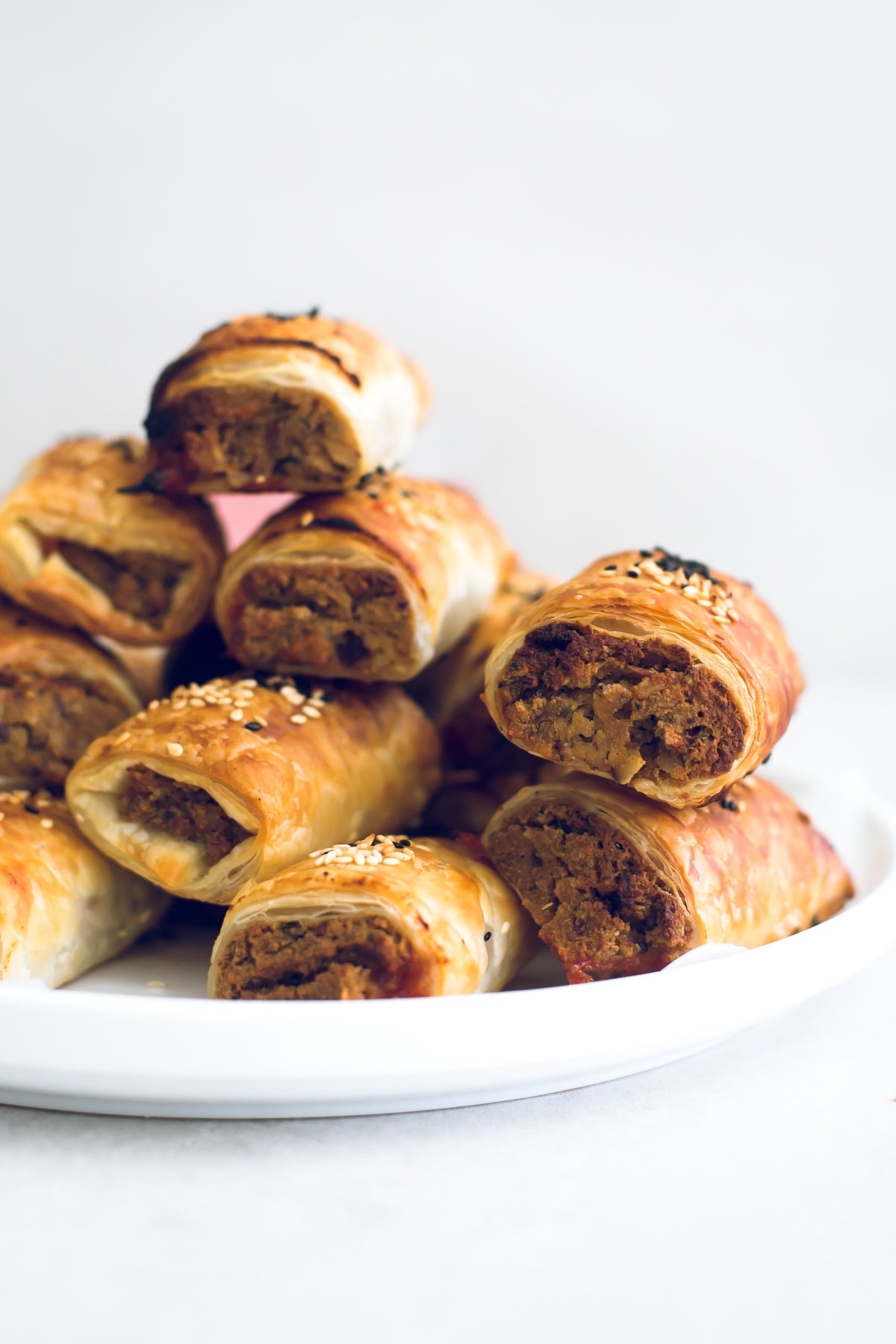 Hey ho everyone, hope you've all had an amazing Christmas! Now that Christmas has come and gone, you've only got a few days left to smash all the good stuff into your face before the dreaded New Year's resolutions come into play. What better time than now to gobble up these delicious Vegan Tofu Sausage Rolls! Last year, I posted a recipe for some quick and easy Vegan Sausage Rolls that use pre-made Vegan Sausages, but this time round I wanted to have a go at making my own filling from scratch using a mixture of Nuts and Tofu. Thank fu*k I did because these Vegan Sausage Rolls were the absolute bomb!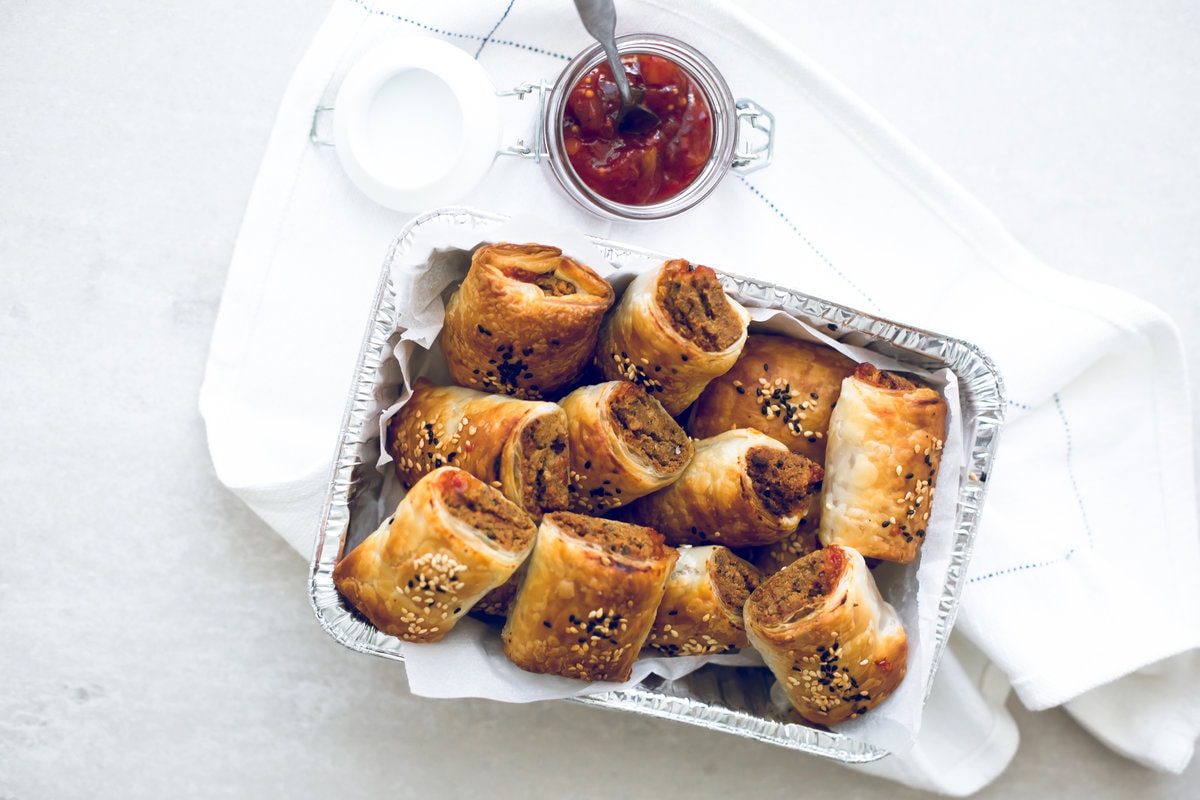 These Tofu Sausage Rolls are so damn easy to make, all you have to do is chuck Tofu, Nuts (any kind of mixed nuts, I used a blend of Almonds, Cashews, Hazelnuts and Pistachios), Dried Cranberries (adds a lovely sweetness!) Spices, Herbs, Aquafaba, Onion, Garlic and Tamari into a food processor and there you have it, Vegan Sausage Mince mixture, Mofos! Amazing! Once everything is blended up, you roll the mixture up with some Tomato Chutney (optional) in pre-rolled sheets of Vegan Puff Pastry, top with some Sesame Seeds and into the oven they go.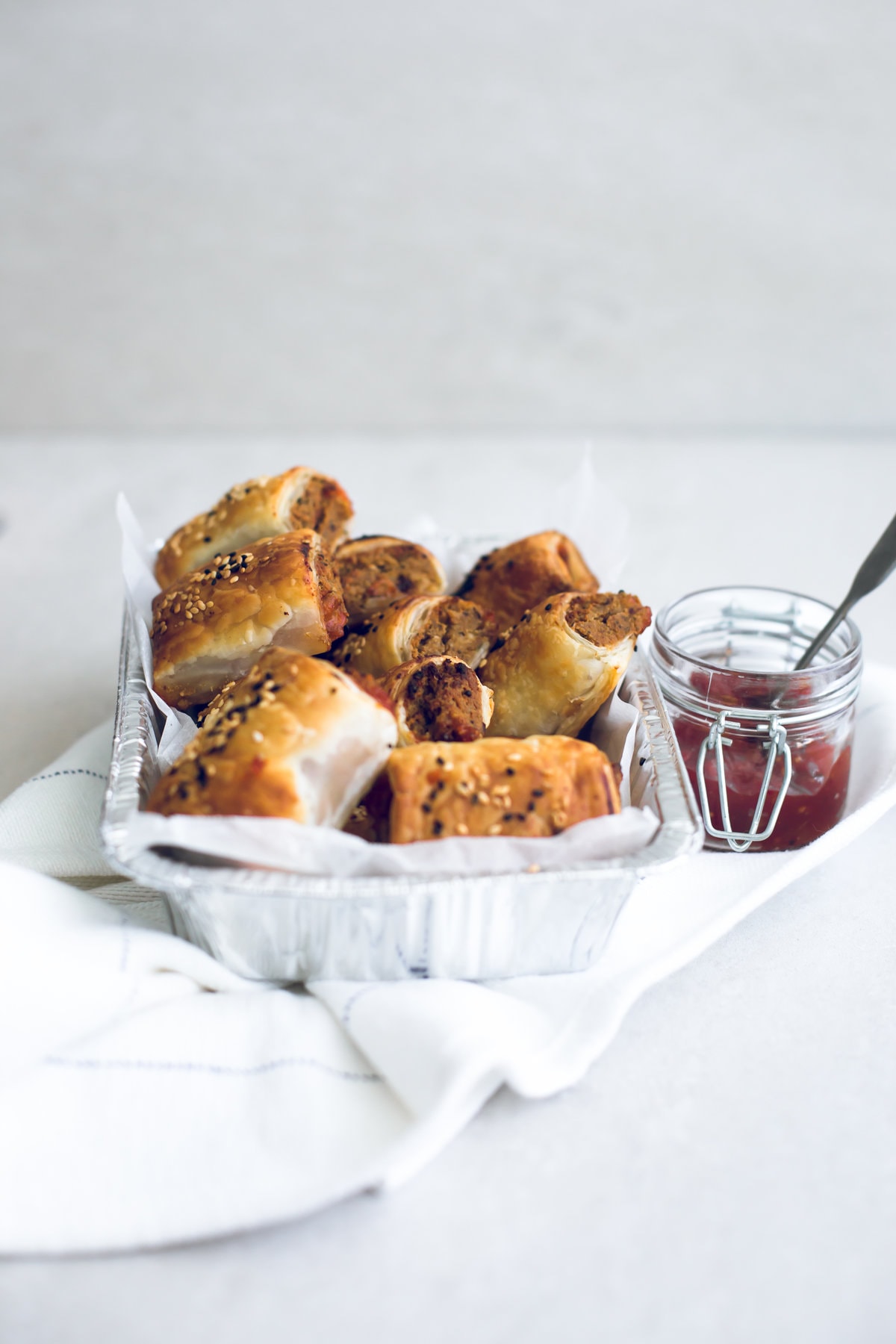 FREE EBOOK SERIES! 5 SECRETS FOR FOOLPROOF VEGAN DESERTS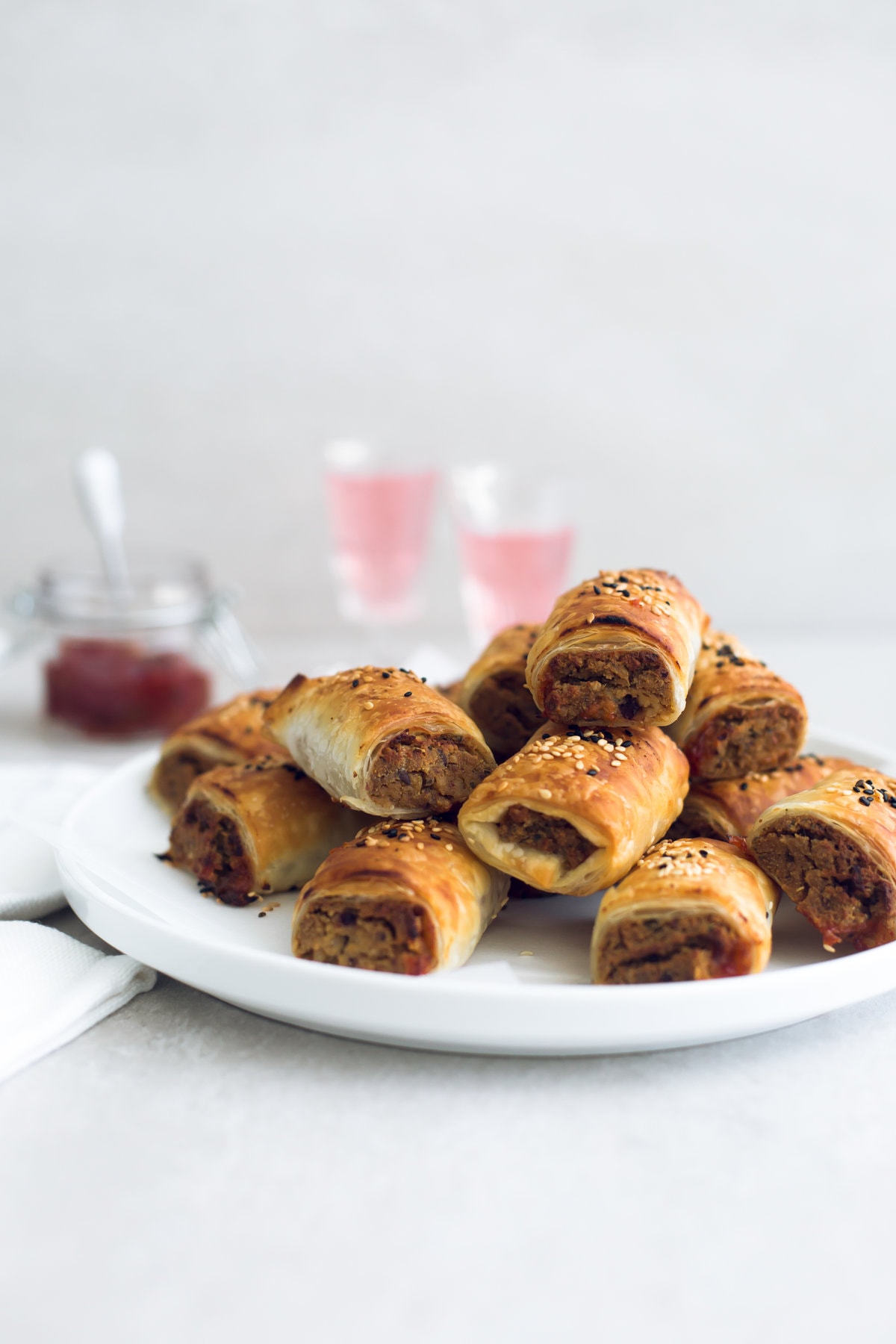 20 minutes later and we are in god damn Vegan Sausage Roll heaven. This recipe makes about 24 small-ish Vegan Tofu Sausage Rolls, which sounds like a lot, but trust me, these go down you faster than dust gets sucked into a vacuum cleaner. Am I not just the most impressive poet of all time? Oh yes, don't forget to serve this with Tomato Sauce. No Sausage Roll is complete without some artisanal Tomato Jus. Anyway, no more time for yakkity yak, scroll down to grab my fu*king ripper of a Vegan Tofu Sausage Roll recipe.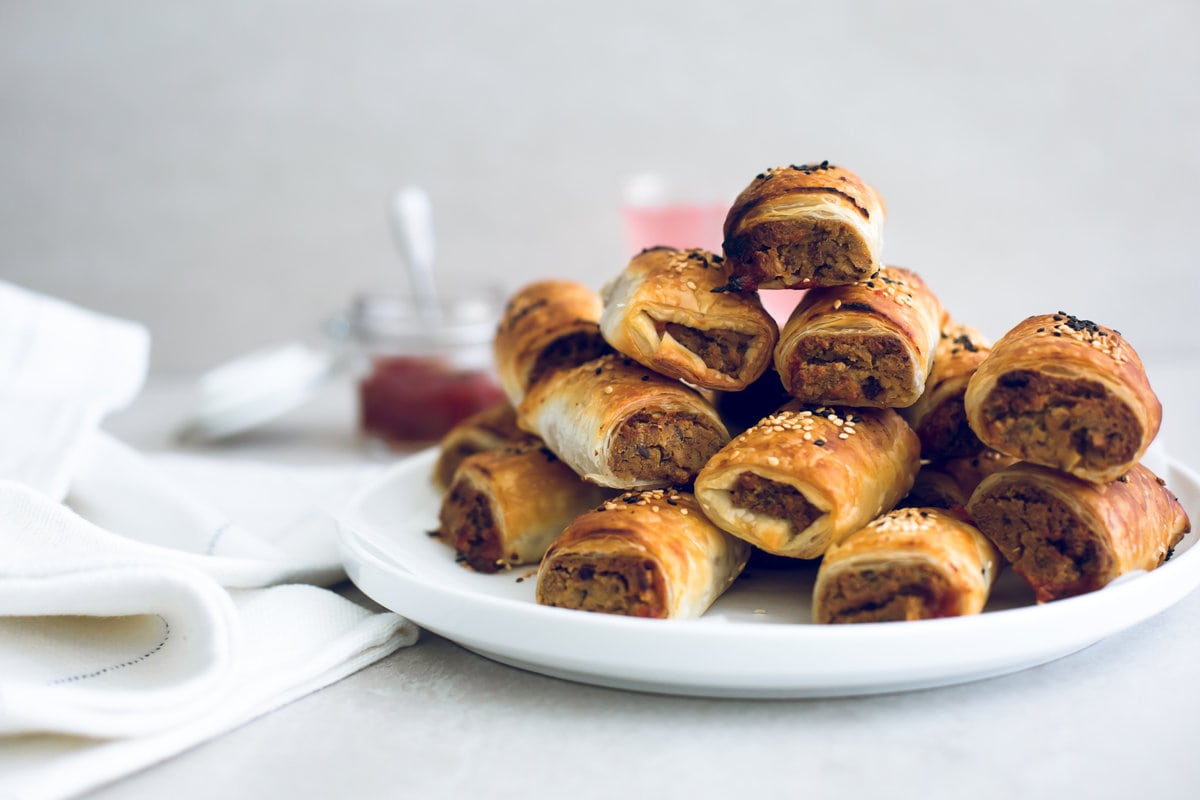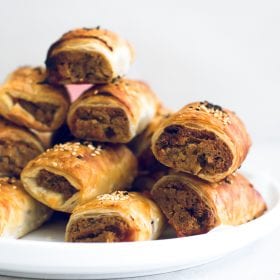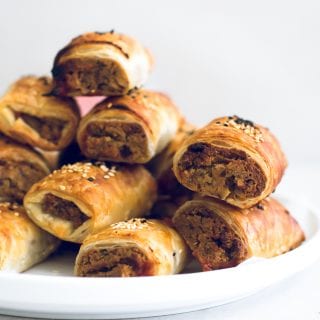 Vegetarian Sausage Rolls
Delicious Vegan Tofu Sausage Rolls - Tofu and Nut Sausage Mince encased in golden and flaky Puff Pastry, served with Tomato Sauce. Perfect for parties and picnics.
Ingredients
1/2

cup

Mixed Nuts

2

slices

Whole Grain Bread

old

2

sprigs

thyme

stems removed

1

teaspoon

Dried Sage

1/2

teaspoon

Fennel Seeds

2

tablespoons

Dried Cranberries

1

small

Onion

diced

1

teaspoon

Garlic

Minced

350

grams

Firm Tofu

10 ounces

1

teaspoon

Smoked Paprika

1

teaspoon

Sweet Paprika

2 1/2

tablespoons

Soy Sauce

2

tablespoons

Aquafaba

1

teaspoon

Sriracha

1

tsp

Salt

to taste

3

sheets

Ready Rolled Puff Pastry

8 inch Squares

1

tbsp

Tomato Chutney

optional

1

tbsp

Sesame Seeds

for sprinkling
Instructions
Preheat oven to 190 degrees celsius and line a large baking sheet with non-stick parchment.

In a food processor, combine Mixed Nuts, Bread, Thyme, Sage, Fennel Seeds and Cranberries. Process until it forms a fine crumb.

Add Onion, Garlic, Tofu, Smoked Paprika, Sweet Paprika, Tamari, Aquafaba and Sriracha to the food processor. Process until you get a smooth, sausage meat like mixture. You may have to scrape the bowl down a few times.

Test for seasoning and add Black Pepper and Salt (if needed, it should be reasonably salty already). Now it's time to roll!

Cut each 8 inch square of Puff Pastry into 4 smaller squares. You should end up with 12 squares.

Place some of the Sausage mixture onto the first third of each square, and brush on a little Tomato Chutney if using. Roll up, Sausage Roll style!

Cut each Sausage Roll into two, to form 2 smaller Sausage Rolls. Place rolls on baking tray, seam side down.

Sprinkle the tops of each Sausage Roll with Sesame Seeds and pop into the oven to bake for 20-25 minutes, or until golden and puffy. Keep an eye that they don't burn.

Serve warm with Tomato Sauce.
Nutrition
Serving:
1
serving
Calories:
190
kcal
Carbohydrates:
16
g
Protein:
4
g
Fat:
13
g
Saturated Fat:
3
g
Sodium:
284
mg
Potassium:
35
mg
Fiber:
1
g
Sugar:
1
g
Vitamin A:
87
IU
Vitamin C:
1
mg
Calcium:
27
mg
Iron:
1
mg