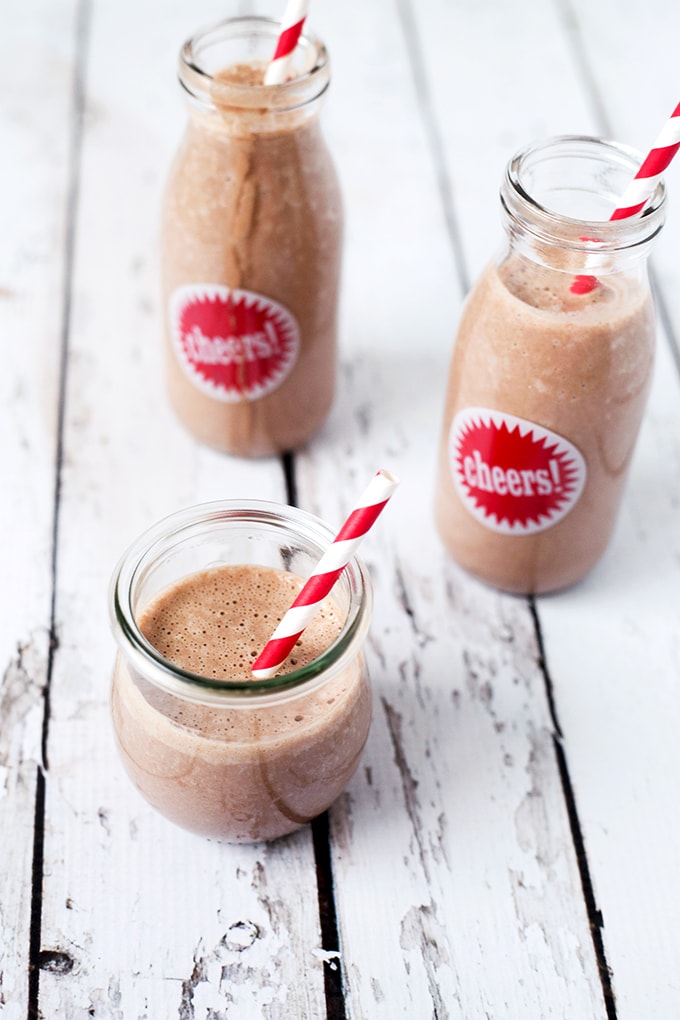 You know how some recipes claim to be thick, creamy, satisfying and full of goodness? Well, this fu*cking 5 Ingredient Vegan Chocolate Milk is one of them.  I can think of a few other thick, creamy and satisfying things to mention but I think I'll save that for another day (or Craigslist). This is SUCH a simple recipe to make – all you need is a blender, a handful of ingredients, a source of electricity, the will to live, and abracadabra, you have your very own homemade Vegan Chocolate Milk.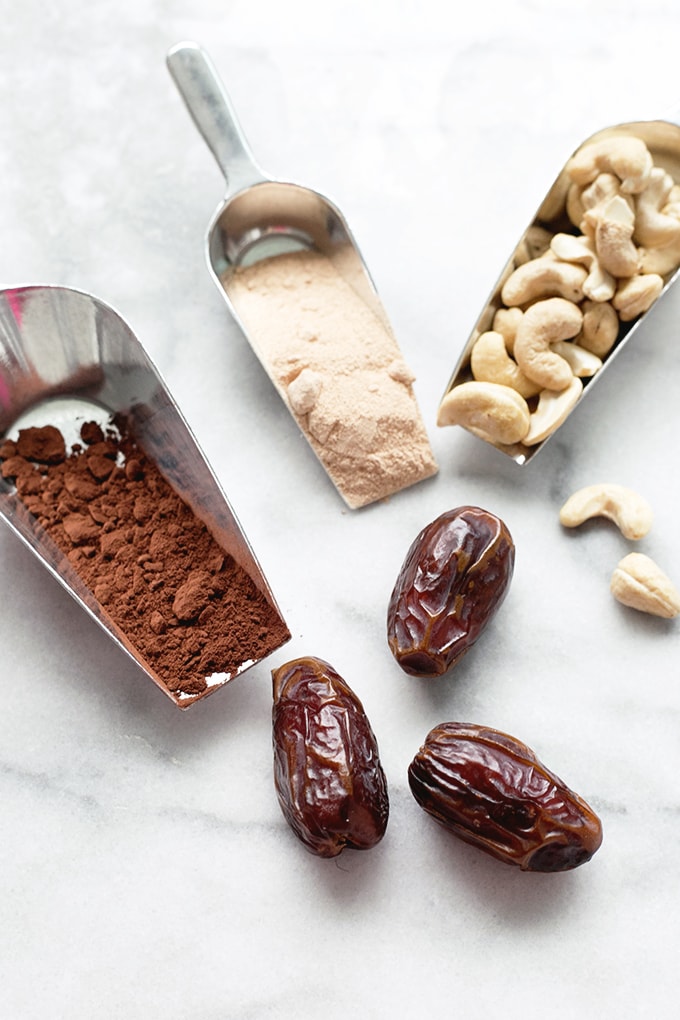 The 5 ingredients in this Creamy Vegan Chocolate Milk are Raw Cashews, Pitted Medjool Dates, Lucuma Powder, Cocoa Powder and Sea Salt. Obviously, we have to add icy cold water to this, which would make this a 6 ingredient Vegan Chocolate Milk, but FFS, we all know water is not counted as an ingredient, so five ingredients it is. I blend everything together in my Vitamix for a couple of minutes on High, and I instantly have a thick, creamy beverage that is a good substitute for breakfast if you're in a rush, or really nice as a post-dinner dessert drink.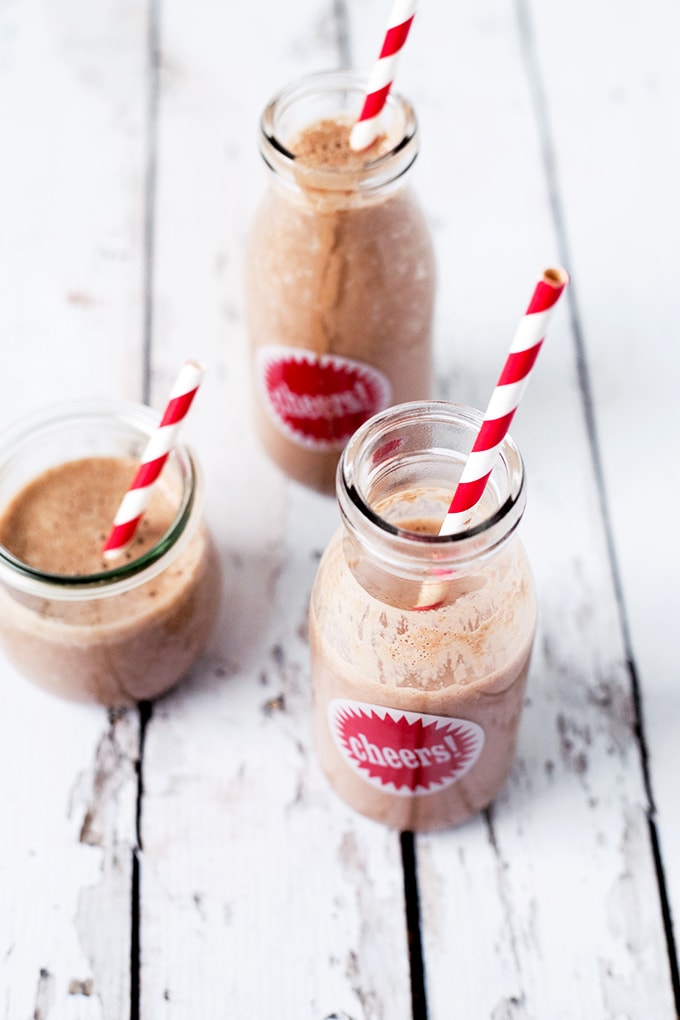 Lucuma Powder and Medjool Dates give this Vegan Chocolate Milk a slight hint of caramel like I once mentioned in my Pistachio Lemon Truffle Recipe – something I will not complain about. Like all homemade nut milks, this Vegan Chocolate Milk may separate in the refrigerator after it is left to chill for a few hours, but it is nothing the shake of a bottle will not solve. It will also last up to 3 days in the refrigerator, if you have the power to resist drinking it all in a day. Blah blah blah, just scroll down for the full recipe, blend, drink and shut up already! 🙂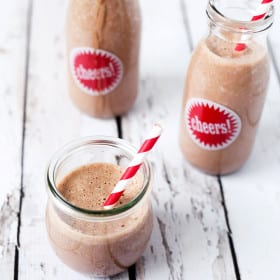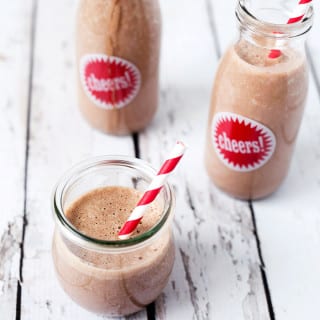 Vegan Chocolate Milk
Cashews, Cocoa, Lucuma Powder, Dates, and Salt make up the ingredients of this healthy, decedent Vegan Chocolate Milk. 5 ingredients and made in under 5 minutes.
Ingredients
1

cup

Raw Cashews

3 1/2

cups

Water

Ice cold

2

tablespoons

Cocoa Powder

1

tablespoon

Lucuma Powder

6

medium

Medjool Dates

pitted (less or more, according to your preference of sweetness)

1

teaspoon

Sea Salt
Instructions
In a high powered blender such as a Vitamix, blend all the ingredients together on High till smooth.

Enjoy immediately, or pour into bottles, cover with a lid and chill milk in the fridge for a few more hours for an extra icy treat. If your milk seperates in the refrigerator, give the bottle a good shake before enjoying.
Nutrition
Serving:
1
serving
Calories:
199
kcal
Carbohydrates:
14
g
Protein:
6
g
Fat:
14
g
Saturated Fat:
3
g
Sodium:
596
mg
Potassium:
289
mg
Fiber:
3
g
Sugar:
3
g
Vitamin C:
1
mg
Calcium:
22
mg
Iron:
3
mg
FREE EBOOK SERIES! 5 SECRETS FOR FOOLPROOF VEGAN DESERTS