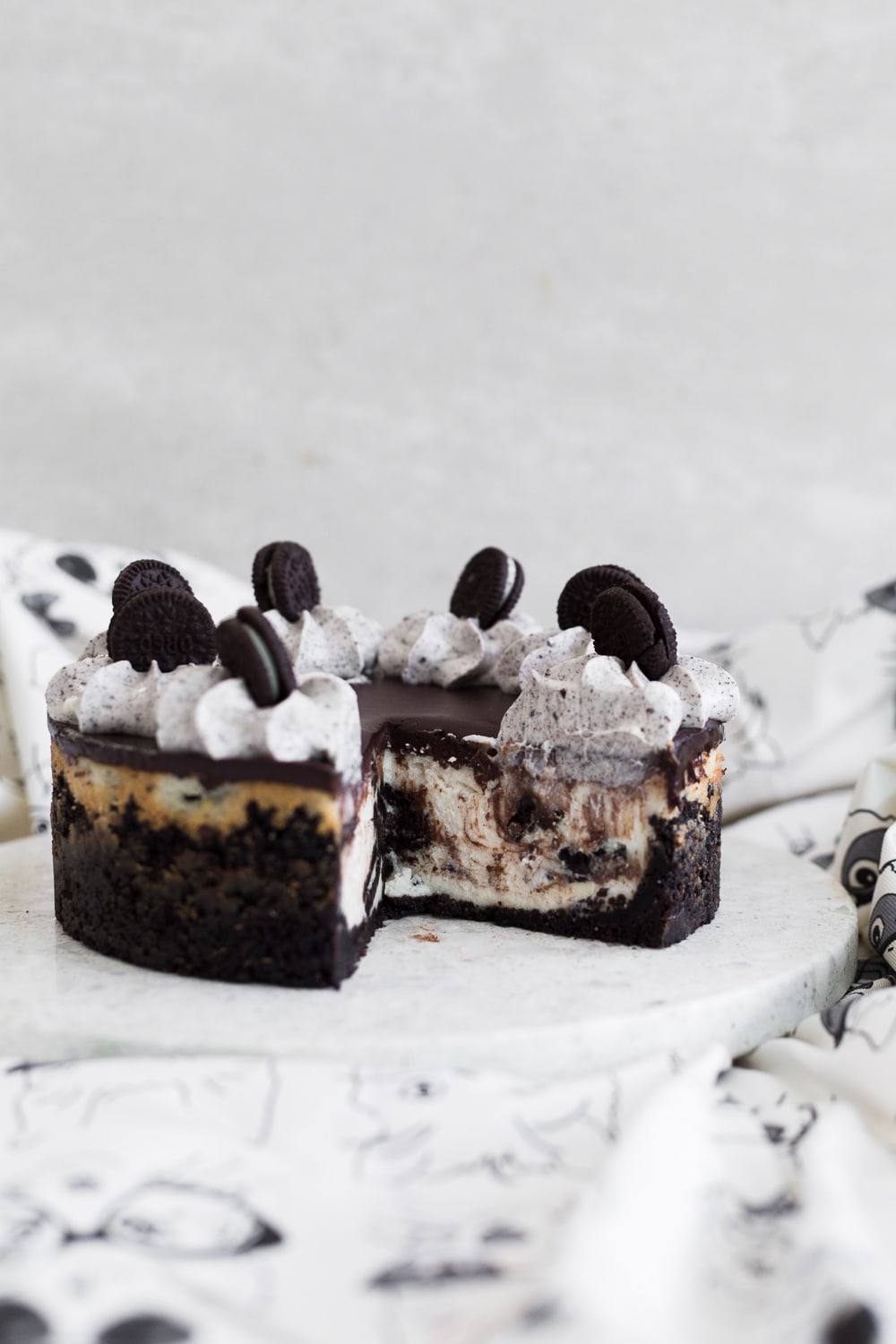 Hey ho, let's go! Now, sometime last year, I tinkered about with creating a Baked Vegan Cheesecake recipe that would rival any of its non-vegan, dairy based counterparts. It took me around 4 attempts, and after tweaking the recipe with each attempt, I was rewarded with a killer Vegan Baked Cheesecake that I must say, is the closest to a regular dairy based baked cheesecake recipe as I could get. Me being me, I completely forgot to actually put the recipe up, simply because I'm a lazy piece of ass, but 365 days of procrastination later, here I am to share my recipe with you sexy sexy people!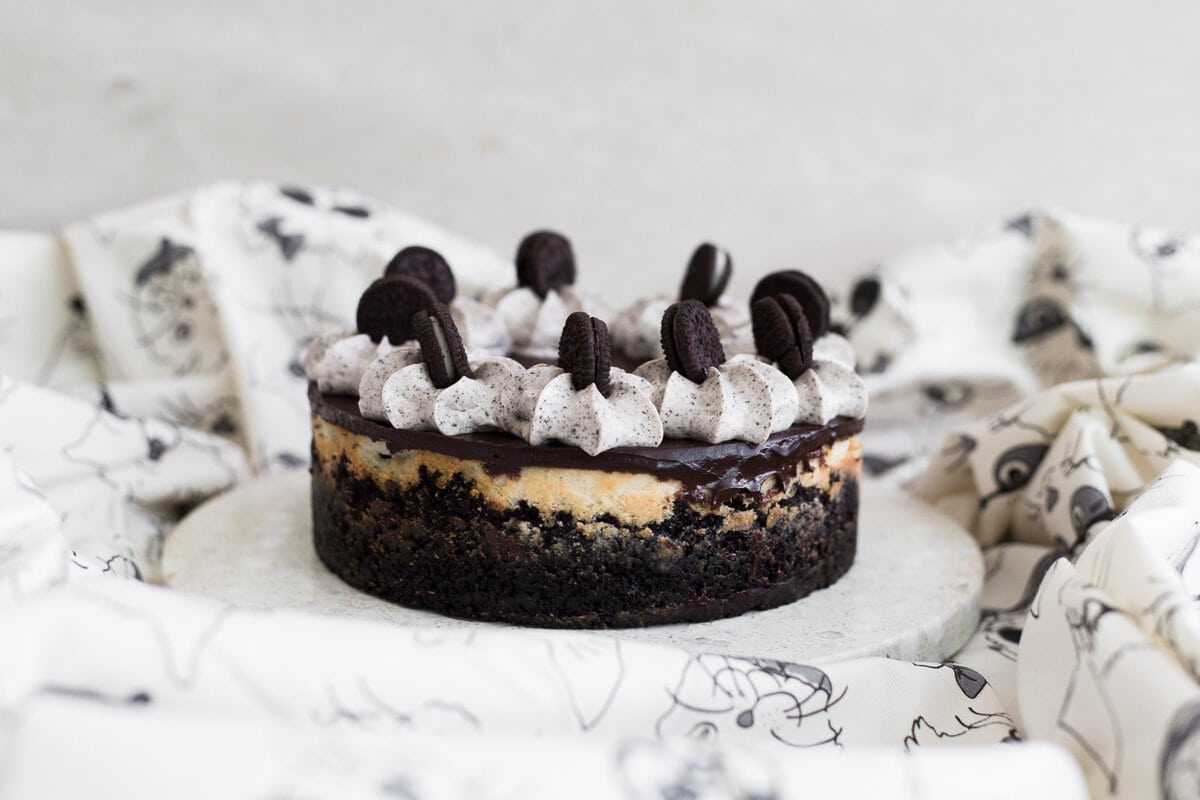 A little disclaimer – this Vegan Cheesecake recipe does not contain any NUTS, DATES, or any strange ingredients that we often find in vegan dessert recipes. If you're looking for cashew-based cheese cake recipes, hop over to my Oreo Cheesecake recipe or my Vegan Tiramisu recipe. Now, back to the recipe! In this particular version that I made yesterday, I used Oreo cookies for the crust/filling, but you most definitely are invited to exclude them if you want to make a plain, unadulterated vanilla cheesecake for yourself (perfect topped with berries!). If you don't want to use Oreos, replace the crust with a Digestive Biscuit or Graham Cracker crust – I'll include the ingredients for those in the recipe card below.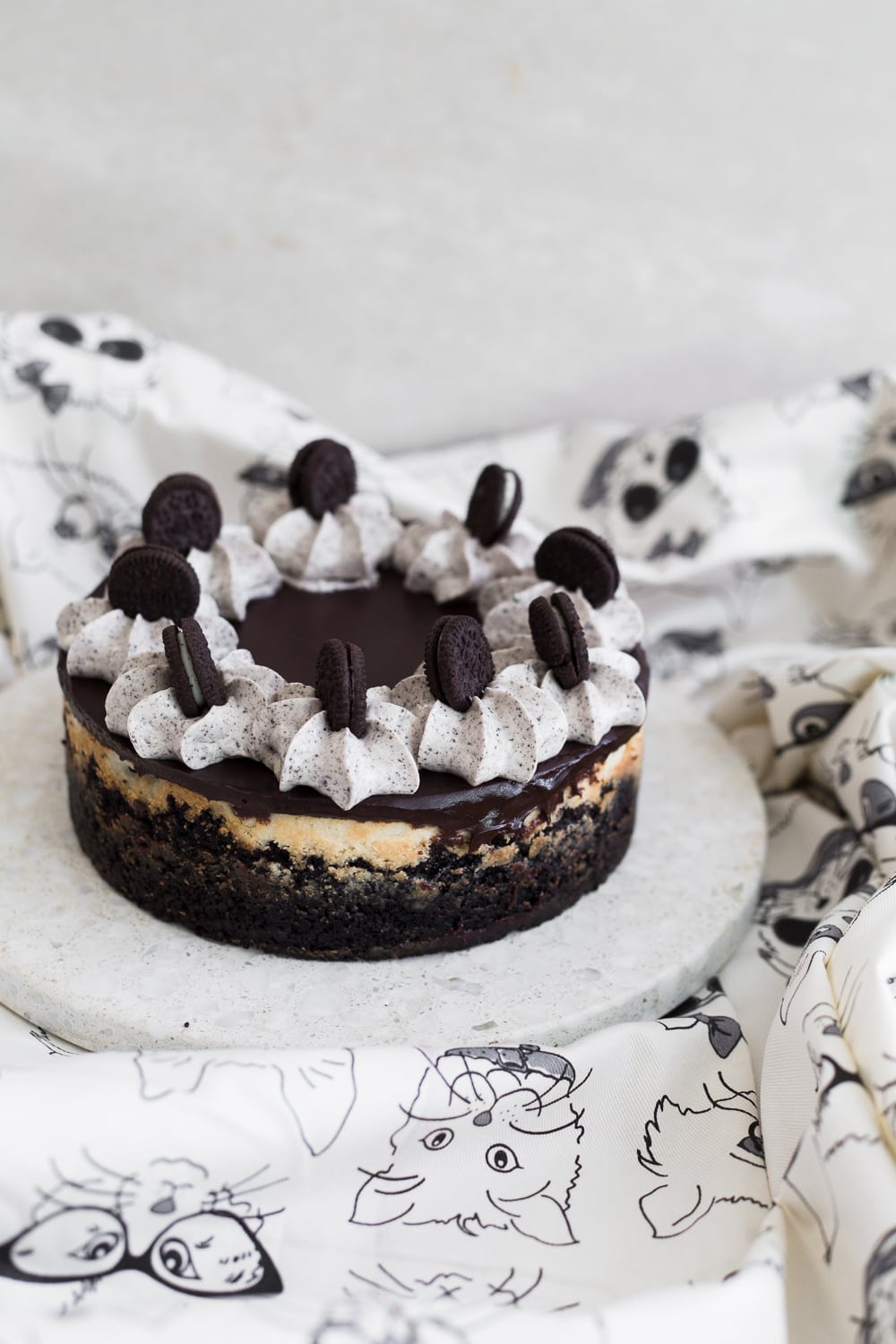 The ingredients in this baked vegan cheesecake recipe are pretty basic – Vegan Cream Cheese, Silken Tofu, Sugar, Arrowroot, Flour, Lemon Zest, Lemon Juice, Aquafaba, Vegan Cream, Vanilla Beans, and a very special ingredient that adds a true cream cheese flavor to your cake which is Lactic Acid Powder. Now, I know not everyone has this lying around their pantry, but it's something I urge you to order online as it really makes the difference in this recipe. You can get this at any specialty food supplier online, and I got mine for a very affordable $15. If you would rather not source this ingredient, add a little more lemon zest and juice to the recipe and you'll come close to what my final result tasted like!
FREE EBOOK SERIES! 5 SECRETS FOR FOOLPROOF VEGAN DESERTS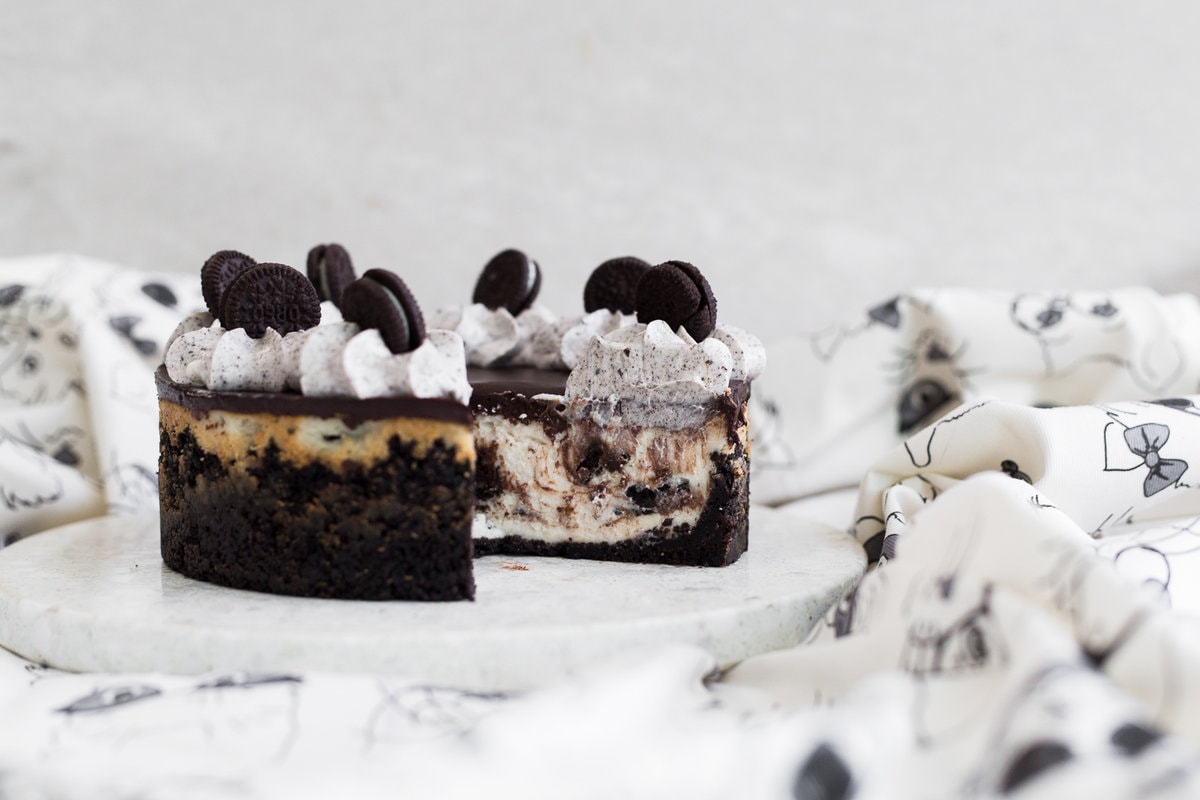 All you have to do here is prepare the crust for your recipe, and then whizz all the cheesecake ingredients up in a food processor. Pour the mixture onto the crust, bake, and then allow the cake to cool in the oven until it reaches room temperature. For this version of my Baked Vegan Cheesecake, I topped the cake off with a simple Chocolate Ganache and decorated with vegan whipped cream rosettes, but this is all completely optional and unnecessary if you just want a plain cheesecake. The choice is yours, fam! Anyway, I won't keep on rambling because I'm sure you're here for the recipe and not to listen to me so scroll down to grab the recipe and instructions!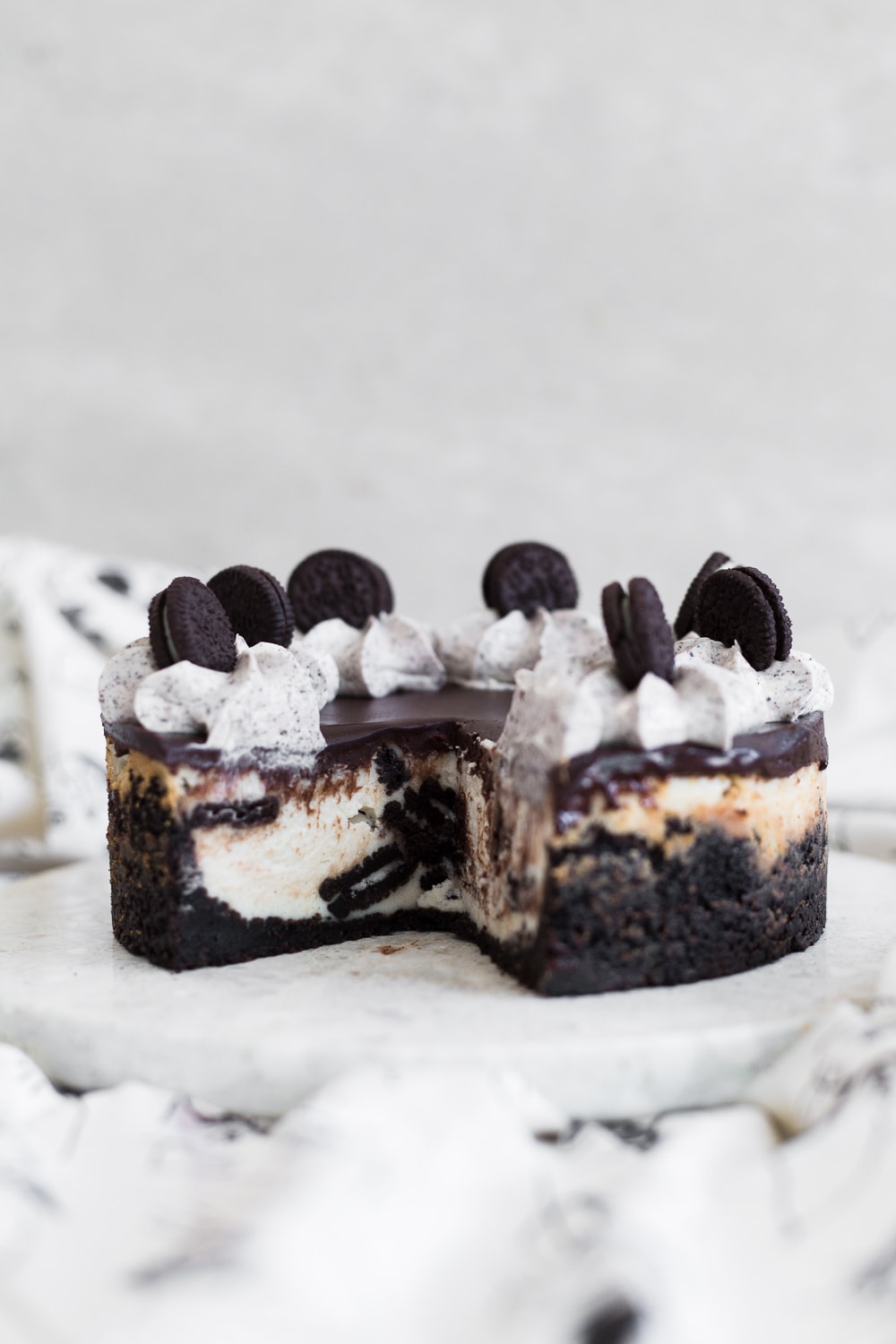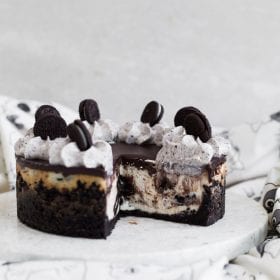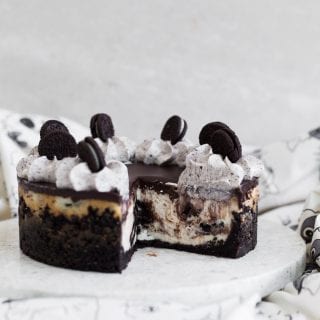 Vegan Baked Cheesecake
The Ultimate Baked Vegan Cheesecake recipe, so good you'll even fool the omnivores! Easy to make, low in cost and 100% Nut Free/Dairy Free.
Ingredients
For Oreo Crust:
15

Oreo Cookies

with cream

3

tablespoons

Vegan Butter

Melted
For Regular Crust:
5

oz

Digestive Biscuits

150 grams

3

tablespoons

Vegan Butter

Melted
For Cheesecake Mixture:
1

tub

Vegan Cream Cheese

8oz/225 grams

6

oz

Silken Tofu

drained (190 grams)

1/2

cup + 2 tablespoons

Sugar

1

zest

lemon

2

tablespoons

Aquafaba

3/4

teaspoon

Arrowroot Powder

1/4

cup

Plain Flour

1/4

cup

Vegan Cream

1 1/4

teaspoons

Lactic Acid Powder

1

seed

Vanilla Pod

3/4

cup

Oreo Cookies

crushed, optional
For Chocolate Ganache:
4

oz

Vegan Dark Chocolate

120 grams

1/4

cup

Vegan Cream

1/8

teaspoon

Instant Espresso Powder

1

teaspoon

Agave Nectar

or Maple Syrup
To Decorate:
1

cup

Oreo Cookie Crumbs

1

cup

Vegan Whipped Cream

1

cup

Fruit
Instructions
Preheat oven to 180 degrees celsius/375 Fahrenheit. In a food processor, process Oreos or Digestive Biscuits until they reach a fine crumb. Add melted Vegan Butter and process until you achieve a slightly damp, sand-like consistency. Press the mixture into the bottom and halfway up the sides of a 6 inch cake ring or springform pan. Bake for 5 minutes, and then remove from oven and allow to cool. Reduce oven temperature to 160 degrees celsius/320 Fahrenheit.

In a food processor, combine all ingredients for the cheesecake filling except crushed Oreos, and process till smooth. If using Oreos, fold them in once the mixture is smooth and combined.

Pour batter into your cake ring and bake for 45 minutes. After 45 minutes, there should only be the slightest jiggle in the middle of the cake. Turn oven off and allow cake to cool to room temperature in the oven.

If using Chocolate Ganache, combine all ingredients in a bowl and microwave in 30 second increments, stirring each time, until chocolate is smooth, melted, and combined with the cream to form a silky ganache.

Pour Ganache onto the top of the cake (still in the cake ring/springform) and refrigerate the cake overnight.

Once chilled overnight, remove cake ring/springform and decorate the top of your cake with either Crushed Oreo Cookies, Fruit, Vegan Whipped Cream or whatever you fancy.
Notes
Be sure to use Silken Tofu, not firm or hard tofu.
If you can't find Vegan Cream (I use Soy), you can use Coconut Cream.
Nutrition
Serving:
1
serving
Calories:
243
kcal
Carbohydrates:
37
g
Protein:
3
g
Fat:
10
g
Saturated Fat:
3
g
Trans Fat:
1
g
Sodium:
195
mg
Potassium:
79
mg
Fiber:
1
g
Sugar:
23
g
Vitamin A:
268
IU
Vitamin C:
1
mg
Calcium:
11
mg
Iron:
2
mg