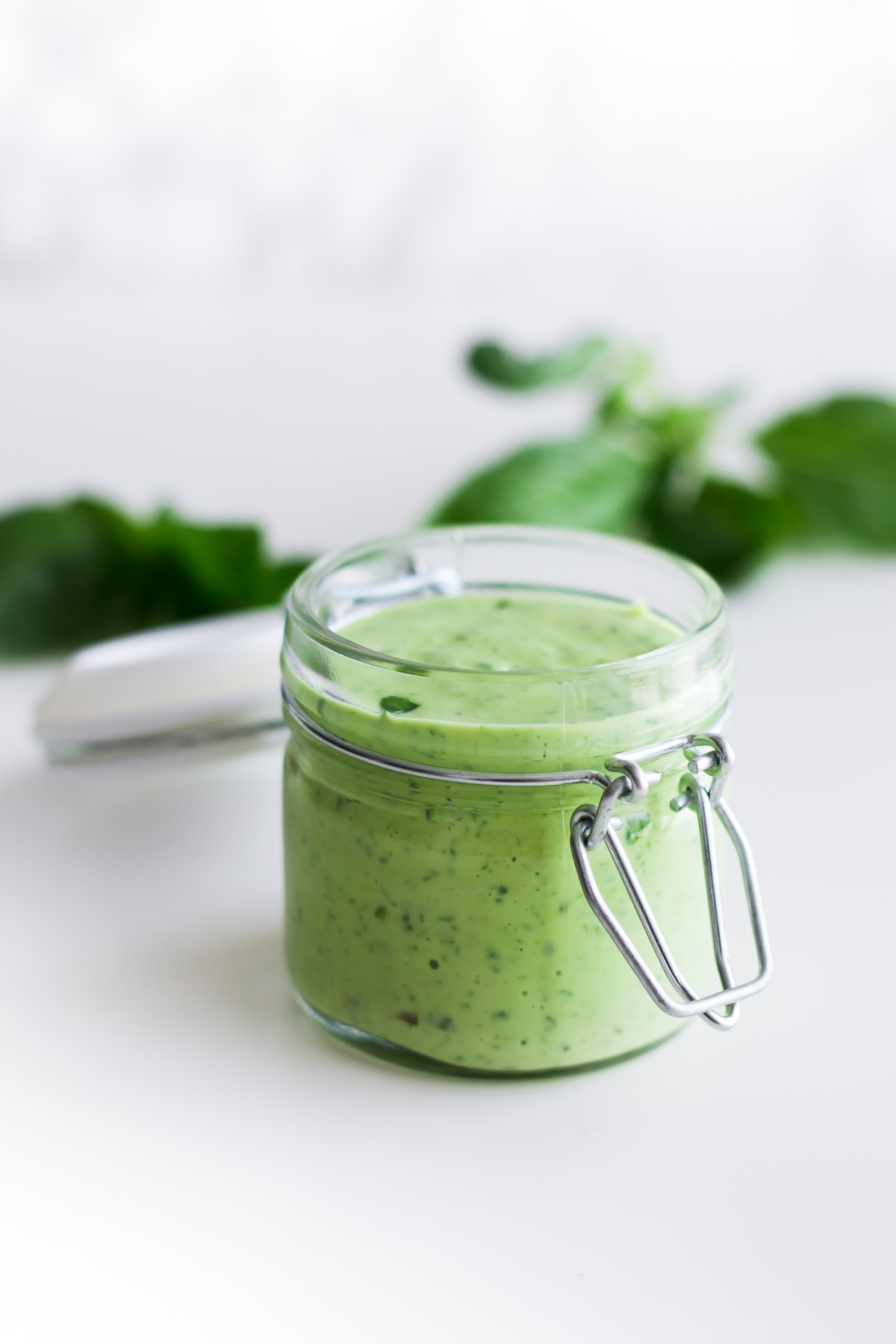 Let's just get this straight, I am a Vegenaise addict. I'll slather that sh*t on anything. Whilst browsing through the Follow Your Heart website, I came across a Pesto variety, and I knew immediately that I had to try making my own. Pesto is amazing, Mayonnaise is amazing, so OMFG Vegan Pesto Aioli just sounds like an intense gang bang orgasm waiting to happen in my mouth.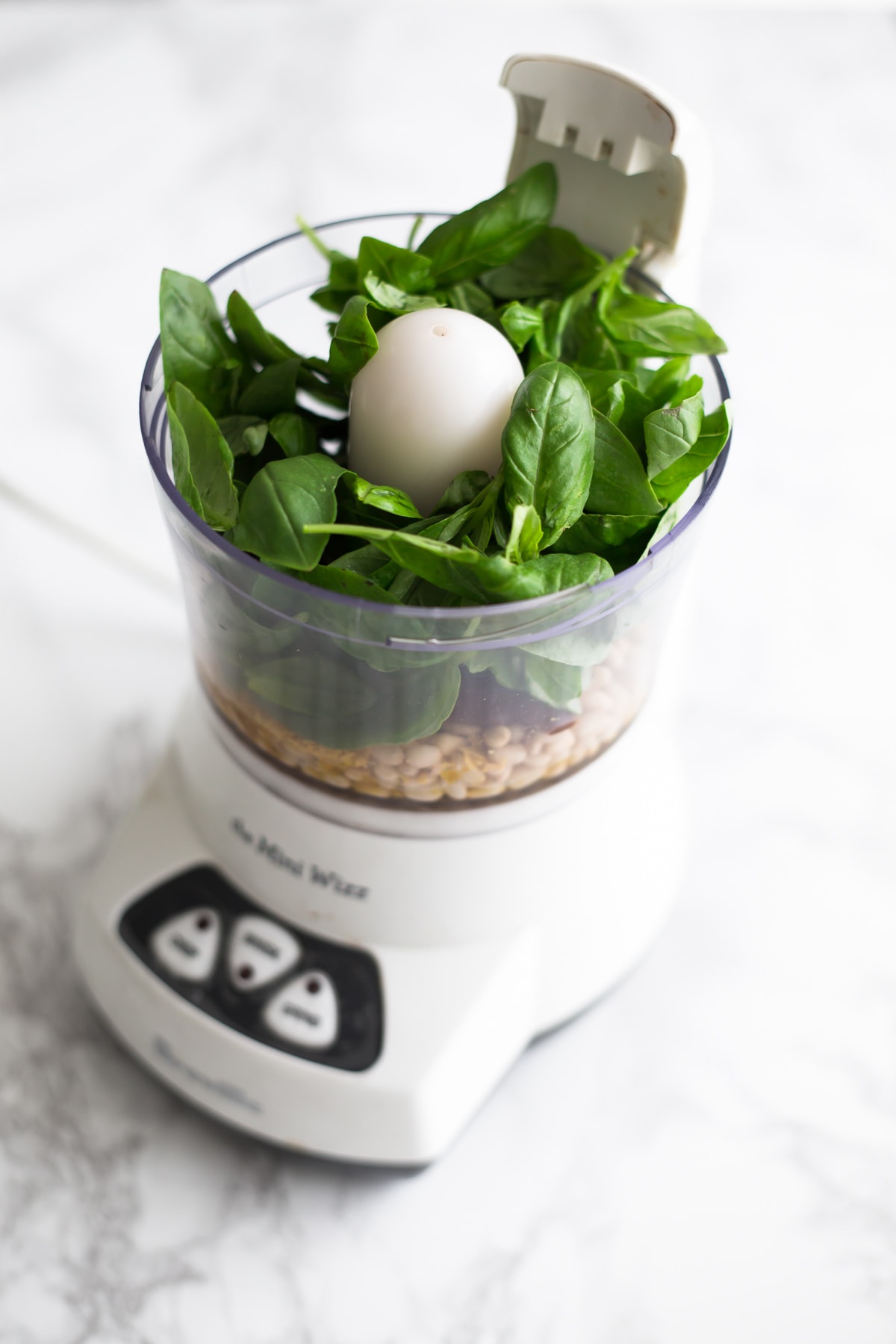 In order to create this Vegan Pesto Aioli recipe, we need to make one, the Basil Pesto, and two, some Vegan Mayonnaise. First off, the Vegan Basil Pesto recipe. Have you ever made Pesto, only to find that it has oxidised and turned brown slash disgusting in the fridge? Well, to avoid this annoying kerfuffle, a little trick is to blanche your Basil for 5 seconds and shock it in icy cold water before blending it with some Toasted Pine Nuts, Nutritional Yeast, Miso, Lemon Juice, Garlic and Olive Oil. Similar to shocking green vegetables, this process keeps your Basil fresh, green and bright in the fridge for up to a number of days. Easy peasy, you've learnt something new today MOFOs! (The blanching also results in a smoother Pesto, always a winner).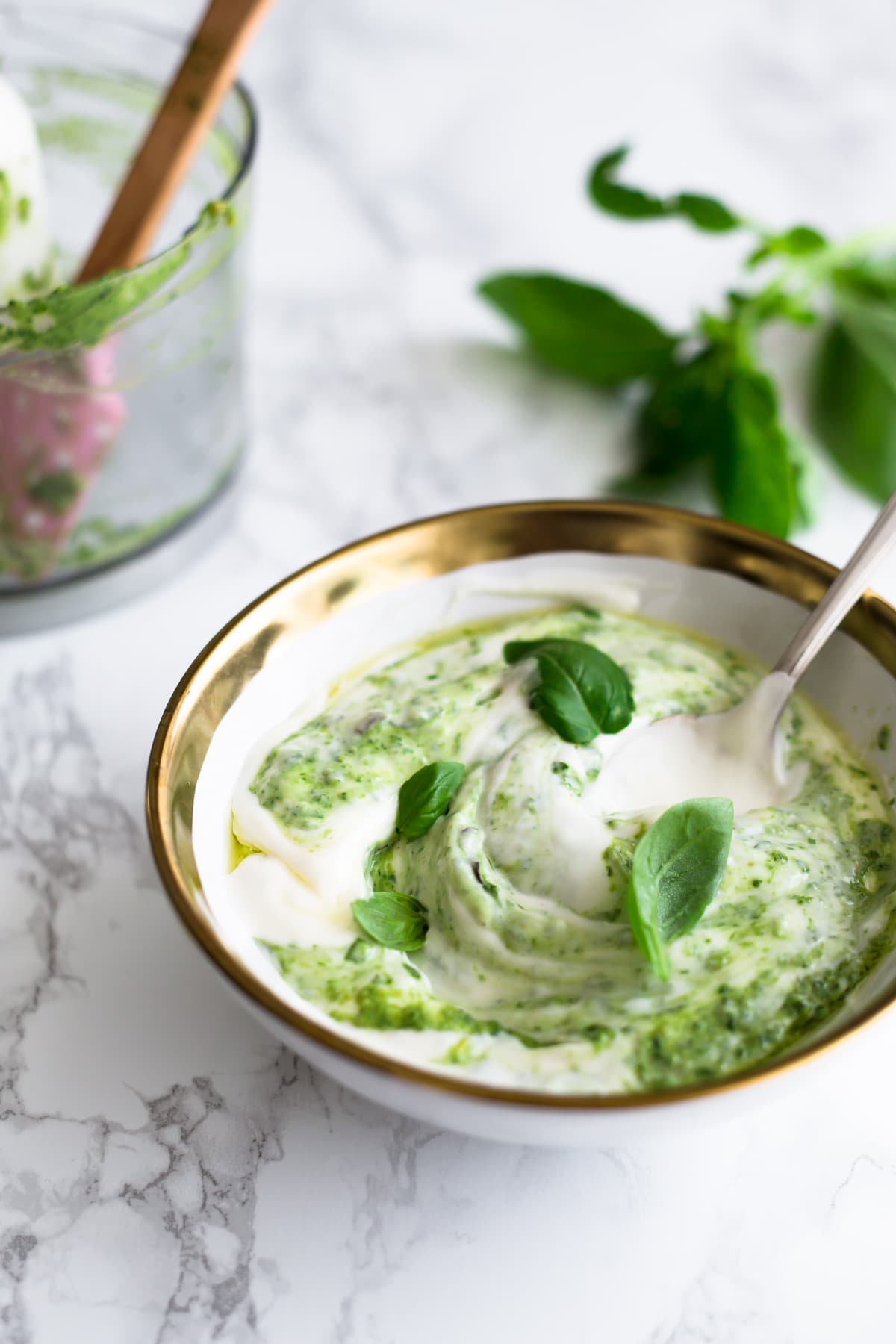 Next up, the Vegan Mayonnaise. For my Vegan Mayonnaise recipe, I rely on Aquafaba (Chickpea Brine) as the protein component. I'm sure you know of all the magical creations one can come up with using this enchanted bean liquid, and Vegan Mayonnaise is definitely one of them. Into a container with a stick blender goes Aquafaba, Dijon Mustard, Sugar, Salt, Lemon Juice and any Neutral Vegetable Oil you can get your hands on. I have adapted the New York Times recipe, and combined it with Tracey's blending method, to produce a kickass Aquafaba Mayonnaise recipe that I am so tempted to slather all over my naughty bits.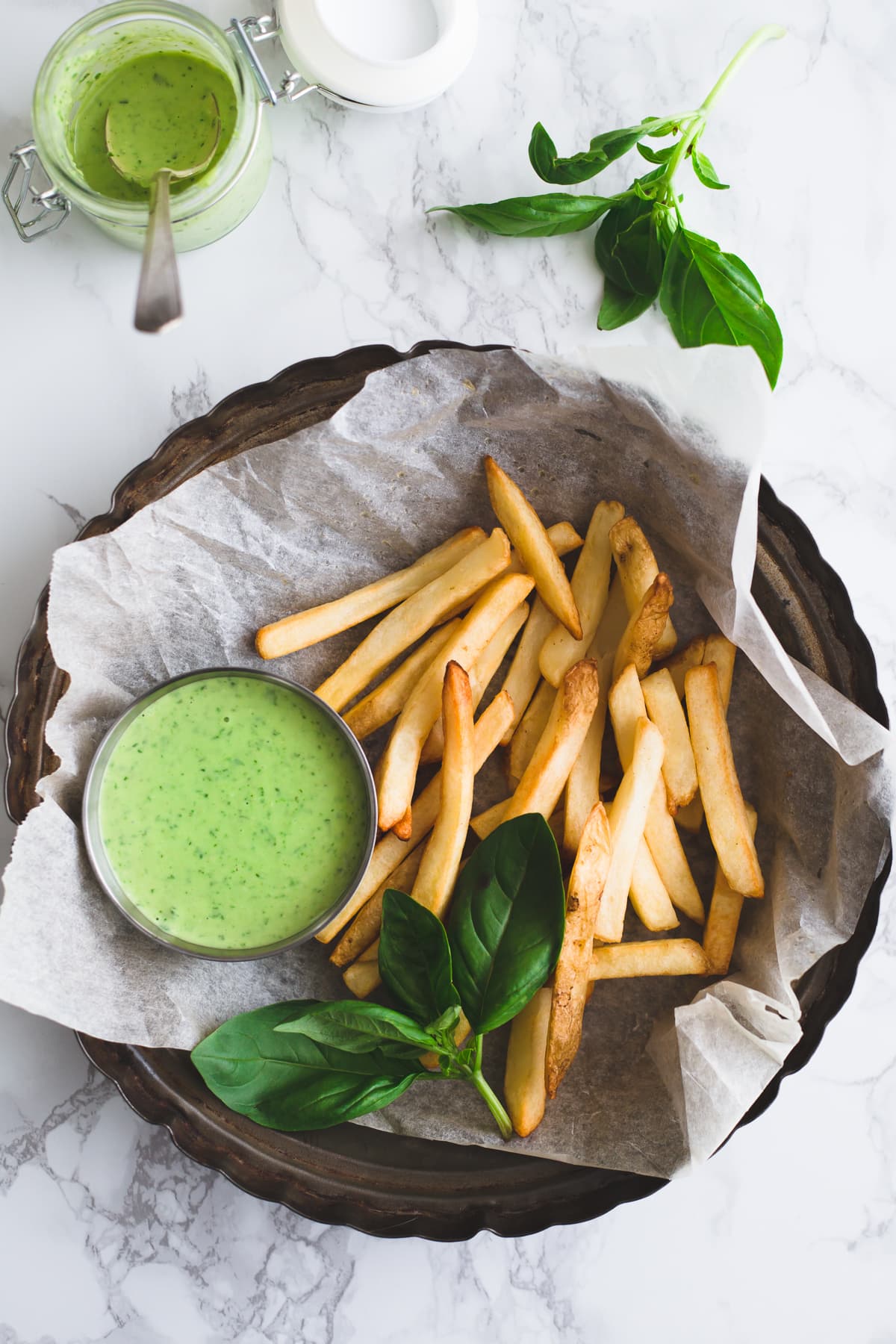 Once you have both your Vegan Pesto and Vegan Mayonnaise prepared, it's just a matter of combining both (you can just mix them up by hand or pulse in a food processor for a smoother end result). The resulting Vegan Pesto Aioli is a lush, thick and creamy Jade Green delight, something that you'll be spooning down your gob by the tub-ful. If you haven't already eaten the entire lot on its own, this Pesto Aioli recipe pairs amazingly well with French Fries, and is also killer in Sandwiches or Burgers. Alternatively, spread it on your lover and lick away. Enough talking, it's time to scroll down for the full recipe. Until next time!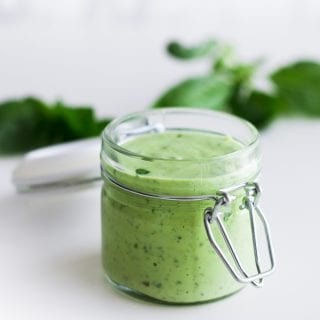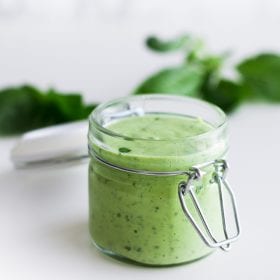 Vegan Aioli
A delicious Vegan Pesto Aioli recipe, made with Bright Green Vegan Basil Pesto and homemade Aquafaba Mayonnaise. Perfect with French Fries or in your favourite Sandwich.
Ingredients
For Vegan Basil Pesto:
1

bunch

Basil

leaves picked (Around 45g/3.5oz)

1 1/2

cloves

Garlic

minced

3

tablespoons

Pine Nuts

toasted

1/4

teaspoon

Miso Paste

1

tablespoons

Nutritional Yeast

1/4

teaspoon

Salt

1 1/2

tablespoons

Extra Virgin Olive Oil
For The Vegan Mayonnaise:
1/4

cup

Aquafaba

chilled

1/4

teaspoon

Salt

1/2

teaspoon

Sugar

1 1/2

teaspoons

Lemon Juice

1 1/2

teaspoons

Dijon Mustard

do not omit, it's essential for the emulsification

3/4

cup

egetable Oil
Instructions
Bring a pot of water to the boil. Meanwhile, fill a large bowl with icy cold water (add some ice cubes in there too!).

When your water has come to a boil, blanche Basil leaves for 5 seconds (no longer), and then immediately remove Basil leaves and plunge into your prepared iced water.

Remove basil from iced water and pat dry with a towel or paper towel.

In a food processor, combine Basil, Garlic, Pine Nuts, Miso, Nutritional Yeast and Salt. Process until blended. Set Pesto aside.

In the blending container that comes with your stick blender, combine all ingredients, except the oil. Mix well and then gently pour oil over your mixed ingredients.

Place your stick/immersion blender into the very very bottom of your blending container and keep it there. Turn your stick blender on to its highest setting, and almost instantly you will start to see the mixture at the bottom thicken.

Now, slowly pull the blender up and through the Vegetable Oil until you reach the surface. Your Vegan Mayonnaise will form relatively quickly. Once formed, continue blending for a few seconds to make sure that everything has emulsified.

At this point, you can add your Basil Pesto into the blending container and blend till you achieve a smooth green Vegan Pesto Aioli, or you can do this by hand for a more rustic and textured Aioli. The choice is yours.

Store Vegan Pesto Aioli in an airtight jar or container. It will keep in the fridge for up to 2 weeks.

Enjoy with French Fries, in a Sandwich or top your Burgers off with the Aioli.
Notes
Only use an Immersion/Stick blender for this recipe. Quantities are not large enough to be prepared in a conventional blender.
You can skip the step of blanching your Basil if you are not too bothered about retaining a bright green colour. I personally recommend this step as it doesn't take too much effort but results in a beautiful looking Pesto.
Nutrition
Serving:
1
serving
Calories:
154
kcal
Carbohydrates:
1
g
Protein:
1
g
Fat:
17
g
Saturated Fat:
11
g
Sodium:
109
mg
Potassium:
33
mg
Fiber:
1
g
Sugar:
1
g
Vitamin A:
37
IU
Vitamin C:
1
mg
Calcium:
3
mg
Iron:
1
mg