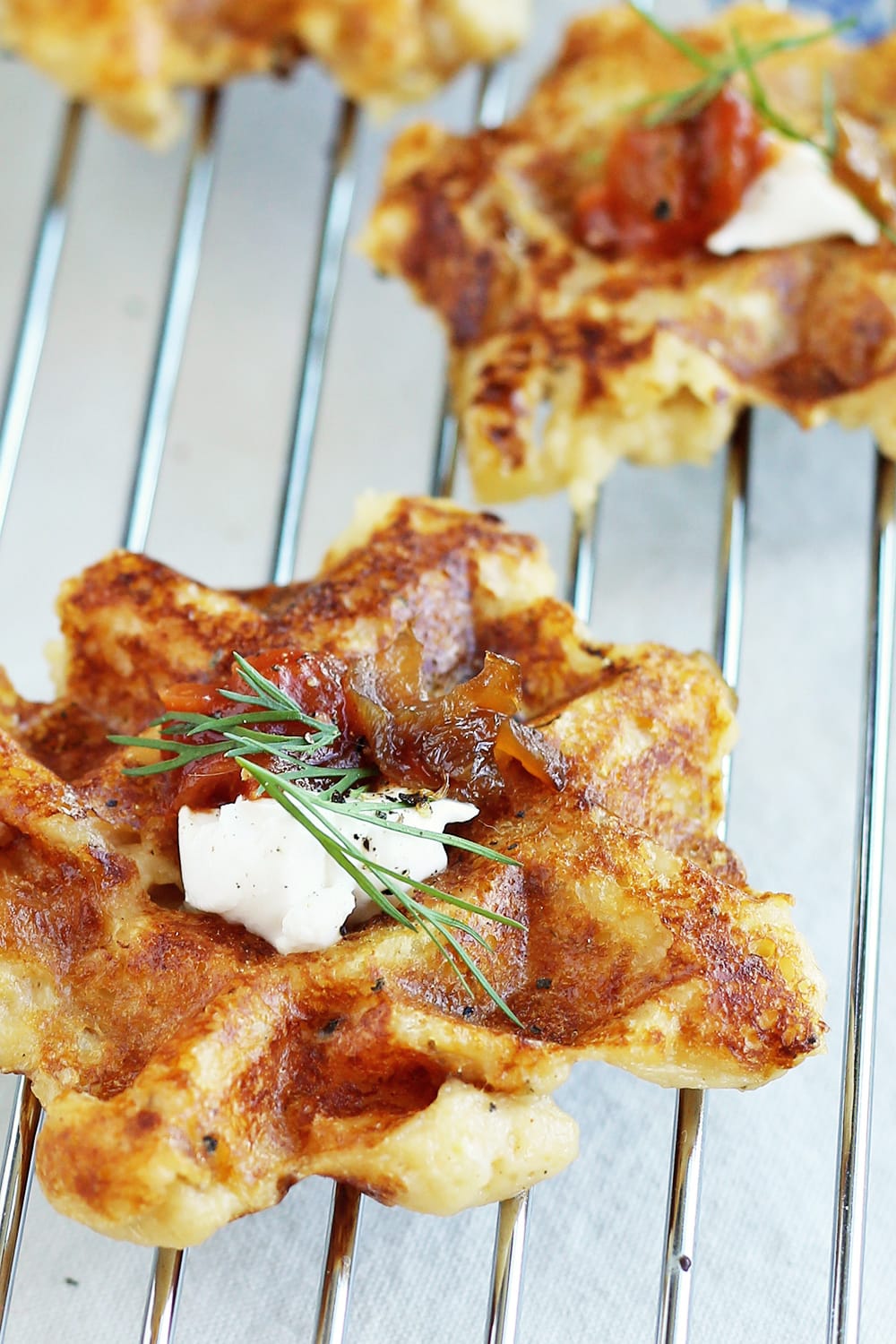 Hey everyone, Happy Valentine's Day…. not! Valentine's Day is DISGUSTING. Thanks for the tacky $60 roses, but no thanks. But, like, whatever – we still decided to join in the romantic festivities anyway by creating our very own original recipe for… vegan mashed potato waffles. Because, like, potatoes are the most romantic thing ever, along with door knobs. On top of that, our mashed potato waffles are totally cheap and simple to make – about as cheap and simple as the partner you secretly or not so secretly want to break up with. So romantic! 😛
Mashed Potato Waffles: Brown & Beautiful
Anyway, usually I'm big on making my recipes as colorful as possible. However, you'll notice that our photos here are a little bit on the browner side. That's because we were restricted to using boring ol' potatoes in our… er, potato waffles recipe? Last I checked, potatoes didn't come in fluorescent pink, so… too bad I guess!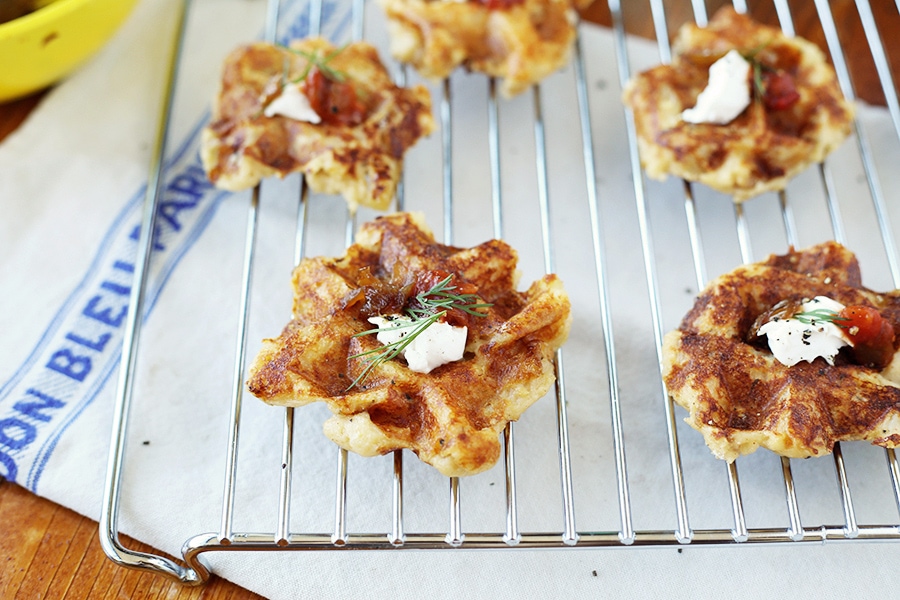 Still, don't be fooled by the dull colors; I guarantee you that these mashed potato waffles are sure to brighten up your potato craving taste buds. They're moist and crispy on the outside, warm and deliciously creamy on the inside. These potato waffles also go great with salsa, vegan cream cheese, and caramelized onions (gotta love 'em onions!). The end result reminded me of a beautiful medley of mashed potatoes, rösti, and hash browns – three of my all-time favorite potato creations all rolled into one vegan-friendly recipe!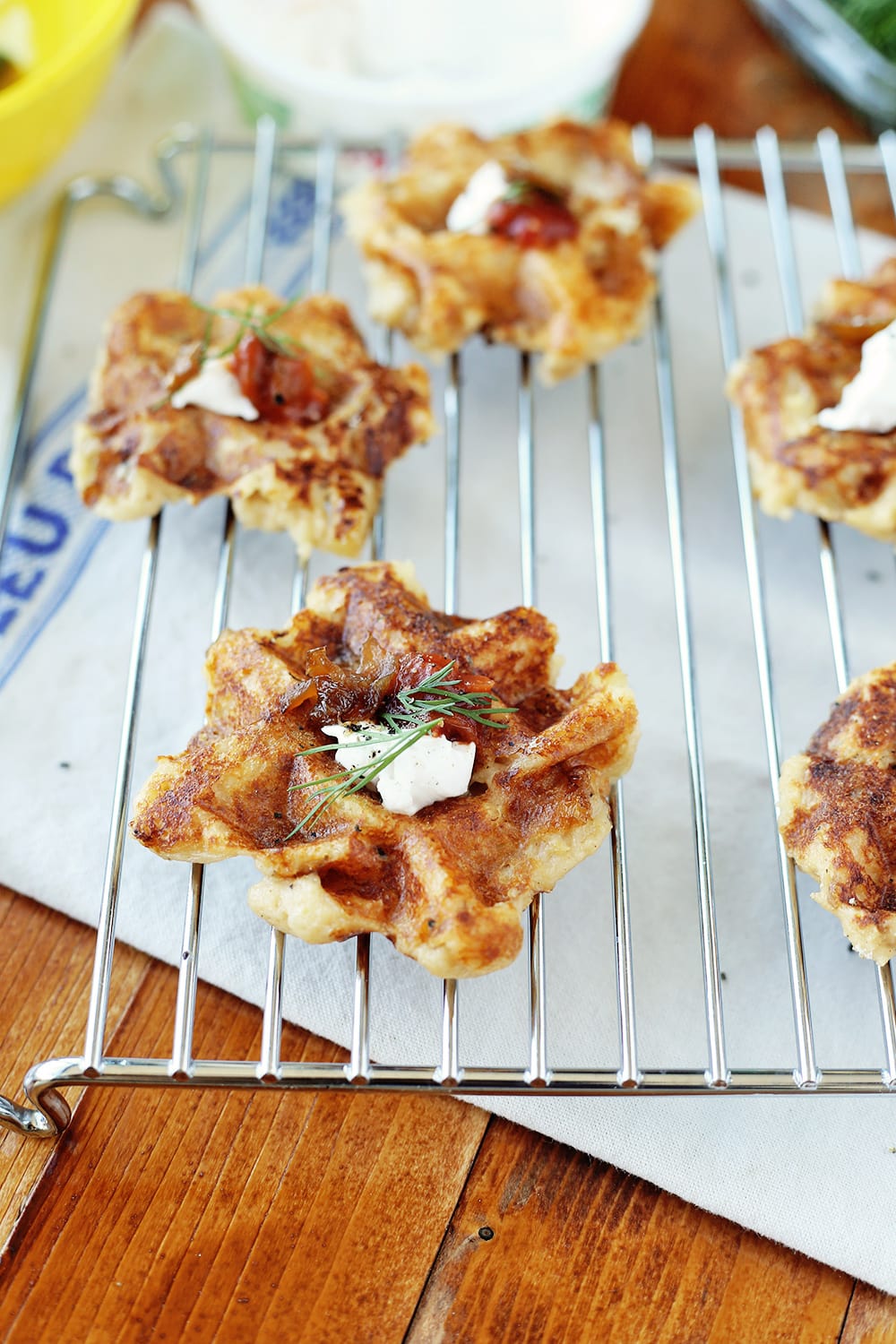 Verdict: Our vegan mashed potato waffle recipe is the perfect foodie cure for getting over your broken Valentine's Day heart. WHO'S JULIE AND WHY ARE YOU SEXTING HER?! (SLAP!) WHO'S MICHAEL AND WHY DO YOU SMELL LIKE ANOTHER MAN'S COLOGNE? (SPANK!) Um…. 50 Shades of Sh*t, much? Time for us to bounce! Seeya next time, you BDSM fanatics! 🙂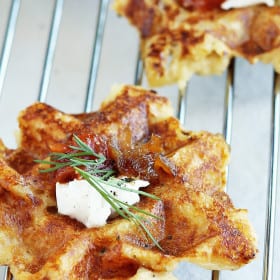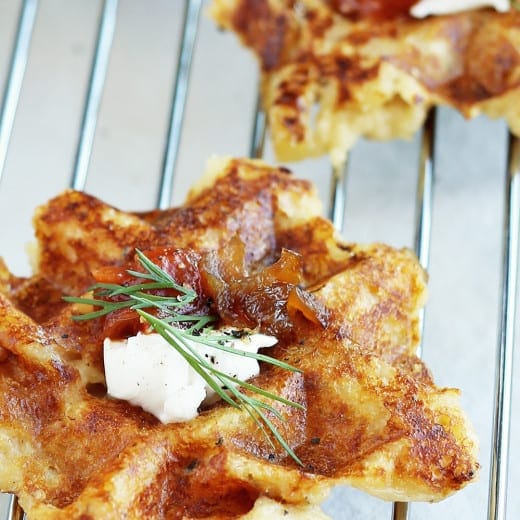 Simple Mashed Potato Waffles
Simple Vegan Mashed Potato Waffles that'll have you craving for more!
Ingredients
4

Potatoes

1/4

cup

Non Dairy Butter Substitute

1/4

cup

Soy Milk

Salt & Pepper

to taste

2

Onions - Caramelized

2

teaspoons

dried Thyme

1

teaspoon

Smoked Paprika

1

teaspoon

White Truffle Oil

1

cup

All Purpose Flour

4

tablespoons

Vegan Cream Cheese

To Serve:

Salsa

Vegan Cream Cheese

Extra Caramelized Onion
Instructions
Peel and dice potatoes, then place in a deep pot with water and bring to a boil. Boil for 20 minutes or until potatoes are very tender. Drain and immediately place potato cubes into a large bowl.

Mash till almost smooth with a potato masher and then add the non dairy butter substitute and soy milk. Mix it in with a wooden spoon. At this stage, taste and season to your preference.

Add thyme, smoked paprika, white truffle oil and caramelized onions into the mixture and stir well with a spoon to incorporate. Add Vegan Cream Cheese and mix well. Finally, add in flour and give it a thorough mixing - you may need more flour or slightly less - what you're looking for is something significantly firmer than the initial mashed potatoes, but don't over do it with the flour.

Heat waffle iron and spray well with non stick cooking spray. Place 1 heaped tablespoon of potato mixture into each waffle cavity and cook according to your waffle makers instructions.

Once cooked, use a small palette knife to help nudge your "waffle" off the waffle maker and onto your plate..... Trust me, this may be a slightly frustrating job - but just be gentle and have patience! YUM. ENJOY.