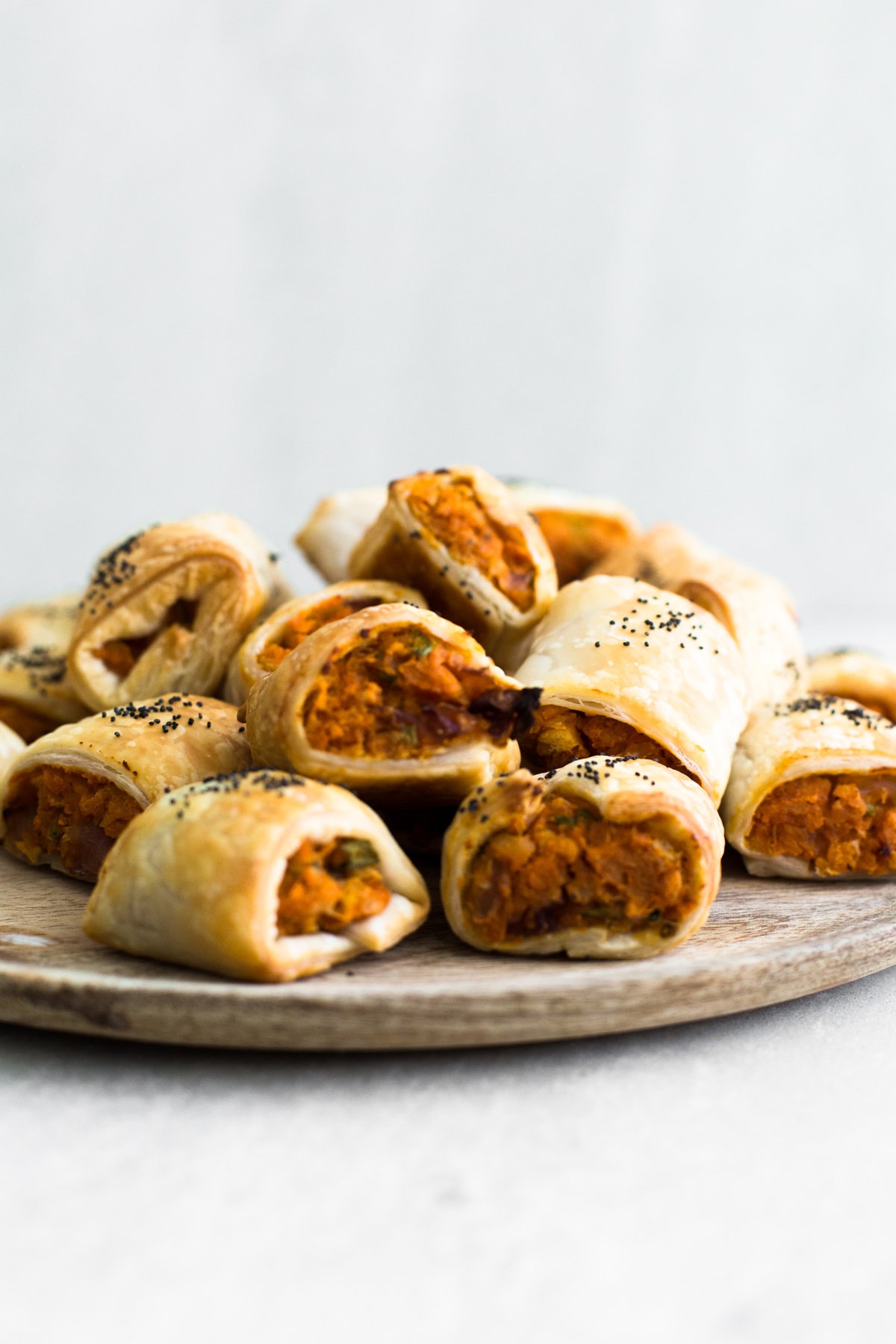 It's that time of the year again – when people just throw the diet rules out of the window and instead choose to gorge themselves in the name of the immaculate conception of Jesus Christ. Hey, any reason to binge is a good reason. A couple of years ago I posted an amazing recipe for Vegan Sausage Rolls, and this year I'm back with another variety of these little pillows of joy – Vegan Sweet Potato Sausage Rolls. I mean, who doesn't like filling encased in delicious, buttery, straight to your flanks Puff Pastry? You're insane if you don't.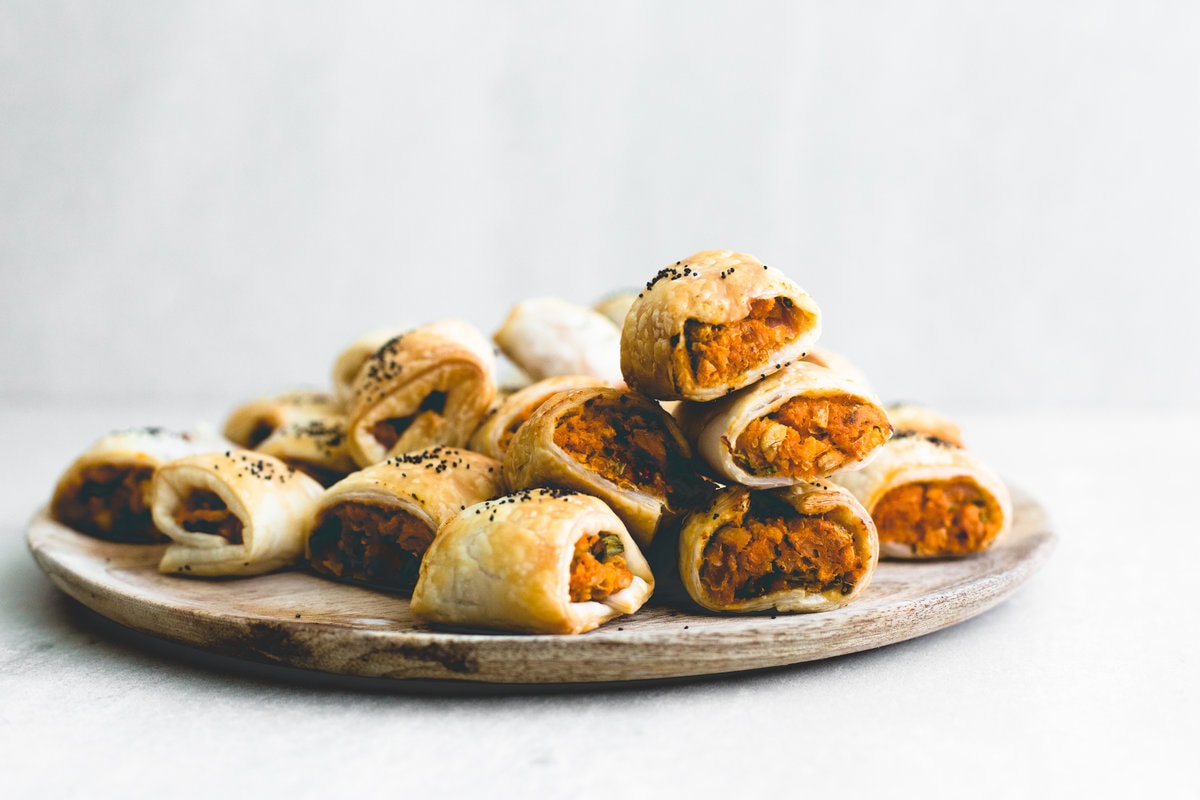 The filling for my Vegan Sweet Potato Sausage Rolls is dead simple. You roast some Sweet Potato and Red Onion with a glug of Olive Oil in the oven, and once all of that is cooked down, you simply mash it with a tin of drained Chickpeas, Tomato Paste, Garlic, Gochujang and Chives. Now, I use Gochujang (a Korean chilli paste) simply because that was what I had in the pantry, but you are more than welcome to switch it up with some Harissa or any other spicy condiment you can find.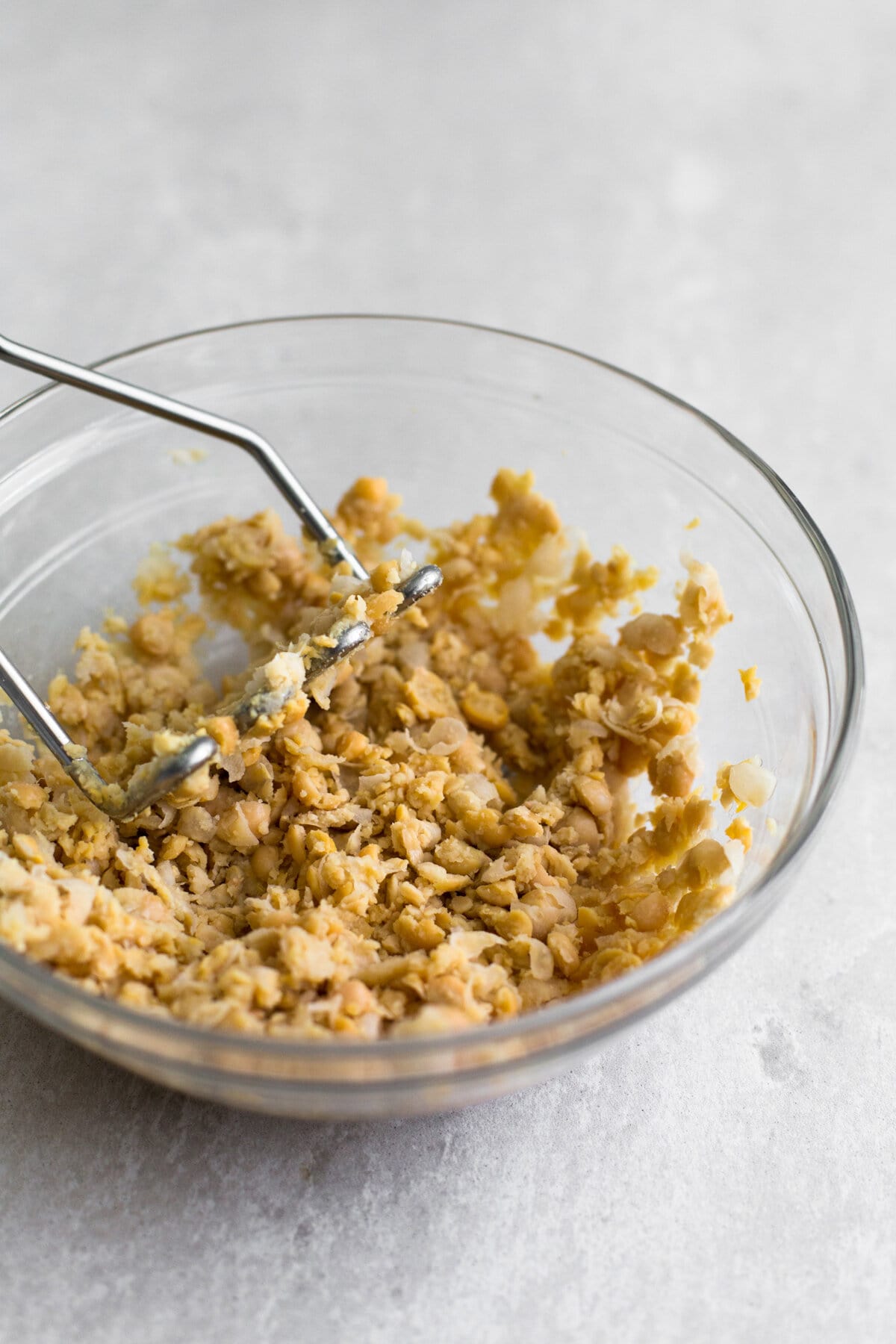 FREE EBOOK SERIES! 5 SECRETS FOR FOOLPROOF VEGAN DESERTS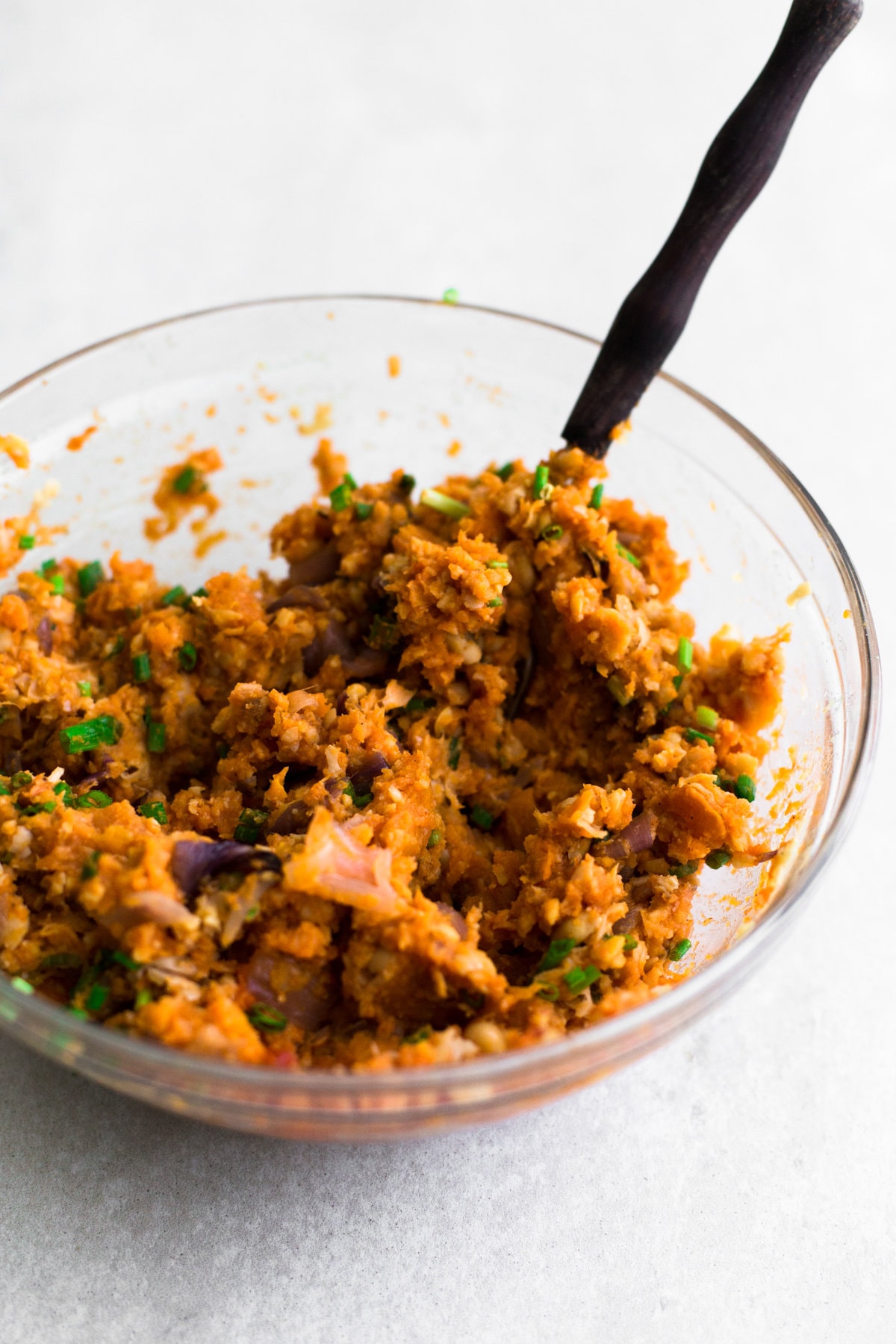 Now, onto the good stuff. Once you've got your medley of ingredients nicely mashed in a bowl, it's time to get the Puff Pastry out. Most Puff Pastry in the grocery stores in Australia are Vegan, but do check the ingredient list just to be sure. Unless it says "All Butter" or "100% Butter", chances are most Puff Pastry is dairy-free simply because it's cheaper to make and companies also enjoy lying to us. Hey, I'm not complaining.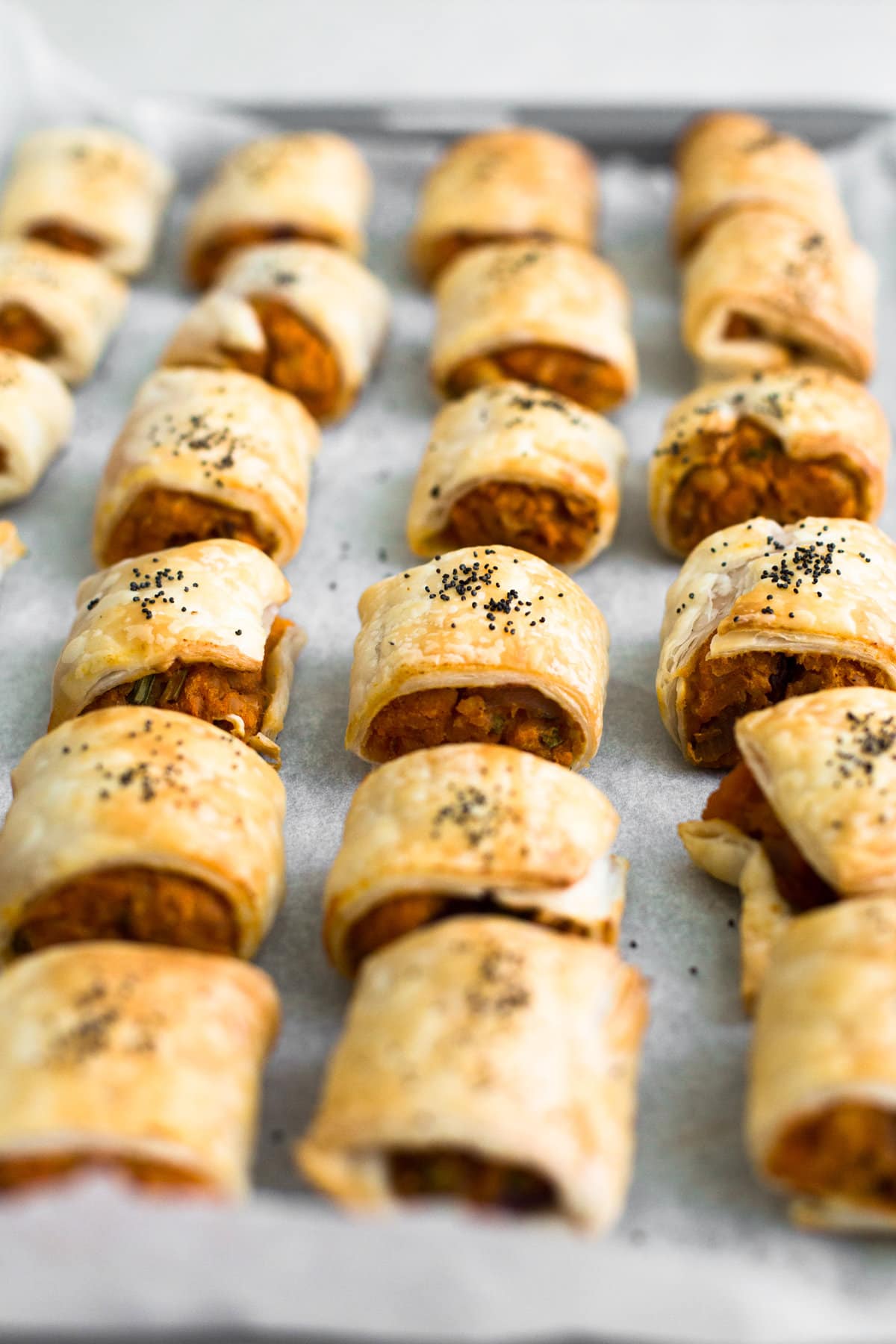 I use pre-rolled Puff Pastry Sheets simply because I'm lazy, but you can go ahead and roll that out yourself if you're bothered. I'll stick to pre-rolled. All you have to do with each sheet of Puff Pastry is cut it into 4 squares, roll some filling up in each square and then divide that roll into 2 for smaller Vegan Sweet Potato Sausage Rolls. Skip the halving bit if you like a big sausage.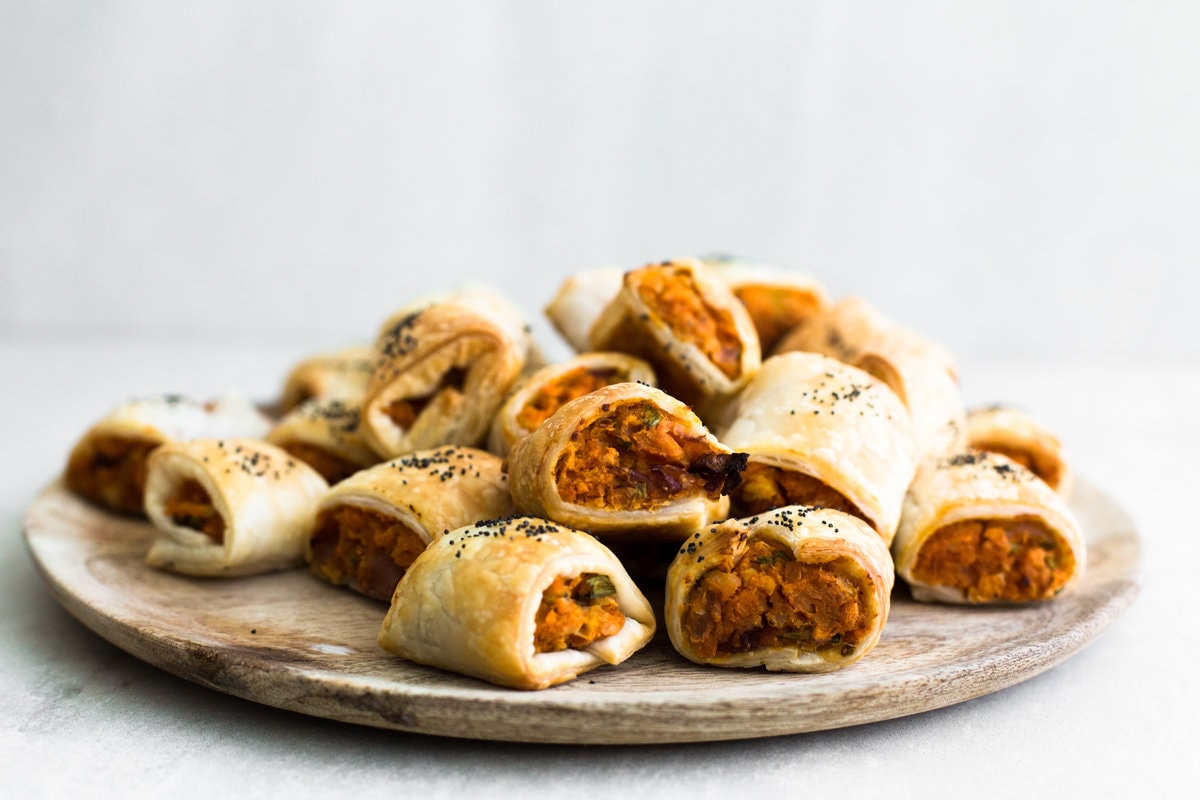 I like to sprinkle the top of my Vegan Sweet Potato Sausage Rolls with Poppy Seeds, and then chuck them into the oven to bake until puffy and golden. These Vegan Sweet Potato Sausage Rolls are the perfect addition to any Christmas party, or even an ideal addition to any lunch box as they're pretty good at room temperature too. Scroll down for the full recipe, and see ya next time!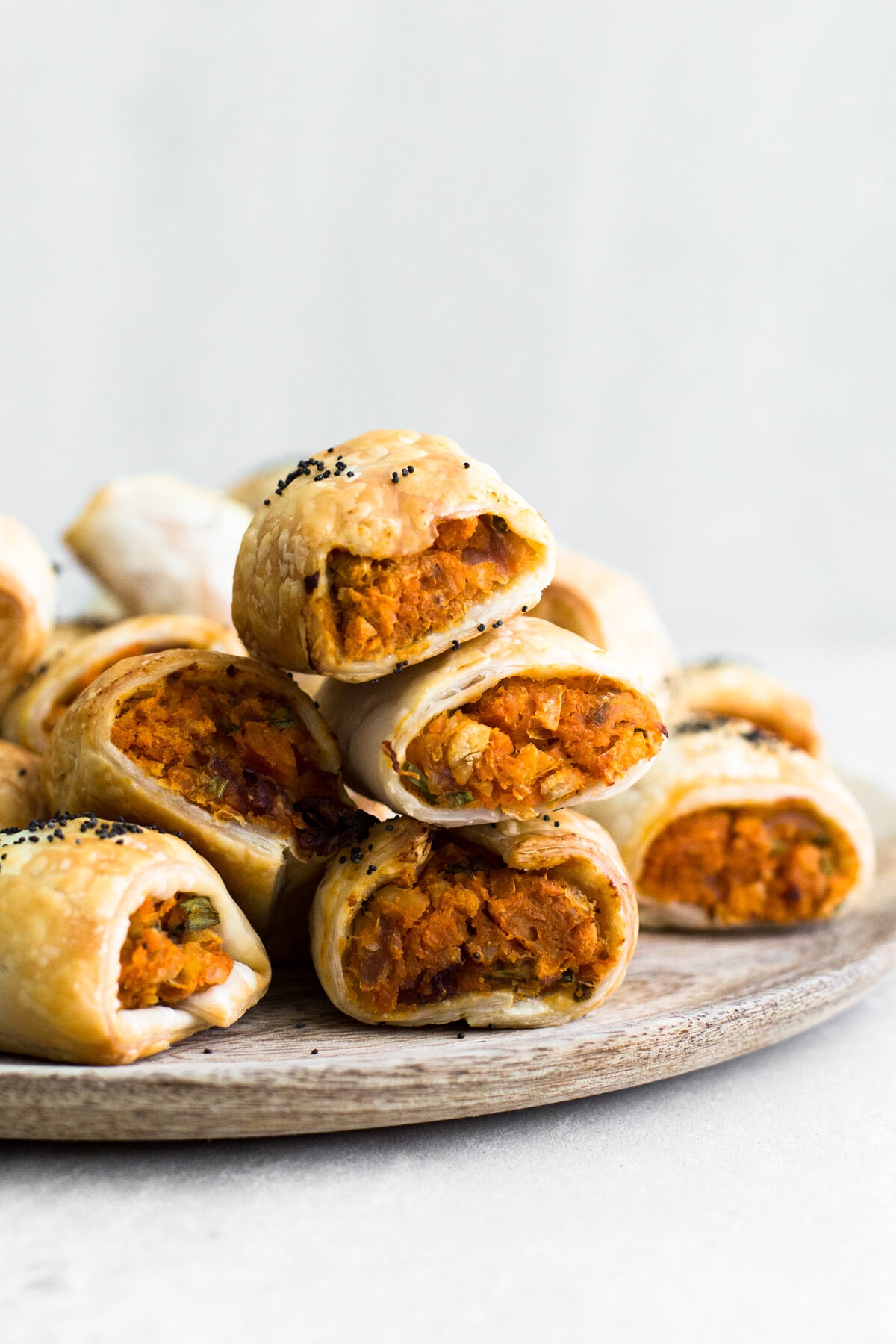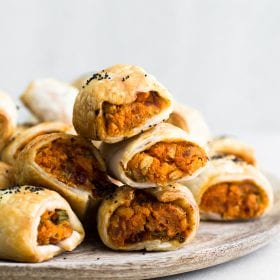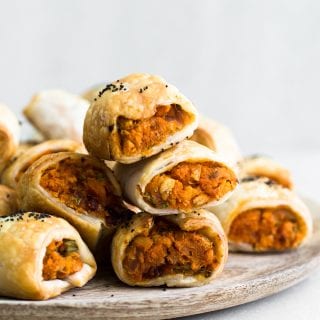 Sweet Potato and Pumpkin Sausage Rolls
Delicious Vegan Sweet Potato Sausage Rolls with Chickpeas, Gochujang, Coriander and delicious Puff Pastry. Vegan, Ready in under an Hour and perfect for parties!
Ingredients
2

Medium

Sweet Potatoes

cut into 1 inch squares

1/2

large

Red Onion

diced

2

tbsp

Olive Oil

1

tin

Chickpeas

drained

1/2

tsp

Minced Garlic

1

tbsp

Gochujang

2

tsp

Tomato Paste

1/4

cup

Chives

chopped

1

Package

Pre-Rolled Vegan Puff Pastry

1

tbsp

Non-Dairy Milk

for glazing

1

tbsp

Poppy Seeds

to sprinkle
Instructions
Preheat oven to 175C/350F. Line a baking tray with non-stick paper.

Remove Puff Pastry from the freezer and allow to thaw.

In a large bowl, combined diced Sweet Potato, Red Onion and Olive Oil. Season and toss. Place on prepared baking tray in a single layer and chuck into the oven to roast for 15-20 minutes or until tender and caramelised.

Once cooked, remove and allow to cool for 10 minutes.

Once your mixture is cooled, transfer it to a large bowl and add in Chickpeas, Garlic, Gochujang and Tomato Paste.

Using a fork, mash your mixture until its about 75% smooth with a bit of texture.

Fold in chopped Coriander.

Divide each sheet of your thawed Puff Pastry into 4 squares.

Place some of your filling on the first third of each square, and then roll up to seal. Ensure that the seam is on the under side. Cut in half and place on a baking sheet.

Repeat until all the mixture is used up.

Brush your sausage rolls with a bit of Non-Dairy Milk and sprinkle with Poppy Seeds and then bake in the oven for 20 minutes or until puffy and golden brown.

Serve warm.
Notes
TO STORE
: Leftovers can be stored in the refrigerator, covered, for up to 2 weeks.
TO FREEZE
: Place leftovers in a ziplock bag and store them in the freezer for up to 6 months. 
Nutrition
Serving:
1
serving
Calories:
253
kcal
Carbohydrates:
19
g
Protein:
3
g
Fat:
18
g
Saturated Fat:
4
g
Sodium:
111
mg
Potassium:
50
mg
Fiber:
1
g
Sugar:
1
g
Vitamin A:
60
IU
Vitamin C:
1
mg
Calcium:
18
mg
Iron:
1
mg