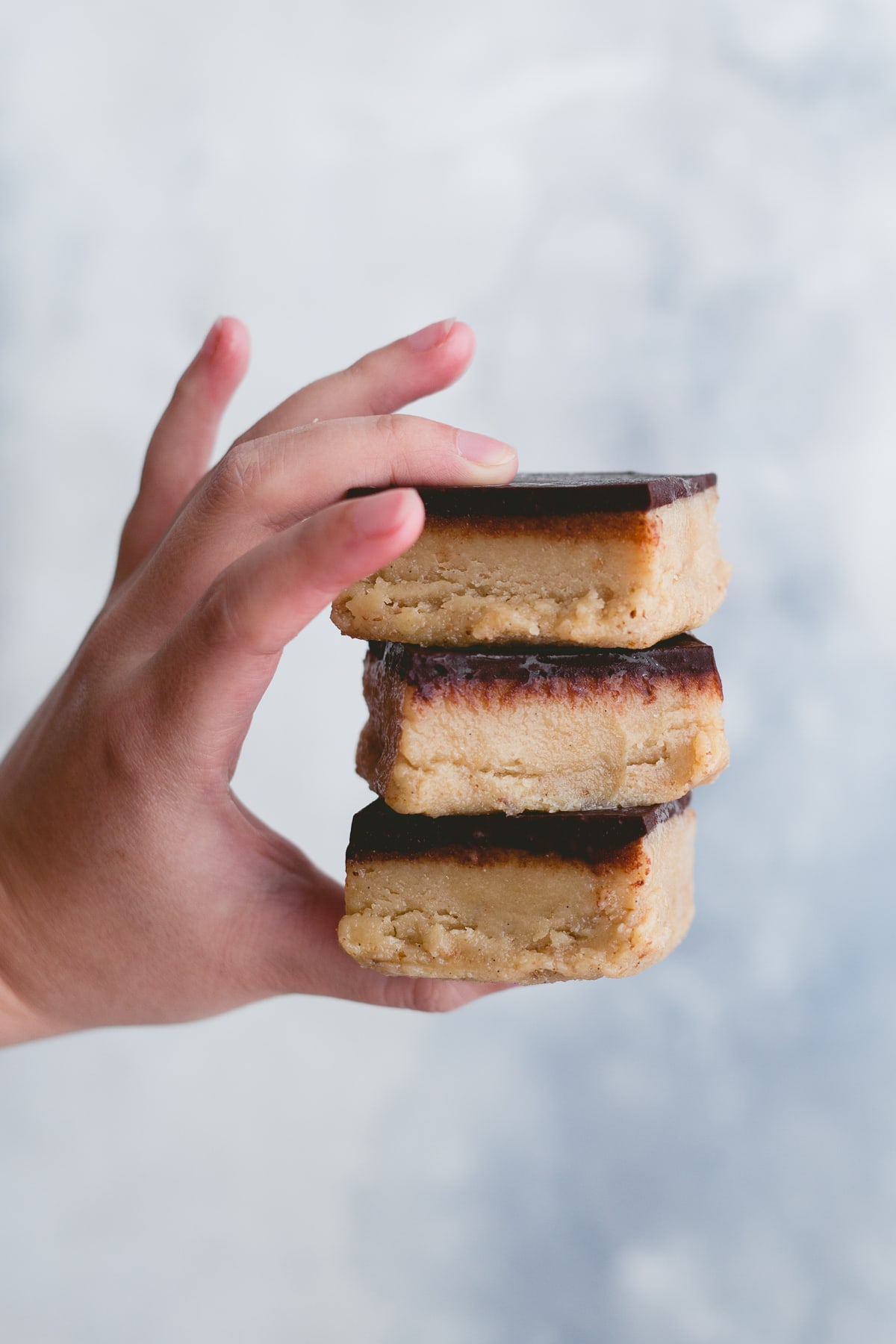 I don't know if ya'll know, but Tahini is my favourite thing ever! I put this on everything I eat – from steamed veggies to my Lemon Tahini Pasta Salad, so it was only natural that I incorporated it into a dessert eventually. Enter the Vegan Tahini Caramel Slice! There are a ton of different Vegan Caramel Slice recipes online, but I noticed that most use a copious amount of Dates, which I'm not often a fan of. Also, I basically live in poverty so I really don't have the luxury of spending $20 just on bloody Dates alone. If you're not the biggest fan of Dates, this is probably the Vegan Caramel Slice you're looking for.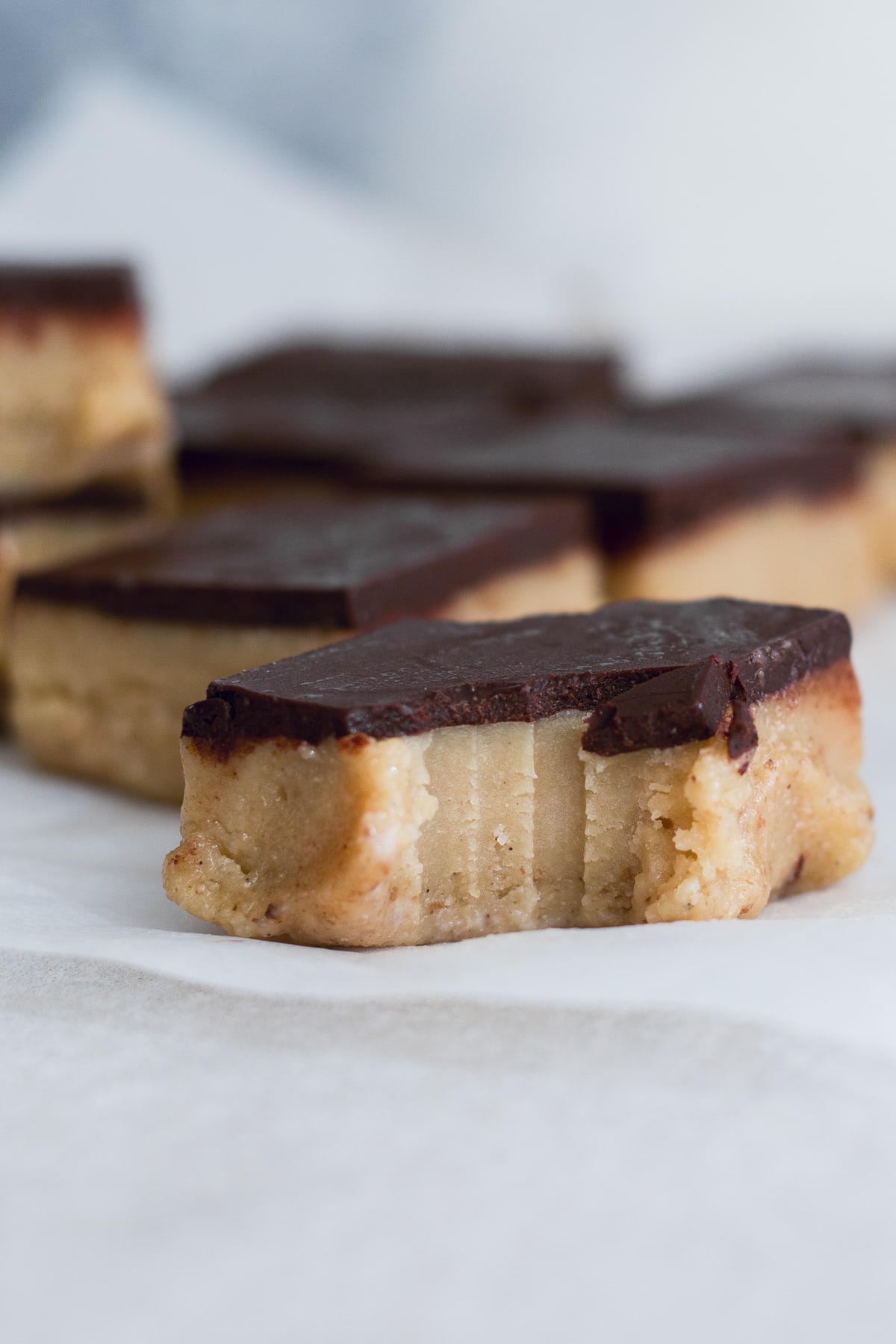 For the base of my Vegan Tahini Caramel Slice, you whizz up some Walnuts, Almond Meal, Vanilla Extract, Sea Salt, Agave Nectar (or Maple Syrup if you prefer that) with a dash of Coconut Oil and press it into the base of a lined loaf tin, then chuck it into the freezer whilst making the Tahini Caramel topping. This bit couldn't be any simpler – into a food processor goes some Tahini, Maple Syrup, Vanilla Extract, Coconut Oil, Sea Salt and Lucuma Powder. Switch the damn thing on and blend till everything is smooth and then pour this delicious concoction over your prepared base.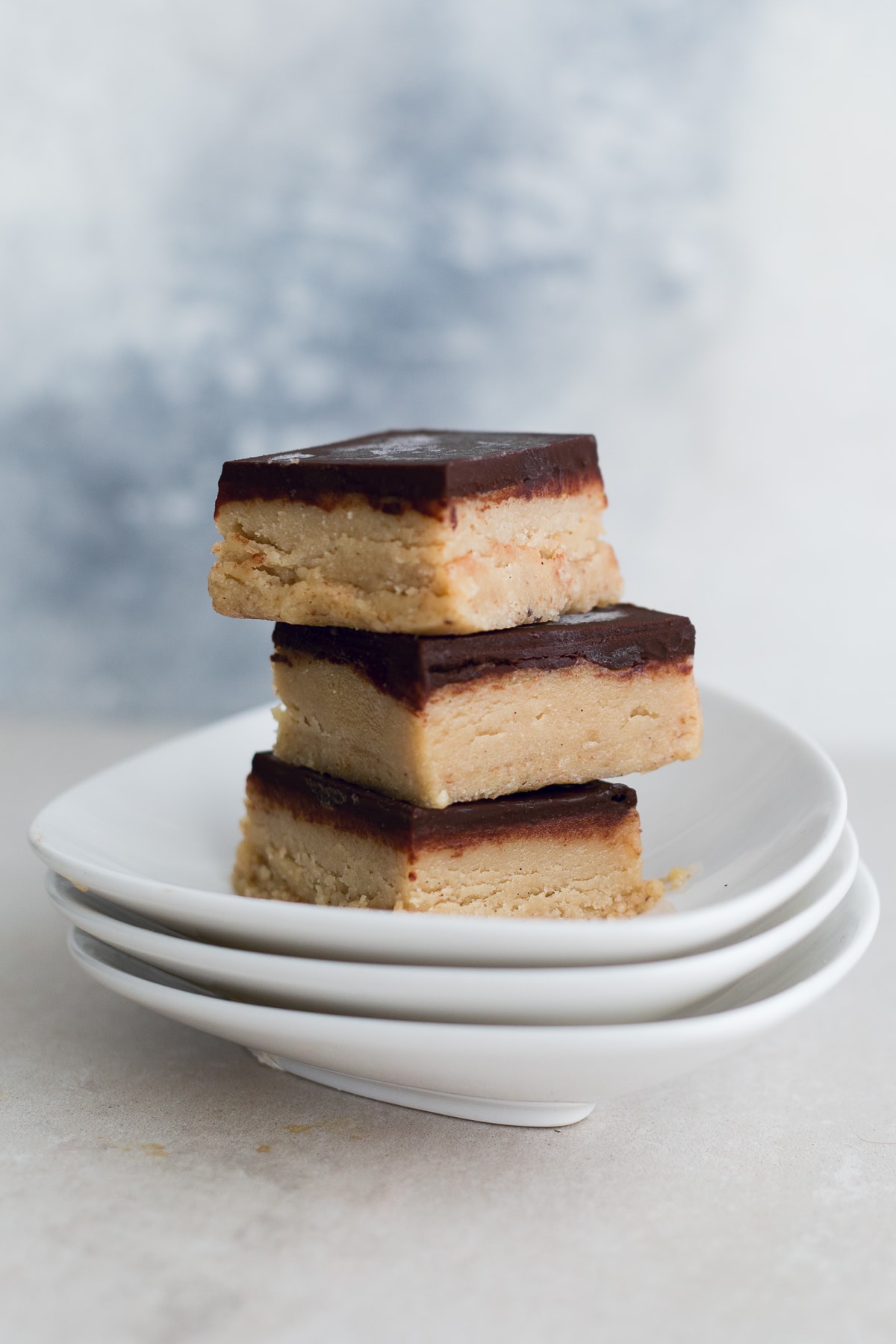 Freeze your tin and about an hour or two into the freezing, start preparing your chocolate topping. This one's another simple one to prep – all you need is melted Coconut Oil, Raw Cacao Powder, Sea Salt and Agave or Maple Syrup. Pour this over your Vegan Tahini Caramel Slice and pop back into the freezer for half an hour before it's ready to be cut and served!
FREE EBOOK SERIES! 5 SECRETS FOR FOOLPROOF VEGAN DESERTS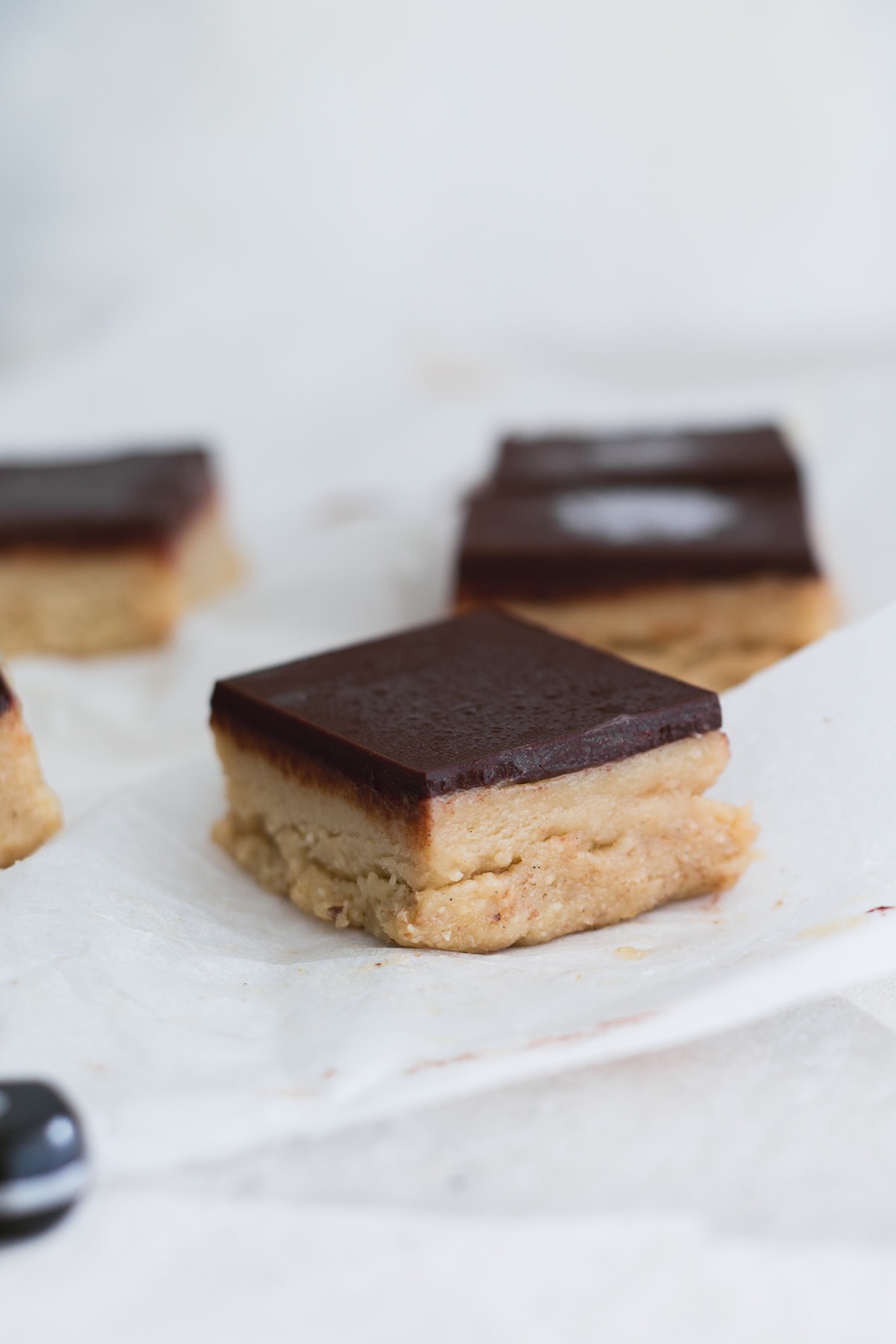 If you're a fan of Halva, I can almost guarantee you'll love this recipe, cos Halva is great and so is this. You can store individual portions of this Caramel Slice recipe in the freezer for 3 months, if they last that long. Regardless, these need to be stored in the freezer as most Coconut Oil based desserts do, no surprise here! Let me know if you try this recipe out by leaving a comment or heading over to my Instagram page! Ciao for now!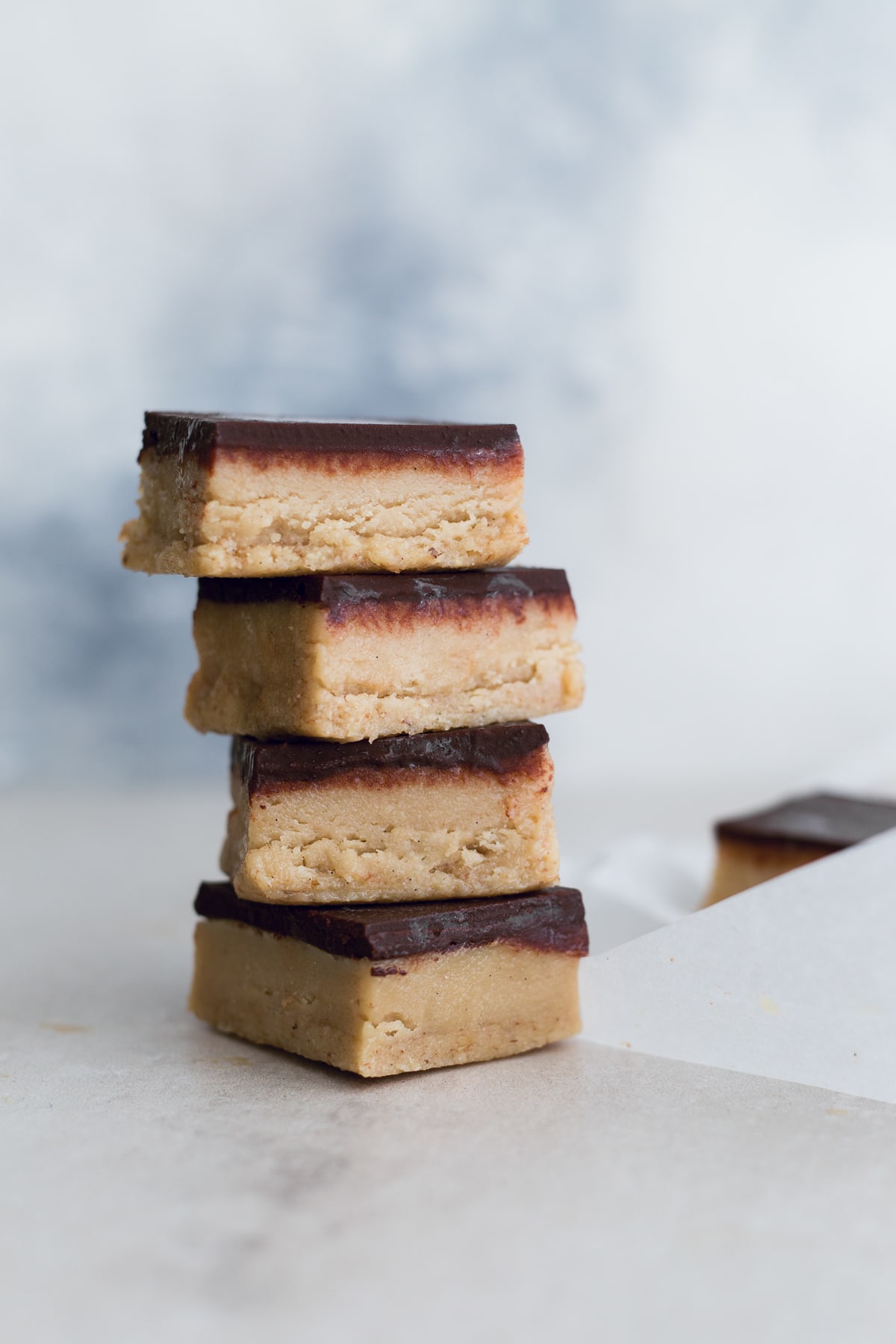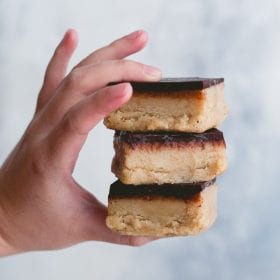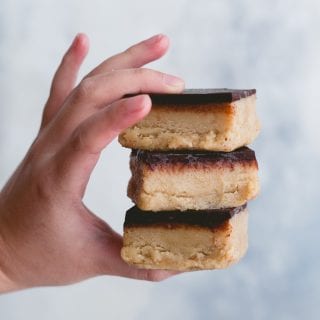 Tahini Bars (Date Free)
A delicious Raw Vegan Tahini Caramel Slice - easy to make, full of wholesome ingredients and completely DATE FREE.
Ingredients
For the Base:
1/2

cup

Walnuts

1

cup

Almond flour

1

Pinch

Sea Salt

1

teaspoon

Vanilla Extract

3

tablespoons

Coconut Oil

melted *

1/4

cup

Maple Syrup

or Agave Nectar
For the Tahini Caramel:
1

cup

Hulled Tahini

1/3

cup

Maple Syrup

1/4

cup + 1 tablespoon

Coconut Oil

melted *

1

tablespoon

Lucuma Powder

1/4

tsp

Sea Salt
For the Chocolate Topping:
6

Tablespoons

Raw Cacao Powder

5

tablespoons

Coconut Oil

melted *

3

tablespoons

Agave Nectar

or Maple Syrup

1

Pinch

Sea Salt
Instructions
Line the base of a rectangular 8x5inch tin with baking paper hanging over the sides (to pop the slice out later) and set aside.

To prepare base, combine Walnuts and Almond Meal in a food processor. Pulse until nuts are finely ground, and then add Sea Salt, Vanilla Extract, melted Coconut Oil and Agave/Maple Syrup. Process until a dough forms.

Press the dough evenly into your prepared tin, and place into the freezer.

Whilst base is freezing, make the Tahini Caramel. In a clean food processor, combine all the ingredients for the Tahini Caramel and process until smooth. DO NOT OVER-PROCESS! Just process until everything is evenly blended - less than 20 seconds.

Pour this mixture over your prepared based, and leave the tin in the freezer for a further 2 hours.

After 2 hours, prepare the Chocolate Topping. In a bowl, combine all ingredients for the Chocolate Topping and whisk till smooth and emulsified.

Pour topping over your frozen slice, and return to the freezer for at least 30 minutes.

When ready to cut, take your tin out of the freezer and lift your slice out.

Cut into squares with a clean warm knife, wiping the knife between slices if you're slightly OCD like I am. Store in an air-tight box in the freezer, and let thaw for about 5 minutes before enjoying.*
Notes
*I use Refined Coconut Oil as it does not have any Coconut flavour, but feel free to use normal Extra Virgin Coconut Oil if you don't mind it imparting a Coconutty flavour to your Caramel Slice.
*Keep these bars frozen - the coconut oil is sensitive to heat!
Nutrition
Serving:
1
serving
Calories:
232
kcal
Carbohydrates:
18
g
Protein:
3
g
Fat:
17
g
Saturated Fat:
9
g
Sodium:
57
mg
Potassium:
70
mg
Fiber:
2
g
Sugar:
14
g
Vitamin A:
1
IU
Vitamin C:
1
mg
Calcium:
42
mg
Iron:
1
mg