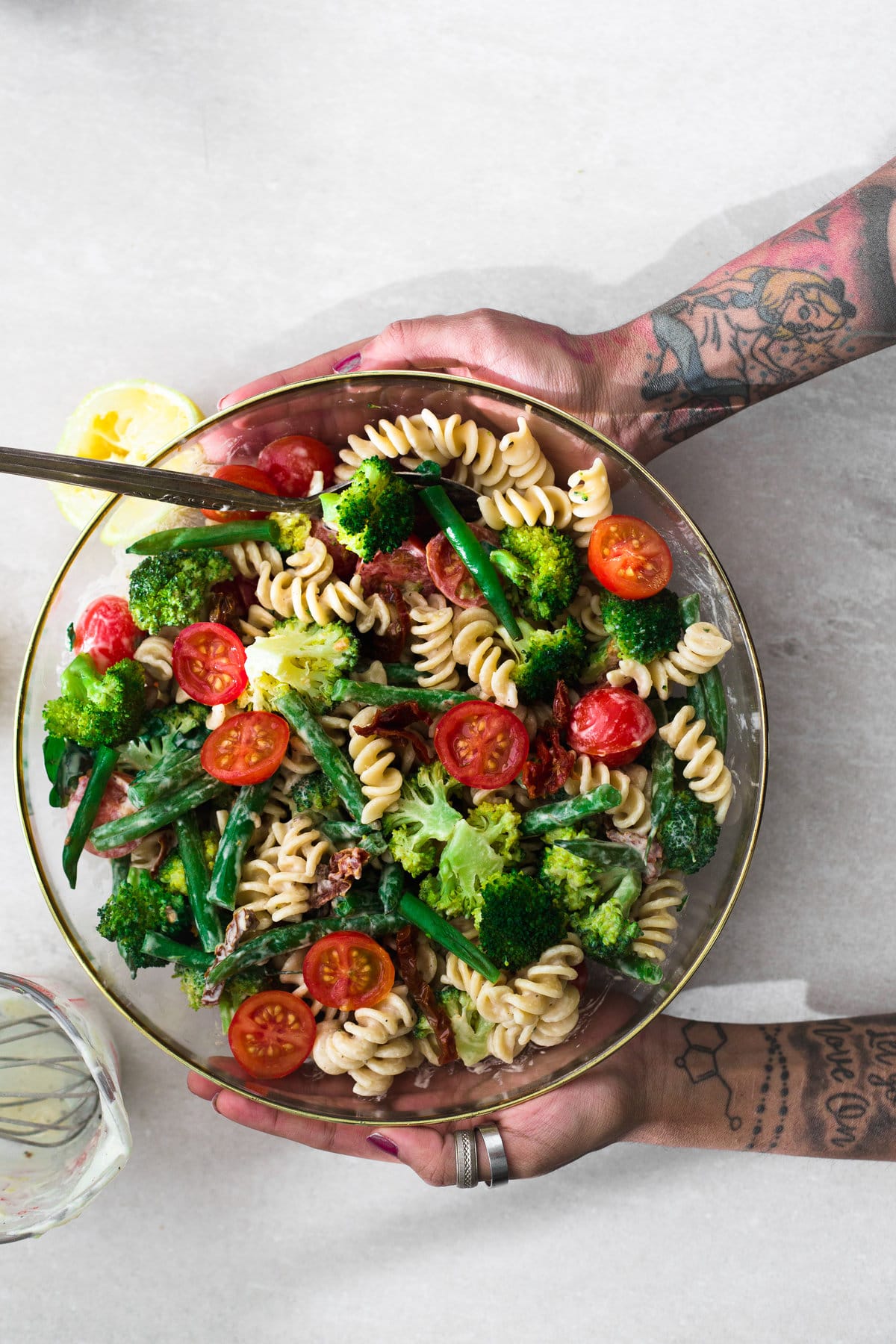 I like Tahini in all things. Tahini in Date Caramel? Ticks my boxes. Tahini slathered on some steamed Veggies? Ticks my other naughty boxes too. Tahini is like the smokin' hot older brother of Mayonnaise, and because I am entirely superficial, I have decided to swap the Mayo out for its genetically superior Tahini in this Vegan Lemon Tahini Pasta Salad. Pasta Salad can sometimes just end up being a sloppy, one-dimensional, mayonnaise drowned mush on a plate…not this Lemon Tahini Pasta Salad, though. This one is dominant.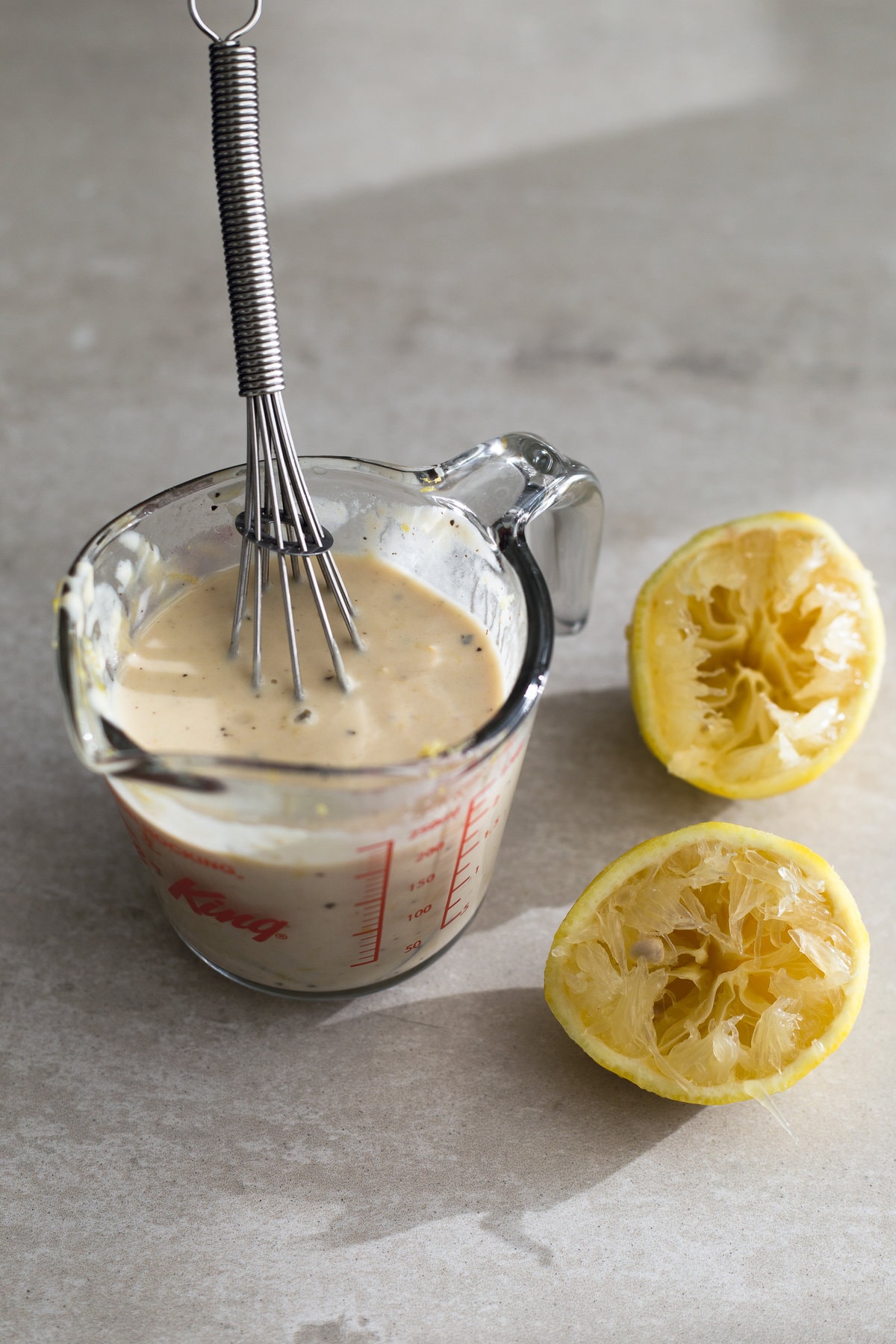 All too often, Pasta Salads come with a measly, pathetic amount of tiny cubed veggies that look like they're desperately crying out for a pity fu*k. This is why I use an abundance of fresh Broccoli, Green Beans, Cherry Tomatoes, Sun-Dried Tomato and chopped Basil and Parsley in my Lemon Tahini Pasta Salad. Nothing beats a good hunk of Broccoli, I say. But of course, if you have any favourite veggies, feel free to add them into the recipe. That's the thing about cooking, right? You can add whatever the fu*ck you want because it's YOUR food! To hell with rules.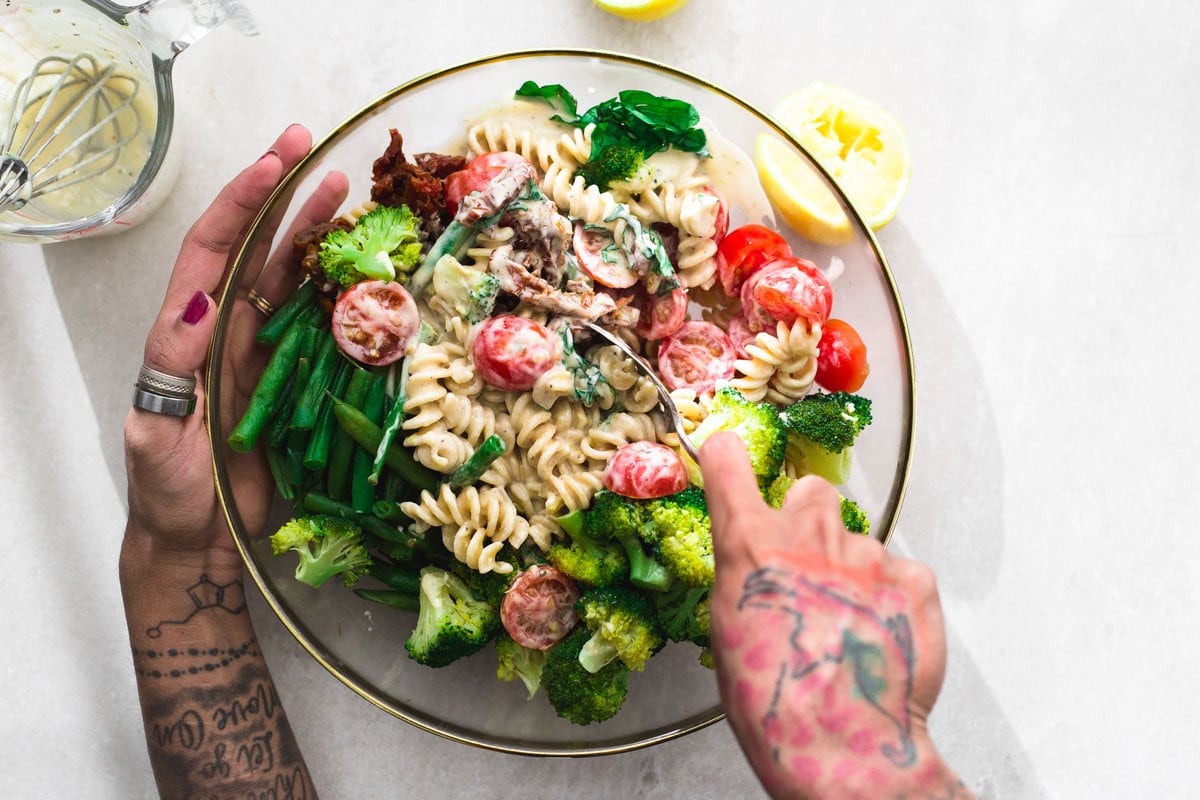 The dressing in this Vegan Pasta Salad recipe is so easy to make, yet surprisingly complex and loaded with bright and zingy flavour. All you need is the main star, Tahini, and some other bits that include Olive Oil, Lemon Zest, Lemon Juice, Apple Cider Vinegar, Agave Nectar, Dijon Mustard, Red Pepper Flakes and a lashing of Salt and Pepper. Don't be stingy with the seasoning, guys. No one likes a bland Pasta Salad. Whatever Pasta shape or variety you use is up to you, but this time round I used Spelt Spirals simply because it sounds cool and I like to try new things. Bowtie, Penne, Macaroni or even dick shaped Pasta would work as well. Go forth and experiment! Scroll down to grab the full recipe, and enjoy a tummy full of Lemony, Tahini-ey (what a word) goodness!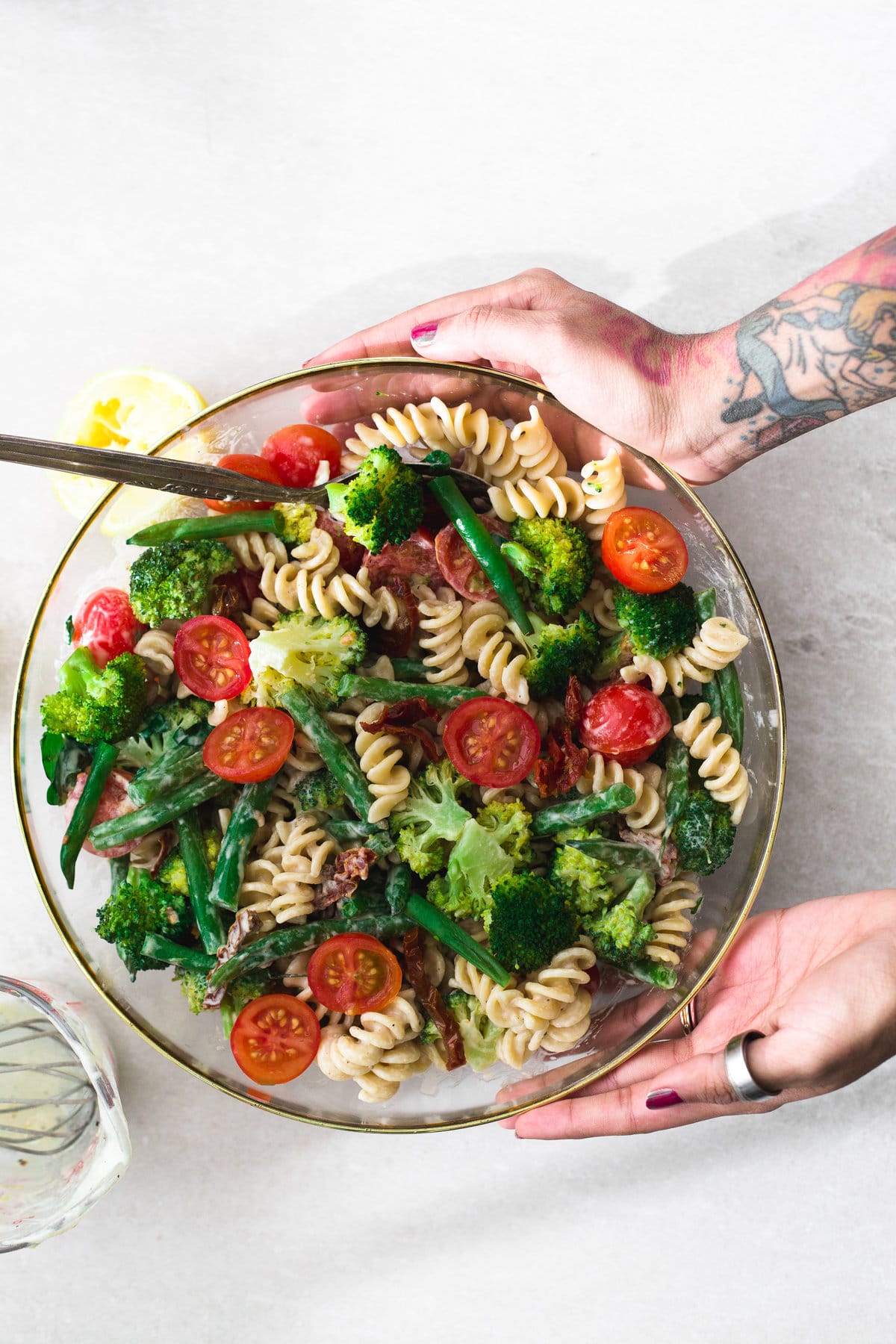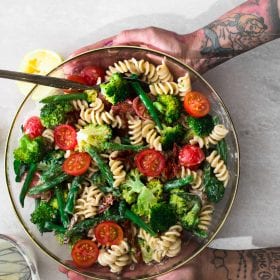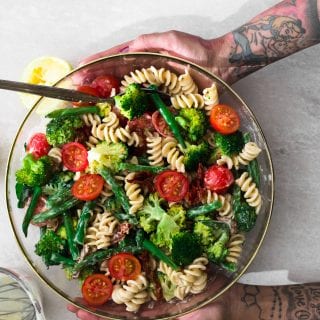 Lemon Tahini Pasta
A delicious Vegan Lemon Tahini Pasta Salad loaded with Fresh Veggies and dressed with a delicious Tahini Lemon Dressing. Ready In Under 20 Minutes.
Ingredients
2

cups

Pasta of choice

I used Buckwheat Spirals

2

small

Broccoli

trimmed and chopped

3/4

cup

Green Beans

chopped

1

cup

Cherry Tomatoes

halved

8

Basil leaves

thinly sliced

1/4

cup

Parsley

chopped

1/3

cup

Sun-Dried Tomato Strips

drained

1

tsp

Salt and Pepper

to taste
For Tahini Lemon Dressing:
4

tablespoons

Tahini

2

tablespoons

Olive Oil

1

zest

Lemon

1/4

cup

Lemon Juice

1 1/2

tablespoons

Apple Cider Vinegar

1

teaspoon

Dijon Mustard

2 1/2

teaspoons

Agave Nectar

1/3

cup

warm Water

1

teaspoons

Salt

to taste

1/2

teaspoons

pepper
Instructions
Prepare a large pot of water and bring to a boil. Salt liberally and then blanche your Broccoli and Green Beans for 2 minutes or until just tender. Drain and immerse in a bowl of ice water for 30 seconds. Drain again and set aside.

Bring another pot of water to the boil and once again, salt liberally. Boil pasta according to directions on packet, until al dente.

Meanwhile, in a small bowl, whisk all the ingredients for the Tahini Lemon dressing till smooth.

In a large bowl, combine your cooked and drained Pasta with your Broccoli, Green beans, Cherry Tomatoes, Sun-Dried Tomato strips, Basil and Parsley.

Pour dressing over and mix well to combine. Taste and adjust for levels of Salt and Pepper.

Enjoy at room temperature, or leave leftovers in the fridge in an air-tight box for a nice packed lunch at work the next day.
Nutrition
Serving:
1
serving
Sodium:
1286
mg
Calcium:
165
mg
Vitamin C:
293
mg
Vitamin A:
2580
IU
Sugar:
11
g
Fiber:
9
g
Potassium:
1134
mg
Calories:
205
kcal
Saturated Fat:
1
g
Fat:
8
g
Protein:
10
g
Carbohydrates:
29
g
Iron:
3
mg