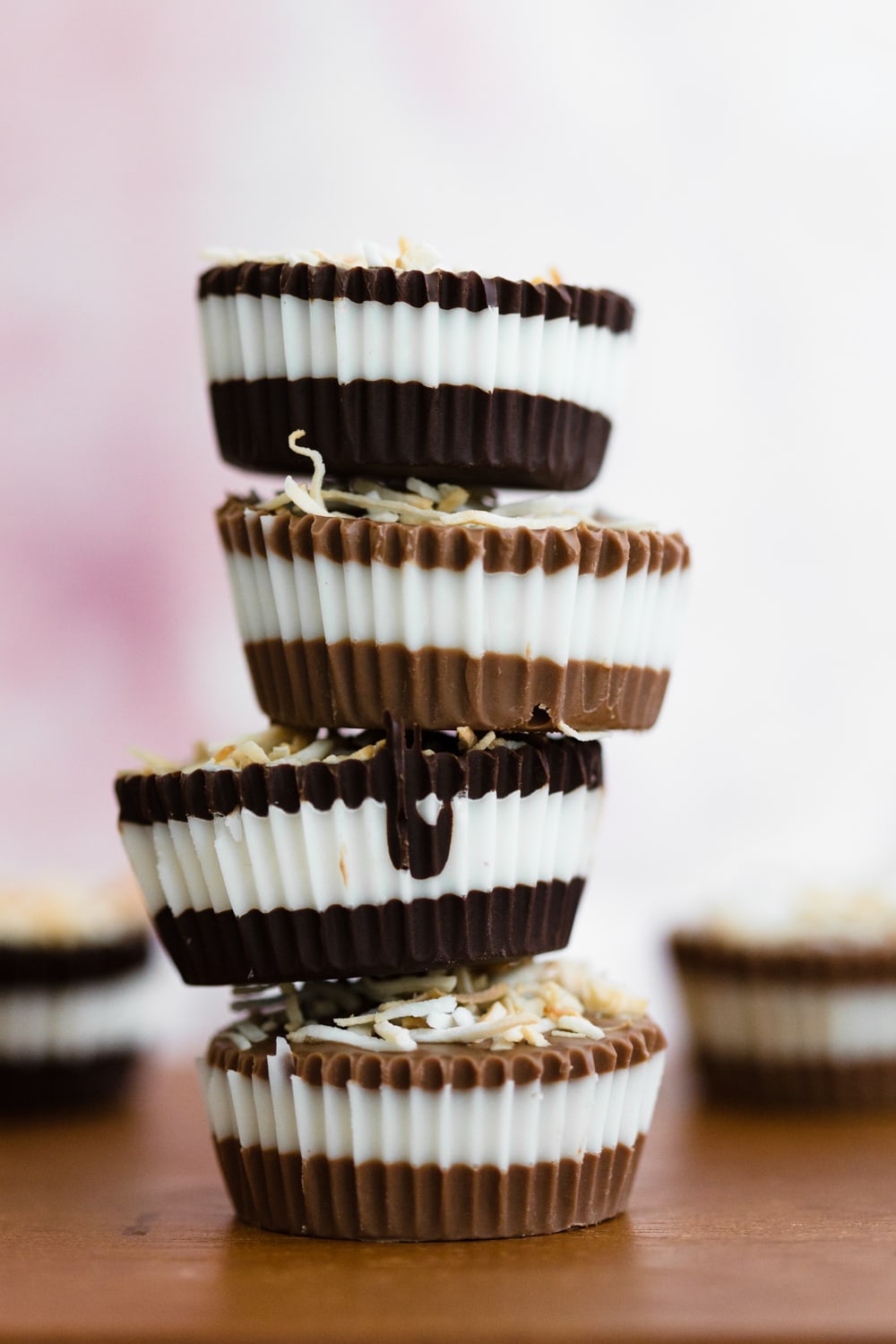 Hey allllll! I'm back with yet another lazy recipe. Today we're making 2 Ingredient Chocolate Coconut Butter Cups. If you don't know, Coconut Butter is the Coconut version of Almond/Peanut/Cashew Butter. It is also priced incredibly exorbitantly on Amazon and at health food stores, so for today's recipe we are going to be making the Coconut Butter from scratch.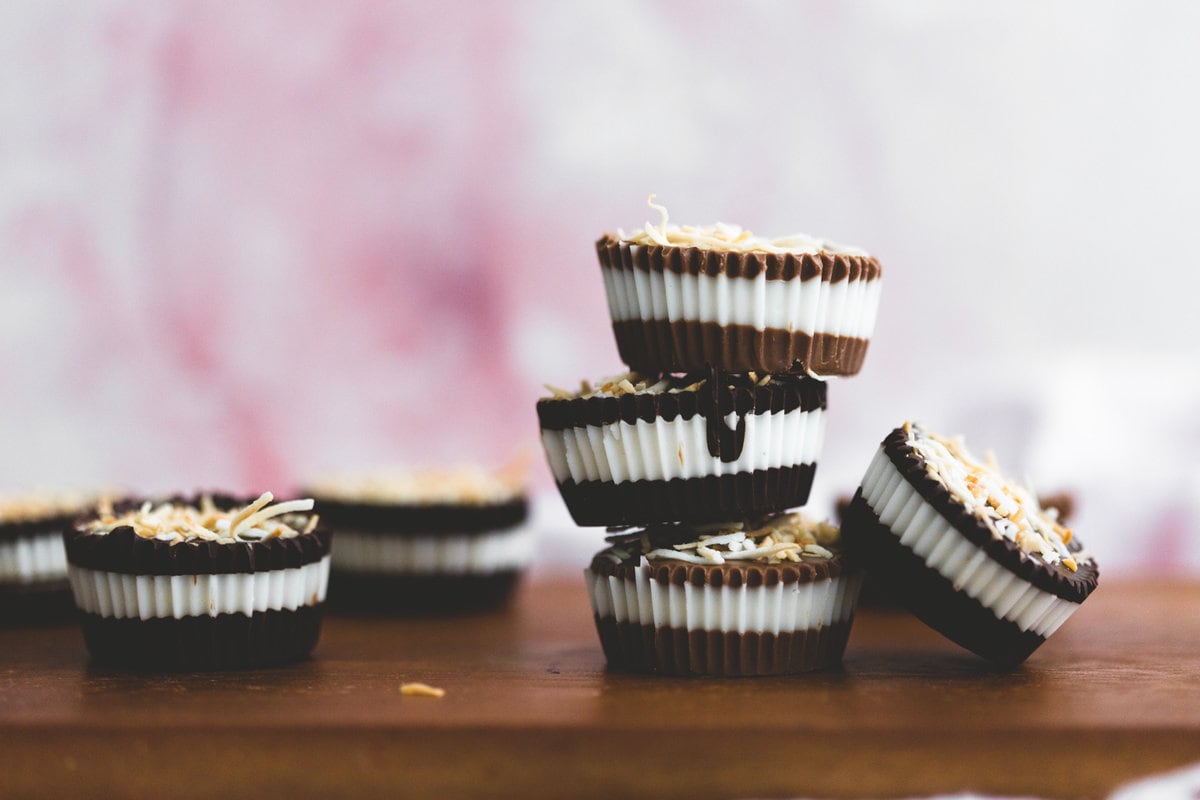 Making Coconut Butter may sound like an intricate and overly difficult process, but you'll be amazed at how EASY it is to make your own homemade Coconut Butter for these Coconut Butter Cups. All you need is Desiccated Coconut, a pinch of Salt and a food processor or high speed blender. I make my Coconut Butter in the Froothie Evolve, but feel free to do so in a Vitamix or any other sturdy food processing machine you may have!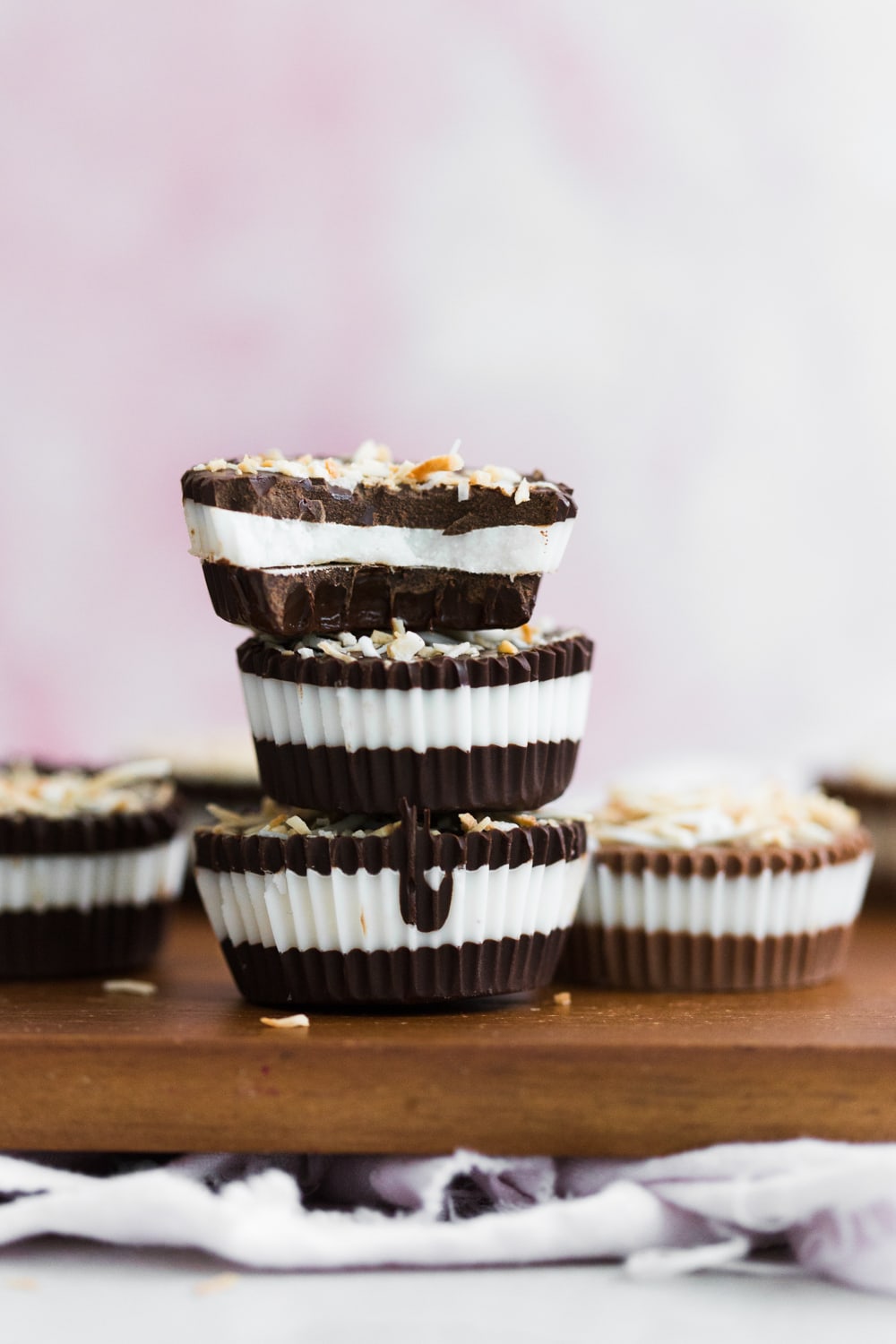 To make the Coconut Butter filling in these 2 Ingredient Vegan Chocolate Coconut Butter Cups, you simply start of processing your Desiccated Coconut and Salt in your receptacle of choice and let the machine do all the work for you. The process is exactly the same as making Homemade Peanut Butter…everything will look like a giant mess for a bit and then all of a sudden it will turn into a luscious, smooth and silky Coconut Butter, ready to be sandwiched in some delicious Vegan Mylk or Dark Chocolate.
FREE EBOOK SERIES! 5 SECRETS FOR FOOLPROOF VEGAN DESERTS
Once your Coconut Butter is processed and ready, all you have to do is melt some Vegan Chocolate and line the bottom of cupcake liners with a thin layer of liquid love. Let the first layer of chocolate set up in the fridge for a few minutes and then pile on a layer of Coconut Butter (think Reese's Peanut Butter Cups), let that set in the fridge for a short while and then finally add your second layer of Vegan Chocolate on top and allow the Chocolate Coconut Butter Cups to set in the fridge for 30 minutes.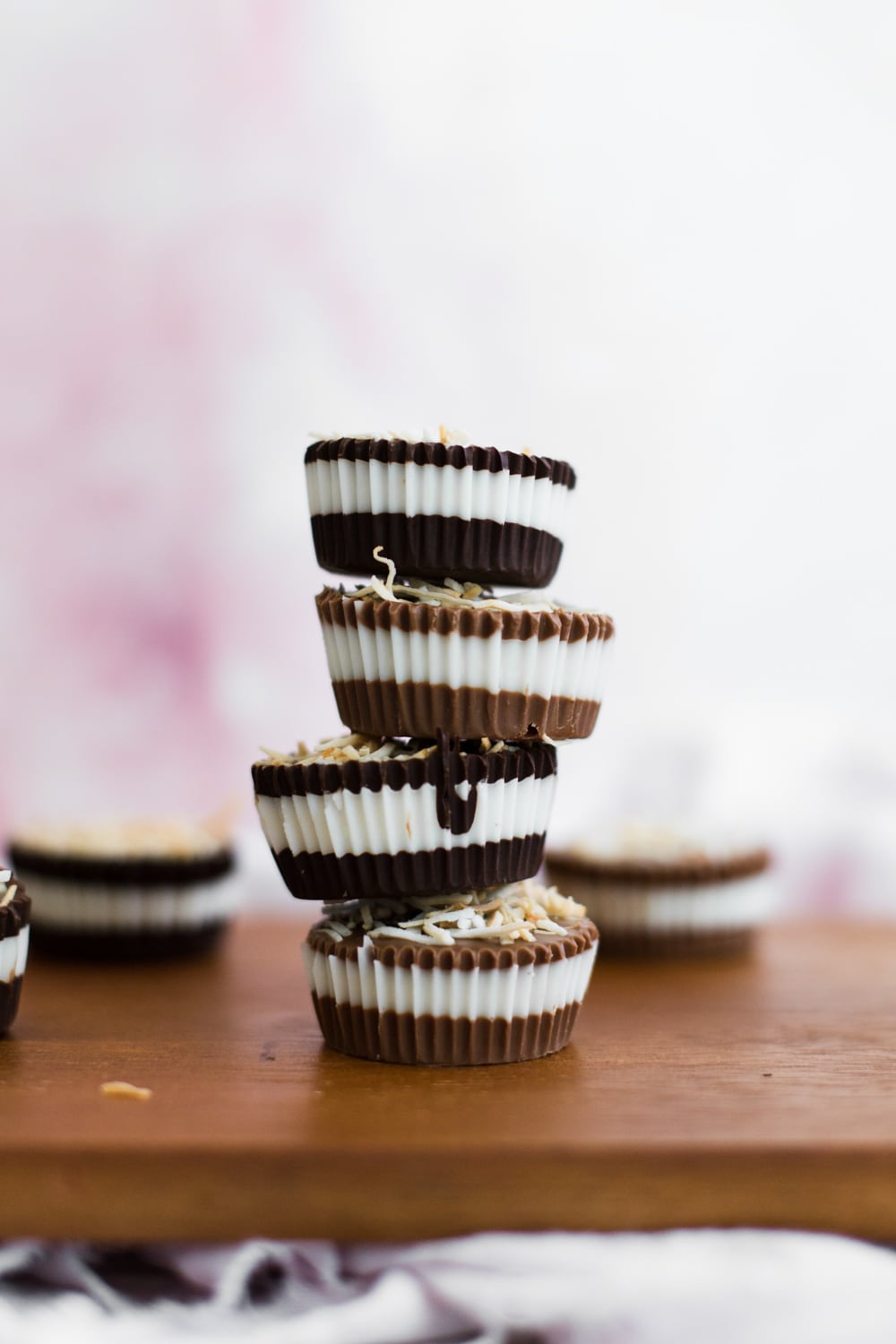 These 2 Ingredient Chocolate Coconut Butter Cups are a divine alternative to the regular Peanut Butter Cup and also pay homage to Mounds/Bounty bars at the same time. Scroll down to grab the full recipe and don't forget to follow me on Instagram! Cheers!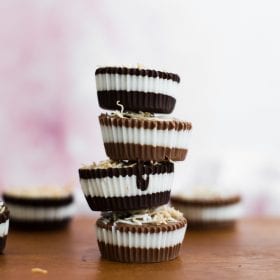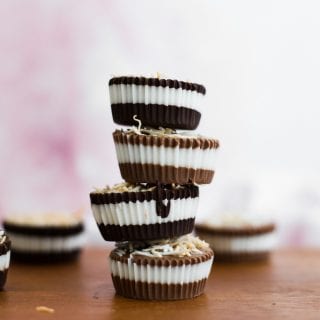 Coconut Butter Cups
These 2 Ingredient Chocolate Coconut Butter Cups filled with homemade Coconut Butter are an amazing alternative to the regular Peanut Butter Cup!
Ingredients
For Coconut Butter:
3

cups

Desiccated Coconut

1/4

tsp

Sea Salt
For the chocolate coating
Instructions
Add your Desiccated Coconut and Sea Salt to a high quality food processor or high-speed blender. Turn the processor or blender on and process for 2-3 minutes, using the tamper to help move the coconut around if necessary.

Continue processing until your Coconut turns into a smooth and silky Coconut Butter. This may take anywhere between 5-10 minutes, depending on the power of your food processor/blender.

If your Coconut Butter seems a little too thick, thin it down with a tablespoon or two of melted Coconut Oil and process until smooth. You may have Coconut Butter leftover which you can store in a jar for other uses.

Melt your Vegan Chocolate and line a cupcake tin with wrappers.

Working with half of your melted chocolate, line the bottom of each cupcake liner with a 3/4 inch layer of chocolate.

Place cupcake tin in the fridge for 5-10 minutes to allow chocolate to harden.

Once hardened, layer on an inch of Coconut Butter into each liner. Return tin to the fridge until Coconut Butter has hardened.

Finally, add the remaining half of your melted Chocolate in a 3/4 inch thick layer over your hardened Coconut Butter.

Return tin to the fridge for 30 minutes before removing from liners and enjoying!

Coconut Butter Cups will store in the fridge for up to 3 weeks. Alternatively, if your kitchen or pantry is cool enough, they will store for up to a week in an air-tight box on the counter.
Notes
Extra Coconut Butter can be drizzled on fruit, added to Soups or Curries and enjoyed on Toast.
If your pantry is cool, Coconut Butter may harden. Simply place your jar in hot water and allow the Coconut Butter to soften before using.
TO STORE
: Leftovers can be stored in the refrigerator, covered, for up to 2 weeks.
TO FREEZE
: Place leftovers in a ziplock bag and store them in the freezer for up to 6 months. 
Nutrition
Serving:
1
serving
Calories:
140
kcal
Carbohydrates:
5
g
Protein:
1
g
Fat:
14
g
Saturated Fat:
12
g
Sodium:
56
mg
Potassium:
115
mg
Fiber:
3
g
Sugar:
2
g
Vitamin C:
1
mg
Calcium:
6
mg
Iron:
1
mg