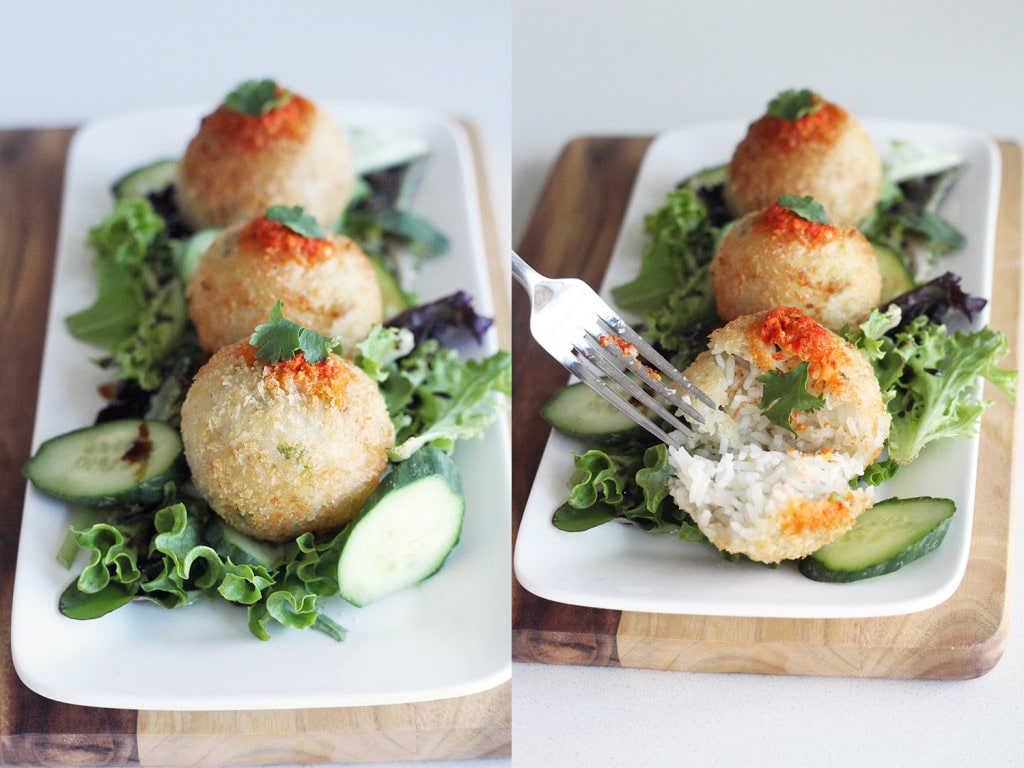 For anyone who hasn't been to Southeast Asia, or Singapore in particular, Chicken Rice is undoubtedly one of the most popular dishes around. Eaten by almost everyone and available almost any and everywhere,  it's one of Singapore's most iconic dishes. Delicious jasmine rice is served alongside poached or roasted chicken and accompanied by coriander, cucumber, soy and a potent chilli sauce. Of course, with all of its great deliciousness also comes a price to pay – calories and saturated fat! The flavored rice is usually mixed in with rendered chicken fat before cooking, thus resulting in very fragrant, super-tasty rice that is, admittedly, also rather oily and unhealthy.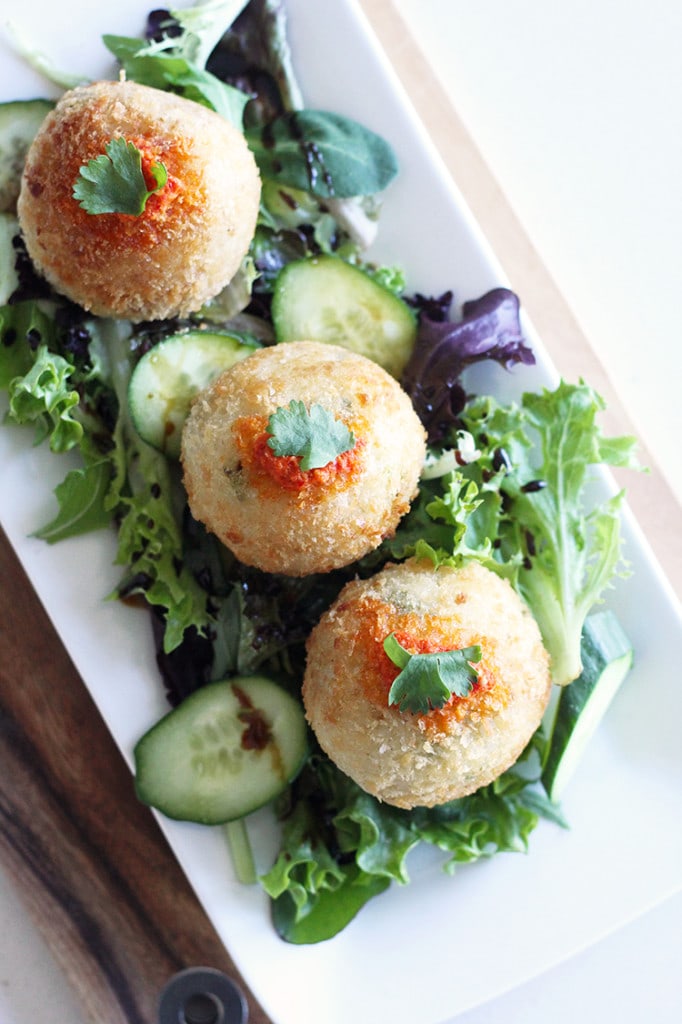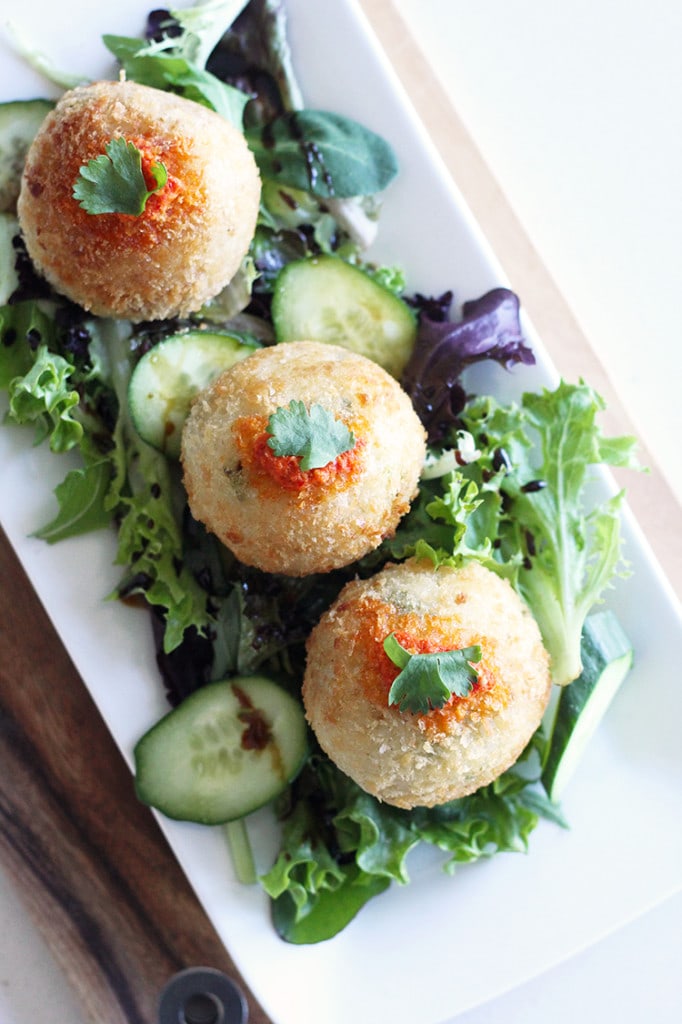 With all that in mind, I tried my hand out at making her own, healthier version of Chicken Rice… with a vegan twist. In other words, chicken rice without the chicken, and rice without the guilt. We came up with the idea to cook jasmine rice with the usual chicken rice flavorings, sans chicken fat and stock. We replaced it with good ol Vegetable stock and then stirred in lots of chopped green onions for extra flavor. The cooked rice then has to be shaped into tight balls very quickly whilst the rice is still hot (wear gloves if you can't handle the heat) and then left to cool before being breaded  (yes, breaded! That's our own little twist) and then shallow-fried with very minimal oil. Once fried, the rice balls are then served on a salad of mixed mesclun, cucumber, coriander and a simple sesame soy dressing before finally being topped with a lovely chilli sauce.
You may be wondering: how does one bread something without using egg as an adhesive agent?! My wife decided to use flaxseed gel (usually used as an egg replacement in Vegan baking). We found that it worked beautifully in mimicking egg wash. We'll definitely use flaxseed gel in all our breading from now on!
FREE EBOOK SERIES! 5 SECRETS FOR FOOLPROOF VEGAN DESERTS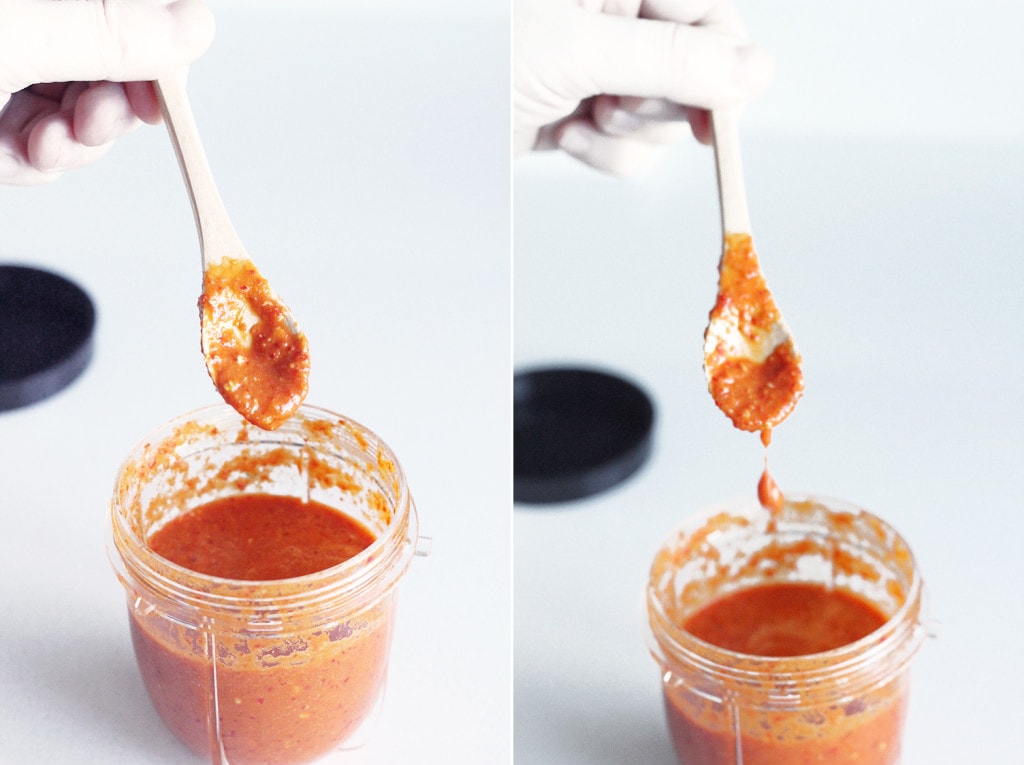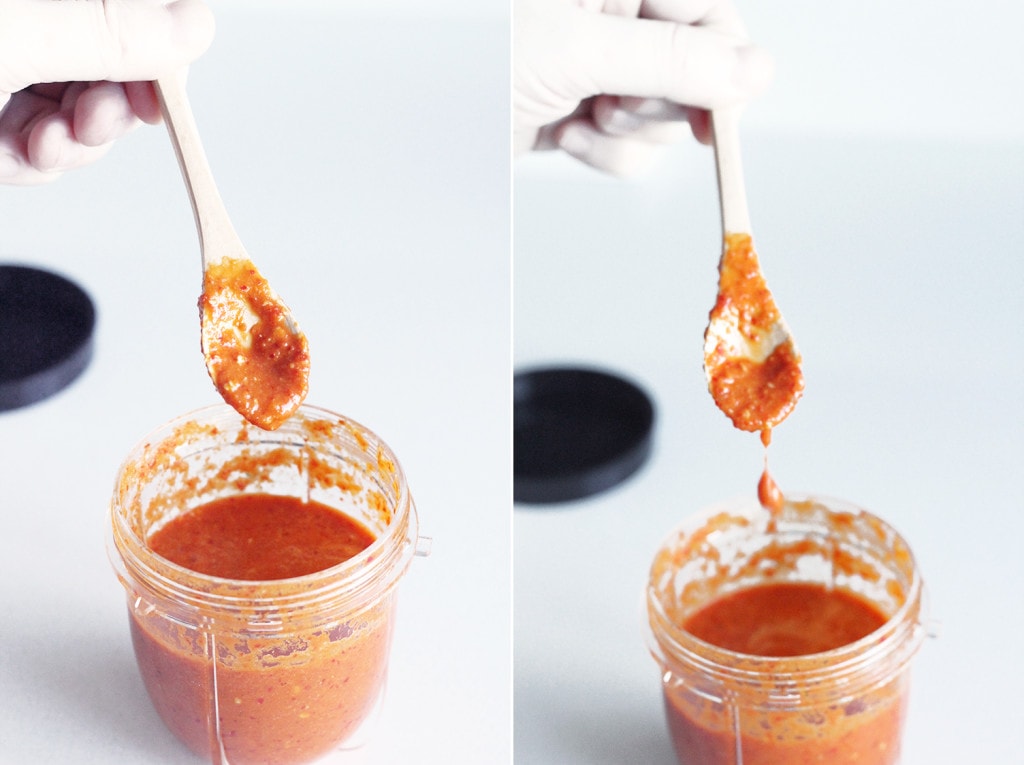 Verdict: The rice balls were absolutely lip smacking. I loved them! With a crunchy crumb coating and light salad underneath – who needs any damn meat. And OMG – that wonderful chilli sauce is to die for! Becoming Vegan has never been easier.
Without further delay, here is the recipe for our original take on an iconic dish: Vegan Asian Rice Balls as we call them. Enjoy!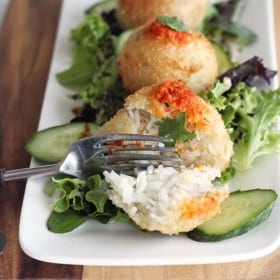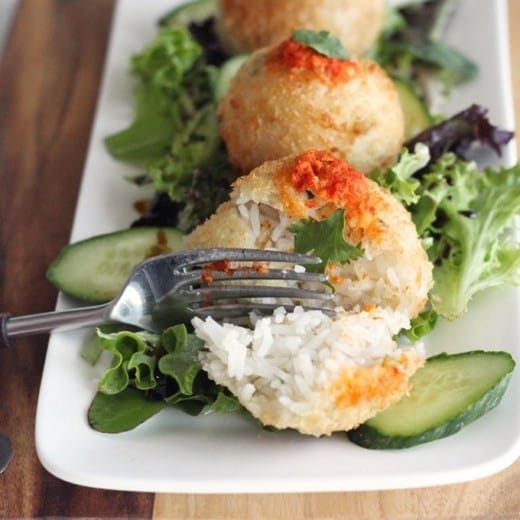 Asian Rice Balls
Ingredients
For the Rice:

1 1/2

cups

Jasmine Rice

2 1/2

cups

Water

1

Vegetable Stock Cube

15

grams

Ginger

15

grams

Garlic

15

grams

Shallots

1/4

teaspoon

Sugar

1/2

teaspoon

Sesame Oil

1

teaspoon

Salt

2

teaspoons

Vegetable oil

1/2

cup

Flour + 1/2 teaspoon salt

2

cups

Panko Bread Crumbs

1

Tablespoon

Ground Flaxseed + 1/2 cup Warm Water + 1/4 tsp Salt + 1/4 tsp White Pepper

Oil for frying

For Chilli:

10

grams

Dried Chilli

40

grams

Red Chilli

10

grams

Birds Eye Chillies

1

teaspoon

Salt

2

teaspoons

Sugar

15

grams

Ginger

10

grams

Garlic

20

grams

Shallot

1

Tablespoon

Lime Juice

1/2

a Vegetable Stock Cube

1/2

teaspoon

Sesame Oil

1/2

cup

Water

To Serve:

Mesclun

Cucumber, Coriander

Dressing:

2

Tablespoons

Soy Sauce

2

teaspoons

Sesame Oil

1

Tablespoon

Dark Sweet Soy Sauce
Instructions
For the rice: Blend garlic, ginger, shallot, sugar, sesame oil and salt together till a smooth paste forms. Heat sesame oil in a deep pot and then fry your paste for a few minutes till fragrant.

Pour rice into the pot and stir to coat with fried paste. Once rice is slightly translucent, pour water into the pot along with your vegetable stock cube. Stir, bring to a boil and then turn down to a simmer. Cover pot and cook for 15 minutes. After 15 minutes, turn heat off and leave the pot covered for a further 10 minutes.

After 10 minutes, remove lid and tip green onions in. Stir to disperse. Immediately spoon about 2 Tablespoons of rice onto a piece of cling wrap. Wrap it up and squeeze it into a ball with your hands. You want to compress the rice well so that it doesn't fall apart later. Repeat with remaining rice. My wife made 8 medium-ish rice balls from the quantity of rice mentioned above.

Set balls aside.

Combine flour with salt in one bowl. Place panko in another bowl and then in yet another bowl combine flax, water, salt and white pepper. Whisk to combine and let sit for 5 minutes to thicken.

Heat oil in a pot. Dredge rice balls in flour, then coat in flax gel, and finally coat with Panko. Fry balls till they are golden all around. My wife rolls them around in a very shallow layer of oil instead of deep frying them. Once golden, drain on paper towels and serve on salad. Top with chilli.
For Chilli:
Blend all ingredients together in a Nutribullet or any blender you have. My wife likes using the Nutribullet as she is able to just store the chilli in the blender container instead of having to transfer it into a seperate jar.
For Salad:
Place mesclun, cucumber and coriander on a serving plate. Drizzle with soy/sesame oil. Finally drizzle with thick dark sweet soy before placing rice balls on top.
Till next time, stay happy, stay filled!