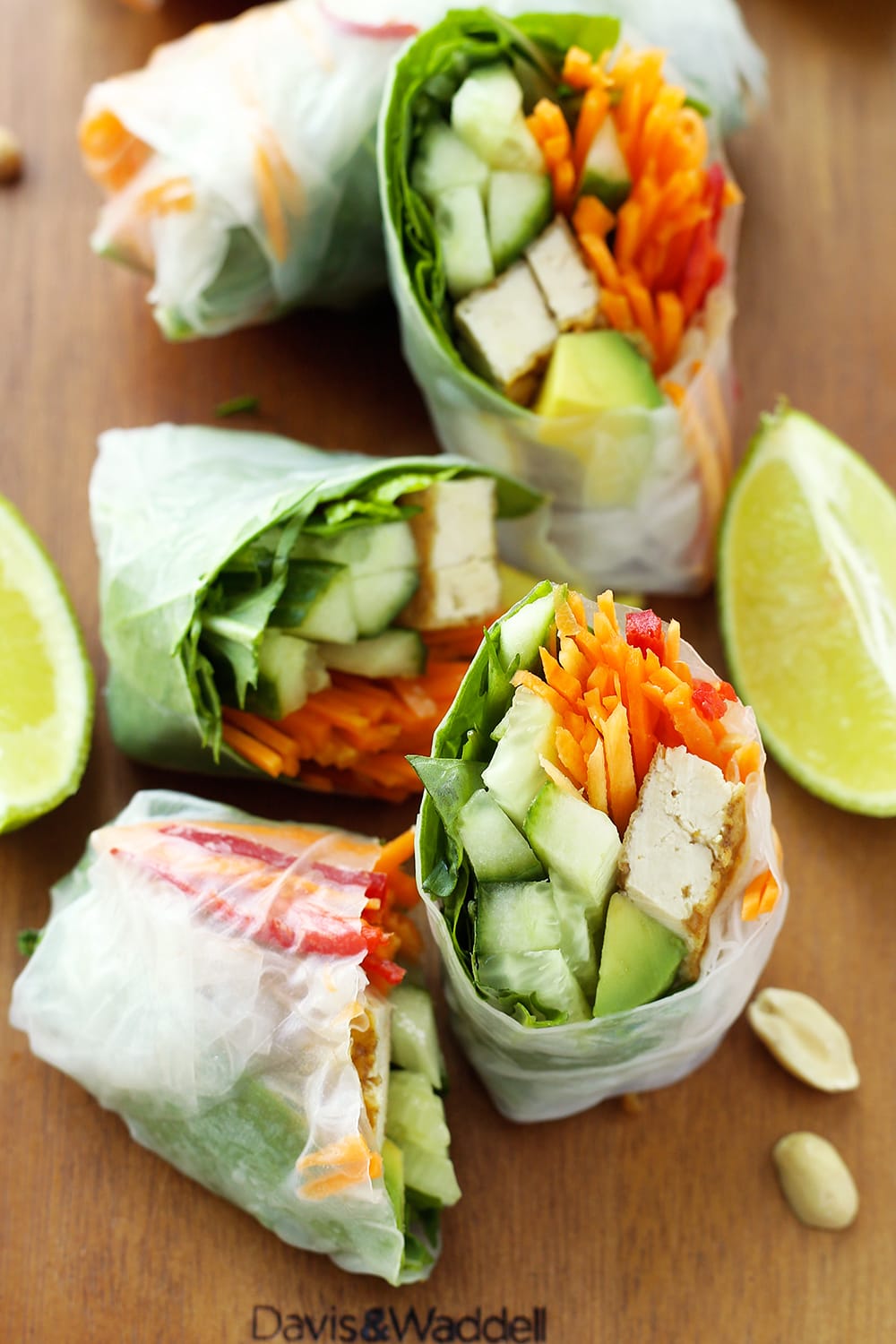 A few months ago I was becoming a fat f*ck from my excessive snacking on absolute crap. That's when I decided I needed to CLEAN UP MY EATING HABITS ASAP! Channeling my inner hungry zebra spirit, I ran around our garden snagging weeds from the ground and chewing on them like a maniacal savage. The neighbors stared at me with their cruel judging eyes, pulling their kids away from me. One day Richard the cat caught me in the act and gave me a tight slap. He yelled at me: "STOP ACTING LIKE A BARBARIAN! Here, try these fresh vegan rice paper rolls with homemade hoisin peanut dipping sauce instead! They're healthy as f*ck and you won't look like a fool eating them!" Okay, awesome!
Not only are these vegan rice paper rolls ridiculously healthy, they're also incredibly varied in taste and texture! Fillings consist of creamy avocado, crunchy carrots and cucumbers, hearty tofu, with chillies tossed in for that little spicy kick (with more yummy ingredients packed in for good measure!). Top it all off with some homemade hoisin peanut sauce and what you have here is an incredibly easy-to-make, fresh, vegan recipe of epic delicious proportions.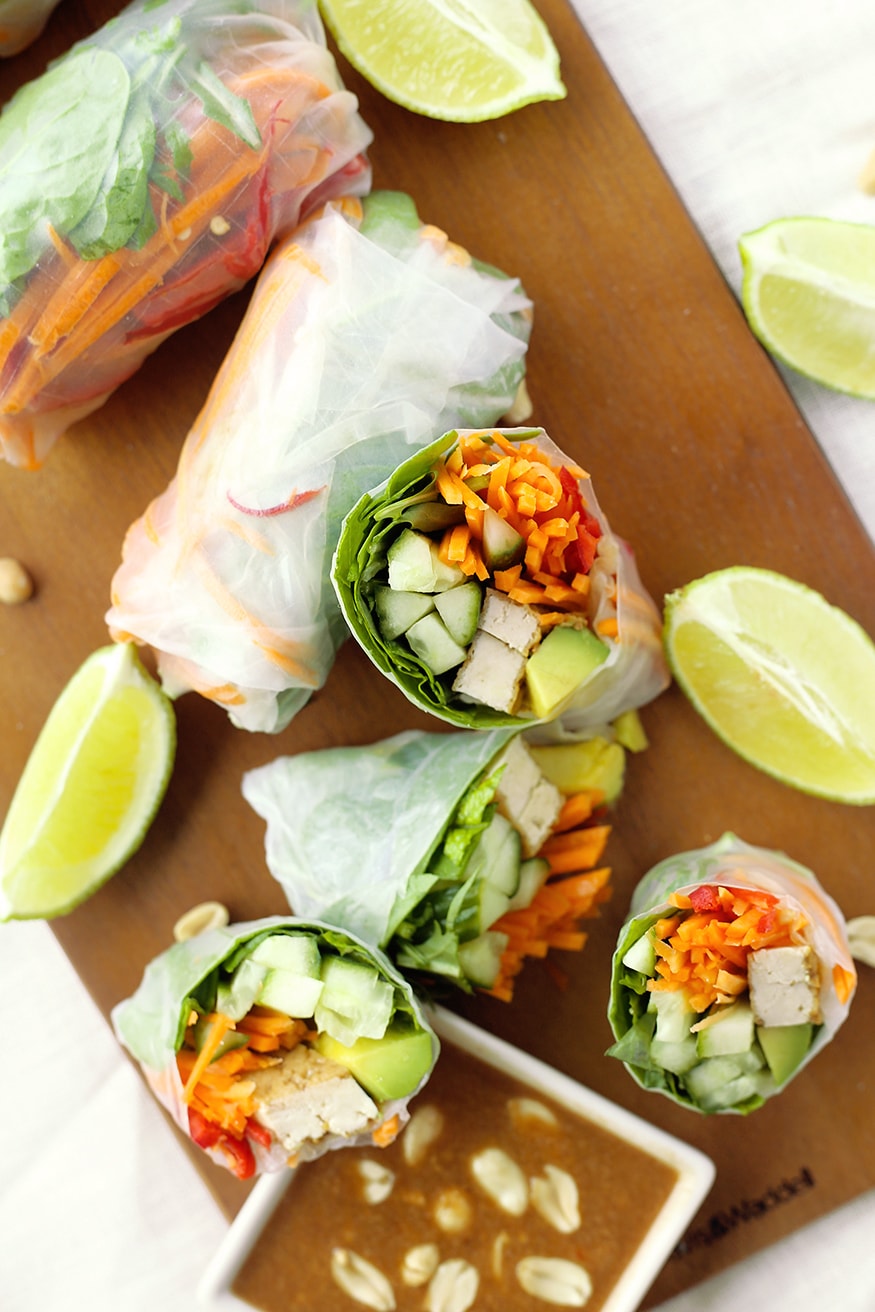 Verdict: These vegan rice paper rolls aren't a revolutionary recipe creation by any measure. However, this recipe is absolutely perfect if you're looking to whip up a cheap a$$, quick, and yummy meal for yourself, friends, and family that doesn't taste like crappy garden weed. Yes, yes, yes!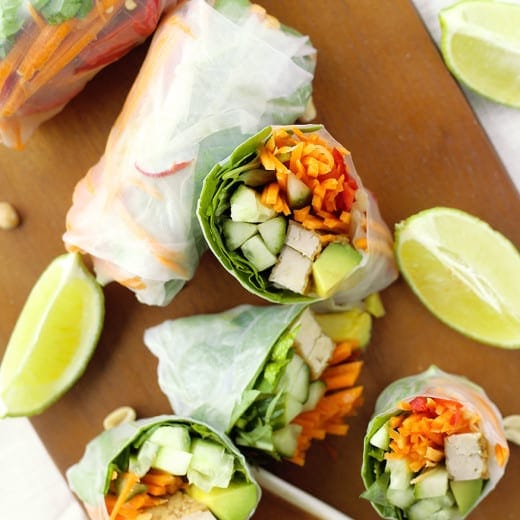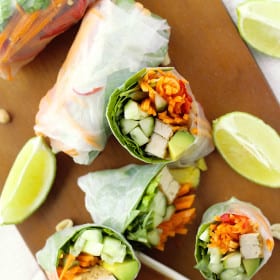 Vegan Rice Paper Rolls
Easy recipe for Vegan Rice Paper Rolls with Hoisin Peanut Dipping Sauce. Filled with avocado, carrots, cucumbers, chilies, and other healthy ingredients.
Ingredients
5

sheets Vietnamese Rice Paper

1

large Carrot

Julienned

1

small Cucumber

Julienned

1/2

an Avocado

cut into slices

Small bunch Thai Basil

2

ounces

Tofu

cut into strips (we use Satay flavored Tofu)

1/2

cup

mixed Salad Leaves

1

Red Chilli

de-seeded and cut into thin strips

br][Hoisin Peanut Dipping Sauce
Instructions
Prepare a large bowl of hot water to soften rice paper in.

Working one at a time, submerge rice paper into hot water (be careful!) for about 5-10 seconds, or until it is just starting to soften. Don't soak it for too long or it'll tear to bits.

Place a small bed of salad leaves in the middle of the softened rice paper, and then top with small amounts of every other ingredient. Although tempting, try not to over-fill the rolls as it will make it hard to roll up.

Roll rice paper roll up, egg-roll style. (Bottom up, sides in, and roll to close).

Serve with hoisin peanut sauce at the side. Rice paper rolls are best eaten fresh.
As always, feel free to leave us your comments or questions below. We'd also totally love it if you could share this recipe with your friends and family on Facebook, Pinterest, and other social media (We'd appreciate the awesome support)! Till next time, keep channeling that inner zebra spirit!